Mandel Maven's Nest Remote Patrol: Quality Television

I am as much an auteurist with TV as I am with movies, as TV has become a writer's medium, even though I can't keep up with all the quality series.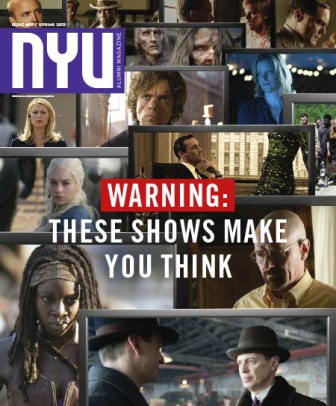 from NYU Alumni Magazine, Issue #20, Spring 2013 (I'm University College of Arts & Sciences, Class of 1973)



[Q]uirky shows . . . always test poorly. They need time to build an audience. . .I don't want to be one of those "hour" guys who is all bitter about reality TV. . . The slot machine of television. Keep feeding it quarters and eventually you'll hit the jackpot. But if a network like Fox can't nurture and properly launch a scripted hour--it's becoming the network that develops interesting programming, then drops it. The network where I don't want to watch what's cool, because my heart will be broken. . . I am ready. I have now made my bones. I've worked with great people, proven that I can run a show, and it's time for me to create my own. Well, you know-- it seems like a really weird time to try to do that. . . I'm too tired to be mad. It's hard to be mad when they pay you this much money. . . You know, if you position the thing to fail it's going to fail. . . And it's like "More proof that something odd can't survive" -- when you have your hands around its throat.
---Tim Minear, producer of the quickly cancelled by Fox Wonderfalls (complete unaired season out on DVD; all rerun on Logo network) and Firefly, by Emily Nussbaum, "Same Night, Same Channel, Same Giant Bummer," in The New York Times, 4/18/2004




[John] Landgraf, [the president] of FX. . .raised a more basic point for the basic cable channels: "One of the challenges everyone faces is, are there more quality shows than the audience can humanly watch?" in "Cable TV Is Having Breakout Summer", by Bill Carter, The New York Times, 8/9/2007


NO! (especially if they are available On Demand for time-shifting DVR or streaming online, even with ads)



Ted Sarandos, the chief content officer for Netflix said: "[A]fter licensing the North American rights to 26 episodes of [the American version of House of Cards]: 'The economics of serialized one-hour dramas are not looking great for networks, but they're really popular for viewers. . .We can be the savior to this genre of television.'" from "Netflix Gets Into the TV Business" by Brian Stelter, The New York Times, 3/18/2011



From the days that Stephen Cannell put his mark on Wiseguy by creating the arc to Steven Bochco's revolutionary continuing story lines of Hill Street Blues (2 seasons out on DVD) to the revealing domesticity of Marshall Herskovitz and Edward Zwick in thirtysomething and My So-Called Life (in DVD box set), I learned to follow the writer who chooses to work in TV as an art form, particularly those with a vision and a story to tell in dramas. So my Q or whatever scores are also high for: Paul Abbott, J. J. Abrams, Judd Apatow, Paul Attanasio, Alan Ball, Edward Bernero, Henry Bromell (R.I.P.), Chris Carter, David Chase, Robert Cochran, Tom Fontana, Jane Espenson, Diane Frolov, Bryan Fuller, Vince Gilligan, Michael Hirst, Tim Kring, Lynda LaPlante, Michael Loceff, David Milch, Ronald Moore, Ryan Murphy, Siobhan Byrne O'Connor, the Palladinos, David Shore, David Simon, Jill Soloway, Aaron Sorkin, Thania St. John, Joel Surnow, Kurt Sutter, John Wells, Joss Whedon, Jacqueline Zambrano.
Many of these who have had hit shows are interviewed in Showrunners: A Documentary Film and its companion book by Tara Bennett Showrunners: The Art of Running a TV Show.


Every time you watch a so-called reality show you're giving these brilliant architects less real estate in the TV world to build on! (let alone other creative union members.) Here's my recommendations on the writers to watch what they have to say. (updated 10/31/2013) Full creative credits are at the IMDb. All times are Eastern.

Lilith Watch: Critical Guide to Jewish Women on TV


#SupportWomenArtistsNow
#InternationalSWANs
#iSWANs
#FF2Media


American Born Chinese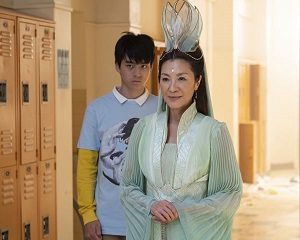 - In AMERICAN BORN CHINESE: Michelle Yeoh and Jim Liu - Disney/Carl Lopez-Calleja
(8 episodes on Disney+) A high school comedy that's on-target about mean girls and guys vs. the different kids (Ben Wang as sophomore "Jin Wang"), disguises a clever tripartite story about Asian-American representation on American TV that makes this for more than a teen audience. Based on Gene Luen Yang's graphic novel, that I haven't seen, showrunner Kelvin Yu, and a mix of many different Asians, work on the creative staff and all-stars on screen.
The second layer is a play on the Chinese classic Journey to the West, that has been re-interpreted countless times-- a new Chinese student (Taiwanese Jim Liu as "Wei-Chen") is really the rebellious son of the Monkey King Sun Wukong (Hong Kong films actor Daniel Wu). Almost an entire episode takes place among the feuding gods to contextualize the supernatural father/son and thwarted friends and enemies, wigs, costumes, martial arts, and all. Seen in the above still is the inestimable just-Oscar-crowned Michelle Yeoh as she shifts her two guises on earth as an "Auntie" and as the goddess "Guanyin" (loved the amusing scene of her frustrated superpowers at trying to put together an Ikea table), and of course she gets in some kick-fighting.
Most original is the third element, a biting satire of a typical old sit-com "Beyond Repair", that featured an Asian-American male character "Freddy Wong" as an immigrant nincompoop – even as we also see that the actor who played him (Oscar-winner Ke Huy Quan) became a Shakespearean teacher. There's a related side story of the high schooler's mother "Christine Wang" (Malaysian actress Yeo Yann Yann) gaining entrepreneurial confidence while bickering with her husband "Simon Wang" (Singapore actor Chin Han)'s lack of initiative at his job, though his story line was clearer than hers, maybe because of the seeming shortage of female writers and directors in the series. (5/24/2023)

Arrested Development (I haven't watched the streming seasons. As to the original episodes: All 4 seasons out on DVD, plus a "making of" documentary. According to Hollywood Reporter 7/27/2006: "licensed simultaneously to Internet portal MSN, and cable channels HDNet and G4 for a three-year period starting in September [2006]. Comcast-owned G4's deal covers basic cable rights to the series, which ran from 2003-06 on Fox, while HDNet will have exclusive high-definition television access to the show. G4 will begin running the series daily in a primetime slot in October [2006]; HDNet will air the show with two back-to-back episodes on Wednesday nights starting in September [2006]. MSN will debut its presentation slightly later than the other two licensees because it is creating an interactive, fully featured environment in which to show "Arrested." All of the episodes will be available on demand throughout the license period rather than scheduled to be shown one at a time." I have not yet seen any of the subsequent seasons shown on various streaming and other services.
Fans are anxiously awaiting the feature film follow-up. Brash, satirical way to deny that a grossly fiscally irresponsible real estate family named "Bluth" whose family patriarch, as usual in TV Land written by Jewish men, here produced by Mitchell Hurwitz, is played by a distinctively Jewish actor (Jeffrey Tambor-- and his wife is played by Jessica Walter who also frequently plays Jewish mothers) but he was cast at the last minute) converted to Judaism in prison and uses it as shrewdly entrepreneurially as Madonna's kabbalah promotions. It is blessedly free of a laugh track, tapes on many sets and has an absolutely delightfully absurd dysfunctional family. Jason Bateman, as the sane keystone--as sane as a widower with a teen son can be bicycle-riding in L.A. while living in a model home with one's adult siblings-- is an adorable, simply lovable straight man who gets off wry zingers as the others throw impossible situations at him. Also love the jabs at corporate malfeasance a la Tyco etc. One of the few sitcoms since Seinfeld where you can re-watch episodes and laugh just as heartily again and again. (updated 1/28/2018)


Better Call Saul (on AMC, 3seasons on DVD) How improbable that a follow-up prequel to the brilliant Breaking Bad could be not just good, but enthralling and poignant, thanks to Jonathan Banks as future scary hit man enforcer "Mike Ehrmantraut" and especially Bob Odenkirk as the conscience-stricken shyster lawyer who used to be "Jimmy McGill". (updated 1/28/2018)

Chernobyl (mini-series on HBO) – Every lie we tell incurs a debt to the truth. Sooner or later that debt is paid. An absolute wow! Not only did my husband also watch, which is highly unusual, but we both listened to the podcast discussion with the creator Craig Mazin, whose previous credits give no hint to me that he could do such a well-researched docu-drama, let alone with such superb casting of riveting actors in main and secondary parts, all within a mind-blowingly credible production design. (7/2/2019)

Curb Your Enthusiasm (on HBO - repeated various times throughout the week and On Demand. 9 seasons on DVD.) Larry David, co-creator of Seinfeld, takes his homage to George Burns's groundbreaking TV persona and techniques even further. I was no fan of Seinfeld when it was on first run, finding the four lead characters just too misanthropic. But in living a Groundhog Day experience of my family forcing me to watch the reruns every night, I've started to laugh at them. Curb is even funnier, as it creates more sympathy for the curmudgeon "Larry" character as it shows him and his actual pretty obnoxious friends amidst the foibles of life in contemporary, successful L.A.-- --after all he is the one who blows up over the waiting procedures in his doctor's office, uses a water bottle and a collectible doll in unlikely places, and makes sort of un-PC comments in a PC group--who is a victim of very funny coincidences that he's not entirely innocent in fomenting. The showdown Larry accidentally set up between the survivor and "The Survivor" was bust a gut funny in the penultimate episode of the 4th season. I keep specific tabs on the hilarious Jewish woman characters Susie Green, Anna, others in L.A., and others in NYC. (updated 6/6/2012)
Disclaimer: Not only have I missed Seasons 7 – 11 and have yet to watch them streaming on HBO Max, I only learned in late 2009 that Emmy-winning executive producer David Mandel is my second cousin once removed. (updated 7/10/2022)


Dark Winds (on AMC, 2nd season Summer 2023) While the "name" executive producers are Robert Redford and George R.R. Martin in acquiring the rights to Tony Hillerman's "Leaphorn & Chee" mystery book series for TV, co-showrunners Chris Eyre and Graham Roland bring indigenous authenticity to the sophisticated writing, dynamic casting (particularly lead Zahn McClarnon as "Joe Leaphorn"), directing, and the New Mexico setting that leaves John Ford movies way behind. (updated 5/22/2023)

David Makes Man

Docu-Series It took me awhile to parse the differences between contrived reality series and "docu-series" that are more like documentaries chopped up into episodes, usually with too much narration and repetition, that are like descendants of PBS's progenitor An American Family. In addition to general PBS series of feature and short documentary films on Independent Lens and POV, and on its digital World Channel Doc World, America ReFramed, Pacific Heartbeat, and Reel South:
On commercial television:
Welcome to Wrexham (on FX, 2 seasons) – While too highly edited and un-chronological to be considered "reality TV", this crosses into documentary by how it follows the purchase of the oldest Wales football clubs by Hollywood actors Rob McElhenney and Ryan Reynolds, along with the team members, staff, crew, and especially the fans. Surprisingly entertaining! (updated 9/26/2023)
Keep This Between Us (on FreeForm/Hulu) – Dumped during Summer 2022, and ironically shown on a channel that shows just the kind of fiction with teacher/student affairs that this documentary decries. Executive producer/filmmaker Cheryl Nichols tells her story of "grooming" by her high school teacher (a bit repetitively over four episodes). But she well succeeds in filling out the truths behind and around her own abuse, as well as drawing out other victims on theirs. The first episode was co-directed by Amy Berg, who has specialized in documentaries on pedophiles, and the others were directed by Jenna Rosher. Revelations go beyond the abuser to how fellow teachers, principals, administrators, and those above them keep these situations so quiet that abusers can easily move from school district, even within states, let alone elsewhere. (9/27/2022)
The Preppy Murder: Death in Central Park (at 2019 Double Exposure Investigative Film Festival)
Finding Justice (on BET) – Aimed at young adult African-American audiences, this six-part docu-series includes talking head journalists, activists, and academic experts with, most effectively, very immediate footage of discussions, protests and constructive actions taken on these issues as they play out in such cities as Tampa, St. Louis, Atlanta, Los Angeles, the Twin Cities, and Baltimore, and how young African-Americans are working for change. Episode 1: Stand Your Ground; Episode 2: Cash Bail; Episode 3: Voter Suppression; Episode 4: Criminalization of Kids; Episode 5: Police Brutality; Episode 6: The Lead Paint Crisis. The series is credited to celebrity Executive Producers Dwayne Johnson, Dany Garcia, and dream Hampton, among others. (updated 4/13/2019).
The Pacific: In the Wake of Captain Cook (Shown on Oxygen Channel in the U.S.) Produced, directed and co-written by Sally Aitken, the six episodes covered the people and places, past and present of all of Cook's voyages throughout the Pacific Ocean, to south, north, east and west. Sam Neill was a charming and genuinely interested guide, with fascinating emphasis on indigenous cultures and experts for information and perspectives. (updated 7/18/2021)
Surviving R. Kelly (On Lifetime) Over six episodes (Ep 1 "The Pied Piper of R & B"; Ep 2 "Hiding in Plain Sight"; Ep 3 "Sex Tape Scandal"; Ep 4 "The People vs. R. Kelly"; Ep 5 "All the Missing Girls"; Ep 6 "Black Girls Matter"), this unsual docu-series, executive produced by hip hop journalist dream hampton, interviewed victims, family members, former employees and collaborators (only one with a hidden identity) – all African-American-- with the most frank and explicit descriptions of sexual abuse, let alone on minor girls, that may have ever been heard on television, and music and entertainment journalists, as well as activists against abuse of females and African-Americans, particularly #MuteRKelly and #MeToo. (Only rock critic Ann Powers was not African-American, as she compared his behavior and the acceptance of his being surrounded by teen girls to many pop/rock musicians since the 1950's.) The footage included on-camera efforts by parents to try and contact their now over-18 years old daughters in Kelly's entourage, who have they had not been able to contact for years. However, there was a tabloid/reality TV aspect to the series, including the constant repetition of answers, and the lack of provision of tissues to weeping witnesses. I also wonder if each interviewee was promised or what to have some kind of make-over, because each woman had elaborate wigs or hair-stylings, long fake nails, and clothing that seemed oddly salacious, such as a victimized minor in a dress that barely covered her and a regretful aunt/back-up singer in a transparent dress with a strategically placed bib and dyed blonde hair, and a heartbroken mother in a fringed skirt. This is significant because an elderly white man who was a juror on Kelly's child pornography trial said he did not believe the witnesses, including the aunt, so that such appearances could have influenced him. Right after I posted my recommendation of the series on Facebook, I saw an angry series of Tweets by African-American colleague Dr. Sami Schaik that really annoyed me when she started in on what "white allies" aren't doing: "Most black folks I know have posted about the docuseries in the last few days…In contrast, nearly all white folks I know are not even acknowledging the docuseries, nothing. This divide/contrast reminds me that white people are not required to know what's happening to and among black folks." And she went on and on about unfounded fears of being called racist and the demands of intersectionality. The follow-up in January 2020, broadcast over three nights, answered some of these issues in Surviving R. Kelly Part II: The Reckoning (Ep 1: "It Hasn't Stopped"; Ep 2: "The Settlement Factory"; Ep 3: "Please Come Forward"; Ep 4: "After the Rescue"; Ep 5: "Bring Our Girls Home") I cried. (1/7/2019 and 1/3/2020)
Why Slavery? (Seen in the U.S. on BBC World Channel) The latest broadcast project (across BBC entities) in cooperation with The Why Foundation, this is an extraordinary series of international investigative documentaries on modern slavery. Some were separate films by documentarians: Bernadett Tuza-Ritter's A Woman Captured (Egy nö fogságban) (Hungary) that I saw at 2018 Panorama Europe Film Festival at Museum of the Moving Image (and was also shown at 2018 Double Exposure Investigative Film Festival). Other film directors' personal work was Pakaj Johar's In Selling Children (India) and Roger Ross Williams' Jailed in America. Others were eye-opening reportage: Maid in Hell on the Middle East's abusive Kafala System; I Was a Yazidi Slave; Dollar Heroes about North Korea's explorted workers. The Why Stories in 2021 included people confronting personal stress, Kurdish director Diako Yazdani's Gay in Iraq, The Rescue List (Ghana), and Favela Frontlines (Brazil). (updated 7/5/2021)
Watergate (on History Channel) (Preview at 2018 New York Film Festival of Film Society of Lincoln Center)/ Watergate: Blueprint For A Scandal (on CNN, June 2022) – While producer/director Domini Hofmann's work is mostly "reality TV"-based, this 50th anniversary of the "break-in" chronological telling is a very useful overview. The story is mostly told in four-episodes by on-camera narrator John Dean from his perspective as the then thirty-something White House Counsel, buttressed by The National Archives' recently digitized recordings of President Nixon, interspersed with interviews of other contemporaries, and ironic comparisons to Trump and his White House. (updated 7/10/2022)
Rest in Power: The Trayvon Martin Story (on Paramount Channel) preview at 2018 Tribeca Film Festival
Two similar series with mixed race stand-up comedians/political gadflies became more and more relevant during the 2016 election and 2017 presidential administration: United Shades of America (on CNN) with W. Kamau Bell, and Hate Thy Neighbor (on Viceland) Jamali Maddix as they visited racial extremists to hear their points-of-view. Viceland's Rise was also an excellent and timely (re: Standing Rock) survey of indigenous people's activism. (3/18/2017)
OJ: Made in America (on ABC (Part 1 only) and ESPN) The first documentary mini-series in ESPN's 30 for 30 Film Series, started in celebration of the networks 30th anniversary. Having witnessed the news cycles as the story played out and then being riveted by FX's superb docu-drama The People v. OJ Simpson: American Crime Story, I never thought an ESPN-sports promoting documentary could add any insight – let alone a five-part, seven-hour series. But not only does it add biography and interviews with friends, relatives, corporate allies, and seemingly anyone else involved, this puts his life and crimes squarely in the context of race relations in Los Angeles, and the U.S. as a whole, during these years. Because this specifically shows the power of the docu-series format, I object that the producers stuck it into a theater each in NYC and L.A. to qualify for the Academy Awards' arcane rules as a documentary film. Consequently, many critics' and their groups deemed it a Documentary Film of the Year – so it can effect double-dip for the Emmy's and the Oscars. I think that is a miscategorization, unfair competition for genuine documentary films made without network resources, and minimizes its achievement in television, particularly as a model for future genuine documentary, as opposed to reality, TV series. (updated 12/7/2016)
Boomtowners (on Smithsonian Channel) (good context for the long-distance Amtrak travelers seen in In Transit I previewed at 2015 Tribeca Film Festival, with my additional notes, and The Overnighters I previewed at 2014 Tribeca Film Festival).
Hard Earned (on Al Ajazeera America) More didactic discussion than cinema verité reveal, the perspective of those living on the edge of the economy is a sobering look at their difficulties.
Edge Of Eighteen (on Al Ajazeera America) Diverse high school seniors from across the U.S. were trained as self-documentarians by noted filmmaker Alex Gibney (of Finding Fela, Enron: The Smartest Guys in the Room, Mea Maxima Culpa: Silence In The House Of God, Catching Hell,Freakonomics, Casino Jack and the United States Of Money). As depressing as it is informative, though it did make me appreciate what I was able to do for my kids at that age. (10/7/2014)
Last American Cowboy and The Last Alaskans (on Animal Planet) (though I think I only watched one season); Big Fat Gypsy Weddings (on TLC, from the British Channel 4, though the series went on too long with less effective extensions); Big Ballet (on Ovation, from the British Channel 4) Hopkins/Hopkins 24/7 that focused on the staff of Baltimore's Johns Hopkins Hospital (on ABC, repeated on OWN); Whale Wars (on Animal Planet); 24 Hours in the E.R. (shown in the U.S. on BBC America); Morgan Spurlock Inside Man (on CNN); Catfish (on MTV) is the intriguing follow-up to the same-titled documentary, that, for all its voyeuristic reality TV melodrama about naïve online behavior, has taught me useful lessons for being suspicious of "friend" requests on FaceBook. (updated 2/8/2017)
Generation Cryo (on MTV) is the intriguing TV version of the documentary Donor Unknown that I briefly reviewed at 2011 Tribeca Film Festival, including a Jewish mother and half-siblings. (updated 12/10/2013)
On Death Row is the accompanying Investigation: Discovery TV docu-series to Werner Herzog's documentary Into the Abyss, that I previewed at 2011 Doc NYC Festival). The intriguing Sundance Channel series Rectify (renewed for a 4th season), created by Ray McKinnon, is almost a fictional follow-up on such cases where The Innocence Project succeeds, imagining a man "Daniel Holden" (played rivetingly by Aden Young) uncomfortably returning to his very unsettled small Texas town after his conviction is overturned. The System with Joe Berlinger (on AlJazeera) is like a follow-up to his Paradise Lost justice-denied trilogy. (updated 7/15/2015)
As someone turned off on food and cooking as a result of undiagnosed celiac disease until late in life, I'm not usually interested in such programs, but some series rise to the level of anthropological documentation of immigration, business, and health: Jamie Oliver's Food Revolution (on ABC), revealing as much about school bureaucracies as school lunches; Jamie Oliver's American Road Trip (on BBC America) – where he even came here to ethnic Queens; and Guy Fieri's Diners, Drive-ins and Dives (on the Food Network), which is a fun travel guide (he even came to our favorite Ben's Deli in Rego Park, Queens) but frustrating for me as I can't eat much of what's featured. (updated 1/8/2013)
The genealogy series: Who Do You Think You Are (the American version of this British show was on NBC, then moved to TLC, with limited streaming episodes) – I note the celebrities who track down their Jewish fore-mothers at Lilith Watch: Critical Guide to Jewish Women on TV; and on PBS: African American Lives (1 and 2); Finding Your Roots with Henry Louis Gates, Jr.; Faces of America with Henry Louis Gates Jr.. As Gates expanded his celebrity research, I've commented on how he's dealt with the women with Jewish ancestry, or on how Jewish men refer to their Jewish women ancestors. But the Sony hack revelation that he agreed to suppress Ben Affleck's slave-owning ancestors was rightly condemned by PBS. Seeing how different celebrities react to that revelation has been part of the reason to watch! (updated 1/28/2018)

With none or few commercials:
The Last Movie Stars (on HBO Max) 6 episodes: Chapter 1: "Cosmic Orphans"; Chapter 2: "A Star Is Born"; Chapter 3: "The Legend of Paul Leonard Newman"; Chapter 4: "Paying the Price"; Chapter 5: "Against the Sky"; Chapter 6: "Luck Is An Art". Rather than just playing to Hollywood nostalgists, Ethan Hawke zooms in with actors who effectively voice transcripts from a rescued memoir, and then discuss what they knew personally or professionally about Paul Newman and Joanne Woodward, with additional interviews. The emphasis on Woodward's talent, sensuality, and the sacrifices she made for him and their/and his children are very unusual. In addition to perfectly selected illustrative clips of movies and TV interviews, the archival footage are rare finds. (Even my high school friend's mother who resented how he'd treated his first wife would have liked it, as she, the divorce, and their kids get legit attention.) For days after, I couldn't even stand to watch a movie with today's "stars"! (8/1/2022)
The Beatles: Get Back (on Disney+; Ep 1 – 157 mins, Ep 2 – 173 mins, Ep 3 – 138 mins) For an original Beatles fan, seeing John, Paul, George, and Ringo once again in their fashionably mod prime is a wonderful trip into the time machine. Peter Jackson's annotated edit of the film footage of Michael Lindsay-Hogg's 1969 verité making-of the January 1969 "Let It Be" album and audio tapes are informatively fascinating, with his access to every knowledgeable technical and family consultant. As they are still missing the organizational wizardry of their manager Brian Epstein who had died two years earlier, you pretty much see the band split up in front of your eyes, as they go through many permutations of the project. While tensions were certainly aggravated by the cloying presence of Yoko Ono and the other spouses, some soon to-be-ex, the project's pressured one-month deadline, dramatically shown on –screen by crossing off each calendar date, was set because the otherwise-genial Ringo Starr thought his comic acting career would be launched with Terry Southern's script for The Magic Christian, that started shooting immediately after for release that year. But we also see that Paul McCartney could be very controlling about the arrangements, which he could achieve with his own band Wings in 1971; that George Harrison was restless, both creatively by already planning his solo, non-instrumental album "All Things Must Pass" that would be released in 1970, and personally as his band-mates just barely tolerate the presence of his Hare Krishnas and his Maharishi Mahesh Yogi-influenced vegan eating habits; and that John Lennon just really loved to cover the songs that would be his "Rock 'n' Roll" album in 1975. Yet, almost miraculously, they come together, accidentally facilitated by the calming and musical presence of keyboardist Billie Preston. For one last time they finally revel in the joy of making new rock 'n' roll music together, a nirvana now preserved for their fans. (11/28/2021)
Obama: In Search of a More Perfect Union (on HBO/Max, 2021))
100 Foot Wave (on HBO/Max, 2021) Six episodes, all directed by Chris Smith: Ep 1: "Sea Monsters"; Ep 2: "We're Not Surfers"; Ep 3: "Mavericks"; Ep 4: "Dancing With God"; Ep 5: "The Circus"; Ep 6: "More Than A Wipeout". Heavier on interviews than cinema verité, they did give the best explanations of surfing expressions, issues, and competitions than I've seen in any of the many, many surf documentaries I've seen, particularly focuson on how "Big Wave" surfing is different.
Philly D.A. (on PBS, 2021) – an unusual 8-episode docu-series on Independent Lens, following newly elected progressive District Attorney Larry Krasner as he works to change the entire focus of every aspect of the prosecutor's office to implement the goal of striking down mass incarceration – all in front of the cinema veritè cameras of directors Ted Passon and Yoni Brook. Complicated legal concepts are explained through intimate examples of the people they impact, including staff and victims. (5/20/2021)
Atlanta's Missing and Murdered: The Lost Children (on HBO, 2020) (While strung out to 5 one-hour episodes, with the reality TV trope of repetition to catch up the irregular viewer, this still wallops an emotional impact. (7/3/2020)
College Behind Bars (PBS) (brief review at FF2 Media) (preview at 2019 New York Film Festival of Film at Lincoln Center) (10/28/2019)
Portraits in Architecture (on some PBS stations). I had not only not heard of any of these anti-modernists, but I was particularly interested to learn about the the work of the only woman included Nadia Breitman-Jakov. (7/30/2019)
Passing: A Family In Black & White - All six episodes of Robin Cloud's documentary web series, of which the first two episodes premiered at 2019 Tribeca Film Festival, are streaming on Topic as of 7/26/2019.
When They See Us (on Netflix) Per director Ave DuVernay on Twitter: "We shot it like a film. Scored it like a film. Mixed it like a film. Color timed it like a film. Same process. So when my 15-year old family friend passionately + proudly told me yesterday that she binged all parts ON HER PHONE... I just blinked hard and said "Wow! Wonderful!" But this reconstruction of the infamous "Central Park Jogger Case" from August 1989 is a docu-drama series. The first episode is about the night of the crime and the travesty of the arrest of the "Central Park 5" innocent African-American teen-age boys; the second episode is the railroaded court case; the third episode is about the experiences of the three jailed as juveniles, in prison and immediately after when they are labeled felons and sex offenders; the fourth is about what the boy suffered as he grew to adulthood in adult prisons – the years going by are barely indicated, except for the morning of 9/11 when the only humane guard turns on the TV for them. The director says it was one of these men who asked her to do the series, and they all fully cooperated, though I haven't read yet all the many promotional interviews she's given, because they seem to be more political than substantive. For all care to protest the mass incarceration of black males in the 1980's and the 1990's especially as labeling them "animals", it still doesn't capture the city-wide mass hysteria about the case. (6/2/2019)
Leaving Neverland (on HBO) One can debate if this is a film, as conceived and directed by Dan Reed and premiered at the Sundance Film Festival, or a docu-series shown in two-part, two hours each episode of interviews with two now young men who detail their grooming and sexual abuse by mega-star Michael Jackson. The resulting national impact was not just about Jackson, but about how a pedophile, especially one with unlimited resources, acts on a family and his target victim. Following was an Oprah Winfrey session, in front of an audience of mostly men who had been sexually abused as children – but she never took responsibility for interviews she had conducted in the past with Jackson where he kept declaring his innocence and fondness for children who came to his personal amusement park. (3/8/2019)
Enemies: The President, Justice & The FBI (on Showtime, 4 episodes) Alex Inspired by Tim Weiner's Enemies: A History of the FBI that I haven't had a chance to read yet, the insightful emphasis is on the relevance of each situation of the President's relationship with the FBI to the situation now under the 45th President. Alex Gibney is an executive producer and director of the final episode that brings the historical context up to the present. Each episode includes interviews with insiders who have intimate knowledge of the case, FBI agents who worked directly on the investigation, journalists who covered the story, with carefully chosen archival photographs and news clips. Episode 1 "A Cancer on the Presidency" How the FBI realized that the President could be held accountable in the Watergate case – more of Nixon's incriminating tapes are heard about the break-in and cover-up than even in Charles Ferguson's recent Watergate, and more revelations. Episode 2: "That's What Friends Are For" President Ronald Reagan and the Iran-Contra scandal showed that the President and his devoted aides could lie, break the law, and get away with it, helped by an Attorney General with no ethics who did not see his role as upholding the law. Episode 3: "Witch Hunts" An examination of the 1998 impeachment in light of today's investigations. Episode 4: "You're Fired" – To analyze the present, this first goes back to 9/11 and the White House reactions. (1st episode at 2018 DOC NYC Festival) (updated 1/5/2019)
America To Me (on Starz, 10 episodes) – Director Steve James follows African-American kids at the integrated Oak Park and River Forest High School (OPRF), on the Chicago border, over the course of an academic year, smoothly combining observational footage with interviews, with the kids, their parents, coaches, and teachers. This is quite a frank, absorbing look at racial issues! (updated 1/4/2019)
The History of White People in America (shorts made for PBS) (previews at 2018 and 2019 Tribeca Film Festival) (updated 7/30/2019)
Under Her Skin (streaming on The Front) (So, nu: my commentary on the Jewish woman) (preview at 2018 Tribeca Film Festival)
The 99 Names of God (preview at 2018 Tribeca Film Festival)
The Fourth Estate (on Showtime) (preview at 2018 Tribeca Film Festival) (5/30/2018)
Bobby Kennedy For President (streaming on Netflix) (preview at 2018 Tribeca Film Festival) (5/30/2018)
Carrier (on PBS, out on DVD, and streaming on Hulu) for its post-9/11 personal and professional close-up of the military at sea; The Staircase (on Sundance Channel); Brick City (2 seasons on Sundance Channel – CNN's imitative Chicagoland wasn't as good because of too heavy editing and didactic narration); Nimrod Nation (on Sundance Channel)
Living Cultures (shown in NY on CUNY-TV, originally produced for French television channel ZED) that showcases 13 of UNESCO's "Masterpieces of the Oral and Intangible Heritage of Humanity"
Invitation to World Literature (13 episodes repeated in NY on CUNY-TV and sometimes the other PBS stations), as enthusiastically moderated by Prof. David Damrosch. In the episode on My Name is Red, I spotted an academic expert who was editor of my high school newspaper when I was on staff, Susan Yelavich. (Our Fiction Book Club read a different Orhan Pamuk novel.) (updated 3/23/2014)
Loved all 15 episodes of The Story of Film: An Odyssey on TCM as documentarian Mark Cousins narrates his visualization of his 2004 book that traces the history of world cinema? I learned a lot – especially how to find programs on TCM when they kept changing the timing of the series to later in the evening as the film clips got more contemporary, so more nude and violent.
America Divided - TimeWarner Cable threw in premium channel Epix with our upgraded box and I discovered this Ford & Kellogg Foundations-funded series where celebrity activists -- Norman Lear, Jesse Williams, Common, Zach Galifianakis, Peter Sarsgaard, and America Ferrara -- do legit investigations of community controversies and try to confront those responsible. The 2nd season format was contained, single-issue investigations – Gretchen Carlson on sexual harassment in Congress; Alaskan Native American actor Martin Sensmeier caught racism on camera in examining the Bear Ears Monument controversy. I cry and learn. (updated 5/25/2018)
Cool Spaces (PBS) Contemporary architectural education.


Imports:
Mondovino: The Series - I missed the showing of the full 10 hours at MoMA, but now Jonathan Nossiter's multi-lingual, global tasting of wine and the people who grow, drink, buy, and sell it, is available in a 4 DVD set. More delightful and promotional, but also informative, is The Wine Show (Ovation), where actors Matthew Rhys (bearded) and Matthew Goode are tutored by a connoisseur who brings back wines and knowledge from around the world. (updated 7/2/2018)


Satire:
Documentary Now (on IFC) is a spot-on parody of noted documentaries, as enacted by Bill Hader and Fred Armisen, let alone the perfectly-toned introductions by Dame Helen Mirren. (updated 10/23/2016)


Fargo (on FX, 3 seasons on DVD) Achieves the absolutely impossible – matches its source material, as the prequel to the Coen brothers' movie. Not only brilliantly acted (if Martin Freeman and Billy Bob Thornton weren't so good, I would have put this under under HALL OF DAMES for Allison Tolman) and written with acidic darkness, but the cinematography and camera work is stunning. Was that the first film noir scene in blinding white snow? Plus a devlish image of a dentist for TV. The 2nd season, set in 1979, featured brilliant unstereotyped roles for minority actors, who clearly relished the opportunity: Zahn McClarnon as Native American hit man "Hanzee Dent" and Bokeem Woodbine as Kansas City gangster "Mike Milligan". (updated 1/28/2018)

Homeland (on Showtime, 8 seasons out on DVD) Anchored by a wow performance by Claire Danes, a scarily Manchurian Candidate Damian Lewis, and a mentoring Mandy Patinkin, this reflects some of its 24 showrunners, but the story line recalls more other series that didn't get enough attention at their time, Sleeper Cell (2 seasons on Showtime) and Rubicon (on AMC, that I never got around to writing about its one season as well). But this one was a real nail biter with a twisty plot. I'm behind on watching seasons, but I've commented on the Jewish women in the 1st season, 5th Season, and 6th Season. (updated 1/28/2018)
I'm also commenting on the Jewish women in the Israeli TV series Prisoners of War (Hatufim) it's based on (streaming on Hulu, both seasons out on U.S. DVD), 1st season and 2nd season. (updated 10/16/2014)


Imports: can now be seen more widely than ever before, including Sundance Channel originals, MHz Networks "International Mysteries", and other distributors, PBS's Walter's Choice (and as part of a monthly subscription to PBS "Masterpiece" Amazon Prime Video Channel), and Ovation's (variously named) "The Best You've Never Seen" and "Mystery Wheel".
Streaming Series: Many international series are now available on more streaming options, including Netflix, that I seem to never have the time to explore and read the subtitles intently, and many other specialty services. Now with streaming, the distinction between "film" in theaters and "series" blurs more and more:
Labyrinth of Peace (Frieden) (2020) - Distributor Menemsha Films reports that Petra Volpe's 6-episode Swiss series is "a big hit for us on the Festival circuit", with over 30 bookings at Jewish film festivals. I binged a preview at the 2022 New York Jewish Film Festival of Film at Lincoln Center/ The Jewish Museum, while it was also at Miami Jewish Film Festival virtually. You can re-live 1945 in Switzerland on the subscription streaming service ChaiFlicks beginning April 2023. (1/15/2022/ updated 3/15/2023)
Burning Bush (Hořicí Keř) (2013) – played in theaters then, as director Agnieszka Holland was known primarily as a filmmaker, that I previewed at 2013 New York Film Festival of Film Society of Lincoln Center;
the German Generation War (Unsere Mütter, Unsere Väter) played in theaters and and German cultural outposts. (So, nu: my commentary on the Jewish women)
American director Steven Soderbergh's Che (2008) blurred the demarcation between TV and movies
Some played as multi-part films: the British Red Riding Trilogy – 1974; 1980; 1983 (kudos to the cinematography of Rob Hardy in 1974) (previewed at 2009 New York Film Festival of Film Society of Lincoln Center) and the German Dreileben: Beats Being Dead (Etwas Besseres als den Tod), Don't Follow Me Around (Komm mir nicht nach), One Minute of Darkness (Eine Minute Dunkel) (briefly reviewed at 2011 New York Film Festival of Film Society of Lincoln Center); Bruno Dumont's L'il Quinquin from France, through Kino Lorber (previewed at 2014 New York Film Festival of Film Society of Lincoln Center) (updated 1/15/2022)

PBS's Walter's Choice is mostly an incentive for viewers to become members so they can stream and binge full seasons via "Passport". I know nothing about "Walter Iuzzolino a TV connoisseur who has scoured the globe for compelling hits", albeit ones that are several years old, and now PBS is promoting that there will be a lot more available. Here's the ones I've seen so far and recommend:
Little Bird (Canadian)
Our Miracle Years (Unsere wunderbaren Jahre) (Season 1 shown in Germany in 2020; Season 2 shown in Germany in 2023) Based on a novel of the same title by Peter Prange that is not available in English, the PBS title refers, a bit sardonically, to the post-World War 2 "German economic miracle" (Wirtschaftswunder). With each originally one and a half-hour long episode split into two 45 minutes-long parts on PBS, the six episodes of S1 that cover the post-war 1940s to early '50s stretch out to twelve. Set in Altena, where the manufacture of wire was historically important, the story centers on that Wolf Family business and three sisters, "Margot" (Anna Maria Mühe), loyal to her SS-serving husband; "Gundel" (Vanessa Loibl), the accountant who wants to run the company; and "Ulla" (Elisa Schlott), the pretty blonde who wants to be a doctor, all under their class-rigid mother "Christel" (Katja Riemann). Maybe if I read the DasErte's backgrounder, I could better understand the significance of the geography in a divided country, as the women and their distinctive lovers (particularly David Schütter as motorcycle-riding "Tommy Weidner" and Franz Hartwig as stylish "Benno Krasemann") move around to different cities, like Dusseldorf and Berlin. The series does take on complicity with Nazis in business and the Holocaust, corruption, misogyny, and capitalism vs. ostensible communism. I really like the active work, directed by Elmar Fischer, with cinematography by Felix de Oliveira. Season 2 jumps ahead to the 1960s, if PBS will broadcast it. (8/14/2023)
Love, Inevitably (Lejos de ti/Lontano da te) (8 episodes from 2019) This is a bright, breezy rom-com, with the premise that after Seville flamenco dancer "Candela" (Megan Montaner) and "Massimo" of Rome (Alessandro Tiberi) "meet cute" in the Prague airport, they each hallucinate the other every time they think of the other, despite being affianced. Their chemistry overcomes twists and turns, to be irresistibly enjoyable! (Presented with support of Prague and Rome entities.) Annoyingly, the several NYC area PBS stations broadcasting the series at different weeks do not label the episode numbers, making the story difficult to follow in order. (6/24/2023)
The Hunter (Il cacciatore) (Season 1 originally shown on Italian TV in 2018, "Passport" is also streaming Season 2 from 2020, and Season 3 from 2021 that are altogether a continuous story-line to a finale. Binge worthy!) Based, with dramatic license, on the true events of the Anti-Mafia Task Force detailed in Alfonso Sabella's Cacciatore di mafiosi. Le indagini, i pedinamenti, gli arresti di un magistrato in prima linea, not available in English. The Bad Guys have their real names; for The Law only one real name is retained, that of the central bodyguard who has died from natural causes after these events, at least that I can tell. Sometimes the stressed, obsessed lawyers get so nasty that I start sympathizing with the ancillary Bad Guys. PBS censors so the conversations are frequently "***" Amidst lots of Palermo settings, the large cast of characters and places is confusing, but on-screen graphics in English help with nicknames and crimes, and familiarity increases through the episodes. The central couple are romantic ballast no matter their status -- prosecutor "Severio Barone" (Francesco Montanari) is mesmerizing, especially when he agonizes over his job vs. his relationship with his very independent partner "Giada Stranzi" (Miriam Dalmazio). It did take me awhile to figure out the tantalizing flashbacks driving them in S1, but that highlights the grueling sacrifices the prosecutors had to make as their and their families' lives are threatened. (And presumably why the Sicily tourism agency is sponsoring the PBS showings.) Even when there's no screen time for personal lives, two women in the Law rise up to powerfully insist on being seen and heard-- young lawyer "Paola Romano" (Linda Caridi) and aggressive police detective "Francesca Lagoglio" (Francesca Inaudi), while a Mafioso comes to regret his culture's male dominance. The head writer is female, Silvia Ebreul, in partnership with Marcello Izzo, who then collaborated on the odd, also violent, internationally-cast spaghetti Western series That Dirty Black Bag, S1 shown on AMC. (updated 5/24/2023)
Astrid (Astrid et Raphaëlle) - French policier series (Season 1 originally produced in 2019-20, Season 2 in 2021, Season 3 in 2022) Co-created and written by a woman Alexandre de Seguins that intriguingly pairs up two women: autistic researcher "Astrid Nielsen" (played by Benoit Michel) with a break-the-rules/divorced mother "Detective Raphaëlle Coste" (Lola Dewaere) -.
La Otra Mirada (A Different View) - Spanish series, filmed in Seville, set in the 1930's - Season 1 originally produced in 2018, through Season 3 in 2022; 2nd season broadcast on PBS) Male created, but female featured, at a girls' finishing school, where a rebellious spy "Teresa" (played by Patricia López Arnaiz) gets herself hired as an iconoclastic arts & literature teacher. Love the costumes! (updated 1/20/2023)
Seaside Hotel (Badehotellet) - PBS is irregularly broadcasting all episodes of each year's 2013 -2022 nine seasons' series of this Danish series that follow the guests and staff from 1928 and into the 1940s, this started out considerably lighter than the other fare he picks, but got more serious as the Danes had to deal with Nazi occupation. The variegated characters are delightful! Seasons 1 – 9 are already streaming via PBS Passport; all the seasons are available on the subscription channel. (updated 8/14/2023)
Thou Shalt Not Kill (Non uccidere) (Seasons 1 from 2015, 2 from 2017, 3 from 2018) A tough woman detective (played by Miriam Leone), from Turin, Italy. Do the subtitles accurately reflect the dialogue? (updated 3/4/2022)
No Second Chance (Une Chance De Trop) - a 6-episode French thriller from 2015, based on a Harlan Coben book, centered around a professional woman central character "Dr. Alice Lambert" (played by Alexandra Lamy), trying to solve who killed her husband, nearly killed her, and kidnapped her baby- whew!
Before We Die (Innan vi dör) (Season 1 – 2017; Season 2 - 2019) - a gritty Swedish cop show, with an unusual mother/son focus, where the mother cop is "Hanna Svensson" (played by Marie Richardson) who is SO tough she arrested her son "Christian" (played by Adam Pålsson) for drug-dealing in order to get him into rehab. And that's before Season 1 opens with the rebellious son undercover with Croatian mobsters. Season 2 continues the story line by putting him undercover with a corrupt cop ring even as the Croatians are seeking revenge, with the mother ruthlessly responsible for ever more deaths, as she both sacrifices and protects her increasingly PTSD-riven son. The series is written by Niklas Rockström, who also wrote the original Nordic Noir version of Wallander. PBS Masterpiece began playing S1 of the 2021 British adaptation March 2022, with Lesley Sharp as "Hannah" and Patrick Gibson as her son "Christian", written by Matt Baker, who also adaptated Professor T, Baker usefully clarified some plot points. (updated 3/23/2022)
Modus (Season 1 – 2015; Season 2 - 2017) – Swedish serial killer mystery. Season 2 co-starred American actress Kim Cattrall premiered on PBS February 2020.
Professor T (Season 1 – 2015; Season 2 – 2016; Season 3 - 2018) – Belgian police investigations with idiosyncratic OCD criminologist "Jasper Teerlinck" (played by Koen De Bouw), and distinctive female characters. PBS picked-up S1 of ITV's 2021 British re-make, starring Ben Miller, under its Mystery umbrella. The Czech version next?
Line of Separation (Tannbach) (Season 1 from 2015; Season 2 from 2018) – German look at a small town from 1945 through the construction of The Wall, that includes the star of Deutschland. The episode length shown on PBS varied from the original as listed on IMDb, so I do wonder if we saw edited versions of the six episodes. I have yet to figure out if some outlets showed Season 2, and I'm not sure if I caught them on PBS's "Passport" service available to members, as episodes simply disappeared out of my DVR. (updated 8/14/2023)
Résistance (One 6-episode season – 2014) (updated 7/11/2021)
Lady Scarlet and the Duke - PBS's Masterpiece/Mystery usually features British non-commercial co/productions. So thanks for something new: from Ireland, filmed in Dublin, via A & E International, an original story by showrunner Rachael New. Yes, the feminism of feisty "Miss Eliza Scarlet" (British Kate Phillips) to be in early 1880's Victorian London's first female private detective would earn a place in my HALL OF DAMES. But her chemistry and argumentative partnership is dynamite with Scotland Yard's "Detective Inspector William 'The Duke' Wellington" (attractively bearded Scottish Stuart Martin), who is dealing with his own class glass ceiling and machismo issues after being mentored by her just deceased father. With just six episodes in Season 1, I hope that the pandemic only slows when Americans can see Season 2, even if their romance, sigh, is not in the cards, because I'm as obsessed with this series now as I have been in the past with Poldark. The showrunner is very thoughtful about TV's past in this 2/22/2021 Salon interview why they should just stay "friends", but I disagree! Why not explore a working relationship?
(updated 7/6/2021)

Ovation Channel expanded imported shows (some previously seen on BBC America) under Mystery Wheel, including :
Canadian feminist HALL OF DAMES PI in the 1920's series Frankie Drake Mysteries (2 seasons that also played on PBS), which is by the same production company as the charming, continuously renewed Murdoch Mysteries, an 1890's-CSI detective in the Toronto Constabulary, based on novels by Maureen Jennings that I haven't read, that effectivelyintegrates historical figures into its stories.
Some choices are light TV fare, some are well-cast crime shows with international casts such as Crossing Lines, and a few are outstanding series, including Allan Cubitt's BBC Northern Island 2013 – 2016, 3-season noir The Fall (re-plays on some PBS stations) with terrific cast of Gillian Anderson, Jamie Dornan, and John Lynch, and the 2014 Australian The Code. Looks like there's a couple of the imports I haven't seen yet but hope to catch.
Though not a mystery, I'm grateful Ovation included for streaming all of the episodes of the wonderfully cast and filmed 2011 Australian mini-series online Cloudstreet, adaptation of the Tim Winton novel that I had seen a play version at the Brooklyn Academy of Music. (updated 7/6/2021)

MHz Choice specializes in bringing international TV mystery and thriller series to the U.S. is expanding its accessibility, including on Amazon Prime:

Wallander - 13 episodes of the original Swedish series ran in NYC on CUNY-TV, albeit with the profanity quaintly blurred in the subtitles, allowing for comparison with the BBC versions shown here on PBS. Not only do we learn that the correct pronunciation is to accent the 2nd syllable of the titular detective (played by Krister Henriksson), this original has a much feistier daughter detective (Linda, played by Johanna Sällström) compared to the helpless addict in English, though almost too independent romantically speaking. But can I, and the series, recover with the gutsy tragedy of one of my favorite characters shaggy, volatile "Stefan" (played by Ola Rapace, who went on to another of these mysteries for me to be enthralled by). (updated 1/9/2015)

MHz releases of international TV series with Jewish characters I follow in some detail, streaming and on DVD:
In the Face of Crime (Im Angesicht des Verbrechens) (from Germany)
A French Village (Un Village Français) (from France) – Season 1 – 1940/1941 and Season 2 – 1941 and Season 3 - 1942; Season 4 -- 1943 and Season 5 -- 1944; Season 6 -- 1945 and the final Season 7 (updated 1/28/2018)


Looking forward to watching (and reviewing) other notable series now available from MHz Networks "International Mysteries" and their subscription streaming service: Annika Bengtzon: Crime Reporter (from Sweden, 2 DVD set available for review) of TV movies Paradise and Deadlines, by the director of Under the Sun (Under solen), based on the novels by Liza Marklund; Arne Dahl (from Sweden, 1st season available for review); Blood of the Vine (the 3rd season, from France); Borgen (the complete 3 season series in a box set, from Denmark); The Bridge (Bron/Broen) (Seasons 1 and 2 from Denmark/Sweden); The Churchmen (Ainsi soient-lis) (from France, 1st season – 3 DVD set);Crimes of Passion (Mördaren ljuger inte ensam) (from Sweden, based on Maria Lang's novels); The Eagle (Ørnen: En krimi-odyssé) (from Denmark, 1st season); Fjällbacka Murders (from Sweden) based on the mysteries by the renowned Camilla Läckberg, whose hometown on Sweden's Atlantic coast is Fjällbacka and whose crime novels I have downloaded on Kindle but haven't read yet. Available on DVD in the U.S.: On Set 1: The Hidden Child, The Eye of the Beholder, and Friends for Life, on Set 2: The Sea Gives, The Sea Takes, The Coast Rider, The Queen of Light; The Heavy Water War (Kampen om tungvattnet) (from Norway, 3 DVD set);The Legacy (Arvingerne) (from Denmark, 2014); Look of a Killer (Tappajan näköinen mies) (from Finland, 1 season in 2011); Mammon (From Norway, 3 DVD set); Maria Wern (from Sweden, episodes 8 and 9 available for review), Sleepwalker and Not Until the Giver Is Dead, based on the crime fiction of Anna Jansson; Marie's Mind for Murder (The Marie Brand series) (from France, 10 episodes in 2 volumes); ;Nicolas Le Floch (from Germany, set 1 with 10 episodes); Spiral (Engrenages) (from France, seasons 3, 4 and 5 available for review); Unni Lindell: The Cato Isaksen Mysteries (from Norway, sets 1 and 2), and Unit One (3 sets, episodes 1 – 32, from Denmark)
I usually figure that international TV comedies don't travel well, but the satirical Kaboul Kitchen (from France, Season 1, 3 DVD set) looks like an exception with its 2005 Kabul, Afghanistan setting. I'm not usually a fan of series with dogs, but I'll try Inspector Rex (Kommisar Rex): Season 1: Vienna (from Germany, 4 DVD set) (updated 4/13/2016)


On Sundance Channel: [caution: Episodes stay On Demand or Streaming for free a very limited time!]
Deutschland 83/Deutschland 86/Deutschland 89 (from Germany; first season on DVD and On Demand through Kino Lorber; the series became a trilogy, available streaming on AMC+) Opening just like the latest season of The Americans ended, with Communist spies watching in horror Reagan's "evil empire" speech, I expected Cold War noir. Instead it's as historical as it is an amusingly satirical culture clash of a young East German, recruited for the HVA (Hauptverwaltung Aufklaerung) comparable to the CIA, trying to fit in undercover in West Germany while trying to steal nuclear secrets, then in overseas misadventures, before returning for the fall of the Berlin Wall. I was intrigued enough from the beginning to download co-creator American novelist Anna Winger's book This Must Be the Place, and continue to follow her career. Too bad there's so many white-on-white subtitles, as seen on Sundance. Kino let me know: "Kino is not responsible for the show's subtitles on TV: that's Sundance Channel's job/responsibility. Our iTunes subtitles are improved and up to iTunes' specs."
Deutschland 86 (updated 10/24/2020)
The Bureau (Le Bureau des Légendes) (France, via Kino Lorber) The first two seasons first ran on the subscription channel Sundance Now, but for a brief window, were binge-available before the 3rd season; subsequent seasons back on subscription only. With every operative speaking their native language (French, English, Arabi, Farsi, Russian, etc.), this feels very authentic. This is a dense lesson in the necessarily merciless ethics of "hum-int" human intelligence gathering (and the impact on those so employed, particularly Mathieu Kassovitz as "Malotru") is serious, and not played for cheap thrills and American-style violence. The women play substantively important roles. (updated 11/18/2018)
Last Panthers (multi-European) So Interpol and governments go full press about a diamond heist because a child is inadvertently killed? Just another day in the U.S. But the movie stars (Tahar Rahim, Samantha Morton, John Hurt and the pan-European cast in varied settings makes this worth watching. (4/29/2016)
The Honourable Woman (From U.K.)
The Returned (Les revenants) (1st season on DVD) Three cheers for foreign-language TV series making it on to our U.S. TV sets! (I'm OK with having to use the DVR because Time Warner's connection with Sundance Online is unreliable.) While I haven't yet watched the DVD I bought of the original French film (2004) this is based on, I'm even tolerating the intrusive commercials in this cool series – for the actors, the intriguing set-up, and the landscape. The A & E remake follows the same scripts, but doesn't have quite the same spookiness, so I haven't made too much of a point to watch for comparison. Unfortunately, the 2nd season didn't quite live up to the build-up, even as the secrets were climaxing to revelation. (updated 5/2/2016)
Top of the Lake (from Australia/New Zealand) A brilliant mini-series that reinforced that TV is not only the place where a writer/director like Jane Campion can stretch out, but can also star women in complex roles, here the ferociously stunning performance of Elisabeth Moss, more known for Mad Men, as "Robin" a prodigal daughter turned avenging detective facing difficult men all around her: a sexist (and worse) boss "Al" (played by David Wenham), a drunken patriarch "Matt" (Peter Mullan further developing his scariness from Tyrannosaur), and a guilt-stricken former boyfriend "Johnno" (the very appealing Thomas M. Wright), to solve problems of pedophiles and domestic violence.
So cinematic, the series theatrically binged at 2014 Film Comments Selects of Film Society of Lincoln Center) (updated 3/7/2014)
City Of Men (I reviewed all 4 seasons on DVD.) (emendations to review coming after 10/4/2007) The team behind City of God (Cidade de Deus) continues the saga of the children of the favelas. Just from viewing Episode 1 - "The Emperor's Crown" you knew this was different than anything else on TV as it took a dry lesson about Napoleon's conquering of Europe and Brazil and brought it to life as battles between drug-dealers for hills, money and obeisance. Season 1 consists of episodes 1 – 4. Season 2 is episodes 5 – 9. Season 3 is episodes 10 – 14. Season 4 is episodes 15 – 19. The full arc concluded in the film City Of Men (Cidade Dos Homens). Antônia is a femme take on musical life in the favelas, first as this film, then as a follow-up TV series – will Sundance bring us that too? (updated 2/29/2008)
Best of Youth (La Meglio gioventù) was an early example of a mini-series first shown in the U.S. (theatrically in two seatings of 3 hours each and on Netflicks as 2 separate requests, and then shown on the Sundance Channel as originally shown in Italy. Out on DVD.) It proved that Italians have learned the art of the long-form television mini-series that the British have long mastered.
Covering a somewhat same period of the baby boom generation as In A Land of Plenty, it has more of the generational feel of individuals caught up in history as we have usually seen in British mini-series about end-of-the-eras or World War I, such as Brideshead Revisited and Jewel in the Crown. U.S. mini-series were more successful as sweeping historical epics, even when they were also family sagas like Roots and Centennial; when the networks tried to interpret more recent history, as in The Sixties, the set characters sped through Zelig and Forest Gump-like in happening to be at the right place at the right time; perhaps the several seasons combined of the NBC series American Dreams could be considered comparable in showing how the times that are a-changing affect a family.
Best of Youth, though I'm not sure even shown in two parts of three hours each how edited it is from the original format, as other grand European mini-series like Berlin Alexanderplatz, Das Boot and Fanny and Alexander were originally only shown in the U.S. in truncated theatrical versions as even PBS seems averse to television with subtitles so we rarely get to see the best of world television. Comparison to the Italian film The Leopard is unfair as that was not created in the same format and covers a shorter period of historical time.
Best of Youth combines charismatic acting, leisurely directing amidst beautiful scenery in several parts of Italy with writing that takes the trajectories of complex yet consistent characters' lives believably and searingly affected by uniquely Italian experiences of the baby boomers' young adult years through middle age, without the American tendency to reject or regret youthful ambitions, through the lens of local natural disasters, violent political activities, judicial battles against the Cosa Nostra, European economic changes, with regional variations, that Americans rarely see in movies.
The focus is primarily on two brothers from the 1960's almost to the present, played by two actors who must be the equivalent of George Clooney and Richard Chamberlain in Italian television. Alessio Boni in particular as Matteo captures the screen with such tortured macho dynamism that it's no wonder he's gone on to play Heathcliff and Dracula in other mini-series. His Paul Newman-like startling blue eyes become a talking point of the series and a continuing visual leitmotif. Similarly, the physical differences between the two actors help to point up the different paths the brothers take through life, even as the casting of other family members to look like them is eerily effective.
The series is particularly good at capturing the camaraderie amongst old male friends over the years and the intimate interactions of members of a family, particularly with children, with a strong theme of the importance of both as an anchor. Unlike in American TV where women are adjuncts as the girlfriend/wife/mother, the key women here are crucial fulcrums in the brothers' lives and have separate intellectual, psychological and emotional demands.
The emotions are important here -- grief is shown very movingly, with more pain and tears than American culture usually allows. In one extended scene, we see a grieving mother walk slowly up a long flight of stairs in numbed silence and gradually see her revive as she learns of surprise news about her son.
There are of course some coincidences of family members' and friends' paths crossing at key junctures, but the story overall grips us.
The pop music selections, American, European and Italian, are wonderfully evocative. (3/19/2005) (updated 10/22/2014)


Trapped (the first fiction series on Viceland Channel; Seasons 1 and 2 are on Amazon Prime) Scandinavian Noir via Weinstein TV from Iceland is a complicated mystery raising many international issues, with no conventionally perfect-looking actors, so you really feel their stress. It's hard enough to even find Viceland, that took over the History2 Channel, too bad it's confusingly presented, on the busy Sunday night of quality TV, sometimes one episode, sometimes two or three – so even with DVR-ing watching On Demand can be necessary to keep up with the case. (updated 1/15/2022)




British:
On HBO – Co-Production with Sky: Chernobyl - Even as some complain of composite characters and some dramatizations for effect, this was a startling re-living of the first nuclear plant fail, that is presented here as leading to fall of the USSR as the lies could no longer be sustained. Over five episodes, terrifying and gipping! (6/4/2019)
On Logo: Cucumber and Banana -- These paired British limited series written by Russell Davies, the original creator of the U.K. version of Queer as Folk (that I have on DVD but haven't yet watched) is refreshingly not about gorgeous men sleeping together. Cucumber starts at the break-up of a middle-aged male couple, with the focus on"Henry Best" (played by Vincent Franklin) re-learning the ropes of gay romance in a new age in Manchester. Banana is an anthology series, with each episode focusing on different gay characters, including several on lesbians, of different ages, and most working class. I discovered the series after its first-run, and didn't take my own advice to complete the series before all the episodes were taken off free On-Demand or free streaming, so I only got to watch half, and missed a key episode, though I got a sense that the two series crossed paths. Oh well, maybe they'll be repeated. (updated 7/5/2015)
Starz has been featuring excellent British mini-series that tackle serious subjects with superb acting and writing: Dancing on the Edge and The Missing (2 seasons).
A Young Doctor's Notebook - Thankfully, Ovation is repeating this series, now that TWC let it back in the cable house, based on Mikhail A. Bulgakov's comic short stories, with Daniel Radcliffe as the Young Doctor surrounded by winter, morphine, syphilitic peasants, and the Russian Revolution and Jon Hamm as his Older Conscience looking back from his own 1930's problems. (9/2/2014)


BBC series on BBC America:
The Hour (both seasons out on DVD) at first seemed like the British Mad Men, with its look at the birth of TV investigative news in the late 1950's and it's great to watch the terrific cast get to stretch beyond their usual roles, especially the women --a maturing Romola Garai and Anna Chancellor as an experienced foreign correspondent—the ever handsome and arrogant Ben Wishaw, Dominic West, and an almost unrecognizably serious Peter Capaldi as their boss. But as involving and challenging as the stories are, one can't help but wonder how they would handle the BBC's avoidance of the pedophile in their midst at the time. (updated 1/4/2013)
With Broadchurch (2 seasons on DVD), it's great to see actors playing against type: Olivia Coleman (of the comic 2012 satire and the dramatic film Tyrannosaur, David Tennant (of Dr. Who etc., and is in the American re-make on Fox Gracepoint), and Andrew Buchan (of Party Animals, see below). (updated 5/6/2015)
Glasgow Kiss was promoted as a "love story for grown-ups," this has a lot in common with Once and Again as these are two complex, mature folks with relationship and family baggage. The brogues are thick and the slang and geographical references go right past me. (I had to go to "The Scotsman" newspaper to learn that: "A 'Glasgow kiss', after all, is a hardman's calling card – a headbutt. It's a phrase that sums up all the knee-jerk prejudices outsiders harbour about the dear green place. We prefer a square [huh?] go to a snog [see what I mean?]. If a Glaswegian takes a lunge at you, the intention is more likely to be criminal than carnal. However, in this case, we're being double-bluffed – because this is a literal-minded interpretation of the cliché. Glasgow Kiss is about people kissing in Glasgow. It's making the point that even in a city notorious for its violence, tenderness and romance and non-threatening, made-for-each-other Mills and Boon eroticism can flourish.") But the romance and the reality are both charming and poignant, such as the passionate cri d'coeur by (BTW hunky) Iain Glen on the pain his mother-in-law causes him with her constant grieving over his late wife. And the career woman has much more competence than the love-tossed executive of Ally McBeal.
Another lovely, similarly romantic one-season series so in effect was a mini-series was NY/LON, with Rashida Jones as a Lower East Sider and Stephen Moyer as a London investment banker, even if it left us, boo hoo, hanging at seven episodes. Maybe the American re-make with Elisha Cuthbert will last longer to let us know what happens.
Though BBC-A's sometime "Crimes of Passion" label is an anthology excuse for showing one-off TV movies as mini-series. are terrific slices of grit, but almost all of them feature appealing hunks. British series at their maximum are much shorter than the U.S. standard season so BBC A has to keep importing many series, though they don't always bring us all of the episodes and some are brutally cut incomprehensibly to fit in the commercials. But these are deliciously franker than U.S. procedurals or TV murder mysteries, from language to gore to situations. Some are repeats of series previously seen without commercials in the U.S. on PBS, such as the original version of Touching Evil and Second Sight.
But they are also terrific tales -- from Waking the Dead (2 seasons on DVD), Silent Witness, Vincent, Eleventh Hour (which was a bit science-silly and was re-made for U.S. TV) and Wire in the Blood (6 seasons on DVD) which go way beyond CSI in emotionality; Night Detective (which was franker about racial issues than most U.S. cop shows); Murder Prevention Unit (which shows cops as violently compromised but more tortured than on The Shield as they violate what would be 1000's of U.S. laws in a Minority Report crossed with Prime Suspect - and an American version was developed and quickly died); Sea of Souls (darker than Medium and more intellectual than Supernatural) and the similar Afterlife, to Vice (which really got into how that beat can affect the cops, like L & O: SVU); to Murphy's Law (which the last season was very-The Wire-like in getting down and grubby in the drug world as it played out like a mini-series with one complicated case, fueled by a magnetic James Nesbitt miles away from his comic turns in the likes of Coupling - especially cynically having an Afghan drug importer claim terrorism info to help the Brits get in good with the Yanks). Murder City is more imitative of U.S. TV cop shows. Innocent is almost identical to a brief similarly titled U.S. series. The terrific Jekyll was played as part of Supernatural Sundays, but was also On Demand. (updated 8/25/2009)
Life on Mars (2 seasons available on DVD) is a neat splicing together of CSI and NYPD Blue as a DCI gets transported back to the bad old days of instinctual, low tech, sexist, cigarette-smoking cops so he comes across to them as Sherlock Holmesian. American re-make being prepared, even with an interesting cast it's having problems. The filmed-in-NY American version was almost as good, but lost too much of the weirdness and comparisons between past and present policing. (updated 11/26/2009)
But BOO to giving us a very cut up version of the otherwise mesmerizing Conviction! They showed us Bodies extended with commercials so why can't they give us all of this twisty tale that's hard enough to follow as it is. Worst editing botch they've ever done, and that's saying something. They're as bad as AMC with Hustle and A&E with MI:5 (Spooks). (updated 8/25/2009)
U.S. TV has intermittently seen the lanky appeal of Scotsman John Hannah, who in his native TV series is as incomprehensible to the American ear as Robert Carlyle is (similarly seen on BBC A in Hamish MacBeth - 3 seasons on DVD). Various PBS stations and BBC America are playing Hannah's frank medical examiner investigative series McCallum (all out on DVD), where he seems to spend as much time naked in bed as he does in his lab -- and I cannot keep straight his character's on-again, off-again relationships. BBC America at various times is rerunning the four episodes of Rebus, based on the Ian Rankin novels (and new ones with a different actor), where he plays a seriously flawed detective in an Edinburgh that I had no idea was as drug and organized crime infested as the Baltimore of The Wire, when I can figure out what's going on through the thick Scottish brogues (so now I want to read the books the series is based on), though we'll be getting a new Rebus soon. Bravo has shown his Dr. Jekyll and Mr. Hyde. He popped up in a couple episodes of Carnivale on HBO. He even took a small role as a friendly cop in an episode of the new Miss Marple series on PBS's Mystery.(updated 10/27/2007)

Ovation's The Best You've Never Seen brings international TV mini-series to American audiences. Nice to be able to see the likes of the Australian Cloudstreet, and the UK/German The Sinking of the Laconia (out on DVD). As Time Warner cut the channel, I won't know if they went beyond the usual British dramas, but it was a misnomer to include the version of Moll Flanders that was already shown on PBS. (updated 1/4/2013)


Streaming series:
Prisoners of War
Party Animals (1 2007 season on BBC) I found streaming on Hulu after their algorithm presciently suggested I'd like it – I loved it! I first was caught by the Aaron Sorkin-like whip-fast dialogue on lobbyists vs. Labour vs. New Labour vs. Tories, where everyone gets compromised and manipulated, but sure got involved in how the sexy personal got tangled with the political, particularly with Andrew Buchan, who I recognized from the just shown in the U.S. The Sinking of the Laconia (2011). I enjoyed his dimples showing up as his Labour operative "Scott Foster" kept mis-crossing yet fell in love with hot shot Tory "Ashika Chandirimani" (Shelley Conn, much better here than in the several subsequent Brit and U.S. TV series I've seen her in), while his brother "Danny" (Dr. Who's Matt Smith) engagingly struggled with principles vs. positioning for a stressed woman Member of Parliament. I gave up on trying to get any work done on the computer, and pretty much watched the 8 episodes in a one-day marathon. Then re-played, and trolled a fansite of those with shared fondness for certain scenes (and where else to learn his off-screen connection to Downton Abbey). In order to get back to work, I bought the Region 1 DVD (yeah, with deleted scenes), and also the 3 seasons of the irresistible Buchan as the titular early 19th century lawyer in Garrow's Law (BBC, 2009 – 2011, 3 seasons on DVD) that was only shown in the U.S. streaming on Amazon not for free (hmm, so I ended up spending the same amount anyway to see it?). (updated 8/9/2012)


It's Always Sunny in Philadelphia (now on FXX, repeated frequently and earlier seasons in syndication on Comedy Central, 9 seasons on DVD, bonus scenes and episodes pop up online.) I watch few sitcoms, but I admit that I have caught and laughed with most of these outrageously misanthropic episodes. I cannot figure out how their underused bar stays in business, and I thought the addition of Danny DeVito in the 2nd season would be a silly gimmick, but these three clueless guys with their sister/gal buddies (married couples now in real life) and dad just keep sinking lower and lower in what they'll do for their own selfish purposes – hilariously. They poke fun at every sense of ethics and political correctness. Even their promotional ads are funny. Like the Marx Brothers, they even test out material live on the road.
I may have missed several seasons or at least many episodes, but I try and catch up as I can, because I always expected to see a Jewish woman as the butt of their scabrous humor, but didn't catch one until the 11th season. (updated 3/26/2016)


Mr. Robot (on USA, 1st season on DVD) Too almost realistic to be categorized with Sci Fi, let alone that this doesn't qualify for my HUNK 'O' METER, even with Christian Slater as the mysterious titular character. Because the central mesmerizing character "Elliot Alderson" is played by the, well, kind of odd-looking Rami Malek, both when he's on screen and his paranoid narration. Critics who say this is the first prominent hacker in a series are wrong (they're in every kind of show these days), but the computer security issues are so up-to-date that I can barely follow the conspiracies. However, I'm not as rapturous as some critics, because once the twists and turns played out over the season, the revelations are what I expected from the first episode. (updated 1/1/2016)

The Mysterious Benedict Society (7/2/2021)

Ray Donovan (on Showtime, 3 seasons on DVD – I'm behind a season or 2) Whatever the plots (and the ethnic and criminal resonances with the real case of Whitey: United States Of America V. James J. Bulger are colorful), the casting and acting are a treat to watch – especially a macho Liev Schreiber in the ethics-challenged title role. (updated 11/21/2015)

Shameless (6 seasons ran uncensored on Sundance Channel, unlike just the edited 1st season shown on BBC America. All 11 (!) seasons are streaming uncut on Hulu, catching up, presumably, with the last of the 2013 British episodes.) Yes, the Manchester accents are virtually indecipherable, and I may just have to figure out how to get closed captioning onscreen. Paul Abbott's semi-autobiographical tale of a large family of siblings largely fending for themselves though fiercely protective of each other and their drunken father is outrageous and completely unpredictable, going beyond any family on U.S. broadcast, basic cable or premium TV. Even though I wait breathlessly for each moment that James McAvoy is on the screen (falling in love in real life with his onscreen co-star) and he's probably the reason Sundance picked it up, but I love the roller coaster ride that is this rambunctious family that quirky doesn't even begin to describe, as even the most serious issues and unexpected behaviors are fodder for blunt and pointed humor and poignancy. The scabrous Christmas special was only played once overnight on BBCA during the holidays and of course I managed to tape it wrong so didn't get to see the whole thing so I was thrilled that my new DVR worked so that I could catch the Sundance Channel repeat of that too even while I was out of town. OMG – did I cry when in the 2nd season "Steve" had to leave "Fiona"! And then again when she left to join him! One season got silly, but then wham bang it got back to more comically dramatic outrageousness.
John Wells seems to have developed the American version (on Showtime, 6 seasons on DVD) so closely with Paul Abbott that it's a bit of a shock to hear them talk the same lines in American, albeit not even as with comparably thick Chicagoland accents. But the characters are given more psychological motivations for their somewhat bizarre actions in the U.S. version. The series now emphasizes how rarely we see poor white people on TV. Yes – in Season 5 "Rite of Passage" episode that was our cousin Alan Blumenfeld as the gay porn film producer. (updated 1/1/2016)
Skins (originally shown very censored on BBC America. At least 4 –by Brit count-- uncensored seasons out on DVD, but with different music due to rights issues – with all seasons were streaming on Hulu in 2012, but by 2013 only 1 season was available on Hulu Plus.) Covers some of the same ground as Shameless, adolescents discovering sex and a lot of other issues, but with cool music. BBC A is thoughtfully providing a slang glossary and some subtitles, when the accents get the most impenetrable, but the censorship makes for a lot of silently moving bleeped mouths. MTV's version was set and filmed in Baltimore, also with actual teenagers (more controversial in the U.S., but on basic cable they will still be bleeped, with character differences, including a Jewish girl. (updated 7/13/2013)
A comparable funny gay series that managed to be outrageous and sympathetic was the brief Beautiful People, (shown and repeating on Logo) inspired by the adolescence of window dresser Simon Doonan in Reading, England. Sundance Channel is also showing the somewhat macabre Ideal about an obese agoraphobic marijuana dealer and his outrageous customers and neighbors, but the slang and accents are harder to penetrate. (updated 5/11/2012)


Silicon Valley (on HBO) A contemporary half-hour sit com, boys' club version of the earlier-set Halt and Catch Fire. Though the Nerds are a bit bit too much like The Big Bang Theory, the satire of the boom and bust of the venture capitalists, personality-driven CEO's, etc. of the tech industry in California is funny satire. (5/22/2015)

Star Wars/prequels/sequels/series: I have got behind on the feature films in the "Star Wars Universe" beyond Star Wars: Episode I - Phantom Menace, Star Wars: Episode II - Attack of the Clones, Star Wars: Episode III - Revenge of the Sith, and Rogue One: A Star Wars Story, and occasionally catch some episodes of the animated Star Wars: The Clone Wars. When I have press access to Disney+, and can watch complete series, in order, here's the ones I love!
The Mandelorian (Seasons 1 – 3 on Disney+) this TV series ups the ante with feature film level credits – as created by writer/director Jon Favreau, with impressive other directors, including Bryce Dallas Howard and Robert Rodriguez. The episodes neatly fit in and around the earliest, and best of the Saga, with marvelous references to characters and situations, while bringing new, 3-dimensional characters and tensions, most notably a proto-Jedi that fans first called "Baby Yoda", whose actual name was revealed in S2, who bonds with the titular foundling turned knight (played by the charismatic Pedro Pascal, even when the audience can only identify him by his voice under his armor). Secondary characters are marvelous, including Gina Carano as the tough fighter "Cara Dune" (I was expecting some romance), Giancarlo Esposito as the villain "Moff Gideon", Temuera Morrison as the warrior "Boba Fett" accompanied by the sharpshooter "Fennec Shand", played by Ming-Na Wen, and the ever amusing Amy Sedaris as the handy ship repairer "Peli Motto". Sure there's lots of action and battles per episode, but the very involving relationships and antagonisms develop despite special effects, heavy costumes and make-up. (9/7/2021)
The Book of Boba Fett (2021) – under the direction of Robert Rodriguez
Obi-Wan Kenobi (2022 mini-series) With the most convincing child actress in Vivien Lyra Blair as "Leia Organa"
Andor (2022) Besides the incredible production design, complex plot, and characters (including females, and in a couple), Diego Luna is all in as the title character, and I'm in love as much as when he's on the Big Screen. (1/10/2023)


Taboo (On FX) If this was just about watching Tom Hardy as half-breed, African traveler and shaman "James Keziah Delaney", it would just rate on the HUNK 'O' METER. But it's also fascinating imperial and colonial British history with a terrific supporting cast. While many of them got killed off (some characters deservedly as revenge), Season 2 will set sail for America to his Native American roots. (3/8/2017)

The Terror (On AMC) While this is an anthology horror series with changing showrunners, there's historical resonance. In the first season (based on Dan Simmons' novel that I haven't yet read), it posited that indigenous spirits in Canada resisting colonial intrusion doomed Captain Sir John Franklin's expedition to the Arctic in 1845-1848. The second season Infamy ratchets up beyond the terrific acting and production design by setting the ancient spirits in a Japanese citizen internment camp during World War II, and battle theaters, with an almost all-Asian-American cast, with at least half the dialogue in sub-titled Japanese. (9/3/2019)

This Is Us (On NBC) In the tradition of such family dramas as 30Something and Parenthood, an irresistibly, but somehow not schmaltzy, wonderful multi-generational through audience time-travel portrait of a ultra-complicated extended family. The actors are familiar from other TV series, but, gosh, this is the best work they've ever done! Each episode leaves me in tears! (11/28/2016)

True Detective (On HBO, 2 seasons on DVD) Series creator Nic Pizzolatto moved to my Auteurs To Watch List! (And I downloaded his novel and short story collection to keep the feel going when these eight episodes, of what is more like a mini-series, are over.) Despite a kooky serial killer premise, his language is extraordinarily exquisite. Not only is the use of the Louisiana landscape not just for the tax credits, but a palette for film director Cary Joji Fukunaga (Jane Eyre) to play out extraordinary images and moving camera (The "Who Goes There" episode is like rural Scorsese). But two Texas-born actors give performances (actually, two each, playing young detectives AND the burned-out middle-aged versions of themselves 17 years later) that define how the New Golden Age of TV matches the best of cinema: Matthew McConaughey is draw-droppingly harrowing, matched step for step by a fraying-til-wit's end Woody Harrelson.
Becoming an anthology series, like the uneven American Horror Story. the 2nd season, set in a sleazy Los Angeles very much like sequel to Chinatown, the episode-recapping audience, unfortunately, was unwilling to be patient with an auteur-driven series that takes time for character development, resonant mise en scène (great use of the settings), gorgeous cinematography, bon mots dialogue, darker music, so that solving the case (amongst cascading numbers of bodies) became secondary. The visuals were spectacular: a massive shoot-out on a mid-day city street; another lit only by flashlights in dark tunnels; a gangster left for walking dead in a desert talking to people from his past; and a shoot-out in the forest that was a direct tribute to Bogart in High Sierra laid low by his fondness for a dog (here it was his son). The attractive cast – Rachel McAdams, Colin Farrell, and Taylor Kitsch as the titular characters, and Vince Vaughn-- playing against Hollywood type as grungy and damaged. Somehow the female characters staggered out alive. (updated 1/1/2016)


The Walking Dead (On AMC. 11 seasons, 2020 – 2022 – and I watched them all!) Even without reading the graphic novel for comparison, I love how each season explores the zombie apocalypse in fascinatingly different ways and means, even as it kills off beloved characters and adds new ones, balancing intense emotional psychological development and gory action. Amazingly, not only did the series get stronger into the 6th season, but the surviving women's roles, young and mature, got stronger and stronger, not just the samurai warrior "Michonne" (played by Danai Gurira) but the scarily practical middle-aged "Carol" (played by Melissa McBride). What a surprise that the Mayor of Alexandria "Deanna Monroe" was so shrewdly played as a true political leader by Tovah Feldshuh. Not only is the Talking Dead Aftershow terrific fan therapy (Chris Hardwick is better here than elsewhere), the best outside guest panelist is Yvette Nicole Brown, but it's fun hearing "How-We-Did-That" from the director/SFX crew. (updated 7/9/2022)
Fear The Walking Dead (off-shoot on AMC, 8 seasons, 2015 – 2023 – and I watched them all!) What a surprise that a simultaneous story in California could be just as good, with a separate cast of characters coping with the same unfolding catastrophe from their different situations and backgrounds, including complicated Latinos (kudos to Rubén Blades) and more strong women (kudos to Kim Dickens). (updated 7/9/2023)
The Walking Dead: Dead City (off-shoot mini-series on AMC, 1st season – 2023) (at 2023 Tribeca Film Festival)
The Walking Dead: Daryl Dixon (off-shoot series on AMC, 1st season – 2023) What a surprise that the vehicle for popular Norman Reedus, in addition to his motorcycle-riding reality show that I haven't watched, placed in Paris, of all places, for the ultimate fish-out-of-water angle, should be so good! Sure the settings are marvelously different, but also the multi-cultural cast, with a lot of sub-titled French, leading with Clémence Poésy (who was so good over 3 seasons of The/Le Tunnel) as "Isabelle", party girl turned nun guardian of her nephew, who she views as the savior. (9/26/2023)

Watchmen (On HBO) Within a mind-bending, time-traveling context, barely related to the graphic novel, the story and multi-generations of impact of the murderous white riot against the citizens of Tulsa and its "Black Wall Street" on May 31 – June 1, 1921 is the anchor for this mind-boggling, strongly cast, alternative, sci fi history of vigilantes and societal control. After the 2020 #BlackLivesMatter uproar against police brutality and racial discrimination, HBO made the series available for free. (7/3/2020)

Yellowstone (On Paramount) Created by one of my favorite progenitors of the "new Western" Taylor Sheridan (writer/director of Wind River, writer of Hell or High Water), this Big Sky country violent melodrama, with great scenery, is not just HUNK 'O' METER material, what with the "Dutton" patriarch played by Kevin Costner, his two adult sons "Jamie" (Wes Bentley) and especially PTSD-suffering former Navy SEAL (sic) "Kayce" (Luke Grimes), and their henchman "Rip Wheeler" (unrecognizable Cole Hauser, in what may be his first seemingly evil role – but he shows heart-grabbing vulnerability in S2). For a show touted by the network for attracting more young male watchers than female, the women are strong – the politicians are female and the Dutton daughter/sister "Beth" (Kelly Reilly) is scarily MBA-tough in negotiations, let alone in physical confrontations. While Sheridan has said in interviews that "Beth" is his favorite character to write dialogue for as the free-est who doesn't give a damn what anyone thinks, he says the true leader of the family was the late matriarch, and the family has been slowly dying since.
Unusual on TV are the Native Americans scheming to get their land or its value back, including "Thomas Rainwater" (Gil Birmingham). While I'm still working out the not fully plausible chronology of their back story that's been revealed in drips and drabs, the chemistry between "Kayce" and his Native American wife "Monica" (Kelsey Asbille) is irresistible! (Grimes in promotional interviews described them as Romeo & Juliet for a start, because they are from different backgrounds.) The patriarch, in effect, bribes her to come off the reservation (where she was already disturbed by her sister-in-law's suicide and violence at her school) to bring her husband and son to the ranch by getting the high school teacher a professorship in Native American history at the local university. While the cliffhanger to S1 was her leaving him altogether – and heck I wasn't sure I'd continue watching the series, in promotional videos, the actress described the negative in-person fan reactions as more negative about the wife seeking to be independent of the Duttons. A typical online comment I saw was criticism of the wife as "pouty".
In Season 2, Sheridan was more showrunner than auteur in the first half, as he focused on a cowboy competition series I have no interest in, though he did co-write key episodes, so some relationships got confusing. Even as "Beth" and "Rip" became my surprising 2nd fave couple, my first fave suffered dizzying vicissitudes. Though "Kayce" can't ride away from the ranch that his wife calls "a giant Alamo", wounded "Monica" reluctantly used the patriarch's connections at the local college, but on her terms with the college president: Which version of Columbus's history am I teaching? Yours, Mrs. Dutton. Long. My last name is Long. It used to be "Long Spear," until my grandfather was taken from his parents and sent to a Catholic school funded by the Bureau of Indian Affairs, where they changed his name and tried to teach him how not to be Indian. I look forward to teaching young minds all about the man who introduced genocide to the Western Hemisphere. She takes the mostly white students to a traditional horse-riding relay race (invited by her flirtatiously handsome physical therapist "Martin" (played by Martin Sensmeier) and in "Behind Us Only Grey" a holiday festival on the reservation with angry red hip hop. She tries grooving on the politically-charged songs -- performers included Joely Stylez doing "Save Your Soul" and Drezus doing "Warpath" -- surrounded by young Indigenous pumping their fists in the air. She is still wearing a red "Native Love" T-shirt when she gets into bed with her husband. In the next episode "Enemies By Monday", the sisters-in-law bond in surprising solidarity against racism, when "Monica" calls "Beth" for help, and even though she herself is barely recovered from her own violent confrontation, "Beth"s scathingly intimate knowledge of the now-snobby women in town helps: You used to babysit her husband! The 2-part finale, co-written by Sheridan, was not only horrific, but resonated over the historic abduction by authorities of native kids from their mothers – particularly those with white fathers – here by a white nationalist "Montana Free Militia" hired by the Duttons' dastardly business enemies (sociopathic brothers who Sheridan says were inspired by a real duo). Intriguingly, "Rainwater" pretends to the patriarch that he didn't know the Dutton Family now includes Native Americans, which he knew from S1 Ep1, and sends his best warrior, as it were, to help. (I first just watched the last 10 minutes to be sure the kid survived before I dared to re-play the whole episode.)
While the network's head hopes the series will continue for 6 – 7 seasons, even in S1 Native American issues on/off the reservation were raised not usually seen on TV, such as kidnapper/rapists, drone-flying treasure hunters, teacher shortages, poverty, lack of job opportunities, cultural insensitivity to traditional practices by the health system, and negative presumptions about behaviors. But only after S2 concluded did I learn that the noted Saulteaux First Nations (and under-utilized) actor/activist Adam Beach objected to the casting of "Monica" before the show aired, and into 2018: "Failure in diversity. I'm asking my Native Actors to stay away from this project. Yellowstone is telling the world that there are no Native actresses capable of leading a TV show. Unless your great-great grandparents are Cherokee." (AKA "redwashing".) While she was also cast as a Native American in Wind River, her background is ambiguous. Her father's roots are in Taiwan (in her earlier Disney Channel days she used his last name of "Chow"), while she says her mother is part Cherokee – but is that in the sense that Senator Elizabeth Warren had to learn not to claim? Formidably studying for her bachelor's in indigenous rights at Columbia University (I checked – this is presumably through CSER, the Center for the Study of Ethnicity and Race) while continuing her acting career, her comments before S1 aired to Last Magazine were articulate, but avoided the key issue: "'In terms of identity, mixed race identity, and talking about identity that falls outside traditions, it's a confusing process and at least I'm in good company.' Asbille does not take her heritage lightly—she learns Cherokee online, in a structured course provided by the Cherokee Nation, and she has a tutor to teach her Mandarin. 'We're kind of the black sheep in the family,' she says, abashedly. 'We're the only ones in the family who can't speak Chinese.' But she acknowledges that it's a process: "I just went to China for the first time at twenty-five and meeting some of my family there was a learning experience. As you get older, you learn what it is that defines you.' She points out, positively, that at the very least conversations about these topics are happening and she appreciates cinema's role in sparking the discussion. 'The exploration can be painful, but in the end, I think it's a blessing.'" The actor who portrayed her alternative love interest is also of mixed background, though identifies more explicitly in bios as of Tlingit, Koyukon-Athabascan, and Irish descent.) I have not seen discussion of the issue continuing into S2; we'll see the reaction to S3 when Q'orianka Kilcher is added to the cast; her bio identifies her background as a Peruvian indigenous father, of Quechua-Huachipaeri background, and a mother of Swiss descent.
By the ever more violent Season 3 and its repercussions in Season 4, "Monica" brings her husband closer to her Native American tribe.
Paramount presents Taylor Sheridan's historical prequel "Origin Stories" (introduced on regular cable, streamed on Paramount+, some episodes then re-run on Paramount Channel): 1883, a 10-episode mini-series, showing immigrants and traumatized Civil War veterans as pioneers heading West in covered wagons beset by nature and bandits, filmed gorgeously by cinematographer Ben Richardson, and 1923, Season 1 streamed, S2 planned. (the latter not yet available off-streaming). (updated 7/27/2023)



GONE BUT NOT FORGOTTEN: WATCH FOR REPEATS ON CABLE OR ON DVD/VIDEO/STREAMING

24 (on Fox. A & E is running earlier seasons and other days are in syndication -- I have no idea how you folks watching it that way can keep of which "day" you're watching. 7 seasons out on DVD, 1st season re-released enhanced. Soundtrack available. The producers of La Femme Nikita rebound from that cancellation (so why can't they find a role for "Michael"?) by sticking it in the eye of the imitative Alias with this thrilling, complicated, violent ride through a single exhausting day in the life of a government agent trying to prevent an assassination (the first season) and a nuclear bombing (the second season) and a plague (the third season) which was really a devilishly clever way for the producers to get a 24-episode commitment from Fox. On Charlie Rose in May 2005, producer Joel Surnow explained that Season 1 was influenced by movies, like The Day of the Jackal, In the Line of Fire and Three Days of the Condor, but since 9/11 they've been more influenced by the real world.


I originally filed this under HUNK 'O' METER because not only do we get Kiefer Sutherland and Carlos Bernard, but also in the first season a coupla hunks with Eastern European accents who kept getting killed off, and a few other hunks who it took awhile to figure out if they were good guys. But the stories are just so gripping, involving, and creative that I now officially consider this "quality." The multi-tasking screens remind me of the 1965 World's Fair's dazzling showcases, but actually serve a simultaneity purpose. The 2nd season closer twist really got me looking through past episode guides to figure out where that loose assassin came from in the 1st season. The former Penney Johnson should have gotten nommed for an Emmy for her turn as Lady MacBeth -- whew, and folks used to criticize Hilary? Loved her version of Bette Davis in The Little Foxes.


The third season played very effectively on our current fears about terrorism and hazards and really giving Reiko Aylsworth a chance to show her stuff. Ah, the fourth day is once again full of Lady MacBeths and Damsels in Distress! As Frank Rich wryly noted in The New York Times on January 9, 2005: "As 2005 begins, we must confront the prospect that a fictional TV action hero is more engaged with the war on terror than those in Washington who actually have his job." Yeah for "Tony" --much embittered by his experiences --to returning to save the day -- but once he declared his love to his ex we knew he was doomed as everyone other than "Jack.") But Season 6 is no longer "the worst day of my life" - so which one was?
Oh no – Day 8 is threatening to blow-up my neighborhood of Forest Hills! (updated 3/2/2010)



The Wall Street Journal on 3/24/2006, The Pilot Season's Magic Number by John Lippman, finally took notice of 24's impact on TV networks: (fair use excerpt) "A TV show with a dominant, continuing story line 'works like a 13-hour or 24-hour movie,' says [agent] John Bauman. . .And that has attracted talented screenwriters. 'Writers really want to write for these shows because they are character-driven.'. . .TV writers. . . say they find the serialized format a breath of fresh air in the Hollywood smog of formulaic dramas. 'You can develop a character and that's pretty interesting,' says Jack Orman, a former executive producer of E.R.. . .
But attracting writers isn't the main thing driving these shows. As with most things in Hollywood, economics is key: 24 has become a big seller on DVD, and DVD sales are a growing part of TV industry profits. The sale of TV shows on DVD last year rose 19% to an estimated $2.6 billion, accounting for nearly 20% of the overall DVD sales market, according to Adams Media Research, which tracks the video market.
But unlike buyers of traditional TV shows on DVD, who typically want to rewatch favorite episodes, a large number of 24 DVDs are catching up with episodes they missed, so they can join in seeing the live broadcasts, says Mike Dunn, president of Fox Home Entertainment. [Lippman conveniently doesn't point out that this math only works for a vertically integrated product of studio, network and distributor, such as also with HBO, which not all quality shows have the luxury of being birthed in such a conglomerate.]
So far, consumers have bought nearly three million DVDs of 24--equivalent to the DVD sales of a movie that has done about $50 million in ticket sales. That accounts for 'a large chunk of the revenue for the show,' Mr. Dunn says. In addition, although reruns of such dramas traditionally fare poorly on broadcast TV, they can perform well on cable networks since they have the flexibility to run a marathon of back-to-back episodes, as Fox's FX channel has done with 24. [Not since Season 2, I think.] Overall at Fox, sales of popular series repackaged as DVDs now generate more than $200 million annually, the company says, about the amount it used to earn from sales to local stations of reruns of such shows as Cops and The Simpsons before the syndication market cooled in the 1990's.
Excerpted from The Longest Day Enters the Hardest Season, by Joe Rhodes in The New York Times, December 5, 2004, on how producers Robert Cochran and Joel Surnow keep "a comprehensive episode-by-episode cheat sheet of the actions and interactions of every major character, the pivotal plot points, the timing of every twist. . .Hard as it is to believe - and Mr. Cochran says no one from the outside ever believes it - the writers of "24" are pretty much making it up as they go along, this year more than ever.. . . ."Sometimes the show runs strictly on adrenaline and velocity," says Howard Gordon, who shares executive producer credits with Mr. Cochran and Mr. Surnow. "Our job is to make sure the train is moving fast enough so that, even if there's a hole in the track, it'll keep going. And all of that, Mr. Gordon believes, hinges on Mr. Sutherland's portrayal of Jack Bauer, an intense and often grim character constantly forced to make horrible choices - sometimes including the killing of innocent bystanders – to save lives and protect the people he cares about. "Jack is this really tragic character," Mr. Gordon says. "He's really the walking damned. He can't have the life the rest of us have. He kind of bleeds for our sins."

See Character Surviving So Jack Bauer Can Live Another Day, by Coeli Carr, The New York Times, January 15, 2006 for an interview with Carlos Bernard, who plays my favorite character "Tony Almeida" and his surprising survival. So while everyone else cringes at the torture and right-wing conspiracy politics, I still watch for the hunks, and the strong women who love them on this show – every fan was thrilled when "Bill Buchanan" (played by James Morrison, who I've loved watching since Space: Above and Beyond was revealed in Day 6 to have married the now promoted to National Security Advisor "Karen Hayes" played by the non-young, non-dumb blonde Jayne Atkinson. The New York Times noticed him for a TV character profile on 4/1/2007 by Walter Dawkins in Walk Tightropes. Teach Yoga. Fight Terrorists.


100 Center Street (A & E) Feels like the prequel to Oz. It's both grittily realistic and theatrical. Creator Sidney Lumet combines the '40's TV feel of 12 Angry Men with contemporary language and situations, though the new season is going more for sentimental poignancy. While there are some ethnic stereotypes, this put NYPD Blue sharply in its place. Alan Arkin leads an interesting, multi-ethnic ensemble in his best performance in years. Lumet was even more actively involved in the second season, with the positive of more interesting dialogue and drama -- but a stale feeling of naive, out-of-date liberal causes and issues (how is that free legal service paying for itself?), and intentionally no mention of post-9/11.

American Crime (on ABC) I'm just glad to see John Ridley back writing, plus directing, on network TV, but the handling of incendiary issues to make everyone sympathetic seemed strained against the plot. (3/6/2015)

American Family (on PBS stations various times. Rerunning on Si TV) The first season last year (available on DVD) started out as run-of-the-mill soap opera with the PC gimmick of a Latino cast and a video journal, probably because it was developed for commercial television. But by the last few episodes the creator, noted filmmaker Gregory Nava, rose to new cinematographic and storytelling heights, particularly in a breath-taking one-take episode, "Silence of God," (sadly neglected at the Emmys) that also served as a catalyst for all the characters, and on into emotional episodes recalling the Zoot Suit Riots ("The Hat"). Season #2 is now billed by PBS as a 13-part mini-series "Journey of Dreams." Featuring many of the hunks from the disappeared Showtime series Resurrection Boulevard, it jumps a bit pretentiously between past and present, reality and dreams to try to present perhaps a too sweeping account of The Chicano Experience in war and peace, but is certainly the most beautiful show on TV since Carnivale. It's also nice to see a more realistic view of the impact of 9/11 and of soldiers in the Iraq War than such jingoistic shows as JAG. (updated 2/18/2006)

At Home with the Braithwaites (BBC America. 2 seasons out on DVD.) Utterly charming! Both LOL funny and poignant as each member of the family goes through hysteria and happiness. How typically un-American that a family comedy can have bad language, a lesbian daughter, a knocked-up sister (though with the usual TV outcome at a clinic), and a husband in an affair. As a fund raiser, I was impressed how accurate the story line was about the difficulties of setting up a foundation, from legalities to accounting to program evaluation and nepotism issues as the housewife tries to keep her lottery winnings secret from her family. The first season is a marvelous introduction to setting up a philanthropy; the second season got a bit silly. The Welsh Mine All Mine (mini-series on BBC America also very amusingly deals with a suddenly wealthy family but one with no philanthropic interests. (updated 3/24/2006)

Attachments (mini-series was on BBCAmerica but seemed unfinished, as apparently the BBC didn't renew it for another season) The first dot-com drama. The varied Brit accents are a bit thick and BBC America's censorship of language was annoying, but you can still figure out the VERY frank, very original, very contemporary roller coaster situations (stopping a porno site squatter, cyber sex with a venture capitalist, payola deals with old friends, siblings, friends and lovers intruding with various sexual proclivities).

BallykissAngel (rerun on BBCAmerica various times; also on some PBS channels. 4 seasons out on video/DVD, and a soundtrack.) Characters have come and gone, actors have died or moved on to movie careers (yes, we BallyK fans will have known Colin Farrell before he became a hot Hollywood hunk), but now through six seasons the tone and gentle realism of this small titular town continues to charm and absorb. Don't let the "G" rating fool you; this is sophisticated family fare.
Also on BBCAmerica (repeated now and again) has been Haimish MacBeth (2 seasons on DVD), a similar take on a Scottish village, with a surprisingly calm Robert Carlyle, but with heavy brogues all around the town.
And Monarch of the Glen (7 seasons on DVD, with an extra bonus of The Last Monarch: A behind the scenes special featuring members of the original cast, soundtrack album available. Pops up both on BBCA repeats and PBS.) is another cute collection of quirky characters with the added touch of class and tradition vs. modernity conflict in the Scottish highlands, and isn't the Laird of the Manor cute so no wonder he had several ladies interested --even if the resolution of the relationships wasn't as interesting as the competition. But they do keep coming up with new interesting faces. And even when he's gone for good they manage to rope in other easy-on-the-eyes relatives to carry on and keep the stories both sweet and poignant on the clash of tradition and modernity. (updated 10/27/2007)


Boardwalk Empire (on HBO, Sunday nights, and On Demand (with bonus scene analysis by writers/directors), 1st season DVD with lots of bonus material, though the Blue-Ray version has more: featurettes on the 300-foot Boardwalk set, the main characters, Atlantic "Sin" City in the 1920s, speakeasies in Chicago and New York, plus six audio commentaries including actors Steve Buscemi, Michael Kenneth Williams and Michael Shannon, creator/writer/executive producer Terence Winter, director/writer/executive producer Tim Van Patten, writer/supervising producer Howard Korder and directors Brian Kirk and Allen Coulter; 4 seasons on DVD.) (Appreciation forthcoming) Kudos to Steve Buscemi, Michael Kenneth Williams, Michael Pitt, Michael Shannon, Kelly MacDonald and the superb production design and historical incorporation.
Commentary on the lack of/glimpses of Jewish womenin the series, and final inclusion.
Coincidentally, just as the 2nd season started, on PBS Ken Burns's Prohibition provided the historical context, and he discussed the cross-over in a brief Drama Meets Documentary commentary. I've haven't yet read the non-fiction history that inspired it: Boardwalk Empire: The Birth, High Times, and Corruption of Atlantic City by Nelson Johnson. Plus my commentary on the references to real dental history in the final season. (updated 1/18/2016)


Boss (on Starz – both seasons on DVD) I worked for one of the last of NYC's bosses, whose name became unmentionable, and this series captures a lot of the machinations, and it's only barely exaggerated for dramatic effect. (updated 4/11/2013))

Breaking Bad (on AMC, complete series on DVD.) Not just another desperate, drug-cooking suburbanite. The Everyman with his back against the wall, but a head on his shoulders, Bryan Cranston is not just terrific as the cancer-ridden chemistry teacher with problems at home and a DEA agent brother-in-law. The sun-beaten look of the show matches the extreme plots with their riveting comparisons of his split lives. Over three seasons, Aaron Paul as his young partner has also stupendously grown his character from slacker to really trying to be an entrepreneurial mensch, just never succeeding. Both grab our hearts, even as they deal in deadly merchandise with a diverse array of lowlifes.
From "'Breaking Bad' creator talks finale, next season" in Hollywood Reporter Vince Gilligan interview with James Hibberd, 6/14/2020: "Q: The opening segment of the show have increasingly become these little stand-alone vignettes this season. Was that an intentional evolution? A: I learned that from Chris Carter working seven years on The X Files. In fact, I imported the whole teaser and four-act structure from The X Files into Breaking Bad. One of the things I hold firm to from Chris is that storytelling should be visual. I love the idea of finding a visually interesting way to tell what the characters are thinking and that extends to the teaser. We really have fun coming up with them, we want to tease and hook the audience, and we sometimes spend days on these teasers -- is this as interesting it can be, is it as funny, is it as dark, is it as clever?"

My son the PhD Chemist applauds that all the chemistry in the series is accurate – and reports that it's a fave among his colleagues, what with a "Maven of Meth" as their chemistry consultant.
El Camino: A Breaking Bad Movie (on Netflix) was a satisfying fantasy ending to the series. (updated 10/19/2019)


The Bridge (2 summer seasons on FX, 1st season on DVD) Despite the ridiculous serial killer story-line, this Tex-Mex border story and casting is riveting! Demián Bichir was charismatic in the satirical Weeds, but as Mexican "Detective Marco Ruiz", he really gets a TV role he can sink his acting chops in beyond being a hunk. Diane Kruger's role as Texan "Detective Sonya Cross" as something of an idiot savant borderline Asperger's Syndrome blonde should have been ridiculous, but she adds such depth and dimension, aided by the paternal guidance of "Lt. Hank Wade" (Ted Levine showing macho can be tender). All this amidst a social consciousness about fraught border issues and gorgeously noir cinematography.
I have 2 seasons on DVD of the original, Bron/Broen, set on the Danish/Swedish border, available as part of MHz Networks expansion of bringing international TV mystery and thriller series to the U.S, but I haven't watched them yet for comparison.
The series was again closely re-made and shown in the U.S. on PBS, as The/Le Tunnel, with the crime set in the middle of the Channel Tunnel with a competing/cooperating team of British and French detectives. (updated 6/29/2016)


Brotherhood (on Showtime. Full series on DVD.) Another Son of EZ Streets (3 episodes available on DVD; also showing on Sleuth TV). Won a 2007 Peabody Award for: "Uniformly splendid acting and a strong sense of place characterize this serial drama about two Providence, R.I. brothers, a rising politician and a smalltime gangster, and their morally compromised pursuits of the American dream." More theatrically operatic than the more realistic The Wire, but wonderfully uses Providence, RI for rich local detail and incestuous claustrophobia of a small, corrupt city almost as well as that uses Baltimore. It builds on Showtime's own Street Time for family criminal issues, crossed with the bare knuckle politics of The Yards, which understood Queens the same way. Annabeth Gish is again a politician's wife as she was on West Wing, but her character has more layers and she explodes on screen here with drugs and lovers, and has become the captivating, tightly wound center of the series. The wives cross the lines of the old neighborhood connections as much as the guys, though Fionnula Flanagan may chew the scenery as a mother as those on past Showtime series -- Sharon Gless in Queer as Folk or Blythe Danner in Huff. Jees, Showtime doesn't even on its Web site give us the Biblical quotes whose citations are the title of each episode. You have to go to TV.com for that.
So we got to see Jason Isaacs be as sexy as he was even briefly in Nine Lives and an arc on West Wing even if his character is full of vengefully brutal violence -- but with a college student? What a relief to hear him a few episodes later explain why he's taken up with his married ex: It's good to talk to a grown-up. And how do they deal with two Jasons while filming - by their last names? Philip Noyce is an executive producer and directed the first episode is how they found yet another Aussie to take over our TVs and hearts, Jason Clarke from Down Under.
"Sanyutta II:10" was unusual, and not just because the title referred to a Buddhist text rather than the usual Christian Bible, but that it was written and directed all by women -- the writing/producing team of Dawn Prestwich and Nicole Yorkin and director Leslie Libman, who has been involved with a lot of my favorite gritty shows that are usually seen as male bastions but have strong women characters, including The Wire. So it was particularly significant that the closing scene was one of the most powerful and complex sex scenes I've seen on TV since La Femme Nikita. Husband "Tommy Caffee" (Clarke) had to pick up wife "Eileen" (Gish) in the middle of the night at a distant police station after she was found angry in the woods and use his political connections to gloss things over. She was high on cocaine and guilt after dumping a kitten there, but she would only admit to the latter. The camera looks in on their kitchen the next morning as she is the über dutiful mother sending off their three daughters efficiently to the school bus. He wanders in (looking quite sexy in his undershirt). She takes his shirt from a hanger and, back to him, almost embraces it. She brings it to him: I ironed your shirt for you. (The last time we saw them make love was while changing the sheets on their bed.) She helps him on with it and the camera caresses the shirt. They intently look at each other - you can certainly tell they are not thinking about putting that shirt on but taking it off. They very slowly kiss in close-up, then the camera is back in distance as they all out lustfully embrace full body to every body part, he spins her around to go at it on the kitchen counter, her shoes falling to the floor and her legs clinging to his thrusts. He comes fast but does she? Is this amends? Payback? Her desperately seeking from him the thrills she's been getting from drugs and the lover who now won't return her calls? He slowly kisses her again and they each methodically re-button their clothes. He struts off to work as she smoothes down her clothes, left there alone in the kitchen. There's a fine line between anger and lust.
She hit rock bottom by the end of the first season with a druggy affair, so her husband rejected her through most of the second. But in the penultimate episode "Call Letter Blues 1:2-6" by Henry Bromell she forcefully re-staked her claim: You, me, the girls, this insignificant little house, I'm not sure my life doesn't have anything outside of it. So I've decided to fight for it. And the episode closed with her looking like a still life portrait from an Edward Hopper painting, as directed by Alik Sakharov. This season also featured really cool music over the closing credits in each episode, though Showtime's web site doesn't provide a music guide for this show that it does for it's others. (updated 2/9/2008)


An analysis that crosses from TV to film - Fighting Irish: A new clan is muscling in on Hollywood's Italian American gangs, and they're not singing soprano by Lynn Smith in The Los Angeles Times, July 10, 2006, (fair use excerpt):
. . .These characters drink hard, fight hard and love hard and think nothing of settling slights with violent payback. Their families are often large enough to include criminals, priests, cops, politicians and the labor movement in the extended clan, though any of them is as likely to be crooked as any other. With histories tying them to their communities over generations and with so many tendrils of connections, these Irish American clans open a wide swath of story possibilities to explore, at a time when Mafia families appear to have run their course. David Chase, the creator of The Sopranos 'has killed the Italian mobster for all time,' said Blake Masters, co-executive producer of one of the new Irish-themed TV shows: Showtime's Brotherhood . . ."The Caffees'" extended family lives in a working-class neighborhood in a dense, industrial-looking section of town with vestiges of powerful public unions and ward politics. The city's decaying homes, shops and factories suit its characters, who are marked by resentment and suspicion, good and evil, Masters said. 'Tommy"s family may be upwardly mobile, but success isn't necessarily the goal. 'In the Irish ideal, you're going to get beat down by the cops, you're going to get your neighborhood stolen, of course you're going to lose your job, so you bond in these clans,' Masters said. 'And so the style with which you go down swinging is important.'
. . .Paul Haggis and Robert Moresco [producers of the failed The Black Donnellys] have visited this territory before: EZ Streets, a short-lived 1996 series, told sophisticated and brutal tales of Irish American cops who infiltrate a gang. Three years before The Sopranos, it was 'way ahead of its time' and frightened advertisers, said Joe Pantoliano, who played the gang leader and went on to play a mobster on The Sopranos. . .
Brotherhood also tries to avoid stereotypes; for instance, the writers said they deliberately did not include a priest in the family. The "Caffee" women also feature prominently as a drug-addicted wife and a shrewd matriarch. To inform the 'texture' of their production, Masters and co-executive producer Henry Bromell (Homicide) said they interviewed the governor of Rhode Island, state senators, representatives and police chiefs. But they had to be careful, Masters said. 'I didn't know who was on whose side.' . . .Neither is it easy to find American actors with the lived-in faces to play strong men with family obligations and battle scars. 'Most young American actors have been boys all the time,' Masters said. His two leads, Jason Clarke ("Tommy") and Jason Isaacs ("Michael"), are Australian and English, respectively. However, two other actors, Kevin Chapman (who plays crime boss "Freddi Cork") and Brian Scannell ("Silent John"), grew up in rough neighborhoods in Boston and offer a rare touch of authenticity, Masters said. Authentic Irish American actors were in such demand, in fact, some were also cast in The Departed, which was shooting at the same time. They had to travel back and forth from Providence to Boston, Masters said.
Director of Made, a 2001 comedy about low-level gangsters in New York's heavily Irish and Italian Hell's Kitchen. . . Favreau suggested the success of the projects has less to do with how well they mine reality and more with the myths and legends that surround Irish crime — and how well filmmakers make use of them. If it doesn't work out, he suggested another frontier to be explored: Jewish gangsters. 'They were pretty tough.'"


Carnivale (HBO still repeats it; both seasons on DVD. According to a Reuters/Hollywood Reporter piece by Andrew Wallenstein on 7/17/2005, HBO chairman and CEO Chris Albrecht "deemed [it] ultimately too expensive to continue given its huge production costs and ensemble cast. 'It's not a big show in the foreign (market), there's not a lot of investment to recoup from that." HBO was talking about a 2-hour wrap-up movie, but the creators rejected that as too short and are exploring a graphic novel finale instead. I went back and forth of judging this as quality vs. under my HUNK 'O' METER. It didn't completely live up to its promise, as it was obvious that the producers were changing the story line as they edited to string us along. But over time, I've come to admire it more (and not just because I love the wool souvenir cap I bought.)
It was certainly worth watching because of cute Nick Stahl, as I join with the showgirls' admiration of him. Not as deep as other HBO dramas, it was basically another The X Files (which had its fair share of episodes set in freak shows), with its own iconography. Snatches of Katharine Dunn'sGeek Love here and there, and you can hum David Bromberg's "Sharon (Main Street Moan)": "She was wearing nothing but a scarf and a sneeze... Roared that red-headed bear -- 'What do you do to these men/You know that same rowdy crowd that was here last night is back again'. . . When the carnival left town it took a little bit of my heart." (BTW Bromberg in an interview notes that this song is inspired both by the Coasters' "Little Egypt" and his dirty-dancing sister-in-law Sharon. He prefers the recording on Fantasy rather than Columbia.)

The Chris Isaak Show (Showtime reruns it in slapdash scheduling on various channels) I initially just put this under the HUNK 'O' METER because it's so gentle in its humor --the producers are after all Northern Exposure alumni--and not as satirical as it could be about the rock 'n' roll life. In addition to Isaak sort of playing himself (and I'm a fan who has all his albums), his real and pseudo-band mates (particularly adorable Jed Rees as his morally challenged, supposed keyboard player) are fun to watch, and sometimes even touching. Especially heart-tugging is the wonderful actress playing "Yola" his woebegone manager, Kristin Dattilo, who attempts to have a moral, conventional life and romances while being surrounded by sex, drugs, rock 'n ' roll, a mother in full mid-life crisis, and a temptingly cute, younger male competitor in her office. The musical and Hollywood guest stars a la The Larry Sanders Show are entertaining (but how come no soundtrack of the duets out?), but the nude counselor is just plain Showtime-typical gratuitous. Nice arc to the last season that led to a surprising, yet satisfying conclusion. (updated 3/28/2004))

Cold Feet (rerun on BBC America various times and they sometimes dole out fresh episodes now and then. 1st season out on DVD, but it's not clear to me how the Brit seasons match up to what we've seen here in terms of number of episodes.) A case study of how a British original is better than its American imitation. The quickly-cancelled American version of this show had a too pretty cast, cut down on the randy language and action, and slowed down the sprightly, crazy pace. The editing is key to what makes this older show being replayed after being on Bravo, quality, with its quick cutting of points-of-view among three friendly couples at different stages of relationships, marriage and children-raising. While some of the accents are hard to interpret for American ears, the character actors (some familiar from Brit TV shows previously shown here) are marvelous. (updated 2/18/2006)

Cracker (repeated occasionally on BBCAmerica. All episodes on DVD. The quickly cancelled American re-make is also out on DVD.) Finally being shown uncensored for language in the U.S. that other basic cable shows like The Shield think they're now daring for using, this classic cop show simply broke the genre mold and invented the TV forensic psychologist as well as Grit Brit cop shows and the flawed hero, such as House, M.D.. It has since been much imitated but re-watching amazes me that it's still powerful and original, as no other show has dared to have a lead character as flawed and unlikely as "Fitz" (Robbie Coltrane) and have such psychologically brutal interactions among the ensemble players. The personal literally bleeds into the professional and vice versa. Other shows have gone beyond with the visual violence, but this is still more shocking. I also think it was influential way beyond it's initial U.S. audience -- would James Gandolfini be possible as destructively flawed, un-matinee-idol-looking "Tony Soprano" without Fitz? Too bad Granada used cheap video so it looks like old kinescopes.

Dead Like Me (SyFy Channel reruns the whole series at various times. Both seasons out on DVD.) While I was disappointed that I couldn't put this under HALL OF DAMES because the lead girl "George" is exactly like the sullen teenager I always warn my friends who are considering "having a baby" is what they'll really end up with for more years, the quirkiness of the whole mise en scène (the living and the dead) is charming. Though I cannot keep track of all the rules in this After World. So nice to see Mandy Patinkin --he only got to sing a bit at the end of the series-- and Cynthia Stevenson back on TV. Callum Blue's Brit "Mason" is kinda endearing. The second season charmingly developed each character, including their back story, as well as George's family, even if the deaths of the souls they reaped more and more became like Six Feet Under.

Deadwood (on HBO, may repeat On Demand. All 3 seasons out on DVD. Soundtrack out. Still up in the air are two concluding two-hour movies.) I was at first truly torn whether to put this under HUNK 'O' METER as it does have captivating guys in Ian MacShane as the villainous yet complex opposite of his affable Lovejoy and beyond even his Power and Glory head lawyer in Trust, Keith Carradine for the first four episodes, and most especially a piercing Timothy Olyphant in an exquisite Dance of the Alpha Males. But David Milch is not just reinventing the Western -- he is demonstrating how an amoral, lawless, vividly profane, mostly male environment gradually lurches towards civilization and self-government, a sort of Lord of the Flies in reverse that John Ford implied in his Westerns and sexual tension that's straight out of Jane Austen. His extravagant effort to keep to historical accuracy in dirt, characters (like Wild Bill Hickok, Calamity Jane, and Sheriff Bullock, etc.), sets, profanity, and body count is riveting -- rivaling Oz. The highly stylized period language, which has much in common with Milch's earlier work on NYPD Blue can be hard to follow. Halfway through the first season the women started to get more complex as well, powerfully influencing events and emotions, and are even more active in the second season. The cinematography even looks like daguerreotypes.