Mandel Maven's Nest Lilith Watch:
Guide to Jewish Women in Film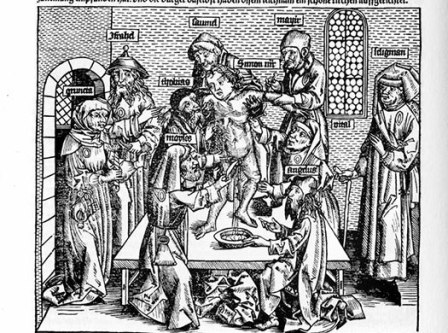 - Simon of Trent in Hartmann Schedel, Weltchronik, or Nuremberg Chronicle (Nuremberg, 1493), 254v

Prof. Magda Teter, through her research for Blood Libel: On the Trail of an Antisemitic Myth (Harvard U Press, 2020), identified the Jewish woman on the left in the oldest and horrifically most pernicious, yet still influential, antisemitic media since the early printing press. In Trento, then part of Austria, on the 1475 weekend that Passover coincided with Easter, Brunetta and her husband moneylender Samuel of Nuremberg were accused of the ritual exsanguination of a drowned little boy. (In some versions she's holding a matzoh). Tried by local Catholic Church leaders, all in the small Jewish community were imprisoned, tortured, and many horribly murdered, with the brutal revenge lessened if they confessed and converted. Brunetta maintained her innocence, refused to convert, and was the only woman burned at the stake – a sobering reality backdrop to all the satirical portrayals of Jewish mother martyrdom.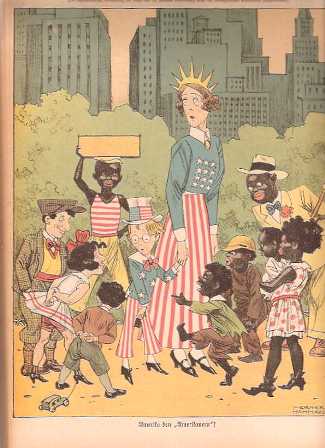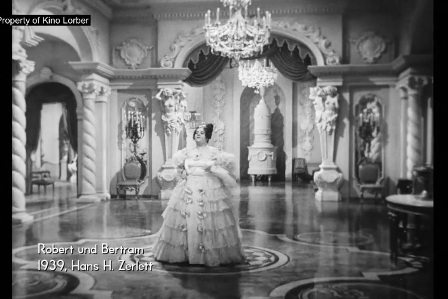 Left - "America for the 'Americans'!" by Werner Hahmann, 1934, Issue #23 of Berlin's satirical Kladderadatsch (From Prof. Randall Bytwerk's German Propaganda Archive at Calvin College). This cartoon promotes a Nazi caricature of a Jewish female (lower left) that still dominates in movies and TV, with her mocking mouth, dark curly hair, immodest dress -- the "impudent behavior of Jewish women" that Nazis objected to in the mid-1930's. (Quote in Saul Friedlander's Nazi Germany and the Jews: Vol 1: The Years of Persecution 1933-1939, 1997, Harper). While the minstrel show images of African-Americans have been discredited as racist "Negrobilia", so called by Whoopi Goldberg, she culturally appropriated a transgressive stage name and misunderstands the history of antisemitism.

Right - "Frau Ipelmeyer" (portrayed by Inge van der Straaten) in Hans H. Zerlett's Robert und Bertram (1939), the Nazis' only musical comedy about Jews – and the image of Jewish matrons hasn't really changed since. (Still from Kino Lorber's Hitler's Hollywood)

"Some Viennese coined an expression to describe the exotic, dark-haired allure of Klimt's models: la belle Juive or Jewish beauty. They too were promoting a stereotype, but this time it was appreciative. . . Jewish…women [then] were officially referred to by the ugly term Judensau, or Jewish sow." -- Anne-Marie O'Connor, The Lady in Gold: The Extraordinary Tale of Gustav Klimt's Masterpiece, Portrait of Adele Bloch-Bauer, quoting Tobias Natter and Gerbert Frodl in Klimt's Women, though I can't find evidence that the Nazis used that medieval antisemitic term towards Jewish women.



#SupportWomenArtistsNow
#InternationalSWANs
#iSWANs
#FF2Media


Since December 2019, my analysis of earlier Israeli films is influenced by Prof. Rachel S. Harris's Warriors, Witches, Whores: Women in Israeli Cinema (Wayne State University Press, 2017)


The Lilith Watch: Critical Guide to Jewish Women on TV: Reviews and commentary

Jewish Women in (and Missing from) the Flicks


Nora Lee Mandel is a member of New York Film Critics Online. Her reviews are counted in the Rotten Tomatoes TomatoMeter:




A graduate film student next to me at a 2011 New York Film Festival of Film at Lincoln Center press screening overheard me describing this page to a colleague who writes for Hadassah Magazine. His immediate connection to Jewish women by and in movies was only Joan Micklin Silver's Hester Street (1975) (the paradigm of Jewish women immigrants) and Crossing Delancey (1988) (with Amy Irving as the iconic visual representation of contemporary Jewish women) – the equivalent of Seinfeld being cited for TV. When I demurred that I have been looking for images and stereotypes in more recent films, he immediately jumped to The Social Network (2010) because evidently the young woman "Erica Albright" (played by Rooney Mara) arguing with the fictionalized Mark Zuckerberg at the opening of Aaron Sorkin's script can be perceived as a putative Jew because she went to Boston University and he later was seen at a Jewish fraternity party. Besides that when I was in graduate school everyone always misheard and automatically switched the identifications when we said that I was the one at Harvard and my boyfriend (now husband) was at B.U., there does seem to be the need for me to continue to analyze even putative Jewish women in the movies. (11/11/2011)

The Obeidi-Alsultany Test proposes five criteria "to evaluate whether a TV or film project presents Muslim characters in dynamic, nuanced, and intersectional stories and contexts." I should create The Lilith Test for how Jewish women are portrayed in films/TV, like

.
As of mid-2014, I am marking my own stricter application than others to fiction features of the Bechdel-Wallace Test

Complete Index to Nora Lee Mandel's Movie Reviews and Commentaries


13, a ludodrama about Walter Benjamin In this very creative, part animated, 13 chapter bio-doc of the German Jewish philosopher, the narrator avoids the negativity between him and his sister Dora (seen in archival photographs), and focuses instead on how she supported him, provided places for him to live (visited in the film), and fled the Nazis with him in France; she made it to Switzerland. His cousin Hannah Arendt saved one of his last manuscripts. (seen at MoMA's 2018 Documentary Fortnight) (3/3/2018)

15 Minutes of Shame (10/7/2021)

18 To Party (2020) In debut writer/director Jeff Roda's profane and nostalgic look back at small town 8th graders in 1984 riven by divorce and suicide, let alone changes in rock 'n' roll, one of the many topics the group discusses while waiting to get into a club is how one of them can be simultaneously "half-Jewish", yet considered full-on Jewish because his mother is Jewish, and does observe such traditions as lighting Hanukkah candles. Another boy is convinced that being Jewish a matter of faith, like his mother believe in playing tennis. (I couldn't keep the kids straight to tell who was saying what.) (10/22/2020)

24 Days (24 Jours) (5/25/2015)

27 Dresses (As it's set in NYC, at least one of her friends had to be Jewish, but "Shari Rabinowitz"s wedding is an intermarriage, presumably for extra humor, with a Jewish-Hindu ceremony for which the bridesmaid's dress is a sari.) (1/21/2008)

36 Righteous Ones (Los 36 Justos) (briefly reviewed at 2011 New York Jewish Film Festival of Lincoln Center/The Jewish Museum) (So, nu Some sources incorrectly translate the original Spanish title as a masculine plural in English, but this traditional Elul pilgrimage through Eastern Europe includes a stop at the grave of a rebbitzin--and her husband. I spent considerable time trying to track down exactly who this female tzaddik was, other than I think she was named Rivka, and where was her grave, to no avail, I'm embarrassed to admit. (1/28/2011)

51 Birch Street (10/18/2006) (emendations coming after 4/18/2007)

77 Steps (previewed at 2011 Other Israel Film Festival) (So, nu: The Israeli Arab director aggressively debates with a hostess at the kibbutz and provokes her to change from genial to negative about local Arabs, amidst reminisces of the old days. That exchange helps to precipitate the break-up with her Canadian-Jewish boyfriend, who thought she was being rude after the older woman's hospitality.) (11/26/2011)

93Queen - When feature debut director Paula Eiselt, who identifies in the press notes as an Orthodox Jewish woman, observes over four years of filming the group of Hasidic women who form Ezras Nashim ("women's help") the women's alternative to the politically powerful Hatzolah volunteer ambulance corps in Borough Park, Brooklyn, this is a fascinating look at taking on the biased male authority structure in the community. We can see just how political rabbinical decision-making is, how prohibitions against lashon hara is used against women – but not against men who criticize women, including calling them "feminists", which is synonymous with being "secular" and challenging "modesty" (as seen in nasty online comments). The diversity of the insistently frum women is also revealing, from the leading "Yocheved", a single mother long-time professional EMT who has only recently become so observant and quits over the politically compromised issue of banning single women who she can so personally relate to; a divorced woman who loves popular culture; older women who have been marginalized by the increasingly insular community because they only speak English; younger women with medical-related education and aspirations; and, by the way, is childbirth educator Yitty Mandel related to me? But, unfortunately, too much time is spent promoting the singular dynamic powerhouse community organizer Rachel "Ruchie" Freier, who managed to go to college and law school while working and raising her supportive family, and during the filming of the organization's first year on the ground fulfilled her professional goal of running for civil court judge and became first Hasidic woman elected to office in the United States, despite Hatzolah running an opposition candidate. At least during the campaign, she finally acknowledges she has become a feminist.