Mandel Maven's Nest Lilith Watch:
Guide to Jewish Women in Film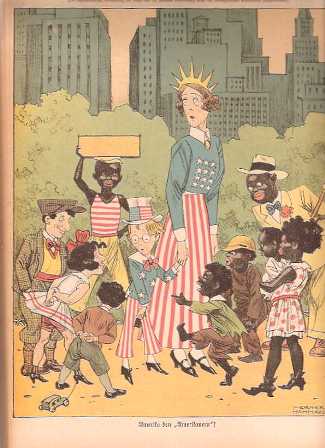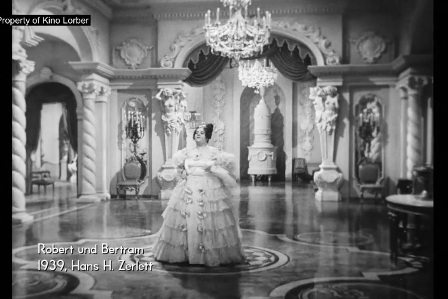 - "America for the 'Americans'!" by Werner Hahmann, 1934, Issue #23 of Berlin's satirical Kladderadatsch (from Prof. Randall Bytwerk's German Propaganda Archive at Calvin College). This cartoon promotes a Nazi caricature of a Jewish female (lower left) that still dominates in movies and TV, with her mocking mouth, dark curly hair, immodest dress -- the "impudent behavior of Jewish women" that Nazis objected to in the mid-1930's. (quoted in Saul Friedlander's Nazi Germany and the Jews: Vol 1: The Years of Persecution 1933-1939, 1997, Harper). Even as the minstrel show images of African-Americans have been discredited as racist "Negrobilia", so called by Whoopi Goldberg, who culturally appropriated a transgressive stage name. On the right is "Frau Ipelmeyer" (portrayed by Inge van der Straaten) in Hans H. Zerlett's Robert und Bertram (1939), the Nazis' only musical comedy about Jews – and the image of Jewish matrons hasn't really changed since. [Still from Kino Lorber's Hitler's Hollywood]

"Some Viennese coined an expression to describe the exotic, dark-haired allure of Klimt's models: la belle Juive or Jewish beauty. They too were promoting a stereotype, but this time it was appreciative. . . Jewish…women [then] were officially referred to by the ugly term Judensau, or Jewish sow."

--Anne-Marie O'Connor, The Lady in Gold: The Extraordinary Tale of Gustav Klilmt's Masterpiece, Portrait of Adele Bloch-Bauer, quoting Tobias Natter and Gerbert Frodl in Klimt's Women, though I find no evidence that the Nazis used that medieval anti-Semitic term towards Jewish women.


The Lilith Watch: Critical Guide to Jewish Women on TV: Reviews and commentary

Jewish Women in (and Missing from) the Flicks


Nora Lee Mandel is a member of New York Film Critics Online and the Alliance of Women Film Journalists. Her reviews are counted in the Rotten Tomatoes TomatoMeter:




A graduate film student next to me at a 2011 New York Film Festival of Film Society of Lincoln Center press screening overheard me describing this page to a colleague who writes for Hadassah Magazine. His immediate connection to Jewish women by and in movies was only Joan Micklin Silver's Hester Street (1975) (a paradigm of Jewish women immigrants) and Crossing Delancey (1988) (with Amy Irving as the iconic visual representation of contemporary Jewish women) – the equivalent of Seinfeld being cited for TV. When I demurred that I have been looking for images and stereotypes in more recent films, he immediately jumped to The Social Network (2010) because evidently the young woman "Erica Albright" (played by Rooney Mara) arguing with the fictionalized Mark Zuckerberg at the opening of Aaron Sorkin's script can be perceived as a putative Jew because she went to Boston University and he later was seen at a Jewish fraternity party. Besides that when I was in graduate school everyone always misheard and automatically switched the identifications when we said that I was the one at Harvard and my boyfriend (now husband) was at B.U., there does seem to be the need for me to continue to analyze even putative Jewish women in the movies. (11/11/2011)

Maybe I should create The Lilith Test for how Jewish women are portrayed in films?


As of mid-2014, I am marking my own stricter application than others to fiction features of the Bechdel-Wallace Test

Complete Index to Nora Lee Mandel's Movie Reviews



13, a ludodrama about Walter Benjamin In this very creative, part animated, 13 chapter bio-doc of the German Jewish philosopher, the narrator avoids the negativity between him and his sister Dora (seen in archival photographs), and focuses instead on how she supported him, provided places for him to live (visited in the film), and fled the Nazis with him in France; she made it to Switzerland. His cousin Hannah Arendt saved one of his last manuscripts. (seen at MoMA's 2018 Documentary Fortnight) (3/3/2018)

24 Days (24 Jours) (5/25/2015)

27 Dresses (As it's set in NYC, at least one of her friends had to be Jewish, but "Shari Rabinowitz"s wedding is an intermarriage, presumably for extra humor, with a Jewish-Hindu ceremony for which the bridesmaid's dress is a sari.) (1/21/2008)

36 Righteous Ones (Los 36 Justos) (briefly reviewed at 2011 New York Jewish Film Festival of Lincoln Center/The Jewish Museum) (So, nuSome sources incorrectly translate the original Spanish title as a masculine plural in English, but this traditional Elul pilgrimage through Eastern Europe includes a stop at the grave of a rebbitzin--and her husband. I spent considerable time trying to track down exactly who this female tzaddik was, other than I think she was named Rivka, and where was her grave, to no avail, I'm embarrassed to admit. (1/28/2011)

51 Birch Street (10/18/2006) (emendations coming after 4/18/2007)

77 Steps (previewed at 2011 Other Israel Film Festival) (So, nu: The Israeli Arab director aggressively debates with a hostess at the kibbutz and provokes her to change from genial to negative about local Arabs, amidst reminisces of the old days. That exchange helps to precipitate the break-up with her Canadian-Jewish boyfriend, who thought she was being rude after the older woman's hospitality.) (11/26/2011)

93Queen - When feature debut director Paula Eiselt, who identifies in the press notes as an Orthodox Jewish woman, observes over four years of filming the group of Hasidic women who form Ezras Nashim ("women's help") the women's alternative to the politically powerful Hatzolah volunteer ambulance corps in Borough Park, Brooklyn, this is a fascinating look at taking on the biased male authority structure in the community. We can see just how political rabbinical decision-making is, how prohibitions against lashon hara is used against women – but not against men who criticize women, including calling them "feminists", which is synonymous with being "secular" and challenging "modesty" (as seen in nasty online comments). The diversity of the insistently frum women is also revealing, from the leading "Yocheved", a single mother long-time professional EMT who has only recently become so observant and quits over the politically compromised issue of banning single women who she can so personally relate to; a divorced woman who loves popular culture; older women who have been marginalized by the increasingly insular community because they only speak English; younger women with medical-related education and aspirations; and, by the way, is childbirth educator Yitty Mandel related to me? But, unfortunately, too much time is spent promoting the singular dynamic powerhouse community organizer Rachel "Ruchie" Freier, who managed to go to college and law school while working and raising her supportive family, and during the filming of the organization's first year on the ground fulfilled her professional goal of running for civil court judge and became first Hasidic woman elected to office in the United States, despite Hatzolah running an opposition candidate. At least during the campaign, she finally acknowledges she has become a feminist.

100 Voices: A Journey Home (briefly reviewed at 2012 New York Jewish Film Festival of Lincoln Center/The Jewish Museum) (So, nu: While the documentary covers some of the same ground as A Cantor's Tale (2005), a new element is the several women cantors interviewed, though there is no explanation/discussion of their relatively new role in synagogues, even as the documentary carefully shows them singing in secular concerts, not in the synagogue, as the ones in Poland are presumably Orthodox, though this tour was organized by the Conservative cantors' association.) (1/21/2012)

306 Hollywood Devoted grandchildren Elan and Jonathan Bogarín delightfully use style over substance in conducting a year-long archaeological investigation into their grandmother's house in Newark, NJ, where she never threw out anything since buying the house in 1944. In a model that could encourage any family historian to be creative, they find every visual technique, cataloging, and research aid to make up for the fact that while they spent hours interviewing Annette Ontell over her last decade, from age 83 on, they really didn't ask her very good questions, with no special revelations, other than some more detail on their uncle David's mental health issues and her long marriage with Herman, an accountant. ("We were in 'iron and steel' – I iron, he steals.") While they neglected to draw out more family history, other than her experiences growing up in what she calls "a Jewish ghetto" (she may be right assuming that as children of a Venezuelan father they know little about Jews or Yiddish), they did bring out her fashion design career, with the help of their mother Marilyn. They interview the Rockefeller archivist and a textile conservator for ideas and guidance. But they go further, including lip synching audio tape scenes, displaying her dresses on the roof and in a fun dance routine with performers in period make-up and lingerie. They recognize this is all part of their grieving process, and they interview experts in death - - but never think to explore if Jewish rituals or traditions could be helpful in connecting with her. (seen courtesy of El Tigre Productions) (12/20/2018)

400 Miles to Freedom (review forthcoming) (previewed at 2012 New York Jewish Film Festival of Lincoln Center/The Jewish Museum) (The mother of co-director/narrator Avishai Yeganyahu Mekonen has a clear memory and testifies to the faith and terrors of the long trek her observant family took from Ethiopia to Israel, with the special fears of her son kidnapped to be a child soldier and then the difficulties of assimilation.) (1/21/2012)

Abe and Phil's Last Poker Game Written and directed by Harvard Med School neurologist Howard L. Weiner, the focus is mostly on the men, particularly elderly "Dr. Abe Mandelbaum" (Martin Landau, in his last role), who moves into Cliffside Manor Nursing Home because he can no longer manage alone with his wife "Molly" (Ann Marie Shea) with dementia, who I'll assume is a putative Jew. While "Abe" confesses to a long ago affair with a nurse, all we know about "Molly" is that she's still randy, despite that he can ony fulfill her now with a hand job, and she fixates on her mink jacket. (12/15/2018)

Above and Beyond (previewed at 2014 DOC NYC Festival) (5/4/2015)

Acts & Intermissions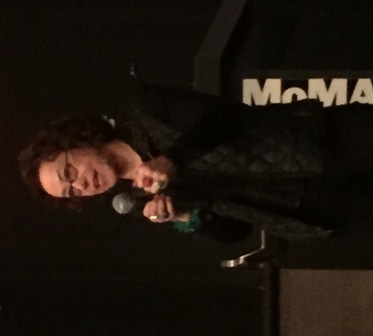 (Abigail Child's (above) bio-doc of Emma Goldman well uses her autobiography and personal letters to get across the woman behind the anarchist stereotypes, though the style is a bit confusing. (The re-enactments are amateurishly acted like a tour through the Lower East Side Tenement Museum unfortunately, and the first-person voice-over is in an odd accent.) Though there's several references that her union organizing and other public speeches are especially effective when she spoke in Yiddish, not mentioned is that she was from a Jewish background or that she was therefore reaching Jews. The repetitive intersection of footage of contemporary demonstrations, particularly of The Occupied Movement, helps the audience relate to the historical incidents and movements seen in archival photographs and films, but her views on love, sex, and (too fleetingly mentioned) contraception sound just as contemporary and similarly controversial, though not mentioned is that her Comstock Act violations got her jailed more than for her politics. (seen in the World Premiere at MoMA's 2017 Documentary Fortnight) (2/18/2017)

Adam (review forthcoming) (The only reason that the family of "Bethany Buchwald" (Rose Byrne) is Jewish seems to be that they are in NYC and the dad "Marty" (Peter Gallagher also played a Jewish dad in The O.C.) is an accountant indicted for financial skullduggery to help an old friend, somewhat similar to the non-Jew in Say Anything. And the daughter has a similar reaction of betrayal, especially to the revelation of an affair, pushing her into the new boyfriend's arms as he prepares to leave town. The dad drops one Yiddish word ("gonif lawyers") and expects her home for Friday night dinner. She's on the rebound from an investment banker boyfriend who her dad liked but who she now rejects as a cheating "dick". But though the film takes place in the fall, there's no reference to the Jewish holidays, no Jewish symbols in her apartment, just a cut-out menorah among the winter holiday decorations in her classroom. Her mother "Rebecca" (Amy Irving), living in Westchester, mostly just stands by her man, recalling "your Grandpa Morris" warned her when she married him that he played the angles and she has no regrets. It's implied at the end that she'll stand by her mom. (8/18/2009)

Adam Resurrected (review forthcoming) (While director Paul Schrader draws on techniques he used in Mishima to faithfully adapt, and even clarify, Yoram Kaniuk's novel of post-Holocaust mental breakdowns, the most prominent Jewish woman is even more quizzical on the screen than in the book. Ayelet Zurer's "Jenny Grey" seems to be more of a sex-starved "Nurse Ratchett" than a sabra who only loves "Adam" when he's a crazy victim. The elderly landlady and women patients brandishing their tattoos are portrayed just as in the book, though missing is the delightfully satirical portrait of the inspired businesswoman/philanthropist who uses her late husband's money to set up in the holy desert the psychiatric clinic for survivors.) (1/6/2009)

Adoration (So, nu: Among the angry talking heads on the computer who argue against the son's monologue about empathy towards the child of a terrorist is a woman brandishing her concentration camp tattoo, played by Bathsheba Garnett and identified in the cast listing as "Holocaust Survivor".) (5/8/2009)

Adventureland (review forthcoming) (It may be that Nick and Norah's Infinite Playlist proved that yet another nostalgic male coming-of-age movie works better outside the Apatow imprimatur when there's a strong female character – who just happens to be Jewish with cool taste in music (the song selections are terrific). Set in the summer of 1987 in Pittsburgh (though based on writer/director Greg Mottola's memories of Long Island, NY, and I grew up near the very similar Palisades Park), his alter ego is played by Jesse Eisenberg, though "James Brennan" isn't specified as Jewish. But the girl is, and this is one of the few films where the Jewish girl, "Em Lewin" (the very appealing Kristen Stewart just off the virginal vampire hit Twilight), attracts and is having sex with the older, married bad boy (Ryan Reynolds), even if she is an NYU student. Her acting out is explained by the strains with her father the lawyer (Josh Pais) and her new stepmom "Francy" (Mary Birdsong), who, oddly, is bald from a nervous breakdown. The script goes to abrasive lengths to target her grief and anger at anything Jewish because it was at temple where her dad, "he's never been serious about his faith" but seeking solace from her mother's painful last illness met the stepmom and her friends who come visit, including "Mrs. Frigo" (Janine Viola) and "Mrs. Ostrow" (Amy Landis). The latter makes faux pas conversation about the house: I love what you did to the place., then realizes that reflects badly on "Em"s mom, as the girl explodes to her father, setting off the stepmom. While the sweet ending seems a bit too fantasy, "Em" and "James"s growing relationship - You were the only good thing that happened to me this summer.-- from friendship to more is very realistically tender and romantic. (4/13/2009)

After Auschwitz A joint biography of six women survivors - Eva Beckmann, Rena Drexler, Renee Firestone, Erika Jacoby, Lili Majzner, and Linda Sherman—provides details of the post experiences not usually revealed in such reminiscences. Produced with the The Los Angeles Museum of the Holocaust, their outlook and perspective on the post-war years (with terrific contextual archival footage) is more distinctly Californian than similar post-Holocaust portraits. (preview courtesy) (4/15/2018)

Aftermath (Pokłosie) (So, nu: While all the current and past vengeance is not shown directly on the screen, the violent truth that comes out about what happened in 1941 is as rife with pre-war sexual tensions, between a gentile Polish farmer and the Jewish woman who rebuffed him for a Jewish man, layered on top of anti-Semitism, though the testimonies about the village that inspired the film don't admit to that kind of interactions.) (updated 11/3/2013)

Afternoon Delight (Rebecca Soffer's interview with writer/director Jill Soloway, for Tablet August 19, 2013, usefully provides background to the Jewish aspects of the women characters.) (Review/commentary forthcoming) (8/21/2013)

Afterward (So, nu: Describing herself, director/on-screen interviewer/narrator: "Ofra Bloch, a New York-based psychoanalyst specializing in trauma, was born in Jerusalem to a Jewish family that emigrated to Palestine in the 1920s". She sets up a false equivalence as her premise. She interviews the grand/children of German Nazis and a reformed Neo-Nazi, talks about her childhood around Israel's independence, then interviews Palestinian activists for their views on Israel and its people, some who are intransigent and some willing to cooperate towards peace and/or communicate. Continuing the primacy of Holocaust-haunted Ashkenazim, she is oblivious that she's from a different generation, especially since she's been living in the U.S. for so long. She's doesn't take into account the new generations of religious Zionists/settlers on the Israeli side of the wall, let alone of Sephardim/Mizrahi Jews, or of the Palestinian politics of Fatah vs. Hamas, and now the rise of Islamists. (preview at 2018 DOC NYC Festival) (10/29/2018)

Ahead of Time (briefly reviewed at 2010 New York Jewish Film Festival of Film Society of Lincoln Center/The Jewish Museum) (Ruth Gruber's personal archive is also a treasure trove of her fascinating life before WWII, not just being touted as the youngest PhD in the world, but how she parlayed one connection after another to explore the Arctic from first the Soviet Union side, then to Alaska, with her wonderful photos and film footage. For all the piles of books we see she has published, her story is stopped when she married and had offspring in her '40's, as if her life ended then.) (1/25/2010)

Aida's Secrets - though confusingly edited, Israeli filmmakers filmmakers Alon and Shaul Schwarz track the intriguing family history of their uncle by marriage Izak Szewelwicz, born in a DP camp and adopted in Israel, and who raised family on a kibbutz. While the irony is that the long-lost siblings are not united by a Jewish mother (Israel denied her application for immigration), the interviews and archival footage of what life was like for survivors for two or so years in the biggest DP camp that replaced Bergen-Belsen, especially with the finding of a photo album that matches up. They were young people trying to make up for the horrors and the years of lost time in their lives, images we don't usually see of women survivors. (11/28/2017)

Ajami (also briefly reviewed at 2010 Annual New York Jewish Film of Lincoln Center/The Jewish Museum) (So, nu: All the women are background motivations to their men's actions, including the several Jewish Israelis. One young woman is a party girl dating "the other" who naively thinks she can bridge the divide, even as her boyfriend's Arab friends sneer about her to him in Arabic right in front of her. While the cop's sister tries to keep the family balanced, his mother is, understandably, hysterical with worry for her missing younger son, grasping for the slightest fantastical straws.) (2/3/2010)

Aliyah (also briefly reviewed at 2013 New York Jewish Film Festival of Lincoln Center/The Jewish Museum) (So, nu: While the primary French Jewish woman is an EX girlfriend, she is an attractive teacher at a Jewish school and is warm about helping the French Jewish hunk reconnect with his Jewish ethnic and religious roots, after some she gets over her surprise, even as Israelis at the embassy are officiously discouraging.) (updated 6/21/2013)

All About Nina Barcelona-born debut director Eva Vives seems to have made lead character "Nina Geld" (a terrific Mary Louise Winstead) Jewish because she probably thinks from the movies, or as an NYU student, that so many damaged aspiring stand-up comedians are Jewish. In the small role of her New York mother "Debora", Camryn Manheim makes credible a woman consumed with guilt for not recognizing her husband's abuse of her daughter and the continuing damage he caused, such that she's unsure how to help. Kudos to production designer Kelly Fallon for completely creating an apartment environment that says more about her than the mother gets to say. The joke of naming "Nina"s therapist "Dr. Streisand" (as played by Grace Chen) falls flat. (preview and coda at 2018 Tribeca Film Festival) (4/30/2018)

All Good Things (review forthcoming) (I'm not sure that the audience would perceive the putative Jewish women. The names are changed from the case of the wayward scion of the Durst family, one of the Jewish real estate dynasties in NYC—even into the 1970's the Metropolitan Museum only took these families' money via a separate "Real Estate Board"—with the Dursts here called "the Marks". There's the usual dead mother who was presumably Jewish -- whose suicide that he witnessed is blamed for his unbalance even as Dad finally explains: I thought if she saw you she wouldn't jump.. His good friend is a woman, "Deborah Lehrman" (played by Lily Rabe), comparable in real life to Susan Berman, described in the press notes as "the flamboyant journalist. . .daughter of a notorious Las Vegas gangster", Davey [sic?] Berman, and shown here as his co-conspirator who later shakes him down for money. Despite her "Jewish Mafia princess" sobriquet she was evidently later broke and Berman received two checks from him for $25,000 before she was shot dead in her Hollywood house just after the police were due to question her about his wife's disappearance 18 years earlier, and "Lehrman"s involvement and her murder here are shown as directly instigated by the "Marks" character. But here there's only a hint this long-haired brunette –who doesn't seem to age over time or has a lousy straight wig and bangs--is Jewish, as she calls his "sweet" blonde wife "Catherine McCarthy" a shiksa: Doesn't she know how fucked up you are? She offers to set him up with "a great therapist", then we see him undergo loud scream therapy. (He is fascinated to marry into a ham-eating family, and his dad's threat on the tennis court: She'll never going to be one of us. has multiple meanings.) Even less putative Jewish is the brunette Westchester neighbor who befriends the wife and introduces her to cocaine, "Lauren Fleck", played by Kristen Wiig, or maybe she just talks like a New Yorker.) (11/21/2010)

Almost Peaceful (Un monde presque paisible) (So, nu: French Jewish women's role in contributing to a return in normality post-war is largely procreative, but having children is seen as a statement against anti-Semitism and the joy that children bring the survivors is palpable.)

Alone in Berlin Opening in 1940. There is one elderly Jewish woman still hiding in the top floor at 55 Jablonski Street, in this first English-language adaptation of a novelization of a Gestapo file (I haven't read the book yet to see if the character was in the book). "Frau Rosenthal" (played by Monique Chaumette) is near-senility, and is being protected by the letter carrier "Eva Kluge" (played by Katrin Pollitt), who brings her food (just like the policeman father of a colleague, he claims, brought food from his mother's grocery store to a neighbor), by the hero wife "Anna Quangel" (Emma Thompson) and "Judge Fromm" (Joachim Bissmeier) on the floors below when her apartment is robbed by the ex-husband of the postal employee. When she protests to her neighbor that she has to stay in her apartment "for when her husband comes home", the judge sorrowfully tells her that he isn't. With her pet parakeet distracting the Gestapo when they come to get her and the thief who tried to get her property instead of them, she manages to jump out the hall window – making her own choice. (seen courtesy IFC Films) (2/14/2017)

American Promise (previewed at 2013 New York Film Festival of Film Society of Lincoln Center) (So, nu: The attitudes of the Jewish female classmates at Manhattan private school Dalton are implied when one of the then-13-year old African-American boys followed in the school's diversity experiment from age 6 - 18 mournfully comments that the girls at the many "bar mitzvahs" [sic] he's invited to won't dance with him, even with the importuning of the DJs, or chat with him on social media. He and his mother Michèle Stephenson, the film's co-director, derisively comment on one girl's invitation as unncecesarily extravagant. While her Ivy League-educated, dark-skinned husband recounts to their son his father's experience with overt racism, the light-skinned mother vaguely confides about her troubled parents without ever referring to a possible mixed race background as influencing her racial prism. The director/parents' lack of comparisons presumes racial reasons in dealing with schools where I found similar issues with my kids that was more about gender and being out-of-the-norm, specifically about being gifted or a stutterer.) (updated 10/18/2013)

Amy (6/29/2015)

Ana Arabia (previewed at 2014 New York Jewish Film Festival of Film Society of Lincoln Center/The Jewish Museum) (So, nu: commentary forthcoming on the Jewish woman)

The Ancestral Sin (Sallah, Po Ze Eretz Yisrael) (Director David Deri interviewed his mother extensively about her experiences living first in Morocco, then reluctant emigration to Israel in the 1950's, and forced placement in the development town of Yeruham in the Negev Desert, as well as many other women. Of particular note, she and another elderly woman chortled that the other woman was a paid collaborator to help get her off the transport into the bleak settlement that was nowhere near or like the location the Jewish Agency has promised – but they had long ago passed forgiveness to be best friends for decades. What they went through on the ground is contrasted with the "smoking gun" trove of documents he amazingly got de-classified from government and Jewish Agency files, though some are still kept confidential, that show the explicit bias of the Ashkenazi Jews in charge against the "Oriental Jews" (even calling them "Arabs") from North Africa with racist terms, expectations, and disregard to order them around as they wanted to fit security, military, and master planning objectives, by destroying Arab villages to prevent return and covering the borders. In a powerful scene, the primarily female elderly who went through this watch his footage highlighting the memos and reports, including the retaliatory orders against their own protests, with shock, tears, and anger; they will be demanding next steps in apologies, reparations, or more.) (NY premiere seen at 2018 New York Sephardic Jewish Film Festival also screened at 2018 Other Israel Film Festival) (3/13/2018)

The Angriest Man in Brooklyn (review forthcoming) Though Daniel Taplitz's script is based on Assi Dayan's 1997 Israeli film The 92 Minutes of Mr. Baum (Mar Baum), none of the women appear to be Jewish. The men are explicitly Jewish, particularly the Altmann brothers – "Henry", with many Yiddishisms thrown in (played by Robin Williams) and "Aaron", with a kippah for no reason (played by Peter Dinklage), but not the mother "Bette" (Melissa Leo) or "Dr. Sharon Gill" from Wisconsin (Mila Kunis), or the son's dancing girlfriend "Adela" (Sutton Foster). (5/8/2014)

Anvil! The Story Of Anvil (So, nu: With the Iraqis in Heavy Metal in Baghdad saying the authorities there were suspicious that head-bangers looked to be davening, praying like Orthodox Jews, one wonders if there's a PhD thesis there about heavy metal's connection to Holocaust victims, as opposed to the stereotyped connections with misappropriation of swastikas. But I have to love a movie where the heroine is a Jewish woman – here "Lips"' older sister Rhonda Kudlow. Not only is it her money that saves the day so they can record an album in England, but clearly her and their siblings' love, loyalty and support to invest in him has grounded the musician, regardless of how totally conventional they look compared to him.) (4/10/2009)

Antarctica (So, nu: In what the director terms a tribute to John Waters and Divine but comes across more like a thwarted transgender character, the gay siblings' mother is played by drag artist Noam Huberman who performs as Miss Laila Carry. Perhaps that was supposed to make more humorous an extended scene at a hair salon that is full of exaggerated stereotyped exchanges between Jewish mothers trying to match up their gay children in hopes of bringing forth grandchildren.)

Apples From the Desert (Tapoukhim min ha'midbar) (seen at 2015 Israel Film Center Festival) Based on a short story by Savyon Liebrecht, not a novel as described in the promotion, the plot of a young Orthodox woman (Rebecca Abarnabel played by Reymonde Amsallem), meeting a hunky kibbutznik "Dubi" (I can't figure out the actor) and running off with him was enhanced by seeing it at the JCC of the Upper West Side, in two ways. First, the Festival director actually thought that by scheduling the screening I attended at 5 pm on a Friday in June it would attract local Orthodox attendees who would still have able to get home by the start of Shabbat, was of course unfulfilled; so the audience was very secular in their lives and antipathy for an Orthodox father, who, of course, rigidly restricts his wife and is arranging a marriage against his daughter's wishes, with the mother torn between the two of them (and her broaching their divide is quite sweet). (The daughter is introduced as rebellious immediately because she works, in the office of a school. And because she gradually gets involved with a secular dance class.) Second, the Q & A with a co-director (I'll have to find my notes to figure out which one was able to be in NYC) was very helpful, because he explained that the 87 minute version we viewed was in fact an edited, international edition cut from a TV mini-series, and was based on the play adaptation, written by the novelist. Unfortunately, what was missing was the third from the kibbutzniks' point of view, showing that they were just as rigid in their determined secularism as the Orthodox family was in their observance. There were hints that even though she stays on the farm, "Rivka" finds a middle road, continuing some religious observance and rituals on the kibbutz, and I wonder if that was also cut, so I don't feel I can formally review such a truncated version. (10/9/2015)

Arabani (previewed at 2013 Other Israel Film Festival) (So, nu: Ironically, the Israeli Jewish woman who caused all these problems is never seen; she's only at the other end of the phone when her kids call her.) (12/4/2013)

The Armor Of Light (So, nu: Over halfway through the documentary I felt sucker-punched – turns out when Rev. Rob Schenk, the central figure with the tortured soul about gun control, referred to being converted to evangelism in Buffalo, NY he didn't mean born again – he was Jewish. His mother was a Catholic convert (which is all he says about her), in order to marry his Jewish father who kept a scrapbook on Holocaust news reports.) (previewed at 2015 Tribeca Film Festival) (5/2/2015)

Arranged (12/14/2007) (emendations coming after 6/14/2008) (So, nu: I do get annoyed at semi-autobiographical indie movies about Orthodox women that posit their choices as being between, here, Ditmas Park and Sodom & Gomorrah. There is a whole world out there from modern-Orthodox to Reformed that could offer them warmth and family etc. etc. within a moral, supportive, Jewish environment.)

The Arrest (Hama'Atzar) (short film at 2015 Tribeca Film Festival) The reverse futuristic premise of occupation is confusingly ineffective because I actually thought the obviously Orthodox settlers were being legitimately arrested by leftist soldiers, as the mother lies to hide her accused terrorist son. (5/2/2015)

The Art of Spiegelman (Art Spiegelman, Traits de mémoire) (briefly in Reviewed: New York Jewish Film Festival 2013 of Film Society of Lincoln Center/The Jewish Museum) (So, nu: commentary forthcoming) (2/19/2013)

Arthur Miller: Writer (So, nu: my So nu: Director Rebecca Miller, who doesn't seem to have a sense of her Jewish identity, draws out a new revelation about Miller's Jewish background in talking to him and his brother and sister (actress Joan Copeland) for this long gestating HBO biographical documentary– the influence of his mother Augusta Barnett, seen in a few old fraying photographs. They describe an arranged marriage between a literary, artistically minded force of nature to a barely literate, ambitious businessman. Though his plays are dominated by father/son relationships, the writer fondly recalled days spent with her when she colluded in his playing hooky, and admired how fast she read novels, and remembered what she'd read, and that she got her husband to go to the theater weekly, bringing home the song sheets so the family could sing them together. But he also remembers how she bitterly blamed her husband for his business's failure from the Depression that seriously declined their standard of living (from a Central Park-view apartment on 110th St. with a chauffeur down to Brooklyn and selling her jewelry), a feeling that does resonate in his plays, though the wives are ultimately loyal. It is pointed out that only The Price has a Jewish cadence he knew well, though not his mother's. While most analysts characterize his marriages as to schicksas, he enthusiastically identifies as Jewish and sees his Middle Western Catholic first wife literary publisher, his second wife Marilyn Monroe from an abused childhood and paparazzi-tormented Hollywood bait, and his third wife photographer Inge Morath, a German daughter of a Nazi officer, as rebelliously attracted to him as a Jewish intellectual. (previewed at 2017 New York Film Festival of Film Society of Lincoln Center) (updated 11/29/2017)

As I Am: The Life and Times of DJ AM (So, nu: The mother of Adam Goldstein comes across as a New York Jew in an early tight close-up interview, as she twice describes her very complicated relationship with her gay husband and the brief fling with his biological father, about when she told them all the truth, and is portrayed as really clueless when she dumps him into a notorious facility for drug rehab when he was very young. His older sister may be seen as well heard (the audio and visual IDs are erratic, including of all the blonde models he dated so I couldn't tell if any were Jewish), but it's quite a ways into the film until an interview is included where he explicitly identifies himself as having been raised Jewish by his by then single mom, including attending Hebrew School, which adds cynicism to his description of a lavish, over-the-top bat mitzvah he DJd as a career highpoint, though his memory that her father was the inventor of the bulletproof vest doesn't seem to be correct.) (previewed at 2015 Tribeca Film Festival) (5/2/2015)

Ask Dr. Ruth: (commentary forthcoming on how the three generations of Jewish women are seen in this bio-doc) (preview at 2019 Tribeca Film Festival)

Ask the Dust (So, nu: The Jewish woman here just comes across as bizarre rather than enhancing the theme about the toll of accepting one's ethnicity within the California Dream. Or something like that.)

As Lilith (previewed at 2011 New York Jewish Film Festival of Lincoln Center/The Jewish Museum) (Director Eytan Harris's camera, somewhat intrusively, captures a feisty woman at a very painful conjunction of gender, religious plurality and motherhood at its most emotional within Israeli media, politics and law. She has antagonized Orthodox Jews because: 1) her daughter committed suicide, 2) she wants to cremate her remains, 3) she is a free-spirited pagan, kinda wiccan, with her own nature-worshiping rituals. (1/28/2011)

Assisted Living (So, nu: All the reviewers have identified the lead woman character "Mrs. Pearlman" as being Jewish, though she is played by Maggie Riley. Doubtless this is because of the character's name and that the writer/director is Elliot Greenebaum. However, it was filmed at a Masonic rather than a Jewish facility (in Kentucky) and the religious services and chaplain are clearly Christian, and there are no Yiddishisms or any other Jewish references in the script.)

The Attack (So, nu: Israeli actress Evgenia Dodina plays "Kim" (in the novel, her last name is "Yehuda", the doctor's colleague at the hospital, who is embarrassed by the prejudices he has to face, every day and especially after the incident. There's a hint of her attraction to him, though he's a shocked widower, and she loyally stands by him and sympathetically tries to help him at work and at home, despite peer pressures.) (6/25/2013)

At the Heart of Gold (So, nu: Olympic Gold Medalist Aly Raisman became a hero to Jewish women when she came forward to forcefully accuse the team doctor of abuse and the complicit leadership of U.S. gymnastics and U.S. Olympics. I'm not sure what other Jewish women were also victims and spokeswomen.) (preview at 2019 Tribeca Film Festival) (4/7/2019)

Author: The JT Leroy Story Though I have no confirmation, it appears that Laura Albert, the woman behind the scandalous creation of this persona/pseudonym and writer in this and other voices is at least a putative Jew – born in Brooklyn to a father named Irwin. (8/25/2016)

Autism In Love (So, nu: The St. Paul family is Jewish, with interviews with Gita when she's already in hospice, and Stephen's mother trying to cope with the return of her son as she ages.) (previewed at 2015 Tribeca Film Festival) (4/16/2015)

Autism: The Musical (review forthcoming) (Missed when it was the talk of Tribeca Film Festival, so I caught it on HBO) (The dynamic centerpiece is Elaine Hall, or "Coach E," the founder of The Miracle Project, mother of Neal, adopted from Russia to connect to her ethnic heritage. Like most of the mothers of the autistic children featured, she becomes more than a bit monomaniacal and single, but unexpectedly finds a man willing to take both of them on, and she remarries. The film spotlights how she draws her son into the Jewish holidays, particularly Hanukkah and Passover, even over the discomfort of her new in-laws. My admiration for our cousin's strenuous educational efforts with her autistic son many years ago before programs like these were available was reinforced. The deleted scenes available On Demand, and presumably on the DVD, include Shira, another single Jewish mother of an autistic daughter, with more kids and more Jewish observance.) (3/29/2008)

A Woman, A Part I've been following Maggie Siff's career since her stint on Nip/Tuck's Rachel Ben Natan, as an actress in general, and for playing at least putative Jewish women. She's a producer and the star of artist's Elisabeth Subrin writing/directing debut. From the press notes: "Casting Anna [Baskin], the film's lead…Subrin wanted a very strong, smart Jewish actress who could bring both intensity and intelligence to the difficult role of a woman at a crossroads. 'I knew I needed an incredibly smart and subtle actor. It's very challenging to play a complex, shut-down woman in crisis who's also professionally successful and privileged — the 'empathy' card works against her. I saw her character as a metaphor of woman general in a sexist and performative culture, but didn't want her reduced to a mission statement or cliché.' None of the actresses who Subrin and [producer Scott] Macaulay considered in the early casting process seemed like the right fit for Anna. Then Subrin remembered the department store heiress in the first season of Mad Men played by Maggie Siff, and immediately realized the actress would be perfect. Before they even sent the script to her agent, Subrin by chance signed into a yoga class in Los Angeles while in town for a test shoot, and there, standing next to her at the sign-in desk, was Siff. One yoga class and two coffees later, they were discussing schedule. A year and a half following, the film was made. Says Subrin, 'Maggie's subtlety and technically very precise and considered work kept the film from becoming histrionic or melodramatic.'" Aya (seen in Oscar Nominated Short Films 2015 – Live Action) Acclaimed by the promoter as "a first and historic nomination for an Israeli film in this category, written/directed by Mihal Brezis & Oded Binnun, with Tom Shoval, who are expanding it into a feature film, this is a suggestive Brief Encounter between the titular woman (played by Sarah Adler) and "Thomas" (played by one of my favorite Danish actors, Ulrich Thomsen, of Banshee. It uses the Tel Aviv airport to Jerusalem setting and the context of the The Arthur Rubinstein Piano Competition more than anything particularly revealing about the central woman who is playing out a childhood fantasy.) (2/22/2015)

Bachelor Days Are Over (Pourquoi tu pleures?) (Review forthcoming) (previewed at 2012 New York Jewish Film Festival of Film Society of Lincoln Center/The Jewish Museum) (An annoyingly immature, philandering Jewish groom is at the center, though the film is written and directed by Katia Lewkowicz. It's not clear if the pretty lover (played by Sarah Adler) who distracts him with sex and singing is Jewish, but the Jewish women are substantial, if inscrutable-- his harried sister (played by Emmanuelle Devos, who frequently play a Jewish character in French movies) keeps bailing him out of trouble amidst her own work, child care and home responsibilities, and his mother (played by Nicole Garcia) who, unstereotypically, doesn't seem very enthused about his upcoming nuptials. That may be because his somewhat mysteriously independent bride-to-be (played by Valérie Donzelli) is an exotic-looking Sephardi Israeli whose relatives descend on them with no English or French, and almost tribal ethnic habits.) (1/21/2012)

Bag of Marbles (Un sac de billes) (So, nu: The parents have small roles in the film (and the memoir). As a Russian Jew, the mother is portrayed with curly brown hair – and does a feisty defense of her fake papers to the Gestapo that she is really related to the Czar's family. In the memoir, one of the older brothers relates that he was able to get her out of Drancy (the first time) by cashing in various favors to get that story believed there, too. Evidently, that no longer worked later in the war, though she did survive for a long life with her children, though not her husband who was transported and didn't return. Unlike most such films, the mother does have a separate identity, as a violinist, that figures in her love story with her husband; Joffo went on to write the story of her earlier life from Russia to Paris as a musician in Anna et son orchestra (1976), which does not appear to be available yet in English as Anna and Her Orchestra, and La Vieille dame de Djerba (1984), also not in English, about meeting an old woman in Tunisia who knew his mother and her family. The other Jewish females seen in the film, seen as they are being rounded up, are the most vulnerable and heart-breaking, elderly and mothers with small children. Not mentioned in the film is that their original plan was to join an older sister in Vichy – but she was terrified that their presence would blow her cover to collaborators who would snitch on her, so they only hid there for one night.

Band Aid - Zoe Lister-Jones frequently plays Jewish women characters, but leaves herself somewhat ambiguous in a film she wrote/directed/produced/co-wrote many of the songs, and starred in – with an all-female crew. The closest "Anna" gets to revealing she is Jewish is when she and her husband "Ben" (Adam Pally) are looking around in their storage garage and find the yarmulkes from their wedding. (She also has a lot of Jewish friends with kids, including a lesbian couple.) But his mother "Shirley" is played by an unusually restrained and finally sympathetic Susie Essman in her most dramatic role, after first being portrayed as an stereotyped domineering mother-of-adult-son, when she gives him advice on coping with marriage after miscarriage. The script also throws in a couple of ironic jokes about the Holocaust, ISIS and 9/11. (12/9/2017)

The Band's Visit (Bikur Ha-Tizmoret) (12/7/2007) (emendations coming after 2/7/2008)

Bang! The Bert Berns Story (Review forthcoming) The brief interviews with his sister (Sylvia Levine) and her daughter were usual Jewish background interviews on someone who was involved in the early rock 'n' roll biz centered around the Brill Building, but –surprise- a central figure in this bio-doc directed by his son Brett and based on the biography Here Comes the Night: The Dark Soul of Bert Berns and the Dirty Business of Rhythm and Blues by Joel Selvin, is his very Jewish wife Ilene Stuart Berns. The music industry veterans fondly recall her as a hot blonde who was a go-go dancer at Morris Levy's club The Roundtable! Not the usual intro for a gal who was living on Long Island with her parents, and only happened to go into the city on her day off to give her newly divorced sister a night on the town. Let alone about love at first sight though she was about a dozen years younger than him when she warily agreed to come over to his penthouse apartment. She is a marvelous raconteur, and comes across as a tough broad, in telling how she was involved in the business side of his songwriting and finances, while having kids, and being slow to realize how connected to the mob some of his friends were. Her daughter Cassandra adds a couple of touching anecdotes. Interviews with the late fellow Brill Building Jewish songwriter Ellie Greenwich are also included. (previewed at 2016 DOC NYC Festival) (10/25/2016) Barney's Version (So, nu: In the wonderfully satiric Mordecai Richler novel that is far more reflective on Jewish Montrealers than the film (one has to strain to hear his blond best friend's full name in the movie to know he's Jewish too), all three of his wives are Jewish. The first turns out to be a self-loathing identity denier due to a horrifically restrictive and unsympathetic Orthodox upbringing. The second is a loquacious, shop-a-holic tied to her rich, doting parents, but he is also sympathetic that she balloons into post-divorce obesity because of his cruel rejection. Not only is the lovely third wife Jewish in the book-- not in the film-- but she participates in raising their kids Jewish, and is comfortable with his roots. She is a cultured intellectual radio DJ/interviewer with a sense of humor and tolerance for hockey, who re-marries to a younger, handsome man. Did the scriptwriter and/or director think only a gentile would be credible?) (12/3/2010)

Battle of the Sexes - From the press notes: "Another outspoken character comes from an entirely different world: the hard-nosed PR and tennis maven Gladys Heldman, played by Sarah Silverman, the gutsy businesswoman who made the Virginia Slims Circuit a major media success just as women's tennis seemed to be in trouble. "Without Gladys there wouldn't be women's tennis as it is now," states King. "Gladys was eccentric, brilliant, creative and knew how to make things happen. When I heard Sarah was going to portray her I thought it was perfect."… Silverman was instantly attracted to Gladys. "I really didn't know anything about her," admits Silverman. "But when I read the script, I loved it and thought wow, she's so loud and rat-a-tat-tat. I had to try to wrap my head around what her inner life must have been like -- she was so external. I know some people think I'm loud and external, but it was a challenge. She talks so fast and my brain doesn't move that quickly! She was a very no-nonsense woman and she didn't suffer fools."… As [the costume designer] began to research the character of bold Gladys Heldman, [Mary] Zophres highlighted the generation gap she was bridging. "Gladys was a force to be reckoned with but she was a bit older and from the few photos I saw, she wore a girdle, long-line bra and pantyhose. I pitched to [directors Valerie Faris & Jonathan Dayton] that we should emphasize that she was from another generation -- and that Gladys should be in dresses because being a proponent for women's lib doesn't mean you have to wear a pantsuit. I put her in vivid graphic prints, because it felt to me that when Gladys walks into a room, she's an instant disruption." Sarah Silverman adored the look. "I really just let the wardrobe, the glasses and the hairdo do all the acting," she quips. "Really, as soon as I had Mary's amazing clothes on I felt like Gladys." 12/1/2017)

Bee Season

Before the Revolution (previewed at 2014 New York Jewish Film Festival of Film Society of Lincoln Center/The Jewish Museum) (So, nu: commentary forthcoming on the Jewish women)

Beginners (So, nu: Writer/director Mike Mills was inspired by the experiences of both his parents. He says "My mom got kicked off the swim team when she was thirteen for being half Jewish, and she really did internalize some American anti-Semitism and felt some shame about her Jewishness – or at least deep complications. So, my dad had said to me, 'Your mother would disagree with me, but I think that she took off her Jewish badge and I took off my gay badge and we joined the American story.' And when he said that to me, I said, 'I'm writing a movie about this.'" He further explains: "There is sort of villain. . .and to me that is American History. There's the psychiatrist who says [the father's] gayness is a mental illness, and the way the vice squad is in the film, that's a real institutional villain. It's quiet and it's in the background but it is hugely there. Even the anti-Semitism that's in the story with the mom who gets kicked off the swim team for being half-Jewish, it's that history that they're all up against." Deviating from the autobiographical elements, it's the son's French actress girlfriend "Anna" (played by Mélanie Laurent) whose mom has that experience, but it's now only in the context of the Holocaust and the facts and dates don't quite add-up, let alone justifying her growing up in a very secularized Jewish family. The discrimination comparisons just seem heavy-handed as the film zips through the push-to-assimilation-history that each generation has lived through, and the Jewish-American context of anti-Semitism is lost in the process.) (7/3/2011.)

Belle Épine (briefly reviewed at 2011 New Directors/New Films of Film Society of Lincoln Center/MoMA) (So, nu: The bereaved teen is uncomfortable with her cousins' Rosh ha Shanah dinner because her parents were never religious. She has to ask what the Days of Awe are, and that reflection hangs over her rebellious actions the next 10 days. Her aunt Nelly Cohen (played by Marina Tomé) is warmly understanding, though does not object to her husband's strict ragging on their son. While her sister "Sonia Cohen" (played by Anaïs Demoustier) does participate, she can't bear to even be in their parents' apartment, and deserts her younger sister to stay with her boyfriend. Prudence's mother "Arlette"is played by Valérie Schlumberger, who isn't an actress, but is Léa Seydoux's mother. When "Prudence" has sex with a biker, his cross very obviously hangs over her chest. (3/25/2011)

Being Jewish in France (Comme un Juif en France) (briefly reviewed at 2009 Annual New York Jewish Film at Lincoln Center/The Jewish Museum) (The most interesting women's perspectives are from the new, Sephardic communities --and they are as enthusiastic about coucous as the Muslim immigrants in The Secret of the Grain (La graine et le mulet) scroll down for my capsule review-- who even though clearly more observant are leading schools and community organizations.) (1/18/2009)

Be/longing (So, nu: Directed by Amit Breuer, this short is background to the Women Wage Peace campaign. While focusing mostly on an Israeli Arab woman in Jaffe, also briefly featured is Mika, the founder of a bi-cultural choir, who examines her liberal biases. The singers, who seem majority Israeli Jewish, close each performance, despite loud protests against them with considerable profanity, with the Hebrew version of "Had Ghadya" by Chava Albertstein, banned from Israel State Radio, that adds verses for peace: "When will the madness end?") (preview at 2018 Other Israel Film Festival) (10/31/2018)

Ben-Gurion: Epilogue As to the Jewish women: his mother and wife are just seen in passing in photographs, perhaps because neither was as connected to Palestine/Israel as he was, his mother in Poland, his wife from his exile in New York City who was never happy then being uprooted to the desert kibbutz with their kids. His strained relationship with Golda Meir is also passed over. (5/11/2017)

Berlin '36 is an up-close-and-personal look at the emotional toll the notorious Olympics, glorified by Leni Riefenstahl, took on two competitors. Gretel Bergmann, a Jewish champion high jumper (played by blonde, lean, long-legged Karoline Herfurth promoting an unusually confident athletic image of a young Jewish woman), was manipulated on and then off the German team, as the Nazis are seen playing Olympics Committee President Avery Brundage for a willing fool to wink that the team wouldn't discriminate. But another teammate with a much more problematic background, here called Marie Ketteler and very sensitively portrayed by Sebastian Urzendowsky, is even more manipulated (though the film sidesteps transgender issues). Their unexpectedly sympathetic alliance as mutually encouraging outsiders united against their competitors and sports authorities verges on the overly sentimental until the real, elderly Gretel testifies at the end of the film of the truthfulness of its spirit. The facts are in George Roy's 2004 documentary Hitler's Pawn: The Margaret Lambert Story. (seen at 2010 New York Jewish Film Festival of Film Society of Lincoln Center/The Jewish Museum) (1/25/2010)

Berlin I Love You (available in theaters, On VOD and Digital HD) is part of the "Cities I Love" collective series of short films, which began with Paris, Je T'aime. This installment is more about being in love with people than the city. In "Transitions", written by David Vernon, Edda Reiser, Claus Clausen & Rebecca Rahn, directed by Josef Rusnak, singer-songwriter Sara (Rafaëlle Cohen, with long brown wavy hair) from Tel Aviv (an M.C. introducing her later thinks she comes from Tenerife), busks in Berlin next to Wim Wenders' Wings of Desire-like angel living statue, presumably German native Daniel (Robert Stadlober) and they begin a whirlwind romance around the city that helps geographically connect the 10 short films, as "The Recurrent Characters" in the lexicon of the series. She looks for where her grandmother Estelle Singer lived. When they find the address, he shows her the Stolperstein plaques in front of the old building with the names of other Singers – Rudi, Shula, Selma – who lived there when they were taken away in the Holocaust. But Sara grins – She survived! She's 95-years-old. She wanted me to take photographs. He: How in the world can you come here with these bad memories? She: I don't have these bad memories. (This is the only mention I noticed of Berlin's past, with no other glimpse of the many memorials around the city.) I was reminded of my Israeli theater and artistic cousins, grandchildren of a Holocaust survivor, who frequently live in Berlin, though the many kinds of music clubs (including a magical dance with and to Max Raabe) are seen more than the artsy hang-outs. As Sara, Cohen gets to perform two songs, including one she wrote. (Preview courtesy of Saban Films) (2/8/2019)

Best Worst Thing That Ever Could Have Happened (previewed at 2016 New York Film Festival of Film Society of Lincoln Center) As director Lonny Price interviews his fellow original cast members in Stephen Sondheim and Harold Prince's collaboration in the 1981 Broadway production of Merrily We Roll Along, several guys drop mention of their Jewishness (let alone what they did with their bar mitzvah money), but even as Abigail Pogrebin talks about being the youngest cast member at 16, and even casually dropping that actor Alan Alda was a friend of her parents, I was thinking – this can't be the daughter of Ms. and Lilith Magazines co-founder Letty Cottin Pogrebin and sister of writer Robin Pogrebin because she hasn't said a word about being Jewish. Until she describes her career since leaving this brief but stellar show business experience for a career in broadcast and newspaper journalism was helped by writing the interview collection Stars of David: Prominent Jews Talk About Being Jewish (a book I use as a reference): "Thank God for the Jews – they buy books!" (my approximate memory) And her latest book appeals to that market, too. (10/8/2016)

Bethlehem (So, nu: The two Israeli women seen – the Shin Bet/Shabak agent "Maya" (played by Efrat Shnap) who is partner of the central bi-lingual character "Raz" (played by Tsahi Halevy, and his wife "Einat" (played by Michal Shtemler) are very supportive – but they are surprisingly bland in what is otherwise a thrillingly story of complex loyalties.) (3/27/2014)

Between Fences (Bein gderot/ Entre Les Frontières) (So, nu: Israeli Jewish women turn up towards the end of the film – as peacenik volunteers who follow the African refugees' directions on how to re-enact the roles of Israeli soldiers at their isolated desert refugee center.) (seen in 2017 First Look Festival at Museum of the Moving Image) (2/4/2017)

The Big Short (So, nu: While I haven't yet read Michael Lewis's nonfiction book to check the facts and interpretations, there's one explicitly Jewish woman – the mother (played by Shauna Rappold) of "Mark Baum" (played by Steve Carell) – and one putative, his wife "Cynthia" (played by Marisa Tomei). In a flashback, his mother is supportive of his questioning the rabbi about possible inconsistencies in the Torah, while his not particularly supportive wife is constantly nagging him to calm down, and even take meds, to stop worrying and getting angry about everything, particularly the banks. (11/29/2015)

Big Sonia - a fond portrait by granddaughter Leah Warshawski with co-director Todd Soliday. Her mother (or aunt?) who accompanies Sonia to presentations at schools and other groups of young people, even prisoners, about her experiences in the Holocaust at three concentration camps, says she's the last survivor in the Kansas City area. That she was deported at age 13, and the film emphasizes through animation what age she was when taken to each extermination camp, including Auchswitz, really hits home to the kids. Though the editing is uneven, the parallel story of her continuing her husband's tailor shop at a slowly abandoning shopping mall (and then saved to move to a similar officie building) raises this beyond similar documentaries to add a commentary that compares to their 1950's suburban home movies. (at 2016 DOC NYC Festival) (11/28/2017)

Big Sister (Ahotcha) (short) (previewed at 2017 Tribeca Film Festival) (6/4/2017)

Black Book (Zwartboek) (So, nu: Some of the most outrageous situations, especially about the Jewish Mata Hari at the center who may be the sexiest Jewish woman portrayed in cinema, is not the director being his usual violent, extreme self, but he insists are based on true incidents --several supported in the book memoir of Steal A Pencil For Me, and as in – spoiler alert-- this interview. Now if only Verhoeven would adapt the Megillah!)

Black Bus (briefly reviewed at 2011 New York Jewish Film Festival of Lincoln Center/The Jewish Museum) (So, nu: Interviewees make clear that the increasing restrictions on observant women are not about halacha, but a political result of competition between ever more conservative rabbis. Daringly bringing the cameras on board brings home that these buses look more like apartheid or Jim Crowe than a protective favor for women, as well as how sadly alienated from their old friends and family are those women who leave the community, even while enjoying their freedoms.) !) (3/27/2011)

Black On White: The Idan Raichel Project (Review forthcoming - as seen at the 2008 NY Sephardic Jewish Film Festival, but not only is this the one-hour documentary counterpart to Live And Become (Va, Vis Et Deviens), but the Ethiopian Jewish woman's viewpoint missing from that film is heard loud and clear here!) (2/18/2008)

Blessed Is The Match: The Life And Death Of Hannah Senesh (1/29/2009) (So, nu: While I do not recommend the film, and I will detail the paper saint superficial stereotypes at some point here, Marilyn Hertz, a member of my synagogue, immediately commented on my review (quoted with permission): "You[r] assessment of this being like a young adult book is correct. I saw the premier[e] last night & was invited to the Q & A with the producer. She wanted this to be shown in schools, and wanted it to be a mother/daughter relationship story. I thought it was quite good & worth seeing.")

The Blue Room (La chambre bleue) (review forthcoming) In one of the few differences from the source novel by Georges Simenon, writers/co-stars/domestic partners Mathieu Amalric and Stéphanie Cléau changed her main character's name from "Andrée" to "Esther", and that she had shared first communion with him, but strongly left the impression that she's Jewish by retaining that she was a doctor's daughter and her taunt that he didn't kiss brunette girls in school, with a blonde wife (though leaving out the dated background that her father had been in a concentration camp during the war). (10/1/2014)

Blues By The Beach (seen at Cinematek Forest Hills) While most audience members focus on the shock of the terrorist attack in 2003 at an Anglo bar next to the U.S. Embassy, I was fascinated by the beautiful, hip, slash-haired, 23-year-old waitress Dominique Hass, as a symbol of the new kind of young, secular Jews who are attracted to move to Israel. So it was that much more tragic that she was one of the three fatalities from the suicide bomb. (10/9/2016)

Bobbi Jene For a fly-on-the-wall documentary following an American dancer from living in Israel as a featured performer with the Batsheva Dance Company to her return to the U.S., Israeli women are barely seen at all. There's a brief dinner with her boyfriend's parents, so there's an implicit comparison. Her American mother is a conservative Evangelical who is uncomfortable watching her modern dance performances, even clothed, and is just as uncomfortable that she's living with a Jewish guy. His Jewish mother is a sophisticated liberal who was in the audience for her nude performance, and comfortably welcomes her to their home. (briefly reviewed at 2017 Tribeca Film Festival) (6/3/2017)

Bombshell: The Hedy Lamarr Story Per their press release, "The Alfred P. Sloan Foundation has worked for more than a decade to develop major artistic works that faithfully depict Lamarr's extraordinary story, a trans-continental, war-time tale of a glamorous Hollywood actress who was a groundbreaking inventor and helped shape the world we live in but never got her technological due." Based on Hedy's Folly: The Life and Breakthrough Inventions of Hedy Lamarr, the Most Beautiful Woman in the World by Richard Rhodes (like the documentary, also supported by Sloan) with newly discovered audio interviews and other material, the detailed biography on Lamarr – neé Hedwig Kiesler – and her Jewish background in Vienna is a revelation, and how her fears of anti-Semitism in the U.S. haunted her, such that she never told her children she was Jewish. The archival images from her Viennese assimilated Jewish family and early work are fascinating and extensive. (previewed at 2017 Tribeca Film Festival - but sorry I couldn't get into the accompanying panel) (PBS's American Masters, plus Diane Kruger is producing and developing to star in a fictionalized mini-series, also with Sloane) (updated 11/4/2017)

Boogie Woogie (Review forthcoming) Would most people just presume that the wives of the two Jewish art collectors are Jewish? (I haven't read writer/director's book of the same name for comparison.) "Bob Maclestone" (played by Stellan Skarsgard) is sneered at for having changed his name from "Macleshtein" or some such, and the best friend of his divorcing wife "Jean" (played by red-haired Gillian Anderson) cautions to grab his collection Or all you will be left with is his grandmama's Shabbat candles. They certainly seem to be inspired by Robert and Ethel Scull. "Alfred Rhinegold" (played by Christopher Lee with a Mittel-European accent) is first seen with a menorah prominently displayed behind him before we even seen his prized Mondrian piece of the title. He is buried in a Jewish cemetery by a rabbi but all we know about his wife "Alfreda" (played by Joanna Lumley) is that she despairs over their finances and is having an affair with the butler. (4/16/2010)

A Borrowed Identity (Dancing Arabs Aka Second Son) (So, nu: The Jewish Israeli women characters are strong and unstereotyped. More commentary coming) (6/28/2015)

A Bottle in the Gaza Sea (Une bouteille à la mer) (Review forthcoming) (previewed at 2012 New York Jewish Film Festival of Film Society of Lincoln Center/The Jewish Museum) (While I haven't yet read the Valérie Zenatti novel it's based on, the portrait of a liberal, middle class French teen-age girl "Tal" (played by Agathe Bonitzer) adjusting to aliyah in Israel is sweet and seems naively optimistic, and is overly structured to maximize contrasts with her handsome Palestinian pen pal, amidst IDF attacks on Gaza, as she benefits from a nice high school and home internet access, while he is unemployed, can't afford school, and has to wangle online time with difficulty (though his encouraging mother, played by the esteemed Palestinian actress Hiam Abbas, is a doctor). While the usual Romeo & Juliet aspect is realistically too difficult to overcome, even as both challenge their friends' stereotypes of the other side, the positioning of France as an oasis of tolerance for both Jews and Muslims is even harder to swallow.) (1/21/2012)

The Boy Downstairs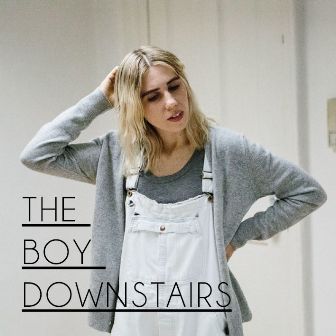 While Zosia Mamet's "Diana" (above) is a putative Jewish millennial woman in brownstone Brooklyn, and most viewers will presume she's like her Shoshanna Shapiro in six seasons of Girls, the only explicitly Jewish woman is the overprotective mother of her ex-boyfriend "Ben" (Matthew Shear), as seen in flashbacks of their relationship. (Review forthcoming) (briefly reviewed at 2017 Tribeca Film Festival)

Boynton Beach Club (But only the men and dead wives are explicitly Jewish, not the widows or daughters, presume some in the audience would assume some are Jewish women.)

Broken Wings (Knafayim Shvurot)

Women's Docs at DOC NYC) (6/3/2014)

Breaking Home Ties (Review forthcoming) (new print previewed at 2012 New York Jewish Film Festival of Film Society of Lincoln Center/The Jewish Museum) (The National Center for Jewish Film their new restoration of this independently made 1922 silent b & w film as noteworthy for countering anti-Semitic images in films promoted by Henry Ford, but it just seemed like a sentimental melodrama of Russian immigrants fleeing to America like from the Yiddish theater to me, complete with devoted mother.) (1/22/2012)

Breaking Upwards (Review forthcoming) (4/16/2010)

Bride Flight (Bruidsvlucht) (So, nu: The film is unusually sensitive about the young woman whose family did not survive the Holocaust (including war-time loss is what she shares with the hunk). While her Jewish fiancé, who seems to have been more of a family friend she used to get on the flight than a romance, wants to be observant as a memorial to their families, she rejects his darkness for the bright colors of fashion design. But, unusually, she stands up for herself and comes to regret her decision to leave her heritage – I was the only one at my screening who realized she was sentimentally cooking latkes and humming a holiday song at Hanukkah—and becomes obsessed with the only remnant of her family's faith, their menorah (even if that symbol is over-used in movies). While it is a bit too genes-will-tell that the older "Esther" (played by Willeke Van Ammelrooy, known from Marleen Gorris's Antonia's Line in1995) ends up with a Jewish daughter-in-law and grandchild, it is satisfying for her.) (My additional note.)

Breslin and Hamill: Deadline Artists (So, nu: It is exceedingly odd that in the extensive inclusion of Irish Catholic Jimmy Breslin's long second marriage, from 1982, to prominent activist Ronnie Eldridge née Myers, who is also interviewed, there is no mention that she is Jewish, when he openly wrote about that difference as adding to the complications in their blended family. (HBO) (preview at 2018 DOC NYC Festival) (11/7/2018)

Bright Lights: Starring Carrie Fisher and Debbie Reynolds With the many images of Christmas decorations around her mother's compound, there is not a hint that Carrie identified as Jewish in connection with her father Eddie, even when she cares for him as he's dying. After mother/daughter death at the end of 2016, the Jewish press covered her as a Jewish woman. (previewed at 2016 New York Film Festival of Film Society of Lincoln Center) (updated 1/4/2017)

Brillo Box (3¢ off) (short) (previewed at 2016 New York Film Festival of Film Society of Lincoln Center) In my analyses of Jewish Women on TV, I sometimes resort to categorizing characters as "putative Jews", and so in this personal documentary, too, where I can only infer they are Jewish. Lisanne Skyler's description of growing up with New York parents Rita and Martin Skyler who had a collecting interest in contemporary abstract art sound a lot like my parents' milieu. My father's dental office, now the locale of the offices of Lilith Magazine which I sometimes write for, was down the block from the Art Students League, so his patients included teachers there and other artists. After my mother wouldn't let him accept Barnett Newman's wife's offer of a color painting in lieu of payment for his extensive dental work, they would do so for other patients, including their friend Lora Civkin, not that any reached such fame. Like Skyler's father, they would go to galleries and sometimes purchase, though not with the investment goals of her father, but more the enjoyment aim of her mother. My mother still displays (most of?) the works, and my sister the art historian librarian has noted the artists in their collection. As I Tweeted - Mazel Tov for making the Short List for Academy Awards Documentary Short – Skyler tweeted back "Thank you!" (updated 7/15/2017)

Brother's Shadow (commentary forthcoming from viewing as one of my faves at the Tribeca Film Festival)

The B-Side: Elsa Dorfman's Portrait Photography - Nu: In advance, I spent an hour trying to confirm my hunch she was Jewish with facts available online to include this documentary in my preview of the New York Film Festival of Film Society of Lincoln Center). But it just took moments into the film for her to identify herself as a "nice Jewish girl", and again and another time as "good Jewish girl", with her husband named Harvey and her son named Isaac, both of whom she has photographed almost as often as herself. Perhaps that commonality helped her first connect with Allen Ginsberg that led to a lifelong friendship? Much like Dorothea Lange and her photographic contemporaries, she focused on family portraiture in a studio convenient to her family, until the stock of Polariod film finally runs out. (updated 6/30/2017)

The Bubble (Ha-Buah) (So, nu: Yeah, it's offensive and completely un-PC to say this, but the brassy Jewish woman here is a stereotype (un-PC term) "fag hag", and it makes no sense that she gets seduced by a breeder geek professing that he wants her to have his children.) (9/16/2007)

La Buche

Buddy: Director Heddy Honigmann, Peru-born/Dutch citizen, is always identified in interviews and biographies as "the child of Holocaust survivors". (Many articles seem to inaccurately say the family reached Peru by 1938.) Asked why she dedicated this documentary profiling the deep relationship between service dogs and their human partners to her grandmother Stefanie, she talked movingly about how her father went back after the war to try to find his mother. She identified his family as from "Austria", but that may not be the modern boundaries, because she said her grandmother went into hiding "near the Caspian Sea" where her father found her. (Honigmann's mother is identified in articles as coming from "Poland", with my similar caveats.) Bringing her to the family's refuge in Peru, Honigmann remembered her grandmother as being a solitary person, presumably affected by her war experiences, preferring to be accompanied by her dogs and the long walks they took together, even when they had to become shorter walks as she aged. She joked how the dogs would even follow her to the bathroom and wait for her to come out, then sit by her bed as her grandmother spent the rest of her days reading huge piles of crime novels and playing cards. Her love for her grandmother was entwined with love for her dogs. While Honigmann says her grandmother who, she says, taught her to "love and trust dogs", she commented on the irony of her over-protective father giving her a German shepherd which were so identified with Nazi cruelty her father experienced in a concentration camp. One of the subjects of the Dutch film is 86-year-old Edith, who was blinded by the explosion of a German grenade during World War 2. Honigmann's discussion of her family revealed why so many of her films hint at issues around death. (seen at MoMA's 2019 Documentary Fortnight - her attendance was facilitated by the wonderful museum I loved visiting in Amsterdam The Eye – Netherlands Film Institute) (3/1/2019)

Budrus (also briefly reviewed in Recommended Documentaries at 2010 Tribeca Film Festival) (So, nu: A major reason this documentary is more fair and thorough in presenting all sides than others about Israelis vs. Palestinians is the extensive and frank interview with a woman Israeli soldier who served during the protests and was a particular target for verbal abuse from the protesters. I don't recall any Israeli female peaceniks interviewed, though the unusually prominent role of Palestinian women is highlighted.) (5/7/2010)

Burt's Buzz (So, nu: I think I caught correctly that his original last name was "Ingram", and it may be that the "Shavitz" he later adopted was his Jewish mother's maiden name, not that he says too much about her, though she is seen in a few family photos. He did use his Jewish identity to get his first professional photography job, working for a Jewish newspaper and photographing the Orthodox Jewish community in Brooklyn.) (6/6/2014)

Bye Bye Germany (Es war einmal in Deutschland...) (So, nu: While the film focuses on the male Holocaust survivors --as written by Michel Bergmann based on his novels Die Teilacher and Macholikes, not available in English, and director Sam Garbarski—two Jewish women are included. Special Agent "Sara Simon" in the U.S. Army's CounterIntelligence Corps (played by German actress Antje Traue, who switches well to an American accent for English dialogue) is beautiful; when she falls for the huckster she is investigating for Nazi collaboration "David Bermann" (played by Moritz Bleibtreu)—even though he "is not my type", she reveals, when her hair is literally down, that she was born in Germany whose doctor father got the family out when he lost his hospital job in 1933: I didn't want to come back, but the Army needed German-speaking interrogators. So I thought I might put Nazis through the ringer, my modest contribution. Though their hook-up is not altogether convincing, she quickly moves on to her next assignment at Nuremberg. "Frau Sonya" (Tania Garbarski) is the waitress at the restaurant they frequent, and quick with witty ripostes. "David" explains, while ogling her tuchis: Her father was a cook who beguiled Paris. They say she was hidden with her boyfriend's goy parents, who died. (preview courtesy of Film Movement) (4/15/2018;7/22/2018)

Café Society (So, nu: In Woody Allen's most Jewish movie in years, the Jewish women are, in relation to the central character of "Bobby Dorfman" (played by Woody Allen stand-in Jesse Eisenberg): his mother "Rose Dorfman" (played by Jeannie Berlin), who throws in a lot of quizzical Yiddishisms and criticisms of her husband's and sons' lack of religious observance; who the press notes describe as his "good-hearted teacher sister Evelyn Dorfman" (brunette Sari Lennick), married to a Communist professor; and blonde "Candy/ShirleyGurfein" (Anna Camp), plus a couple of putative Jewish women, such as his brunette sister-in-law "Karen Stern" (Sheryl Lee). [I am required to hold all reactions and reviews until the week of release July 11, 2016] (6/21/2016)

The Cakemaker (Der Kuchenmacher) - So, nu: In his debut feature, Israeli-born writer/director in Ofir Raul Graizer was, he says in the press notes, inspired by "a private memory" with "the attempt to put aside definition of nationality, sexuality, and religion". So I found "Anat" (Sarah Adler) refreshingly realistic: she is a secular widow who only kept kosher at home and at her café because her husband's Jerusalem family is Orthodox. (In interviews, Graizer says that aspect was inspired by his parents' relationship). As she gets over her grief, she more and more rebels against their strictures, particularly as they try to control her young son. She is also credible in gradually realizing that the German lover her husband intended to leave her for was a young man, including her action in the ambiguous ending. Also against stereotype is her Orthodox, head-covered, mother-in-law "Hannah" (Sandra Sade) who seems to have either been her son's confidante about his secret life, or she knew him well enough to figure it out, and warmly welcomes the titular lover "Thomas" (Tim Kalkhof). While early on it seems maybe the husband was bi-sexual, by his mother's sympathy, she may have finally understood that he only married and had a child at the family's insistence. (I don't recall mention of his father, but we can presume he was probably like his martinet brother "Moti", played by Zohar Strauss.) I read a really nasty review by a gay critic who sneered that this downplays "queer passion" in favor of heterosexual love (though there is an explicit gay love scene), but I saw sensitivity to people caught in-betweens. Graizer posted on Israel's Oscar-equivalent: "Ophir Awards nominated for: Best Feature, Best Director, Best Cinematography, Best Script, Best Editing, Best Costume Design, Best Actress (Sarah Adler), Best Soundtrack & Best Artistic Design" (at 2018 New York Jewish Film Festival of Film Society of Lincoln Center/The Jewish Museum) (preview courtesy of Strand Releasing) (updated 7/2/2018)

Call Her Applebroog (seen at MoMA's 2016 Documentary Fortnight) (3/31/2016)

Call Me By Your Name So, nu: I haven't yet read André Aciman's novel if the "Perlman" family was originally Jewish, and the women in any gay male love story are ancillary. The film is set in 1983 in northern Italy at the sumptuous villa the Italian mother "Annella", a translator, inherited. In the press notes, the actress who plays her, Amira Casar, says of the parents: "although they have a love of tradition and the past—they are also resolutely modern. While they are transmitting a strong taste of the classics to Elio in this Garden of Eden, at the same time they are pushing him out to go and experiment and live his life. Most parents tend to put a rein on their kids, and instead they're saying, 'Go out there! Live, life is a gift. Live it to the full.' I think both Annella and her husband are very ahead of their time, extremely tolerant forward thinking, and permissive." Actually, I saw her as pimping out her 17 year old pianist son "Elio" (Timothée Chalamet) to the gorgeous hunk graduate student "Oliver" (Armie Hammer), summer research assistant to her American husband/Greco-Roman Classics professor (Michael Stuhlbarg). While the object of desire is from a small New England town and used to being (double meaning) different, proudly wears his large Jewish star outside his shirts, "Elio" says his mother always advised that they are "Jews by discretion", but starts imitating his crush. [I think that's the line.] She's also the kind of Jewish mother who has her local housekeeper light the Hanukkah candles and make their latkes. Throughout, it's not clear if the local girl "Elio" pops his cheery with and unceremoniously dumps when he revels in his new gay identity, "Marzia" (Esther Garrel, of the Garrels of French cinema, whose mother is Brigitte Sy) is Jewish, but she is made up with a mop of brown, curly hair for a strong, visual implication.