Reading Group: History
Our monthly Reading Group for urban/ethnic/women's/American history has been meeting for almost 40 years. Originally part of the alternative academic organization the Institute for Research in History, our group of women has outlasted the institution by decades. We welcome inquiries from potential new members.

We mourn the passing of our active member for over 30 years, long-time host and dear friend, Jean Mensch, whose strong and colorful opinions added so much to our monthly discussions, from her unique perspective: as a girl from a Bronx Communist family, to "Hunter girl", Yale graduate housing, to suburban Levittown, to Scarsdale high school teacher, Columbia PhD on desertion in Jewish immigrant families, and Upper East Side caring matriarch of beloved children, grandchildren, and great-grandchildren. Thanks to her insistence, we focused in recent years on significant historians writing about more than narrow dissertation topics. She will be greatly missed. In her memory, we contributed a memorial gift to the Lower East Side Tenement Museum.


We almost annually put down our books for June Jaunts, or April Away, like this mid 1980's Chinatown tour led by Joyce Gold: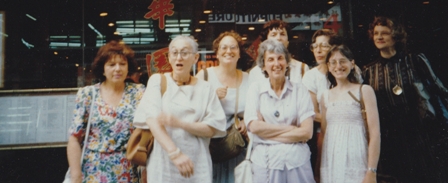 and
July Jaunt at the New-York Historical Society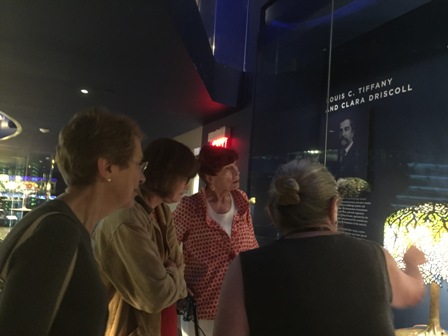 .


Our readings inform my recommendations of TV fictional series in historical settings:
Boardwalk Empire
Call the Midwife
Copper and Ripper Street
Deadwood
Halt and Catch Fire
Hell on Wheels: With its historical inspirations
The Knick
Mad Men
Masters of Sex
Taboo


We love it when members such as founding member Betty Boyd Caroli; the late Marilyn Williams; and the late Selma Berrol let us preview and/or discuss their always informative books. Irene Tichenor has been a welcome recent addition to our group, with a sabbatical to curate a Grolier Club exhibition The Dean of American Printers: Theodore Low De Vinne and the Art Preservative of All Arts:



We have found that for discussion, monographs by historians are the best for a Feast of Reason and the Flow of Soul (per Alexander Pope's 1736 "Satire I" imitation of Horace - thanks to Rebecca for the correct citation). We wait until the books are out in paperback to make them easier to obtain.

The book we are reading for July 20, 2018:
Boyd, Valerie (journalist), Wrapped in Rainbows: The Life of Zora Neale Hurston, 528 pages, reprint edition 2004, Scribner (Southern Book Critics Circle Southern Book Award for best nonfiction) (paperback/Kindle)
Short documentary from Florida affiliate of PBS: The Lost Years of Zora Neale Hurston.



We may select our next book from our updated 2018 Reading List.

For a break from non-fiction, here's recommendations from my Fiction Book Club.


Annotated Reading Bibliography
Compiled as of June 14, 2018 (publication dates are of the initial hard cover). Thanks to the late Jane Allen for providing many of the italicized dates as the historical record of when we read the books. (Sorry my bibliographical formatting is inconsistent.)

Abelson, Elaine S., When Ladies Go A-Thieving: Middle Class Shoplifters in the Victorian Department Store, Oxford U Press, 1992, 304 pages (11/1993)
Included in this history is the related period phenomenon that swept over women and was mishandled by doctors, as seen comically in Hysteria, romantically in A Dangerous Method, and from a feminist perspective in the fictionalized Augustine and the documentary Passion & Power: The Technology of Orgasm (2007) (based on historian Rachel Maines's The Technology of Orgasm: "Hysteria," Vibrators and Women's Sexual Satisfaction (Johns Hopkins U Press, 1999) seen in the Emiko Omori Retrospective at MoMA's 2017 Documentary Fortnight).

Alexander, Michelle, The New Jim Crowe: Mass Incarceration in the Age of Colorblindness, 336 pages, 2010, New Press (Though this was an atypical selection for us, we all felt our consciousness was raised on the linkages from the full range of the law enforcement system and the impact on African-American communities, albeit so depressing with few viable overarching solutions.) (10/28/2016)
The inspiration for Ava DuVernay's documentary 13th (previewed at 2016 New York Film Festival of Film Society of Lincoln Center)


Like Jefferson in Paris, the late Jean Mensch visited La Place de la Bastille: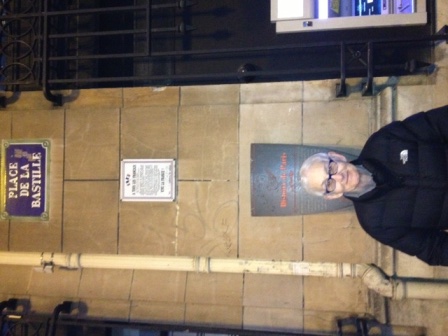 Ambrose, Stephen, Undaunted Courage: Meriweather Lewis, Thomas Jefferson, and the Opening of the American West, Touchstone paperback edition 1997 -- has an additional two ethnographic chapters than the original 1996 hard copy, 521 pages (We read it in honor of the centennial, though several members of our group had zero interest in the frontier; those who did enjoy reading about wilderness liked it as a saga, though not all appreciated the author's very personal style.) (9/23/2004)

Anbinder, Tyler, Five Points: The 19th Century New York City Neighborhood That Invented Tap Dance, Stole Elections, and Became the World's Most Notorious Slum, 544 pages, 2001, Free Press (While some felt there was too much detail in a non-thematic profile of a neighborhood, others felt it was a thoroughly researched--with excellent footnotes-- very readable, revealing portrait of change in NYC, especially about ethnic succession and the dispelling of long-held myths.) (2/4/2005)
The BBC America TV series Copper, surprisingly, draws on a lot of accurate details and evocation of this time and place.

______________, City Of Dreams: The 400-Year Epic History of Immigration In New York, 768 pages, 2016, Houghton-Mifflin (Lukas Prize Projects Awards Lynton History Prize) (Mixed reaction – while we each learned something, some found the anecdotes too long, and some challenged his use and interpretations of quantitative data.) (10/6/2017)

Applegate, Debby, The Most Famous Man in America: The Biography of Henry Ward Beecher, 560 pages, 2006, Doubleday (Pulitzer Prize) (While we questioned his theological significance and the gushing superlatives, we were impressed by her parsing of Protestant divisions and the rise of the hypocritical celebrity evangelist in American culture.) (12/11/2009)


Nora Mandel visited the The Kona Coffee Living History Farm on Hawaii, preserving the early 20th century lifestyle of the Japanese immigrant Daisaku Uchida family: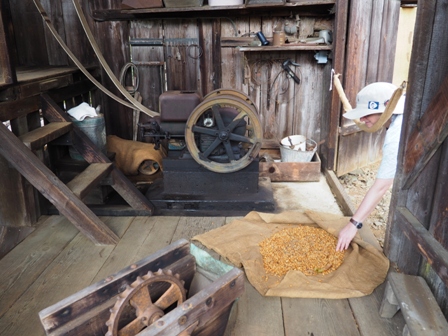 Azuma, Eiichiro, Between Two Empires: Race, History, and Transnationalism in Japanese America, 320 pages, 2005, Oxford U Press (Runner Up for OAH's Turner Award for an author's first book dealing with some significant phase of American history) (While some members had trouble getting a copy and all were uncomfortable with the academic-ese language – what the heck are "vernacular newspapers"?—and the too cursory consideration of the internments as outside his time frame, all learned a lot from his thesis on unique immigrants and research in the U.S. and Japan.) (1/30/2009)
Also recommended is a related documentary The Cats of Mirikitani

Baily, Samuel L., Immigrants in the Lands of Promise: Italians in Buenos Aires and New York City, 1870–1914, 336 pages, 1999, Princeton U Press (AHA Marraro Prize in Italian history in any epoch, in Italian cultural history, or in Italian American relations) (Despite our appreciation for learning about immigration to Argentina, our many complaints made for a lively discussion of its faults, both the publisher's copy-editing and the scholar's now dated over-dependence on unreliable statistics for repetitive summation.) (4/14/2017)
For a current contrast with Italian attitudes towards migrants to Europe now, recommended are the documentaries Fire At Sea (Fuocoammare) (seen at 2016 New York Film Festival of Film Society of Lincoln Center) and
Lampedusa in Winter (seen in 2016 Panorama Europe at Museum of the Moving Image)

Bailyn, Bernard, The Barbarous Years: The Peopling of British North America--The Conflict of Civilizations, 1600-1675, 640 pages, 2012, Knopf (Not only were we educated about the local and European contexts for the religious, ethnic, social, economic, and intentional diversity of natives and immigrants, but impressed that this insightful synthesis and re-interpretation of recent research into early Atlantic colonies was accomplished by the nonagenarian dean of pre-Revolutionary historiography.) (9/12/2014)

Ball, Edward, Slaves in the Family, 505 pages, 1998, Ballantine (Some in the group thought the organization was too confusing and too inclusive of every possible bit of information about the Ball family and their slaves and descendants, while others found it a fascinatingly open acceptance of how the past is never dead when it comes to race in America as oral histories were matched up with documentary evidence.) (4/6/2001)
The documentary Moving Midway I reviewed at New Directors/New Films at Film Society of Lincoln Center/MoMA, deals visually with similar issues.

Baltzell, E. Digby, Puritan Boston and Quaker Philadelphia, Beacon Press, 585 pages, 1979

Barr, Juliana, Peace Came in the Form of a Woman: Indians and Spaniards in the Texas Borderlands, 416 pages, 2007, U of North Carolina Press (Southern Historical Association's Sydnor Award for a distinguished book in southern history and Center for Southwest Studies' Clements Prize for the Best Non-Fiction Book on Southwestern America) (While we learned about the diversity of tribes in the region, we were all very disappointed that the author did not deliver on the promise of a gendered analysis, other than identifying matrilineal kinship that contrasted with the basis of European colonists' patriarchal societies, even as both used women primarily as captives and cooks.) (1/6/2012)

Barry, John M., Rising Tide: The Great Mississippi Flood of 1927 and How It Changed America, 528 pages, 1997, Simon & Schuster (SAH's Parkman Prize for best book on American history, though the author is not a historian) (Most thought the opening chapters on older engineering plans a tough slog, and the maps inadequate, but most found his focus on specific families and institutions a revealing way to parse the disturbing differential racial impact. This past was so prescient about all that went wrong in handling Hurricane Katrina that we wished for an edition with a comparative epilogue.)
The book was the basis for PBS's American Experience episode Fatal Flood
For more period footage, see Bill Morrison's The Great Flood (80 minutes), reviewed with my additional notes, available on DVD and Amazon Instant Video.) (7/2/2015)

Barth, Gunther, City People: The Rise of Modern City Culture in 19th Century America, Oxford U Press, 289 pages, 1980 (While several recent monographs on this list have overtaken the generalizations about such commercial developments as vaudeville, baseball, apartments, department stores, and tabloids, this is still an interesting compendium on entrepreneurs' role in popular urban culture.) (2/23/2001)

Beckert, Sven, Empire of Cotton: A Global History, 2014, 632 pages, Knopf (Bancroft; Pulitzer finalist) (selected even though the paperback wasn't yet available) (While we debated the usefulness of his thematic repetition, and though we were impressed by the breadth of his original research found citations sometimes difficult to pinpoint, we were all struck at how much we learned about how the capitalist economics of one agricultural product drove the same pattern of social structures, particularly slavery and worker conditions, around the world over time. Somebody make a movie out of the experiences of Tuskegee graduates imposing American cotton techniques on farmers in the colony of Togo at the behest of German imperialists at the turn of the 20th century.) (9/11/2015)
Note: The documentary We Come as Friends, about current imperialistic demands for resources in Africa, follows these same economic patterns of capitalism.
Boy and the World (O Menino e o Mundo) - this 2015 Brazilian animation beautifully and wordlessly tells the story of the impact of cotton as a cash crop and industrial development on global agricultural and urban workers.

Beckert, Sven, The Monied Metropolis: New York City and the Consolidation of the American Bourgeoisie, 1850 - 1896, 2001, 492 pages, Cambridge U Press (While some thought it "dense" and repetitive, once we got over his nomenclature, we each learned something, even when he covered The Gilded Age we've read about in other books. And he cited Irene Tichenor's PhD thesis.) (10/30/2015)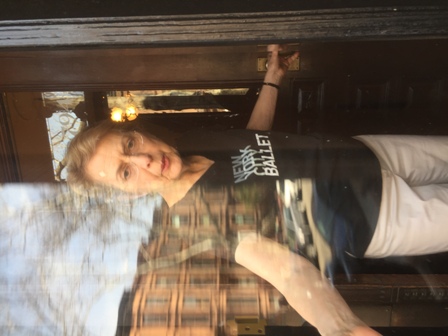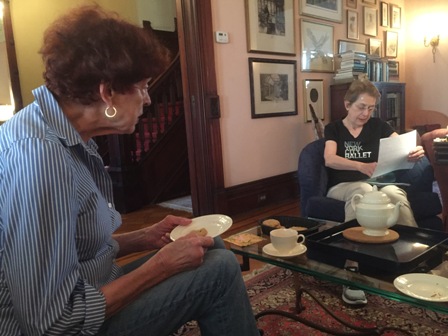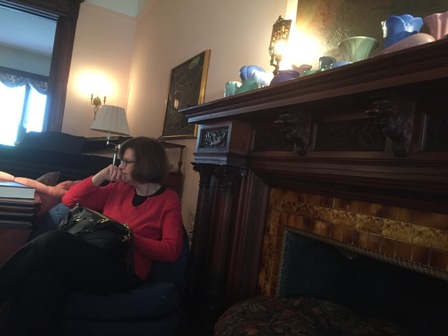 - Our first meeting in Irene Tichenor's historic brownstone – with Cathy Alexander's homemade, gluten-free chocolate chip cookies


Bell-Scott, Patricia, The Firebrand and the First Lady: Portrait of a Friendship: Pauli Murray, Eleanor Roosevelt, and the Struggle for Social Justice, 480 pages, 2015, Knopf (Nat'l Book Award long list; Hurston-Wright Legacy Award finalist/best book on black women's history by Assoc of Black Women Historians) (While some would have preferred a true biography, rather than the duo of mostly letters, we were amazed at a life that both touched on so many significant movements, including early efforts new to us, despite how she was constantly thwarted due to her gender, race, or orientation.) (4/13/2018)

Benson, Susan Porter, Counter Cultures: Saleswomen, Managers, and Customers in American Department Stores, 1890-1940, 1986

Berkin, Carol, First Generations: Women in Colonial America, 256 pages , 1997 (We were all various degrees of disappointed that this turned out to be an overly generalized rehash of recent research intended for introductory undergraduate courses -- this certainly should not be a model for students on footnotes.) (4/8/2005)

Berlin, Ira, Many Thousand Gone: The First Two Centuries of Slavery in North America, Harvard University Press, 512 pages, 2000 (An essential - a thorough compendium of research on slavery before our Gone With the Wind stereotypes, divided by geography and time period, a bit repetitive and PC with vague citations in the footnotes, but lots of reference information.) (9/13/2002)

Bernstein, Iver, The New York City Draft Riots: Their Significance for American Society and Politics in the Age of the Civil War, Oxford U Press, 384 pages, 1991 reprint of 1990 edition

Bernstein, R.B., The Founding Fathers Reconsidered, 238 pages, 2009, Oxford U Press, (Gilder Lehrman Institute Washington Book Prize finalist for most important new book about America's founding era) (While this compilation from mostly others' research seems more useful as a college textbook, we did learn some new information, especially about the roles of less-known "fathers", alternative interpretations of state vs. church, and the importance of the state ratification conventions.) (2/2/2018)

Borchert, James, Alley Life in Washington: Family, Community, Religion, and Folklife in the City, 1850 - 1970

Boris, Eileen, Home To Work: Motherhood and the Politics of Industrial Homework in the U.S., Cambridge Univ. Press, 1993, 383 pages (3/15/1996)

Boydston, Jeanne, Home and Work: Housework, Wages and the Ideology of Labor in the American Republic, Oxford U Press, 222 pages, reprint 1994 (6/9/2000)

Blackmar, Elizabeth, Manhattan for Rent, 1785-1850, 1991 (1/15/1999)

Blackmar, Elizabeth and Roy Rosenzweig, The Park and The People: A History of Central Park, Cornell Univ. Press, 600 pages, 1992 (1994)

Blumin, Stuart, Emergence of the Middle Class: Social Experience in the American City, 1790 - 1900, 1989 (11/1996)

Branch, Taylor, Pillar of Fire: America in the King Years 1963-65, 768 pages, 1998 (Part 2 in the Simon & Schuster-published trilogy) (While we queried the inclusion of personal trivia that seemed to be TMI, felt it was hard to keep track of lesser-known participants across the chapters, and questioned if this was more compilation of available information than analysis, we all found it novelistic and revealing reading and learned something.) (9/26/2008)
Bridges, Amy, A City in the Republic: Antebellum New York and the Origins of Machine Politics, 1984 (5/12/1989)

Breen, Timothy, The Marketplace of Revolution: How Consumer Politics Shaped American Independence, 400 pages, 2004, Oxford U Press (While some felt he exaggerated the importance of his case, most were intrigued by his detailed meshing of economic with social history to explore how changes in perception of the importance of manufactured and supposedly luxury goods, particularly by women, led the radical revolutionaries to be able use tea as the flashpoint to rally support against the British political and mercantile empire.) (3/10/2006)

Brinkley, Alan, The End of Reform: New Deal Liberalism in Recession and War, 371 pages, 1995, Knopf (mixed review) (4/10/1997)

Brooks, James F., Captives and Cousins: Slavery, Kinship, and Community in the Southwest Borderlands, 432 pages, 2001, U of North Carolina Press (Bancroft Prize, Gilder Lehrman Institute's Douglass Second Prize for outstanding book on slavery or abolition, Turner Award, Francis Parkman Prize, Erminie Wheeler-Voegelin Prize, W. Turrentine Jackson Prize) (While we had difficulty with the new-to-us anthropological, tribal, and Spanish terms, we were fascinated to learn about complicated slavery among Native Americans and between the Spanish, with discussion about gradations for women from chattel slavery to freedom of choice.) (5/28/2010)

Brown, Kathleen M., Good Wives, Nasty Wenches, and Anxious Patriarchs: Gender, Race, and Power in Colonial Virginia, 512 pages, 1996 (While this slow-read repetitive thesis-style that several couldn't slog through, the feminist theme of tracing through how colonial Virginia, and our founding fathers, got from The New World to a prologue of Gone With the Wind made intriguing points, from both original and secondary sources.) (5/19/2006

Brückner, Martin, The Geographic Revolution in Early America: Maps, Literacy, and National Identity, 296 pages, 2006, U of NC Press (American Society for Eighteenth-Century Studies' Gottschalk Prize) (Despite its overuse of arcane vocabulary, we mostly appreciated the insightful way of seeing maps to read the perceptual change from colony to United States, in comparison with British and Native American maps, and leading from regional character stereotypes into manifest destiny.) (12/14/2012

Brumberg, Joan Jacob, Fasting Girls: The Emergence of Anorexia Nervosa as a Modern Disease, 1988 ( 10/17/1990)

_________________, The Body Project: An Intimate History of American Girls, Vintage, 336 pages, 1998 (which I reviewed for LILITH Magazine) (While some felt that histories of how menstruation, acne, exercise, and dieting have been dealt with were not legitimate foci for analysis, others found it quite interesting.) (10/2000)

Bushman, Richard L. The Refinement of America: Persons, Houses, Cities, 1992 (5/11/1998)

Cameron, Ardis, Radicals of the Worst Sort: Laboring Women in Lawrence, Massachusetts, 1860-1912, 1995, University of Illinois Press (2/28/1997)

Camp, Helen, Iron in Her Soul: Elizabeth Gurley Flynn and the American Left, 1995 (The author was a member of our reading group for awhile.) (12/1/1995)

Caro, Robert A., The Years of Lyndon Johnson: Master of the Senate , Vintage Books, 1232 pages, 2002 (volume 3 of the biography series) (While some thought it needed tough editing to remove repetitive details-especially those who didn't finish reading it- others thought it was a real page-turner and the lengthy context-setting background sections quite relevant and fascinating, including the staggering minutiae on Congressional committee negotiations and votes. Those who'd read the earlier volumes felt Caro had eased up on LBJ.) (9/12/2003)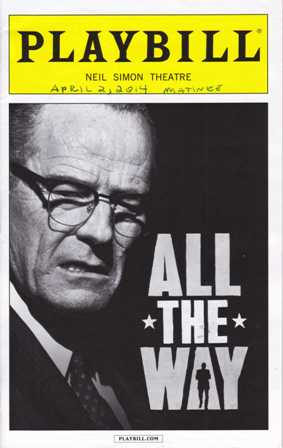 Though we hadn't yet all read Caro's The Passage of Power: The Years of Lyndon Johnson (it will have to be a summer read), we went together to see Bryan Cranston eerily embody LBJ on Broadway, that also theatrically drew on what we learned in Taylor Branch's Pillar of Fire: America in the King Years 1963-65.

Caroli, Betty Boyd, The Roosevelt Women, Basic Books, 512 pages, 1999 (We got the inside dope on the trials and tribulations of the research and writing.) (5/18/2001)
My father Dr. Irwin D. Mandel is cited in a footnote for being helpful to the author's research in discussing Eleanor's dental problems and treatment.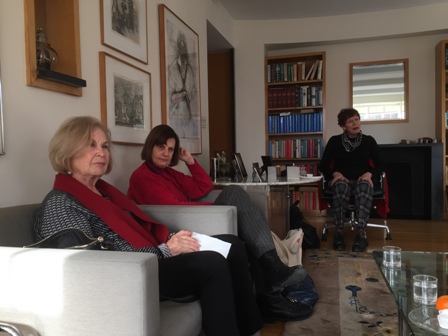 , Betty Caroli with Cathy Alexander and Carol Neuls-Bates, at our meeting in the late Jean Mensch's art-filled apartment, and on MSBC re: Melania Trump as the incoming First Lady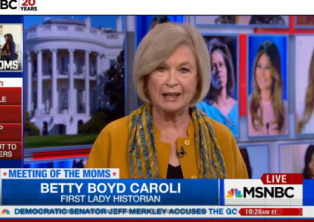 Caroli, Betty Boyd, Lady Bird and Lyndon: The Hidden Story of a Marriage That Made A President, 480 pages, Simon & Schuster, 2015 (While we debated how Lady Bird lasted within such a difficult marriage, we all appreciated hearing the inside tidbits that didn't pass legal or LBJ Library muster for inclusion.)
Betty was interviewed on C-SPAN's First Ladies: Influence and Image series about Lady Bird Johnson and her biography.

Chambers-Schiller, Lee Virginia, Liberty: A Better Husband - Single Women in America, the Generations of 1780-1840 (12/1990)

Chernow, Ron, Titan : The Life of John D. Rockefeller, Sr., 832 pages, 1999, Vintage Books (The long read did do justice for an extraordinary long and psychologically complex life in a way that parsed the differences among generations of robber barons.) (9/8/2005)

___________, Alexander Hamilton, 832 pages, 2004, Penguin Books, (While we all learned a lot about the most forward-looking, urban immigrant Founding Father who sure seemed like a manic-depressive to us --as well as showcasing how un-unique Clinton's peccadilloes were-- Chernow is over-the-top in favoritism and psychoanalyzing his subject with only negativity about Jefferson and Adams.) (9/8/2006)

Chesler, Ellen, Woman of Valor: Margaret Sanger and the Birth Control Movement in America, 1992 (4/15/1994)

Clark, Emily, Masterless Mistresses: The New Orleans Ursulines and the Development of a New World Society, 1727-1834, 312 pages, 2007, U of North Carolina Press (Southern Association of Women Historians' Julia Cherry Spruill Prize, Williams Prize in Louisiana History, Historic New Orleans Collection and the Louisiana Historical Association and Spruill Prize of the Southern Association for Women Historians for the best book in southern women's history) (While we felt they were a small footnote to feminist history, we were impressed by her use of bi-lingual original sources to put them in a complicated, international colonial context, though we wanted more analysis of how the individual women affected their policies.) (4/16/2010)

Cleary, Patricia, Elizabeth Murray: A Woman's Pursuit of Independence in Eighteenth-Century America, 296 pages, 2000 (While Clearly probably did impute more feelings and opinions to her subject than the record strictly supported, we thoroughly enjoyed reading the unusually well documented life of this unusual Scottish immigrant, from an early "she-merchant," to her pre-nups through her 3 husbands, her mentoring of nieces and friends' daughters, and standing up to Colonial and British Armies engulfing her properties -- let alone her husbands and brothers--for a new, unideological, perspective on living during Revolutionary times. So will Boston's Museum of Fine Arts now properly clean her portrait by Copley?) (1/6/2006)

Clinton, Catherine, Harriet Tubman: The Road to Freedom, 272 pages, 2004 (While we learned a lot about the life of a mythic, fascinating figure, whose illiteracy left difficult research problems, the author's stated goal to rescue her from the world of young adult books only seemed to raise the bar to undergraduate women's/black history month reading list.) (12/15/2006)
In the TV series Underground, "Minty", the Season 2, Episode 6 written by series creators Misha Green and Joe Pokaski, directed by Anthony Hemingway (first broadcast on WGN 4/12/2017), consists entirely of a mesmerizing performance by Aisha Hinds as Harriet Tubman delivering a riveting lecture to abolitionists.

Cohen, Lizabeth, Making A New Deal: Industrial Workers in Chicago 1919 - 1939, Cambridge U Press, 544 pages, 1991

Cohen, Miriam, From Workshop to Office: Two Generations of Italian Women in NYC 1900 -1950, Cornell University Press

Cook, Blanche Wiesen, Eleanor Roosevelt Volume 1: 1884 - 1932 , Viking Penguin, 608 pages, 1992 (1/1993)
_________________, Eleanor Roosevelt: Volume 2, The Defining Years, 1933-1938 , Penguin USA, 704 pages, 1999 (It is useful to read Volume 1 before this catalog raisonne of each long day of these five eventful years. It surely needed editing and better footnotes, particularly for unsubstantiated interpretations, but has a whole lotta information on an extraordinary woman and political partnership.) (9/17/2000)

Coontz, Stephanie, Marriage, a History: How Love Conquered Marriage, Penguin, 448 pages, 2005 (Aimed at a college audience to prove that the 1950's were the exception in the history of humanity not the golden mean, we all thought she either left out some important considerations or illustrations while dwelling too much on the obvious generalizations or the elites, but each of us managed to learn something.) (1/25/2008)

Cordery, Stacy A., Alice: Alice Roosevelt Longworth, from White House Princess to Washington Power Broker, 608 pages, 2007 (While debating whether the significance of a woman's salon rises to the subtitle, even in terms of The Jewish Museum exhibition on The Power of Conversation, we mostly agreed she was a trivial celebrity for the subject of such a long book of details.) (5/15/2009)

Cordier, Mary Hurlbut, Schoolwomen of the Prairies and Plains: Personal Narratives from Iowa, Kansas, and Nebraska, 1860S-1920s, University of New Mexico Press, 378 pages, 1997 (4/16/1999)

Cott, Nancy, The Bonds of Womanhood: "Woman's Sphere" in New England, 1780 - 1835, Yale University Press, 1977

_________, Public Vows: A History of Marriage and the Nation, Harvard U Press , 304 pages, 2001 (Her original research on regulation of the Freedmen's Bureau and Mormon polygamy were stand-outs, along with her re-interpretation of changes in definitions of morality from the colonial period to the Clintons.) (12/14/2007)

Cowan, Ruth Schwartz, More Work for Mother: The Ironies of Household Technology from the Open Hearth to the Microwave, Basic Books/Harper, 257 pages, 1983 (1/1989)

Cronon, William, Nature's Metropolis: Chicago and the Great West, 509 pages, 1991 (4/5/1995)
An avant-garde documentary view of Illinois history: The Illinois Parables (previewed at 2016 New York Film Festival of Film Society of Lincoln Center)


Irene Tichenor visited the Lyndon Baines Johnson Presidential Library and Museum in Austin, TX to see Read My Pins: The Madeleine Albright Collection: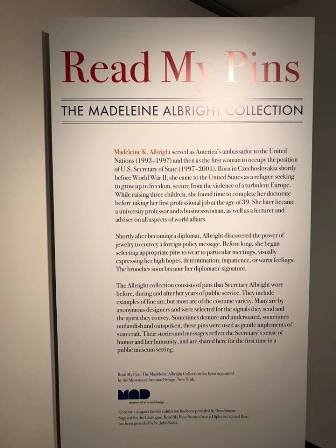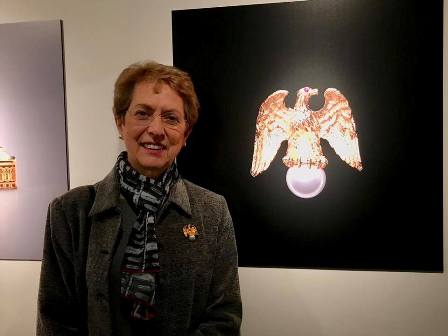 Thanks to her daughter Sarah Craft for the photos, posted with permission, and for her comments: My mother wore a pin that is also in Albright's collection, and it happened to be the first one featured at the exhibit entrance! There were lots of beautiful pins and interesting anecdotes about why she wore certain ones and the significance they had during her time as U.N. Ambassador and Secretary of State.


Dallek, Robert, Lyndon B. Johnson: Portrait of a President, 396 pages, Oxford U Press, 2004 (one-volume abridgement of out of print Flawed Giant: Lyndon Johnson and His Times, 1961 – 1973, 784 pages, 1999, Oxford U Press and Lone Star Rising: Lyndon Johnson and His Times, 1908 – 1960, 754 pages, 1992 reissue, Oxford U Press) (While our discussion greatly benefited from Betty Caroli's supplementary summary of the longer volumes and additional resources, such as the LBJ phone tapes, we were disappointed not only in the white-washing and superficial explanations for LBJ's presidential contradictions, but the lack of footnotes to check quotes and other sources.) (10/24/2008)

Degler, Carl N., At Odds: Women and the Family in America from the Revolution to the Present, Oxford University Press, 527 pages, 1980
TV series Call the Midwife well shows the changing role of midwives vis a vis medical bureaucratization and specialization in post-World War II England that Degler documents for the U.S.

D'Emilio, John and Estelle Freedman, Intimate Matters: A History of Sexuality in America, Harper & Row, 428 pages, 1988 (4/1991)

Demos, John, The Unredeemed Captive: A Family Story from Early America, Vintage, 310 pages, 1995 (one of our favorites!) (10/1996)

__________, Entertaining Satan: Witchcraft and the Culture of Early New England, Oxford University Press, 558 pages, 1982

Diner, Hasia, Erin's Daughters: Irish Immigrant Women in the 19th Century, 1983 (3/26/1987)

Dubinsky, Karen, The Second Greatest Disappointment: Honeymooners, Heterosexuality, and the Tourist Industry at Niagara Falls, Rutgers University Press, 288 pages, 1999 (Good discussion about our widely different-- positive and negative-- reactions to the bit disorganized and biased themes, which are as much "gender studies" as leisure and geographic history) (2/21/2003)

DuBois, Ellen Carol, Harriot Stanton Blatch and the Winning of Woman Suffrage, 364 pages, 1998, Yale U Press (AHA's Kelly Prize in Women's History) (Though some had difficulty getting hold of the book, we were all fascinated by a forgotten, 2nd generation heroine of tactics and strategy for state-by-state and federal electoral empowerment of women, using fresh original sources.) (12/5/2008)


Cathy Alexander visited the Women's Rights National Historical Park in Seneca Falls, NY: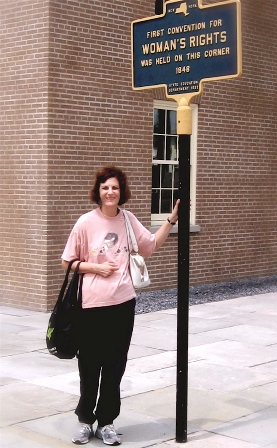 Dublin, Thomas, Women at Work: The Transformation of Work and Community in Lowell, Massachusetts, 1826 - 1860, 1979 (4/21/1988)

Ellis, Joseph, Founding Brothers: The Revolutionary Generation, 304 pages, 2000, Vintage Books (We enjoyed the lively read, with a fresh interpretation of the revolutionary generation's leaders as flesh and blood politicians) (4/4/2002)

_________, American Creation: Triumphs and Tragedies at the Founding of the Republic, Vintage Books, 304 pages, 2007 (We again enjoyed his readability—including his veiled mea culpa about past plagiarism and insistence he has now actually read the Founders' papers as well as new biographies- that makes history into a discussion of points of view amongst real people then and now, though I wasn't convinced he had dealt with all the PC-issues he claimed to refute.) (6/16/2010)

Elshtain, Jean Bethke, Jane Addams and the Dream of American Democracy: A Life, Basic Books, 2002, 336 pages (Thumbs down on the organization, repetition, breezing over of influences and assistants, and the insertion of the author's personal information, but an interesting, revisionist intellectual history approach to an influential woman's philosophy.) (2/5/2004))
Nora Mandel was inspired to make a pilgrimage in Chicago to Jane Addams's Hull House: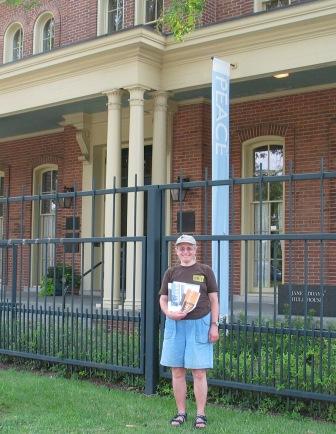 Ely, Melvin Patrick, Israel on the Appomattox: A Southern Experiment in Black Freedom from the 1790s Through the Civil War, 656 pages, 2005 (AHA's Beveridge Award for the best book in English on the history of the U.S., Latin America, or Canada from 1492 to the present) (While we were leery about his anecdotal emphasis on county court cases to be plowed through that seemed to lose overall statistical context, we were impressed that he thoughtfully challenged classic historical impressions by detailed documentary research of what was probably a unique antebellum community that contradicted institutions through daily human behavior .) (7/1/2011))

Emerson, Ken, Doo Dah!: Stephen Foster and the Rise of American Popular Culture, Da Capo Press, 1998, 416 pages (While there were objections to a lack of musical analysis and too many psychological suppositions, we enjoyed the intermingling of pop music history, particularly on minstrelsy, with biography and a gallery of ancillary colorful characters) (2/22/2002)

Enstad, Nan, Ladies of Labor, Girls of Adventure: Working Women, Popular Culture, and Labor Politics at the Turn of the 20th Century, Columbia University Press, 1999, 320 pages (An original reinterpretation of other people's original research to try and get inside the heads of the "lady" factory workers of the Lower East Side to understand how fashion, dime novels and the movies motivated them to go out on an extraordinary strike, but needed editing as to repetition and common sense use of language.) (11/19/2004)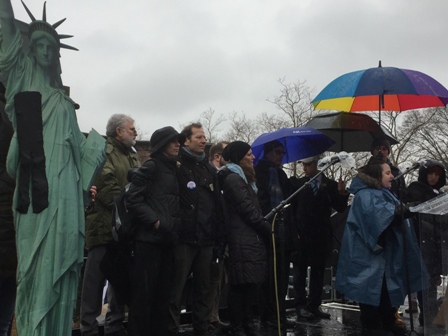 - Rabbis symbolically rending a black ribbon on the Statue of Liberty at the Jews for Refugees Rally, 2/12/2017, to mourn those who die because of the refugee ban, per Nora Mandel, in front of what my Grandma Rose always called "Kessel Garden", where she first entered the U.S. as a 15 year old traveling alone to meet up with her siblings living on the Lower East Side. Took me years to realize that was Castle Garden, the immigration depot that was built on the top of what has now been restored back to Castle Clinton, the colonial-era fort.


Ewen, Elizabeth, Immigrant Women in the Land of Dollars: Life and Culture on the Lower East Side, 1890 - 1925 (5/1986)

Fass, Paula S., The End of American Childhood: A History of Parenting from Life on the Frontier to the Managed Child, 352 pages, 2016, Princeton U Press (While we deplored the poor copy editing with factual errors and too much repetition, this overview essay, with a useful thematic bibliography, does make many insightful points and connections about changes in the definitions of stages of young lives in relation to changing work, educational, and legal requirements. Our discussion was in memorial to our late members Selma Berrol and Jean Mensch who were opinionated/expert on these issues.) (6/14/2018)

Faust, Drew Gilpin, Mothers of Invention: Women of the Slave-Holding South in the American Civil War, University of North Carolina Press, 1996, 308 pages (3/30/1998)

______________, This Republic of Suffering: Death and the American Civil War, 2008, 368 pages (Such a fascinating analysis through an accumulation of military, social and cultural details overlooked to link by other historians that we wished she'd done more in each chapter.) (2/27/2009)

Finney, Jack, Time and Again, Simon & Schuster, 1970, 399 pages (fiction)

Foner, Eric, Reconstruction: America's Unfinished Revolution 1863-1877, Harper & Row, 1989

_________, The Fiery Trial: Abraham Lincoln and American Slavery, 448 pages, 2010, Norton, Kindle/audiobook (Gilder Lehrman Institute Lincoln Prize for best book on Lincoln or the Civil War era; Bancroft Prize) (We were impressed that he stressed supportable, contemporary facts over retroactive opinions-- facts about Lincoln and African-Americans that we had not known.) (5/4/2012)

_________, Gateway to Freedom: The Hidden History of the Underground Railroad, 320 pages, 2015, Norton (paperback and Kindle) (While the title is misleading because it only focuses on the eastern land and sea routes through Philadelphia and New York City that he uncovered in new documentation, we appreciated how he put that within the larger context of the abolition movement and how slaves' own efforts to escape, and free African-Americans' assistance, forced the northern states to face up to how the Federal Fugitive Slave Acts were making them increasingly uncomfortable to be complicit with the Southern slave owners.) (3/18/2016)
The TV series Underground weaves in many of these real people and situations.

Forman-Brunell, Miriam, Babysitter: An American History, 313 pages, 2009, NYU Press (While we had wanted a break from depressing reading, most objected to her her over-reliance on magazines and popular culture references, with only a couple of oral histories (we each had widely varying experiences in our own families over generations), even though she provided some insights on the changes in activities and pressures on teen girls in the 20th century.) (12/9/2016)

Fox-Genovese, Elizabeth, Within the Plantation Household: Black and White Women in the South, 1989 (Some good information buried under an avalanche of shrill Marxist political rhetoric)

Freeberg, Ernest, Democracy's Prisoner: Eugene V. Debs, the Great War, and the Right to Dissent, Harvard U Press, 2008, 392 pages (Los Angeles Times Book Prize For History Runner Up and Langum Prize in American Legal History) (Though most objected to a flat writing style and a dependence in some chapters on biased secondary sources , we all learned quite a bit about the impact of the Espionage Act of 1917, made surprisingly relevant by Wikileaks.) (12/10/2010)

Freedman, Estelle B., Their Sister's Keepers: Women's Prison Reform in America, 1830 - 1930, University of Michigan Press, 248 pages, 1981 (1/12/1997)

Freeman, Joanne, Affairs of Honor: National Politics in the New Republic, Yale U Press, 384 pages, 2001 (Though a bit repetitive, fresh explanation of how the Founding Fathers used gossip, letters, pamphlets, newspapers, challenges and duels to balance being a gentleman with rough pre-party democratic politics.) (2/29/2008)

Friedman, Tom, From Beirut to Jerusalem, 1989 (The book that decided us to not do any more off-topic books by journalists.) (9/20/1991)

Furstenberg, Francois, In the Name of the Father: Washington's Legacy, Slavery, and the Making of a Nation, 352 pages, 2007 (Though we found it very repetitious, we enjoyed and learned from his tracking of how GW's image changed over the years, particularly through the canny marketing of Mason Locke Weems.) (4/10/2015)

Fussell, Paul, The Great War and Modern Memory, 384 pages, 1975, the 2000 25th Anniv. Edition has author's new afterword and a suggested further reading list, May 2013 edition with "new text design, clean images, and fresh look", Oxford U Press (National Book Award, National Book Critics Circle Award & Modern Library's one of the 20th century's 100 Best Non-Fiction Books) (While we were leery of literary history, we were impressed by the case he made for the influence of specific works/genres of pre-war literature on soldiers' letters, diaries, and memoirs as they crossed into fiction, from Christian iconography to poetry to his unique parsing of Uranism into what he calls homo-erotic, homosexual, and pederasty when men are surrounded by hunky young men in meaningless battles.) (4/12/2013)
Testament of Youth (2015) well reflects his findings about how soldiers and nurses experienced the war, particularly through poetry.

Gelles, Edith B., Abigail & John: Portrait of A Marriage, 352 pages, 2009, William Morrow, reprint edition 2010 paperback/Kindle (Gilder Lehrman Institute Washington Book Prize finalist for the most important new book about America's founding era) (Though the footnotes were annoyingly vague, and too inaccessible on Kindle, and not enough negative perspectives are included, we did appreciate this approach as annotated reading of their letters (though no historiography is provided) to each and to others, so that the remarkable changes Abigail went through over their long marriage can be fully appreciated.) (6/24/2016)


We visited Abigail's successor Dolley Madison in the inaugural exhibition Saving Washington of the Joyce B. Cowin Women's History Gallery at the New-York Historical Society
.

Gilfoyle, Timothy J., City of Eros: New York City, Prostitution, and the Commercialization of Sex, 1790 - 1920, Norton, 429 pages, 1992 (Interesting original research but needed streamline editing--and was he being naive or droll to claim that the majority of 19th century prostitutes were French?) (2/26/1999)

Gilje, Paul, A., The Road to Mobocracy: Popular Disorder in New York City, 1763 - 1834, University of North Carolina Press, 1987 (Fascinating analysis of "riots" through the years)

Ginzberg, Lori D., Women and the Work of Benevolence: Morality, Politics and Class in the 19th Century U.S., Yale U Press, 230 pages, 1990 (2/25/2000)

Golway, Terry, Machine Made: Tammany Hall and the Creation of Modern Politics, Liveright, 400 pages, 2014 (We enjoyed the readability, the admirable breadth of tracing the ethnic roots and on through the 20th century, but most felt the credit given for New Deal and related accomplishments were not quite convincing.) (11/7/2014)

Goodfriend, Joyce D., Before the Melting Pot: Society and Culture in Colonial New York, 1664 - 1730, Princeton University Press, 1992 (1995)

Goodwin, Doris Kearns, The Fitzgeralds and the Kennedys, 1987 (9/1987)

__________________, No Ordinary Time: Franklin and Eleanor Roosevelt - The Home Front in World War II, 1994 (1/1996)
Hyde Park On Hudson offers an alternative view of their household from the point of view of a cousin who was also one of FDR's inamoratas.

__________________, Team of Rivals: The Political Genius of Abraham Lincoln, Simon & Schuster, 944 pages, 2005 (Though rather hagiographic about Lincoln, showcasing his interactions with his colleagues in Illinois and Washington was interesting enough to get through a very long book, with smooth inclusion of the women in their lives.) (9/28/2007 )
Steven Spielberg's Lincoln (2012) is based on this book.

Gordon, Linda, Heroes of their Own Lives: The Politics & History of Family Violence, Penguin, 402 pages, 1989 (2/1994)

___________, The Great Arizona Orphan Abduction, Harvard University Press, 2001, 456 pages (Split vote -- with half feeling that the incident is too slight to withstand the gender, racial, ethnic and religious analysis piled on top of it, and the other half feeling the nexus was fascinating) (9/26/2001)

___________, Dorothea Lange: A Life Beyond Limits, 560 pages hardcover/536 pages paperback, 2009, Norton (Bancroft Prize) (Selection inspired from watching Ken Burns' The Dust Bowl.) (While some thought there was not enough artistic commentary on her photographs, we appreciated being able to put her iconic Depression-era oeuvre within her context. On a personal note, I wish I could time travel back to interview her friend and colleague Consuelo Kanaga while she was setting up one of her last exhibitions when I worked at Wave Hill in 1977, now that this book made me aware of her significance.) (3/8/2013)
Gordon adds to PBS's American Masters episode Dorothea Lange: Grab a Hunk of Lightning (2014).
Ordinary Miracles: The Photo League's New York documentary puts Lange in a comparative context.

Gordon, Lyndall, Vindication: A Life of Mary Wollstonecraft, Harper, 2005, 592 pages, with invited guest Dr. Doucet Devin Fischer, Editor of Shelly and His Circle, a multi-volume publishing project based on holdings in the Pforzheimer Collection at the New York Public Library, thanks to Carol Neuls-Bates but sorry I forgot to take a photograph. Gordon usefully details the recent findings on the Scandinavian trip, and follows the daughters and protégés. Several of us also read a complementary biography she recommended: Todd, Janet, Mary Wollstonecraft: A Revolutionary Life, Columbia University Press, 2000, 538 pages, which has an essential alphabetical annotation of all the people in her life and more extended coverage of her sisters. (While we were surprised at the old-fashioned, chatty tone of both books, we were mostly struck by the subject's manic-depressive seeming life, and how much of 18th century middle-class women's plight was even worse than as satirized by Jane Austen, whose own life was portrayed in Becoming Jane, with my additional notes.)
Recommended: Haifaa Al Mansour's spirited bio-pic Mary Shelley includes several references to her mother.
Beloved Sisters (Die geliebten Schwestern) portrays the comparable lives of German sisters Caroline and Charlotte von Lengefeld and their relationships with Friedrich Schiller, that I previewed at 2014 New York Film Festival of Film Society of Lincoln Center. (2/27/2015)


The extended Mandel/Shultz's at Monticello, formally and headed to the Hemings' Cabin: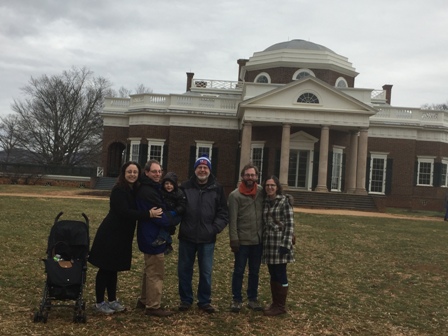 Gordon-Reed, Annette, The Hemingses of Monticello: An American Family, 800 pages, 2008, Norton (Pulitzer Prize, National Book Award, Douglass Book Prize and George Washington Book Prize) (Even though we felt it was a bit long and repetitious and the psychobiographizing went a bit too far beyond the otherwise meticulously collected evidence to try and get into ante-bellum minds so foreign to us now, we would have liked to know more about the descendants post-Monticello.) (9/24/2010)

Grabaccia, Donna, From the Other Side: Women, Gender, and Immigrant Life in the United States, 1880 - 1990, 1994 (9/1995)

Nora Mandel on the James Baldwin's Harlem walking tour, led by John Reddick, for Maysles Cinema showings of Raoul Peck's I Am Not Your Negro: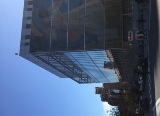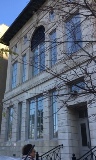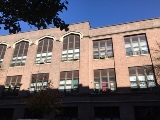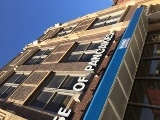 Harlem Hospital birthplace; "I read every book in the library"; taught by Countee Cullen at F Douglass JHS; fave nightclub ex-Smalls Paradise
To show how incendiary Baldwin's words still are as history is forgotten, originally my review directly quoted him as comparing the superficiality of a 1961 Doris Day movie to "the lynchings" that were going on against black men. My copy editor deleted it: "I think the lynchings were before the civil rights era. I thought the point here was how Hollywood pushed an antiseptic fantastical unreality." I successfully appealed to the editor to at least replace that word with "violence".)

Greenberg, Cheryl Lyn, "Or Does It Explode?" Black Harlem in the Great Depression, Oxford University Press, 317 pages, 1991 (9/11/1998)

Gregory, James N., American Exodus: The Dust Bowl Migration and Okie Culture in California, Oxford University Press, 248 pages, 1991 reprint of 1989 edition (10/30/1992)

______________, The Southern Diaspora: How the Great Migrations of Black and White Southerners Transformed America, 464 pages, 2005, U of North Carolina Press (Cornell's Taft Award in Labor History) (While we debated participants' self-perceptions within the white diaspora of the 20th century, other than through evangelical churches and country music, we were intrigued that this statistical and anecdotal re-definition and comparison provides a useful analytical tool.) (3/25/2011)

Grossman, James R., Land of Hope: Black Southerners, Chicago and the Great Migration, University of Chicago Press (5/30/1997)

Halttunen, Karen, Confidence Men and Painted Women: A Study of Middle-Class Culture in America, 1830-1870, Yale University Press, 262 pages, 1982 (A majority felt that the title was misleading and the author didn't quite prove her thesis about a progressive change in standards from the romantic sincerity of antebellum life to the hypocrisy of high Victoriana, but we enjoyed learning about trends in fashions and customs, such as mourning rituals.) (11/21/2003)

_____________, Murder Most Foul: The Killer and the American Gothic Imagination, Harvard University Press, 368 pages, 2000 (While it needed editing to reduce repetition and took awhile to make its theme clear --the conclusion is the most clearly written section of the book though it helps to have seen the movies Seven and Dead Man Walking-- it is an entertaining look at the changes in how Americans have grappled with murder, from colonial assumptions of sin to the pornographization of women victims to the medicalization of insanity, but she seems unfamiliar with the long tradition of murder ballads.) (6/17/2005)

Hammack, David C., Power and Society: Greater New York at the Turn of the Century, Columbia University Press, 422 pages, 1987

Haberland, Michelle, Striking Beauties: Women Apparel Workers in the U.S. South, 1930-2000, 240 pages, 2015, U of GA Press (S'ern Hist Assoc Mitchell Award for a distinguished book concerning the history of the southern working class) (Despite the frequent repetition and conclusions not supported by data, we did learn information and race and gender issues in union organizing over this time and industry.) (3/9/2018)

Harris, Leslie M., In the Shadow of Slavery: African Americans in New York City, 1626-1863, 256 pages, 2003 (We read this in combination with visiting the New-York Historical Society exhibition on Slavery in New York. Turns out the author was on the advisory board for the exhibition, but this excellent book wasn't in the gift shop. The opening chapters are a re-interpretation of exhaustive nuggets from other historians' work that some of us found a bit slow, but she uses it as necessary background for her original and fresh research and insights on the complex black perspectives on the Northern, urban slave experience, class, abolition and relationships with white owners and philanthropists. The exhibition was mostly way too simplistic, except for the explicit discussion and images of the forgotten history of NYC's involvement in the slave trade.) (11/18/2005)


Irene Tichenor, Cathy Alexander, and Nora Mandel admired the design of Brooklyn Historical Society's In Pursuit of Freedom exhibition and trod a bit after the abolitionists: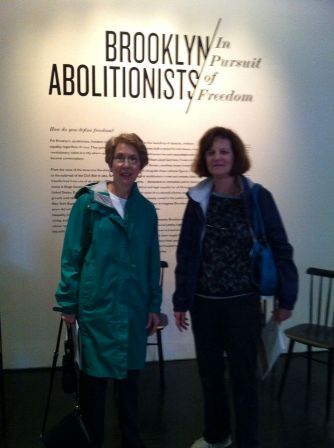 Hawes, Elizabeth, New York, New York: How the Apartment House Transformed the Life of the City, 1869 - 1930, Owl/Holt, 285 pages, 1993 (An extended New Yorker piece so it's well-researched, entertaining journalism with a lot of superficial trivia that is interesting to people who are familiar with Manhattan) (3/5/2004)

Hedrick, John D., Harriet Beecher Stowe: A Life, 1994 (1996)

Hershkowitz, Leo, Tweed's New York: Another Look, Anchor Press/Doubleday, 409 pages, 1978

Himmelfarb, Gertrude, Poverty and Compassion: The Moral Imagination of the Late Victorians, Vintage, 475 pages, 1991 (Unbeknownst to us when we selected this dense, slow, thoroughly and staggeringly researched intellectual history of late 19th century British helping people out of poverty philosophies from philanthropy to socialism, it is a response to Gareth Stedman's Outcast London that we read many years ago. She provides essential background to models for the U.S. progressive movement and mostly stays objective, saving her conservative political attacks on the genesis of the Welfare State and humorous barbs on hypocrisy for the footnotes.)(5/14/2004)

Hodes, Martha, White Women, Black Men: Illicit Sex in the Nineteenth Century South, 352 pages, 1999 (recommended by the late Marilyn Williams) (I didn't read the book yet: per the late Jean Mensch - "general consensus that it was very good, very interesting but quantifiers wouldn't be happy. Too much repetition. Could perhaps be a class issue especially in early examples where it appeared that both sides were often working in the same household. This however was not true of plantation white ladies taking up with Afro-Americans.") (5/16/2003)

Hofstadter, Richard, Anti-Intellectualism in American Life, 434 pages, Vintage, 1963 (Pulitzer Prize) (Revisiting a classic interpretation, we marveled how a perspective inspired by trying to explain McCarthyism through cyclical analysis had current applicable insights, albeit by ignoring limitations in his 1950's blind spots.) (11/5/2010)

Nora Mandel saluted our group by her sign at the Womens March on Washington, D.C. on January 21, 2017 with her son and half-million women in pink "pussy hats":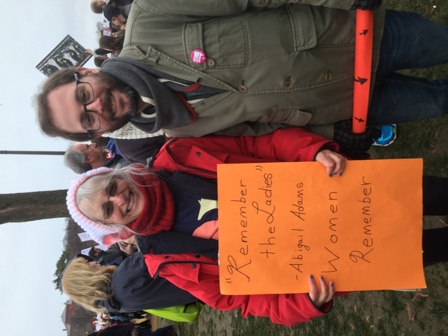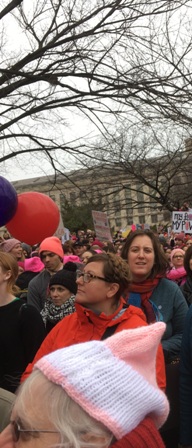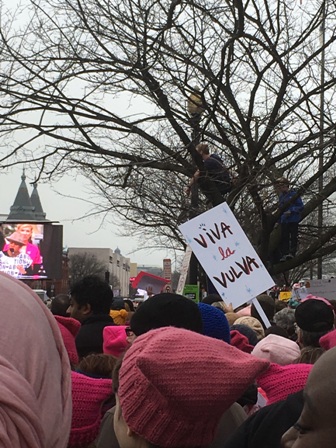 Holton, Woody, Abigail Adams, 512 pages, 2009, Free Press (Bancroft Prize) (While we acknowledged the lack of contextual comparison to other leaders' wives (and our resident expert on First Ladies noted the anachronistic use of that term), we appreciated the fresh approach of focusing on her within her family – daughter, sister, wife, mother, aunt, grandmother, and more relationships, that made her come to life by decoding personal correspondences.) (2/28/2014)

Hood, Clifton, 722 Miles: The Building of the Subways and How They Transformed New York, Johns Hopkins University Press, 1995 (11/13/1997)

Horowitz, Helen Lefkowitz, Rereading Sex: Battles Over Sexual Knowledge and Suppression in Nineteenth-Century America, 528 pages, 2002 (OAH's Curti Award for the best book published in American social, intellectual, or cultural history) (While we all felt it was repetitive and too long, each found something new and/or interesting – details of vernacular sporting life, how the Civil War unleashed censorship, how the YMCA unleashed Comstock, and conceptions of obscenity.) (3/12/2010)

Hunter, Tera W., To 'Joy My Freedom: Southern Black Women's Lives and Labors After the Civil War, Harvard University Press, 336 pages, 1997 (We all learned something new.) (12/3/1999)

Isenberg, Nancy, White Trash: The 400-Year Untold History of Class in America, 490 pages, Viking, 2016 (Longlisted for the PEN/John Kenneth Galbraith Award for Nonfiction; Best of 2016 – Globe & Mail, NPR, NY Times, SF Chronicle, Washington Post) (While the early chapters do cite original sources, most of us objected to the superficiality of focusing on perceptions through popular culture rather than reality.) (6/3/2017)
For more recent TV versions of the type, see Justified and The Outsiders.

Jackson, Kenneth, Crabgrass Frontier: The Suburbanization of the United States, Oxford University Press, 1986 (12/1987)

Jacobs, Harriet, edited by L. Maria Child, edited and with an introduction by Jean Fagan Yellin, Incidents in the Life of A Slave Girl, Harvard University Press, 1987 (One of our favorites! Why hasn't anyone turned this slave-to-abolitionist narrative into a feature film like 12 Years A Slave?)

Jacobson, Matthew Frye, Whiteness of a Different Color: European Immigrants and the Alchemy of Race, 352 pages, 1998, Harvard University Press (American Studies Assoc. John Hope Franklin Prize for best book in American Studies) (While we objected to confused organization, reliance on examples whose significance was unclear, and careless copy editing, we appreciated the perspective of seeing ethnic history through the racial lens as it was seen at its time.) (10/12/2012)
Nora's Critical Guide to Jewish Women on TV and in Movies monitors continuing stereotypical images in popular culture.

Jacoby, Susan, Freethinkers: A History of American Secularism, 365 pages of text, 2004 (With the usual problem of a journalist taking on history with broad generalizations and under-researched polemics, but still uncovers insightful perspectives from the Founding Fathers, through neglected 19th century influentials to more contemporary culture wars.) (10/21/2005)

Jeffrey, Julie Roy, Frontier Women: The Trans-Mississippi West, 1979 (1/1990)

Johnson, Susan Lee, Roaring Camp: The Social World of the California Gold Rush, 464 pages, 2001 (Bancroft Prize winner) (While it needs editing, is written in several different styles, and is perplexing in its emphasis on a legendary bandito for symbolism of gender, class, and ethnic analysis, the revelations about the multi-ethnic gold diggers are quite interesting. There's fodder for at least one movie here! Though, yeah, when men live together someone has to cook- so what?) (4/18/2003)
My review of recommended documentary that beautifully shows the Klondike Gold Rush social world in the Yukon of the 1890's and after: Dawson City – Frozen Time (previewed at 2016 New York Film Festival of Film Society of Lincoln Center courtesy of MoMA)

Jones, Gareth Stedman, Outcast London: A Study in the Relationship Between Classes in Victorian Society, Pantheon, 1971

Jones, Jacqueline, Labor of Love, Labor of Sorrow: Black Women Work, and the Family from Slavery to the Present, Random House, 330 pages, 1986 (12/5/1992)
______________, A Dreadful Deceit: The Myth of Race from the Colonial Era to Obama's America, 400 pages, 2013, Basic Books, paperback/Kindle (Pulitzer finalist) (Though we rejected her insistent thesis that racism was only a late development in justifying slavery, we appreciated the detailed biographical information she accumulated to showcase six exceptional African-Americans at key points in American history, previously unknown to us, who challenged white authority.) (5/13/2016)
In Free State of Jones (2016), writer/director Gary Ross includes Reconstruction situations in the Deep South we first learned about in this book: the voter registration drives in the former Confederate states by African-American Civil War veterans of the Union League for Republican candidates and utopian communities for African-Americans in Mississippi. The Companion Reader for the research behind the film provides footnotes.
In the press notes, Ross credits tutoring by Eric Foner, then describes utilizing scholars "Jim Kelly, a professor of American history at Jones County Junior College; Stephen Hahn, a professor of American History at the University of Pennsylvania; and David Blight, a professor of American History at Yale University. At the time, Kelly was writing his PhD dissertation about Newt Knight with leading Civil War scholar John Stauffer, a Professor of English and American Studies, and African-American Studies, at Harvard University serving as his advisor. Kelly had grown up in Jones County and had an interest in Knight; … Kelly uncovered the fact that his own great-great grandfather was Newt Knight's cousin, making Kelly himself a descendant. …[Ross was impressed that] 'Jim combed the archives, reading every correspondence, news accounts, official records, etc., turning over nuggets that are not only groundbreaking regarding Newt but for students of the Civil War era.' … Around the same time as his research visits to Jones County, Ross met and subsequently studied with, John Stauffer. Ross's unofficial status turned official when he became a Harvard fellow in American studies under Stauffer, with full access to Harvard's encyclopedic libraries and resources. 'He became a mentor and provided me with guidance and tutelage–-and a rather copious reading list…We dove into scholarship of the subject matter together.' Stauffer, who regularly writes about antislavery and abolitionism in the Civil War era recollects, "Gary and I came together based on our shared interest in the Civil War era, specifically about people like Newt Knight, and John Brown, and other so-called radicals who affected changes in perception and attitude." Ross and Stauffer's pupil/mentor relationship continued, leading to their collaboration on several historical projects, such as a lecture at the annual Principals of Private Schools event about how the South ultimately won the Civil War, a theme reflected in Free State of Jones…While Ross was still researching and writing his screenplay he introduced John Stauffer to noted Washington Post journalist Sally Jenkins. Inspired by Ross' work, the two went on to collaborate on their 2009 book, The State of Jones, which would ultimately complete the historical record. . . During his visits [to the Jones County area], Ross also met with several of Knight's descendants who shared archival material and their personal family stories. While in Jones County, he also visited actual battle and campsites depicted in the film." (6/25/2016)

Jordan, Winthrop D., Tumult And Silence At Second Creek: An Inquiry Into A Civil War Slave Conspiracy, 424 pages, revised 1996 paperback edition, Louisiana State U Press (Bancroft Prize) (We were struck how vividly he collected and parsed specific evidence of how violent and dehumanizing slavery was in Mississippi, leading us to see parallels with more recent cases of institutional inhumanity.) (5/6/2011)
Django Unchained is an exaggerated historical revenge satire, but the gruesome portrayal of plantation chattel slavery is close to this evidence.
Nate Parker's Birth of a Nation (2016) depicts the more famous and influential 1831 slave rebellion in Virginia, through the life of its leader Nat Turner.

_______________, White Over Black: American Attitudes Toward the Negro, 1550-1812 (1st edition 1968), unabridged 2nd Ed., 671 pages, with new forewords by Christopher Leslie Brown and Peter H. Wood, 2012, U of NC Press (While our reaction that it was encyclopedic was both admiration as to its overwhelming thoroughness as well as our mixed feelings that the abridged version would have been adequate, particularly about psychoanalytical interpretations that now seem dated, we appreciated its influence, impact, insights, and discouraging context, even decades later with the first black president running for reelection and still facing disguised racism.) (9/7/2012)

Kasson, John F., Rudeness and Civility: Manners in 19th Century Urban America, Noonday Press, 1990 (Those who felt the topic of the development of genteel etiquette rules was of value thought this was well-done and enjoyable.) (1/2000)

Katzman, David, Seven Days A Week: Women in Domestic Service, U of Illinois Press, 1978 (2/13/1991)

Nora Mandel made an historic Election Day 2016 "Thank You" pilgrimage to the leading suffragettes buried in Woodlawn Cemetery, Bronx, NY: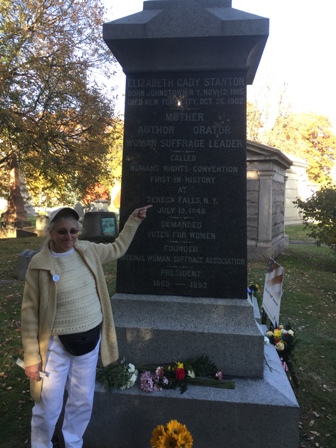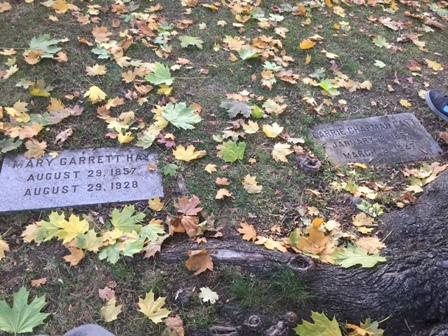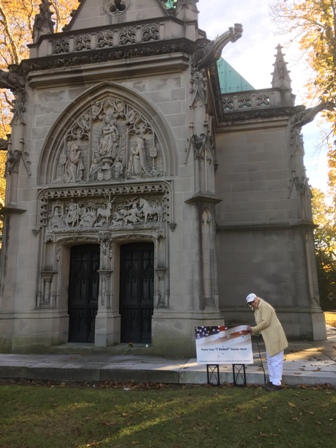 Elizabeth Cady Stanton, Carrie Chapman Catt alongside Mary Garrett Hay, and Alva Vanderbilt Belmont

Kerber, Linda K., Women of the Republic: Intellect and Ideology in Revolutionary America, U of N. Carolina Press, 318 pages, 1980 (A classic, germinal revelation on how the "Revolutionary War" was anything but a "revolution" for women, a bit dry on the legal history but thoroughly researched) (12/1/2000)

_____________, No Constitutional Right to be Ladies: Women and the Obligations of Citizenship, Hill & Wang, 432 pages, 1999 (Each chapter is an essay on women's roles in legal relationships in the U.S. that have not been looked at elsewhere, such as paying property taxes without voting rights, jury duty, and military service. An interesting mix of thorough historical documentation and oral histories of more recent legal cases, including from Ruth Bader Ginzburg.) (1/19/2001)

Kessler-Harris, Alice, Out to Work: A History of Wage-Earning Women in the United States, Oxford University Press, 1982 (1/1993)

________________, In Pursuit of Equity: Women, Men, and the Quest for Economic Citizenship in Twentieth-Century America, Oxford U Press, 386 pages, 2001 (AHA Kelly Prize in Women's History) (Despite uneven, unconnected chapters of varying quality, contradictions and explanatory detail, we did learn more about the role of social/maternal/protectionist feminists in the details of key, complicated legislative efforts, but our discussion devolved into personal explorations of trying to comprehend the zeitgeist of gender discrimination awareness.) (10/27/2006)


Cathy Alexander visited the Susan B. Anthony Birthplace in Adams, MA: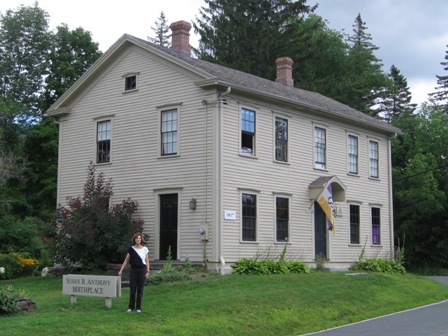 Kessner, Thomas, Fiorello H. LaGuardia and the Making of Modern New York, 1989 (9/14/1990)

_____________, Capital City: New York City and the Men Behind America's Rise to Economic Dominance, 1860 – 1900, 416 pages, 2003 (Mixed vote -- some bought his thesis about extraordinary men who made economic history due to unique NYC conditions, some felt it was buried amidst lengthy biographical anecdotes better covered in other books we'd already read. While his explanations of how the robber barons actually pulled off their canny deals were very clear, his omissions were odd, such as of real estate moguls.) (2/3/2006)

Kowsky, Francis R., Country, Park, & City: The Architecture and Life of Calvert Vaux, Oxford U Press, 392 pages, 1998 (Though we found the style a bit pedantic and felt more contextual intellectual background was needed, we learned a lot about his work and kept trying to solve why NYC has neglected recognition of his vision and accomplishments.) (1/14/2011)
We appreciated a special guest—(my cousin) Alan Strauber, President and Founder of the Calvert Vaux Preservation Alliance, who updated us on the efforts to bring attention to Vaux's [pronounced VOX] work, especially in the Hudson Valley.

Kunzel, Regina G., Fallen Women, Problem Girls: Unmarried Mothers and the Professionalization of Social Work, 1890 - 1945, Yale University Press, 264 pages, 1995 (Some objections to the lack of ethnic distinction among the clients and the telescoping of the chronology of the service providers, but otherwise an interesting depiction of changing attitudes towards an issue that's been around a long time.)

Landau, Sara Bradford and Carl W. Condit, Rise of the New York Skyscraper, 1865-1913, Yale U Press, 496 pages, 1996 (1/8/2004 (The definitive, exhaustive, detailed architectural history that could have used some more definitions of technical architecture and engineering terms, but the photographs are terrific.)

Lane, Roger, Roots of Violence in Black Philadelphia, 1860-1900, Harvard U Press, 1986 edition, 224 pages (One of our favorites!) (1/19/1995)

Lankewich, George J. and Howard B. Funes, A Brief History of New York City, 1984 (1986)

Larson, Edward J., Summer for the Gods: The Scopes Trial and America's Continuing Debate Over Science and Religion, Harvard University Press, 318 pp. (A ripping good read but generated virtually no discussion.) (10/22/1999)

Lautenberg, William, In the Shadow of FDR (1/1985)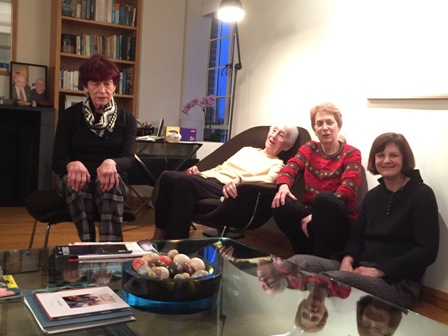 Lepler, Jessica M., The Many Panics of 1837: People, Politics, and the Creation of a Transatlantic Financial Crisis, 352 pages, 2013, Cambridge U Press (Society for Historians of the Early American Republic Broussard Best First Book Prize) (Most of us not fans of the technicalities of economics were hard to convince of the significance that histories and text books get wrong the real facts and contemporary context of "The Panic", but we appreciated her thorough research that emphasized the tough impact of delayed and imperfect information on individuals in England, New York City, and New Orleans.) (1/13/2017)

Lebsock, Suzanne, The Free Women of Petersburg: Status and Culture in a Southern Town 1784-1860, Norton, 1985 (One of our favorites!)

Lepore, Jill, New York Burning: Liberty, Slavery, and Conspiracy in Eighteenth-Century Manhattan, 323 pages – amended edition post-August 2006 only (Terrific descriptive and detective work on a neglected scandal of legal hysteria, but very mixed verdict on whether she otherwise proved her political claims. It does make you think about the guys whose streets bear the names we walk in Lower Manhattan.) (6/15/2007)

________, The Name of War: King Philips' War and the Origins of American Identity, 368 pages, 1999 (While necessary postponements challenged our memories to discuss what we had read, we enjoyed the writing style and the challenges to our conventional image of Puritans vs. Native Americans, though we would have liked more military specifics.) (3/23/2012)

________, Book Of Ages: The Life and Opinions of Jane Franklin, 442 pages, Vintage, 2013 (National Book Award finalist) (Though we were leery of her literary extensions, we so admired how she gleaned so much about Ben's sister as a colonial woman from so little evidence that our discussion petered out.) (1/15/2016)

Lerner, Michael A., Dry Manhattan: Prohibition in New York City, 360 pages, 2007, Harvard U Press (Though we thought more context was needed of the predecessor temperance movement and the lessons learned for subsequent moral campaigns, we learned a lot, especially about the influential women on all sides of the issue, but wanted more info on the breweries.) (5/15/2015)
I was heartened to find supporting facts for PHAIR Family Circle lore of the little Klapper girls delivering home-brewed hooch in 1927 from a baby carriage on the Upper West Side and landing in the local police station.
Ken Burns' Prohibition provides the national perspective to this New York-centric focus, while Boardwalk Empire is a not so fictionalized New Jersey look across the Hudson.

Lieberman, Richard, Steinway and Sons, Yale University Press, 384 pages (Amounts to an official history from a marvelous archive, but no context.) (For a contemporary, ahistorical view see the documentary Note by Note: The Making of Steinway L1037.) (1/8/1998)

Markel, Howard, Quarantine!: East European Jewish Immigrants and the New York City Epidemics of 1892, Johns Hopkins U Press, 262 pages, 1999 (Some thought it slight and slighted other immigrant groups for comparison, but all admired the thorough research in untangling contemporary scientific knowledge vs. prejudice in administering public health policy.) (6/26/2009)

Marshall, Megan, The Peabody Sisters: Three Women Who Ignited American Romanticism, Mariner Books, 624 pages, 2005 (Real self-taught intellectual feminist lives with astounding epistolary documentation that were so much like a Jane Austen novel that the author closes the mother/daughters story, prematurely some of us thought, at a virtual double wedding – and deserve a movie.) (5/18/2007)

May, Elaine Tyler, Homeward Bound: American Families in the Cold War Era, 1988 (11/1990)

McCullough, David, Truman, 1992 (10/23/1993)

_______________, Mornings on Horseback, Simon & Schuster , 444 pages, 1981

_______________, The Great Bridge, Avon, 630 pages, 1972

_______________, 1776, Simon & Schuster, 400 pages, 2005 (While we were very frustrated by the inadequate footnotes, which led to a lively discussion about public vs. academic historians, we enjoyed finally understanding military tactics as conducted by real human beings here in the NYC area.) (4/18/2008)

_______________, The Greater Journey: Americans in Paris, Simon & Schuster, 558 pages, 2011 (Just an entertaining read, other than uncovering some new vividly descriptive diaries.) (1/17/2014)

McElvaine, Robert G., The Great Depression: America, 1929 - 1941, 1984 (9/22/1989)

McGuire, Danielle L., At the Dark End of the Street: Black Women, Rape, and Resistance–a New History of the Civil Rights Movement from Rosa Parks to the Rise of Black Power, 352 pages, 2010, Knopf (OAH Hine Award Hon. Mention for best book in African American women's and gender history; OAH Turner Award for a first book dealing with some significant phase of American history; U of GA's Smith Award for elucidating the condition of racial and social inequity and proposing a vision of justice and human understanding; S'rn Assoc. for Women Historians' Spruill Prize, best published book in southern women's history) (While we were all struck at its immediate relevance to contemporary issues, crossing #MeToo and #BlackLivesMatter, we feel this should permanently changes how historians consider the oppression of the Jim Crowe era, from now on citing lynchings AND rapes, as well as re-focusing Rose Parks's activism to black women's rights, and the community organizing black women did among themselves, including for the Montgomery bus boycott, with her meticulous citations from organizations' files and African-American newspapers.) (1/5/2018)
This book inspired Nancy Buirski's documentary The Rape of Recy Taylor (previewed at 2017 New York Film Festival of Film Society of Lincoln Center)

McManus, Edgar J., A History of Negro Slavery in New York, 1966 (10/9/1987)

McMurry, Linda O., To Keep the Waters Troubled: The Life of Ida B. Wells, Oxford, 416 pages, 2000 (Though we all found the first half slow going with a too simplistic style, the second half was fascinating about the personal and politics of an ambitious and determined African-American woman anti-lynching activist we had known little about.) (10/18/2002)

Meriweather, James, Proud to be Africans: Black Americans and Africa, 1935-1961, U of North Carolina Press, 2001, 352 pages (Despite some over-generalizations and claims about the views of African-Americans and other groups, we were impressed by his use of the black press as a source and insights on changing attitudes during this period that was new to us.) (6/13/2014)

Mihm, Stephen, A Nation of Counterfeiters: Capitalists, Con Men, and the Making of the United States, 480 pages, 2007, Harvard U Press (A division of opinion between those who thought it was filled with repetitive trivia without original ideas on larger political and economic forces vs. those who thought this was a colorfully practical perspective on the daily mis-functioning of the economy over almost a century without a central bank.) (7/10/2013)
Miles, Tiya Alicia, Ties that Bind: The Story of an Afro-Cherokee Family in Slavery and Freedom, University of California Press, 327 pages, 2006 (OAH's Frederick Jackson Turner Award for an author's first book dealing with some significant phase of American history and American Studies Association's Romero First Book Prize) (Though we had trouble obtaining the book, and felt it badly needed editing for repetition and flights of fancy at including quotes from fiction as evidence, we were all impressed and educated by the revelatory, detailed pre-DNA-ID family and contextual research—with excellent footnotes and appendices—that provided balance to myths even as the descendants made the news while we were reading the book – and the author should have been quoted in the press for background, but reporters too probably couldn't get hold of the book.) (3/16/2007)

Miller, Kerby A., Emigrants and Exiles: Ireland and the Irish Exodus to North America, Oxford University Press, 684 pages, 1988 (an essential) (4/1990)

Mintz, Stephen, Huck's Raft: A History of American Childhood, Harvard U Press, 464 pages, 2004 (Most of us were dismayed that this compendium of contradictory, unsynthesized facts and repeated anecdotes had received OAH's Merle Curti Award for the best book published in American social, intellectual, or cultural history, though we did appreciate learning some new tidbits here and there amidst useful myth debunking.) (1/19/2007)

____________ and Susan Kellogg, Domestic Revolutions: A Social History of American Family Life, 1988 (10/1989)

Moore, Deborah Dash, At Home in America: Second Generation New York Jews, Columbia University Press, 303 pages, 1981

Morgan, Edmund, S., Benjamin Franklin, Yale U Press, 368 pages, 2002 (While the footnotes are inadequate for anything other than references to Franklin's letters, it has little personal information--and Morgan seems determined to counter the current John Adams hagiography-- we felt this is a highly readable introduction to Franklin the man, with lots to learn about his opinions, influence, and long career.) (10/17/2003)

Murray, Meg McGavran, Margaret Fuller, Wandering Pilgrim, 440 pages, U of Georgia Press (We selected this among the recent flurry of well-reviewed biographies based on reasonable length and hopes it would focus less on her sex life, so we were surprised at its deeply psychological and literary interpretations of her relations with men, such as her father and Ralph Waldo Emerson, that overpowered the facts, but were convinced the lyrical writing was justified by her very complicated, contradictory public vs. private life that deserves a mini-series or movie – who would you cast?) (5/17/2013)

Nasaw, David, Going Out: The Rise and Fall of Public Amusements, 320 pages, 1995 (and also in a 1999 reprint), Harvard U Press (While we learned miscellaneous trivia about the technology and entrepreneurs behind commercial entertainment in early 20th century urban America, we were all very disappointed in the lack of original research to extend the work much beyond others' previous work on NYC, lack of comparisons to earlier periods or places, the over-generalizations and inconsistency in focus and theme, and his repetitive shock, shock that African-Americans faced discrimination as audiences.) (5/23/2008)

__________, Andrew Carnegie, 896 pages, Penguin Press, 2007 (New-York Historical Society American Book Prize) (While there were interesting tidbits among the overwhelming amount of details, despite typos, we were very disappointed in the lack of depth, insight, analysis, or contemporary reaction.) (9/25/2009)

Ngai, Mae M., Impossible Subjects: Illegal Aliens and the Making of Modern America, Princeton U Press, 400 pages, 2003 (OAH's Turner Award for an author's first book dealing with some significant phase of American history) (Primarily a legal history that some thought was too dry in contrast to the prologue and epilogue that they thought included too PC language that viewed our immigration attitudes through a racial lens plus it's the usual kitchen sink dissertation adaptation, but this does provide essential background and context to the current immigration debate -- we learned a lot, particularly about Filipinos and Mexican braceros, and more details on other Asians.) (6/30/2006)

Norton, Mary Beth, Liberty's Daughters: The Revolutionary Experience of American Women 1750-1800, 1980 (2/1987)

______________, In the Devil's Snare: The Salem Witchcraft Crisis of 1692, Vintage, 448 pages, 2002 (All were impressed by her meticulous research, including genealogical, political and theological explanations -- let alone that so much documentary evidence survives -- but several thought the chronological detail was overwhelming and her central thesis that the attack by the invisible world was incited by the attacks from Native Americans on the New England frontier not convincing as but one contributing cause of the mass hysteria and official executions.) (5/13/2005)

O'Connor, Stephen, Orphan Trains: The Story of Charles Loring Brace and the Children He Saved and Failed, U of Chicago Press, 384 pages, 2001 (A bit breezily written by a non-historian who did not use original or in-depth sources, it is more a history of the conceptual groundwork for the present foster care mess than a biography, but it has interesting information to correct many misunderstandings about Brace and orphan trains.)(12/17/2004)

Orleck, Annelise, Common Sense and A Little Fire: Women and Working Class Politics in the United States 1900-1995, University of North Carolina Press, 384 pages, 1995 (One of our favorites! Colorful and informative portraits of Fannia Cohn, Pauline Newman, Rose Schneiderman, and Clara Lemlich Shavelson) (10/1995)

Oshinsky, David, Polio: An American Story, 342 pages, 2005, Oxford U Press (A terrific read, well-researched with personalities coming alive for lively insight into the intersection of science, sociology and politics in the 1940's – 1950's) (2/16/2007)

Pagan, John Ruston, Anne Othwood's Bastard: Sex and Law in Early Virginia, Oxford University Press, 256 pages, 2002 (We learned a lot in a surprising enlivening of what could have been dry colonial legal history through personalities and biographical interconnections-- amazingly well-researched about individuals and illegitimacy, but there were some complaints that the footnotes were confusingly floated.) (4/21/2006)

Painter, Nell Irvin, Sojourner Truth: A Life, A Symbol, W.W. Norton, 348 pages, 1997 (The historiography is the best part--will documentary histories of African-Americans and feminists now print her true speeches or stick with her mythical ones?) (11/1998)

Peiss, Kathy, Cheap Amusements: Working Women & Leisure in Turn-of-the-Century New York, Temple University Press, 256 pages, 1986

Perry, Elizabeth Israels, Belle Moskowitz: Feminine Politics and the Exercise of Power in the Age of Alfred E. Smith, 1987 (3/5/1990)

Perry, Mark, Lift Up Thy Voice: The Grimké Family's Journey From Slaveholders to Civil Rights Leaders, Penguin Putnam, 432 pages, 2002 (Though written as popular history with wholly inadequate footnotes and context with an odd revisionist claim, we still learned a lot we hadn't known about an unusual family, particularly the later lives of the famed abolitionist/feminist sisters and the younger generation.) (4/9/2004)

Reverby, Susan, Ordered to Care: The Dilemma of American Nursing, 1850-1945, Cambridge University Press, 286 pages, 1987 (3/1987)

Rink, Oliver A., Holland on the Hudson: An Economic and Social History of Dutch New York, 1986 (2/1989)

Rose, Elizabeth R., A Mother's Job: The History of Day Care, 1890 – 1960, Oxford University Press, 296 pages, 1998 (While all felt that it was repetitive, had some gaps about the impact of child psychology on early childhood education, and the typography was very hard on the eyes, we all learned quite a bit, especially about maternalism, mothers' pensions, perceptions of working mothers, how the split between day care and nursery schools originated, and charitable vs. government responses to the issue.)(10/22/2004)

Rosen, Ruth, The Lost Sisterhood: Prostitution in America 1900-1918, John Hopkins, University Press, 245 pages, 1982

Rothman, Barbara K., In Labor: Women and Power in the Birthplace, 1991 (3/1995)

Rothman, Ellen K., Hands and Hearts: A History of Courtship in America, 1991 (5/1987)

Rubin, Anne Sarah, A Shattered Nation: The Rise and Fall of the Confederacy, 1861-1868, U of N. Carolina Press, 336 pages, 2005 (OAH's Avery O. Craven Award for the most original book on the coming of the Civil War, the Civil War years, or the era of Reconstruction, with the exception of works of purely military history.) (Mixed vote on the compendium gleaning, while we all learned about Confederate ideology and feelings, some felt the emphasis was too much on slave owners and those who could leave behind written records.) (See the documentary Banished for what happened next to free African-Americans.) (10/27/2007)

Ryan, Mary P., Cradle of the Middle Class: The Family in Oneida County, New York, 1790-1865, Cambridge U Press, 336 pages

Rybczynski, Witold, Home: A Short History of an Idea, 1986 (2/1992)

Santmyer, Helen Hooven, And the Ladies of the Club (fiction)

Schama, Simon, An Embarrassment of Riches: An Interpretation of Dutch Culture in the Golden Age, U of California Press, 706 pages, 1988 (Everything you always wanted to know about the how the notorious tulip bulb crisis sprouted.)

____________, Rough Crossings: Britain, the Slaves and the American Revolution, Harper Perennial, 496 pages, 2006 (While we thought sometimes he didn't let the facts and sliding numbers get in the way of good –pro-British-- storytelling, it is a fascinating story.) (4/3/2009) (Amazing Grace dramatizes some of the same characters in the English anti-slavery movement and Lawrence Hill's novel, and the BET mini-series The Book of Negroes adaptation, fictionalizes the experiences and odyssey of African-American loyalists.)

Schiff, Stacy, A Great Improvisation; Franklin, France, and the Birth of America, Henry Holt & Company, 512 pages, 2005 (George Washington Book Prize winner) (While we thought this needed editing due to repetition and way too much detail, it is a highly entertaining revisionist, i.e. anti-Adams, view of the Revolution from France's POV and how Franklin synched into that, culturally and politically as a diplomat.) (11/17/2006)

Schlereth, Thomas J., Victoria America: Transformation in Everyday Life, 1876 - 1915, 1991 (A compendium of research.) (3/1994)

Scott, Anne Firor, Making the Invisible Woman Visible, University of Illinois Press, 387 pages, 1984 (A collection of essays from a leader in women's social history on the development of her germinal thinking about the role of southern women, which the group thought she lionizes too much, leading to an interesting discussion of comparisons between N and S.) (11/30/2001)

Sklar, Kathryn Kish, Florence Kelley and the Nation's Work: The Rise of Women's Political Culture, 1830-1900, Yale Univ Press, 456 pages, 1997 (Well-researched and readable first volume on a long and fascinating life that went from Main Line Philadelphia to European Socialism to Chicago's Hull House and would make a terrific movie.) (9/17/1999)

Sleeper, James, The Closest of Strangers: Liberalism and the Politics of Race in New York, 1990 (journalism) (1/1992)

Smith-Rosenberg, Carroll, Disorderly Conduct: Visions of Gender in Victorian America, Oxford University Press, 357 pages, 1985

Snyder, Robert W., The Voice of the City: Vaudeville and Popular Culture in New York, Oxford, 1989 (1/6/1994)

Sotiropoulos, Karen, Staging Race: Black Performers in Turn of the Century America, Harvard U Press, 304 pages, 2006 (All appreciated learning about the achievements, impacts, and influences of African-American entertainers from the 1890's to the early 1920's within Jim Crowe restrictions and white prejudices – though we were still a bit confused about the etymology and music of ragtime.) (1/9/1994)