My review of the movie adaptation
The Foer Family eventually researched and documented the real stories of their grandparents in Ukraine, and continued to connect with the Righteous Gentiles they discovered who saved their grandfather during Russia's horrible 2022 invasion. (3/26/2022)

Foer, Jonathan Safran, Extremely Loud and Incredibly Close, 2005, 368 pages (Meeting right after Osama Bin Laden's demise affected our discussion: did this flashily exploit New Yorkers' response to 9/11? [Our member Tamar Rogoff is the movement coach for the young actor playing "Oscar" for the film version that is otherwise by non-New Yorkers.] But we were intrigued by the comparison to the Allies' bombing of civilian Dresden and the generational links from fathers to sons through boxes, and the consistent voice of a kid with Asperger's.) (5/3/2011)

Fountain, Ben, Billy Lynn's Long Halftime Walk, 325 pages, 2012 (National Book Critics Circle Award, L.A. Times Book Award, and finalist, National Book Award) (While several were so turned off by the first 50 pages that they couldn't finish, the rest were drawn into the satire of American consumerism, football, and hypocritical chicken-hawks, and the sympathetically believably maturing central character ((3/3/2015)
My additional Notes on the deft treatment of attitudes towards 9/11.

Franzen, Jonathan (repeat author), Freedom, 610 pages, 2010, Farrar Strauss, in paperback/Kindle/unabridged audiobook (Oprah Book Club; Awards: Salon, Galaxy (British), Binghamton U's Gardner, National Book Critics Finalist; Heartland Prize; in NY Times and LA Times Best Books of the Year) (Disappointed, we appreciated the funny and biting satire, but not all of us could drag ourselves past the shallow, male perspective characters.)
As some felt the best part of the novel was the passionate discussion of endangered birds, here's my review of the documentary Franzen executive produced and participated: Emptying The Skies (2013), available on Amazon prime video. (9/14/2021)

Franzen, Jonathan, The Corrections, 2001, 560 pages (A rollicking social satire through a complicated ensemble of characters, but some of us thought it more significant as an attack on the downfall of patriarchy rather than just a funny skewering of the New Economy) (1/7/2003)
Frasier, Charles, Cold Mountain , 1998, 449 pages (A Civil War "Odyssey" through the Appalachians, with a too superman and too superwoman characters, the picaresque travels through the back country of an anarchic society destroyed by a war irrelevant to them, is nevertheless fascinating-- an entertaining and symbolic page-turner.) (6/19/2001) My movie review

Fuentes, Carlos, The Old Gringo , 1985, 208 pages (Not knowing much about the Mexican Revolution or Ambrose Bierce we're sure that some of the myth debunking passed us by, but the symbolism led to much discussion and rereading of passages.) (6/19/2001)

Gaines, Ernest J., A Lesson Before Dying, 1997, 256 pages (An apropos book to read before McVeigh's execution, a compact revelation of a specific time and place that provoked a lot of discussion about who learned what lesson) (5/7/2001)

Garcia, Cristina, Dreaming In Cuban

Garcia Marquez, Gabriel, Love in the Time of Cholera, 348 pages (A classic that we've used as a base of comparison with other books)

Gardam, Jane (English), Old Filth, 289 pages, 2006, Howes, paperback/Kindle/audio unabridged (Orange Prize Shortlist) (Book 1 of the Trilogy; Book 2 is The Man in the Wooden Hat, 2009; Book 3 is Last Friends, 2013) (We enjoyed the perspective of a lost generation of colonials come home from the Asian end of the British Empire.) (12/3/2019)

Guirgis, Stephen Aldis, Jesus Hopped the A Train, play, 2001. Available as: 72 page "Actor's Edition" from Dramatists Play Service, and in a 2003 paperback from Farrar, Strauss that includes two of his other plays ("Our Lady of 121st Street" and "In Arabia, We'd All Be Kings") in Kindle and paperback; and as an hour and half audio book. (While four members had seen the original production at Signature Theatre, the discussion centered on the themes more evident in the intense writing, including religion, truth, law, justice, and intent.) (7/12/2022)

Goldberg, Myla, Bee Season, 2001, 288 pages (While a few felt the characters were more intellectual constructs than full-fledged people, all had a great discussion, including pointing out classic lines, about whether all of them were crazy -- and how much could be autobiographical as is usual with first novels) (My review of the movie.(1/22/2002)

Goldman, Francisco,The Ordinary Seaman, 1997, 387 pages (Recommended by John Sayles, some thought better as sociology of Central American emigrants than literature.)

Gordimer, Nadine, My Son's Story, 1991, 277 pages (Not great literature but interesting for South African perspectives) (8/9/1998)
Gordimer, Nadine, The Pickup, 2001, 288 pages (Our lively discussion focused on the ending – Credible? Permanent? Feminist? Just personal to the character?) (12/3/2007)

Gottlieb, Eli (American – he grew up in Nora's hometown), Best Boy, 2015, 256 pages (While not all thought the 1st-person autistic man POV was consistent, we all thought it was insightful about the feelings and issues facing such individuals and their families.) (12/6/2016)

Greene, Graham, The End of the Affair, 192 pages (Mixed review, though it was more intriguing than the movie. We admired the writing style, but the atheists in the group balked at the believability of a central character choosing "falling in faith" over "falling in love.") (3/7/2000) (My review of the movie)

Greer, Andrew Sean (American), Less, 2017, 272 pages, Lee Boudreaux Books (Pulitzer Prize; Longlisted for Carnegie Medal for Excellence, Lambda and California Book Awards) (While all got a kick out of the humor and travelogue language, split reaction on the book and its main character: those who liked it appreciated a guy in crisis over turning 50 who can still pick up young lovers wherever he goes, while the rest, well, couldn't care less about him.) (7/17/2018)

Grenville, Kate, (Australian), The Idea of Perfection, 2002, 402 pages (While most of the guys derided this as a chick book, most agreed it was a good read view of small town, middle-aged bush life from different interior perspectives, with different readers picking up different plot and character clues.) (2/6/2006)
Grenville, Kate, The Secret River, 334 pages, 2005 (Shortlisted Man Booker and other Prizes) This is the first book in "The Colonial Trilogy", followed by The Lieutenant, 320 pages (2009) and Sarah Thornhill (2012), as well as the useful background memoir Searching for The Secret River, 352 pages (2007) (While we all admired the authenticity of the portrayal of their poor lives in England and their confusion as colonists, we argued about the author's attitude towards such sympathetic people who could commit genocide and go on to succeed.) (4/7/2014)

Groff, Lauren, Arcadia, 2012, 320 pages (We were impressed by her use of language and understanding of baby-boom utopians from/into the past/present/near-future, but had mixed reactions to the credibility of how the genders were presented, especially the lead male.) (6/12/2013)

She seems to draw on real commune experiences, such as were recalled in documentaries I reviewed: Saint Misbehavin': The Wavy Gravy Movie and Birth Story: Ina May Gaskin And The Farm Midwives.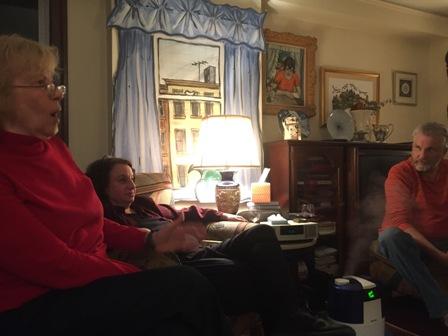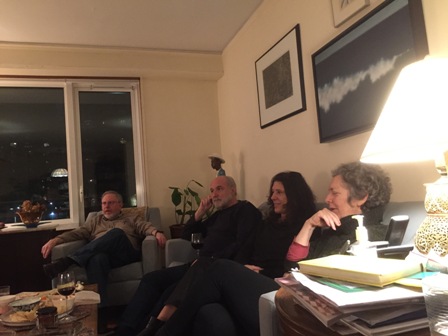 Grossman, David (Israeli), A Horse Walks Into A Bar, translated by Jessica Cohen, 2017, 208 pages, Knopf (Man Booker Prize) (Split reaction: folks either hated it and found turning each page a drudge OR thought the use of one extended stand-up set a brilliant device to bring out the psychologically destructive impact of the Holocaust on the 2nd generation.) (4/3/2018)
See Ferne Pearlstein's documentary The Last Laugh on humor and the Holocaust. (previewed at 2016 Tribeca Film Festival)


Guterson, David, Snow Falling On Cedars (My review of the movie)
Guterson, David, East of the Mountains, 1999, 304 pages (Most felt this was a thin, didactic tale such that our enjoyable discussion was about criticizing its superficiality and simplistic style.) (9/2003)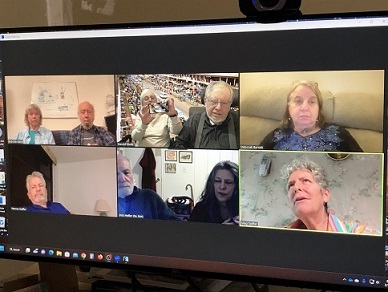 Gyasi, Yaa (Ghanaian-American), Transcendent Kingdom, 226 pages, 2020, Vintage (Shortlisted for Women's -FKA Orange- Prize) (All who finished the book loved the considerations between religion and science through the art of this writing on the African immigrant experience in contrasting environments in the U.S.) (2/7/2023)
Recommended: a film by and starring Ghanian-American Nana Mensah that warmly touches on related themes: Queen of Glory (previewed at 2021 Tribeca Film Festival/ theatrical release by Film Movement)

Habila, Helon (Nigerian), Measuring Time, 2007, 382 pages (Most thought the narrative style was flat storytelling, but we had a lively discussion about how much to extend this one family in a small village to a depressing window into Africa from pre-colonialism through the 1990's.) (10/1/2007)

Haddon, Mark, The Curious Incident Of The Dog In The Night-Time, 2003, 240 pages, (Marvelous read and we were all impressed at the author's consistency in keeping the POV of an autistic teen and sympathy for characters caught in difficult situations, but the only discussion was about what emotional context means if you can't understand complex emotions.) (4/5/2005)

Halliday, Lisa, Asymmetry, 2018, 304 pages, Simon & Schuster (We had full attendance and split opinions for a rousing discussion, including: on what relationships were asymmetric into abuse, how the two sections did/did not fit together, how the writing either indicated literary sophistication or the immaturity of a debut novelist.)
Reading Group Guide (1/8/2019)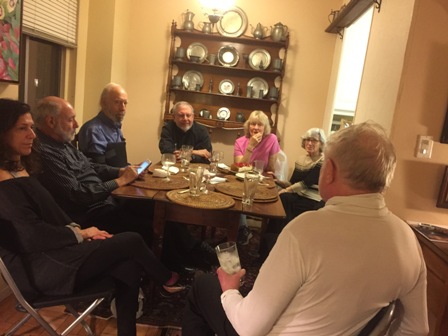 - of course we ordered in Indian food from Curry Hill
Hamid, Mohsin (Pakistani), The Reluctant Fundamentalist, 193 pages, 2007, Harcourt (Short-listed for Man Booker Prize/Anisfield-Wolf Book Award) (paperback/Kindle/unabridged audio) (Our smaller than usual group had a very mixed and somewhat dissatisfied reaction – about the main character, his actions, about his relation to his audience.) (6/6/2017)
Mira Nair's 2012 film adaptation is on DVD, and streaming services.

Harding, Paul, Tinkers, 2009, 192 pages (Pulitzer Prize) (While we were all confused factually by the shifts between father and son, we admired the descriptive language—so much that we were convinced to never spend a winter in northern Maine—and debated the symbolism of clock repair.) (8/9/2011)

Hazzard, Shirley (Australian), Transit of Venus, 1980, 352 pages (Only two of us finished the book, the rest could barely make it to page 40 as they had zero interest in the tiresome characters, so we cancelled the session.) (3/1/2005)
Hazzard, Shirley (Australian), The Great Fire, 2003, 288 pages in hardcover, 326 pages in paperback (The majority hooted that it read like a lost post-colonial Graham Greene retread from 1952.) (3/1/2010)

Heaney, Seamus (translator), Beowulf, 2000, 215 pages (Most of the group had to be reluctantly convinced to read this atypical for us selection, but the marvelous translation led to a lively discussion of what the three monsters represented, the pagan acts vs. the Christian poet's viewpoint as well as the roles of the other storytellers, and the tenets of valor in a warrior culture.) (12/7/2004)
Hegi, Ursula, Stones from the River, 1994, 525 pages (Mixed vote, down the middle)

Hemon, Aleksandar (Bosnian-American), The Lazarus Project, 316 pages, 2008, Riverhead (Finalist, National Book and Book Critics Circle Awards; Michalski Prize for Literature; MacArthur Fellow) paperback/Kindle/audiobook (Though not all members wanted to finish the book, finding the bifurcated stories as annoying as its protagonist, others found the two inspired-by-history travels of traumatized Jewish immigrants in 1908 Chicago and a contemporary Bosnian-American writer like the author fertile for discussion on the linkages and themes, or at least the photographs, that were barely visible on Kindle.) (6/6/2023)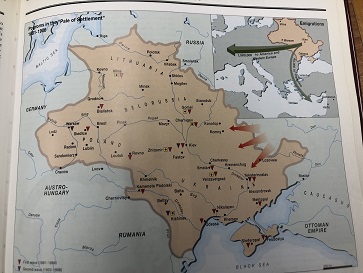 - from Barnavi, Eli, editor, Historical Atlas of the Jewish People (Schocken, 1994)
Nora Lee spent much of the past year on research about such Jewish immigrants, reported in a Zoom presentation on "Baron and Baroness de Hirsch and The Roots of Jewish American Farmers: Through the Life and Career of Leo Steckel" available on Video. (Bibliography is linked here.) Please help identify, and translate, Yiddish articles in The Jewish Farmer (דער אידישער פארמער) (probably 1912 – 1915) by Dr. Leo M. Steckel!
A recommended novel on the history behind the Sarajevo story is Ivo Andric's The Bridge Over The Drina, translated from Serbo-Croatian by Lovett F. Edwards (1959, republished 1995 by Harvill Press)

Hijuelos, Oscar, Our House in the Last World (His first novel)

Hoban, Russell, Riddley Walker, originally published in 1980; 1998 edition published by Indiana University Press has useful glossary and afterword, 256 pages (A fascinating post-apocalyptic read and essential discussion -- tip, it helps to read tough but phonetic sentences out loud! -- that even though it comes out of 1970's Cold War/Anti-Nuke tensions still has powerfully provocative points about religion, politics, civilization, technology, violence, society, and the power of storytellers and artists. And something about dogs, but not much about women.) (7/5/2005)

Hoffman, Alice, Practical Magic (Much better and more sophisticated than the movie, but heck the movie does have Sandra Bullock and Aidan Quinn)

Hosseini, Khaled, The Kite Runner, 2003, 372 pages (While there's some one-dimensional characters, plot coincidences and autobiographical projections that betray this as a first novel, all were caught up in the gripping story from a culture we don't get to see this close up, of (primarily male) Afghanistan before and during the Taliban. Some saw this as allegorical about the country in general; others saw a religious tale of sin and redemption.) (11/9/2004)

Houellebecq, Michel (French), Submission, published in France 2015, English translation by Lorin Stein published 2016, 256 pages, Picador, available in paperback/Kindle (The provocative novel spurred a vigorous discussion on interpretations of the satirical and serious elements of the plot and protagonist development.) (3/7/2022)
The author satirizes himself in the 2014 film The Kidnapping of Michel Houellebecq available through Kino Lorber.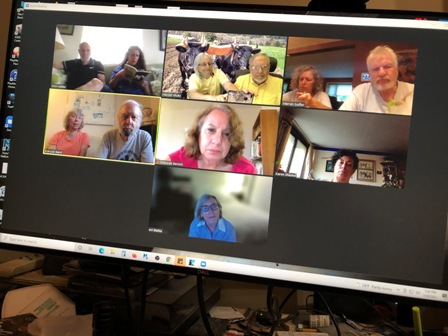 Hua, Yu (Chinese), To Live, originally published in 1993, translated into English by Michael Berry, 256 pages, 2003, Anchor, included in the National Endowment for the Arts Big Read Program: "Yu Hua is one of China's most well-known authors and his bestselling novel, To Live, has been named one of China's ten most influential books of the last decade." (All appreciated reading the book, but were struck by the sadness and the enduring difficulties of 20th century rural life through the eyes of a farmer, under, ironically, every political force, whose accuracy was debated for then and how much it has changed.) (7/28/2021)
Film adaptation by Zhang Yimou in 1994 is available on expensive DVD
A New Old Play (Jiao Ma Tang Hui), 2021 fiction film, imaginatively covers the similar tumultuous 50 years in China (1930s – 1980s), with a more satiric tone as through the eyes and theatrical mode of an urban sophisticate, writer/director/production designer Qiu Jiongjiong's grandfather, the Sichuan opera clown-role actor Qiu Fu-xin.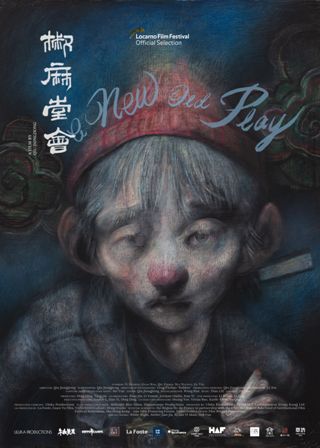 (seen at 2022 First Look Festival at Museum of the Moving Image/ courtesy of Icarus/dGenerate Films) (3/20/2022)

Huxley, Aldous, Brave New World, 288 pages, 1932; Most of the group also read the 2005 foreword by Christopher Hitchens and his 1958 essay collection Brave New World Revisited, 144 pages. (We were impressed that besides his of-his-time-and-class snobbery, sexism, Malthusism, neglect of environmental degradation and expectation of power to government rather than corporations, he was amazingly prescient about social control through bread and circuses.) (3/4/2014)

Hynes, James (Irish), Wild Colonial Boy

Ibsen, Henrik, A Doll House

Ilf, Ilya and Petrov, Evgeny (Russian), The Twelve Chairs, 1928, 2011 Northwestern University Press edition is a new translation by Anne O. Fisher, 480 pages in paperback. (Not on Kindle.) The earlier British translation by John C. Richardson is still around as a used paperback and is available as a free download. (This was the basis for the 1970 Mel Brooks film, which had a different ending.) (After checking out the specific context of U.S.S.R. history to understand the brief window that allowed these funny satirists to publish, we discussed the particulars, that some thought dragged the story out for a contemporary reader, vs. the picaresque universality of the clever con man manipulating any bureaucratic system.) (3/6/2012)

Ishiguro, Kazuo, The Remains of the Day
Ishiguro, Kazuo, Klara and the Sun, 321 pages, 2021, Knopf, Faber British paperback available; Random House large print paperback available; American Vintage paperback release on March 1; on Kindle (Booker Prize nominee; NYT Notable Book; a WaPo Best Book of Year; longlisted for Am Library Assoc Carnegie Medal) (With different interpretations, everybody really liked this novel, with a very good discussion via Zoom about this science-fictional dystopian society, and the role of "Artificial Friends" in the book, in this world, and in our world now and in the future.) (2/1/2022)
An entertaining German "rom com" on a similar theme: I'm Your Man (Ich Bin Dein Mensch), co-written and directed by Maria Schrader (2021) Available on Hulu and On Demand

Jacobson, Howard (British), The Finkler Question, 2010, 320 pages, Bloomsbury USA (Man Booker Prize winner) (While we all enjoyed the excuse to have a repast of Ashkenazi take-out (despite that Katz's Delicatessen wouldn't deliver after 6 pm), a couple of folks were turned off by three unsympathetic men kvetching and couldn't even finish reading it, a couple found it laugh out loud funny, while others appreciated it as a satire of British Jews. I think it referred to an article I couldn't find the full text of: Tom Stoppard's "Another Country," Sunday Telegraph Magazine, (London) 10 October 1999: 14-19, 20-1; I've also seen the article cited as: "On Turning Out To Be Jewish," and "Tom Stoppard Discloses His Past", from when it first appeared in the premiere issue earlier that year of Talk Magazine.) (1/5/2011)
Barney's Version the book, and to a lesser extent the movie, as discussed in my commentary on the Jewish women, is a lot like a Canadian Jewish version.

Jen, Gish, Mona in the Promised Land, 1996, 304 pages (Mixed vote between those of us who thought it a witty take on ethnic identity and those who thought it a glib rehash of coming-of-age in suburbia in the late '60's.)

Jiles, Paulette (American), News of the World, 240 pages, 2016 (National Book Award Finalist) (All enjoyed the book and admired how well-researched and (mostly) 3-D the period characters were, even feeling guilty pleasure over the Hollywood epilogue.) (7/11/2017)
Film adaptation (2020), directed and co-written by Paul Greengrass, is more optimistic and looks like an updated tribute to John Ford. (12/16/2020)

Jin, Ha, Waiting, 2000, 320 pages (Is it about universal humans or particularistic about Chinese? And are these Chinese particularly Communist or reflective of traditional Chinese culture? Or is this more of a analogue for modern Chinese history?)

Johnson, Adam, The Orphan Master's Son, 464 pages, 2012 (Pulitzer Prize) (Though some objected to the degree of violence, readability, and if this was old-fashioned propaganda, we had a lively discussion of fact vs. fiction vs. realistic imagining of how human beings would survive in a contemporary dystopian totalitarian society.) (1/7/2014)
Documentaries I recommend on North Korea: Kimjongilia; Yodok Stories; The Red Chapel; and Camp 14: Total Control Zone, that I briefly reviewed at 2013 Death & Politics at Human Rights Watch Film Fest at Film Society of Lincoln Center.

Jones, Edward P., The Known World, 2003, 432 pages (Most felt this was a fascinating recreation of the full range of complexity of the ante-bellum South, where the acceptance of owning other human beings complicates issues of race, sex and class, though this docudrama has a long set-up to get to the suddenly fast-paced surprising conclusion) (10/5/2004)

Joyce, James (Irish), Portrait of the Artist as a Young Man (This was one of our few attempts at a classic - and not everyone read it!)

Karunatilaka, Shehan (Sri Lankan), The Seven Moons of Maali Almeida, 400 pages, 2022, Penguin (Booker Prize) paperback/Kindle/audiobook (Many of the members disliked the book's characters, plot confusion, and violence so much that they did not finish reading it; the others appreciated the very cynical, particularly gay, insights into a long-lasting, complicated genocidal civil war amidst class, religious, and cultural conflicts.) (4/11/2023)

Kashua, Sayed (Palestinian Israeli), Let It Be Morning (translated by Miriam Schlesinger), 2004, 271 pages (We discussed if it was a satire or just satirical elements in encapsulating the ironic future of Israel/Palestine through the lens of an Arab village, north of Tel Aviv, full of believable characters whose politics reflect their personalities and relationships since birth.) (1/5/2010)
Let It Be Morning the film adaptation written and directed by Eran Kolirin (The Band's Visit) is tone-perfect and wonderfully cast with "Palestinian citizens of Israel". There of course has been controversy: the actors objected: "We cannot ignore the contradiction of the film's entry into Cannes [Film Festival] under the label of an 'Israeli film' when Israel continues to carry its decades-long colonial campaign of ethnic cleansing, expulsion, and apartheid against us—the Palestinian people." Conservative Jewish press objected that an "anti-Zionist" film won the Best Picture Ophir Award, so is automatically Israel's submission for 2022 Foreign Language Oscar. (Opening Night at 2021 Other Israel Film Festival) (10/28/2021)
Optional additional reading was: Dancing Arabs (translated by Miriam Schlesinger), 2002, 227 pages. He also wrote wry newspaper columns about life as an Arab in Israel – until he fled the pressures to teach in the U.S. My review of the 2009 Other Israel Film Festival included Forever Scared, a documentary about the author.
Post-2014 Gaza war update.
Kawabata, Yasunari, Snow Country (Knowledge of Zen poetry and Japanese culture would help) (9/1994)

Khadra, Yasmina (nom de plume for Algerian army officer Mohamed Moulessehoul), The Attack (translated from the French by John Cullen), 2006, 272 pages (We had a lively discussion of just how didactic and one-dimensional is this bleak view of Israeli/Arab/Palestinian relations, especially the opaque central couple.) (4/6/2009)
King, Lily, The English Teacher, 2005, 256 pages (Majority, but not all, disliked it, including one who had read Tess of the D'Urbervilles which is used like Mrs. Dalloway is in The Hours, some disliked the characters, some the writing style, some the plot credibility of the central focus on PTSD from rape or the conclusion.) (1/7/2008)

Kingsolver, Barbara, Demon Copperhead, 556 pages, 2022, Harper, Kindle/audio unabridged/large print and international edition paperback (Pulitzer, Oprah's Book Club, NYT and WaPo Best Book; Shortlisted, Women's Prize for Fiction) (With all but two finishing the summer-length read, all were impressed by her consistent first-person adaptation of Charles Dickens' David Copperfield with a large ensemble of distinctive, 21st Century Appalachian characters within an involving, page-turner of a socially and politically conscious story.) (9/13/2023)