Maven's Nest

Reel Life: Flick Pix
Recommended Films at the Mandel Maven's Nest Reel Life: Flick Pix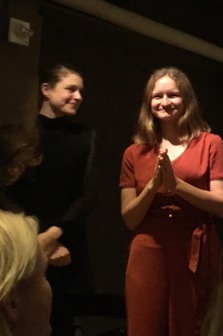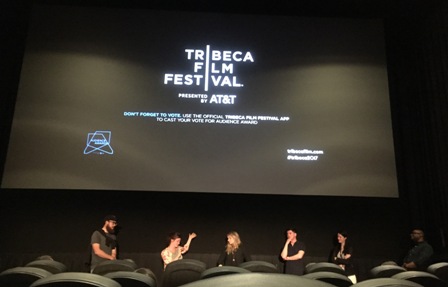 - Directors Jessica Oreck and Emily Lobsenz at Tribeca Film Institute/Sloan Fund Works-In-Progress Reading, and three women filmmakers participate in the Q & A after the screening of their shorts in the "Disconnected" program, including Abi Damaris Corbin and Michal Gassner.

The Most Complete Annotated Overview of the Nora Ephron Award and Other Women Filmmakers at 2017 Tribeca Film Festival

By Nora Lee Mandel

The work of women directors were seen in 32 of the 98 feature film selections and 40% (33) of the shorts, by my count, at the 2017 Tribeca Film Festival. Many filmmakers were in attendance at Manhattan theaters from April 19 – 30, 2017 for the 16th annual showcase of international narrative and documentary shorts and features, and I interviewed several.

For me, the anticipated centerpiece of the Festival each year is the Nora Ephron Award, going to "One narrative film directed by or written by a woman with a film making its North American, International, or World Premiere, which recognizes a woman who embodies the spirit and vision of the legendary filmmaker and writer Nora Ephron." The Festival Press Office did not respond to my request for a list of award-eligible films in advance nor confirm my list of those I presumed eligible. My (edited to remove my cynicism) coverage of the Ephron Award winner, along with the other contenders, is posted at FF2 Media. The jurors for the 2017 Ephron Award were: Dianna Agron (actress), Joy Bryant (model/actress), Diane Lane (actress), Zoe Lister-Jones (actress/writer,/producer/director), and Christina Ricci (actress).
I am continuing to track for FF2 a progress report on past Ephron Award winners. Rachel Tunnard, the British filmmaker who won in 2016 for Adult Life Skills, enthused in an e-mail: "I can't emphasize enough the importance for me, the film and my collaborators. We were a tiny project with close to zero budget for marketing and the award generated press, which generated momentum and interest which we were then able to build upon as part of our social media campaign and U.K. release strategy." (I thought she was unnecessarily negative that the thick northern English accents in her film had hurt its American distribution potential.) But like some of the most intriguing women-directed work at Tribeca this year, she's not just focusing on women characters. Her next film "is a comedy drama again - this time a 'buddy break-up' film (the buddies are a woman in her mid-30s and her gay best friend) with a strong American element (!) that I hope to shoot next year."



I am also spotlighting films with other women collaborators in the Festival's feature and short films – writers, cinematographers, editors, and composers. Including TFI Sloan Works-In-Progress, "New Media" shorts for online platforms, and virtual reality projects, this report is, therefore, the most complete overview with commentary of all the work by women credited in films at this year's Tribeca Film Festival!

This year's Tribeca Film Festival marvelously demonstrated new platforms of creative success for women filmmakers outside the conventional feature films eligible for the Nora Ephron Prize, learning from earlier models. Tunnard, first nurtured Adult Life Skills as an award-winning short. 2013 winner Meera Menon (for Farah Goes Bang) and other women director panelists at last year's festival advised working in television while developing a next film.
Updates on director Meera Menon: 2018 and 2019.
Just after appearing at last year's Festival with LoveTrue, Alma Har'el initiated "Free The Bid" urging advertising agencies and production companies to pledge a woman director would be included in bids on every commercial (not mentioned by the Geena Davis Institute on Gender in Media as they expand to look at advertising images of girls and women).


New Media and streaming is blurring the lines between shorts, web series, apps, sponsors, and "television" for more outlets that can mean more opportunities for women directors. New Media and streaming is blurring the lines between shorts, web series, apps, sponsors, and "television" for more outlets that can mean more opportunities for women directors. A male colleague sniffed to me that he had seen "all" the shorts at the Tribeca Film Festival. I shot back: "But you weren't at the N.O.W. (New Online Work) screening!" Since the inaugural collection in 2014 that included husband/wife writer/director team Ben Sinclair and Katja Blichfeld's High Maintenance as it was just going to a Vimeo-supported web series before it was extended into an HBO series (just renewed for a second season), the women-directed N.O.W. selections press and special event screenings deserved more critical attention, along with those labeled "film" shorts.

NORA EPHRON AWARD-ELIGIBLE: FEATURE FILMS BY WOMEN WRITER/DIRECTORS AT 2017 TRIBECA FILM FESTIVAL: WHY WHICH WON?

Blame
The Boy Downstairs
The Divine Order (Die göttliche Ordnung)
Keep the Change
My Art
Nobody's Watching (Nadie Nos Mira)
One Percent More Humid

OTHER FEATURE FILMS WRITTEN/DIRECTED BY WOMEN DIRECTORS AT 2017 TRIBECA FILM FESTIVAL

Buster's Mal Heart
Paris Can Wait
Sambá

DOCUMENTARIES DIRECTED BY WOMEN AT 2017 TRIBECA FILM FESTIVAL

Bobbi Jene
Bombshell: The Hedy Lamarr Story
Chris Gethard: Career Suicide
Copwatch
Dare To Be Different
The Departure
The Family I Had
The Farthest
Flames
House of Z
I Am Evidence
The Last Animals
The Reagan Show
A Suitable Girl
Warning: This Drug May Kill You

TRIBECA FILM INSTITUTE/ALFRED P. SLOAN FOUNDATION FILMMAKER FUND: WORKS-IN-PROGRESS
Invisible Islands

SHORTS DIRECTED BY WOMEN AT 2017 TRIBECA FILM FESTIVAL
Again
Beehive
Big Sister (Ahotcha)
Buckets
Dive
Don't Mess With Julie Whitfield
The Foster Portfolio
Fryday
Heroin
Hilda
Hotel U.S.A.
Joy Joy Nails
Life Boat
Little Bird
Love The Sinner
Mother's Day
New Deep South: House of JXN
Odd is an Egg (Odd er et egg)
Phone Calls
Pineapple
Run Mama Run
Shiva
Shooting War
Skull + Bone
The Spring
The Suitcase
Summer Camp Island
Taller Than The Trees
Undue Burden
Viola, Franca
Watched
White Riot: London
Woman of a Certain Age
World In Your Window

TRIBECA IMMERSIVE WITH WOMEN CO-COLLABORATORS: VIRTUAL REALITY
Becoming Homeless: A Human Experience
Blackout
The Island of the Colorblind
NeuroSpeculative AfroFeminism
The Other Dakar
Protectors: Walk in The Ranger's Shoes
Rainbow Crow
Talking With Ghosts
Testimony
Tree

WOMEN CREW-ED FILMS: WITH WOMEN WRITERS, CINEMATOGRAPHERS, EDITORS AND COMPOSERS AT 2017 TRIBECA FILM FESTIVAL
Features
Acorn and The Firestorm
Alphago
Elián
Flower
For Akheem
A Gray State
The Lovers
Pilgrimage
Psychopaths
Saturday Church
Sweet Virginia
Shorts
For Flint
Lemon
The Navigator (Kartleseren)
New York Is Dead
The Tokyo Project
Water Warriors

NORA EPHRON AWARD-ELIGIBLE FILMS BY WOMEN DIRECTORS AT 2017 TRIBECA FILM FESTIVAL
Blame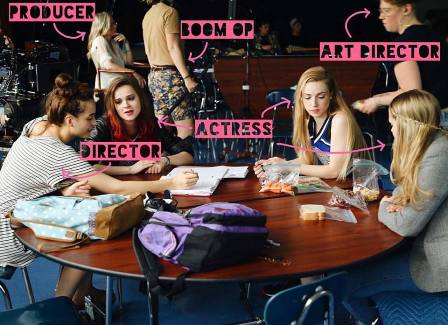 For Happy #internationalwomensday to all the lovely BLAME ladies! Fun fact: BLAME's crew included 26 women behind the scenes, and the film boasts 6 lead actresses and 10 women in supporting and featured roles! Support #girlpowerand go see BLAME at @tribeca this April!!#tribeca2017 #blamethemovie
Directed/written/edited/co-produced by and starring Quinn Shephard -- her mom Laurie Shephard was the casting director/co-producer/co-story writer (USA) (World Premiere)
Kudos to the portrayal of the Alpha-Beta-Gamma dynamic of teenage girl friendships.
Samuel Goldwyn will release in theaters and VOD winter 2018.


The Boy Downstairs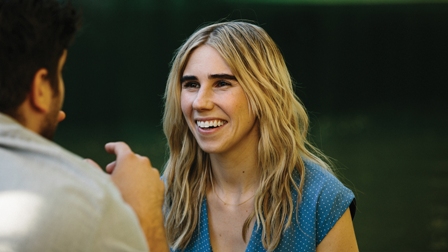 - Zosia Mamet as Diana in THE BOY DOWNSTAIRS – Photo by Jon Pack
Directed and written by Sophie Brooks (USA) (World Premiere)
My additional comments
So, nu: my commentary on the Jewish women.
FilmRise will release The Boy Downstairs theatrically in New York February 16, 2018, and in select cities February 23, 2018.


The Divine Order (Die göttliche Ordnung)
Directed and written by Petra Volpe; cinematographer Judith Kaufmann; score by Annette Focks (Switzerland) (International Premiere)
My additional comments on its Ephron Award win.
Safely and predictably set in 1971, some march with the still-relevant banner "Women's Rights Are Human Rights". Also winner of the Audience Award for a Narrative Film, this charming Swiss victory is a more political take on personal legal, financial, sexual, and emotional liberation in Nora Ephron's Hollywood fare, from This is My Life (1992) to Julie & Julia (2009). Male chauvinists and female conservatives are too easy targets for feminist praise. So the Ephron Award jurors' selection tells more about what defines – and restricts—a female filmmaker these days. Despite the jury's accolades, there is nothing "intrepid" about this Ephron Award winner, which also won the Audience Award (with a $10,000 cash prize). (Instead, my preference for Best Actress in an International Narrative Feature Film was on Zuzana Kronerová in Bohdan Sláma's Ice Mother, who had to learn ice swimming in Slovakia; that wonderful film wasn't even included in the ESPN section, but did win Best Screenplay in an International Narrative Feature Film.)

Selected as Switzerland's entry for the Foreign Language Oscar, theatrical engagement begins at Film Forum October 27, via Kino Lorber and Zeitgeist.

Keep The Change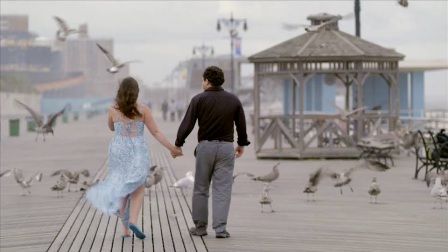 Directed and written by Rachel Israel (USA) (World Premiere)
My additional comments
The best rom-com I saw at the Festival, and the most unusual, in story and casting – but the central character is male, because that's who inspired (and stars in) the film – did that keep it from winning the Ephron Award? Israel won The Founders Award for Best Narrative Feature (and $20,000 sponsored by AT&T): "For her heartwarming, hilarious and consistently surprising reinvention of the New York romantic comedy, which opens a door to a world of vibrant characters not commonly seen on film." And she won Best New Narrative Director (with $10,000 sponsored by Netflix): "For this award, we were looking for a filmmaker with a fearless, authentic voice. Our decision was unanimous. This filmmaker created a world full of vibrant characters often under-represented in cinema. It is a unique, yet universal love story told in a way we've never seen. We anxiously await to see what this filmmaker does next. We are so thrilled to present the award." Set mostly in the same Upper West Side of Manhattan of Ephron's 1998 You've Got Mail (which also focused more on Tom Hanks as the male lead than Meg Ryan as female co-star), the film was developed over four years with non-professional actors all on the autism spectrum,. This was not just about the movement for non-traditional casting (as promoted in the Easterseals Disability Film Challenge that happened to run concurrent with the Festival), but, as the filmmaker states in her production notes, "speaks to the heart of subjects that I want to explore for the rest of my life", including stories of romantic love, friendship, or family, with humor – much like the oeuvre of Nora Ephron. Israel also credits her male film school mentor Ramin Bahran (writer/director of such insightful male-centric indies as Chop Shop) for his advice and encouragement.
So, nu: my commentary on the Jewish women.
Kino Lorber opens Keep The Change theatrically in New York on March 16, 2018, after opening the 2018 ReelAbilities Film Festival. A national expansion will follow.


My Art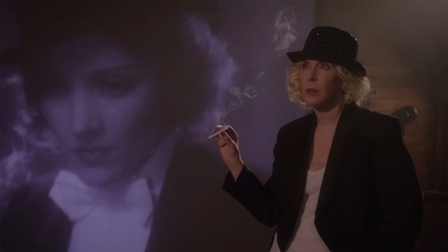 Directed and written by Laurie Simmons; edited by Betsy Kagen (USA) (North American Premiere)
Film Movement opens My Art theatrically in New York on January 12, 2018, and in Los Angeles on January 19, 2018.

Nobody's Watching (Nadie Nos Mira)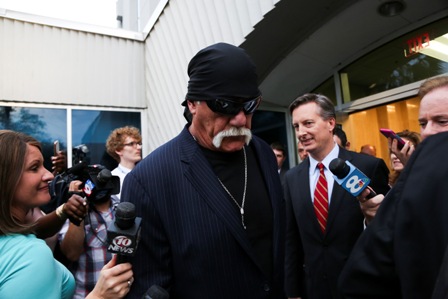 Directed by Julia Solomonoff, written by Julia Solomonoff and Christina Lazaridi; co-editor Karen Sztanberg; sound design Lena Esquenazi (Colombia, Argentina, Brazil, US, Spain) (World Premiere)
Kudos to this Latina director demonstrating that women filmmakers don't just show women, but can excel at heartbreaking empathy. Hunky Guillermo Pfening's blond Argentine actor balances stereotyped expectations, from home to New York City, and survival jobs (including as a manny and a women producer's escort) while trying to be authentically out as a gay actor
My additional comments
Theatrical engagement begins at Film Forum September 8.


One Percent More Humid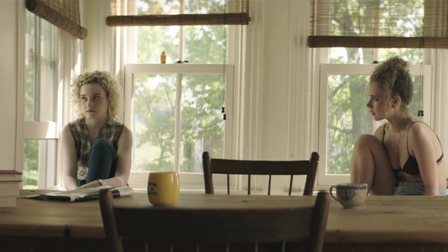 - Juno Temple as Iris and Julia Garner as Catherine in ONE PERCENT MORE HUMID. Photo - Andreas Burgess
Directed and written by Liz W. Garcia; edited by Elizabeth Kling (U.S.) (World Premiere)
Kudos to insightful look at female teenage friendship under stress of survivor guilt
Sony Pictures is releasing it digitally October 10, 2017.

Son of Sofia (O Gios tis Sofias)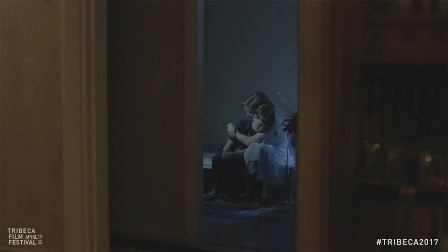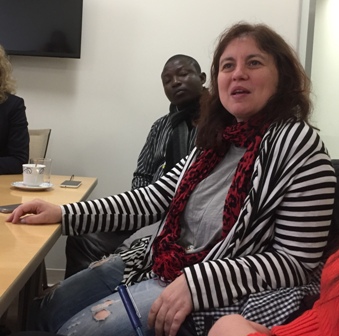 Directed and written by Elina Psykou; edited by Nelly Ollievault (Bulgaria/France/Greece) (World Premiere)
Kudos for using magic realism (as well as Olympic mascots and a marvelously re-created children's TV show) to communicate the complex feelings and difficult choices behind the strained relationship between a Russian immigrant mother and child, who can't express their feelings. At the Greek Press Office, Psykou (above) noted she set her film at the end of European and Russian optimism of "glorious days" in Greece during the 2004 Summer Olympic Games, while flashing back to the Moscow Olympics of 1980, and at the start of the rise of (the ultra-nationalist, right-wing, racist and homophobic) Golden Dawn party in Greece.
My additional comments
Gravitas Ventures will release in North American theaters.


OTHER FEATURE FILMS DIRECTED BY WOMEN DIRECTORS AT 2017 TRIBECA FILM FESTIVAL
Buster's Mal Heart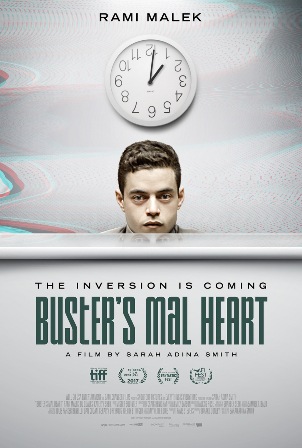 Directed, written and edited by Sarah Adina Smith (USA) (New York Premiere)
Kudos to empathetic treatment of the genesis of a killer.
Well Go released theatrically on April 28, available on VOD platforms on May 23.


Paris Can Wait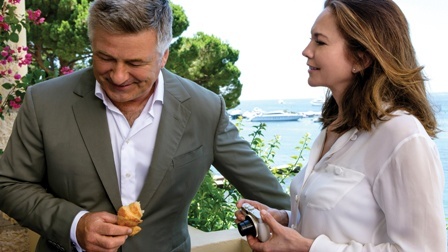 - Alec Baldwin as Michael Lockwood and Diane Lane as Anne Lockwood in PARIS CAN WAIT. Courtesy of Sony Pictures Classics. Photo - Eric Caro
Directed and written by Eleanor Coppola; cinematographer Crystel Fourniers (U.S.A.) (New York Premiere)
Even the scenery is disappointing.
Sony Pictures Classics released theatrically on May 12.


Sambá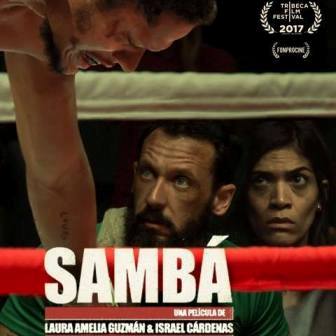 Co-directed by Laura Amelia Guzmán; co-written by Carolina Encarnacion; edited by Andrea Kleiman (Dominican Republic) (World Premiere) (Tribeca ESPN Sports Film Festival)
Kudos to the usually macho boxing flick genre done with unusually sensitive portrayal of boxers – former, current, wanna-be – and the people (male and female) around them. I guessed the male focus would be considered ineligible, plus because Guzmán, from the Dominican Republic, was a co-director with Israel Cárdenas of Mexico, and Carolina Encarnacion was the co-writer with co-star Ettore D'Alessandro. Too bad, because this is one of the most beautiful, sensitive and poignant boxing movies, let alone to be included in the Sports (sub) Festival.


The Wedding Plan (Laavor et hakir)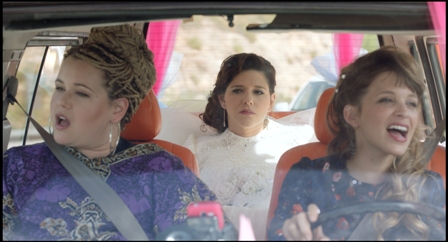 Written and directed by Rama Burshtein; edited by Yael Hersonski (Israel) (New York Premiere)
My full review
So, nu: my commentary on the Jewish women.)
Kudos to unconventional observant Israeli women on screen.
Roadside Attractions released theatrically on May 12.

Documentaries
Bobbi Jene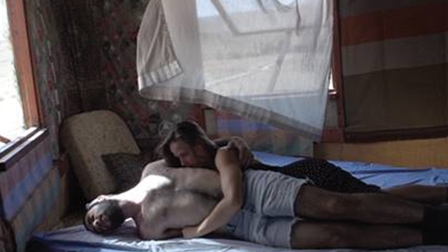 - Bobbi Jene and her boyfriend Or taking a nap in the dessert outside Tel Aviv. Still from BOBBI JENE
Directed by Elvira Lind (Denmark/Israel) (World Premiere)
So, nu: my commentary on the Jewish women.
Awards for Best Documentary Feature, Best Cinematography in a Documentary Feature and Best Editing in a Documentary Feature -- Not my selection for any of these categories
Oscilloscope Laboratories releases theatrically beginning September 22, with additional cities to follow..


Bombshell: The Hedy Lamarr Story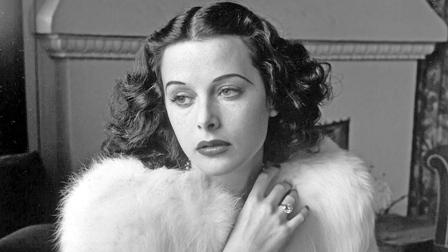 - Hedy Lamarr 1938. Photo courtesy of the Everett Collection
Directed by Alexandra Dean; edited by Lindy Jankura (USA) (World Premiere)
So, nu: my commentary on her as a Jewish woman.
Kino Lorber and Zeitgeist will distribute in theaters, beginning November 24 at the IFC, then nationally. PBS will broadcast on American Masters.


Chris Gethard: Career Suicide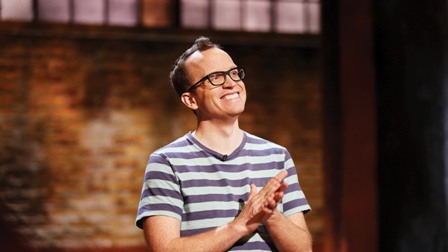 - Chris Gethard in CHRIS GETHARD: CAREER SUICIDE – Photo - Craig Blankenhorn/HBO
Directed by Kimberly Senior (USA) (World Premiere)
Just straight-forward filming of intimately personal stand-up performance.
HBO premiered on May 6


Copwatch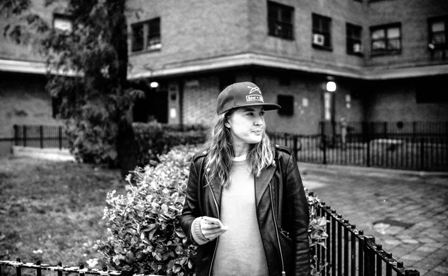 - Photo - Adriel Gonzalez
Directed by Camilla Hall (above); edited by Grace Zahrah (USA) (World Premiere)
Kudos for going behind the media headlines about those who video police brutality and persisting to follow the untold stories of what happens to them.
Available on Video On Demand October 6, 2017.


Dare To Be Different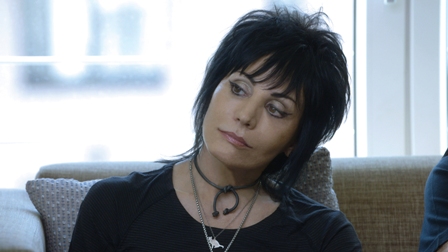 - Joan Jett in DARE TO BE DIFFERENT. Photo - Greg Daniels
Directed by Ellen Goldfarb (USA) (World Premiere)
While I appreciate that the interviewed fans, and a couple of performers, of the old WLIR included women, the gendered, sexuality, and racial issues of "New Wave" music were ignored.


The Departure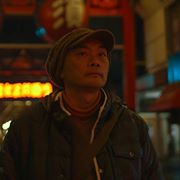 Directed by Lana Wilson; Cinematographer Emily Topper (USA) (World Premiere)
From the director of After Tiller, another look at the enormous impact on a crisis-help provider – here Ittetsu Nemoto, a a Buddhist suicide counselor in Japan.
Matson Films release opens theatrically in New York October 13, 2017.


The Family I Had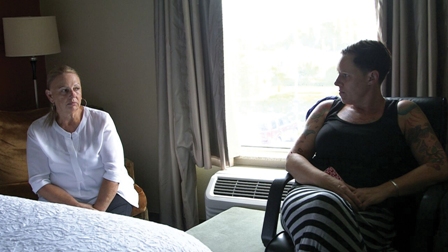 - Film subjects Kyla and Charity in THE FAMILY I HAD. Photo - PJ Raval
Directed by Katie Green and Carlye Rubin; cinematographer - Martina Radwin; edited by Tina Grapenthin (USA) (World Premiere)
Balances on and frequently crosses the thin line between lurid true crime TV and empathetic sociology in trying to probe fratricide only through interviews with the perpetrator and those intimately affected.
Premieres on Investigation Discovery on 12/21/2017.


The Farthest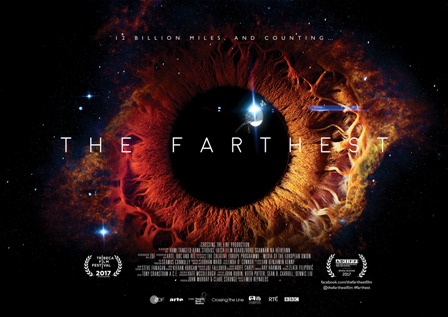 Directed by Emer Reynolds; cinematographer Kate McCullough (Ireland) (International Premiere)
Marking the 40th anniversary of NASA's Voyager space mission, this illuminating oral history features over 25 marvelous and very human interviews with original mission scientists, engineers, and language experts – including several women who worked at the Jet Propulsion Laboratory for years from the 1970's on through the Grand Tour of Jupiter, Saturn, Uranus, Neptune and now into interstellar space. (With just a desultory mention of Star Trek, there's no reference to the fictional lost "Voyager 6" central to 1979's Star Trek: The Motion Picture.)
Abramorama will be release it theatrically in New York and Los Angeles on August 11, with additional one-night event screenings around the country to follow.
PBS will broadcast on August 23, 2017 – in time for us space geeks to get home after traveling across the U.S. for the solar eclipse on August 21

Flames - co-directed by Josephine Decker; cinematographer Ashley Connor (USA) (World Premiere)
(Not seen)


House of Z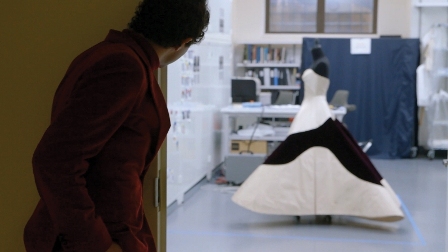 Directed by Sandy Chronopoulos; edited by Holle Singer and Madeleine Gavin; co-cinematographer Nadia Hallgren (USA) (World Premiere)
So, nu: my commentary on the Jewish women.
Conde Nast Entertainment will release on Vogue's new online platform during Fashion Week on September 6, s2017.

I Am Evidence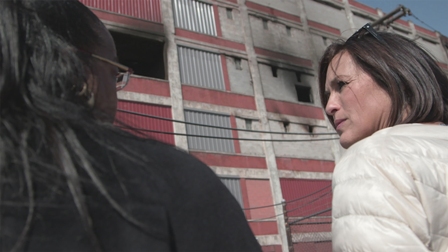 - Detroit Prosecutor Kym Worthy shows Mariska Hargitay the abandoned warehouse where untested rape kits were found (!). Still from I AM EVIDENCE
Directed by Trish Adlesic and Geeta Gandbhir; edited by Viridiana Lieberman (USA) (World Premiere)
The Real World gaps behind Law & Order: SVU are revealed through the determined activism of survivors and prosecutors, let alone the lack of cross-jurisdiction efforts to identify serial rapists.
For how you can help End the Back Log of testing rape kits and get state updates on the problem around the country. The Joyful Heart Foundation is also asking community organizations to sponsor screenings of the film to encourage local advocacy and support.
For awards eligibility, the film screened for a December 2017 week in a NYC theater.


The Last Animals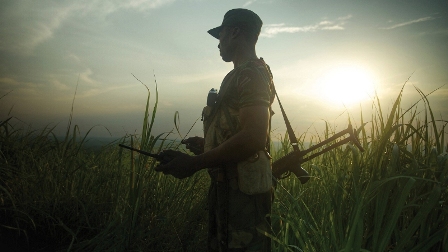 - A ranger looks out over Garamba National Park, in the Democratic Republic of Congo at daybreak. Garamba is the second oldest national park in Africa and one of the deadliest for both elephants and rangers. Photo - Ryan Youngblood for THE LAST ANIMALS
Directed by Kate Brooks; music by Paloma Estevez (USA) (World Premiere)
Beyond a Nature episode on the plight of the last of the black rhinos, including in well-meaning zoos, the close-up of the dangerous work of the rangers against poachers are profiles in courage.

The Reagan Show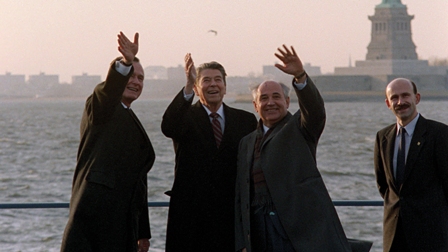 - George Bush, Ronald Reagan, and Mikhail Gorbachev all wave to the press corps. Still from THE REAGAN SHOW. Photo - Ronald Reagan Presidential Library
Co-directed by Sierra Pettengill (USA) (World Premiere)
Not much new for anyone who lived through his presidency, and not enough depth on controversies, such as Iran-Contra and the hiding of his incipient dementia.
Gravitas Ventures is releasing in North American theatres and streaming platforms; CNN Films has North American broadcast rights.


A Suitable Girl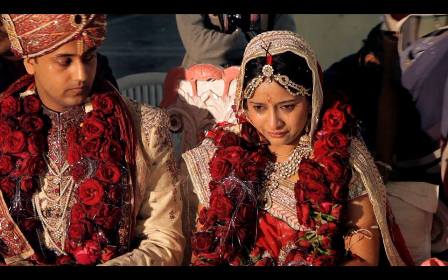 Directed by Sarita Khurana and Smriti Mundhra; edited/produced by Jennifer Tiexiera; co-cinematographer Naiti Gámez; composer- Gingger Shankar (USA/India) (World Premiere)
Kudos to cinema verité look at the realistic options and tremendous pressures three educated women face in India in being selected and selecting a spouse, through three women who make unpredictable compromises.


Warning: This Drug May Kill You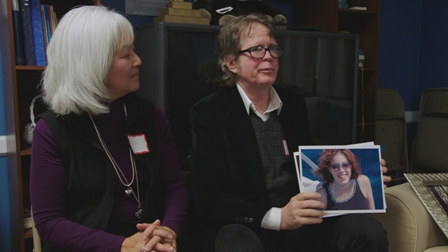 - Judy Cayce Enseki and David Cayce share a picture of their daughter, Georgia. Still from WARNING: THIS DRUG MAY KILL YOU
Directed by Perri Peltz; Co-Editor Angela Gandini; Co-Director of Photography Vanessa Carr; Music by Wendy Blackstone (USA) (World Premiere)
This looks like the racial angle is that the opioid crisis is in these white suburbs and small towns – without saying where the addicts get their supply when they move from dangerously over-prescribed drugs to heroin that's usually seen as an urban problem.
HBO premiered on May 1.

Wasted! The Story of Food Waste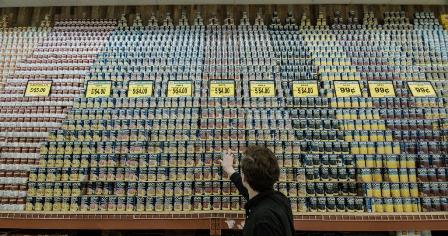 - "The average American spends $1500 a year on food they will throw away." Still from WASTED! THE STORY OF FOOD WASTE, directed by Anna Chai and Nari Kye. Photo - Jeremy Leach
Directed by Anna Chai and Nari Kye; co-edited by Laura Deney (USA) (World Premiere)
Strong site visits around the world are slowed down by self-important talking heads, and the sponsoring Rockefeller Foundation's avoidance of its historic complicity in "the green revolution" of crop development.


TRIBECA FILM INSTITUTE/ALFRED P. SLOAN FOUNDATION FILMMAKER FUND: WORKS-IN-PROGRESS:
This year's winning projects for $150,000 in awards were chosen by a jury of arts and science professionals: Aatish Bhatia, PhD (Associate Director at Princeton University's Council on Science and Technology), Donna Gigliotti (film producer), Ellen Jorgensen, PhD (Co-Founder and Director of the nonprofit Genspace), Phylicia Rashad (actress and director), and Maggie Siff (actress). Two of the three grantees are directed by women:
My comments on the preview.

Invisible Islands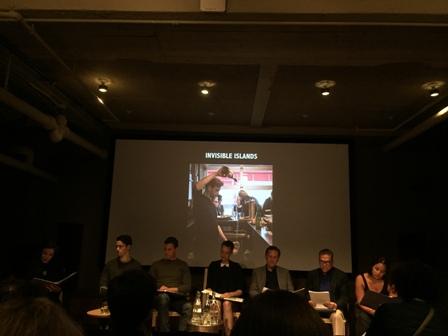 - Reading of Lobsenz's script by Marshall Factora, Tom Lipinski, Britne Olford, Dascha Polanco, Victor Slezak, Eric Tabach and Kate T. Billingsley, directed by Paul Schneider
Written and Directed by Emily Lobsenz

One Man Dies A Million Times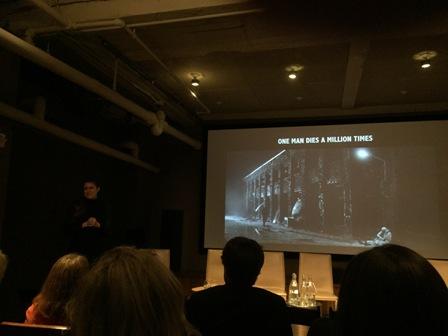 - Oreck introduces clips
Written and Directed by Jessica Oreck (who previously directed The Vanquishing of the Witch Baba Yaga and Aasinki: The Story Of Arctic Cowboys)

SHORTS
Again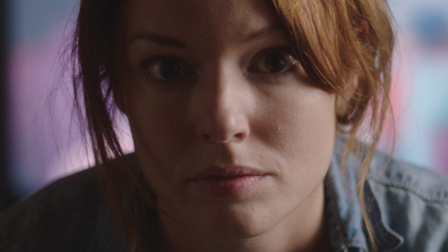 - Aubrey Dollar as Woman in AGAIN. Photo - Ricardo Diaz
Directed by Alexis Jacknow; written by Bekah Brunstetter; edited by Summer Spiro. (USA) (World Premiere)
Kudos to making a wife's endless (?) patient care-giving so amusingly heartbreaking.


Beehive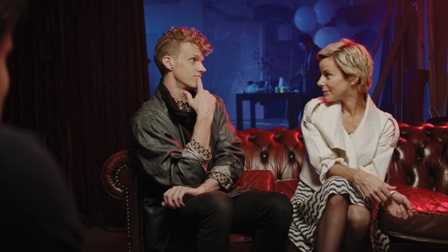 - Felix Jozeps as Elan and Francesca Savige as Angelique in THE BEEHIVE. Photo - Simon Taylor
Directed and written by Jacobie Gray. (Australia) (World Premiere)
As if young Edie Sedgwick finally gets her revenge on Andy Warhol.


Big Sister (Ahotcha)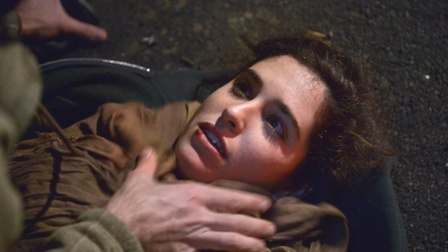 - Gili getting attacked. Avigail Harari as Gili in BIG SISTER. Photo - Gal Rumbak
Directed and written by Michal Gassner; score by Daphna Keenan (Israel) (International Premiere)
Kudos to a noir, in Gal Rumbak's dark painterly cinematography, that shows how rarely we get to see contemporary Israeli films dealing with searing personal and family issues as sexual assault PTSD.


Buckets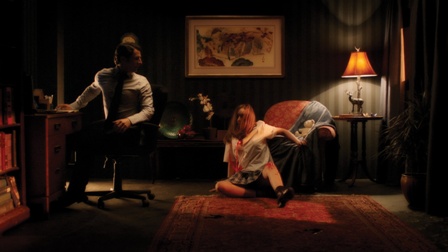 - Still from BUCKETS. Photo - Peter Steusloff
Directed, written and co-edited by Julia Jones (USA) (North American Premiere)
What starts out as a lesson to teenage girls about not being a door mat for a boy turns into a didactic and bizarre satire.


Dive (Salta)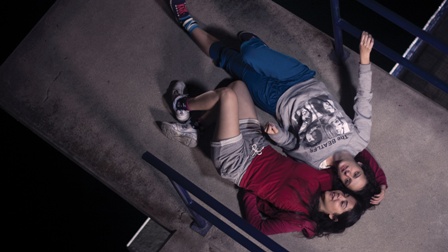 - Iruaní Gómez as Julia and Andrea Giurizzato as Amanda in DIVE. Photo -Vanessa Nunes
Directed and written by Marianne Amelinckx (Venezuela) (World Premiere)
Beautifully atmospheric memories of lazy days with a summer crush.


Don't Mess With Julie Whitfield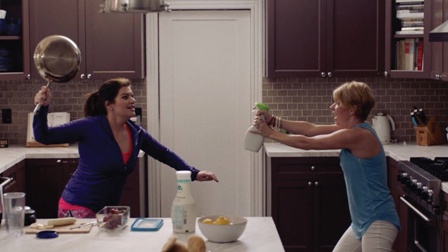 - Casey Wilson as Julie and Mary Elizabeth Ellis as Rachel fight in the kitchen. Still from DON'T MESS WITH JULIE WHITFIELD. Photo - Amy Barham
Directed and written by Amy Barham; edited by Mandy Brown (USA) (New York Premiere)
Funny suburban satire!


The Foster Portfolio

- Joel Nagle as Herbert Foster in THE FOSTER PORTFOLIO. Photo - Michael Epple
Directed and written by Danielle Katvan (USA) (World Premiere)
A fond tribute to the humanism in the Kurt Vonnegut story.


Fry Day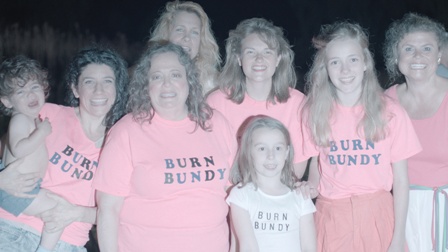 - Photo - Greta Zozula
Directed and co-written by Laura Moss; Cinematographer: Greta Zozula; music by Ariel Marx (USA) (New York Premiere)

Heroin (documentary)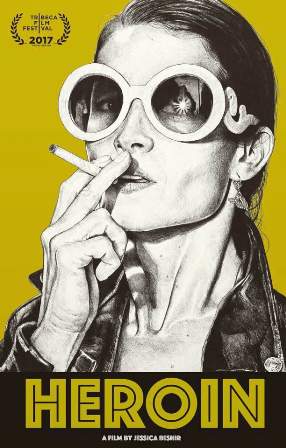 Directed by Jessica Beshir (USA) (World Premiere) (in New Online Work (N.O.W.) Showcase)
Kudos to empathetically revealing artistic obsession for a woman.


Hilda (documentary)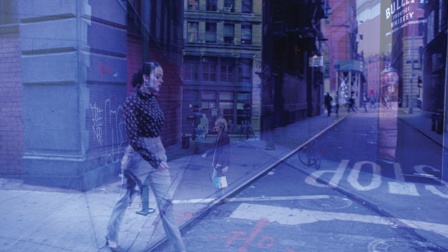 Directed and written by Kiira Benzing; edited by Olga Lvoff (USA) (World Premiere)
Hotel U.S.A. (in The New York Times Op-Docs series)
Directed by Andrea Meller & Marisa Pearl (USA) (New York Premiere)
(Not seen)


Joy Joy Nails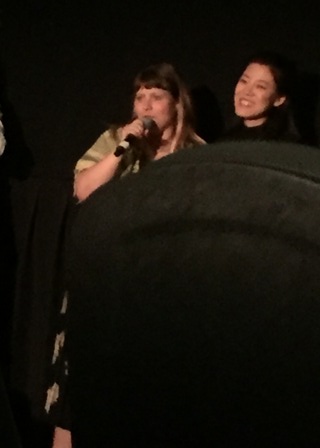 - Director Joey Ally with co-star Yi Liu ("Mia") after screening with the "New York Group Therapy" Program of Shorts
Directed and written by Joey Ally (USA) (World Premiere)
My comments
In my interview with Ally, this graduate of the 2017 class of the American Film Institute Directing Workshop for Women, stressed the importance of providing roles for Asian-American actresses, and was proud to be able to provide non-stereotyped roles in Korean and Mandarin, even though that was a bit of a challenge during the editing.
Streaming on New Yorker as of 10/17/2017


Life Boat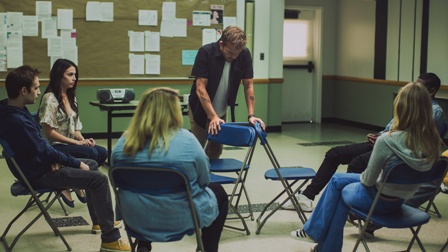 - BK Cannon, Hopper Penn, Chloe Bridges, Stephen Dorff, Kwame Boateng, Elizabeth Gilpin in LIFE BOAT. Photo - Jasmine Safaeian
Directed and written by Lorraine Nicholson. (USA) (World Premiere)
Stephen Dorff demonstrates the manipulative power of authoritarianism by putting juvenile delinquents through an increasingly tense psychological game of musical chairs.


Little Bird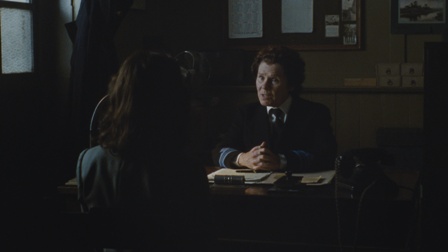 - Emily Taaffe as Prudence and Imelda Staunton as Officer Simpkins in LITTLE BIRD. Photo - Nanu Segal
Directed by Georgia Oakley; written by star Emily Taaffe; cinematographer Nanu Segal; edited by Erline O'Donovan; music by Isobel Waller-Bridge (U.K.) (World Premiere)
Set in 1941, and based on Taafe's research in the Imperial War Museum about the roles of determined women in World War II while trying to trace her great-aunt who may have similarly re-invented herself, this feels like a whole Masterpiece Theater episode in 18 minutes! Kickstarter support for an 80% women-crewed film helped the crew achieve the beautiful on-location filming, period costumes and lighting.

Love The Sinner (documentary)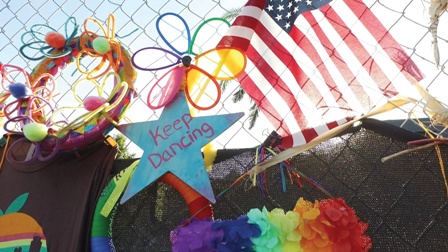 - Memorial for the victims of the Pulse nightclub shooting in Orlando, FL. Still from LOVE THE SINNER. Photo - Nadia Hallgren. Courtesy of Multitude Films
Directed by Jessica Devaney and Geeta Gandbhir; cinematographer Nadia Hallgrenn; editors Nandita Ahmed, Rabab Haj Yaha, and Viridiana Lieberman; music by Angelica Negron (USA) (World Premiere)

Mother's Day (in The New York Times Op-Docs series)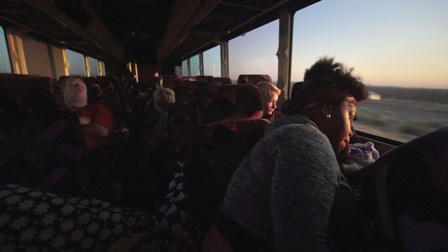 - Daybreak on an overnight bus that takes children to visit their parents in prison. Still from MOTHER'S DAY. Photo - Elizabeth Lo Directed, co-DP'd, and edited by Elizabeth Lo (USA) (World Premiere)

New Deep South: House of JXN (USA) (documentary)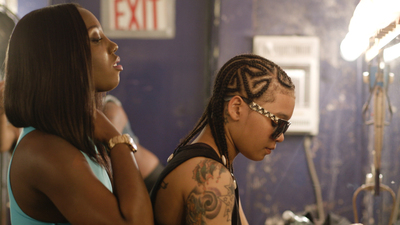 Created by Lauren Cioffi and Rosie Haber (USA) (World Premiere) (in New Online Work (N.O.W.) Showcase)

Odd is an Egg (Odd er et egg)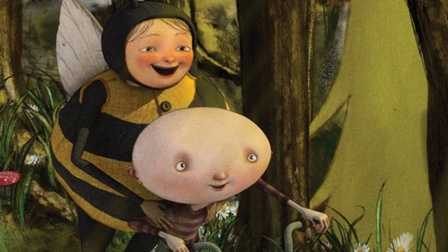 - Still from ODD IS AN EGG. Photo - Qvisten Animation
Directed by Kristin Ulseth, written by Maria Avramova and Ulseth. (Norway) (North American Premiere)
A winsome charmer! Winner, Best Animated Short. The jury declared: "We found the story of this animated short sweet and moving. We were also very impressed with beautiful visuals, which were artistic, cool and haunting. The filmmaker shows great promise."


Phone Calls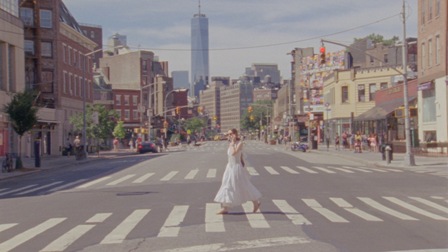 - Sonya Dissin as Maura in PHONE CALLS. Photo by Arseni Khachaturan
Co-directed by Bonnie Wright (USA) (World Premiere) (in New Online Work (N.O.W.) Showcase)

Pineapple (Episodes 1 & 2 in New Online Work (N.O.W.) Special Screenings)
Directed by Arkasha Stevenson. (USA) (New York Premiere)
My comments
Though director Stevenson was marooned in a Canadian airport by bad weather to participate in the Out of This World: Female Filmmakers in Genre panel, producer Halee Bernard described the casting process for Stevenson's smooth integration of a large ensemble of a broad age range of character actors with locals in the Northern California mining town. The focus was on the living (including adventurous sisters) without the lurid exploitation of the Dead Young Woman trope. Jon Keng's gorgeous cinematography both captured the feel of a ghost town and heightened the suspense for murder and corruption. The downside of online media is that watching these episodes on your mobile phone will deprive you of a cinematic experience.


Run Mama Run (documentary)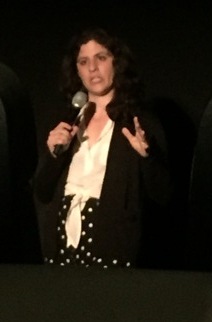 - Anastasion in Q & A after Tribeca ESPN Sports Film Festival Shorts
Directed by Daniele Anastasion. (USA) (World Premiere)

Shiva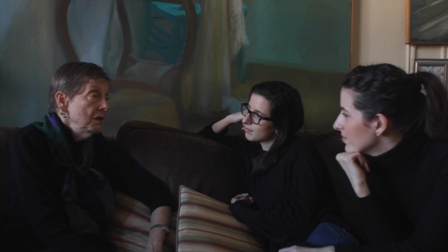 - Mary and the Twins in SHIVA. Photo by Zachary Smithers
Co-written/directed by and co-starring Shaina Feinberg (USA) (World Premiere) (in New Online Work (N.O.W.) Showcase)
Kudos to women as the rock of the mourning experience, as Feinberg guides visitors through her father's quintessential Upper West Side "nice place to die" while also trying to follow all the rules and dealing with food and conversation needs.
So, nu: my commentary on the Jewish women.


Shooting War (documentary)
Directed by Aeyliya Husain; edited by Avrïl Jacobson (Canada) (World Premiere)
(Not seen)


Skull + Bone (documentary)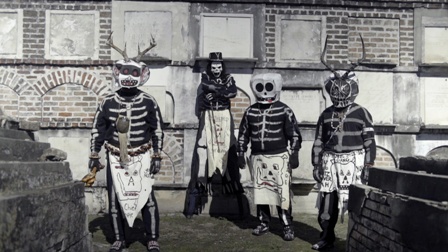 - "Members of The Northside Skull and Bone Gang stand against the graves of their ancestors in Saint Louis Cementary No. 2 in Tremé, New Orleans. Bruce "Sunpie" Barnes, Zohar Isreal, Bruce Brown, and Michael Crutcher in SKULL + BONE. Photo - Soren Nielsen
Directed and edited by Victoria Rivera. (USA) (World Premiere)
More than an ethnographic capturing of a 197-year-old folk tradition, this is a celebration of community pride and hope to scare their souls' straight on Mardi Gras (and a must-see for fans of Treme and N'Orlins culture)



The Spring (documentary)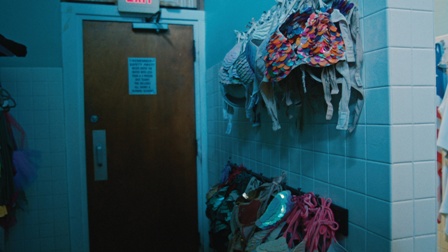 - The mermaids' tops hang up to dry in the locker room. Still from THE SPRING. Photo - Frances Chen
Created by Chloe Corner, Delaney Buffett & Katie Corwin; Director of Photography Frances Chen; edited by Melanie Quinn; Music by Kelly Mac (USA) (World Premiere)


The Suitcase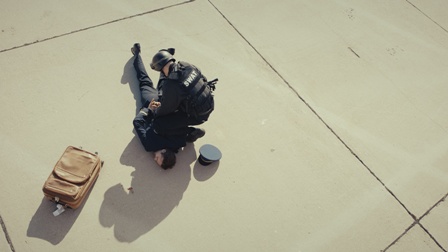 - Mojean Aria as Joe Franek in THE SUITCASE. Photo - Jon Keng
Directed, written, and produced by Abi Damaris Corbin (USA) (World Premiere)
A complicated factual story and setting impressively told with minimal dialog, all the more impactful about the non-conforming individual vs. the system for being based on facts.
My commentary on the 9/11 references.


Summer Camp Island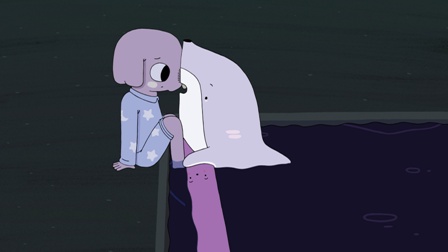 - Oscar and the Shark have a heart to heart. Still from SUMMER CAMP ISLAND. Courtesy of Cartoon Network Studios
Directed and written by Julia Pott (USA) (New York Premiere)
Just cute animation.


Taller Than The Trees (in The New York Times Op-Docs series)
Directed by Megan Mylan (USA)
(Not seen)


Two Sentence Horror Stories: MA (New Online Work (N.O.W.) Special Screening)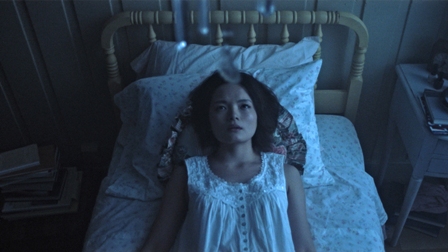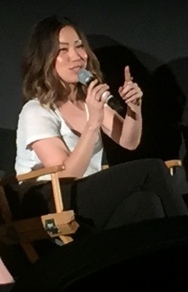 - Still from TWO SENTENCE HORROR STORIES: MA. Photo - Guy Pooles, and director Miao on the "Out of This World: Female Filmmakers in Genre" post-screening panel
Creator/writer/director Vera Miao; edited by Cyndi Trissel; music by Morgan Kibby

Undue Burden (in The New York Times Op-Docs series)
Directed by Gina Pollack (USA) (New York Premiere)
(Not seen)


Watched (documentary)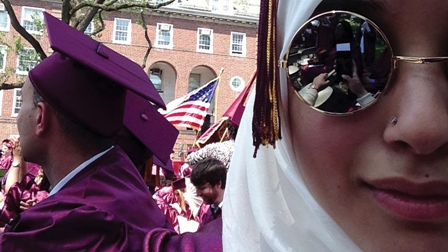 - Photo of young woman at college graduation. Still from WATCHED
Directed by Katie Mitchell; cinematographer Nadia Hallgren; co-edited by Hannah Buck ; music by ASKA (USA) (World Premiere)
While mostly static interviews with two Muslim women at Brooklyn College, their recounting of how legitimately paranoid they got about suspicious surveillance by an undercover female student is very relevant for all of us to be empathetic and aware.



Viola, Franca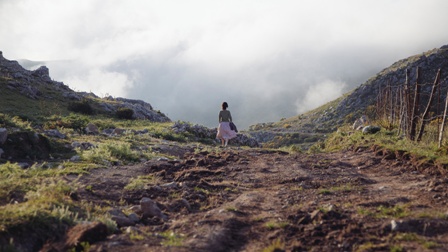 - Claudia Gusmano in VIOLA, FRANCA, directed by Marta Savina. Photo - Giulia Fassina
Directed and co-written by Marta Savina; edited by Ashley Monti (Italy) (World Premiere)

White Riot: London (documentary)
Directed, edited, and co-written by Rubika Shah; cinematographers Nicola Daley and Catherine Goldschmidt (U.K.) (New York Premiere)
(Not seen)


Woman of a Certain Age (USA)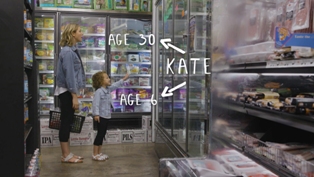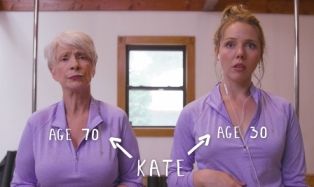 - (l) Kate Dearing as Kate and Violet Tinnirello as Baby Kate; Jennifer Bassey as Katharine and Dearing as Kate in WOMAN OF A CERTAIN AGE. Photo - John Gebhart
Created, written by, and starring Kate Dearing, co-directed by Amanda Cowper and Sami Kriegstein (USA) (World Premiere) (in New Online Work (N.O.W.) Showcase)
My comments
It's like pop-up simultaneous time-travel coming to life from her head.


World In Your Window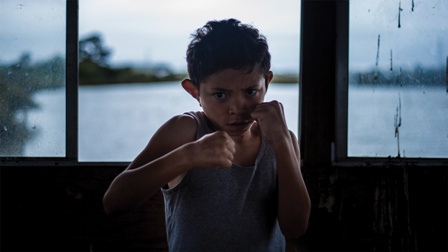 - David Lolofakangalo Rounds boxing on set. Still from THE WORLD IN YOUR WINDOW. Photo - Tammy Williams
Directed and co-written by Zoe McIntosh; edited by Annie Collins. (New Zealand) (World Premiere)
Such a sensitive, lovely, intimate, and mostly visual look at human connections among those usually considered at the margins, inspired by her King of Caravans 2012 documentary.



YOYO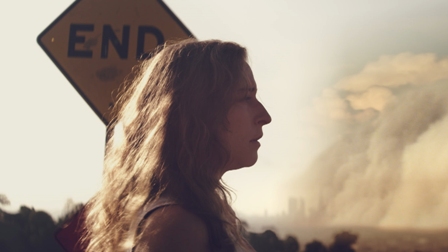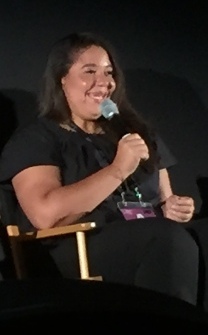 - Caroline (Sophie von Haselberg) stands overlooking Los Angeles as the end of the world approaches. Still from YOYO. Photo - John Wakayama Carey; Delaney on the "Out of This World: Female Filmmakers in Genre" post-screening panel
Directed and written by Nicole Delaney; edited by Leigh Dodson (USA) (World Premiere) (New Online Work (N.O.W.) Special Screening)
My comments
There's a bit of irony to this satire in that Delaney and von Haselberg (who happens to be Bette Midler's daughter) became friends as production assistants on the set of Sex and the City 2. Delaney afterwards described their nervousness in meeting the co-starring conditions of the sardonically funny Martin Starr (Silicon Valley): complete improv!


TRIBECA IMMERSIVE WITH WOMEN CO-COLLABORATORS: VIRTUAL REALITY
Becoming Homeless: A Human Experience
Project Creator: Virtual Human Interaction Lab, Stanford University. Key Co-Collaborators: Elise Ogle (USA) (World Premiere)
Well-meaning rhetoric about trying to generate empathy, but the actual activity doesn't live up to all their claims for role playing.


Blackout
(Not seen)


The Island of the Colorblind
(Not seen)


NeuroSpeculative AfroFeminism

The Other Dakar

Protectors: Walk in The Ranger's Shoes

Rainbow Crow
(Not seen)


Talking With Ghosts
(Not seen)


Testimony
(Not seen)


Tree
Co-Project Creator: Milica Zec (USA) (New York Premiere)
(Not seen)


Unrest
Co-Project Creator: Jennifer Brea (France/USA) (World Premiere)
(Not seen)


WOMEN CREW-ED: FILMS BY WOMEN WRITERS, CINEMATOGRAPHERS AND EDITORS AT 2017 TRIBECA FILM FESTIVAL
Fiction Features

Flower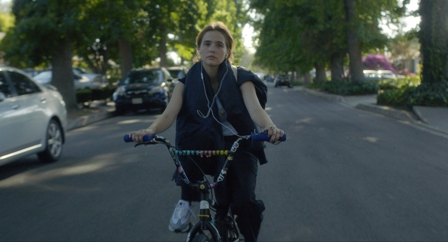 - Zoey Deutch in FLOWER - Courtesy of Full Metal Mullet, LLC
Cinematographer Carolina Costa; co-editor Beth Shapiro (U.S.A.) (World Premiere)
Kudos to turning the male gaze on a satirically insensitive portrayal of revengeful teenage girls into sensitive people.
The Orchard will distribute in the U.S.


The Lovers
Composer Mandy Hoffman (USA) (World Premiere)
Kudos to a lush, bemused score that emphasizes the maturity of the characters in this adult rom-com.
A24 released in U.S. theaters May 5; Sony Pictures internationally.


Pilgrimage
Edited by Mairead McIvor (Belgium/Ireland) (World Premiere)
(Not seen)


Psychopaths
Edited by Valerie Krulfeifer (USA) (World Premiere)
The editing was the most accomplish element of the film.


Saturday Church
Cinematographer Hillary Spera; editor Abbi Jutkowitz (USA) (World Premiere)
The runner-up for Narrative Audience Award, it almost feels like a cinema verité documentary as it moves a teen boy from the a strict religious Bronx household, to a Manhattan shelter for LGBTQ youth, and the gritty reality of such runaway kids on the streets – other than the almost magic realism touch of the musical scenes.


Sweet Virginia
Cinematographer Jessica Lee Gagne (USA) (World Premiere)
The noir feel very effectively keeps the tension going over some slackness in the story.
IFC Films will distribute in the U.S.


Documentaries
Acorn and The Firestorm
Co-cinematographers Natalie Kingston and Nati Gámez (USA) (World Premiere)
ACORN as in Association of Community Organizations for Reform Now – the editing together of new interviews and archival material helps clarify what the mainstream media confused, supplemented by the cinema verité coverage of the organization's ongoing internal strife.


Alphago
Editor Cindy Lee (USA) (World Premiere)
(Not seen)


Elián
Co-editor Hannah Vanderlan (Northern Ireland/Ireland/USA) (World Premiere)
(Not yet seen) - but my NYFCO colleague Ed Gonzalez's review is a personal perspective I won't be able to provide when I do see it.
Gravitas Ventures has acquired the U.S. theatrical, digital and video for a platform theatrical release beginning in New York and Los Angeles on May 19. Amazon Prime Video will be the stream in the U.S., while CNN Films will broadcast for U.S. television and Canada
.

For Akheem
Editor Lily Henderson (USA/Germany) (North American Premiere)
(Not seen)


A Gray State
Edited by Lara Andre (USA) (World Premiere)
(Not seen)


The Public Image Is Rotten
Cinematographer Yamit Shimonovitz (USA) (World Premiere)
(Not seen))


When God Sleeps



Edited by Valerie Krulfeifer (USA) (World Premiere)
Kudos for editing that keeps clear the story of exile Iranian musician Shahin Najafi past and present, within the context of personal relationships and the wider political context of terrorism and protest.


Shorts
For Flint (documentary)
Edited by Sharika Ajaikumar and Katharina Stroh (USA) (World Premiere)
Smoothly edits together interviews with three resilient residents and their positive community activities with news and conditions in a much put-upon city, though feels a bit too PSA-promotional.
A bit confusingly, this is not the film From Flint: Voices of a Poisoned City that has initiated a crowd-sourcing campaign to extend that short into a feature-length documentary.


Lemon
Edited by Emily Chao (USA) (World Premiere)
With all the improv, the quickly paced editing is key in keeping the comedy going.


The Navigator (Kartleseren)
Edited by Margrete Vinnem (Norway) (World Premiere)
In spare black & white, the key to the emotional impact is switching between the racing machines and the brothers.


New York Is Dead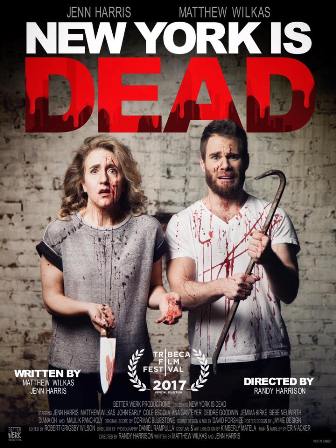 Written and co-produced by Jenn Harris (USA) (series preview in New Online Work (N.O.W.) Showcase)

Tokyo Project
Edited by Erin Brown Thomas (USA) (World Premiere)
(Not seen)


Water Warriors
Co-Edited by Diana Diroy and Ligaiya Romero (Canada/USA) (New York Premiere)
Smooth editing of archival, interview, and on-site footage to tell complicated story of the First Nations community in New Brunswick spurring diverse Canadian communities (with many women leaders) coming together to stop gas fracking.


Woody's Order! (documentary)
Written by and starring Ann Talman (USA) (World Premiere)
Talman adapted her solo show for an emotional memory film with re-enactments, and for her now 68-year-old brother with cerebral palsy, about his impact on her and their family.


NB: I intend to update for film release for wider distribution or other viewing.



updated 5/21/2019




Nora Lee Mandel is a member of New York Film Critics Online and the Alliance of Women Film Journalists. Her reviews are counted in the Rotten Tomatoes TomatoMeter:




Complete Index to Nora Lee Mandel's Movie Reviews


Since August 2006, edited versions of most of my reviews of documentaries/indie/foreign films are at Film-Forward; since 2012, festival overviews at FilmFestivalTraveler; and, since 2016, coverage of women-made films at FF2 Media. Shorter versions of my older reviews are at IMDb's comments, where non-English-language films are listed by their native titles.






To the Mandel Maven's Nest Reel Life: Flick Pix


Copyright © 2019