Mandel/Shultz Family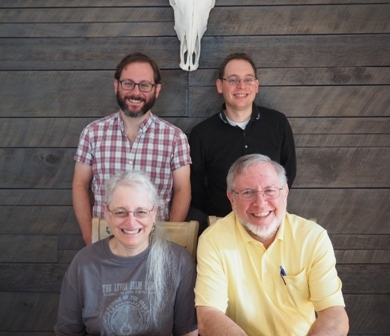 --Post-eclipse in Nashville
Harold M. Shultz
Ben Shultz
Avi Shultz
Charlotte Mandel
Nora Lee Mandel
Steckels

Harold M. Shultz, Esq.,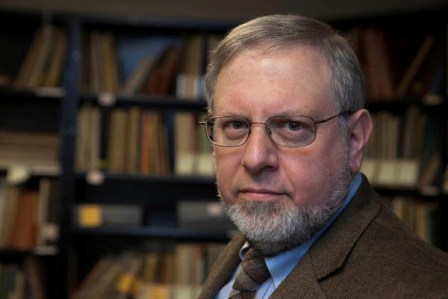 [photo by Marc Fader for City Limits] retired after achieving the goal of the Metropolitan Leadership Program we both matriculated at the former Bronx campus of NYU.

He is on the Boards of Zone A New York and Neighborhood Restore HDFC.

Now heading Benavi Advisors LLC on affordable housing issues and a Consultant for the Citizens Housing and Planning Council, where as a Senior Fellow he authored:
J-51: To Be Continued?
The Impact of Multifamily Foreclosures and Over-Mortgaging in Neighborhoods in New York City
Out of Sight, Out of Control takes a detailed look at the housing policy circumstances around a deadly fire on 4/23/2011 at a three-family house in the Bronx. (In The New York Times 4/28/2011 he was quoted: "We need to make sure, in general, that foreclosure is a process in which properties are watched over and don't get lost in the shuffle.")
The Invisible Transformation: Turning Debt into Revenue about the impact of In Rem foreclosure and the Third Party Transfer Program on tax lien securitization in New York City (co-author)
Fallout from Roberts vs. Tishman (but it was in The New York Times 5/27/2010 where his commentary was: "This is the ultimate case about rich people with problems that I'm not sure we should care about.")
Debt Threat: Saving Multifamily Rental Housing from Zombie Mortgages and the follow-up Riverton Apartments Sold at Auction
Starrett City: Paradise Lost?
Court Rules Stuyvesant Town Owners Can Exempt Apartments from Rent Stabilization Despite J-51 Tax Benefits, Stuy Town J-51 Decision Reversed and Court of Appeals Delivers Final Word on Stuy Town.
Prevailing Wisdom: The Potential Impact of Prevailing Wages on Subsidized Housing
EPA's New Layer of Lead Based Paint Rules and and New Federal Lead Rule Around the Corner
Liquid Assets on water and sewer financing.




Ben Shultz and his wife appeal for the U.S. Department of Justice: he with the Civil Division Appellate. A sample: here he argued DOJ's amicus brief in Ministry of Defense v. Frym, in the 9th Circuit Court in Pasadena, and for the Department of Transportation in Southwest Airlines Co. v. DOT on 2/12/2016 in the U.S. Court of Appeals for the D.C. Circuit. She with the Environment and Natural Resources Division (and 2021 recipient of SABA-DC Rising Star Award.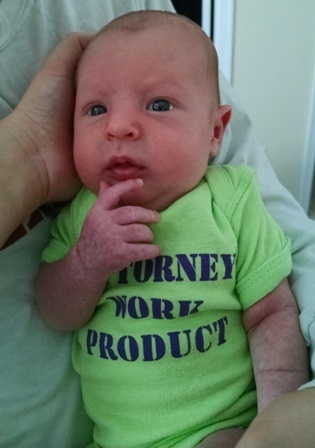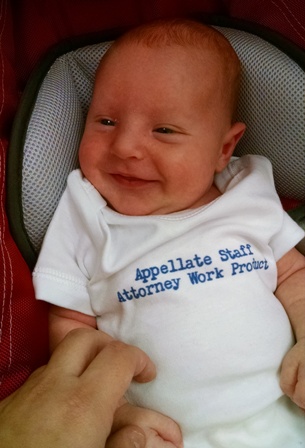 The grandchildren are:
RAVI (Yitzhak Raviv) - Reflecting his heritage, "Ravi" means "sun" in Hindi and Sanskrit, and is also a nickname for the Hebrew name "Raviv", which means "rain". The root of "Rav" for "rabbi" or "teacher", together with the Hebrew for "Isaac", is also in honor of his great-grandfathers/educators Isadore Bernick and Irwin Mandel.

His brother RAM's name (rhymes with Mom) also reflects his Jewish and Indian heritage. His father posed the wriggler at 4 ½ months scrunching up his "I Love My GGs" onesie for both his Great-Grandmothers (l) Shirley Shultz and Charlotte Mandel at Eppes Essen, a traditional environment to meet.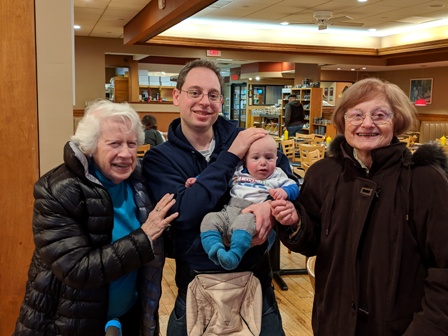 Charlotte Mandel, Poet

Ravi was anticipated with the poems "Light's Music" (scroll down) and "Great-Grandchild To Be" by his great-grandmother, poet Charlotte Mandel. We joined her to kvell when she received the Brooklyn College Lifetime Achievement Award at her 75th Brooklyn College Class of 1944 Reunion in 2019: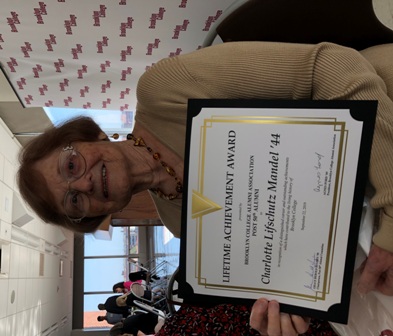 :

Her chapbook Light's Music (Blue Lyra Press Delphi Series VIII, 2020) includes her birthday poems "A Sequence for Ravi". She explains: "Couplets are clearly 2 line stanzas; triplets are 3 line stanzas; quatrains are 4 line stanzas."
Her birthday poems continue:
"To Benjy at Five Days Old"
"To a Great-Grandchild Just Born…in the 18th year of the 2nd millennium (27 Av 5778)"
"Couplets for a Two Year Old"
"Fanfare for a Three Year Old"
"Quatrains for a Four Year Old", then "Quartets for a Four Year Old" (for Ram)
"Cinquains for a Five Year Old - Ravi's birthday August 4, 2019"
Five-line poem for Tayven's 5th birthday
"Sestina For Ravi at Six", a complex, thirty-nine-line poem featuring the intricate repetition of end-words in six stanzas and an envoi/tornada
"Seven Lines for Ravi" and "Ram is Three", with the lines in triplets
"Octave for an Eight Year Old", defined as a group of eight lines of verse
"Villanelle for Ravi at Nine", and "Ram Is Five".

She also dedicated: "A Blessing Via Skype" for Ravi, age nearly year and a half, and at 3 years old he was referenced in "rimas dissolutas" in "Of Clocks and Love", available in the Diane Lockward-edited anthology A Constellation of Kisses, who commented: "A delightful poem that combines love for her great-grandson with technology."

For her 90th birthday, Ravi sported a special onesie: (front) "My GG's a poet/and I'm proud to show it" and (back) "Congrats GG on 90 wonderful years".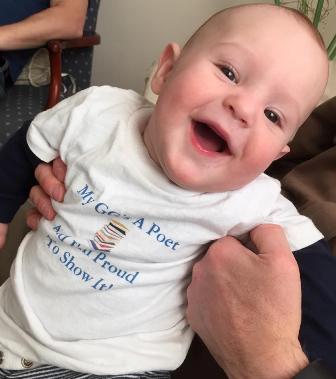 Avi Shultz, PhD, is Director, Industrial Efficiency and Decarbonization Office in the U.S. Dept. of Energy's Advanced Manufacturing Programs in the Office of Energy Efficiency & Renewable Energy.
He described the Concentrating Solar-Thermal Power program he previously supervised to Design News. To Federal Radio News and Green Tech Media, he was interviewed about a new effort to find low-cost solar desalination solutions.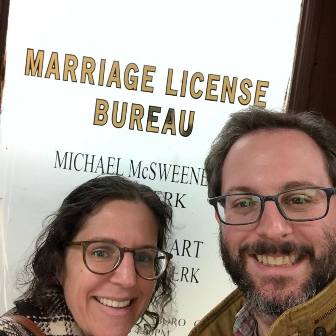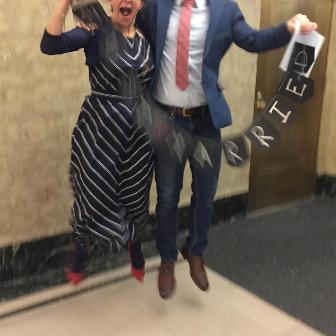 At Thanksgiving 2018, he married Michelle Weinberger, witnessed by four generations of both families, at what seemed like the United Nations of Love.
Just after their 2022 anniversary, those generations were happy to again join them, this time on Zoom, for the finalization of their adoption in Washington, D.C. of TAYVEN!




Nora Lee Mandel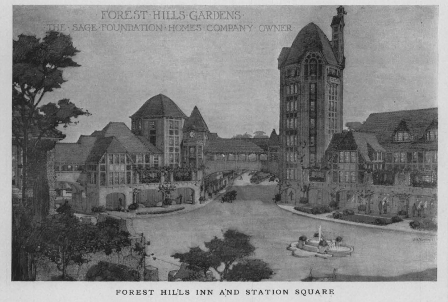 - from 1913 brochure, 2nd edition


Beginning at the Pandemic of 2020, Nora and Harold walked our Morning Constitutional through the adjacent historic district, the distinct architect-designed community. Nora got obsessed researching its first settlers of 1912 - 1922. From posting almost daily findings, with photographic documentation, on her FaceBook Newsfeed, she presented a Zoom talk on "The Early Jews of Forest Hills Gardens" for Forest Hills Jewish Center Adult Education: available are the Audio and Video.
Since this presentation on March 2, 2021, her subsequent findings add more supporting details to her points.


Nora continues to do family history and updated "census" outreach, on all our branches:

Harold's maternal PHAIR Family Circle and paternal Shultz/Alpert/Beller/Epstein Families.

Nora Lee's paternal families: Bass/Blankstein/Aronowitz, originally from Vilna, Lithuania, and Mandel/Brody, originally from what's now Dokshytsy, Belarus - the descendants of Isaac Mandel and his six immigrant sons: Abraham, Herman, Sadie, Harry, Samuel, and Benjamin.

Nora Lee's mother's maternal family: Steckel, originally from Mielnica, then in Galicia of the Austrian-Hungarian Empire, now western Ukraine - the descendants of the immigrant siblings, including David, Jennie, and Dora, and their brother Mordechai who stayed, and his children who emigrated to the U.S. as Leo, Clara, and Rose, while remembering the fate of their brother Nahum and his children who stayed, including Rachel, who survived Auschwitz to emigrate to Israel. My deep-dive into ship manifests discovered a previously unknown half-sister Loie came to the U.S. in 1921 – more searching required.
Nora Lee presented her research on her namesake great-uncle in a Zoom talk on "Baron and Baroness de Hirsch and The Roots of Jewish American Farmers: Through the Life and Career of Leo Steckel" for Forest Hills Jewish Center Adult Education: available on Video. Plus my bibliography. Among his unusual accomplishments as an 1899 immigrant, Leo was in the Class of 1902 at the first agricultural secondary school in the U.S. for Jews: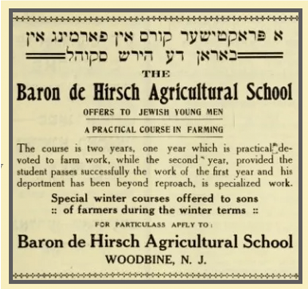 In 1912, Leopold M. Steckel, DVM, began advising farmers and writing on livestock for The Baron de Hirsch Fund's Jewish Agricultural and Industrial Aid Society's The Jewish Farmer, the only agricultural journal in the world in (mostly) Yiddish, and he went on in 1914 to be Managing Editor: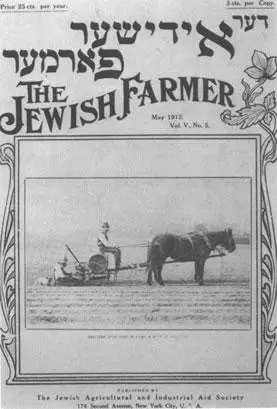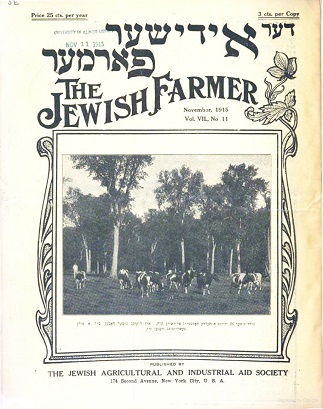 The National Library of Israel digitized some 1909 – 1959 volumes. Please help identify, and translate, articles (probably 1912 – 1915) by Dr. Leo M. Steckel!
Appropriately buried in the Baron Hirsch Cemetery, with their Hebrew names, "Lipa" is alongside his sister "Chaya":
Found: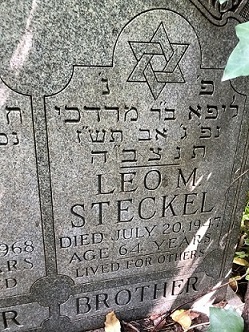 and Cleaned: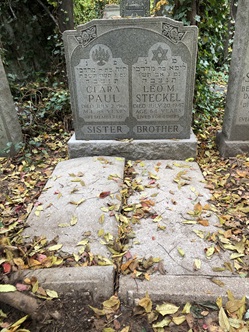 Thanks to Dr. Mitchell Frank for the Hebrew translation, and the resources of the Center for Jewish History, New York Public Library's Dorot Jewish Division, and many online archives.


Nora Lee also reaches out to her mother's paternal relations: Lifschutz/Lipschitz/Lipschutz, originally maybe Leboshutz, from Minsk, in what is now Belarus, the descendants of patriarch Aaron and his sons Abraham, Hyman, and Louis, some who became Lipton, Lewis, and Linden.
Louis Lifschutz wrote up his memories for the Bierman Home newsletter, a senior citizen residence where he lived happily for many retirement years in Montclair, NJ until his hundredth year.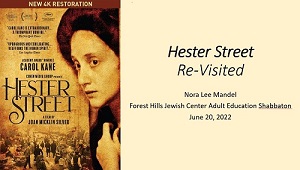 Our family histories informed Nora Lee's research on Joan Micklin Silver's restored 1975 film for "Hester Street ReVisited". Her talk at the Forest Hills Jewish Center's Adult Education Program starts with this opening section as written with visuals, then to the June 20, 2022 recording via Zoom on: video and audio only. Thanks to Harold for his image searches and IT assistance.

Updated 11/12/2023

To the Mandel Maven's Nest

Copyright © 2023