Mandel Maven's Nest Lilith Watch:
Critical Guide to Jewish Women on TV, in the Flicks and Popular Music
Jewish Women on TV

Jewish Women in Popular Music

To find specific reviews by Nora Lee Mandel search by title, scroll TV shows as listed by season since 1999, and films in alphabetical order of English title.

Unlike everybody else, I am very careful in my analyses of films and TV shows to identify Jewish characters through actual evidence in dialogue, actions or supporting visuals (like the ubiquitous menorah-on-the-shelf prop). I look at how the character is explicitly identified, but have had to expand to implications, particularly by a Jewish-type-sounding name, though I find that no one else makes these distinctions. But now I've expanded to what I call "putative Jews".
I've started taking into account how the audience reacts to them based on external assumptions, particularly if Jewish actresses portray them, either as identified by general knowledge or perception of physical characteristics, particularly curly hair as Samantha Shokin described (Tablet Magazine 1/30/2014). In The Writers' Room (on Sundance Channel, Spring 2014), Julianna Margulies, sporting her hair pulled back straight in a pony tail, explained why she wears a full wig as "Alicia Florick" on The Good Wife: "I wanted her to look WASPy, but I'm a Jew with curly hair and I was a new mom. . . The network now wants me to call other actresses and tell them this is a good thing not a bad thing."
The British find us exotic, so the interviews are more explicit as in The Guardian, 8/26/2014, "Jenny Slate's career almost ended when she swore on Saturday Night Live. Now she's in the year's most talked-about film. Hadley Freeman meets the star of Obvious Child. . .I do feel that I look traditionally Jewish, and it's something I'm proud of and it's something I'm a little bit insecure about, because I think maybe people don't see me as myself. You know, that's not the main girl, that's the friend. But you know, I've realised that's my issue. I'm glad that I look like myself and I didn't get a nose job to fit in, and now I'm starring in this movie and people seem to like it. So fuck it." So I'm following her career and the characters she portrays.
I also note personality or other stereotypes of the actor/actress's Jewishness, however defined by ethnicity or observance or some kind of Jewish identity so that their characters implicitly become Jewish because they have been cast. (Such as "tough Jews", as David Mamet calls them, at least for male portrayals, particularly when non-Jewish actors play Jews, though I intend to read and comment on his essays "The Jew for Export" and related ones on the impact of Hollywood's anti-Semitism.) I am repulsed by using octoroon/Hitlerian family tree definitions of "being Jewish" for any actor/actress, but certainly there are people who Americans think "look Jewish", though that usually means some general European ethnic-ness, that could just as easily be Mediterranean or Eastern European, which gets even more complicated by the portrayal of Israelis.
The true diversity of how Jews really look is rarely reflected, like my redhead, freckled siblings, where my brother can "pass" in Celtic bands. I am therefore just as intrigued if actors/actresses who are perceived/identified as Jewish get to play non-Jewish roles.

Why look at how Jewish women are portrayed on TV and in the movies? Others are documenting general or different specific images of women and the impact that has and the messages conveyed about women. The Geena Davis Institute on Gender in Media, at USC Annenberg School for Communication & Journalism, does terrific research on the quantity, quality, and types of women in film and television.
Apply her analysis to how Jewish women are portrayed: Geena Davis summarized her findings about female roles in G-rated movies and children's TV programming in The Wall Street Journal, 4/11/2011, "Life Imitates Art" interview with Rebecca Blumenstein: "They found that the more hours of television a girl watches, the fewer options she believes she has in life. And the more hours a boy watches, the more sexist his views become. . .Of the female characters that existed, the majority are highly stereotyped and/or hypersexualized. . . .Negative images can powerfully affect boys and girls, but positive images have the same kind of impact. We know that if girls can see characters doing unstereotyped kinds of occupations and activities, they're much more likely as an adult to pursue unusual and outside-the-box occupations."
The significance of this approach for other minorities: GLAAD annually does a detailed Network Responsibility Index/Where We Are on TV Report for "the quantity, quality, and diversity of images of LGBT people on television" and NOW did a feminist analysis of prime time TV, that took into account racial but not ethnic minority women on TV. The first Gender Bias Without Borders was "an investigation of female characters in popular films across 11 countries". (updated 10/10/2014)

Why LilithWatch? Much of my thinking about the contemporary, post-"Molly Goldberg" image of Jewish women in popular culture was inspired by the archetypal "Lilith" on the long-running sitcoms Cheers/Frasier (played by Jewish actress Bebe Neuwirth). I used to do popular culture reviews examining how Jewish women are faring in television, rock 'n' roll etc. for LILITH Magazine, the national independent Jewish feminist quarterly.
Since the Lilith Fair women's concert tours 1997-1999 (and returning in 2010), the name "Lilith" has gotten associated even more with feminism, viz. the "Wichita Linebacker" episode of Veronica Mars, written by John Enbom and Phil Klemmer, which identified "Lilith House" as the locus for the stereotyped, protesting "militant feminists" at the fictional Hearst College.
Starting in the 3rd season of Supernatural, their Lilith was seen like a Super Demon whose death then was the Final Seal that brought on Armageddon at the end of the fourth season.)
In True Blood, in the 5th season, Lilith is worshipped (in Aramaic) as the First Human Vampyr, with her own Bible. Series creator Alan Ball, in an "Inside the Episode" interview after "In the Beginning", describes that he conceived of her as "a Mesopotamian goddess" when she appears in a naked, then bloody vision to vampires (including Salome, yeah, that Salome) who drank what they believed was her blood. In the season finale by Ball, "Save Yourself", a rebel vampire declares: She's a mad god. She's about nothing but destruction.-- just as her self-declared "Chosen One" drinks all her blood and reincarnates into a similar scary naked vision. The 6th season, in 2013, clarified this Lilith demonology. In "The Sun", written by Angela Robinson, she appears in beautiful human form to him on "some spiritual plane" (as the writer explained in her "Inside the Episode" interview), albeit with three naked "blood sirens", to correct misimpressions: God made me. Some worship me as a god, but there is no God but God., as she urges her Prophet to help vampires avoid a genocidal round-up he foresees in a sun-drowning crematorium. In "Fuck the Pain Away", also by Robinson, sets Lilith's first contact with human/fairies to 3500 B.C. At the naked Lilith's first sight of "Warlow": What are you. . God spoke to me of a creature like you. . You are destined to save vampire-kind. And she rapes and vamps him in the desert. Blended with her prophet today "she" declares: I made you into our savior!, though he is able to rid himself of her after a final image of her and her two minions blood-drenched bodies. At least her appearances here are getting more women to revive herstory. (updated 9/14/2014)



My particular focus is on romantic relationships, as popular culture so rarely portrays Jews with Jews, let alone in a positive light.



Jewish Women on TV
I got tired of people always citing "Mrs. Seinfeld" to me as proof there are still Jewish women on TV, whether one considers a nagging elderly mother as a positive image or not. So I started covering leading characters who are Jewish women in Friends, Babylon 5, Buffy the Vampire Killer, Once and Again, Will and Grace (which I found too silly a show to keep monitoring even as she did end up back with her supposedly Jewish doctor husband), etc. My comments on The Nanny have been quoted in the catalog for the Jewish Museum exhibit Entertaining America: Jews, Movies, and Broadcasting, edited by J. Hoberman and Jeffrey Shandler, published by Princeton University Press, in Shandler's essay "At Home on the Small Screen: Television's New York Jews", and then in Joyce Antler's excellent academic study You Never Call! You Never Write!: A History of the Jewish Mother (Oxford University Press, 2007). No, I didn't write up Dharma and Greg where "Dharma Finkelstein" is Jewish only for the novelty of the name, like Whoopi Goldberg; Entertainment Weekly claimed that Jenna Elfman was specifically hired for the role because she didn't look Jewish.
Then with so few lead Jewish women characters, even the usual Dead Jewish Mothers, I turned to monitoring supporting roles, though I hadn't earlier covered the likes of the best friend on Mad About You, or the bat mitzvah of "Muffy" (played by Jami Gertz), where Devo performed, on Square Pegs (David Browne in The New York Times review of the DVD of the series on 7/13/2008 calls her "the proto-yuppie"). But then with so few of even those, I looked for recurring Jewish women characters. With so few of even those, I'm now looking at guest turns. While I don't watch many sitcoms, I do watch Law and Orders to catch the Jewish Mother Murdering Matriarchs, fitting in with how executive producer Dick "Wolf maintains this consistency is by making most of the victims wealthy white people, which he believes viewers are more interested in watching. He limits the number of shows containing minority victims, including blacks and Muslims, to four or five episodes a season out of 22 to 24." (per "Law and Disorder" by Rebecca Dana, The Wall Street Journal, 7/12/2008.) (I'm watching Law and Order: U.K., on BBC America, to see if the ethnic pattern from the adaptation of the U.S. scripts has been translated across The Pond.) (updated 10/5/2014)
With so few of those, I'm watching shows with Jewish male characters to see if they comment about their Jewish mothers or even date Jewish women, though my nephew Eliav told me I'm behind on the Jewish women references on The League. Plus I watch shows set in NYC to see if they ever have Jewish women characters, or shows in work settings like hospitals or law offices where in the real world it is common for Jews to be working. Like in NBC's Kings that though it was based on the Biblical book the closest it came to a Jewish woman was an odd "Sabbath Queen" as Death in a nightmare episode. So now, I'm als o now looking at made-for-TV-movies, time permitting. With so few definitely Jewish women on TV, I'm even commenting on putative Jewish women, who I define as those with clearly Jewish-sounding names with implied Jewish-ness unless specifically denied, particularly if the audience is viewing them as Jewish, and also even characters pretending to be Jewish. (updated 10/5/2014)
I do detailed transcriptions, when I have time, of full dialogue and scene descriptions because I'm annoyed by the snarky or too casual inaccuracy in fan/entertainment publication recaps, particularly in reference to Yiddish expressions or religious rituals, that get widely disseminated as definitive, let alone are blithely prone to assumptions and acceptance of stereotyping. So I figure there should be one place on the Web that presents the facts and context about Jewish women characters, by TV season to monitor changes over time, which I mostly define by the Emmy Awards criteria, so now starts around June 1. (updated 3/28/2014)
I have not kept up 100% with sitcoms, most kids' shows, such as on Nick or Disney, "unscripted" reality shows (like ones that switched a Jewish mother to a gentile family) or the Jewish mothers on The Real Housewives of New York City/The Real Housewives of Beverly Hills, Extreme Guide to Parenting, NYC Prep, Russian Dolls, Shahs of Sunset, The Bachelorette, My Antonio's Jewish mother, "procedurals" (those fiction investigation series without continuing story or character arcs), or Family Guy, satirical guests on The Simpsons, or Kyle Broslofski's Jewish mother satired on South Park, let alone Judge Judy. (updated 9/30/2014)

2014/2015 Season - Jewish women characters were on: The Book of Negroes, Boardwalk Empire, Breaking Borders, Downton Abbey, Finding Your Roots with Henry Louis Gates, Jr., Grimm, Houdini, Kosher Soul, Grimm, The League, Makers: Women Who Make America, The Mysteries of Laura, The Red Tent, Scorpion, and The Strain. Putative Jewish women characters were on: The Blacklist, Chasing Life, The Mindy Project, and Red Band Society.
Arrow – Felicity Smoak in the 3rd Season and in The Flash
Big Bang Theory - Mrs. Wolowitz in her 8th and Final Season
Broad City – 2nd season
The Fosters – Emma in her 2nd season
Girlfriends' Guide to Divorce – Abigail McCarthy in the 1st Season
Girls – Shoshanna Shapiro in the 4th Season
Glee - Rachel Berry etc. in the 6th/final season
The Goldbergs – Beverly and Erica plus in the 2nd season
The Good Wife – Marissa Gold in the 6th season
Hart of Dixie – Dr. Zoe Hart in the 4th season
The Honourable Woman – Nessa Stein and more
Inside Amy Schumer – 2nd Season
In the Face of Crime (Im Angesicht des Verbrechens)
Madam Secretary – Nadine Tolliver in the 1st season
Manhattan – Abigail Isaacs in the 1st season
Man Seeking Woman – Liz and Patti Greenberg plus in the 1st season
Married – Jess in the 1st season
Transparent – 1st season

2013/2014 Season - Jewish women characters were on: Black Box, Call the Midwife, Drop Dead Diva, Fargo, Foyle's War, Genealogy Roadshow, Generation Cryo, The League, The Mindy Project, New Girl, and Who Do You Think You Are?. Putative Jewish woman characters were on Elementary and Parks and Recreation.
Arrow – Felicity Smoak in the 2nd Season
Big Bang Theory - Mrs. Wolowitz in the 7th Season
Broad City
Community – Annie Edison in the 5th season
The Fosters – Emma in her 1st season
Girls – Shoshanna Shapiro in the 3rd Season
Glee - Rachel Berry etc. in the 5th season
The Goldbergs – Beverly and Erica plus
Hart of Dixie – Dr. Zoe Hart in the 3rd season
House of Lies - Sarah in her 2nd season
Joan Rivers – everywhere
Magic City – Evans family, etc. in the final, 2nd season
NCIS - Ziva David in her final season
Princesses: Long Island – 1st and hopefully only Season
Prisoners of War (Hatufim) – 2nd Season
Strike Back – Rebecca Levy in her 2nd season
Transparent– Sarah, Ali, family and friends in the pilot

2012/2013 Season - Jewish women characters were on: Alphas, The Bible, The Big C, Blue Bloods, Bunheads, Children's Hospital, Covert Affairs, Happily Divorced, a Lifetime movie, Mad Men, Major Crimes, The Mentalist, Raising Hope, Southland, Spies of Warsaw, Suits, Upstair Downstairs, and Weeds. A putative Jewish woman character was on Parks and Recreation.
American Horror Story: Asylum – "Anne Frank"
Arrow – Felicity Smoak in the 1st Season
Big Bang Theory - Mrs. Wolowitz in the 6th Season
Community – Annie Edison in the 4th Season
Girls – Shoshanna Shapiro in the 2nd Season
Glee - Rachel Berry and Sugar Motta in the 4th season
Hart of Dixie – Dr. Zoe Hart in the 2nd season
House of Lies - Sarah in her 1st season
Inside Amy Schumer - 1st Season
Joan & Melissa: Joan Knows Best? - Joan and Melissa Rivers – 3rd season
NCIS - Ziva David in her 8th season
Prisoners of War (Hatufim) – 1st Season
Ripper Street – Deborah Goren in the 1st Season
Shameless (U.K.) – Esther Blanco (plus)
Strike Back – Rebecca Levy in her 1st season
Underemployed – Raviva

2011/2012 Season - Jewish women characters were on Blue Bloods, Bored to Death, Castle, Finding Your Roots with Henry Louis Gates, Jr., Gossip Girl, Happily Divorced, Hawthorne, Mad Men, MI-5 (Spooks), Modern Family, NYC 22, Pan Am, Prime Suspect, The Secret Life of the American Teenager, Southland, TNT's Mystery Movies, and Who Do You Think You Are. Putative Jewish women characters were on The Good Wife, How To Make It In America, In Plain Sight and Lost Girl.
Big Bang Theory - Mrs. Wolowitz in the 5th Season
Community – Annie Edison in the 3rd Season
Curb Your Enthusiasm - Susie Greene etc.
Entourage - Mrs. Ari Gold in the 8th Season
Friday Night Dinner – Jackie Goodman in the 1st Season
Girls – Shoshanna Shapiro in the 1st Season
Glee - Rachel Berry and Sugar Motta in the 3rd season
Harry's Law - Harriet Korn in the 2nd season
Hart of Dixie – Dr. Zoe Hart in the 1st season
Joan & Melissa: Joan Knows Best? - Joan and Melissa Rivers – 2nd season
Magic City – Evans family, etc. in the 1st season
NCIS - Ziva David in her 7th season

2010/2011 Season - Jewish women characters were on 100 Questions, Being Human (U.S.), Boardwalk Empire, Brothers & Sisters, Castle, Desperate Housewives, The Good Wife, Grey's Anatomy, Hung, Law and Order: Criminal Intent, Law and Order: Special Victims Unit, Nurse Jackie, Outcasts, Private Practice, and Upstairs Downstairs. I happened to catch a Jewish actress on the "make-over" show What Not To Wear. Putative Jewish women characters were on Californication, Hawthorne, Huge, and Mad Men.
18 To Life – Bellow Mother and Daughters
Big Bang Theory - Mrs. Wolowitz in the 4th Season
Community – Annie Edison in the 2nd Season
Being Erica – Erica Strange – 3rd season
Entourage - Mrs. Ari Gold in the 7th Season
Glee - Rachel Berry in the 2nd season
House, M.D. – Lisa Cuddy in the 7th season
Joan & Melissa: Joan Knows Best? - Joan and Melissa Rivers – 1st season
NCIS - Ziva David in her 6th season
Skins (U.S.) – Tea Marvelli

2009/2010 Season - Jewish women characters were on Bored To Death, The Deep End, Fringe, The Good Wife, Leverage, Inspector Lewis, Mercy, Nip/Tuck, Private Practice, Psych, The Secret Life of the American Teenager, Three Rivers, United States of Tara, Ugly Betty, and Who Do You Think You Are. Putative Jewish women characters were on Californication, Gray's Anatomy, Heroes, House, Party Down, and White Collar.
Big Bang Theory - Mrs. Wolowitz in the 3rd Season
Being Erica – Erica Strange – 2nd season
Community – Annie Edison in the 1st Season
Curb Your Enthusiasm - Susie Greene etc.
Entourage - Mrs. Ari Gold in the 6th Season
Glee - Rachel Berry
House, M.D. – Lisa Cuddy in the 6th season
NCIS - Ziva David in her 5th season

Z Rock – Dina Malinsky, Joan Rivers and others in the 2nd season

2008/9 Season - Jewish women characters were on C.S.I., C.S.I.: NY, Diamonds mini-series, Eli Stone, Gossip Girl, Hallmark Hall of Fame, In Plain Sight, Nurse Jackie, Saving Grace, The Unit, and a Lifetime Movie of the Week. I happened to also catch a Jewish actress on the "make-over" show What Not To Wear. Putative Jewish women characters appeared in 90210, Californication, The Cleaner, Desperate Housewives, E.R., Gossip Girl, Hawthorne, Monk, and Sons of Anarchy.
Big Bang Theory - Mrs. Wolowitz in the 2nd Season
Being Erica – Erica Strange
Entourage - Mrs. Ari Gold and others in the 5th season
House, M.D. – Lisa Cuddy in the 5th season
The L Word - Jenny Schecter in the 6th, final season
NCIS - Ziva David in her 4th season

Rescue Me – Valerie in her 2nd season

The Sarah Silverman Program in her 3rd season

The Starter Wife - Molly Kagan post-mini-series

Z Rock – Dina Malinsky, Joan Rivers and others


2007/8 Season- Jewish women were on The Cleaner, Eli Stone, Law and Order: Special Victims Unit, Lipstick Jungle, and House, M.D.. Putative Jewish women characters appeared in Big Shots, Californication, Cashmere Mafia, Canterbury's Law, Desperate Housewives, Terminal City, and Ugly Betty.
Big Bang Theory - Mrs. Wolowitz in the 1st Season
Curb Your Enthusiasm - Susie Greene etc.
The L Word - Jenny Schecter in the 5th season
Mad Men - Rachel Menken and Bobbie Barrett
Mandrake – Berta Bronstein
NCIS - Ziva David in her 3rd season
Nip/Tuck– Rachel Ben Natan
Pushing Daisies– Charlotte "Chuck" Charles
The Riches – the faux Cherien Rich in her 2nd season
The Sarah Silverman Program in her 2nd season
Weeds – Bubbe Botwin
The Wire - Rhonda Pearlman in the 5th season


2006/7 Season- Jewish women characters also appeared on C.S.I., Desperate Housewives, E.R., Grey's Anatomy, House, M.D., John from Cincinnati, Justice, Numb3rs, The Nine, Nip/Tuck, Rescue Me, Rome, Standoff, State of Mind, The State Within, Ugly Betty, The Unit and Waking the Dead.
Brothers & Sisters – Nora Holden

Entourage - Mrs. Ari Gold and daughter Sarah in Season 3B and Entourage - Mrs. Ari Gold and daughter Sarah in Season 4
Heroes – Hana Gitelman
The L Word - Jenny Schecter in the 4th season
Mad Men - Rachel Menken
NCIS - Ziva David in her 2nd season

Rescue Me – Valerie in her 1st season and Beth Feinberg
The Riches – the faux Cherien Rich
The Sarah Silverman Program
Weeds - Yael Hoffman
The Wire - Rhonda Pearlman in the 4th season

2005/6 Season - Jewish women characters also appeared on E.R., Girlfriends, Grey's Anatomy, Nip/Tuck, Sea of Souls and Veronica Mars

Beautiful People - Annabelle Banks
Curb Your Enthusiasm - Susie Greene etc.
Entourage - Mrs. Ari Gold and daughter Sarah in the 3rd Season
Everwood - Delia Brown in the 4th season
The L Word - Jenny Schecter in the 3rd Season
NCIS - Ziva David
Sopranos - Julianna Skiff

2004/5 Season Jewish women characters also appeared on Grey's Anatomy, Judging Amy, Law and Order, Nip/Tuck, Veronica Mars and Waking the Dead.

Entourage - Mrs. Ari Gold
Everwood
Joan of Arcadia

The L Word - Jenny Schecter in the 2nd Season
Numb3rs - The Late Mrs. Eppes
The O.C. - Rebecca Bloom and the Nana in the 2nd Season
Pilot Season
Queer as Folk - Melanie Marcus in the 5th Season
The Wire - Rhonda Pearlman in the 3rd season

2003/4 Season Jewish women characters also appeared on CSI, Judging Amy and Law and Order: Criminal Intent.

Curb Your Enthusiasm - Anna
Everwood
Gilmore Girls - Paris Geller
Joan of Arcadia
The L Word - Jenny Schecter
Line of Fire
Miss Match
Nip/Tuck - Mrs. Grubman
The O.C. - Anna Stern and the Nana
The Practice
Rocked With Gina Gershon
Sex and the City - Charlotte Goldenblatt
Skin
Sopranos- Fran Felstein
Street Time - Rachel Goldstein
Wonderfalls

2002/3 Season

Breaking News
Everwood
Curb Your Enthusiasm
Gilmore Girls - Paris Geller
Law and Order
Sex and the City - Charlotte York
Street Time - Rachel Goldstein
That Was Then
The Wire - Rhonda Pearlman

2001/2 Season

7th Heaven

2000/2001 Season

1999/2000 Season



2014/2015 Season

The increased visibility of Jewish women comediennes on TV, led Jewcy to offer Sukkot decorations of ushpizot all from TV as "Ushpizienne: Class of 5775": Lena Dunham [as the auteur of Girls], Amy Schumer [Inside Amy Schumer, Abbi Jacobson and Ilana Glazer [Broad City], Jenny Slate [Married], Sarah Silverman [guesting everywhere], and Yael Stone [though her character "Lorna Morello" in Orange Is the New Black (on Netflix) is not Jewish]: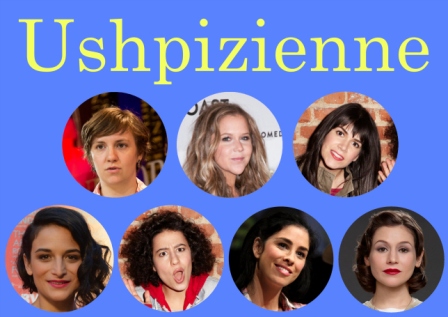 (10/12/2014)

David Krumholtz's drag impression of his grandmother in Boca Raton on his web series Weather From will be expanded in 2015 into Gigi's Bucket List on IFC. Shades of Mike Myers's 1990's"Coffee Talk With Linda Richman" sketches on Saturday Night Live? (11/17/2014)

Once Upon A Time (on ABC), "Darkness at the Edge of Town" episode, written by series creators Edward Kitsis and Adam Horowitz, unnecessarily had its first Jewish implication. "Mr. Gold/Rumplestiltskin" (played by Robert Carlyle) is collecting villains to get them their happy endings. A la 101 Dalmations, he greets: Cruella de Vil! As played by Victoria Smurfit, she snarls: No one calls me that here. "Gold": Well, I'm sorry, dearie, but Cruella Feinberg doesn't have quite the same ring. Her husband is being led away in cuffs to a police car, a la Bernie Madoff, while she grabs her fur coat and limousine from the hands of repo men and revs the engine to escape with the other villains in tow. (3/6/2015)

In Forever (on ABC), from the first episode, the immortal "Dr. Henry Morgan" (played by Ioan Gruffudd, who I first saw in the movies as the Welsh-Yiddish speaking lover in the sweet Solomon and Gaenor) comes out of the smoky ruins of World War II to meet a beautiful Red Cross nurse "Abigail" (played by the very blonde Mackenzie Mauzy), his future wife: This baby was just recovered from one of the camps. He appears to be in perfect health. Close-up, improbably, onto the infant's tattooed number that morphs into the one on "Abraham" (played by Judd Hirsch). It was over a dozen episodes until there was hint of a Jewish mother, in "Hitler on the Half Shell" written by Sarah Nicole Jones, when another immortal "Adam" (played by Burn Gorman), a survivor of Mengele's gruesome experiments, sees the tattoo: The triangle underneath the numbers were only used in select camps, and each camp had a different placement for the tattoo on the body depending on which year it was. You were there in 1945, I suspect. He leaves "Abe" an Auschwitz ledger: I'm reading about Herman and Reba Weinraub – my parents. I know, I know – I could hardly believe it myself. It's all in here. All the names, tattoo numbers, all lost records of Auschwitz. From that, they go to a "Jewish Heritage" archive and ask for any records. A box is produced with his parents' wedding photograph, in close-up – which is the only reference to a Jewish woman. But when he's excitedly tracking distant relatives in the next episode, somehow he only finds males, let alone a lot of non-Jewish ones, including as improbably as anything else in this enjoyable series, a common ancestor with his adopted father. (3/6/2015)

Breaking Borders (on Travel Channel) visited Jerusalem and the West Bank in "Mother of All Conflicts" with a chef for a sit down that included two Jewish women settlers, a teenager and a young wife of a kosher vintner. The editing didn't include them getting to say much amidst the blowhard men around them, even as they nervously admitted it was the first time they'd sitten down to a meal with Palestinians, but both said they appreciated the effort at dialogue. (3/20/2015)

Kosher Soul (on Lifetime) is a typical over-produced, over-edited, over-stereotyped "reality" TV series (the network calls it "a docu-sitcom") following the relationship of white Jewish Miriam Sternoff from Seattle, a "Los Angeles stylist" who describes herself as looking very "Jewey", and her African-American fiancé O'Neal McKnight, a stand-up comic who uses her as fodder for his routine, let alone this show for his career. In the 1st episode "Black & Jewish", the emphasis was more on black vs. white differences, though her mother Miriam insisted she would prefer that her daughter not marry a non-Jew. So her future son-in-law is converting, while he rues that growing up in the south: My family don't know anything about Judaism. I couldn't stand watching more of the 12 episodes, complete with wedding plans, any more than I can any other such shows with Jewish women. (3/8/2015)

In the 2nd episode of The Book of Negroes (BET's first mini-series, based on Canadian writer Lawrence Hill's novel originally released in the U.S. as Someone Knows My Name, that I haven't read yet), written by Clement Virgo, the main character, African slave "Aminata" (played by Aunjanue Ellis) is sold by her evil plantation owner to a yarmulke-wearing Jewish indigo trader "Solomon Lindo" (played by Allan Hawco) and his sweet wife "Rosa" (played by Amy Louise Wilson) in colonial Charles Town, who say/does nothing Jewish. The pregnant wife not only wants her midwifery and reading skills, but does try to help her track down the infant who was sold away from her, including daring to ask a slave trader for information and taking her to Hilton Head Island to follow up on his (false) lead. After her death from smallpox, the slave narrates: Losing Mrs. Lindo was painful. I had trusted Mrs. Lindo more than any other white person. But I was not allowed to attend the shivah or speak to any visitors about how much I had loved her. While the husband hypocritically claims she's being treated like a servant, the slave finds out he arranged for the baby-selling. (Though he is so guilt-ridden that he arranges a reunion in the finale.) (updated 3/7/2015)

Dig (on USA) is set and filmed in Jerusalem, is co-produced by Gideon Raff, one of the creators of Prisoners of War (Hatufim), but the 1st 2 episodes had only a glimpse of presumably Jewish Israeli women in the background of a scene or two, a waitress who offers the hero soup to feel better, and an oblivious police officer and mention of the wife of another. (updated 3/12/2015)

Downton Abbey (on PBS, out on DVD), created and written by Julian Fellowes, introduced that the Jewish themes, and genteel anti-Semitism of the upper classes, by first reminding viewers, like me, about the American-born "Cora Crawley, Countess of Grantham" (played by Elizabeth McGovern), who had forgotten her maiden name of "Levinson", when she confessed to flattering art historian "Simon Bricker" (played by Richard E. Grant) about her social debut in London: My father was Jewish, and the money was new. But there was a lot of it, and I was pretty. As her husband's empty-headed, bauble of a niece "Lady Rose MacClare" (played by Lily James) met and fell for handsome banker "(Ephraim) Atticus Aldridge" (played by Matt Barber), his Russian Jewish family background, including fleeing Odessa's 1850's pogroms and in England changing their (unknown?) name, got filled out, and his parents, now "Lord Daniel" (played by James Faulkner) and "Lady Rachel Sinderby" (played by Penny Downie), come for dinner, who are surprisingly reassuring about the couple: Lord Grantham, we both know what we're up against. Happily, we're used to it. You won't have any trouble with us. "Lord Robert Grantham" (played by Hugh Bonneville) does the aristrocratic equivalent of "best friends" line: Lady Grantham's father was Jewish. "Lady Sinderby" shoots back: That isn't a guarantee of tolerance. So it's a relief to hear you say it. Atticus seems to be very taken with your niece. And I must say, I find her quite charming. "Lord Grantham" to the mother: Does Lord Sinderby approve? "Lady Sinderby": Well, you know, he needs time to settle into things. She turns to "Lady Grantham": Your mother never considered converting? "Lady Grantham": I don't believe so. "Lady Sinderby", who knew what I didn't: Was it difficult? Having a different religion from your father's? "Lady Grantham", who evidently was raised Anglican: Not that I recall. "Lord Sinderby": Hm. And you're not ashamed of him? "Lady Grantham", who in last week's episode was uncertain if Jews want potential spouses to convert like Catholics do, is pointed: Lord Sinderby, I would point out that we never changed our name. "Lord Sinderby": It was my grandfather's decision. I thought of changing it back but the family felt they were English now and they wanted to stay English. Watching them, "Rose" reports to her about-to be-fiancé: Your mother and Robert are hitting it off. "Atticus" warns: She's not the problem. My father's the tough nut. She muses: My father's the darling; my mother's the nut. He's gallant: Then we shall crack them against each other. But "Lord Grantham" warns his niece about her prospective father-in-law: He doesn't want Atticus to marry out of the faith. . .Why shouldn't he mind? He's an important figure in that community. At a formal dinner of the extended families, "Rose" naively assures her dowager aunt: I promise you we know difference in religion is a big thing. But the obnoxious "Larry Grey" (played by Charlie Anson), son of another affianced widower, sees an opening to ominously warn of future problems and rankled them all: How would you bring up any children, for example?. . .The fact is, most marriages that fail, founder for precisely this kind of reason. . . An irreconcilable difference. . . It might be different beliefs, or different nationalities or a huge age gap. . . I know the choice of in-laws is eccentric in this family. You already boast a chauffeur and soon you can claim a Jew.
In the wedding preparations in the U.S. season's penultimate episode, "Rose" is still very naïve about Judaism, even as family members comment snidely about the family's name change, but that's why she wants to get married in London: And I want a blessing in a synagogue., and expresses she will try to win over her future father-in-law for her husband's sake. "Lady Grantham" advises her that [Lady Sinderby]'s your ally. . . not because she thinks it's all unimportant, just that she thinks her son's happiness is more important. At the pre-wedding dinner hosted by the in-laws, "Rose"s mother "Lady Susan Flintshire" (played by Phoebe Nicholls) has arrived from India just-in-time to be appalled by the match, so she goads the future mother-in-law: Do you have any English blood? "Lord Sinderby" snaps back: We only date from the 1850s, but Lady Sinderby's family arrived in the reign of King Richard III. "Susan" continues: I think of you as nomads, drifting around the world. "Atticus" surprises her by dropping some name they'll be visiting: Lady Melford is Mother's cousin. "Susan" keeps trying to foment problems: You wanted a synagogue blessing? "Rose" is cheerful: I'd like to respect both sides. Which infuriates "Lord Sinderby": You don't understand our customs. Then again, why should you? "Rose" is crestfallen: So it won't be possible? Her father-in-law: No. He should have told you. "Lady Sinderby" invites the extended family to a dinner, leading "Susan": Tell me, do you find it difficult these days to get staff? "Lady Sinderby": Not very, but then we're Jewish, so we pay well. "Lady Susan" rants to her estranged husband later about his "pseudo-tolerance": I hated it. Having to play act in front of those people is so degrading. . . Did you know that Anne Melford was Jewish?. . . I don't feel as you do about it. She defends her scheme to split up the young couple: We have lost our position that we have lost everything the children have grown up expecting as their right. And now you want Rose to be an outcast? Later, in his study that has the obligatory TV symbol of Jewish identity with a menorah on his shelf, "Atticus" goads his father into making his objections clear: Let us be honest. I am against it. Our family has achieved a great deal since we came to this country and not just for ourselves, for our people. We have a proud history and we've taken our place among the leaders in this land. And now, you want to throw all that away for this little shiksa. [Much discussion online if an upper class, assimilated Russian Jew would use that phrase, but it so applies to the blonde bubblehead.) He continues to rant: I'm sorry. I don't mean to insult the girl. She seems decent enough. But she is English and Anglican and so will her children be. "Atticus", uselessly: She's Scottish. His father steams on, and I include this as I think there's clues for tensions next season: The second Lord Sinderby may be Jewish, but the third will not. Soon our family will be one more British dynasty with all the same prejudices as everyone else who shops at Harrods! Any children will be brought up to know both sides of their heritage. Your children will not be Jewish! Don't you understand that? Their mother will not be Jewish and neither will they! "Atticus" turns out to be as naïve as his new wife: They may choose to convert. Or are you implacably opposed to giving anyone a free choice? His father warns: How easy you make it sound, and how little you've had to fight. Meanwhile, "Rose" has already told her cousins about future children: I intend to leave it all to Nanny. "Lady Mary" has been making various snide remarks, and turns to the dowager expecting her to be shocked by the wedding: I dare say this is a first for you, Granny, to sample the joys of a registry office. As played by Dame Maggie Smith: You'd be quite wrong, no, in 1878 I attended the wedding of Lord Rosebery and Hannah Rothschild held in the Board of Guardians, very much the same. "Lady Mary", who has been more unsympathetic than usual this season: It seems almost sad in a way. Her grandmother: But in marrying a Rothschild, there are certain compensations. "Lady Susan" keeps trying to shock her mishpuchah, by announcing her impending divorce. But "Lady Sindrey" steps in: Thank you, Lady Flintshire. Or may I call you Susan? We are forewarned and so now we will be forearmed. And turns, along with her son, to hiss at her husband: Do anything to stop this marriage, anything at all, I will leave you, and then you will have a scandal worthy of the name! Oh, I doubt you expected to take your beloved child through the portals of Caxton Hall Registry Office. He caves: There are lots of things in my life I never anticipated, but if you're sure, I'm sure. There's various mutterings about whether this is a "real wedding", what with no veil, and going for a blessing at the Savoy Chapel, but "Rose" insists: You do realize this is my real wedding? . . This is where I become his wife. One of the lady guests comes up to "Cora": It must be very trying, but I so admire you for putting on a good face. "Cora" sweetly retorts: I wonder if you remember that my father was Jewish? (updated 3/1/2015)

In New Girl (on Fox) "Schmidt" (played by Max Greenfield) once again comically remembers a Jewish woman from his past, in "Teachers", written by Kim Rosenstock: Born not knowing how to do laundry? Yes, like everyone else. It wasn't until after birth that the trouble really began. Nana wouldn't let me in the laundry room. I think it was because my hands were always covered in butter,, as his fat younger self is seen eating bagels while the curly-haired grandmother (I can't ID the actress) takes away his dirty clothes. In "LAXmas", written by Max Fusfeld and Alex Cuthbertson, "Schmidt" throws off a lot of lines about his New York suburban Jewish origins, but the only one that even indirectly referenced women, oddly, was the quizzical: I'm going back home to Long Island, the birthplace of the female crew cut.
Michael Ausiello, now of TV Line, used stereotyped description in announcing, on 1/23/2015, that "Nora Dunn to guest-star as Schmidt's never-before-seen mother. . .Dunn's straight-outta-Long-Island, controlling matriarch, Louise, is always ready with unsolicited advice or a piece of chocolate." (updated 2/4/2015)

In "Time and Tide" episode of spies in NYC 1946-set Marvel's Agent Carter (on ABC), written by Andi Bushell and Eric Pearson, had the first Jewish reference in the mini-series, which is always ironic in these comic-book inspired off-shoots, as so many were originally created by Jews to fantasize battling Hitler and anti-Semites. Inventor/businessman "Howard Stark"s very British butler "Edwin Jarvis" (played by James D'Arcy), who was very devoted to and touchy about threats against his heard-but-unseen wife "Anna", explained the backstory of his difficulties: Would it satisfy you to know that the charge of treason was dropped almost immediately? . . . Before the war, I served under a general. We traveled a great deal. We were in Budapest when I met Anna. She worked in a hotel tailor shop. Sold me the most beautiful tie. And then the war broke out, and things became difficult. "Peggy Carter" (played by Hayley Atwell ) interrupts: She was Jewish. "Jarvis": Still is, I'm happy to say. The general carried several letters of transit in his safe, any one of which would have ensured her safety, but he refused to sign. "Carter": You forged his name. "Jarvis": Hence the dishonorable discharge. It was filing the papers that sunk me. I was arrested in the middle of Whitehall. On a Tuesday. "Carter": How did Anna get out? "Jarvis": The same way I avoided the noose. "Carter": Howard? "Jarvis": Mr. Stark had unfinished business with the general, and he and I had always got along. When he heard of my predicament, he used his influence. (2/15/2015)

Red Tent (on Lifetime) not only turned Anita Diament's romantic midrash into, well, a Lifetime movie, there was little sense of its Jewish Biblical roots. Even worse, the lead-in Women of the Bible was almost all evangelical Christian interpretations, with women ministers glowing with faith in Jesus and seizing upon Christian iconography everywhere in the Torah amidst the admirably interracial but not, well, faithful reenactments. The "Old Testment" was dispensed with in the first 42 minutes, before going on to Mary, with Sarah, Rahav (who was included because she's considered an ancestor of Jesus), and Samson's mother, plus Delilah, though a "Bible teacher" did proudly note that Eve was initially created equal to Adam. Hagar (and her role as the mother of Muslims) was dealt with by Rabbi Laura Geller. Interestingly, she was not listed in producers Mark Burnett and Roma Downey's press release announcing the TV special. Even Jewish publications didn't pick up that all the listed "experts" were Christian – perhaps fooled by the inclusion of a Joyce Meyer, whose affiliations weren't listed but who turns out to be as evangelical as the rest. So it's amusing that in Hollywood they turned to Temple Emmanuel of Beverly Hills for a token, albeit prominent, representative. (12/8/2014)

On Finding Your Roots with Henry Louis Gates, Jr. (on PBS), Canadian-born, bi-racial actress Gloria Reuben [the transcript is not completely accurate] got confirmation that her father, who died when she was very young, was Jewish, but from Jamaica in the post-expulsion diaspora from Spain. Prof. Gates notes: On December 19th, 1831, just months before your great-grandparents' wedding, the Jewish people in Jamaica were finally granted full rights under the law. . . Too late to have a bat mitzvah,, he joked. She laughs: So basically, I'm a Jewish girl in a black body. That was so not PC! -- and her DNA is 59% European. Basketball player Rebecca Lobo discovers that the unknown father of her grandmother, a domestic servant photographed dressed in fur, was an Ashkenazi Jew – with no further commentary. In his "Decoding the Past" episode that focused on what DNA can reveal, Jessica Alba's Mexican roots revealed a great-great-whatever-grandmother who was probably a Sephardic "crypto-Jew" (and he claims Alan Dershowitz is her genetic cousin). Dershowitz did a funny take about taking credit on whether she, or any of such mixed background, can say they're Jewish.
The "Our People Our Traditions" episode of Jewish celebrities featured Carole King Klein, as she announced she has now legally changed her name to after having adopted her several husbands' names. Describing herself as "a nice Jewish girl from Brooklyn", she's surprisingly gobsmacked to learn that her grandmother's Yiddish name was Shaina, while Prof. Gates seemed to think she adopted the "English" name Sarah without understanding that was probably her Hebrew name. In identifying her hometown of Orsha, Russia (and Carole was ignorant of the Pale of Settlement), he uncovers documentation of a pogrom Shaina would have witnessed at age 15, before emigrating at age 21. On her paternal side, he found their namesake patron at Ellis Island, and traced her family in Russia back through 18th century marriage records.
The American Masters Me-Generation episode "The Boomer List" only indirectly referenced Jewish women, by including Eve Ensler, who talked about feminisn not her paternal ethnic identity, and Rosie O'Donnell, who quoted the maternal Yiddish endearments -- includingshaina maidel-- of a school friend's mother for providing her first warmth and affection. (updated 11/26/2014)

On Scorpion, yet another CBS crime-of-the-week drama, in the "True Colors" episode by Rob Pearlstein, yet another elderly, heavily accented daughter of a Holocaust victim sought the return of her father's Nazi-seized $100 million-worth painting from a German museum by the fictional Franz Bierman, his only one to survive the war, as "the rightful owner", whose family bought it from the artist in 1937. When it's finally recovered by all kinds of skullduggery to end up faking its destruction, , she (played by Gisela Kovach) bestows a heartfelt "Danke", the based-on-the-real genius "Walter O'Brien" (played by Elyes Gabel) cautions her: Don't put it near your window Mrs. Mueller. All to teach him a lesson in a painting's ineffable meaning beyond the aesthetic or financial. (11/30/2014)

On Brooklyn Nine-Nine (on Fox), the "Halloween II" episode, written by Prentice Penny, Andy Samberg's "Det. Jake Peralta" let loose with one of his few references to even knowing any Jewish women, when he protested in a scrum: Hey- I need this jacket for my cousin's bat mitzvah next week! (updated 11/10/2014)

On The Mindy Project (on Fox), which prides itself on diversity, a Jewish woman character was only revealed to be Jewish in a December Dilemma context. In "Christmas", written by Charlie Grandy, "Dr. Peter Prentice" (played by Adam Palley, who is usually perceived as playing Jewish characters) approaches ex-girlfriend neurosurgeon "Lauren" (played by Tracey Wigfield) at the end of the doctors' office Christmas party: Before you go. . . Merry Christmas. She: Well, technically, it's Happy Hanukkah. He: Oh, that's right, I forget that you're a fellow soldier. . . Together: In the war on Christmas. He: And you hate Christmas. She: Well, Happy New Year., with a quick kiss on his cheek. I can't find confirmation that her character is Jewish -- or even has a last name yet. (2/4/2015)

Grimm (on NBC) followed the tradition of just about every supernatural series by having a golem episode. But where the opening quote usually is from the Grimms' Tales, "Livin' On A Prayer", written by Sean Calder, specifically referenced "The Golem of Prague": "Oh, remember that you fashioned me from clay! Will you then bring me down to dust?" With a supernatural creature outside the show's mythology of "vessens", the episode was unusually faithful to the Jewish folk tale in having the golem generated by a Jew as a protector against a violent non-Jew and was controlled by a Jew. Until we see the brother is a kabbalist rabbi, "Ben Fisher" (played by David Julian Hirsh), there wasn't any indication that his sister, "Sarah" (played by auburn-haired Brigid Brannagh) and her son "David" (played by blond Jakob Salvati) were Jewish, when she defends them from the blows, and they flee from, an abusive "vessen" ex-husband/step-father to treatment at the hospital. With considerable resonance, the brother whispers to her: That son-of-a-bitch! If he ever touches you again. . .Never again Sara.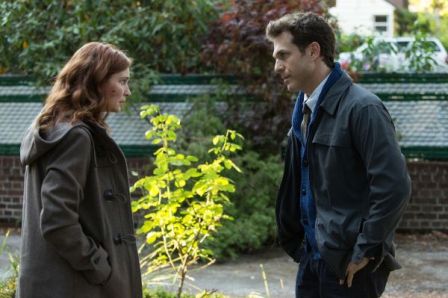 In his temple, he calls up the golem from fragments of the original that had disappeared from Prague and the clay monster clay-bombs the ex. The rabbi confesses: I prayed – this man was destroying my family! Though the cops say they can't arrest a guy for praying, he confesses to his insistently skeptical sister: You did not kill [him] and neither did a golem. Whatever happened to [him] he deserved. When her "vessen" brother-in-law pursues them, she protects her son and calls the police, who realize the golem is reappearing whenever her son feels threatened. The rabbi figures out that a written "Shem prayer" is needed to stop the monster, but: It's my sister I'm worried about. She doesn't believe any of this. (Maybe she's learned the symbolic lesson against intermarriage, though an ongoing secondary theme is negative reaction to an inter-vessen marriage between two sweet regular characters.) Because the golem is not their usual supernatural prey, the cops have to scare the boy to generate the golem, to her considerable consternation, but she gives him a big, proud hug when he screws up the courage to use the writing himself to drive the golem back into the earth. The central cop learns a lesson, too: I'm never yelling at a kid again. (11/15/2014)

In The Blacklist (on NBC), the convoluted conspiracy spy thriller series, in the season opening "Lord Baltimore" episode, written by Jon Bokenkamp and John Eisendrath, a mysterious beautiful woman, "Samar Navabi" (played by Iranian-American Mozhan Marnò, of The Stoning of Soraya M.), rescues the master criminal/FBI informant "Red" (James Spader). She talks on the phone in something like Hebrew as he tries to figure out who she is and how she found him through a very complicated and ingenious tracking of his preferences for earth tone color clothes: Lord Baltimore? Aren't you a surprisingly sexy minx. She smirks: Who is it exactly do you think I am? He: You're Mossad. Please don't tell me this is about that little dust-up in Haifa? She: That "little dust-up in Haifa" claimed the lives of two agents and a Turkish diplomat. They taunt each other – but he figures out that her falcon tattoo is a tribute to her brother killed in a terrorist attack, whose name meant "falcon" in Farsi – so she could be Jewish and/or Iranian and/or Israeli. She showed up again for a nick-of-time rescue in "Monarch Douglas Bank", written by Kristen Reidel, Amanda Kate Shuman, and Daniel Knauf, and was filmed in my neighborhood standing in for a Polish city:I'm Samar Navabi, I'm Mossad. You're outgunned – go I'll cover you – go! And she lets loose with a machine gun volley. The FBI is surprised: Who the hell is Samar Navabi? Both sides figure out her usefulness, because she hands over a file to the FBI, evidently to get on the team—then slyly assures "Red" "I'm in."
In "Dr. James Covington", written by Lukas Reiter and J.R. Orci, "Samar" is introduced to the team. One guy is taken aback: You're tall. But "Agent Elizabeth Keen" (played by Megan Boone) is suspicious when "Samar" calmly notes: Met in Warsaw. Glad you made it out. Are those live NSA feeds? They'd kill for those in Teheran. "Keen" asks what I was thinking: How does an Iranian end up working for Mossad?, but only gets a parry: How does the FBI end up working for Reddington? "Keen" persists: How did you find you us in Warsaw? Who told you we were there? When their boss interrupts, she fumes to her partner: How do we know we can trust her? Partner "Donald Ressler" (played by Diego Klattenhoff): We don't, but she did save our lives. So that deserves some good will. She persists: You know Reddington sent her to Warsaw. There has to be something going on there. Her partner teases: Sounds like someone is getting a little jealous of a new crush. "Samar" shows up at the conclusion: A victory! You guys don't celebrate when you close up a big case? Let me buy you a drink?. . .All you know about me is that I found Reddington and whatever you might have read in a slim dossier. But now we're working together with all that implies. I'm sure you don't know what to think. . . I'm not wrong. You're right not to trust me. "Keen": Oh you're right about that. You're wrong if you think you found Reddington. If he was found it was because he wanted to be. And he wanted you to find him. "Samar": Maybe I'm just good at what I do. Is that so difficult to believe? "Keen": If he wanted you here he had a good reason. That's why I don't trust you. Because I don't know what the reason is. And I'm guessing, neither do you.-- and storms out. Heck, me too!
"The Front", story by Adam Sussman, teleplay by Sussman and Jim Campolongo, confused even more her identity and her role vis a vis "Keen", evidently to humanize her. While she at first is efficiently doing background research, she unexpectedly turns on "Keen" at her failure on a mission that let plague specimens get away – we haven't seen her that emotional before: You had it! Did you hesitate or not? "Keen": He threatened to release it! "Samar" heatedly: Now a madman is out there with the ability to start a pandemic!. . .For a strain that's 700 yrs old. We have to assume there is no cure for whatever [he] got his hands on. . .Unbelieveable! Their boss cuts her off: That's enough!-- implied is that the Mossad has higher standards for accomplishment. But the two women bond in the field, after "Samar" runs after the suspect and not only gets shot: I'm infected. If you come here you will be too. But "Keen" not only comes in to comfort her, but confides about her upside down personal life. "Samar" warns her that their co-workers are all gossiping about "Keen"s relationship with "Reddington". (I would have thought it would be the mysterious "Samar" they'd be talking about.) "Samar" wakes in her hospital bed just long enough to take the hand of "Aram Mojtabai" (played by Amir Arison), who looked as surprised as I was.
"The Scimitar", written by J.R. Orci and Lukas Reiter, makes clear she's still working for Mossad. In the opening episode, speaking Farsi, she sets up a sexy honeypot for an Iranian who ends up flying out of his high hotel room in Dubai onto a car. Later, she protests he was an Iranian businessman who committed suicide, but "Reddington" taunts her: He wasn't a mere businessman. He was one of Iran's top nuclear scientists in Dubai to supervise purchase of several borehole gamma something-or-others. And he didn't commit suicide. He was assassinated in a joint C. I. A./Mossad venture to undermine Iran's nuclear program, but, then, you know this already. My understanding is, she took a little detour to Dubai for a rendezvous with Mr. Nouri so she could toss him off a building. "Keen" is shocked, but "Samar" is cool: If you're asking me to comment on a Mossad operation, you know I can't do that. He warns that the Iranians plan revenge, and she is very familiar with the murders the hired killer has committed in the Middle East. She follows a lead who has beenthe target of a major Mossad initiative . . . Mossad has been tracking his movements for months. . .My superiors believe he's the key to unraveling a dozen covert Iranian ops. "Red" warns her about blowing their operation to help the F.B.I.: Mossad has no tolerance for any agenda except Mossad's. You'll be sanctioned for this indiscretion. She defends her new loyalties: I can't work with this task force unless my partners are my highest priority. "Red" taunts her more: So this has become quite personal. . . But you may have an even more personal stake in this case - than perhaps you realize. . . Because one of The Scimitar's little-known aliases is Walid Abu Sitta. She's shocked: Walid Abu Sitta is the man who ordered the bombing that killed my brother. She gets the guy and threatens him: You've been very careless, Ali. My unit has been surveilling you for months, and the intelligence we've gathered has been very helpful so helpful that I fully expect to be disciplined for coming here without authorization. Just by being here, I have everything and, therefore, nothing to lose. "Red" adds a distinctive threat: Imagine your future, the rest of your life spent in a dismal Israeli prison, some dark hole they put you in, bending your fingers and pulling your toes until they forget you ever existed. Gosh, that was easy confession to next get to The Scimitar! "Red" leaves her with him to exact her own revenge, but the guy taunts her, and chuckles about the murdered scientist in Dubai, as they switch from Farsi to English and he blames a suicide bomber—implying the brother killed himself: I spoke to him the day he died. . . If you think your beloved brother was just another faceless young man in that crowd you know nothing. She slaps him hard: What do you know about my brother? He: There's no country insisting you do your duty. If you kill me it will be cold-blooded murder. So call Mossad or call the CIA or wheover's coming and be done with it. In the conclusion, there's word that a guy who looks like The Scimitar has been fished out of the Potomac. [I may have mixed up the bad guys a bit.]
In a promotional feature before the SuperBowl episode, shown on Oxygen, Mozhan Marnò, admitted that "Samar" "through some mysterious way [she] came to work for the Mossad. . .What's so interesting about the character is that you don't know exactly where she stands." Or if she's Jewish. (updated 2/28/2015)

Though Makers: Women Who Make America – Women in Comedy (on PBS) featured many Jewish women comics and writers, including Bea Arthur, Roseanne Barr, Joy Behar, Susie Essman, Chelsea Handler, Laraine Newman, Gail Parent, Totie Fields, and "in loving memory" the late Joan Rivers, only the clips and interviews with and about Sarah Silverman specifically referred to her as Jewish and in a Jewish context, that somehow in their minds were linked to her sweetness and prettiness, in contrast to the earlier comics making fun of themselves.
Silverman herself did a fondly funny tribute to Rivers in her return as guest host on NBC's Saturday Night Live, sans Jewish references.
Silverman was key over the past year in promoting on Twitter the efforts of Women of the Wall for gender equality in access to and prayer at the Western Wall in Jerusalem, particularly when her activist sister sister and niece, who had made aliyah several years ago, were arrested during a protest. She went further at Hanukkah, when her family was in Jerusalem to attend her nephew's bar mitzvah, by lighting a menorah forbidden in the women's section. (updated 12/21/2014)

In the 5th/final season of Boardwalk Empire, set in 1932, there was finally more than a cameo appearance by a wife of one of the Jewish Prohibition-era gangsters . In the "What Jesus Said" episode, written by Cristine Chambers and Howard Korder, the widow of Arnold Rothstein has the real name of "Carolyn Rothstein" (neé Green) (played by Shae D'lyn) is shrewdly demanding back embezzled profits from inside trader stock trades, through blackmail of the central gangster's wife, and out of bitterness about her philandering, milk-drinking husband -- I don't keep milk in the house anymore, it turns my stomach. . .And when he died? . . Do you know what I have to show for it? This tea set, that hideous chair, this ring. Oh, and humiliation. Arnold left me buckets of that. Everything else I've had to sell. . .Let's see how you like seeing your name in the paper next to the words "notorious husband".
In the penultimate episode "Friendless Child", written by Cristine Chambers, Riccardo DiLoreto and Howard Korder, NYC gangster "Benny 'Bugsy' Siegel" (played by Michael Zegen) touches the mezuzah on an apartment door frame before a sexy woman in a red dress (played by Leighton Bryan) opens up: If it ain't the macher of Willett Street.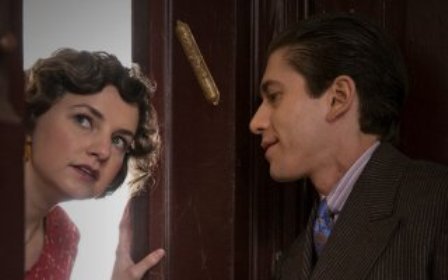 "Benny": Is your husband around? She: He went to Aqueduct for the morning. He: Then I'll just grab what I came for. That would be her, and she just gets to slam the door shut before they're having sex. They finish up in bed and she puts on a slinky robe: Next time get here earlier you won't have to work so hard. He: Then I would have to talk to you. She teases in Yiddish what blogger say was mayn kleyne farbrekher --"My little criminal"-- but I couldn't catch, before they kiss goodbye. He: Talia, I think I left my tongue down there. She chuckles and gently pushes him out, after checking the coast is clear. He touches the mezuzah again, but her husband "Morris Bindleman" (actor not yet ID'd) comes up the stairs: Benny Siegel! What brings you to the neighborhood? "Benny" jokingly makes up a story: I don't name names. "Morris": John Hancock for my wife? Everybody knows who you are. "Benny": Sure thing. Clara, right? "Morris": Talia. "Benny": I was thinking of my aunt. "Morris" recalls how their fathers were in the same minyan at the Bialystoker synagogue (on Willett Street). "Benny": They were praying for both of us. "Talia" comes out. "Morris", objecting that she's not dressed: Look who it is! Benny Siegel! She: Talk about bad pennies. "Morris": Why you got to be like that for? With you it's always crepe-hanging. This is an important person! "Benny" then uses "Morris" as a shield when he's attacked, but wishes "Morris" Abi Gezunt!. Once "Benny" is kidnapped and tied up in Atlantic City: You gonna use that phone? I gotta call Esther. It's Lag B'Omer tonight and I said I'd be there. "Mickey Doyle" (Paul Sparks): Somebody married you? "Siegel": Now you're talking shit about my wife? It so happens I'm gonna be a father in a couple of weeks. I take that very seriously. Sure I cat around. But that woman is waiting for me I don't forget. So any of you momsers rats me out I was being at that apartment, I'll slam a slug so far up your asses your back teeth will. . . He's knocked out into silence, until he starts singing a dirty ditty, and he does not go back to his wife right away when he celebrates his brutally negotiated release.
Plus here's my commentary on the references to real dental history in the final season, in tribute to my father. (updated 10/28/2014)

In Red Band Society (on Fox) the blonde rich Mean Girl cheerleader "Kara Souders" (played by Zoe Levin) with a scheming need to move up on the heart transplant list suddenly inserted a completely out of context Jewish reference in her snappy dialogue in "So Tell Me What You Want What You Really, Really Want" with You understand me? And why is today different from all other days? Ma nishtana-zee? -- but I didn't pick up any earlier Jewish clues and fan sites aren't describing her as Jewish. (11/6/2014)

In Royal Pains (on USA), episode "Oh, M. G." written by Aubrey Karr, ill nail artist "Lauren" (played by Tracee Chimo) is told to rest. But she protests: I've been hired to do nails at the Mendelsohn bat mitzvah tonight, and posting cool nails on Instagram is everything to a 12 year old girl! The physician's assistant warns her if she doesn't rest, she'll miss more than one bat mitzvah. (8/23/2014)

In The Mysteries of Laura (NBC series based on a telenovela transplanted to New York City) in "The Mystery of the Terminal Tenant", written by Jeff Rake and Amanda Green, a little old lady with a thick New York accent sprinkles Yiddish. She identifies herself to the detectives: Lillian as in Gish. Greenberg as in Hank (played by Sondra James) – so "Det. Laura Diamond" (played by Debra Messing, who frequently plays Jewish characters, so I'm trying to tell if she is here) retorts: Your references are older than mine. But first she's seen calling out to her upstairs neighbor: Mark something up here is leaking shmutz through my ceiling!, and faints when she finds the remains of a body in the bathtub. As the murderer flees with her credit card, they track that it was used to buy tickets to Boca Raton. She declares: I certainly did not! There's such yentas in Boca! (11/6/2014)

In The Knick (on Cinemax), set in 1900 at a downtown New York City hospital The Knickerbocker where medical doctors are pioneering risky surgical and experimental procedures and treatments, but have retrograde social and racial ethnic and class biases, the episode "Where's The Dignity", written by series creators Jack Amiel & Michael Begler, the surgeon "Dr. Bertram 'Bertie' Chickering Jr." (played by Michael Angarano) says a few words in her language as he examines a coughing, middle-aged woman with a babushka. To his disapproving uptown doctor father, he shows off his quick diagnosis : I'm starting to pick some of it up. They said Latin and Greek are the most important languages for a physician to learn. It's actually something called Yiddish. . .Lungs are full. Fever. Looks like pneumonia. Not likely tuberculosis. She's a secondary emergency. and chalks her with a #2. (updated 9/10/2014)

In The League (sports sitcom on FX), Lizzy Caplan returned as the Orthodox Jew "Rebecca Ruxin", sister of League member "Rodney", in the episode "When Rafi Met Randy", written by Jason Mantzoukas and Seth Rogen. In what is a fantasy flashback, she runs in to find her true love "Rafi" (played by Mantzoukas) fallen at the bottom of the stairs, and tearily revives him by putting his hand on her breast. He awakes: It's a mitzvah. She agrees, and they are about to be married when shirtless "Dirty Randy" (Rogen) interrupts to be the best man: Now go make an honest Jew out of her. Their big kiss returns them all to reality. (Thanks to Eliav Levy for the citation).
I don't know if an earlier appearance by her in the series was being referenced in the 6th season opener when "Jenny MacArthur" (played by Katie Aselton) in the "Sitting Shiva" episode, written by Jeff Schaffer and Jackie Marcus Schaffer, claimed at a Jewish funeral of a league member to know the difference between "shiva" and "Shiva" because I was Jewish for a brief time last year, though that has been a running joke in the series the few times I've watched it. (updated 10/15/2014)

In Man Seeking Woman (on FXX), "Josh Greenberg" (played by Jay Baruchel) announces he's Jewish in the first episode "Lizard", written by sitcom series creator Simon Rich (author of The Last Girlfriend on Earth: And Other Love Stories that the series is based on, that I haven't read yet) when he expresses concern at meeting his ex-girlfriend's new boyfriend – Adolf Hitler. His older sister "Liz" (played by Brit Lower) sets him up with a literal Scandinavian forest troll "Gorbachaka" – after listing his lack of qualifications for dating: Joshua, want to have a little look-at-yourself moment?. . .Do you go to the gym?. . .Do you have a job?. . .I just really like her, okay? I think you guys would be cool together. . .You're such a good guy. I love you. so he thanks her: This is a mitzvah you've done. He Skypes with his mother "Patti" (played by Robin Duke), who complains he hasn't come to visit and offers her Discover card to pay for his plane ticket: Everyone is struggling in this economy. But your sister's a special case. His step-dad "Tom" (played by Mark McKinney) adds praise about her: Promotion after promotion. It's insane. He adds about the mother: met on a blind date. To different people. His mother adds: We were sitting next to each other. . .
In "Pitbull", written by Dan Mirk and Rich, "Liz", looking more TV-Jewish as a brunette with glasses, is all brightly full of helpful suggestions to distract her brother from his current sexless life, and texting friend: You don't need that guy to help you get a girlfriend. . .Like, you're gonna find someone super wonderful, it's just a matter of time. "Josh": Thank you, Liz. I appreciate that. "Liz": You know, and in the meantime, you can just focus on you. The path to love self-love. . .Just maybe taking a yoga class. Or just go over to the gym. . .Meditate five minutes a day. . .These are just tiny little seeds that we're planting here, and it's maybe not gonna take a day. Maybe not gonna take a week. A couple months. Little tiny plant growing."Oh, look at this plant." That's you. Beautiful woman's gonna walk by. She's gonna be like "I want that. "I want this in my face." And you're gonna be like, "Damn. So glad I watered myself." Whoa, why don't you go running with me tomorrow? You could be my running partner. You know, it's really good for your endorphins and cardiovascular system. Do you want to? . . Is 7:00 a. m. too early? New and improved Josh.! . .See you tomorrow morning! I love you! After his wild night with a willing woman but minus a penis, she calls: Hey, Josh, are you lost? I'm on the south side of the park. I'm just gonna be running loops. . .I'm so proud of you! (updated 3/13/2015)

In Houdini (on History), mini-series written by Nicholas Meyer (based on the out-of-print Houdini: A Mind in Chains: A Psychoanalytic Portrait by Bernard C. Meyer M.D., his mother Cecilia Weiss (played by Hungarian actress Eszter Ónodi) is a more talked-about influence than active presence. Says Houdini (played by Adrien Brody): If not for my mother, I would have gone nowhere. She always believed in me. -- and I wasn't sure if she was speaking Yiddish or Hungarian when she did get to mostly say Erich, my hero!" when he brings home coins like magic to his poor childhood in Appleton, Wisconsin. (He's described as "a German-speaking Hungarian Jew".) He bring her: Welcome to Brooklyn. This is the home you've always deserved. She replies, in Hungarian or whatever: Now we can all be together. He: Ma deserved the best, because the best is what she inspired me to become. And I was finally given the chance to thank her for it. His wife "Bess" (played by Kristen Connolly) explains the ceremony where he places her on a throne-like chair at a reception: Queen for a Day. People thought she married beneath her, marrying a rabbi. To her, Harry is magic. He beams at his mother: Didn't I promise you gold one day? She, per the subtitles: Erich, You are my gold.
Part 2 focused on her unusual impact on his career. After performing a new trick on stage, where he visualized her, he chortles at the family breakfast: I told everyone I saw you, Ma. You've been guiding me back forever. He shows off a headline: "Houdini Guided by Mother's Voice to Safety". She talks to him and his brother in Hungarian. He translates: She called me a liar. His brother "Dash" (played by Tom Benedict Knight) translates: She thinks I've been fighting with my brother. It's just for publicity! (Meanwhile his wife makes a nasty crack about being married to a Jew and goes off to church for comfort.) When the government pushes him to tour Europe again, his mother cries at his farewell: Perhaps when you return I will not be here anymore., according to the subtitles. She gives him quite a big kiss goodbye. His wife, of course, is overly optimistic: She'll be fine. In Europe, he gets a telegram from his brother: "Sorry to inform you of mother's death last night in NJ. Sudden and peaceful." He collapsesDon't let them bury her until I'm home. He weeps into his wife's arms. Back in Brooklyn NY 1914, during the funeral at a Jewish cemetery, his brother says her last words were "forgive". He asks: Forgive who? For what? . . .My mother's death was a sucker punch that I wasn't near ready for and hit me harder than anything ever had. He weeps at her grave, and repeats her words. 'My hero.' You always believed in me, Ma. Who's going to believe in me now? His assistant "Jim Collins" (played by Evan Jones) assumes he can do something supernatural: Can't you contact her? Though he flashes back to his own fake medium shows with his wife, in 1896 Kansas, where he first learned that can hurt people's feelings, he desperately sets off to find spiritualists: If anyone could contact Ma in the hereafter it was me. When none of them can, he sets off on a campaign against them and issues a challenge, which is met by Sir Conan Doyle and his wife. He's teary listening to her at their session and watching her supposed automatic writing. But he later realizes: Ma never would have forgot my birthday. Lady Doyle is a fraud! Your wife is a fake! Her whole life my mother never spoke one word of English! Doyle claims she translated, but Houdini continues to rant: A mother not mentioning her son's birthday? She never missed, not once! Your wife is a fake! You hear me - Lady Doyle – you're a fake! He attacks them in a radio rant and doubles his challenge prize: Until now I have tried in good faith to contact my beloved mother. But I now declare total war on the spiritualists. I will devote my whole life to challenge their exploitation of a gullible public. He confesses to his assistant: They didn't get it. I wanted to be proven wrong – to reach the other side., as we see images of his mother. He goes to Boston to meet with a noted medium, asks her to contact his mother, then confronts her and her team, who put a curse on him. When he refuses to be seduced by her, she sends an attacker, which leads to his death. The closing irony is that his wife then uses a medium to try to reach him. (updated 9/3/2014)



The Strain (horror series on FX, produced by Guillermo del Toro and Chuck Hogan, based on their graphic novel), True Blood also featured flashbacks to vampires fitting right in as Nazis. "Runaways", teleplay by Gennifer Hutchison, vampire hunter "Abraham Setrakian" (played by David Bradley) tells the CDC doctor about the threat he first knew by the Romanian term "strigoi": When I was a little boy, my grandmother, my bubbe, told me fairy stories about the strigoi and The Master. I thought they were only stories, until I saw the devil with my own eyes. Flashback to a train and a crowded cattle car in 1944 Poland. He's a young man (played by Jim Watson) huddled with his "bubbe" (played by Kathleen Chalfant): The train will stop soon and you'll be able to stretch your legs, bubbe. She warns: This train I don't wish to go any faster. Where this train is going I don't think we will be happy to arrive at our destination. . .Abraham, remember the stories I told you. Evil lurks in this world, and I fear we are soon to meet it. They are shouted off with dogs at a concentration camp (fans say the book specified Treblinka 1943), where the commandante is the same "Thomas Eichhorst" (played by Richard Sammel) who we've seen in today's Manhattan, announces: You will work here for the welfare of a new Europe. Together we will work for a better world for future generations. This is a place of honor and discipline. Do your work and you shall be treated accordingly. The grandmother is pulled away as he tries to stop the beating officer: Abraham no! Leave him alone! His friend (who some recappers assume is his brother): Let her go! "Abraham" cries: I have to protect her! She takes a last look back at him from her line of women, while he and his friend claim they're carpenters, and smoke rises over the background. The camp is full of yellow-starred Jews who are being beaten, and at night in the barracks at night the bloodsucker attacks one by one. "Abraham" whispers to his friend: I saw a creature. It was feeding. . It was real. My bubbe told me stories as a child, stories of a monster who feed on the blood of men and was drawn by human misery. What place is more miserable than this?. . .She told me the only way to kill it was with silver. If we can get into the metal shop? Friend: Stop looking for monsters! We're already surrounded by them. "Abraham": We're already surrounded by them. (He witnesses close-up his friend become another victim.) His name seems Armenian, so his Yiddishe grandmother's stories seemed to be more Roma and his triangle badge could be the Roma's brown, or the inverted red of political prisoners, so it's a bit confusing, and misperceived by fans, if she is Jewish.
"For Services Rendered", teleplay by David Weddle and Bradley Thompson, was clearer that "Abraham"s family is Jewish. He explained his weapons: Silver burns them. I learned of these creatures from my bubbe, my grandmother, when I was eight. She was the one who told me silver bullets can harm them. Flashbacks to the concentration camp in 1944 Poland. The commandante holds up a carved wooden hamsa
: Inspection in the barracks made a surprise discovery - a Jewish talisman. I believe you people refer to it as "The Hand of Miriam". It's carved in oak that is the property of the Third Reich. Who is responsible for this fine craftsmanship? He shoots two men in the carpentry workshop until young "Abraham" confesses. The Nazi pleasantly explains: The talisman is named for the sister of Moses and Aaron and is supposed to protect from evil. After the Nazi puts him to work impressively carving a large map model, he asks "Abraham" about his roots: Where I come from everyone worked hard. We knew no other way. . .I was born in Armenia. After the Great War, my family settled in a small town in Romania. (So his family could have been Sephardic, but then he'd have called his grandmother "nona" in Ladino.) When the Nazi drunkenly recalls passing through that town in 1941, he shrugs: You take all this too personally. "Abraham": After the murder of my family, I suppose I do. The Nazi: Ah, the nobility of the victim. Back to the present day, "Eichhorst" keeps demanding to find him again: Where is the Jew? He is here, I can smell him!
In the penultimate, "Last Rites", teleplay by Carlton Cuse, Weddle and Thompson, the flashback is to Shkoder, Albania, 1967, "Abraham" comes home with exciting news: We're so close this time, so close. "Miriam" (played by Adina Verson) is implied to be Jewish: Abraham, you have said these words before. He: He's here, I know it. Victory here would validate our life's work. And shame those who have denounced us. She takes up her crutches: Promise me, if you see signs of nesting you will get away. You should not do this alone. He: I'm never alone Miriam, you've been with me every step. She: Please, Abraham, do not let vengeance cloud your vision. He: I know your heart, and I now the toll my obsessions have taken on our lives and the sacrifices you have made. When we're finished, we'll adopt, a boy and girl, just like you've always wanted. She: Until sundown then. No later They kiss goodbye. But he's delayed due to a difficult escape, so that back home, he ominously sees her crutch has been discarded, and she staggers in the door with two infected vampiric children. Praying Forgive me God for what I must do so that Miriam and all the others will not have died in vain, he not only beheads them all, but it's her heart, pulled out of her chest, that he's been keeping beside him all these years - Give me strength and says: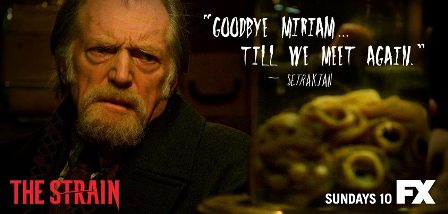 Abandoning the jar, he barely escapes in time, impressing "Eichhorst", hot on his heels, that "the Jew" abandoned all that you love. But it will not be enough. (updated 10/5/2014)

On Chasing Life (ABC Family), "Death Becomes Her" episode, written by Jeanne Leitenberg, "April" (played by Italia Ricci), the young woman just diagnosed with leukemia, shows her grandmother's friends a photo of her out-of-town boyfriend. "Gertie" (played by Bryna Weiss): He reminds me of Willie my late husband "April": Oh, I'm sorry. "Gertie": Thank you bubbela. but he was old, it happens. "April": You guys are so casual, just talking about death. "Gertie": Oh honey, when you get to be our age you just used to it. You've said goodbye to so many people, it's just part of the mishugas of life. In "What to Expect When You're Expecting Chemo" episode, written by Lisa Melamed, the grandmother "Emma" (played by Rebecca Schull) revealed that "Gertie" has a supply of marijuana for her glaucoma, that they used to bake brownies to help her granddaughter through her treatments. (I won't know if "Gertie" references return until TWC returns to carrying episodes on demand I didn't bother to pay $1.99 extra for it on Amazon.) (updated 8/29/2014)

Taxi Brooklyn (summer series on NBC, based on Luc Besson's film Taxi) had TV's favorite Jewish woman – a Jew who died in the Holocaust in the "Cherchez Les Femmes" episode, story by Franck Ollivier and Stephen Tolkin, teleplay by Ollivier, Tolkin and Gary Scott Thompson. Auschwitz survivor "Josef Wiesel" (Tom Morrissey) is beaten to death in Brooklyn. He had regularly paid women to reenact his lost love "Eva" from Hungary who died, by having them dress up in period clothes to the tune of old music, most recently with "Nadia" (Elizabeth A. Davis), who is clearly a victim of sex trafficking. His artist friend from the museum "Margarie" (Nikkie James) explained: When he told me what happened to [Eva] – such a sacrifice. . .The day Josef was going to marry Eva, the Nazis shipped all the Jews in Budapest to Auschwitz. Somehow Josef and Eva found a way to talk. They planned their escape for months. But then Eva fell and broke her leg when they tried to flee the camp. So then she acted as a decoy. She told Josef that if he really loved her he would run and live life for both of them. The last thing Josef saw when he looked back was a guard shooting Eva. The detective star of the show (Chyler Leigh) solves the mystery of the million dollars he'd finagled from the mob for a copy of Monet's "Camille on Her Death Bed": Josef sacrificed his life to save his new Eva – Nadia. He sent the money to Nadia.

Girlfriends' Guide to Divorce – Abigail McCarthy in the 1st Season (Bravo's first scripted series) Suddenly in the 2nd episode "Rule #174: Never Trust Anyone Who Charges By The Hour", written by series creator Marti Noxon, "Abby" (played by Lisa Edelstein) was not only revealed to be Jewish, but it was emphasized, starting with the exclamation that her middle name is "Shoshanna", with no explanation for her last name, then more so when she and her soon-to-be ex-husband first attend a mediation to negotiate their divorce, and they start filling out preference forms. "Abby" protests: all that stuff has to be in our agreement? The Mediator (actress to be identified): The more you have stuff figured out now, the less you have to fight about later. "Abby" persists: Yeah, but it just seems a little extreme. Like the religion thing, I mean, do we really have to know now who the kids are gonna be with on the High Holidays? Mediator: Well, you can always revisit, but yes. "Abby": I mean it is important to me that the kids continue to be raised Jewish. "Jake" was taken aback: Why wouldn't they be? "Abby" smiles: Well, you know. . .It would be really great for us to have Shabbat together every week. "Jake": Okay. "Abby": I just feel like the traditions weren't always that important to you. "Jake": We've never done Shabbat every week, but -- what do you mean by 'you know'? She clarifies to the mediator: His mother's not Jewish. He: Here we go. I don't have -- I didn't get the magic blood. I'm not a real Jew. She: I didn't say you weren't a real Jew. I said you weren't a full Jew. He's annoyed: Maybe I should convert, even though I was bar mitzvahed. The mediator tries to intervene: Let me stop you. "Abby": I'm just saying I would like it in writing. He: Maybe you could tell us something from the Torah, maybe about fidelity or being a . . . [didn't catch the Hebrew word for accuracy]. She explains to the mediator: That's a slut, by the way, and I was faithful. He: And I'm not the one who's shtupping an actress who thinks "27 Dresses" is a classic. The mediator tries to get them to take a break. "Jake": I'm not feeling particularly reasonable, but maybe it's because I'm a fake Jew? Later, back at home, she: You're a full Jew, sorry. He: Thank you. My parents will be so relieved. She: I just really want this mediation thing to work, to be as good as something awful can be. He: And Shabbat is a good idea. She: Thank you. He: It's a good. It's a good tradition for the kids. She: That's great. . . I'll be home for Shabbat. But later they renew arguing about her shakey finances and his girlfriend – and they forsake mediation for lawyers. Regardless, he comes back in the nick of time to participate in their Shabbat ritual. As she lights the candles she mutters: It's been awhile. and her daughter smiles as she recites the blessing. He: Now the prayer over the children. As the camera backs off to a schmaltzy pop song, it's a quite touching moment. (Their daughter "Lilly McCarthy Novak" is played by 16-year-old Conor Dwelly.):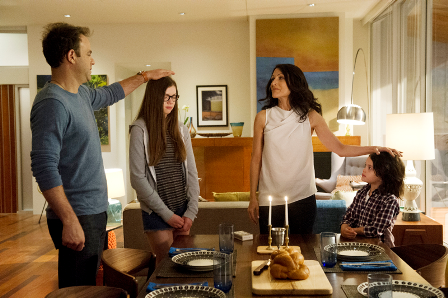 In the next episode, he joked to his starlet girlfriend: You do know that I'm a full Jew? Were they made more Jewish to defuse claims that her character was based on producer/self-help book writer and prominent divorcee Vicki Iovine? This despite that "Abby"s gay brother "Max" is played by the so goyish looking blond Patrick Heusinger that it seemed like a joke when he declared their parents would "plotz" at news of her divorce. Her ex-husband "Jake Novak" is played by Paul Adelstein, who portrayed the rare Jewish character in Shondaland, on Private Practice, whose chemistry with Edelstein she explained to The Wrap, 12/2/2014: "We come from very similar cultural backgrounds and there's some weight to that, which is a great experience, just professionally to have. And I think that really informed the storytellers and they really dug deeper into that story even more than they had expected in the beginning." updated 1/10/2015)

In Madam Secretary – Nadine Tolliver (on CBS), as played by Bebe Neuwirth, the hold-over Chief of Staff in the Department of State, didn't reveal her Jewish roots until the genocide-preventiont themed 6th episode of the 1st season "The Call", written by Matt Ward. After the Secretary (played by Téa Leoni) has bucked everyone to block an African genocide, "Nadine" toasts her: Cheers. To Julius Grossman. My mother's father. He was killed at Auschwitz. This was a good day at the office ma'am. Let's see if her ethnic identity comes up again, let alone if the Secretary starts trusting her more. (11/30/2014)

In the 6th season of The Good Wife (on CBS), "Marissa Gold" was upgraded to recurring character. The daughter of political consultant "Eli Gold (played by Alan Cumming) returned in the season opener "The Line", written by series' producers Robert & Michelle King, "Marissa" (played by Sharon Steele) is the usual brunette, curly-haired, wise-cracking Jewish female sidekick. She's first idly making conversation with him: I liked your old office better. This is more like a dentist's office. . .I thought Chicago was corrupt can't you just steal more. . . I told you I was fired. . .From the juice bar. She does funny, sexy commentary about a pretty young intern, then he introduces her to his boss "Governor Peter Florrick" (played by Chris Noth): I voted for you – absentee ballot in Israel. "Eli": She spent two years in the IDF. Governor: That's impressive. She confronts the intern that her father is too nervous to ask about the rumor that she's not wearing panties, and announces: I want to learn your job. I think I'd be good at it. "Eli": No you don't.
In "Old Spice", written by Leonard Dick, she showed up when "Alicia Florrick" (played by Juliana Margulies) has decided to run for State's Attorney. In the middle of a meeting with her campaign manager "Johnny Elfman" (played by Steven Pasquale), there's a knock on the door: I'm your bodywoman. . .I didn't know what that was either. It's like your personal assistant. I stick to you. Make sure you're on time, get on calls, and make sure your food isn't poisoned. . I'm Marissa – Eli's daughter? "Alicia" protests, the manager insists. "Marissa": Dad would be upset if you said no - -because I'm supposed to spy for him. But I'm not a very good spy, so don't worry. "Alicia": You don't need to bring me coffee, Marissa. "Marissa": Dad says you should use the courthouse shooting. It made you decide to change your life. "Marissa" shrugs at "Why milk?", then keeps criticizing the manager's word choices in dealing with the religious right: Why not? . . ."realized"? She just "realized"? What is she – 8?. . . Oh I get it. So I'm not supposed to have an opinion. …They don't want to hear about epiphanies. They're like Orthodox Jews. They want to know if you're in their column. She reassures the manager about the TV interview: That's's fine! She's doing fine! You're making me nervous. I have to go get her. In the car she follows up with "Alicia": That went well! I was in Israel a couple of years? Everyone there talks about God like he's some uncle hiding in the attic. Drives you crazy. "Alicia" asks: Do you believe in God? "Marissa": Yeah, but even I don't like talking about it. "Alicia": I don't like pretending to be someone I'm not when I'm being interviews. "Marissa": Really? You're good at it.
In "Sticky Content", written by the Kings, she's again a wisecracker, now during meeting with the campaign manager and ad consultant, like her reaction: Uch, it's so crass - it's awful! "Josh Mariner" (played by David Krumholtz) explodes at her: Excuse me - who are you again? She's frank: I'm the bodywoman. He: Then what are you doing talking? But she interrupts later about an ad: It's so corny wih the boo hoo hoo music. He: How many campaigns have you run? But she keeps mocking his work: How abou the music from "Titanic"? You could even cut to shots of the Titanic. He's mad: I'm losing it here! When he shows the exaggerated ad he's generated against the opponent, she laughs, which he sarcastically appreciates: Great, the bodywoman is entertained. She shares a skeptical look with the candidates, but shrugs: What do I know? I'm the bodywoman., and concurs with him the negative ad should be released. He mocks back: Even the nutty lady thinks you should strike back. (updated 12/29/2014)

The Goldbergs – Beverly, Erica plus (on ABC) I feel obligated to stream each episode and transcribe it – but my forthcoming commentaries will be long rants about insufferable stereotypes of a ridiculously smothering mother, while the daughter is inconsistent. (10/8/2014)

Mrs. Wolowitz in the 8th season of Big Bang Theory (on CBS) I keep transcribing the nasty comments about her, but after trying to keep up with the transcriptions I don't care about repeating my criticisms of the smothering stereotype, let alone all the fat jokes. But at least in the season opener, "The First Pitch Insufficiency", teleplay by Steven Molaro, Steve Holland & Maria Ferrari, story by Chuck Lorre, Jim Reynolds, and Anthony Del Broccolo, "Stuart Bloom" (played by Kevin Sussman", is still having a positive, if ambiguous, relationship with her, to her jealous and revolted son's fury and disgust. But it's just about the only times anyone has ever said anything nice about her.
"The Prom Equivalency", teleplay by Steven Molaro, Eric Kaplan and Maria Ferrari, story by Jim Reynolds, Steve Holland, and Jeremy Howe, continued mocking "Stuart" with "Mrs. W" (he insists: There's nothing going on between me and your mother!, but he runs to her when she seductively yells: Stuie your bath is getting cold!) -- but added the series' first attractive, articulate, non-stereotyped Jewish woman character - "Howard"s cousin "Jeannie" (played by Kara Luiz), who "Howard", with much embarrassment admits was his first sexual experience. Inside a limo, she and "Stuart" are dates to the fake prom, and explains to the fuming "Howard" how that came about: So I met Jeannie at your Aunt Glady's. She passed me the Manishewitz, I took one look at this punim and almost plotzed on the kugel. She challenges "Howard": Why would your mother have a problem with me and Stuart? "Howard": Because they have a weirdly inappropriate relationship. She, tartly: Weireder than what you and I did in my dad's Corolla? He: Why did you even come to this? Didn't you know I'd be here? She: It was a long time ago Howard! "Stuart" interjects: And you're only 2nd cousins. Who cares? "Howard"s wife "Bernadette" follows suit: So you knew and you broughtt her anyway? "Stuart": So she's good enough for Howard but not for me? "Howard" concurs as "Bernadette" retorts: Have relations with your own mother and cousin! This is his turf! "Howard" won't stop strangling him: Not until he stops pumping his way up my family tree! Yet at the prom, "Stuart" gets a call and assures: Debbie, we're just friends. And he immediately leaves "Jeannie" to have a startled solo picture.
Sadly, on 11/12/2014, after "Stuart"s compliments about "Mrs Wolowitz", including her intention to invest in his re-opened comic book store, continued through the fall episodes (which I am transcribing), the executive producers released a eulogy: "The Big Bang Theory family has lost a beloved member today with the passing of Carol Ann Susi, who hilariously and memorably voiced the role of Mrs. Wolowitz. Unseen by viewers, the Mrs. Wolowitz character became a bit of a mystery throughout the show's eight seasons. What was not a mystery, however, was Carol Ann's immense talent and comedic timing, which were on display during each unforgettable appearance." At the closing credits of"The Septum Deviation" episode, first shown 11/13/2014, the producers showed her photograph with: "In loving memory of Carol Ann Susi. 'Mrs. Wolowitz.' Every time you spoke, we laughed. You're in our hearts forever".
In "The Clean Room Infiltration", one of its many writers, credited as story by Maria Ferrari, Tara Hernandez and Jeremy Howe, teleplay by Eric Kaplan, Jim Reynolds, and Steve Holland, played on actress Mayim Bialik's well-known religious identity for "Sheldon Cooper" (played by Jim Parsons) to triumphantly tease her as "Amy Farrah Fowler" about the sentimental gift he thought he trumped her: How are you feeling now? Wishing you were Jewish? (updated 12/28/2014)

Inside Amy Schumer – 2nd season (on Comedy Central) (10/11/2014)

Shoshanna Shapiro in the 4th season of Girls (on HBO) (10/11/2014)

Broad City – 2nd season (Comedy Central is also posting "uncensored" scenes) - in preparation, they are releasing webisodes. Their Christmas party tips segment of the network's "All-Star Non-Denominational Holiday Special" was devoid of Jewish comments.
"Wisdom Teeth", written by the two stars, had each with a funny Jewish reference. In response to their African-American dentist friend's sarcastic comment of racial solidarity, "Ilana Wexler" is serious: Wow, I don't do anything for My People. After "Abbi Abrams" recovers from her surgery, and medicated calling of the cute guy down the hall she likes, she nervously avoids him by faking a follow-up phone call from her dry cleaners about stains: Hello? No, why would I throw-up on my clothes? I'm not crazy! Yeah, I am Jewish. It has nothing to do with it. (updated 3/14/2015)

Married – Jess in her 1st season (FX summer sitcom) – I made it through the whole dreadfully nasty season just to see if, per usual, Jenny Slate's "Jess" was Jewish, what with her "old" husband "Shep" being played by Paul Reiser. (Ironically, FX's paired sitcom You're The Worst whose non-Jewish characters are supposed to be anti-social were actually far more appealing and amusingly worth watching than this series.) Until the finale, the only explicitly Jewish woman was in "The Old Date" episode that Slate wasn't in, written by Daisy Gardner, the dead "Esther". The alcoholic druggie "A.J." (played by Brett Gelman") gives the excuse that he's there because: I heard Esther was a really cool lady. . .She died of titty cancer. . .I am walking for the cure this year. His friend (played by John Hodgman) points out that he was really there to see his ex-wife, because the deceased was the mother of the guy who is boning your ex-wife. I thought "A.J." said "aunt".
Though I didn't transcribe her lines, or lines about her, during the season, because I wasn't sure of even categorizing her as a putative Jewish sarcastic, coke-snorting, weed-toking, bar-flirting, working wife and mother of a toddler, when suddenly in the finale "Family Day", teleplay by Daisy Gardner, story by Gardner and Andrew Gurland, one of her usual negative cracks against her unemployed, music manager husband at a barbecue (her father's old friend, he told of his fantasy of death by eating brisket) had her first explicit Jewish reference: He's just trying to eat himself out of this marriage. . .Just try not to die before the bar mitzvah. Which added Jewish resonance to first-time family references earlier in the episode, where she was the butt of remarks about her addiction to visiting people in rehab as therapy, including: Last time you came and talked for an hour complaining about how your mother makes you feel guilty because you're not religious. Even her husband noted: She comes here because she likes the damaged men. They remind her of her father. But she closes the episode defiant to the accusatory friend: Yes, we're trying for a second. So now when you try to make me feel bad that I'm not a good mother, you can try to make me feel twice as guilty. (updated 9/24/2014)



The Fosters – Emma in her 2nd season (on ABC Family) is being more talked about than talking for herself, particularly in "Truth Be Told", written by Kelly Fullerton, by her ex-boyfriend "Jesus" (played by Jake T. Austin), by his sneering new girlfriend"Hayley Heinz" (played by Caitlin Carver) , and his sister "Mariana" (played by Cierra Ramirez), While the last vociferously speaks up for her, what with "Emma" relaying messages through her, not until "The Longest Day", written by Marissa Jo Cerar, does she get to spunkily speak up for herself. Finishing up at wrestling practice, Emma (played by Amanda Leighton) gets constructive criticism from their coach: Nice, but you lost focus. "Jesus" comes over: I just want us to be cool. A seething "Emma": I was stupid enough to think the first words out of your mouth would be I'm sorry. "Jesus": You broke up with me! "Emma": And you waited 5 minutes. "Jesus": How was I supposed to know you wanted to get back together? "Emma", strongly implying sex, but also with resonance for a Jewish teen: I'm not doing this any more! Everything's cool. . . We both know Hayley is everything I'm not and everything I don't want to be. I think it's time for you to find a new tutor. He walks off with "Hayley" as "Emma" glares at them, but "Hayley" is jealous that "Emma" will be attending the team dinner too, so she manipulates "Jesus" into not going to by claiming to be really upset about her parents getting divorced. His sister later hotly lets him know she's known about the separation for months. In the next episode, he angrily acknowledged that his sister and mother preferred "Emma" as his girlfriend.
"Emma" turned up again in "Stay", written by Marissa Jo Cerar, sitting next to "Jesus" sister "Mariana" (played by Cierra Ramirez), who has just gotten accepted into the advanced STEM [as in Science, Technology, Engineering and Math] program math class: Wow, I never would have suspected that Jesus's sister turned out to be a math whiz. "Mariana": Please tell me you know that I'm nothing like my brother. "Emma": No, I do. "Marian": I'm sorry how all of that went down. Hayley and everything. "Emma": It's cool. Don't worry about it. "Mariana": If it helps, I like you way better than her. "Emma": It does help, a little. But I don't think Hayley was even the problem. I think we were done as soon as I became his math tutor. He just couldn't deal with me being smarter than him. And I am glad that you're here. Between this and wrestling, I was starting to think that I was the only person in the world without a penis. But the lesson "Mariana" takes from this confession is to downplay her smarts with her boyfriend – until he straightens her out. (I'm trying to catch the rest of the Season 2 episodes where Leighton is listed as appearing.) (updated 2/28/2015)

Transparent (on Amazon Instant Video) As the 1st season is released, there is more focus on the transgender central character than on their Jewishness. From Taffy Brodesser-Akner's 8/29/2014 New York Times Magazine interview: "Can Jill Soloway Do Justice to the Trans Movement?" In 2011 her short "film got into Sundance. A week later, Soloway's father called her to come out as transgender. . . Transparent is not overtly autobiographical. The show is at least an equal product of Soloway's own creative struggle with gender identity as it is of actual family history." be considering a Jewish father becoming a Jewish mother. (8/29/2014)

Manhattan – Abigail Isaacs in the 1st season (on WGN and Hulu) The first episode, "You Always Hurt the One You Love" written by Sam Shaw, set in 1942 "766 days before Hiroshima", established that for the husband scientists working to develop the top secret atom bomb: This is Shangri-La. The highest combined IQ of any town in the country and we have more Jews than Babylon, reminding me of the anecdotes in the autobiography Surely You're Joking, Mr. Feynman, as in Richard. But where are the other Jews? None of the wives seemed Jewish at first, until it was gradually made clear that "Abigail Isaacs" (played by Rachel Brosnahan) was Jewish because we first saw her on the long dry, dusty road to New Mexico, with their young son, nagging her husband "Charlie" (played by Ashley Zukerman) to stay east and work for her well-to-do father. She gave more of an implication, in the 2nd episode "Prisoner's Dilemma" by Shaw, while she was outside scrubbing, with her hair in rollers, and explains to her neighbor why she's tearfully trying so hard to clean up:My grandmother tatted these curtains. They survived all the way from Russia. . . I put a pot of coffee on and the next thing I know the house is on fire. (While folks online are pointing out dialog anachronisms, I had to look up the old-fashioned word tatting.) Her husband is surprising her by getting as frisky as on their honeymoon, outside -- There's no grass stains in the desert. -- and inside, where she's nervous about the thin dorm walls barely separating from her neighbors, who I'm not sure yet if any of those other wives or female scientists are Jewish.
The series' website describes her background: "Abby Isaacs grew up in a secular Jewish household in the suburban bubble of Brookline, Massachusetts. When Charlie declined his father-in-law's offer of a sales job with the family business, he caused a rift with Abby's family that remains unrepaired. Abby remains loyal to Charlie and takes pride in the idea that he is special. She and Charlie share almost no interests other than their son, but they have fun together. Abby is a good, if indulgent, mother to her child. Cultured and naturally social, Abby is still a newcomer, discovering by trial-and-error the very strange rules and taboos that govern life at Los Alamos."
In "The Hive" written by Nathaniel Halpern and Lisa Melamed stuck in some awkward Jewish references, to both Isaacs's. Sitting around with the other women admiring hunky enlisted men washing their dusty cars, "Abby" is asked if she got her work credential yet. She: Running after a 6 year old is enough work of me. . .I don't know how to do anything. An older woman insists: Gladys is expecting a visit from the stork. You can take over her job. You seem like a very good listener. Later her husband's reaction: I just never thought we'd be a 2 income family. She: At 40 cents an hour? It's more like 1 income and some pocket change. If Daddy found out I was getting a job he'd keel over. He: We should call him and tell him! You're a modern woman, I think it's sexy! -- and slaps her on the butt. She: They haven't hired me yet. I have to pass an exam and you know I don't test well. [Another woman] failed it and she has a PhD. I heard that's why she doesn't work. He mutters that it's not that kind of exam and it's her husband who failed. To her: If I didn't know better Mrs. Isaacs, I'd think you actually want this job. She: I don't want the job, I want them to want me for the job. Turns out her job interview for a phone operator is a lie detector test. Among the questions and answers: How many alcoholic beverages do you consume in a week? A little Manishewitz at Passover. What are your assets? $900 in bank, a car. And there's a separate trust in my name, about $200,000. The polygraph operator is more surprised at that answer than the next ones about ever having been arrested and charged with a crime or felony: Yes. I borrowed my piano teacher's Studebaker. It was a misunderstanding. She dropped the charges. Have you ever had relations with a man outside your marriage? No. She gets to report to woman supervisor: You passed with flying colors! It's just like Harvard -- getting in is the hardest part. . . You get to learn all your neighbors' dirty laundry She's all enthusiastic to her distracted husband while serving dinner: What did you do at work today? Trick question! You're not allowed to answer!
In "Last Reasoning of Kings", written by Scott Brown, "Abby" has gotten daring and frisky. An announcement comes over the public address system for her husband – it was her daring for what would later be called afternoon delight on her lunch hour: Charlie Isaacs report to me. She pushes him up against the wall over his protests all he needs to do She: Tell me about [Niels] Bohr and your work. She pulls down his pants, then him down into the corner. She gets all excited on top of him during sex on the floor as he talks on about electrons. Later, she's excited to get all dolled up for the reception for Bohr, but he's depressed from a conflict with Oppenheimer doesn't want to go. She: Stick to physics. You have no future in comedy. . .My father wanted me to marry someone from East Egg, not East St. Louis, I told him 'Charlie is a genius'. The truth is I didn't think you were a genius. I didn't know what you were until we got here and I saw the way people who everyone else calls a genius looks at you. . .We're going to that party and we're going to fix everything with that man who may be running everything. And a kiss of encouragement.
"A New Approach to Nuclear Cosmology", written by Mark Lafferty and Noelle Valdivia, the Isaacs are now both turned on by their work and are having a lusty round of sex in bed in the opening scene, with her on top, as the radio plays a romantic song. In a post-coital cuddle, she teases about his secret, and he teases her about "technique". She thinks the project is winding down; he warns It's just getting started. She jokes she's a switchboard girl who's going to get a Nobel Peace Prize, to which he grins into more sex. But at work, her sneeze gives away that she's listening in a call by a top scientist "Frank Winter" (played by John Benjamin Hickey), who sardonically tells her "Gezunheit" when they pass in the hall. Later, he tricks her with a misleading call to his father that upsets her so much she leaves work early to confront her husband: You would never steal something would you? He jokes: Just stealing you away from the most eligible Jewish bachelors in Brookline. She: You would never cheat? and she tells him "Winter" claimed he plagiarized his scientific research and he reassures her that he didn't: I would never even cheat on my taxes. When he confronts "Winter" not to talk to him through his wife again, it turns out there was a debatable borrowing of a concept in one paragraph: My wife wouldn't even look me in the eye last night. But after this blackmail to lie to an investigator (and his being Jewish was frequently referred to in their suspicions), they share a sleepless night.
In "Acceptable Limits", written by producer Dustin Thomason, the couple is full of insinuations. "Charlie" is getting checked by a doctor with an alarmingly noisy Geiger counter: Thought we only got poked and prodded once a month. I see more of you than I do my wife these days. By the time he comes home after work, the electricity has gone out and, to his consternation, she's reading by candlelight,: I lied. I told you I read your paper. I picked it up 10 times last year, but I never got past the first paragraph. I want to finish. . .This part about bending light waves – is that like a prism? We had one in school. He: Abby put it away. You're never going to let it go? She: I just wanted to read it. He: Is this about Winter? Ever since you got that call you haven't looked at me the same. She: That's ridiculous. He: I'm not like your father. I don't have a trust fund. I guess that means I cheated my way in, right? She: You're the only person I know who thinks a decent upbringing is something to be ashamed of. He: I'm going on a trip. I don't know when I'm coming back. You'll have plenty of time to catch up on your reading. When she cleverly investigates that he's traveling with a female physicist, she is curt at work to his lonely phone call from his Oak Ridge, TN hotel.
In "The New World", written by Lilya Byock and Dustin Thomason, they are both experimenting. She reveals her jealousy to co-worker "Elodie" (played by Carole Weyers), who is earthily supportive: If your husband prefers hamburger to filet, he deserves an empty stomach. While "Abby" also confesses to overhearing her noisy sex through their thin party walls, she jokes about faking orgasms: I only get to the top of that hill climbing alone. "Abby" reluctantly agrees go to a noisy bar on the other side of town in a sexy dress and be slyly introduced as a WAC from the base. The co-worker teases her hesitation: They don't have Negro music at the Brooklyn Country Club? She corrects to: Brookline. She at first demurs Prohibition-era 80% proof alcohol, but a soldier teases her into drinking it: Oh I thought you were an Army girl? They jitterbug and he gets very handsy. When she gets pretty drunk, he leads her off the dance floor and against the wall for a whole lot more necking than she's ready for. "Elodie" rescues her just in time to take her home to bed– and then kisses her. And "Abby" kisses her back. They make out quite a bit on the bed. She wakes at noon naked and hung over – and, along with her maid, sees that the other side of the bed was slept in. Meanwhile, he too is getting a bit drunk and confesses to his colleague that his father is really in the state pen: Why am I telling you that? My wife doesn't even know. He comes home from his frustrating nuclear experiment with a big I love you Abby. She hugs him right where she conducted her sexual experiment, but he has to go back to the office.
"The Second Coming", written by Sam Shaw and David Thomason, dealt with American Jews and the Holocaust from a sensitive, creative perspective I haven't seen on TV before. "Charlie" is surprised to catch "Abby" leaving work from the early shift. He wants her to "punch back in", but she's excited to be sneaking off for a day trip to Santa Fe. He insists on an important favor for her to do: You can shop tomorrow. Santa Fe can wait. She sputters: I'm not shopping. I know you won't approve, but I'm going to go see Mother and Daddy. He's sarcastic: Your parents live in Massachusetts. She: I got a letter. They're going to a millinery convention in Los Angeles on the California Limited and it stops in Santa Fe. I'm going to surprise them. He's taken back by her initiative: Jesus Abby. She's determined: I'm going to ride one stop, 72 minutes, I'll get off the train and I'll take the bus back. I know it's against the Army rules, and I know we can get in trouble. He: Fine, but before you go I need for you to arrange an out-going telephone call. She agrees, but he insists on conditions: With no one listening – not even you. But she does listen in and is a bit suspicious. On the train, she surprised her parents with a knock on their compartment, but she's just as surprised that her mother "Miriam Rubins" (played by Jessica Hecht) weeps over her grandson. Her father "Maxwell Rubins" (played by Robin Thomas Grossman) shows her the letters from the old country that first begged for food and help, and have now stopped coming altogether. "Abby" is confused, and resentful: So this is Aunt Esther's family? Father, with an Eastern European accent: Esther is on my side, sweetheart. The Pearlmans are your mother's cousins, back in Minsk. She's still confused: With the textile factory? Father: We thought they'd all made it out, but that letter arrived just before we left home -- Malka and her little girl, got left behind. Mother is very upset: The postmark was from June. Now the whole ghetto has been "liquidated". What kind of word is that? It's like a sale at Filene's. "Abby": What are they doing in the ghetto to begin with? Aren' t they very well to do? Father: We have half of Washington trying to get information. "Abby": You're always warning me about jumping to conclusions. I'm sure your cousins will turn up sooner or later. Mother, bitterly: Probably in a shallow grave! "Abby" is shocked, looking at her son: Little children have big ears. Mother: I hope he's listening! Children need to know what kind of world we're living in that treats good Jews like poultry! Your father sheltered you too much! Father: Let it go Miriam. Mother sneers at "Abby": You could never stand any ugliness. "Abby" retorts: Forgive me if I'm not interested in gloomy gossip about people I never even met. You haven't seen Joey in six months and this is how you want to spend our time together? Mother: Is it our fault that we haven't seen you? Angry silence and glares all around, and dad guzzles a drink. "Abby" tries changing the subject: Joey's going to be in a holiday pageant. He's playing the little lamb in the manger. Father: He's Jewish. "Abby": Well, so was Jesus. And I know you won't believe it, Daddy, but Charlie has been an absolute star at work. Father: And what is his work exactly? "Abby": You know I can't talk about it. But a lot of very smart and important people seem to think that Charlie's going to help end the war. Mother: Maybe Charlie can help us, he's got such an important government job. Maybe he can find out where they've got Malka, arrange some kind of special visa. I don't know what, we'll pay whatever it costs! Father: My love, there is nothing that Charlie can do. "Abby" notes she has to get off in 18 minutes, at Albuquerque. Father protests: You're getting off? We have a suite in Pasadena. "Abby": If they even knew that I was here. And there's a knock on the door from a soldier: Mrs. Isaacs would you please come with me -- now. She's brought in for questioning by a Colonel: Mrs. Isaacs, this is a serious infraction. I would think a switchboard operator would know security regulations chapter and verse. She's nervous: Absolutely sir. I do. He admonishes her: A day pass to Santa Fe is not a ticket to California. She: I wasn't going to California, just to Albuquerque. He: Mrs. Isaacs, you and your husband are having a marital dispute? She thinks fast and starts crying: Sir, it's nothing like that. There has been a terrible tragedy. I don't know if you heard what's happened in Minsk? I have family there, my cousin Malka, she's really more like a sister to me.. She weeps into his proffered handkerchief: I know it was wrong to sneak off like that, but I was trying to help my family through a difficult time and I'm prepared to accept my punishment. He: There have to be consequences. She sniffles, as we see the private play with her toddler just outside the office: My poor cousin Malka. I used to send her hand-me-downs every year. I guess there's no need for those dresses wherever the Nazis have taken her! It's just so hard not knowing! If only we had some answers! He: All right, given the circumstantces, we can let bygones be bygones. Go home and get some rest Mrs. Isaacs. But there's a knock on her door at home and she's sarcastic to the private: So much for bygones - are you here to arrest me? My son is asleep and I don't have a sitter. Instead, the private, with an Irish-sounding name, asks to come in and tells a long story about a Jewish man from his hometown who was helpful to his father: I know how important family is in the Hebrew faith. I file the intelligence reports – here's everything we know about the situation in the area where your people are. You said not knowing was the hardest part. The Bible says the Lord rained fire on Sodom and Gomorroh. I don't know what's going to rain on Berlin. She opens the file, and is still sitting in shock when her husband walks in expecting dinner. She says matter of factly: My cousins are dead. . .The Pearlmans on my mother's side. He: Were you close? She: No, I never met them. If I'd seen them on the street I would have walked right past them. He: Were they in an accident or? She tears up: No, they live in Europe. I don't see how they could have escaped with a toddler. Did you know that in Minsk the Germans allow each Jew one and half square meters of living space, the adults I mean. The children were marched into the forest and buried alive. He: Where did you hear that? She: There's more than a million people missing. Like they just vanished off the face of the earth. I don't even know how to think of a number like that. He: You shouldn't be thinking about that stuff. Her weeping turns to anger: Why? Because I'm too fragile to stomach the truth? He: No, because there's no point getting worked up when there's nothing you can do about it. She asks about his suspicious phone call she had listened to: You're right, I can't do anything about what's happening over there – but you can. She hands him the file, and he pulls out the photographs of women and children being rounded up at the points of guns. He overcomes his paranoid nightmare of his boss mocking him as a Jew, and barges in to tell him of the problem with the bomb design. (In the meantime, "Abby" got a package of the return of her bra from her female lover.)
In "Spooky Action at a Distance", written by Mark Lafferty, "Abby" is again being seduced by her neighbor "Elodie" (Carole Weyers), while they sunbathe. "Abby": Was it normal? What happened between us the other night? "Elodie": You Americans, always looking for explanations, for penance, What do you think happened? You fell asleep. "Abby": Yes, but before I fell asleep. "Elodie" goes on about her first man she made love to – then strokes "Abby"s hand: Secrets, Cherie, without them we would just be normal. While it's not clear where her son has gotten off to, "Abby" is getting drunk in "Elodie"s Christmas-tree-filled living room. "Elodie" leans in for a kiss: You think too much about should. -- but they're interrupted by the husband "Tom Lansfield" (Josh Cooke), who insists "Abby" stay for dinner, and takes off his wife's Josephine Baker record for an upbeat American pop song. They all get drunker, then while the wife goes for another bottle, he pushes "Abby" down in her chair and feels up her breast: I want to know you better. I do know you. You can keep a secret. He sticks his hand up her skirt and leers: As soon as Charlie slips up I'll be waiting. She reports on what he said to her angry husband: What do you mean he touched you? She: You know what I mean. He groped me. He said something about he sees what you're doing and he's waiting for you to slip up and --. But he just walks away silently. She: You have to do something! He: Like what? She:I don't know. He shrugs: Men will be men. The best thing you can do is stay out of his way. Taken aback, she goes off to smoke a cigarette in their bedroom.
"The Understudy", written by Tom Spezialy, paralleled "Abby" and "Elodie"s relationship with their husbands' work, as it opened with them lolling on a picnic blanket, oblivious to the radiation that another of the wives is increasingly paranoid about. But then "Abby" is pulling herself together after enjoying oral sex. "Elodie": How long has it been since your husband did that?. . .You don't have to wear so much make-up. You're beautiful withou it. "Abby": My mother always said a girl should never leave the house without lipstick unless it's in a coffin. "Elodie": Love affairs are the rewards for putting up with our husbands. "Abby": We're not having an affair. "Elodie": You don't have to feel guilty for taking pleasure in life. "Annie" demurs from her dinner invitation: Not much pleasure the last time I had dinner at your house. Your husband put his hands all over me. . .Practically assaulted me. "Elodie" tries to kiss her: I'll kill him! I'll poison his dinner! "Annie" lies to her: If I wanted to make a production out of it I would have told Charlie. I don't know what he would have done. Later they meet up at a bar, smoking together. "Elodie": This is awfully public. "Annie": Yes that's why I wanted to meet here, so there's no misunderstanding my intentions. . You have been a wonderful friend at a time when I really needed one. But whatever you think is happening between us, it needs to end. I'm sorry. "Elodie": Is this about what Tom did? "Annie": No, this is about you and me. They're interrupted by a drunk couple they know from work. The guy leers to "Abby": Does your husband know you're out on the town with this minx? The woman returns to "Elodie" her copy of Albert Camus's L'Etranger (The Stranger) because she's disappointed: I thought it would be racier. "Elodie" starts in: Oh, he certainly set Europe on fire. "Abby" interrupts: I thought that was Hitler.What's the book about? "Elodie" interrupts the plot description: It's about the fact that our lives are absurd. There's no God. There's no morality. And society invents rules to keep us from happiness. But every minute of every day you're free to decide who to be and how to live. "Abby": Sounds like the author never lived in this town where you can't leave. "Elodie": He lives in occupied Paris. . .You're free to walk away. . .Just because there's a consequence doesn't mean you have no choice. "Abby" is confused and shocked by the "bon vivant" couple's invitation for a threesome. "Elodie" defends everyone having a secret life, especially here: Abby, you've been on the switchboard long enough to know that everybody inside these fences has a secret life. You're no exception. The difference is you're keeping your's secret even from yourself. . .Why shouldn't we enjoy ourselves while we can? Life is short and it's getting shorter all the time. . .That's why we're here. So our husbands can invent the end of the world. In the morning, "Abby" surprises her husband by sitting and reading the book in her pajamas: You woke up early. She retorts, after all he had been flirting with another scientist: You got home late. He: What's for breakfast? She: Nothing. He: Nothing? She: I'm not hungry. Why would I eat? He: Because that's what people do in the morning. He notices the book and tries to sound out the title, which she corrects: I took four years of high school French. He's sarcastic: You buy gossip magazines for the photo spreads. Suddenly you're reading Baudelaire? She challenges him: You're not building a radar system, are you?. . .That's what you told me when we first got here. Is it true? He: Abby, it's complicated. She: Lying to your wife? He: I can't tell you any more. I'm not allowed. She: Of course you can. In every single moment, we have a choice. He: I'm protecting you. She: By building some machine that could wipe us all off the face of the earth? He stalks off to the kitchen: I'll make my own breakfast. She returns the book to "Elodie": Already finished? "Abby": Do you know why I learned French? Because it was important to my mother. Every August Charlie and I spent our vacation in Chatham, the same place that I've been summering since I was a little girl. It never occurred to me to go someplace new. "Elodie": Well, you deserve to see the world. "Abby": My whole life I have been exactly the person everyone expected me to be. I don't even know what I want. "Elodie: What do you want right now? "Abby" smiles seductively, leads her into the bedroom, and "Elodie" closes the door behind them.
In "Tangier" written by Scott Brown, their secrets get entwined. "Elodie" is lounging in her robe while "Abby" dresses. They play a game of "Escape" - where to travel for $100. "Abby" first jokingly chooses Albuquerque, then Paris. But "Elodie" is mournful: Paris was real for me, before the war. I do not think there will be much Paris left. Before the war, before Tom, ladies lived there like the two of us. Together. Like this. Only without the lies. So she picks out Tangier from a map for their fantasy trip: "Abby": It sounds better than Albuquerque.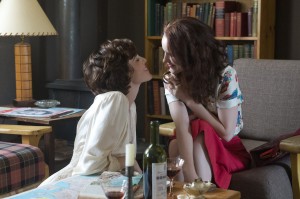 They kiss. "Abby"s husband "Charlie" is losing at poker, to taunts by Elodie's husband "Tom" as he bets half a year's salary and then more a valuable microwave patent: What would your pretty little wife say? . . .Dr. Isaacs wants to win his lady a new mink tonight!. . .What is it – the deed to Palestine?. . .Look at the Prince of Israel bluffing his way to the Promised Land. "Charlie" wins and socks him: You touch my wife. You brag to your Ivy League circle about it, jerkoff? You even look at her again I'll break your neck. "Tom" keeps taunting: A man with nothing to hide would have clocked me the moment I touched his wife. . .You're playing a longer game. "Charlie": You're the longest winded rapist on record. "Tom": I know about your side project. You're going where there's no Jewish quotas to hold you back. Ambitious kid like you, nothing to hold you back. I can afford to lose a hand here and there. "Charlie" reports to his boss who recommends firing The man who attacked my wife. But first he asks his co-worker "Helen Prins" (played by Katja Herbers) who he's almost been having an affair with, to plant incriminating evidence on him: Why don't you ask your wife to do it? He: I need you to do something. That French woman Elodie?. . .I know you've been close, you've been spending time with her. . . I need you to put something into their house. Some papers. To make it look like Lancefield hid them. . .I can' tell you any more. "Abby": I'm so sick of this, of only hearing half the story. He: Your husband's half. The half that matters. She: So you're framing them for something. He: Lancefield is trying to ruin me, to ruin us. She: Charlie, people go to jail for having things they're not supposed to have! He: He's not going to jail. His father practically runs US Steel. He'll land on his feet. What do you care after what he did to you? She: Is that what this is? You're avenging my honor? You're a little late Charlie. Do you really think I would do something like that to my friend, to anyone? He: Wars have casualties Abby! She: I don't even know who I'm talking to. She stalks out, and later at night, knocks on "Elodie"s door: Was it a joke? About leaving? "Elodie": You're scaring me cherie. "Abby": I want to play this game out., and comes inside. "Elodie": It's cheap, if we saved our paychecks for a month or two, it's enough for a start. "Abby": I have money. I have an account that Charlie doesn't know about. "Elodie": What happened between you two? "Abby": Everything. He asked me to trust him. He moved us 2,000 miles into the middle of nowhere. He's been lying to me since the day we got here. He stole another scientist's work. And he made me feel like I was betraying him because I wanted to understand why. He asked me to do things no one every should. "Elodie" kisses her hand: I don't know who Charlie is any more. And I'm not sure he ever knew who I am. "Elodie" Who are you? They kiss, and are later in their underwear together. "Elodie": He's off playing cards again. He won't be back until the crack of doom. "Abby" gets up to get water for herself and wine for her lover, but she looks out the window at a happy family walking by silhouetted in the light on from her house across the way, gets teary, and looks down at the kitchen trapdoor where her husband wanted her to plant the files. She goes home to find him lying on their bed in his clothes, waiting for her: Where have you been? "Abby", upset: Walking. He: All night? I should never have involved you in this. It got complicated. I should have listened to my conscience instead of. . . But they are interrupted by sounds of the military police dragging "Tom" and "Elodie" out into separate cars. Both look up and glare at the Issacs before they're taken away. "Abby" goes into their bedroom and locks the door. He: Can you let me in?
In "The Gun Model", written by Lila Byock, "Abby" is haunted by "Elodie" even while doing the laundry. She goes into her vacant house across the way – and is so upset at meeting the new tenant that she slap her! She sits and sulks at home, while her husband is stressed from intra-office turmoil. (I've resorted to Wikipedia to try and follow the scientific politics about "Thin Man" and plutonium.): I made a mistake. I listened to the wrong man. . .I betrayed a trust. He's given me a second chance. A clean slate. But she's bitter: There's no such thing as a clean slate, for any of us. He: I lost my bearings for a little while is all. She: There's no difference. . . One tried to destroy our marriage, the other dragged us into this trap. I don't know which is worse. You are a pawn in some kind of a political game and you made me a pawn too. I framed a man and his wife ,my friend too. And for what! He: I listened to the wrong man. I told you I'm fixing it! She: The man I married had his own mind. What happened to him? He: What happened to you? When was the last time you told me you loved me? You've barely touched me in months. She's teary: I'm going home Charlie. He: You can't. The Army won't allow it. She: I looked into it. There's one way they will. . .If we're divorced. Upset, he goes to boss and tries to quit, but won't let him. He confides in his co-worker scientist, who invites him to stay over, and they finally passionately tumble into each other's arms.
The season finale "Perestroika", written by Sam Shaw, brought together all the complexities around "Abby". From an opening with refugees in a crowded waiting room, a curly-haired brunette girl wanders away from her mother to a window looking out at the Statue of Liberty. Scarily, she's offered a lollipop – from the spy hunter, who Robert Oppenheimer will later call, "Mr. Fisher" (played by Richard Schiff, who usually plays Jewish characters, and I sat next to when he got CCNY's Townsend Harris Alumni Award along with my father). He brings her back to her mother to confirm that they are being sponsored by "Charles Isaacs" and he asks her in Russian: What are your ties to Charles Isaacs? The relieved mother: Ah, he's a very important man! Back at the Issacs' house in Los Alamos, "Charlie" walks in to "Abby"s sarcasm: Nice of you to drop in. . .You can't just hibernate in your office or wherever you've been the past two nights. Just as he tells her about the suicide of a colleague, Military Police burst in and take him away! She tries to defend their son's bedroom, but can only in tears grab him from his bed as they tear through the place. In the brig, "Fisher" accuses "Charlie": When did you become aware of an allied spy in the Nazis' bomb project? "Charlie" is perplexed: I wouldn't have told a soul – least of all the Nazis. I have family in Europe! "Fisher": In Minsk. Not a particularly hospitable corner of the map for Jews. "Charlie": Why would I talk to the Russians? "Fisher": Because famly is everything. And you had family in Minsk. Yuri the husband is still there, and probably dead. But Malka and the little girl? They're in NYC. And they're very eager to meet you, their American benefactor. "Charlie"s relieved: They made it out? "Fisher" goes on about the Soviets: They keep their promises. .They get their inside line on the Manhattan project and you – you got your wife's family out of Europe! They go back and forth about the null hypothesis of whether it can be proved – and that "Charlie"s father is in jail as a Socialist; "So I'm your unified theory? "Fisher": The Pearlmans? They're your wife's cousins? What role did Abby play in all this? "Abby" is brought in tears: They said you needed to see me! "Charlie": Abby, you shouldn't even be here. She: They wouldn't even let me clean myself up! What is going on? He: He brought you in here to spook me. He thinks I'll crack under the pressure. She: Who? Are you in over your head? Because I'll call my father and he'll-- He: Oh Abby! Trust me this is outside the hat king's jurisdiction! She: Yes, well my father may be in Massachusetts but he's on a first name basis with half of Washington . Senator Weeks was at our wedding! He: You need to go. She: Well MPs are tearing the place apart! It's a miracle the walls are still standing! He: I mean home – Massachusetts. She's shocked – Is this about the Lansfields? He: Your family's safe. She: What? He: Your cousins in Europe. The Pearlmans. She: they're dead. He: No no. They're in NY. She's teary. He: They're probably in some fleabag hotel, but they're fine. Safer than we are. Now some men from the government are asking questions. She: They think that you're a spy? He: That I traded military secrets. She: But you didn't. He: No I didn't, of course not. She shivers: Whatever they think you did, whatever made you do it. You tell them that! He: Abby – you'll be implicated too. [His boss] knows you helped me make it. . .He knows you put the papers in Lansfields' apartment. He knows. You can have the divorce. You and Joey need to get as far away from this place as you can. She tearfully strokes his face and he murmurs her name: I'm so sorry. Maybe if we never came here. Maybe if we'd stayed in Brookline things would be different. But he's grabbed by MPs as she screams: Please don't hurt him! and he's taken away. "Fisher" resumes interrogating him: She told me everything. He: Where's Abby? "Fisher": Your wife is sitting in the next room. She told me everything you did and why! He: That's bull shit. "Fisher: No one can blame a man for trying to save his wife's family from the Nazis and his marriage all in one fell swoop. He: Abby would not have told you anything. "Fisher": Betrayal gets easier and easier and easier. After all, she has been betraying you for months with your neighbor. Making love in Lansefield's bed, in your bed. He: Well now I know that you're lying. She hated Lansefield. She wouldn't go anywhere near him. "Fisher" hands him a pile of photos: Of course you're right. But you see that foreign wife of his, she had an interesting story too. One about romancing your wife while you were at work. Your wife is a complicated woman Dr Isaacs. As soon as she realized that she might very well lose her son, getting her to admit what you have done is simple. He whispers: I don't believe you. "Fisher": But you do. You're thinking back to every bridge game, every martini. Every time your wife told you she was going over there to borrow another cup of flour from that woman. So you might as well start admitting what I already know fact by fact! He throws the photos at the wall: We're done here asshole! "Fisher" threatens torture. Back home, listening to FDR on the radio, "Abby" vomits – uh oh, that's TV for pregnant, let alone that she does it again and holds her belly before the closing montage. "Charlie's co-worker/lover comes to the door saying they've looking for him at work. "Abby" is suspicious: We? Business or pleasure? "Helen" sees the place is wreck, as well as how happily she greets her son when the Indian babysitter brings him back: I think you should leave. "Helen": I really need to see him. "Abby": You're too late. The MPs came for him this morning. Because they think a Jew from East St. Louis is passing secrets to the ones who want to exterminate us and you are not the only one on this hill who is trying to take my husband away from his family. "Helen" reports back to their boss, who into a wiretap takes the fall for everything, so that Oppenheimer can introduce the suddenly released "Charlie" to the Secretary of Defense as: The director of the implosion group is one of the brightest lights on this hill. He solved the physics almost singlehandedly. (updated 11/9/2014)

In the Face of Crime (Im Angesicht des Verbrechens) (2010 German mini-series released on DVD in the U.S. in 2014 by MHZ Networks, in their "International Mystery Series") Director Dominik Graf's (of Beloved Sisters (Die geliebten Schwestern), who evidently uses ménage a trois as a signature) 10-episode noir set looks at the necessarily complicated loyalties of the contemporary Russian-Jewish community in Berlin – not quite German, not quite Russian, and not quite out as Jews. The matriarch of the Gorsky family (played by Aviva Joel) hosts traditional religious gatherings at home, such as Shabbat dinners that she expects her son "Marek" (played by Max Riemelt) to attend, and a yahrzheit observance for her elder son, whose murder inspired the brother to be a cop. I think she was speaking Yiddish to her adult children. (Ah, so all these years I could be calling my sons "Shaine yingel" and will immediately start with my grandson.) Though he is sometimes teased to date a Jewish woman, it looks like the community is so small that all the prospects he grew up with and treats as friends. (I was surprised that the Ukrainian lover, who prominently wears a cross, who he rescues from the sex trade, let alone her grandmother who, ironically, had similarly massaged German soldiers during the war, didn't seem to notice he was a circumcised Jew.) His earthy partner warns him that he'll probably start to look down on her for her past with a question he avoids answering: So when are you going to introduce her to your perfect mother and sister? as he sees that by the last couple of episodes they were sweetly in love. His passionately volatile older sister "Stella" (played by Marie Bäumer) lives like a wealthy Mafia wife, who first ignores the criminal activities of her hunky husband "Mischa" (played by Misel Maticevic), only lashing out at his infidelities, then, scarily, ending up totally integrated as she takes over, into the very Russian Christian gangster culture,. She's devoted to her brother – until the police raid her Odessa Restaurant. (updated 1/10/2015)

The Honourable Woman – Nessa Stein and more (in U.K. on BBC2; in U.S. on Sundance Channel) The mini-series premiere first in the U.K. led to advance commentary about a character that the press is calling "Anglo-Israeli". Quoted in The New York Times, "Adding Fiction to the Fray Making Dramas About Mideast Can Be Complicated", by Dave Itzkoff, 7/28/2014: "Sarah Barnett, the president and general manager of Sundance TV, said that her network had signed onto the series on the basis of [Hugo] Blick's scripts, even before [Maggie]. Gyllenhaal had agreed to star. "Nessa Stein was someone we just hadn't seen represented in a scripted drama before. She was this extraordinarily compelling character, and her life of privilege was such a double-edged sword — such a prison, in a way." First noting that the actress's mother is Jewish, Andrew Anthony in the U.K. The Observer, 7/5/2014, elicited this discussion: "Her one doubt about the UK is the way she says that Jewishness is treated here. 'It was a culture shock for me. In America, we don't expect there to be any social difference [between Jews and non-Jews]. I don't seem Jewish, I don't have a Jewish name. [She since revealed on a U.S. chat show that she had recently learned the name on her birth certificate is "Margalit".] No one would ever know. But when I came here people started talking in a different way about what it meant to be Jewish. People would talk about specific areas of London being Jewish, about Jewish ways of behaving.' Nessa does have a Jewish name, but otherwise no one would ever know. Who she really is and what she really wants remain for the time being a mystery. Over the rest of the summer, all eyes will be on the enigmatic Gyllenhaal as the truth is slowly and no doubt perplexingly revealed." On public radio's Studio 360 , 8/8/2014, Blick noted the differences in British and American audiences' perceptions.
While I'll eventually get to an episode-by-episode commentary, "Nessa" seems to have much less sense of Jewish identity, other than bearing her assassinated father's legacy as a Holocaust refugee, than her brother "Ephra" (played by Andrew Buchan, one of my Brit TV favorites, since Party Animals, so I had to adjust to perceiving him as a Jewish character), who says a Hebrew prayer upon rising and has a joyous naming celebration for his daughter, a namesake for their mother, with a klezmer band. In a flashback, she's sarcastic to him about her accomplishments as "a little Jewish girl". Otherwise she works diligently for Israeli-Palestinian cooperation, even as she's warned that sitting on a fence will only get her stabbed, that is not as bad as the personal trauma she has suffered that leads her to sleep each night in a panic room. For all the strengths she seems to have, in running a company and a philanthropy dedicated to negotiating a highly visible Middle Eastern business and educational opportunities,"Nessa" turns out to be just an abused pawn of history and Jewish symbolism, let alone in desperate need of a warm father figure, provided by her father's old Israeli friend "Shlomo Zahary" (played by Igal Naor).
Unfortunately, her presumably Jewish auburn-haired sister-in-law "Rachel" (played by Katherine Parkinson) is a fairly one-dimensional, fertile bitch (though, oddly, in "Behind the Scenes" interview on the DVD the actress goes on about what a rich character she is) who pretty much drives her husband into the arms of their (scheming and complicated) Palestinian nanny (a mesmerizing Lubna Azaba, of Incendies), which makes her even more of a harridan. (updated 11/9/2014)

Rachel Berry etc. in the 6th/final season of Glee (on Fox) Before the premiere, it's worth noting the context in this interview with her idol: "Barbra Streisand: A Voice to Be Reckoned With", by Jared Bernstein, in The New York Times, 9/14/2014: "She believes many of the journalists who have swiped her over the years are anti-Semitic or anti-female, even when (or especially when) those critics are Jewish or female — or both. Mike Wallace once did a tough interview with her for CBS. 'He had this very powerful Jewish mother, and I thought 'Whoa!'" she said. 'After Yentl, Ms. Streisand continued, 'the most vitriolic reviews I got were from women, who never discussed what I was saying in the movie in terms of a celebration of womanhood and the fact that they could have babies and be smart and study and be scholars, that they could do the whole thing. It was all about the costumes, the lighting, the lip-syncing. Things that are trivial.' Recently, she has been using a spiral notebook to write down her thoughts on Israel, some of which may go into a memoir she's writing. A paragraph in it began as follows: 'The world envies success.'"
In the season opener "Loser Like Me", written by Ryan Murphy, Brad Falchuk & Ian Brennan, the TV network exec "Lee Paulblatt" (played by Jim Rash) manages to vaguely include a Jewish reference in reactions to the disastrous pilot episode of her "That's So Rachel" TV show: If we were to do another episode, there would be protestors from UNICEF, the ADL, the NAACP, PETA I mean, my BlackBerry is buzzing with angry e-mails from NAMBLA. I think that you actually found a way to offend every special interest group in this country. And I don't want to point fingers, but I have to. At you, because you're the face of it. And things get worse, when her father "LeRoy" (played by Brian Stokes Mitchell) (is he or "Hiram" Jewish?) announces her fathers are breaking up and selling the house. She, of course, triumphs at the finale by belting out Idina Menzel's (who played her biological mother in Season 1) signature anthem from Frozen "Let It Go". (updated 2/14/2015)

Felicity Smoak in the 3rd season of Arrow (on CW) An "Olicity" date was teased in advance to "shipper" fans on FaceBook between "Felicity" (played by Emily Bett Rickards) and "Oliver Queen" (played by Stephen Amell) (in comparison, fan art makes her more exaggeratedly sexy or submissive as they don't see a strong brainiac as romantic enough):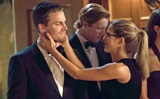 I let the fansite webmaster (webmistress?) know how unusual "Felicity" is as an unstereotypical Jewish woman character and she let me know on 10/30/2014: "As far as I'm aware no one else has really focused on Felicity's character being Jewish, though it has definitely been noted and mentioned in various posts/articles and I do recall recent tweets from fans and Executive Producer Marc Guggenheim, stating that Felicity's menorah would be making an appearance in a future episode. (Photos were posted by various media outlets after a recent set visit in Vancouver.)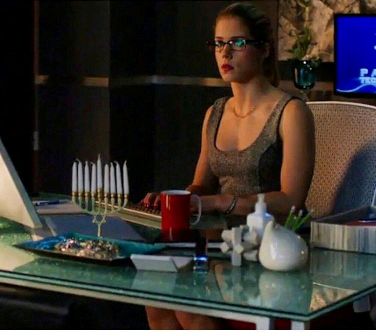 Marc has also mentioned that they (Arrow Powers That Be) were pleased to be able to come back and refer to Felicity's Jewish heritage in episodes this season." Let's see if she remembers or there's resonances that she's Jewish more often than around the December holidays.
The website alerted me to Green Arrow #36, released November 2014, to see how "Felicity" in print compares to "Felicity" on TV, to purchase my first comic book in some 50 years. (I first had to overhear a little Asian kid to discover there's an up-upstairs comic book store in my neighborhood, with a helpful young Asian woman clerk.) "Oliver" notes: You talk a lot. She confesses why: Because I"ve done some. . .Many. . Questionable things in my life. Leading a hero to his Death isn't one of them. . .Think you can put that Bow down now? . . .My Fees are rather Large. So whoever my employer is, he must have Mucho Dinero. . .I know everything about you. . .I want to help you Save the city. . . I also happen to be going through a bit of a Quarter-Life-Crisis. . .I'm incredibly good at what I do, which is Hacking-for-Hire. This version of "Diggle" is suspicious: It took you fifteen months to trust me with your secret. One look at Blondie and she's part of the team? She retorts with a new aspect: Actually, I dye my hair. And this isn't much of a team.
Just as "Felicity" was being respected for her brains as a hacker, beauty, and boyfriend-potential, Samantha Nelson in The AV Club, 11/20/2014, protested in "TV's geek girls need to rise above being tech support" that I thought was ironic, unfair and inaccurate about a unique, non-bullying yet still aggressive, Jewish woman character as she was lumped into "an entirely new stereotype: women who are smart and competent but in an entirely nonthreatening way. They're more plot devices than characters, with little development and few goals beyond helping the real heroes thrive."
"Felicity" was the first Jewish woman character to go on a date with a handsome, sexy super-hero, in the season opener "The Calm", story by Greg Berlanti and Andrew Kreisberg, teleplay by Marc Guggenheim and Jake Coburn. First she's dressed in sexy orange, she's quite satisfied with their anti-criminal activities, and surprises"Oliver" with a feminine touch to their lair: [That's] a fern. It thrives in low light. Now that you're living here I thought the place could do with a little spruce. They joke about him buying a bed, but she has to get off to her day job at an electronics store. He's a bit wistful: We're still on for tomorrow night? (Double entendre – whether for business training or romance.) She puts his face between her hands reassuringly: Absolutely. I'm going to turn you into a corporate master of the universe. Those board members are going to be begging to sell Queens Consolidated back to you and your backers. He watches her walk off, but confesses his girlfriend problems I'm not exactly a catch at the moment. to "John Diggle" (played by David Ramsey) who suggests: Maybe Felicity will change all that. "Oliver" demurs with the thematic warning: It's not the right time. But "Diggle" insists: Things are as good as they ever will be Oliver. And you love her. You even told her so. "Oliver": I was trying to fool Slade. "Diggle": Yes, except now the only person you're fooling is yourself. "Felicity" rants over "Oliver" as he asks her about the day job she's had to take on since "Oliver" lost his fortune: It is not work. It is a soul-crushing exercise in misery that offers health and dental. Suffice it to say that I am highly motivated to convince the board to sell you back the company. Unfortunately, you don't have the qualifications to run Queen Consolidated – but what you do have is passion. You care about the company and the people that work there. That's what you have to get across to them. Speak from the heart. He interrupts: Felicity, would you like to go out to dinner with me? She: I'm beingserious here Oliver. He: So am I. She: I don't want to read too much into this, but are you asking me out on a date? Like an actual date? Like a date date? He: The implication being with dinner that. She: Usually I don't like talking in sentence fragments. He smiles and takes a deep breath: Would you like to go to dinner with me? She smiles big time: Yes! He continues when they're sharing a motorcycle: So you like Italian?. . . For tonight. You like Italian, right? Everyone likes Italian. (Well, not so much for a celiac like me.) Later, she: Oliver, you're in the middle of a high speed chase! He: I'm multitasking. Into the store walks a new guy in the series – and in her life, "Ray Palmer" (played by oh so handsome Brandon Routh), as she confidently and quickly explains in detail what equipment he can use for highly technical use of wifi, though I wondered why she was surprised he knew her name given that she was wearing a name tag – except that he knew she used to work for Queen Consolidated: I know a guy who might be interested in hiring someone with your expertise. She, firmly: I'm not actually looking for a new job right now. But I can help you buy this. Unless I can't, I mean I shouldn't. You shouldn't buy this. He: OK clearly you don't understand how this whole sales things works. But she's all enthusiastic about a next-gen model as "pure bliss" and recommends an administrative tool: and recommends an admininstrative tool: Here's the URL. Happy hacking! "Oliver" is late for their date, and no wonder he stops for an eyeful, because she's all dressed up in red and isn't wearing glasses, a disappointingly cliché touch, but then the original comics were from the 1940's. They hug hello and she teases: Nervous? He: Yes. She grins: Line forms behind me. He orders a grown-up Scotch, she water. He's surprised: Are you sure? Because the booze might sorta help with the whole- She confesses: The alcohol is not going to mix well with the three Benzo's I took. He: Am I being crazy? I mean, what do we have to be nervous about? She: Well, we've already exhausted every topic that one would normally talk about on a first date. And a second date. And a third date. And every date, actually, and I've already seen you shirtless. Multiple times. Shirtless all the time., she mumbles at the end. He earnestly explains why, as the romantic music builds: I could never completely trust someone. . .Then I walked into your office. You were the first person I could see as a… person. There was just something about you. She teases: Yeah, I was chewing on a pen. He surprises her: It was red. . . Do you remember when I told you that because of what we do, I didn't think that I could be with someone that I could really care about? . .Maybe I was wrong. She's knocked unconscious in an attack! He hurries her to the lair and reassures she's safe when she jolts awake to quip: Believe it or not, I have had worse first dates. She jokes about him wanting to talk: About our dinner? Or our dinner getting blown up?. . . It's okay. We'll talk about it after we catch this guy. Onto the company board meeting – where "Oliver" is surprised that she's already met the new guy in charge, who is still lobbying for her to work for him. "Oliver" loses the vote and decides to go back to focusing on being "The Arrow". She challenges: Last night at the restaurant you didn't feel that way. . . The explosion wasn't your fault. He, conveniently: I think I'm scared of what would happen if I let myself be Oliver Queen. She's frantically doing her computer research thing as fast as she can, and figure out how to track the bad guys' GPSs. And then "Palmer" tracks her down and again asks her to work for him with your skill set. . . All my data's been replaced by audio of porcupine flatulance. So I was hoping whoever did it would be willing to undo it if I apologized for misleading them in any way. She's defiant: That would probably work, unless of course you did all that to steal that person's friend's company in which case I would suggest you get used to the sound. . . If you don't mind, my friends just had a baby so there's another slimey little human that needs my attention. She greets the new parents with one of her few implications of Jewishness as she talks to proud dad "Diggle": She's scrumptious! Mazel tov guys, seriously! . .She's beautiful! "Oliver" still wants to talk, but she: I don't want to talk. Which, for me, I know is a little unprecedented. But as soon as we talk, it's over. He earnestly signals her romantic fate: I'm so sorry. I thought that I could be me and The Arrow. But I can't. Not now. Maybe not ever. She: Then say never. Stop dangling maybes. Say it's never going to work out between us. Say you never loved me. Say-- And he kisses her! And she even had her glasses on. He: Don't ask me to say that I don't love you. She's resigned, unlike the "Olicity" fans: I told you as soon as we talked it would be over., and walks away.
In "Corto Maltese", written by Erik Oleson and Beth Schwartz, she's hiding from the crew that her job as "Tech City" has changed, but she straight away announces to her new new, handsome boss "Ray Palmer": I told myself I would stand firm on a few points - No late night emails. No personal errands and no coffees, definitely, there will no expressos brought to you by me. The end. Very firm. He: I admire your conviction. Here's Jerry your executive assistant and I would like to know if you want him to get you a coffee or are you just anti latte in general? She just as surprised when it turns out the large office they're meeting in is hers. So when he admires the work she did: You know how many techs said this data was unrecoverable? All of them., she immediately asks for some time off to go help out her friends.
"The Secret Origin of Felicity Smoak", written by Ben Sokolowski and Brian Ford Sullivan, was unsual for focusing on her, including her very blonde mother "Donna" (played by Charlotte Ross) and flashbacks to her in college, where she's a not very credible looking Goth. Her morning starts with intensive sit-ups and teeth brushing, before she's interrupted by her new boss knocking at the door to discuss co-generation potential. Another knock – it's mom in a sexy, low-cut dress, eyeing the handsome guy: Oh, my beautiful girl! Very friendly with your neighbors, I see. "Felicity" is really taken aback: Mom? What are you doing here? Mom: Honey, I came to see you. For a visit. Didn't you get my text? "Felicity": Mom, to send a text, you actually have to press "send" on the text. Which Mom does – and her daughter's phone buzzes. The boss is staring: Are you adopted? Mom ogles: Oh! I'm so sorry. I didn't know you had somebody staying over. "Felicity" is nonplussed: Oh, no, he's not staying over. He's not, like, we're not-- this is my boss. Mom recognizes him as "the watch guy": I bought one of your watches! Look! See? Felicity here thinks I don't pay attention to all of her tech-y things. He promptly takes off his prototype next- gen "smart wearable" computer and gives it to her. He politely looks forward to meeting again, as "Felicity" exits him, muttering: She'll probably be really busy Planning my funeral after I die of embarrassment. Flashback to 5 years ago: she's in a dorm room with 2 guys, sitting on the lap and making out with her boyfriend "Cooper Seldon" (played by Nolan Gerard Funk), until the other guy complains: Why can't you just quietly have sex under a comforter like most college students? "Cooper" is distracted by computer signals: Now I just need your super computer virus to crack the firewall. While she tries to object, while being excited to post her accomplishment on a hacker forum: I really wish you wouldn't call my x-axis bi-numeric algorithm a "super-virus., she realizes that he has gone futher and is deleting student loans from the Dept. of Education website: You can't wipe out all the loans, they'll never think it's a glitch. They're going to track us down and find us! She literally unplugs: I'm not going to jail for you, Cooper, and you shouldn't, either. He vociferiously objects: Ever heard of hacktivisim? Instead of posting to web forums, we could be doing some real good in the world. She: And going to prison in the process. He: It's all about what you want to be when you grow up, babe-- A hacker, or a hero? Back to the present – she has to deal with the "Big Eye Group"s computer virus crisis, so brings Mom to the nightclub, that's the upstairs cover for the lair, and conveniently assigns her to babysit "Diggle"s baby: My mother loves babies. (Though we don't actually see her with "Sara" during the episode.) Flashback: She's on her phone with her mom: No, for the last time, I am not interested in buying a fake ID. I am hanging up now. She passes on "Hi!" from Mom to "Cooper", but he's still mad at her: Think of how many accounts you could go to prison for if I hadn't stopped you. . . By accessing the accounts, you set off a packets feedback that anyone could trace back to. He chuckles: You are gorgeous when you're being a chicken. Next thing they are surrounded by FBI – and he's under arrest whie she's weeping: Let go of him, let him go! Back to the present "Feliciy" is madly working on a solution to the city's electronic shut down, when she has a horrible realization: The trace led me to the virus they're using. It is a mile past complex. I'm combing through now. No, no, no, no, no, no!. . .The virus I can't stop it! . . .Because it's mine. I wrote it five years ago. . . Ok, ok, before you say anything, just know that I never imagined the virus being used for something like this. I mean, sure, I could have imagined it. I actually have a very vivid imagination.Like cronuts! I had a vision of them before. "Oliver" stops her: Relax. Take a deep breath. Now start at the beginning. She: I was in this, I guess you could call it a group, in college. We were "hacktivists." For lack of a better word. Civil disobedience via the World Wide Web. I created this. This super virus. That could give us root access to any infected server. We could expose government fraud and start virtual sit-ins and digitally deface criminals. I guess you could say it was my first attempt at being a hero. "Oliver" is on a short fuse in the crisi: Why didn't you tell me about any of this? She retorts in kind: Do we even know a fraction of what happened to you the five years that you were away? She thinks the roommate could be to blame. Flashback – she's visiting "Cooper" in prison, in tears, wearing a huge ankh, not a star. She wants to confess: I can't let you rot in prison, Coop. He: You can't tell them you wrote that virus because I already told them I did. I always said I'd protect you. . .I wiped out those loans. There's no reason both of us should be in prison. They exchange I love you. Back to the present, the former roommate is proven innocent. "Oliver" presses her: What about your ex? She: I already told you, he didn't do it. He's angrier: Why? Because he's your ex-boyfriend? [I interrupt to point out that I've been having trouble keeping track of his ex-girlfriends.] She's upset: Because my senior year of college, Cooper and I did a stupid thing. He got arrested and he went to prison. "Oliver" is impatient: So he went to prison. Maybe he got out. She: He didn't. . . Because he's dead. He hung himself before sentencing. . . I just really need to be alone right now. and she runs off in tears, and ends up in her new office, where her boss finds her: My mother -- I didn't have anywhere else to go. . . You're an inventor. Did you ever create anything that you didn't think was important, turns out, it's very important? "Ray": Of course. Those turn out to be the best inventions. Before they can much follow-up, Mom storms in: I'm sorry; I've already waited two hours for you at your apartment, and before that, it was two hours in the club. Is there any way that you could be anywhere else but here? "Felicity" is bitter: Thanks, Mom. That wasn't the least bit mortifying. Only half as bad as parents' week in freshman year. Mom's back at her: I'm sorry I've been reduced to stalking my own daughter. "Felicity": Because you can't seem to comprehend that I can't make the whole world stop because you decided to show up on my doorstep. I have responsibilities! Mom is sarcastic: Yes, I know, Felicity. You have work. You have work, work, work, work. "Felicity" argues: No, no, no, you don't understand. It is so much more than work. But all you care about it my love life or how much cleavage I don't show. Mom: That is not true! "Felicity": That is completely true! And I'm sorry. I'm sorry that I'm terminally single. I'm sorry I have an actual job. I'm sorry that I don't dress like a porn star! Which I realize is a compliment to you. So I'm so sorry that I am such a disappointment to you! Mom, sadly ironic (so are we supposed to assume that it's her father who was Jewish?): I'm not as smart as you, Felicity, or your father. I know that. Even when you were only six years old, I could barely keep up with you two. And maybe I wasn't always the mother you wanted, but I was always there. I stayed and I tried. He left me. He left us. But when I look at you, all I see is what he gave you. There is nothing of me in you. You know, it's so funny. I was always so afraid that one day, you were going to leave me, too. But now I finally realize you already did. "Felicity" goes back to tackling her computer problem, but is teary and distracted: The super virus has 3,407 traceable access notes. Hopefully I didn't put a firewall in every one. Though, of course I did, because I'm smarter than that. Seriously, if I had two less IQ points, we never would have gotten in this mess. "Oliver" is worried about her and her mom: Are you all right? Where's your mom? She: I don't know. Probably back at my place, wishing she had a different daughter. It's a long story. . . The city is under attack! "Oliver" keeps insisting she leave and go see mom, drawing on his own family experience: Go talk to your mom. . .You're our best chance of stopping it, but not like this, Felicity. Your head's not in the game. . . You know, earlier today, [my sister] told me that she literally has to put up with me because family is precious. And that it's love, in spite of everything, that makes it precious. Go. Go talk to your mom. She insists: I will get it together. . . I do not have anything to say to her. He makes her take an hour off while her tracer hack is running. At home to mom, Felicity: I'm glad you're still here. Mom: You are a terrible liar, Felicity. Might be the only thing we have in common. "Felicity": I have blonde hair. Mom confirms: You dye it. "Felicity" admits: You're right. We're different, and it's always going to be that way. And it's not easy-- Mom: No, you know what, it's-- it's totally my fault for just showing up here uninvited. Seriously. I think I just got so excited about this free flight. "Felicity": Mom. Someone wanted you to be here! and then they're kidnapped by --- mask off -- her ex-boyfriend "Cooper"! You really don't know? I thought you'd never forget your first love. She gasps: You died! . . . When I found out you died, I was devastated. I loved you! He, too, but he took a deal to fake his death and work all this time for the NSA. (That's actually almost credible.): After I finished my time with the NSA, I was going to find you. To let you in on this. And then I discovered you'd become this corporate lap dog. Broke my heart. You changed. She protests against his terrorism: If you ever thought I was capable of doing something like this, you never really knew me at all. He: When you wrote this virus, Felicity, you knew exactly what it was capable of. All I'm doing is unleashing the true potential of what you made. She: This isn't who you are! He got on how the NSA not only made him cynical, but now he's targeting banks, and orders her: But you're going to hack into the system and direct the cash to come here. She: It was about money, and I'm the sell-out? He: No, babe. You're the one who's going to help me. See, breaking into the treasury's asymmetric encryption is beyond even my capabilities. She: I'm going to politely decline. He threatens her mother for motivation. Meanwhile, "Oliver" is suspicious that she hasn't answered her phone for over an hour: Felicity's never more than five feet from her phone. . . Something's wrong. Mom, facing death: Now's not really the best time, ok? But it might be the last time, hon, and I want you to know that all I've ever wanted is for you to be happy. "Felicity" in a hurry: It's done! It's done. . . There's a reason you wanted me, right? Her ex grabs her face: Stay put, OK? Just because we used to screw doesn't mean I won't use this gun. But she figures out she can ask for help via Ray Palmer's watch even as mom doesn't know what she means. But the ex returns to her protests: I did what you wanted! You don't have to kill us. Mom: Hey.You want to wave that gun at me, fine, but don't you dare threaten my daughter! "Coop": Here I thought you were all nails and hair. Mom: Try single mom working 60 hour weeks in heels for tips in order to raise that genius child you see right there. I may not understand all this cyber or whatever, but I know without that gun, you wouldn't last 10 seconds against my girl! "Coop": Too bad she doesn't have 10 seconds. And "The Arrow" comes to their rescue! "Coop" grabs her but she wrestles free. Tearfully, then turns to "Oliver", but he can relate: Mom! Mom, are you ok? Are you ok?. . . Before, you were right to keep pressing on Cooper. Turns out he's not as dead as I thought. He's sympathetic: Old lovers have a way of opening old wounds. She: Lovers sounds creepy no matter how you say it. He; Felicity I want you to know that whatever experiences you had to go through, I'm glad that you did.They shaped the person you are today. She: You were right. We have to love our families. No matter what. Back at her apartment: My flight doesn't leave till tonight, but I figured you'd be working, so we can-- we can just say good-bye now. "Felicity": You were right. . . I haven't always been appreciative of you. You were always there for me every day, and night. So if I haven't said thank you enough, thank you. But you were wrong, too. . . When you said all you saw in me was dad; there was nothing of you in me. Well, I can't really explain it, but over the past two years, I have been through a lot. And I have learned that I am a lot tougher than I thought. That I get from you. When "Palmer" comes in for work, she announces she's taking a sick day, and mother/daughter go off with their arms around each other. Flashback to the college dorm where the roommate does a double take: What happened to you? She: This is me now.
After a back to business episode, "Draw Back Your Bow" was a too-conventional romantic episode for the fans (even if it was unusual for a sci fi show to be written by two women, Wendy Mericle and Beth Schwartz, but, heck, it was enjoyable to see "Felicity' at the center of a triangle. She walks in on her handsome boss doing pull-ups shirtless, muscles bulging: Oh God, I have a type! . . Please I can't hear a word you're saying when you're doing – that. They discuss his planned press conference, then he adds: Are you free for dinner tomorrow night? . . I have a dinner with the CEO of a Nevada mining concern. She: Oh, and I fit into this how? "Ray": Ahh, the CEO is boring. His wife, even more boring. If I'm forced to go solo on this, I'll end up slicing my wrists open with a butter knife. They quip back and forth, then she: Well, I'm sure you have a dozen other employees that would be better suited as your anti-boring wing woman. He: Hundreds, actually. . . But you are the one I bought this dress for. She: This dress costs more than my apartment. He: Yeah, it's couture. She: Which I'm pretty sure is French for expensive. She strokes and sniffs the material. He: So, dinner? Purely platonic. She: There is nothing platonic about couture. . . No, all right, I'll go! I'll go. But only so I can wear this dress. She whispers to the blue dress: You and I are going to be best friends. She applauds him at his press conference as he announces worthy goals and a corporate name change. Meanwhile, "Oliver" is getting more and more annoyed that she's not around when he needs technical assistance: I would like Felicity to do a work-up on all of this ASAP. "Diggle" runs interference: Felicity's a little busy right now. . . I know this can't be easy, with Felicity spending so much time with Palmer. Later "Oliver" barks an assignment to her: I need 100% of your focus! She: I can definitely find out. . . I can crack it, but it's going to take some time. . . And I will work round the clock on it, except for tonight. . . Ray Palmer invited me to dinner. . . Not dinner-dinner, like a date. It's a work dinner, but since dinner is a meal you can technically only eat at night, I need the night off. "Diggle" comes to her new office: Wow, that's a nice dress. She: Yeah, it's really, really, really nice. Ray lent it to me for a work dinner. He, sarcastic: Yeah, some work dinner. You and Ray. Doesn't seem that platonic. Actually, it has Oliver twisted up in knots. She: Well, Oliver made his choice. He: We both know that was the wrong choice. She: And did Oliver say that? Oh, yeah, because Oliver's just great at expressing his emotions! He would rather go ten rounds with the League of Assassins than ever say that. He: But this thing with you and Palmer, it's messing with his head, Felicity, and that's really dangerous. She: I told you, there is no me and Palmer. But if there were, and if Oliver had a problem with it, then Oliver should be the one to say something. She goes into Palmer's office and gets quite the response: Wow. You are ridiculous. Which I mean in a good way. That's not creepy. You look beautiful. She credits the dress. He: The dress is actually missing something. She's flustered: Oh, no, I forgot to do up the zipper again? I always do that. But he's holding out quite the diamond necklace. She: Oh, no, I can't wear that. I'm not even sure I'm supposed to be looking at it. (Or maybe she can't see it clearly without her glasses on.) He: Well, I had to put down a $10,000 security deposit just to borrow it for the evening, so one of us should wear it. And diamonds aren't really my thing, so. She: I appreciate it, but I think I would feel strange wearing a million dollar necklace. He: Oh, don't worry. It's not worth a million dollars. I think it was actually appraised for $10 million. He puts it around her neck and, boy, is she impressed! Back at the lair, "Oliver" is impatient: We need Felicity here! "Diggle" tries to explain: Oliver, she's still at dinner with-- "Oliver": I don't care where she is! We need her here. "Diggle": You mean, you need her to be any place where Ray Palmer isn't. "Oliver": It's not the time, Diggle. "Diggle": Oliver, you're in the field without your head on straight. I think this is exactly the time. "Oliver": I've got it handled. "Diggle": Doesn't look that way to me. "Oliver": What do you want me to say? Yes, it bothers me that she is out to dinner with Palmer. Yes, it bothers me that apparently she is just moving on with her life, but I made a decision! She did, too. And-- I just want her to be happy. "Diggle": If that were true You'd be with her, man. Meanwhile, she is so charming to the CEO and his wife, convincing them to contract with Palmer's company: The thing about Ray is, he's not businessman. Businessmen make deals. They make money. What Ray is, is something else entirely. . . He inspires. Ray isn't interested in making money. He's interested in making the world a better place. So if Ray wants your mine, believe me, it's because he's going to put it to the kind of use that's going to make you proud. Afterwards, "Felicity" listens tearfully as "The Arrow" negotiates with a crazed fan who imagines she's his lover, even as she tries to kill them both: I can't be with you. I can't be with anyone. I have to be alone. "Diggle" follows up: If [Felicity's] reaction was any indication, she does not want to be. You got to tell her how you feel before it's too late. She's back at work: I thought I'd get a jump on that server encryption you asked for. Trying to, you know, make up for ruining the deal tonight. But "Palmer" credits her with the deal's success. She: But really, I should be thanking you. I mean, not just for the new job, but for this amazing, expensive necklace. You have to take it back, don't you? He leans in to undo the necklace: You know, Felicity Smoak, you're different from anyone I've ever met. And you deserve all those things, and more. With a big kiss! Note: both of her big kisses where with her glasses on! But of course that's the moment that "Oliver" choose to come back! He sees them and leaves, unnoticed. "Palmer": I'm sorry, I, um I meant to keep tonight platonic. He leaves, she's left alone – and "Oliver" goes back to the lair furiously throwing things around, before he finally goes to "Diggle"s house for a family dinner.
"Felicity" also got to cross-over to the first season of The Flash and flirt with him, albeit "Barry Allen" (as played by Grant Gustin) somehow seemed way too young for her, though the actress is only a year older than him.
Aw shucks! In "Midnight City", written by Wendy Mericle and Ben Sokolowski, "Oliver"s declaration of love and big kiss with "Felicity" are a dream (though I suppose the image is important for me to post) – but at least it's his. (Much more to post from subsequent episodes this season when I get a chance.) (updated 11/30/2014)

Dr. Zoe Hart in the 4th Season of Hart of Dixie (the CW, streams free a week later on Hulu) As she reunites with "Wade", first in bed, then finding out she's pregnant, then they declare their love-of-their-lives to each other, the closest to any Jewish reference wasn't until the 3rd episode, "The Very Good Bagel", written by Kendall Sand, when the only thing she loves about her return to New York City to confide in her mother is the bagels. Interestingly, none of the snobs or intellectuals or money-grubbers her mother invited to her welcome party were even implicitly Jewish. So asks for: Will you get me two? And another dozen for the road?. . .Bluebelle is my home, no matter how complicated it gets. Her mother's reaction to the coupling: I know this is a diffficult time, but I want you to know from the bottom of my heart, that I will never, ever be called grandma. . . Don't do it alone. I'll hire the best people to help you. But she accepts "Wade"s declaration of new-found maturity and love. (3/7/2015)



2013/2014 Season

I'm relieved that none of the idiot rich women employers on the satirical Devious Maids (on Lifetime) are Jewish, but the "Minding the Baby" episode, written by Gloria Calderon Kellett, stuck in a bitchy comment when two housewives bumped into each other: "Joan": Not since the Stein bat mitzvah. Such an unfortunate looking girl. What a pretty venue. (8/12/2013)

On Maron, a semi-autobiographical comedy on IFC, comic/podcaster Marc Maron constantly whines about being Jewish. But when we've seen his mother "Toni" (played by Sally Kellerman), as in "The Mom Situation", written by Luke Methany, there's no reference nor evidence that she's Jewish, though last season Judd Hirsch played his father "Larry", just as he frequently on TV plays a Jewish father not married to a Jewish woman. (6/15/2014)

In Murdoch Mysteries (The Artful Detective) (Canadian series, set in 1890's Toronto, shown a couple of years later in the U.S. on Ovation channel), "War on Terror" episode by Peter Mitchell, originally from 2012, featured a visit from the anarchist "Emma Goldman". But while she was stressing she was against violence amidst the bombing investigation, there was not only zero reference to her ethnic background, Lisa Norton played her with a muddled accent that was closer to Irish than Yiddish. (5/12/2014)

Brookly Nine-Nine (on Fox) is yet another New York set sit com with a male Jewish character, "Detective Jake Peralta" (played by Andy Samberg), yet it took until the 17th episode for even a sort of mention of a Jewish woman, in "Full Boyle" written by Norm Hiscock and Gil Ozeri. As wing man on a double date, "Jake" is surprised by how much he has in common with "Bernice" (Amanda Lund), the woman he's supposed to ignore in order to help his colleague with her friend: And this beautiful basketball-loving, Die Hard fan is tearing down my wall of my defenses! If we find out she is also half-Jewish, we're doomed! All season, not even his memories of his bar mitzvah included any Jewish girls. (updated 5/1/2014)

In The League (sitcom on FX) Lizzy Caplan first appeared as the Orthodox Jew "Rebecca Ruxin" in the episodes "The 8 Defensive Points of Hanukkah" and "Baby Geoffrey Jesus", both written by Jeff Schaffer and Jackie Marcus Schaffer, that I haven't viewed yet. (Thanks to Eliav Levy for the citation) (10/5/2014)

On Awkward (MTV), "Karmic Relief", written by Erin Ehrlich, the central character "Jenna Hamilton" (Ashley Rickards) is trying to convince her dad the $750 prom dress she wants will be re-worn on other occasions as well: And bar-mitzvahs. He's quizzical. Her mother (played by Nikki Deloach) tries to be helpful: The girl kind of bar mitzvahs? Dad walks away. Later, when she can't unzip her new dress, she claims to the guy she thinks will be inviting her to prom that she is on her way to a bar mitzvah at 10 pm: It's at midnight. That crazy kid turns 13 and just couldn't wait. (12/16/2013)

On Bad Teacher (quickly cancelled CBS sitcom, based on the movie I haven't seen), "The Bottle", written by Jamie Rhonheimer, "Meredith Davis" (played by Ari Graynor) reunites with her old Mean Girl friends for her 30th birthday. The Queen Bee is reminded that she already used the excuse of an implant rupturing to get out of going to a bat mitzvah. But watching the last two episodes weren't enough to figure out if either the titular divorcee or her old or her country club friends were Jewish. (8/16/2014)

On The Good Wife, "A Few Words" episode, written by Leonard Dick, the quirky recurring defense attorney "Elsbeth Tascioni" (played by Carrie Preston) is upset by a costumed furry bear in Times Square who agrees to a hug but keeps repeating: Dirty stinking Jew.. She warns other pedestrians Watch out for that bear – he's anti-Semitic! and muttering I'm not a dirty stinking Jew. We certainly have never had any hint she's even Jewish. (3/24/2014)

Elementary, the CBS version of "Sherlock Holmes", had a gratuitous reference to a Jewish woman on the "All in the Family" episode written by Jason Tracey. This version of "Watson", "Dr. Joan" (played by Queens native Lucy Liu), figures out, based on zero evidence, that the victim's nickname of "Mutt" is the Italian gangster's reference to his mixed parentage: His mother was from Israel. In the Jewish faith, the dead are supposed to be buried as quickly as possible. "Sherlock" (played by Jonny Lee Miller) muses that the killer was an avenging angel.
In the "Hound of the Cancer Cells" episode written by Bob Goodman, "Dalit Zirin" (played by Shiri Appleby) admits she was lying to "Sherlock Holmes" queries: I'm not a travel agent. I'm Mossad. . . .The part about me and Barry [Granger, played by Jason Danieley] meeting in college was true, Columbia. Barry was pre-med. I was computer science.. "Holmes" for some reason asks: Your citizenship? She: Dual. I was raised here, but my parents are Israeli. . I'm here because I care about Barry. He was my friend and because you left me very little choice. . . Barry and I were in a relationship when I was first recruited, but I told him no, he was asking me to break multiple laws. When I heard what happened to Barry I felt terrible about turning him away. So after his death, she breaks those laws to get the information to "Holmes", though "Watson" is suspicious. (4/15/2014)

On The Mindy Project (on NBC), in the "An Officer and a Gynecologist" episode written by Jack Burditt and Lang Fisher, who I think are the sitcom's first Jewish women are briefly seen at a shabbos dinner looking quizzically at "Dr. Danny Castellano" (played by Chris Messina) awkwardly pretending to be the Jewish "Dr. Schulman". The rebbitzen "Dora Adler" (played by Suzanne Ford), flanked by her adult daughters, asks Is there a Mrs. Shulman?. "Peter Prentice" (played by Adam Pally) distracts her by pretending to be more observant than his secular upbringing by pouring on compliments about her cooking and good looks. She kvells: What a charmer! They are all shocked when the lies are exposed, but the father "Rabbi David Adler" (played by Peter MacNichol with a beard so fake that, as "Mindy" says makes him look like a Civil War general) later shrugs: My family will be telling the story for years of the goy and the Jew with the baggy shmekel. (5/18/2014)

On Black Box (ABC), the "Jerusalem" episode, written by Oanh Ly and series creator Amy Holden-Jones, seemed to reflect the attitudes towards Jews of co-producer Ilene Chaiken from her other works. A rich Jewish board member of the psychiatric facility "Jacob Myers" (played by Michael Kostroff) is brought in from his penthouse for evaluation by his wife "Tracey" (played by Susan Pourfar), complaining he's been spouting Biblical verses: This morning he gave away millions and our house. . .He's bonkers! We've always been bad Jews. I can count on one hand the number of times we've been to temple. All of a sudden. . . .Ever since we came back from vacation. Her husband interrupts: It was not a vacation.! It was aliyah to Israel. She continues: We went shopping in Tel Aviv, swam in the Dead Sea, spa treatment. It was wonderful. Then we went to the Wailing Wall. . .he was on his knees. . It was very scary actually. He smiles beatifically: The closest to heaven I ever felt. The diagnoses "Jerusalem Syndrome", but the wife is unconvinced: Something is wrong. It makes no sense. Jacob always rebelled against his parents' religion. Doctor: Are his parents Orthodox? Wife: Oh yes, hard core. The doctor claims there's a specific gene for religiosity. Maybe your trip to Jerusalem triggered something in him that was already there. The wife: I always knew his parents wld ruin our marriage. She challenges the diagnosis that everyting is fine and gets really angry as he keeps davenning: That's awful! There's nthing you can fix? Look at him! Is that man sane? I have nowhere to go! He gave away our house! This is not what I signed up for! You were supposed to take care of me! Not me you! I gave up my career because of you! I can't even get groceries! How is that sane! Jacob, if you ever loved me, stop! Stop! Stop! The doctor finally recognizes his condition as correctable epileptic psychosis, and the wife tearfully convinces him to take the medication, though it means he will no longer hear God. Later in his hospital room, she kisses his head as he's busy texting and fighting a hostile take-over. The happy wife: Hear that? I have my baby back! As it turns out, we still have a home. Our lawyer says if you're psychotic and you give away everything you own, it doesn't count!. . .We're thinking what this place needs is a donor wall. . . "For more details see your local priest or rabbi." The doctor promotes that he should go forth and make money for charity: If you wander the world with a begging bowl, who would that benefit? The wife blows a kiss to the hunky doctor with a grin: Nobody! (6/23/2014)

On Call the Midwife (on PBS, out on DVD) had the familiar Masterpiece Theatre Jewish women as Holocaust survivors in 1950's London, in Season 3, Episode 4, written by Gabbie Asher and Heidi Thomas. While the Jewish characters are not recalled in the memoirs by Jennifer Worth, subtitled A True Story of the East End in the 1950s, that are the primary basis for the series, the producers have also drawn on interviews with other midwives from that period.
Pregnant "Leah Moss" (played by Orion Ben) comes in for a check-up with a midwives, but leaves quickly to return to care for her mother despite symptoms that portend a difficult birth. Her mother "Mrs. Sarahla Rubin" (played by Beverley Klein) is down on the floor: I'm sorry I was so long. I was waiting and waiting. Not again! We'll wait until it passes. Her husband "Charlie" (played by Ilan Goodman) comes home with: herring and schmaltz and cream cheese I know you've been craving these. And news about the deli manager: is moving to Israel and the deli has an apartment and a garden for the little one. It's our chance to get out of the East End. "Leah": What about my mother? "Charlie": Take her to a doctor, Leah! She: I won't even discuss it, Charlie! He: It's 12 years since she left this flat! "Leah": You think I don't feel as trapped as she is? Do you think I want to be stuck here? Imprisoned in this house of ghosts? He: Talk to her Leah, talk to her. The midwife and nun come to check up on "Leah": Sorry, I had to come home. My mother doesn't like being left alone for too long. Mother: That's my fault. I make work for her. "Leah" She has attacks. . .Dizzy spells. Mama assures she won't fall: It's gornishe, nothing. . .I don't go outside, so that will not happen. . . The attacks they come and they go. . . As mother and daughter hold hands, "Leah": There's no need for doctor. She just needs peace and quiet. Mother: Peace and quiet I get at home.. She sets the the Shabbat dinner table and assures the midwife: Don't worry Sister, I do all the housework today. Not only is it our Shabbos soon, it is also the Festival of Shavuot. . . .The day I make cheesecake! . . A recipe from. . . (I couldn't catch the reference.) As the nun prattles on about the Book of Ruth, the mother has an attack and falls to the floor. "Leah" warns against calling a doctor, but the nun insists: I'm going to call the doctor, for your mother's sake and for your baby's. The doctor asks for descriptions of her physical symptoms, but "Leah" finally describes her other history: She hasn't set foot outside this flat for 12 years. . . .Please don't take her away. I know she's lost her mind, but I know I can look after her. . . During the war, Mother and I were in a Nazi ghetto. A miracle happened, and we escaped. We lived in a cellar until it was safe. When we returned home, our families and friends were gone. Soon after we moved to London and these attacks start. You see now? But the doctor takes an unusual approach to a survivor: I'm not going to take your mother anywhere. You've lost enough. She's lost enough. But we need to get to the bottom of what ails her. "Leah": I told you it's her mind that ails her. Doctor: Not necessarily. It's possible that we may be looking at a form of vertigo, something called Ménière's Disease. It's a problem with the inner ear. . . And there are medications we can try. A fear of leaving home is common with Ménière's sufferers. It may be that everyting's related. "Leah": So if you treat her ear she'll be able to go outside? Doctor: There's every reason for optimism. "Leah": After 12 years I can hardly believe it. Her mother, too, is quite surprised: A problem with my ear? And it can be mended? "Leah": The doctor believes so. It means you can leave the house, Mama. It means you don't need to be scared anymore. As they sit down to Shabbat dinner, the couple tells mama the news about the shop. "Leah": We've been talking of leaving for the north west London. . .There's a shop in Golders Green. "Charlie": And there's a flat, with room for all of us! Nervous mother: I see, so much news you give me, and all in one evening. Today is Shabbos. On Sunday we start packing. The women cover their heads and "Leah" lights the Shabbat candles. Mama lies awake at night, as the couple happily discuss their plans for the future. The next day the nun comes to help get Mama out of the house, with a long-winded farm story. Mama: You think I'm an altacatcher. You think I don't know what you're doing? Coming into my house and calling me a horse! The nun changes tactics: How about this story? It's about heroine called Sarahla Rubin who fought and beat the most evil humans in human history and who saved her daughter's life. Mother: Who left her family and friends behind? Some heroine! Nun: Listen to me - you are a warrior, Mrs. Rubin! You can fight this! Take my arm! Take it! They get to the door but the mother panics and staggers back. But "Leah" goes into her difficult labor, and mother and nun have to manage on their own to birth a baby girl. "Leah" coos: Hello, I'm your mummy! Her mother: She looks like you! They all bond, and the mother later proudly tells the nun: They named her yesterday at the synsagouge – Elizabeth. She touches an old family photo, opens the door, touches the mezuzah, goes out on the balcony, calls down to "Leah": What you want to bring the baby out in that thin shmatta? She'll catch pneumonia. She goes down the stairs and out into the street, with "Leah" in tears at seeing her outside. Her mother grins and looks all around, first at the baby and Leah, breathes deeply, and goes up to the midwife whose boyfriend just died: Just the person I was coming to see. I heard about your loss. We wish you long life. . . You know, this bit of London doesn't smell so good. In Golders Green I think it will be better. "Leah: We're moving next week, all of us. Mama: You will think I'm mishgunnah, but I have a thing about goodbyes. I didn't have a chance with so many of my own, but now I like to make sure it's done proper. So I say goodbye. The mourning midwife weeps: I didn't get the chance to say goodbye. "Leah": You've said enough. Run along and leave her in peace. The Grandmother has an unusual perspective: What peace can she know now? You will feel better than this, bubbelah. Maybe not yet, but you will. . .Yes, you just keep living until you are alive again. (updated 6/23/2014)

In Fargo, the prequel to the Coen brothers' movie (on FX) that is a pitch-perfect very dark comedy with way off-kilter characters, a Jewish woman first appears in "The Rooster King", written by Noah Hawley. Parked in front of the apartment building of Duluth deputy "Gus Grimly" (played by Colin Hanks) is an RV of "Chabad Lubavitch of Minnesota – Mitzvah Tank – Your Resource for Anything Jewish – Sharing Faith", decorated with a portrait of some Rebbe, Shabbat candles, a torah and a menorah. (I'm amused that recappers don't realize there really are several such chapters, including Chabad Lubavitch of Northern Minnesota, and I have cousins working in such distant outreach.) Across the courtyard, he is teased by an Orthodox woman ("Rachel Ziskind" played by Leah Cairns) who tantalizingly undresses by the open window, starting by taking off her wig, and opens her dress to brazenly show him lacy lingerie before joining her kippah-wearing husband and daughter at their dining room table. In "The Six Ungraspables", written by Hawley, the husband "Ari" (played by Byron Noble) is awake in the middle of the night and comes over to tell the equally insomniac "Grimly" he can't sleep because My wife thinks out loud. (an impart a very Coen-esque parable.) (updated 5/16/2014)

The Fosters – Emma in her 1st season (on ABC Family) is a multi-ethnic, multi-problem, multi-orientation large (California, I think) family of choice and complications. The girl on "Jesus"s (played by Jake T. Austin) wrestling team, "Emma" (played by Amanda Leighton) and potential romantic interest, was suddenly and surprisingly, revealed to be Jewish in "Padre", story by Tamara P. Creator and teleplay by series co-ceator Peter Paige. She appears at the door post-funeral: I know this is kind of. . I told my mother about your grandfather and she told me to bring food. We're Jews, that's what we do. It's noodle kugel. It's totally delicious and vegetarian so totally organic and diet free. "Jesus": You didn't have to do this. "Emma": Try telling my mother that. His sister and video chat friend are quite surprised at seeing her; the sister calls her: So you're the crazy girl! Crazy only because you're the only girl on with all those boys on the wrestling team. "Emma" cheerfully responds: People think that to be a wrestler you need to be built like a Mack truck or something! As she leaves: "Jesus": Thanks for the ku--- or whatever. "Emma": Kugel! And you didn't even try it. "Jesus": I promise when I go back in side I'm going to try it. "Emma": It was nice meeting all your family. . .Thanks for letting me crash. [I'll catch up with "Emma", but there weren't other explicitly Jewish references in the season.] (updated 4/15/2014)

In House of Lies - Sarah's 2nd season (on Showtime) began in the 2nd episode "Power(less)", written by Matthew Carnahan, when "Sarah" (Jenny Slate) showed up for lunch with her husband "Doug Guggenheim" (played by Josh Lawson). She prattles on as they walk back to his office: A lot of people do the same things in self defense: Kick him in the crotch! Kick him in the crotch! But I said to the teacher, "Why don't you grab for both? The thingy and the stuff!". . . I'm just blabbing and blabbing because I'm nervous. I don't know how to say it. . .I pulled the goalie! He: What does that mean? She: You know how in sports there's the goalie, like in hockey and soccer, there's the goalie? And when the goalie is not on the field?. . . He: And there's no one to stop the players shooting at the goal? She: Or maybe to shoot 60 million shots into the goal? He: Wait, you stopped using birth control? She: I did! He: Why? Why? Why would you do that? She: Because I want us to have a baby? He: That's great! She: Doug, if you're not sure about this you need to say something to me right now. He: Hold on a second. You didn't even tell me! I mean. Which is fine. How long, I mean, have you been, have we done it since? Doesn't matter, that's fine. hey, it's great! I have no problem with it. What's not to love about fucking babies? I love them. She: Then why are you acting so weird: You are. Just say if you don't want to do it, say no. Say yes or no. He: I think it's more complicated than that. I think, if I'm being honest, that if you're projecting this on to me that I don't want to have a baby which is ridiculous. I'm clearly thrilled about it. You need to have a look at your own feelings. I mean really look at them, Sarah. Because if you're feeling fear or insecurity around this, then that's a problem. She: Forget it. We'll talk about this later. She storms off. He complains to his uninterested colleagues: She's already trying! God, I love her. But a baby? That is just so absolute! What do I do?. . .If you put Plan B in a smoothie or something?
In "Soldiers", written by Jessika Borsiczky, "Sarah" is on top (in full bra and panties) for sex keeping up a stream of fast fertility talk: I'm ready now. Yeah, yeah. Put your baby juice in me. I can feel a life starting with every thrust. Do it! Can you see our adorable child? Uh yeah He's being made right now, babe. And he has your eyes. And he's got a cute little penis, Oh, God, just like his father. Oh, yeah. Oh, yeah. Oh, yeah. That was felt so good. Mmm. Honey? Mm-hmm? Did you come? What? Because it totally didn't seem like you did. Husband: What are you talking about? No, I made the noise and everything. Of course I came. But he immediately confesses to his uninterested co-workers: I didn't come. I've been withholding orgasm since she decided, we decided to, uh, get pregnant. . .Because I want to want a baby. Just it's odd, and it's all happening so fast. But in the next episode "Middlegame", written by Wesley S. Nickerson III, he's able to fantasize during sex enough to declare: I think I just put a baby in you!
In "Pushback", by Taii K. Austin, the big guy in the hip hop style mogul's entourage "Foxx" (played by Antonio D. Charity) [I think it was him, not "Vernon played by Aflamu Johnson] sneers at management consultant"Clyde Obherholt" (played by Ben Schwartz): Man, you brought this Ivy League Ashkenazi all the way over here, and that's the best financial advice he got? Man, the Jews is fallin' off. But "Lucas Frye" (played byT. I. Harris) explains the source of his "inappropriate" remarks: Rachel Cohen broke his heart in middle school, and he's still bitter. Don't take hat Jewish shit personal. But back to the "Rachel"/"Doug" baby drama in "Brinksmanship", written by Theo Travers, as he has to go to Chicago on a business trip, and looks forward to quality time with a new junior analyst "Caitlin Hobart" (played by Genevieve Angelson). But at lunch, "Rachel" is all about her gyn-OB: There was a line! Ugh! It's, like, don't make more appointments than you have time for. If you can only see five vaginas in an hour, don't schedule ten vaginas!. . . Dr. Caplan saw a surge in my L-H levels, and I'm at peak fertility for the next two days. "Doug" tries all kinds of excuses, but she persists: Well, that's really interesting, Dr. Guggenheim. I booked myself a ticket to Chicago. . .Please don't worry. I'm not gonna get in the way of your work. I'm gonna be quiet as a church mouse. You know, I'm just there for the nookie. He tries another tack: So how 'bout this? How about you and me slip into the bathroom and have a quickie right now? She: Oh, horrible offer. I don't want to conceive my baby in a restaurant bathroom! Are you crazy? He: I just think it'd make a funny story. . .I've got Purell on me. I'll wipe you down. I just I think that we could take care of business before I leave. He goes on to argue for a refund on her plane ticket. She: Oh, my God, Doug! You are such a cheap bastard! That's what this is about? My God, our baby isn't even worth $1,200 to you? . . . I'm coming to Chicago. End of story. He exaggerates with a "ch": L'chaim. In Chicago, she first says she's too tired to come with "Caitlin" to an art exhibit, then jealously joins them – but proves she is intellectual and the two women bond: I just don't find it all that fascinating. . . A friend and I saw these really cool interactive proto-pop collages at MOCA a few weeks ago. . .They were very physical, and -- "Caitlin" agrees with her enthusiasm, to "Doug"s discomfort. At the airport, the couple argues in front of their colleagues. He: Sarah, there is nothing going on between me and Caitlin. She: Yeah, like you could even get her. Senior colleague "Jeannie Van Der Hooven" (played by Kristin Bell): I'm sorry to interject. But you think Caitlin's too good for Doug, and you thought I had a thing for Doug? "Sarah": No offense, Jeannie, but you do like to pass it around. . . I came here, Oh, God, to make a baby with you and to connect, and you just treated me like shit. Actually, Doug, I don't want to whisper because I'm fucking angry with you! "Doug": I don't care that you don't understand abstract postmodernism. "Sarah": Oh, my God. You know what? This isn't about last night. This has been going on for weeks. . .You're acting weird. . .You're pulling away. . .And you know what? I know that you're not coming every time that we have sex. Like I don't know what a hot load feels like? He makes excuses to "Caitlin": That's just Sarah stuff. That'll blow over. But when "Caitlin" thoughtfully switches seats so "Sarah" can move into business class to sit next to him in business class, "Sarah" tears up: Do you not want to be with me?. . .If you're not happy, then, um, let's just end this. "Doug": It-It's just a lot of new all at once, right? The speedy marriage, the trying to have a baby, the things at work. It's -- it's confusing. "Sarah": Either you're in it or you're not. Which is it? "Doug": It's only two options? "Sarah": One of us needs to make a decision. And until you can get your shit together. And she quickly goes back to coach.
In the penultimate episode of the season "Together", written by David Walpert, "Sarah" took him back on her distinctive terms. She greets him at her front door: Hey, asshole. He: And we're right back into it with the witty banter. . .Please. I'm sorry. . . I don't know what I can say to make things right or what I can do. I just know that I need you in my life. . . .Look, I'm not the kind of guy women ever went for. I wish I was, but I'm-I'm not. Hell, I took a cousin to my prom. And not even a pretty cousin, either. . . .But anyway, you came along, and you were so beautiful and so cool, and-and you made the insane choice of actually wanting me. And not just wanting me, going so far as to trick me into marriage. She: I would have tricked a lot of men into marriage, actually, so don't flatter yourself. He: I'm trying to say that I didn't appreciate how fucking amazing you are. She: Well, not as amazing as Caitleen, right? He, correcting her mispronunciation: I held Caitlin up as this ideal. But then I realized- She: That she's a boring little bitch? He: I was gonna say that I realized that she's not you. She: And that she's a boring little bitch. He: Okay. But compared to you, compared to anyone. She: I kind of need you to say it. He: Um yeah, she's a boring little bitch. I know, right? She: Yeah. That's what I've been trying to tell you. You can come in now. . . Lot of memories on that couch. It's where I first gave you a blow job. . .We were watching "Chicago Fire", and you said, 'This show is so stupid.' Do you remember what I said? 'Do you want a blow job?' - You were just like, 'Yes, please' He: Because I did. I did want. She: You hurt me, Doug. He: Jesus! I'm sorry, Sarah. I'm so sorry. I'm such an idiot. If I could go back and if I could take it all back Hey, look at me I love you so much. She, as they start passionately making out and exchanging verbal and oral endearments: I wouldn't have tricked anybody else into marrying me. I was just lashing out. Oh, come here. . . I think this is great. I just wish that we had figured that out last week. Also, I had an abortion last Friday. . .I don't know, there was a baby, and then there wasn't one. He: You had an abortion? Are you serious? Hey. Why didn't you tell me? I mean, I know we'd broken up, but it was mine, too. Was that a shrug? Did you just shrug? That's a shrug. Yeah, that's a weird shrug. She: You know what, Doug? I wasn't completely sure that it was yours, okay? I went on a bit of a spree. He: But you used protection. She: You know how I feel about condoms, Doug. He:Oh, my God! She: Well I'm gonna go get some Fresca. Do you want a Fresca? (updated 9/20/2014)

Transparent (a half-hour dramedy pilot on Amazon Instant Video), written and directed by Jill Soloway, features a Jewish Los Angeles family, with Jeffrey Tambor as the father. His three adult children include two sisters. The first clue they are Jewish is about half-way through, when on the way to a family dinner Dad initiated, the siblings joke about all the "Marcy's" he's dated since their parents' divorce when the youngest, the son, was 15, by riffing on their very Jewish last names, with many fictional ones, including: Kaplan, Goldberg, Rubinstein,. . . or Kristallnacht, Belsenburger. When the brother "Josh" (played by Jay Duplass) jokes: You guys never did teach us how to eat, you realize that?, Dad rejoins: Because we come from shtetl people. Your grandma Rose actually ate lettuce with her bare hands. The eldest is "Sarah" (played by Amy Landecker), a suburban wife and mother of two girls. At what is apparently a similar Jewish school to the one featured in Soloway's Afternoon Delight, she bumps into an old friend (played by blonde Gillian Vigman) dropping her daughter off, after finishing an assignment in Bahrain, who is serving on the fundraising committee: If you don't raise $5,000 for Tu B'Shevat, then Dana Goodman just implodes. Her younger sister "Ali" (played by Gaby Hoffman) later reacts at the mention of her: Tammy mother-fuckin' Cashman! Does Len know your kids go to the same school? "Sarah": Why would Len care? "Ali": The woman who you spent your entire college years lezzing it up together? "Sarah": Who doesn't experiment in college "Ali": Experiment? You two were talking about adopting a kid together. That's not experimenting. "Sarah": That did not happen. "Ali": OMG I distinctly remember you calling up and saying you were going to adopt two Mexican boys. "Sarah": Salvadoran. While she doesn't tell her husband "Len" (played by Rob Huebel) that her father has offered her his house, as his big announcement at the dinner, she does refer to wanting to plan a play date for the kids-- with that lesbian I went to Madison with ("Len": I like lesbians.), who she then has an amorous play date with herself, and explains she hasn't told husband that dad offered her the house, with apparent references to Jewish neighborhoods in L.A.: Len hates living on the east side. He calls it the g-hetto. I don't know if I'm ready to live on the west side., and makes jokes about goint to the Farmer's Market. "Sarah" treats her dad exactly like her apparently Jewish, gray-haired mother (played by Judith Light) treats her apparently stroke-recovering husband "Ed" (played by Laurence Pressman), as she rails against her condo association board members, and to "Ali" mocks her ex for dating younger women, so wants nothing to do with him: I wouldn't believe a word your father says, ninka, neyn, necht! "Ali" is apparently on a losing streak as a writer, even as she's talks to a friend about a new satirical-sounding project, but Dad writes her a check: What happened to the Price Is Right money? "Ali": It's gone. That was like 6 yrs ago. . . Dad: I'm always happy to help you out when you're in trouble. "Ali": I'm not in trouble, I'm just. . Dad: You more than all of all my kids, you're the one who can see me most clearly. Probably because we share the depressive gene. "Ali" I'm not depressed! Dad: It is so hard when someone sees something you do not want them to see. At home, "Ali" examines herself naked in the mirror, then meets with a hunky black personal trainer "Derek" (played by Henry Simmons): I hate my body. . I hate it. I want to change it. . . I want those sculpted arms. . .sinewy instead of this, nice tailored waist, rounded ass. I want to feel rooted. Like a fucking tree trunk, just planted, so not like I'm gonna fall over. He asks what she eats, and she babbles about food, and they concur against deprivation. He: I believe in discipline. She: I could use some discipline. He pushes her through push ups until she can't do any more -- and motivates her to do more with an ass slap she quite likes.
Amazon announced it was picked up for a season just in time for me to miss to miss the cheaper price for Amazon Prime to watch it – or will it come out on DVD or some other cheaper option? And maybe we'll learn their last name? Soloway stated: "It's honestly a dream come true to make nine more episodes of Transparent, I feel so lucky to be working in this moment when innovation in distribution allows for the most free flow of creativity I've ever experienced professionally. These characters are bursting in my mind waiting for the palette of the set and the flesh and blood and voices and comedy of the actors. More to come...." Carrie Brownstein has been added to the cast as "Ali" (Gaby Hoffman)'s best friend "Syd". Will the Portlandia star/creator play a Jewish woman? (updated 7/3/2014)

In the New Girl (on Fox) "The Box" episode, by Rob Rosell, "Schmidt" the womanizer (played by Max Greenfield) is lying on the couch as if at a shrink's: So yes, I was dating two girls at the same time. After he lists his physical complaints from the break-ups, an exasperated voice, recognizable as Jon Lovitz, says: Were the girls Jewish? Schmidt: One Indian, one regular. Do you want to see a picture? The camera turns to Lovitz: I don't even know why you're here. You said do you have a minute. . . Schmidt: I'm sorry, Rabbi. It's simple, how can I be a better person? After "Schmidt" spends the episode throwing around that he's selfishly trying to do mitzvahs and tsedakah, he interrupts the rabbi's male-only bar mitzvah class seeking more sympathy: Did you ever date two women at the same time? The rabbi can't help but brag, again to the detriment of Jewish females: : I went to camp. They used to call me the octopus.
But in the next episode "Keaton", as written by Dave Finkel and Brett Baer, directed by David Katzenberg, his very stereotyped Jewish mother appears in a flashback narrated by his friend/roommate since college "Nick Miller" (played by Jake Johnson) to explain his behavior: When Schmidt was 7, daddy divorced mommy. He didn't take it well. . . .Endless cycle of chocolate and stars. . .Desperate, Mrs Schmidt looked to the stars. Movie stars. Mrs. Schmidt wrote that little fat loser a letter of support from the star of his favorite movie Batman. But not the confusing new one, the good one with Michael Keaton. . . His life changed forever. . . Schmidt wrote back and kept writing back. . .For every letter he sent, Michel Keaton sent one back. . .Schmidt went off to college and Mrs. Schmidt unloaded her secret onto his only friend, and that friend was me. Chubby "Mrs. Schmidt" (played by Barbara Kerford, repeating her role I missed in the 2011 "Naked" episode) is portrayed with dark, curly hair from behind at the typewriter turning out letters from Keaton. When "Nick" finally confesses the truth, "Schmidt" is appalled at the realization: My mom? You're going to tell me that my mom helped me with my public erections? I drew pictures!
In "Birthday", written by Kim Rosenstock, "Schmidt" is trying to comfort his model ex-girlfriend over her employment prospects: A lot of people never graduated high school. Einstein, Bill Gates, Anne Frank. OK, I'm going to take back that last one.
I think the "Sister" episode, written by Matt Fusfeld and Alex Cuthbertson, was intended to sarcastically answer criticism of "Schmidt" not being seen dating Jewish women. He asks "Nick" to be his wing man at a party: Jewish girl – sensible nose – high level target. . .Imagine me next door with a nice Jewish girl? Turns out he meant a bar mitzvah and immediately sticks on a yarmulke: The target is Rachel. She's a Hebrew school teacher. "Nick": And . . crashing some random kid's bar mitzvah is the best way to get to her? "Schmidt": Get her on a dance floor - "A little bit softer now. A little bit louder now." Sweep her off her feet. Get married. Have a son, tell him the story of how I met his mom at this bar mitzvah. Not a dry eye in the house. Jewish continuity, etc. etc. Get a piece of hamentashen. The problem is her dad is my rabbi and he hates me. So I just need to charm Rachel before he tells her horrible/true things about me. "Nick": I distract the rabbi while you hit on his daughter. "Schmidt": Action! Go! He puts on an Israeli accent to her: Rochel baruch ata what a nice dress! "Rachel" (played by Allyn Rachel): Shabbat a hello. He: Not as good as mine. How's Hebrew school? "Rachel", guzzling wine: Not bad. The only place that would hire me when I got out of rehab. Rabbi interrupts: No no no! Rachel, you will not speak to this man! This man is a nut ball! "Schmidt": A nutball! How dare you – I'm a goofball! Rabbi: Sammy Davis Jr. was a goofball and you, sir, are no Sammy Davis Jr! As her father pulls her away "Rachel" yells: I want sex! He wants to have sex with me! Let him! I love sex! Sex! Later, "Nick" gets punched out for kissing a flattered old Jewish lady, and the Rabbi is impressed: Nice shot Dr. Nussbaum! Would you like to date my daughter? She's available! "Rachel": Oh great, tell the whole room I'm available! Rabbi: I'm not telling the whole room, I'm telling Dr. Nussbaum – a doctor! "Rachel" mumbles: Oh I got that. (updated 2/28/2014)

Ray Donovan (on Showtime) opened up with a dead, putative Jewish woman, in "The Bag or the Bat", by series creator Ann Biderman. "Ezra Goodman" (played by Elliot Gould) is so distratught at his wife "Ruthie"s funeral, that he kicks out his gentile mistress "Debra" (Denise Crosby), who is surprised he's hurling Yiddish words at her. After sitting shiva for her, in "Twerk" by Ron Nyswaner, he plans a groundbreaking for "The Ruth Goldman Ovarian Cancer Center" with a symbolic shovel: It should be golden, it's what she deserved. . .She was a wonderful woman. . I often said that she was an angel. The drunken mistress, who mocked his "shrine", starts muttering at the fundraising kick-off, then gets disruptively louder: Ruth the saint. . Ruth. . .was no angel, believe me. . .She was sleeping with her shrink for years! He speechifies: There was nothing she wouldn't do for anyone. . .I see this center as my legacy. Ruthie wanted that, a legacy is important, especially when you've done terrible things not to be spoken of. There's a price to be paid. Separately, both the haunted husband and the yelling mistress have to be pulled away from the scene. In "The Golem", written by Sean Conway, he is suffering from a brain tumor, but laments Ruth was my one true love. The only one I ever really loved, much to the consternation of his mistress entering the room behind him. On the verge of brain surgery, he regrets that while he's given "Ruth" a foundation and hospital, he hasn't given anything to "Debra", so considers getting her a dog – which two episodes later, in "New Birthday" written by David Hollander, she laughs he named "Ruth", but This Ruth has a big dick! In "Road Trip", by Brett Johnson, "Ezra" sadly sacrifices "Ruth"s legacy by draining the Foundation's account to help "Ray" pay off a hit man.
"Ray"s tough, burly henchman "Ari" (played by Steven Bauer with an accent that I'd been wondering was Russian or Israeli) reveals he has a Jewish mother. He's on the phone outside Las Vegas while transporting an old Irish-American hit man cross-country: Did you take your medicine?. . .So send Joey to the CVS. Yes, today, the blood thinner. Me too. Bye bye. Hit man: Your mother? "Ari" shrugs: I'm usually there on Fridays. Shabbat. Hit man: How old? "Ari": 85. She's starting to lose it. She sideswiped two cars last week. I had to take her keys away. The hit man's moll snorts about how FBI's Most Wanted (clearly modeled on Whitey Bolger) is even more devoted to his mother.
In "Bucky Fucking Dent", written by Ron Nyswaner, "Ari" revealed more while protecting the family while "Ray" is involved in various violent problems. He explains to the wife's queries about his social life that he's busy with his mother on weekends: From Friday to Saturday she can't do anything, like turn o nthe lights or cook. . .Shabbat. The son is curious: Why? . . .What? The mother translates: The Sabbath. The son: Like Black Sabbath? The daughter snorts: That's a band, stupid! "Avi" continues: My mother is Orthodox. She keeps kosher. She can't do anything on the Sabbath. It's a holy day, a day of rest. The son is intrigued: Why don't we do that? Mom: We're not Jewish. Daughter: We're not anything. He's later biographical with the son while they play violent video games that "Ari" excels at, explaining why he was formerly in the Mossad: I'd do anything to get off the kibbutz. My parents split up and I went with my father. I hated it. You had to ask permission to kiss a girl. . . Not really. For added irony, "Ray" buries the priest he killed in the concrete foundation of "The Ruth Goldman Ovarian Cancer Center".
These Jewish women were ironically referred to in the season finale "Same Exactly" written by Ann Biderman. "Ezra" announces he's asked "Deb" to marry him (it's complicated, but there's a client's baby involved): Ruth would want me to be happy. You know they met once - -but Ruth didn't know she was my mistress. "Ari" accompanies "Ray" to confrontation with the old hit man, who conversationally asks: How's your mother? Just as "Ari" is (literally) disarmingly answering Fine, the hit man shoots him point black in the chest, though not dead by the end. (updated 9/29/2013)

As part of the BBC's 50th anniversary of Dr. Who, the docu-drama An Adventure in Time and Space, written by Mark Gatiss, briefly acknowledged in passing that the founding producer of the franchise Verity Lambert (played by Jessica Raine) was Jewish. After the head of the BBC Drama Department Sydney Newman (played by Brian Cox) notes that: This place needs a person with piss and vinegar in their veins in promoting her to a new job as the first female producer there, she asserts herself to sexist older staffers, aggressively orders drinks from a bartender, then toasts: To the pushy Jewish broad. Her colleague Waris Hussein (played by Sacha Dhawan) responds: L'chaim! The postscript scroll, accompanied by her photograph, identifies that she went on to be "a legend in British broadcasting". I was left wanting to know more about her! (11/23/2013)

Foyle's War continued the British Masterpiece Theater (on PBS) tradition of Jewish women characters as Holocaust victims, in "The Cage" episode, written by David Kane. (Commentary forthcoming - it took me long enough to figure out that the Auschwitz survivor "Mrs. Ross" was listed in the credits as "Katrin" played by Katherine Kanter.) (9/23/2013)

On Drop Dead Diva (on Lifetime: Television for Women summer Sundays), the "The Real Jane" episode, by Josh Berman, had a Jewish woman murder victim for a plot reason new to me. The lawyer, too, is surprised: Tracey Rivlin was buried in the shirt she was wearing when she was killed? Another lawyer is helpfully informative: Yes, remember, Tracey is Jewish, and under Jewish law the victim of a murder is buried in their clothing, over which. . And the relevant Maimonondes citation is provided about internment procedures, that I was found supported in details about Taharah ritual requirements: "This is intended to waken G-d's anger; to 'prompt' Him to exact vengeance for the terrible crime." This excerpt from Dignity Beyond Death: The Jewish Preparation for Burial by Rochel U. Berman clarifies: "The Code of Jewish Law states, 'One who was assassinated by a non-Jew, although he did not bleed at all, should, nevertheless, be buried in the clothes which he wore at the time as a demonstration of wrath.'" [Thanks to David Zucker for the references.] Later, "Mrs. Rivlin" (played by Frances Mitchell) storms in: Four years ago you convinced me to dig up my daughter's body. Then you didn't show up at the cemetery. . .I almost did it, because of you, and now you ask me to come to your office just before the execution? She slaps the lawyer. My baby is dead and you can go to hell! While the mother is convinced her daughter's classmate is guilty because he was convicted, the lawyers are sure the shirt will have the DNA of the real killer in a bite mark: What would your daughter want to do here? Mother: You really think he's innocent? Lawyer: I really think it's worth finding out. The mother tearfully agrees, and the client is exonerated, in her presence in court. (7/9/2013)

On Who Do You Think You Are (in the 1st season onTLC, after the NBC version of the Brit series) Chelsea Handler tearfully declared: I'm proud to be a Jewish-American! after she traced her German grandfather's history with the Nazis. On the "Austin" episode of the similar Genealogy Roadshow (on PBS), a Tejano woman, who can trace her family's Texas roots to the early 19th century, brought to TV a history rarely mentioned when she got DNA confirmation of her family's Sephardic crypto-Jewish heritage in presumed flight from the Spanish Inquisition. (episodes commentaries coming) (updated 10/20/2013)

Generation Cryo (on MTV) is a twist on the Docu-Series seeking your roots genealogy series, with young people seeking half-siblings from the same sperm donor. Episode 1 – "Who's Your Daddy" led 17-year-old Breeanna from Reno, NV to a 17-year-old half-brother and half-sister raised in the Jacobsons' Jewish home in Atlanta, GA. Over home movies of the dad Eric playing with his kids growing up, the mother Terri frankly explains: "We've been married 22 years. It took us five years to conceive Hillit and Jonah. My husband was sterile, not a single sperm in sight, and I wanted to be pregnant. So we went the donor sperm route and five years later conceived these amazing kids." Jonah: "Being Jewish is a big part of our life." They warmly introduce their half-sibling to making Shabbat in their nice suburban house, explain the ritual, the Hebrew, and traditional Friday night dinner. (Bree confides to the camera that the mother she lives with was curious for reports on "How those Jews do." She later confides to the camera "That was my first Hebrew, or Jewish dinner.") The gay Bree is nervous to do the girly thing of getting a manicure together, and, she later confides, her first ever pedicure. Bree tells her camera diary: "She seems like a sweet girl who has her shit together. Hopefully she'll open up." Hillit, like her brother, has no interest in meeting their sperm donor, just to see a photo, "because of the way my mom and dad raised me. . . I have no connection to him at all." But Terri turns out to be very curious to know a lot of details about the donor, and reveals that the couple argued for years about whether to tell the kids. Her husband emotionally explains how difficult the process was for him to accept his sterility and be secure. Bree is quite taken aback that a family dinner can result in an intense conversation and later confides to her camera diary: "I've never been around people who talk so openly. . I saw a new concern for family." The next morning, Terri follows up with her husband: "In the past you've been freaked out about the donor, about the donor showing up and our kids' involvement with the donor. . . That is a possibility . . .I just want to know who he is because he's provided half of our kids' DNA. I love meeting these siblings because it helps me understand Hillit and Jonah a little bit better." But he's even more upset "about my definition of what my family is. . .an attack on me", weeping: "You've never understood that." But he agrees to sign the consent form out of sympathy for Jonah compassionately offering to help Bree "on her journey". Hugs all around as she sets out to meet a dozen other half-siblings, helped by Jonah's DNA sample, and starts scrapbooking their photos.
In the 2nd episode "Come To Grips", I paid attention to her looking through the sperm donor's profile questionnaire where he marked "Jewish". So more of the sibling families, and half-sisters, turned out to be Jewish. Later, another clue to finding the sperm donor is that he listed Hillel membership on another questionnaire for another family, though "Bree" is ignorant what that means. While my additional commentary on the rest of the series is forthcoming, references to many of the half-sibs and their families being Jewish seemed to be edited out of the later episodes. (updated 1/15/2014)

Joan Rivers - everywhere has become a media icon of Jewish women, along with her daughter Melissa, so I followed her TV appearances more regularly, whether their own Jewish ethnic identity is referenced or not, but particularly if they reference Jewish women. I haven't yet caught up with the dozens of episodes of her web/podcast series In Bed with Joan Rivers.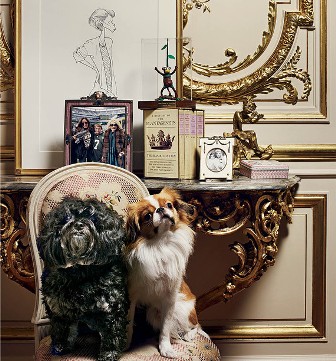 "Still Life" photograph by Benjamin Bouchet, described to Christopher Ross in The Wall Street Journal Magazine, 2/7/2014 (fair use excerpt): ""Only when you love dogs very much do you let them sit on $300-per-yard French fabric. Samantha is the little black-haired one and Teegan is my newest rescue. I've never been one of those Fifth Avenue ladies that have to have dogs that match. I am the Angelina Jolie of barkers. The Al Hirschfeld drawing is beyond meaningful to me: It's from when I was doing the show Broadway Bound. This was right after I was fired from Fox and my husband committed suicide. I went into the show, got amazing reviews, and it re-kick-started my career. So I look at that and it says to me, life goes on. In the photo of my daughter, Melissa, and my grandson, Cooper, you are looking at a very cold Jewess at a Jets game on Thanksgiving. It was a great game, but I was thinking, Could the cheerleaders here do a Sondheim number? The monkey figurine Cooper made when he was about 6 or 7. I hate when you go in a house and you have to comment, Oh, look what your stupid child did, but in this case it happens to be a work of art! He's a very precocious talent. The other photo of Melissa and me is in a Fabergé frame that my husband and I bought in England—our first piece of Fabergé."
In their participation in the June edition of Celebrity Wife Swap (on ABC), which was really "Celebrity Mother Swap", with Sarah Palin's daughters Bristol and Willow, their interactions continued a recent pattern for the image of Jewish women on TV as ambitious. Both Rivers are shocked that the sisters are not interested in following up on the "lean in", as it were, career opportunities they offer each young woman in what I considered as typically helpful Jewish mothers. (More detailed commentary forthcoming.)
Natalie Portman's dress was awarded Best Dressed by Joan Rivers' Fashion Police (on E!) for the Oscars where she was awarded the Academy Award for Best Actress to the delight of her "Joan Rangers". Portman linked the on and off screen issues of Jews and fashion: From Racked: "As the face of Miss Dior Cherie [perfume, she] was widely expected to wear a Dior Couture gown on the red carpet at the Oscars Sunday night. Portman chose, instead, to wear Rodarte—designed by the Mulleavy sisters who made several of the actress's costumes in Black Swan. Today [3/1/2011], Portman issued a strong statement officially condemning [chief designer] John Galliano for the pro-Hitler statements he [was seen making in]. . .'I am deeply shocked and disgusted by the video of John Galliano's comments that surfaced today. In light of this video, and as an individual who is proud to be Jewish, I will not be associated with Mr. Galliano in any way. I hope at the very least, these terrible comments remind us to reflect and act upon combating these still-existing prejudices that are the opposite of all that is beautiful.'"
Rivers has also made pointed comments about gay designers and stylists (a significant share of her audience) being clueless about women's bodies they dress and set beauty standards. On the SAG Awards 2013 show (I only watched the special editions), she wryly explained to the confused stylist George Kotsiopoulos the pencil measurement technique for how a girl is fitted for her first bra.
On the Emmy Special (I tried not to feel guilty about watching while Joan was still disputing with the Writers' Guild - ironically, the show's striking writers used her catch phrases to press for union representation), Giuliana Rancic flamboyantly introduced Mayim Bialik's dress as by designer Oliver Tolentino (Mayim described her selection on her blog), and Joan made a point of unusually commenting on Mayim, who was nominated for Big Bang Theory: I know her very well, And just so you all understand why she's wearing this dress – she's a vegan, she's a spokesperson for the Holistic Women's Network [sic], and she's a devout Orthodox Jew – so everybody take a good look at this dress becaue this is about as pretty as it's ever going to get. The "Joan Ranger" audience guffawed, then stylist George Kotsiopoulos: I understand for religious reasons she has to be covered up. I understand that. But this is really not cute. It's wrinkled and the fabric looks cheap this is one of my Worst-Dressed Nominees. But the women on the panel challenged him. Kelly Osbourne: I agree that it's not the best dress in the world, but it is a vast improvement to what's she's worn before. I think it's pretty for her. I'm happy that she didn't wear what she used to wear. A triptych of her past appearances is put up on the screen, like Mayim herself put up on her blog. Giuliana: I'm with Miss Kelly. I think this is the best she's ever looked. I think this dress fits perfectly. I think she looks fantastic. What do you want her to wear? George makes a sour face. Joan, putting on a Yiddish accent: I think she's a terrific comedienne. So for those who don't know, Mayim is a Hebrew word for "So here's what's happened to Blossom, Not that I care, but here's what happened." Later, they all criticized Zosia Mamet of the Emmy-nominated Girls, for her dress such that she wins "Worst Dressed", but without any Jewish references to her or the character she plays.
4th season of Joan & Melissa: Joan Knows Best? (onWEtv – commentary forthcoming) She was even welcomed back on The Tonight Show, to promote the series, now that it has a new host, Jimmy Fallon, with no ties to past feuds. Jordan Zakarin, in The Wrap, 3/28/2014, cited: "There were jokes about the Holocaust — within 20 seconds of appearing! — as well as plenty of cracks about her vagina… all of which made a laughing Fallon a bit uncomfortable." While it will be awhile until I catch up on the series, I happened to hear one exchange in 2nd episode "Extreme Make Under": Melissa: Aren't you concerned about your reputation? Joan: The only thing that would hurt my reputation in this town would be having Mel Gibson at my Passover dinner. In the preview to the season's penultimate episode "Blue Balls", she's unpacking family mementoes, including her grandmother's matzoh ball soup recipe, all laden with Jewish references. (More commentary forthcoming.)
Her defense of Israel on TMZ during the summer war in Gaza went viral as "a rant", with her proclamation "I've been there!" I'm overwhelmed with all the tributes and memorials to her, including ones emphasizing her Jewishness; at some point I'll try to link to "best of"s, as the entertainment world, from L.A. to NYC, did a rousing version of sitting shiva. For example, ABC's 20/20 – Joan Rivers: A Comedy Legend, whose host called her "the ultimate Jewish mother", replayed an old, really frank, interview with Barbara Walters, back when Rivers was still the guest host for NBC's The Tonight Show with Johnny Carson, where she, ironically, was asked if she'll ever be considered as the permanent host: "No– I'm a woman. I'm acerbic. I'm a New Yorker. I'm Jewish. . .A certain roughness, a certain edge to a New Yorker. Anyone who has a creative zap to them turns people off. I say 'I'm just trying to make you laugh. It's all a joke, folks.'" Which resonanted particularly when she was shown walking off a summer 2014 book promotion on CNN by a host who just didn't get how her Red Carpet barbs were more a Jewish take on the style biz as the updated shmata trade than personal nastiness: "You are not the one to interview about humor." (updated 9/14/2014)

Princesses: Long Island (on Bravo) (I erratically saved this 1st and hopefully one-season "reality" series on my DVR, had to download and copy the summer episodes to make room for better shows, butI just may yet watch whatever ones, if the copy works, out of perverse curiosity, because some of the episode titles veered to curiously offensive: such as "You Had Me at Shalom", "Shabbocalypse Now", "Intermenschion", "Sunrise, Sunset") (10/25/2013)

On Parks and Recreation (on NBC), "Mona Lisa Sapirstein" (played broadly but yet sweetly by Jenny Slate) was back, now with her doting, rich, doctor father played by Henry Winkler, in the season opener "London" written by Michael Schur. (commentary forthcoming on this episode). "The Sapirsteins" returned in the season finale "Moving Up, Part 2" written by by Alan Yang and Aisha Muharrar, where the father has become the nemesis of "Tom Haverford" (played by Aziz Ansari), whose latest entrepreneurial effort is a restaurant. He brings in the siblings as party planners for the opening. She misunderstands the planning meeting to get all excited that she thinks it's "a four-way", starts undressing, and sulks when told it's not. As she promised, she brings in a V.I.P.: My daddy is the V I P-est I know. I love you Daddy! Dad responds: I love you too, Angel. She: Money please! He hands it over to her delighted Thank you! (updated 5/24/2014)

Annie Edison in the 5th Season of Community (on NBC) Perhaps because the original showrunner Dan Harmon is back there was surprisingly revealing moments about her family, in the "Maintenance and Educational Publishing" episode by Don Diego, that fans of the show had no interest in. Her visiting brother "Anthony" (played by Spencer Crittenden, a regular on Harmon's podcast) is huge, hulking, hirsute and monosyllabic – the opposite of her. "Annie" (played by Alison Brie) bubbles on So nice to have the Edison kids under one roof again! Remember when we used to cut carrots for mom? She enthusiastically hugs him for fixing the refrigerator door, and proposes him as a new roommate: He has money and he's handy. . .He's a good guy! But "Abed" (played by Danny Pudi) calls him "a Viking. . .who does'n know whether to poop or keep cutting carrots. She: When we were kids, Anthony and I would play time machine. We would go "Oh no! We're in barbarian times! Quick let's go back to the time machine! Then we would run back to the time machine. . .I bet that's why Abed is like a brother to me. You guys are so alike! "Abed" (played by Danny Pudi): I can't accept that based on one time machine story. It turns out "Anthony" doesn't want to be her roommate to share her rent: I think we have some unresolved issues here. She takes him seriously: Yeah, I'm so hurt about mom turning her back on me when I went into rehab. And I guess part of me was mad at you for siding with her, so I thought you moving in here was some kind of moral victory? But he was actually talking about the absence of "Abed": And screw you! I was 13! and he storms out. (4/16/2014)

Felicity Smoak in the 2nd season of Arrow (on CW, out on DVD) She's a bit blonder this season as she and "Oliver Queen" (played by Stephen Amell) seemed to grow closer (a.k.a. to online "shippers" as "Olicity"). Halfway through the season the CW posted a promotional photo on FaceBook of the actress Emily Bett Rickards, sans "Felicity"s glasses, with the caption: "Brains and beauty ... what more could one want?"
She finally remembered her Jewish identity (as usual in TV series) in the December "Three Ghosts" episode (get the Dickens reference?), story by Greg Berlanti and Andrew Kreisberg, teleplay by Geoff Johns. The geeky "Barry Allen" (played by Grant Gustin) tries to flirtatiously distract her from "Ollie"s billionaire by day and saves the city at night derring-do with: So any plans for Christmas?, she shuts him down with: Lighting my menorah. "Barry", however, leaves "Queen" a Christmas present – his signature mask.
While I'm behind posting how her character has developed over the season, "Heir to the Demon", written by Jake Coburn, had insights. "Oliver"s mother "Moira Queen" (played by Susanna Thompson) confronted her about what her computer research uncovered: If you won't keep my secret for Oliver's sake, you should keep it for your own. I see the way you look at him. . .You tell him this and you will rip his world apart. A part of him will always blame you. Oh, he'll hate me for sure, but a part of him will hate you always. We all have to keep secrets, Ms. Smoak. But she tells him anyway, in tears, as he insists on the truth: You notice that I talk a lot. "Oliver": It has not escaped my attention. She: You may have noticed I don't talk a lot about my family. My mother is my mother. I don't really know what my father is becuase he abandoned us. I barely remember him, but I do remember how much hurt when he left. So I don't want that hurt again. "Oliver": You're not going to lose me. Is this about your family? "Felicity": It's about yours. She wins and loses: while he breaks off with his mother, he passionately falls into the arms of his ex-lover at the end.
In "Suicide Squad", written by Keto Shimizu and Bryan Q. Miller, we learned just a bit more about her. She brings a cup of cocoa out to "John Diggle" (played by David Ramsey) who has assigned himself as her security: So I get you outside my house just like a lacrosse player my freshman year of college. . .Yeah, I had a life before you and Oliver. [Thanks to "King_Lemur" for clarification.]
In "City of Blood", written by Holly Harold, we learned some surprising more about her. First she's upset after the sacrificial suicide of "Oliver"s mother: I don't even know why I'm crying. I didn't even like Moira. Terrible thing to say about someone after they've just died. In my defense, she was not nice. She was diabolical. Not a word you often hear at someone's funeral. "Diggle": You're not crying for her, Felicity, you're crying for Oliver. She begs "Oliver" not to give himself up to his nemesis, and tearfully reveals more about herself: I don't accept that. You shouldn't either. You can't just accept things, Oliver. If I had accepted my life, I would be a cocktail waitress in Vegas like my mother, and I never would have gone to college, and I never would have moved a thousand miles away to work at Queen Consolidated, and I never would have believed some crazy guy in a hood when he told me I could be more than just some IT girl. Please don't do this. . . There has to be another way. "Oliver": There isn't. But she helps find another way, using her skills over a kidnapped bad guy: Oh, look at this. You have a bank account in the Cayman Islands. Wow. $2 million, quite the little nest egg. But... looks like you just approved a wire transfer of $1 million to a charity here in Starling City. Very generous. What should I do with the rest? . . .[ Greenpeace] Great cause! And they really appreciate your support. Bad guy snarls: You bitch! Triumphant "Felicity": A bitch with Wi-Fi! "Oliver" recognizes her important role, along with "Diggle", before the key battle: This started with the three of us. It's time we got back to that. I will comment more on the season finale "Unthinkable", story by Greg Berlanti, teleplay by Andrew Kreisberg and Marc Guggenheim, where they "pretend" to be a couple to fool their enemy: She: It was really smart the way you outsmarted him. But unthinkable, you and me I mean. When you told me you loved me, you had me fooled that you might have meant it, what you said. . You really sold it. He smiles: We both did. She: Let's go home. The conclusion was promoted to fans on FaceBook: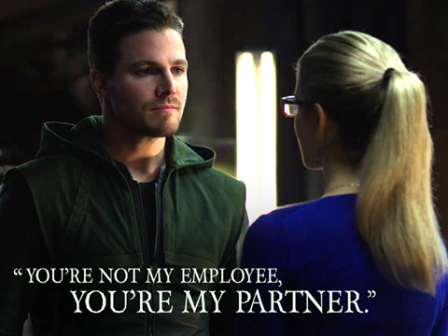 (updated 10/1/2014)

Broad City As Stephanie Butnick noted in Tablet Magazine 1/23/2014, "On Comedy Central's Broad City, Two Jewesses Just Want To Have Fun", with comedians Abbi Jacobson and Ilana Glazer playing versions of themselves, We're just two Jewesses trying to make a buck (from the first episode "What A Wonderful World", where "Abbi" the gym locker room attendant and "Ilana" the mouthy temp end up cleaning in their underwear for a crazy character played by comedien Fred Armisen) "Glazer writes in a Craigslist ad, with the hopes of securing the funds they need ($200)" to see a show in H. Allen Scott's Thought Catalog interview with the two, 3/26/2014: "IG: [O]n a positive note, Girls is such a successful, beautiful, well-made show. And the people who actually watch the show see that our show is very different. Women are always put against each other. . . I do think it is reductive and because we're women and perceived as Jewish white girls from New York City in their early 20's. As much as I'm like, 'Sorry, I don't produce that show,' we know what TV is about, it's not like it's the most well rounded medium."
On "The Lockout", written by the creators, they have to evacuate their Brooklyn apartment for a bug bomb. "Ilana" to her handsome neighbor "Jeremy" (played by Stephen Schneider): It's like the insect Holocaust in here. That would make us Mr. and Mrs. Hit – Hitler. He: Like Nazis? He makes a quick exit.
On "Fastest Asses", also by the creators, a joke that in most TV shows would just refer to evangelicals took on broader significance. Fleeing annoying double dates who were full of excuses, "Abbi": Ilana, he swore to God! "Ilana": What are you – Christian, dude? "Abbi": No, I'm not Christian but I respect swearing to a higher --. . .Maybe I should just do JDate or something.
On "Apartment Hunters", written by Tami Sagher, "Abbi" is excited that one of her graphic designs has sold – until she sees the commercial that it appears in, just as she's interviewing to be rent with an apartment of black roommates. Turns out her design was used for a white Christian dating website that promotes itself as: The Final Solution to your dating problems. She tries to insist: I just did an illustration - - like happy couples!
On the season finale "The Last Supper", written by the curators, they are going over their old bucket list, that needs updating, but it does include: Mak your own Passover seder., various sexual goals, then "Ilana" reads out: to be Asian. . .I'd love to be Asian! If technology could figure out how to do it, I'd do it! "Abbi" adds that to their list.
To promote the first season's release on DVD, Jacobson drew a city sites map -- but I don't see any Jewish references. (updated 12/28/2014)

Dr. Zoe Hart in the 3rd Season of Hart of Dixie (the CW, streams free a week later on Hulu) It took until the November "Family Tradition" episode, written by Dan Steele, for her very New Yorker writer boyfriend, bespectacled "Joel Stephens" (played by Josh Cooke) to be explicitly identified as also Jewish. I'm behind on commenting on the "Miracles" episode, written by series creator Leila Gerstein, that featured his "Grandma Sylvie" (played by Patty McCormack) visiting for a Hanukkah party.
In "Act Naturally", written by Dan Steele, "Candice Hart" (played by JoBeth Williams) re-appeared. Despite "Zoe"s positive opening position: My mother and I just managed to put the past behind us, to build a relationship out of trust and honesty. But she turned into a stereotyped controlling Jewish mother than she was before: I waited for an invitation to Christmas, Hanukkah, and it never came, so I thought I'd come for my only daughter's birthday. . . I promise small, no fuss, no candles that don't blow out. She complains when they're out to dinner: The house, Joel, forgotten holiday invites, you're setting down roots here, building a future here, and I can't believe there isn't a place for me. You'reshutting me out. "Joel" tries to keep her happy –and away from her birthday party with her biological father's family- but he complains to "Zoe": If judgment had a face, it would be your mother's.-- and that was before she really gave it to him using code words: I'm disappointed in what's going on here, and I can't belive you allowed it to happen.. . .You allowed her to move to Bluebelle, to buy a house, to set down roots a thousand miles from me! I had a very happy summer in NY with my daughter. Even happier when she found a New York boyfriend. Yet somehow we're back here. I blame you. "Zoe" joins her mother for breakfast on her last day in Bluebelle. Mother: Did you have a secret first breakfast with your other family? "Zoe": I deserved that, I'm sorry that I didn't tell you. I was worried you would feel hurt. But now that it's all out in the open I realize there was nothing to worry about to begin with. I'm so glad that you came and met them. Mom: You're right. The Wilkes are terrific, loyal caring, a great family. "Zoe": It's great to have them here. Mom: And that's why I cant let them win. . . You Zoe. If Bluebelle is where you're going to have you life, a house, a family, eventually grandbabies, well if this is where it's going to be, then this is where I'm going to be. In Bluebelle.
But the "Here You Come Again" episode, written by producer Sheila Lawrence, escalated further into a freshly annoying level of TV's image of the materialistic, pushy, controlling Jewish mother, even without a single explicit Jewish reference. It turns out that her mother is a hard-charging celebrity publicist, and she takes "Zoe" on as a client to get back her medical practice, before condoning her adoption by Bluebelle. [Commentary and transcription forthcoming.]
The season finale, "Second Chance", written by Leila Gerstein, closed with something of a Jewish-style wedding, as "Joel's Grandma Sylvie" (Patty McCormack) married "Zoe"s cousin "Vernon 'Brando' Wilkes" (played by Lawrence Pressman). There's two officiants, the one in a white robe an implied rabbi, but the widow and widower exchange their own personal vows. The groom steps on a glass to conclude the ceremony, the guests shout Mazel Tov!, klezmer-style music plays at the party, and Grandma pulls "Zoe" in to join her to dance to a simple clarinet version of "Hava Nagilah". (updated 6/13/2014)

The Goldbergs – Beverly, Erica plus (on ABC) How did this dreadful, more Jewish re-take of The Wonder Years, let alone repeating almost every negataive Jewish female stereotype from early Philip Roth, get on the broadcast schedule? Blonde "Beverly" (played by Wendi McLendon-Covey) is a monstrously smothering mother, and the older sister "Erica" (played by Hayley Orrantia) is pretty much a bitch. Oy, it got renewed for a second season. [Commentary on transcriptions forthcoming.] (updated 6/6/2014)

Rachel Berry etc. in the 5th season of Glee (on Fox, available on DVD) (More detailed commentary forthcoming as "Rachel" is cast in a Broadway revival of Funny Girl.)
In "The Quarterback" the tearful tribute to the death of Cory Monteith, who played "Rachel"s boyfriend "Finn Hudson (and Lea Michele's real-life on/off again boyfriend according to the tabloids), written by Ryan Murphy, Brad Falchuk and Ian Brennan, she confides to the glee club teacher with both her characteristic Jewish reference and selfish touch: I was going to make it big on Broadway, maybe do a Woody Allen movie, then when we were ready I would come back, and he'd be teaching here. I would just walk through those doors and I would just say I'm home and we would live happily ever after. . .He was my person. . .I didn't know if I would be able to sing again, and now I know I can. I got much more choked up at the acoustic cover of Springsteen's "No Retreat, No Surrender" by the other Jewish character "Noah 'Puck' Puckerman" (sung by Mark Salling) than I did by her cover of Bob Dylan's "To Make You Feel My Love."
A brief preliminary note on the fraught episode "Frenemies" written by Ned Martel, that features bitter and revealing arguments between now NYC roommates "Rachel" and "Santana" when the latter successfully auditions to be her understudy in Funny Girl, by singing her signature "Don't Rain on My Parade" no less: Fumes "Rachel": That song is Miss Streisand's as long as she's on this planet. But let me tell you something. When she goes, it's going to be my responsibility to sing it! "Kurt": Do you know how insane you sound? "Rachel": It was completely inappropriate for her to audition without telling me. . .