Mandel Maven's Nest Lilith Watch:
Critical Guide to Jewish Women on TV, in the Flicks and Popular Music
Jewish Women on TV

Jewish Women in (and Missing from) the Flicks

Jewish Women in Popular Music

To find specific reviews by Nora Lee Mandel search by title, scroll TV shows as listed by season since 1999, and films in alphabetical order of English title.

Unlike everybody else, I am very careful in my analyses of films and TV shows to identify Jewish characters through actual evidence in dialogue, actions or supporting visuals (like the ubiquitous menorah-on-the-shelf prop). I look at how the character is explicitly identified, but have had to expand to implications, particularly by a Jewish-type-sounding name, though I find that no one else makes these distinctions. (Like Elissa Strauss, in The Forward, 5/14/2015, calls "Brassy Jewish Woman 2.0: Pamela From Louie C.K.", though there has been no references that the character played by co-writer/producer/star (and Jew) Pamela Adlon is Jewish.) Even though I've stretched into what I call "putative Jews", there needs to be more indication than who plays the part.
I've started taking into account how the audience reacts to them based on external assumptions, particularly if Jewish actresses portray them, either as identified by general knowledge or perception of physical characteristics, particularly curly hair as Samantha Shokin described (Tablet Magazine 1/30/2014). In The Writers' Room (on Sundance Channel, Spring 2014), Julianna Margulies, sporting her hair pulled back straight in a pony tail, explained why she wears a full wig as "Alicia Florick" on The Good Wife: "I wanted her to look WASPy, but I'm a Jew with curly hair and I was a new mom. . . The network now wants me to call other actresses and tell them this is a good thing not a bad thing."
The British find us exotic, so the interviews are more explicit as in The Guardian, 8/26/2014, "Jenny Slate's career almost ended when she swore on Saturday Night Live. Now she's in the year's most talked-about film. Hadley Freeman meets the star of Obvious Child. . .I do feel that I look traditionally Jewish, and it's something I'm proud of and it's something I'm a little bit insecure about, because I think maybe people don't see me as myself. You know, that's not the main girl, that's the friend. But you know, I've realised that's my issue. I'm glad that I look like myself and I didn't get a nose job to fit in, and now I'm starring in this movie and people seem to like it. So fuck it." So I'm following her career and the characters she portrays.
Mayim Bialik posted on her social media, on 8/26/2015: "To the man who admonished me for discussing religion bc its 'supposed to be a private matter': it is private until Fox news asks you about it because you're on a TV show. And also, I'm Jewish. It's not just my religion. It's my ethnicity and peoplehood. It's public whether I like it or not!"
I also note personality or other stereotypes of the actor/actress's Jewishness, however defined by ethnicity or observance or some kind of Jewish identity so that their characters implicitly become Jewish because they have been cast. (Such as "tough Jews", as David Mamet calls them, at least for male portrayals, particularly when non-Jewish actors play Jews, though I intend to read and comment on his essays "The Jew for Export" and related ones on the impact of Hollywood's anti-Semitism.) I am repulsed by using octoroon/Hitlerian family tree definitions of "being Jewish" for any actor/actress, but certainly there are people who Americans think "look Jewish", though that usually means some general European ethnic-ness, that could just as easily be Mediterranean or Eastern European, which gets even more complicated by the portrayal of Israelis.
The true diversity of how Jews really look is rarely reflected, like my redhead, freckled siblings, where my brother can "pass" in Celtic bands. I am therefore just as intrigued if actors/actresses who are perceived/identified as Jewish get to play non-Jewish roles.

The frequent TV stereotype of the sexy kick-ass Israeli army veteran/Mossad agent took on an ironic reality with the movie casting of Gal Gadot as Wonder Woman. Talia Lakritz noted in Jewish Week, 7/14/2015: "her service in the Israeli Defense Forces helped her land the role of sharp-shooting Gisele Yashar in the Fast and Furious franchise." – which I admit I've never seen.

Why look at how Jewish women are portrayed on TV and in the movies? Others are documenting general or different specific images of women and the impact that has and the messages conveyed about women. The Geena Davis Institute on Gender in Media, at USC Annenberg School for Communication & Journalism, does terrific research on the quantity, quality, and types of women in film and television.
Apply her analysis to how Jewish women are portrayed: Geena Davis summarized her findings about female roles in G-rated movies and children's TV programming in The Wall Street Journal, 4/11/2011, "Life Imitates Art" interview with Rebecca Blumenstein: "They found that the more hours of television a girl watches, the fewer options she believes she has in life. And the more hours a boy watches, the more sexist his views become. . .Of the female characters that existed, the majority are highly stereotyped and/or hypersexualized. . . .Negative images can powerfully affect boys and girls, but positive images have the same kind of impact. We know that if girls can see characters doing unstereotyped kinds of occupations and activities, they're much more likely as an adult to pursue unusual and outside-the-box occupations."
The significance of this approach for other minorities: GLAAD through 2015 did a detailed Network Responsibility Index/Where We Are on TV Report for "the quantity, quality, and diversity of images of LGBT people on television" and NOW did a feminist analysis of prime time TV, that took into account racial but not ethnic minority women on TV. The first Gender Bias Without Borders was "an investigation of female characters in popular films across 11 countries". (updated 9/4/2015)


Amidst all the brouhaha over a 3/24/2015 headline in Deadline that was originally called "Pilots 2015: The Year of Ethnic Castings – About Time or Too Much of Good Thing?", by Nellie Andreeva all jumped on the People of Color issue and not the lack of real ethnic diversity on TV. Dee Lockett in Vulture, 3/25/2015, pointing out The 13 Most Ignorant Quotes From That Awful Deadline Article" cites the dictionary definition then adds "Andreeva takes us back to the 19th century, when racists still referred to nonwhites as "ethnics" — and got away with it. . .And using the term to suggest anything otherwise — in this case, that it denotes only people of color — is a dangerous, slippery slope." Soraya Nadia McDonald, the next day in The Washington Post, put in more TV industry context: "Andreeva's repeated use of the word ethnic, which appeared in her story 21 times. . .was aping standard casting director language and writing for a trade publication , which maybe suggested why she finitially found it innocuous and unobjecitonable. It's one of those things that gets taken for granted but ended up exposing a larger hegemonic rigidity with regard to how race is interprerted in Hollywood: a standard where whiteness is this assumed default unless a character is specified as ethnic a blanket term that served to cover an entire range of disparate identities, races, and ethnicities. Right there embedded in the industry's customary vernacular, is this confirmation that actors of color and roles for them have basically been an afterthought." What was lost in the racial storm that led to a formal apology was "ethnic diversity" that didn't necessarily refer to People of Color. (updated 8/26/2015)

Why LilithWatch? Much of my thinking about the contemporary, post-"Molly Goldberg" image of Jewish women in popular culture was inspired by the archetypal "Lilith" on the long-running sitcoms Cheers/Frasier (played by Jewish actress Bebe Neuwirth). I used to do popular culture reviews examining how Jewish women are faring in television, rock 'n' roll etc. for LILITH Magazine, the national independent Jewish feminist quarterly.
Since the Lilith Fair women's concert tours 1997-1999 (and returning in 2010), the name "Lilith" has gotten associated even more with feminism, viz. the "Wichita Linebacker" episode of Veronica Mars, written by John Enbom and Phil Klemmer, which identified "Lilith House" as the locus for the stereotyped, protesting "militant feminists" at the fictional Hearst College.
Starting in the 3rd season of Supernatural, their Lilith was seen like a Super Demon whose death then was the Final Seal that brought on Armageddon at the end of the fourth season.)
In True Blood, in the 5th season, Lilith is worshipped (in Aramaic) as the First Human Vampyr, with her own Bible. Series creator Alan Ball, in an "Inside the Episode" interview after "In the Beginning", describes that he conceived of her as "a Mesopotamian goddess" when she appears in a naked, then bloody vision to vampires (including Salome, yeah, that Salome) who drank what they believed was her blood. In the season finale by Ball, "Save Yourself", a rebel vampire declares: She's a mad god. She's about nothing but destruction.-- just as her self-declared "Chosen One" drinks all her blood and reincarnates into a similar scary naked vision. The 6th season, in 2013, clarified this Lilith demonology. In "The Sun", written by Angela Robinson, she appears in beautiful human form to him on "some spiritual plane" (as the writer explained in her "Inside the Episode" interview), albeit with three naked "blood sirens", to correct misimpressions: God made me. Some worship me as a god, but there is no God but God., as she urges her Prophet to help vampires avoid a genocidal round-up he foresees in a sun-drowning crematorium. In "Fuck the Pain Away", also by Robinson, sets Lilith's first contact with human/fairies to 3500 B.C. At the naked Lilith's first sight of "Warlow": What are you. . God spoke to me of a creature like you. . You are destined to save vampire-kind. And she rapes and vamps him in the desert. Blended with her prophet today "she" declares: I made you into our savior!, though he is able to rid himself of her after a final image of her and her two minions blood-drenched bodies. At least her appearances here are getting more women to revive herstory.
Once Upon A Time (on ABC) in the 4th season, in 2015, gave a Disney-fied, fairy-tale spin to the Lilith legend – though all the many recappers I read were oblivious to the background or resonances. The episode "Best Laid Plans", written by Jane Espenson and Kalinda Vazquez, revealed a flashback to the adoption in Minnesota of evil Queen Maleficient's dragon baby in human form – she was named "Lilith – Lily". Her eponymous episode, written by Andrew Chambliss and Dana Horgan, traced how her life just kept going bad with bad choices since she was taken away from her mother (and due to the manipulation of her life by "The Evil One" – Rumpelstiltskin, played by Robert Carlyle), as revealed to her by The Sorcerer's Apprentice (played by Timothy Webber): The deck has been stacked against you. I owe you the truth. She's the teenage nemesis (as "Lily Page" played by Nicole Munoz) of "the Savior" ("Emma Swan" played by Abby Ross as a teen, Jennifer Morrison as an adult, daughter of Prince Charming and Snow White, who had stolen her as the dragon egg): Emma, there are powers beyond our understanding, and your parents messed with them. So the only friend I ever had wasn't even my friend by choice. . . But every time I try [making better choices], it just blows up in my face. It's like I'm cursed or something. It's true. It's like my whole life is darkness. "Malificient" (played by Kristin Bauer van Straten, such a charismatic vampire on True Blood in tangling with the other Lilith) is furious at the parents: You've been so worried that the Dark One might turn Emma into a monster, you forgot that's exactly what you did to my Lilith. So, if I won't forgive you, why would she? So guilt-ridden "Emma" tracks clues to find "Lily", despite others' warnings: She was a weird one. Kept to herself. 'Course, she had one of those personalities that you wanted to stay far away from. A real loser. In "Mother", written by Jane Espenson, "Lily" (played by Agnes Bruckner) bitterly (and ironically) compares her banishment and maternal separation: Sent me through the portal in my eggshell, like baby Moses in his basket., and angrily transforms into a dragon to exact her revenge: You screwed me over before we were even born. I had no more say in what happened than you did. But your parents did. . . Your parents are monsters, Emma. They banished me and threw you in a wardrobe. And now here you are, ready to die for them, because you're so perfect. The savior. Well, they deserve to be punished. And there's only one way to stop me, and you know it. . . Thanks to you, I'm hardwired for bad decisions. So come on just put me out of my misery. You know the truth. We both know my life isn't worth saving. And if you let me go, I will destroy everything. It's what I do. So come on be the hero and end this right here before it even starts. "Emma" explains You are not as responsible for your own misery as you would believe. The deck has been stacked against you, Lilith, and it's not your fault. Everything you do will be harder. And I owe it to you to let you know why. I owe you the truth. . .Let's start with the necklace. It isn't exactly a stone, but it did belong to your mother. Would you like to hear about her? "Lily": Why didn't you just kill me when you had the chance? I would have. . . Isn't that the whole point of savior and anti-savior? "Emma"s better nature prevails and Mother Maleficient gets her daughter back in human form: It's too late, isn't it? You're too grown up for everything. You don't need me. And I know that I'm not what you were hoping for. "Lily", in the episode's theme, is forgiving: I thought that you'd be this scary dragon bitch, and we'd go get our revenge. You know, blasting all those who did us wrong. But you're just this real person. And you're so frickin' open, it kills me. Mom: Why does that kill you? I don't understand. Please, tell me. "Lily": Because you want a relationship, a future. And anyone who's ever wanted that with me, it's just, it's never worked out. I've always let them down. I destroy everything that I touch. That darkness they put in me, it's serious business. Mom: I don't mind a little darkness. Look -- why don't you stay for a week, and I can teach you about being a scary dragon bitch? "Lily": Okay. One week. -- i.e. to the season finale – which just set up next season for her search for her unknown dragon father, with a piece of the egg she was hatched from as her only clue. How Lilith is presented here is given additional irony in the penultimate episode "Operation Mongoose, Part 1" when "The Author" (played by Patrick Fischler) reveals that in his pre-magic life as "Isaac Heller" he was Jewish, by cracking a joke about getting a pen for his bar mizvah. (updated 5/11/2015)

I'm particularly interested in the presentation of romantic relationships, as popular culture so rarely portrays Jews with Jews, let alone in a positive light.



Jewish Women on TV
I got tired of people always citing "Mrs. Seinfeld" to me as proof there are still Jewish women on TV, whether one considers a nagging elderly mother as a positive image or not. So I started covering leading characters who are Jewish women in Friends, Babylon 5, Buffy the Vampire Killer, Once and Again, Will and Grace (which I found too silly a show to keep monitoring even as she did end up back with her supposedly Jewish doctor husband), etc. My comments on The Nanny have been quoted in the catalog for the Jewish Museum exhibit Entertaining America: Jews, Movies, and Broadcasting, edited by J. Hoberman and Jeffrey Shandler, published by Princeton University Press, in Shandler's essay "At Home on the Small Screen: Television's New York Jews", and then in Joyce Antler's excellent academic study You Never Call! You Never Write!: A History of the Jewish Mother (Oxford University Press, 2007). No, I didn't write up Dharma and Greg where "Dharma Finkelstein" is Jewish only for the novelty of the name, like Whoopi Goldberg; Entertainment Weekly claimed that Jenna Elfman was specifically hired for the role because she didn't look Jewish.
Then with so few lead Jewish women characters, even the usual Dead Jewish Mothers, I turned to monitoring supporting roles, though I hadn't earlier covered the likes of the best friend on Mad About You, or the bat mitzvah of "Muffy" (played by Jami Gertz), where Devo performed, on Square Pegs (David Browne in The New York Times review of the DVD of the series on 7/13/2008 calls her "the proto-yuppie"). But then with so few of even those, I looked for recurring Jewish women characters. With so few of even those, I'm now looking at guest turns. While I don't watch many sitcoms, I do watch Law and Orders to catch the Jewish Mother Murdering Matriarchs, fitting in with how executive producer Dick "Wolf maintains this consistency is by making most of the victims wealthy white people, which he believes viewers are more interested in watching. He limits the number of shows containing minority victims, including blacks and Muslims, to four or five episodes a season out of 22 to 24." (per "Law and Disorder" by Rebecca Dana, The Wall Street Journal, 7/12/2008.) (I'm watching Law and Order: U.K., on BBC America, to see if the ethnic pattern from the adaptation of the U.S. scripts has been translated across The Pond.) (updated 10/5/2014)
With so few of those, I'm watching shows with Jewish male characters to see if they comment about their Jewish mothers or even date Jewish women, though my nephew Eliav told me I'm behind on the Jewish women references on The League. Plus I watch shows set in NYC to see if they ever have Jewish women characters, or shows in work settings like hospitals or law offices where in the real world it is common for Jews to be working. Like in NBC's Kings that though it was based on the Biblical book the closest it came to a Jewish woman was an odd "Sabbath Queen" as Death in a nightmare episode. So now, I'm als o now looking at made-for-TV-movies, time permitting. With so few definitely Jewish women on TV, I'm even commenting on putative Jewish women, who I define as those with clearly Jewish-sounding names with implied Jewish-ness unless specifically denied, particularly if the audience is viewing them as Jewish, and also even characters pretending to be Jewish. (updated 10/5/2014)
I do detailed transcriptions, when I have time, of full dialogue and scene descriptions because I'm annoyed by the snarky or too casual inaccuracy in fan/entertainment publication recaps, particularly in reference to Yiddish expressions or religious rituals, that get widely disseminated as definitive, let alone are blithely prone to assumptions and acceptance of stereotyping. So I figure there should be one place on the Web that presents the facts and context about Jewish women characters, by TV season to monitor changes over time, which I mostly define by the Emmy Awards criteria, so now starts around June 1. (updated 3/28/2014)
I have not kept up 100% with sitcoms, most kids' shows, such as on Nick or Disney, "unscripted" reality shows (like ones that switched a Jewish mother to a gentile family) or the Jewish mothers on The Real Housewives of New York City/The Real Housewives of Beverly Hills, Extreme Guide to Parenting, NYC Prep, Skin Wars,Russian Dolls, Shahs of Sunset, The Bachelorette, My Antonio's Jewish mother, "procedurals" (those fiction investigation series without continuing story or character arcs), or Family Guy, satirical guests on The Simpsons, or Kyle Broslofski's Jewish mother satired on South Park, let alone Judge Judy. But even worse, I can no longer keep up with all the shows, even just the noteworthy ones, available on all platforms! So mea culpa on what's missing. (But I do hope to eventually catch up with Netflix, Yahoo, etc.) (updated 8/4/2015)

2015/2016 Season Jewish women characters were on: Aquarius; Belief; The Enfield Haunting; The Strain, Suits, and Who Do You Think You Are. Putative Jewish women characters were on: Devious Maids
Arrow – Felicity Smoak in the 4th Season and 2nd Season of The Flash
Broad City – 3rd season
Crazy Ex-Girlfriend – Rebecca Bunch, her mother, and others in their 1st season
A French Village (Un Village Français) - 1st season
Gigi's Bucket List
Girlfriends' Guide to Divorce – Abigail McCarthy in the 2nd Season
The Goldbergs – Beverly and Erica plus in the 3rd season
The Last Ship – Lt. Ravit Bivas in the 2nd Season
Manhattan – Abigail Isaacs in the 1st season
Man Seeking Woman – Liz and Patti Greenberg plus in the 2nd season
Married – Jess in the 2nd season
Murder in the First - Raffaella "Raffi" Veracruz
Odd Mom Out – Jill Weber and Vanessa in the 1st season
Transparent– Sarah, Ali, family and friends
UnReal – Rachel Goldberg and others in the 1st season

2014/2015 Season Jewish women characters were on: The Book of Negroes, Boardwalk Empire, Breaking Borders, The Dovekeepers, Boardwalk Empire, Downton Abbey, Finding Your Roots with Henry Louis Gates, Jr., Grimm, Houdini, Kosher Soul, The League, Mad Men, Makers: Women Who Make America, The Mysteries of Laura, New Girl, The Red Tent, Parks and Recreation, Ray Donovan, Scorpion, and The Strain. Putative Jewish women characters were on: The Blacklist, Blue Bloods, Chasing Life, Elementary, and The Mindy Project, and Red Band Society.
Arrow – Felicity Smoak in the 3rd Season and 1st Season of The Flash
Big Bang Theory - Mrs. Wolowitz in her 8th and Final Season
Broad City – 2nd season
Community – Annie Edison in the 6th season
The Fosters – Emma in her 2nd season
Girlfriends' Guide to Divorce – Abigail McCarthy in the 1st Season
Girls – Shoshanna Shapiro in the 4th Season
Glee - Rachel Berry etc. in the 6th/final season
The Goldbergs – Beverly and Erica plus in the 2nd season
The Good Wife – Marissa Gold in the 6th season
Grace and Frankie – Frankie Bergstein in the 1st season
Hart of Dixie – Dr. Zoe Hart in the 4th season
Hindsight – Lolly Levine
The Honourable Woman – Nessa Stein and more
House of Lies - Sarah Guggenheim in the 4th season
Inside Amy Schumer 3rd Season
In the Face of Crime (Im Angesicht des Verbrechens)
Madam Secretary – Nadine Tolliver in the 1st season
Manhattan – Abigail Isaacs in the 1st season
Man Seeking Woman – Liz and Patti Greenberg plus in the 1st season
Married – Jess in the 1st season
Transparent – Sarah, Ali, family and friends in the 1st season
Younger – Lauren and mother in the 1st season

2013/2014 Season - Jewish women characters were on: Black Box, Call the Midwife, Drop Dead Diva, Fargo, Foyle's War, Genealogy Roadshow, Generation Cryo, The League, The Mindy Project, New Girl, Parks and Recreation, Scorpion and Who Do You Think You Are?. Putative Jewish woman characters were on Elementary.
Arrow – Felicity Smoak in the 2nd Season
Big Bang Theory - Mrs. Wolowitz in the 7th Season
Broad City
Community – Annie Edison in the 5th season
The Fosters – Emma in her 1st season
Girls – Shoshanna Shapiro in the 3rd Season
Glee - Rachel Berry etc. in the 5th season
The Goldbergs – Beverly and Erica plus
Hart of Dixie – Dr. Zoe Hart in the 3rd season
House of Lies - Sarah in her 2nd season
Inside Amy Schumer – 2nd Season
Joan Rivers – everywhere
Magic City – Evans family, etc. in the final, 2nd season
NCIS - Ziva David in her final season
Princesses: Long Island – 1st and hopefully only Season
Prisoners of War (Hatufim) – 2nd Season
Strike Back – Rebecca Levy in her 2nd season
Transparent– Sarah, Ali, family and friends in the pilot

2012/2013 Season - Jewish women characters were on: Alphas, The Bible, The Big C, Blue Bloods, Bunheads, Children's Hospital, Covert Affairs, Happily Divorced, a Lifetime movie, Mad Men, Major Crimes, The Mentalist, Raising Hope, Southland, Spies of Warsaw, Suits, Upstair Downstairs, and Weeds. A putative Jewish woman character was on Parks and Recreation, Scorpion.
American Horror Story: Asylum – "Anne Frank"
Arrow – Felicity Smoak in the 1st Season
Big Bang Theory - Mrs. Wolowitz in the 6th Season
Community – Annie Edison in the 4th Season
Girls – Shoshanna Shapiro in the 2nd Season
Glee - Rachel Berry and Sugar Motta in the 4th season
Hart of Dixie – Dr. Zoe Hart in the 2nd season
House of Lies - Sarah in her 1st season
Inside Amy Schumer - 1st Season
Joan & Melissa: Joan Knows Best? - Joan and Melissa Rivers – 3rd season
NCIS - Ziva David in her 8th season
Prisoners of War (Hatufim) – 1st Season
Ripper Street – Deborah Goren in the 1st Season
Shameless (U.K.) – Esther Blanco (plus)
Strike Back – Rebecca Levy in her 1st season
Underemployed – Raviva

2011/2012 Season - Jewish women characters were on Blue Bloods, Bored to Death, Castle, Finding Your Roots with Henry Louis Gates, Jr., Gossip Girl, Happily Divorced, Hawthorne, Mad Men, MI-5 (Spooks), Modern Family, NYC 22, Pan Am, Prime Suspect, The Secret Life of the American Teenager, Southland, TNT's Mystery Movies, and Who Do You Think You Are. Putative Jewish women characters were on The Good Wife, How To Make It In America, In Plain Sight and Lost Girl.
Big Bang Theory - Mrs. Wolowitz in the 5th Season
Community – Annie Edison in the 3rd Season
Curb Your Enthusiasm - Susie Greene etc.
Entourage - Mrs. Ari Gold in the 8th Season
Friday Night Dinner – Jackie Goodman in the 1st Season
Girls – Shoshanna Shapiro in the 1st Season
Glee - Rachel Berry and Sugar Motta in the 3rd season
Harry's Law - Harriet Korn in the 2nd season
Hart of Dixie – Dr. Zoe Hart in the 1st season
Joan & Melissa: Joan Knows Best? - Joan and Melissa Rivers – 2nd season
Magic City – Evans family, etc. in the 1st season
NCIS - Ziva David in her 7th season

2010/2011 Season - Jewish women characters were on 100 Questions, Being Human (U.S.), Boardwalk Empire, Brothers & Sisters, Castle, Desperate Housewives, The Good Wife, Grey's Anatomy, Hung, Law and Order: Criminal Intent, Law and Order: Special Victims Unit, Nurse Jackie, Outcasts, Private Practice, and Upstairs Downstairs. I happened to catch a Jewish actress on the "make-over" show What Not To Wear. Putative Jewish women characters were on Californication, Hawthorne, Huge, and Mad Men.
18 To Life – Bellow Mother and Daughters
Big Bang Theory - Mrs. Wolowitz in the 4th Season
Community – Annie Edison in the 2nd Season
Being Erica – Erica Strange – 3rd season
Entourage - Mrs. Ari Gold in the 7th Season
Glee - Rachel Berry in the 2nd season
House, M.D. – Lisa Cuddy in the 7th season
Joan & Melissa: Joan Knows Best? - Joan and Melissa Rivers – 1st season
NCIS - Ziva David in her 6th season
Skins (U.S.) – Tea Marvelli

2009/2010 Season - Jewish women characters were on Bored To Death, The Deep End, Fringe, The Good Wife, Leverage, Inspector Lewis, Mercy, Nip/Tuck, Private Practice, Psych, The Secret Life of the American Teenager, Three Rivers, United States of Tara, Ugly Betty, and Who Do You Think You Are. Putative Jewish women characters were on Californication, Gray's Anatomy, Heroes, House, Party Down, and White Collar.
Big Bang Theory - Mrs. Wolowitz in the 3rd Season
Being Erica – Erica Strange – 2nd season
Community – Annie Edison in the 1st Season
Curb Your Enthusiasm - Susie Greene etc.
Entourage - Mrs. Ari Gold in the 6th Season
Glee - Rachel Berry
House, M.D. – Lisa Cuddy in the 6th season
NCIS - Ziva David in her 5th season

Z Rock – Dina Malinsky, Joan Rivers and others in the 2nd season

2008/9 Season - Jewish women characters were on C.S.I., C.S.I.: NY, Diamonds mini-series, Eli Stone, Gossip Girl, Hallmark Hall of Fame, In Plain Sight, Nurse Jackie, Saving Grace, The Unit, and a Lifetime Movie of the Week. I happened to also catch a Jewish actress on the "make-over" show What Not To Wear. Putative Jewish women characters appeared in 90210, Californication, The Cleaner, Desperate Housewives, E.R., Gossip Girl, Hawthorne, Monk, and Sons of Anarchy.
Big Bang Theory - Mrs. Wolowitz in the 2nd Season
Being Erica – Erica Strange
Entourage - Mrs. Ari Gold and others in the 5th season
House, M.D. – Lisa Cuddy in the 5th season
The L Word - Jenny Schecter in the 6th, final season
NCIS - Ziva David in her 4th season

Rescue Me – Valerie in her 2nd season

The Sarah Silverman Program in her 3rd season

The Starter Wife - Molly Kagan post-mini-series

Z Rock – Dina Malinsky, Joan Rivers and others


2007/8 Season- Jewish women were on The Cleaner, Eli Stone, Law and Order: Special Victims Unit, Lipstick Jungle, and House, M.D.. Putative Jewish women characters appeared in Big Shots, Californication, Cashmere Mafia, Canterbury's Law, Desperate Housewives, Terminal City, and Ugly Betty.
Big Bang Theory - Mrs. Wolowitz in the 1st Season
Curb Your Enthusiasm - Susie Greene etc.
The L Word - Jenny Schecter in the 5th season
Mad Men - Rachel Menken and Bobbie Barrett
Mandrake – Berta Bronstein
NCIS - Ziva David in her 3rd season
Nip/Tuck– Rachel Ben Natan
Pushing Daisies– Charlotte "Chuck" Charles
The Riches – the faux Cherien Rich in her 2nd season
The Sarah Silverman Program in her 2nd season
Weeds – Bubbe Botwin
The Wire - Rhonda Pearlman in the 5th season


2006/7 Season- Jewish women characters also appeared on C.S.I., Desperate Housewives, E.R., Grey's Anatomy, House, M.D., John from Cincinnati, Justice, Numb3rs, The Nine, Nip/Tuck, Rescue Me, Rome, Standoff, State of Mind, The State Within, Ugly Betty, The Unit and Waking the Dead.
Brothers & Sisters – Nora Holden

Entourage - Mrs. Ari Gold and daughter Sarah in Season 3B and Entourage - Mrs. Ari Gold and daughter Sarah in Season 4
Heroes – Hana Gitelman
The L Word - Jenny Schecter in the 4th season
Mad Men - Rachel Menken
NCIS - Ziva David in her 2nd season

Rescue Me – Valerie in her 1st season and Beth Feinberg
The Riches – the faux Cherien Rich
The Sarah Silverman Program
Weeds - Yael Hoffman
The Wire - Rhonda Pearlman in the 4th season

2005/6 Season - Jewish women characters also appeared on E.R., Girlfriends, Grey's Anatomy, Nip/Tuck, Sea of Souls and Veronica Mars

Beautiful People - Annabelle Banks
Curb Your Enthusiasm - Susie Greene etc.
Entourage - Mrs. Ari Gold and daughter Sarah in the 3rd Season
Everwood - Delia Brown in the 4th season
The L Word - Jenny Schecter in the 3rd Season
NCIS - Ziva David
Sopranos - Julianna Skiff

2004/5 Season Jewish women characters also appeared on Grey's Anatomy, Judging Amy, Law and Order, Nip/Tuck, Veronica Mars and Waking the Dead.

Entourage - Mrs. Ari Gold
Everwood
Joan of Arcadia

The L Word - Jenny Schecter in the 2nd Season
Numb3rs - The Late Mrs. Eppes
The O.C. - Rebecca Bloom and the Nana in the 2nd Season
Pilot Season
Queer as Folk - Melanie Marcus in the 5th Season
The Wire - Rhonda Pearlman in the 3rd season

2003/4 Season Jewish women characters also appeared on CSI, Judging Amy and Law and Order: Criminal Intent.

Curb Your Enthusiasm - Anna
Everwood
Gilmore Girls - Paris Geller
Joan of Arcadia
The L Word - Jenny Schecter
Line of Fire
Miss Match
Nip/Tuck - Mrs. Grubman
The O.C. - Anna Stern and the Nana
The Practice
Rocked With Gina Gershon
Sex and the City - Charlotte Goldenblatt
Skin
Sopranos- Fran Felstein
Street Time - Rachel Goldstein
Wonderfalls

2002/3 Season

Breaking News
Everwood
Curb Your Enthusiasm
Gilmore Girls - Paris Geller
Law and Order
Sex and the City - Charlotte York
Street Time - Rachel Goldstein
That Was Then
The Wire - Rhonda Pearlman

2001/2 Season

7th Heaven

2000/2001 Season

1999/2000 Season



2015/2016 Season

My favorite Jewish women TV comediennes were seen welcoming the Jewish New Year with wit. Jenny Slate, this season of Married, tweeted: "Yom Kippur, a day of not eating&saying sorry for every possible thing AKA THE LIFE OF AN AMERICAN ACTRESS." Abbi Jacobson and Ilana Glazer posted the webisode Hack Into Broad City – Yom Kippur. Amy Schumer fan University of Michigan junior Becca Soverinsky compiled 10 Stages of the Yom Kippur Fast, as Told By Amy Schumer that went viral; though I follow Schumer on Twitter, I couldn't find her reaction.

But will she be Jewish? Deborah Schoeneman, a putative Jewish woman newspaper, magazine, book and TV writer, announced, 9/1/2015, a deal with CBS Television Studios for a dramatic TV series inspired by a prominent Jewish feminist defense attorney. She told Variety: "When I was finished working on the last season of The Newsroom, I was trying to figure out what kind of show I wanted to develop. . .Gloria Allred was in the center of the stories in the news that most interested me, particularly about women seeking justice. I was thrilled that she was receptive . . . She was a lot of fun to pitch with …I feel lucky to have the opportunity to work with Gloria Allred to create a dynamic, passionate and polarizing character based on her. Gloria's an amazing storyteller with a deep well of perfect material for television."

A French Village (Un Village Français) MHz released on DVD the 1st season of the acclaimed French series on rural life during World War II. Season 1, originally broadcast in France in 2009, covers 1940. Presuming that MHz releases on DVD in the U.S. through the 6th season of "Liberation" and "Arrest" (originally broadcast in France 2014 – 2015), I look forward to seeing how the Jewish female characters are portrayed, including the children. (11/5/2015)

Marvel's Agent Carter (on ABC) will be getting a Jewish woman character this year who was talked about in the first season, my colleague Ed Douglas posted 10/9/2015 from a panel at NY's Comic Con: "we'll finally meet Jarvis' wife Annie, played by Lotte Verbeek".

On Chasing Life (ABC Family) "Ready or Not" episode, written by Joni Lefkowitz, had an odd exchange, especially for a show which has no Jewish women characters this season. The mother's know-it-all gay BFF "William" (played by Gregg German) espies a new dress by insecure neophyte Brit black dresss designer: So what's it for? Like a bat mitzvah? "Beth" (played by Aisha Dee) has an odd reference: Yeah, maybe Sarah Jessica Parker's bat mitzvah. "William": I'm just saying, 'cause it looks so buttoned up. But maybe that's the style these days. She snipes back about his track suit; he's defends his running outfit with a parting Okay, well shabbat shalom. But when he leaves, she bemoans to the supportive younger daughter "Brenna Carver" (played by Haley Ramm) wearing it: He's right. You look like you're going to a bat mitzvah. (9/25/2015)

In Sex&Drugs&Rock&Roll (New York-set sitcom on FXX) episode "Hard Out Here for A Pimp, written by series creator and star Denis Leary, band manager "Ira Feinbaum" (played by Josh Pais) advises the boomer rocker about influencing the dating of his daughter "Gigi" who is now lead singer for their re-tooled band: This is basic parenting 101, John. I mean, Steve the monkey could Google this shit. I wanted my daughter to marry a Jewish guy. You know what I told her? "Johnny Rock" (played by Leary): Don't marry a Jew? Manager: Now I have a son-in-law named Noah. But when "Johnny" and his daughter get upset that the hipster rocker he manipulated into dating is too much like himself, the manager admonishes: This is what happens when you interfere. (9/5/2015)

On Playing House, "Cashmere Burkha" episode, written by Gavin Steckler, "Emma Crawford" (played by Jessica St. Clair) is at her suburban JCC when she bumps into an old high school classmate [OK, that describes everyone in the town] – "Bread Man Dan" is now a rabbi (played by cute Kyle Bornheimer). They start dating, but he explains: One of the complications of dating a rabbi is that I have 300 people in my congregation who want to get all up in my business. "WASP" (as she describes herself) "Emma", who said all she knows about Judaism is a community theater production of Fiddler on the Roof: So you want to keep it quiet? . . Music to my ears. I don't need a bunch of Jewish moms kubutzing about my business. He corrects: It's kibbitzing. And they go back to kissing. By the next episode, he agrees to go public that he's dating "a shiksa", as he describes her. (8/23/2015)

On Belief, Oprah Winfrey's docu-series on her OWN Channel, featured 3 young and somewhat naïve but at least diverse, Jewish women. In the 2nd episode "Love's Story" the official description in the press notes is: "We meet Rena Greenberg and Yermi Udkoff of Brooklyn, New York as they prepare to marry in the Hasidic faith [sic], which believes every person is born with one half of a soul, and only through marriage can the two souls reunite with each other." With no distinction made between folkloric tradition and theology, she seems so unquestioning conventional. During her wedding preparations, Rina glows about only knowing her future partner for two months in order to share love and the continuation of a Jewish family. As she goes on about "soul mates" like out of the most puerile romance novels, she insists this will not just be a wedding party, but the start of something new. As they reach over the barrier between the men and women at their reception, Oprah intones about "It's the most important day of her life; now she is complete. . .As the Torah commands they will be fruitful and multiply." In the 4th episode "A Change Is Gonna Come", the press notes identify Shane Fallon only as "secular", but the narration presents a more complicated background. While her father Howard is described as "raised Episcopalian. Like her mother, Shane was raised Jewish." Which is particularly significant for when she says: "I was very much my mother's child." Both are still grieving from the mother Julie's death from cancer 5 years ago, and the sister Kendra's death in a plane crash in Nepal a year ago. Oprah's narration: "Neither is observant, but decided to try something radical to get on with their lives." – they go to the Burning Man Festival in Nevada's Black Rock Desert. They post pictures of their 2 loved ones in the temporary "temple" and ritually mourn through its burning. In the penultimate episode "The Practice", the Polyphony Orchestra in Jerusalem features two apparently secular teenagers -- 18 year old Jewish cellist Hagit, who looks like Mayim Bialik, and 17 year old Muslim flutist Mais, who, ironically, looks like the TV stereotype of a Jewish woman with her long, dark, curly hair. Hagit: "When you get comfortable with the music, you make jokes, and you become friends, and it just comes together. . .People are afraid of each other and don't want to know the other. I hope hearing the concert they will change their minds a little." Mais: "We forget all that and work together as humans and musicians. She's really great and I really love her." When I realized the writing credits are oddly not in the press notes, I only noted one episode's, but probably applies to the whole series: Supervising writers - James Bernanke and Sheri Salata, writers Michael Davie, Danielle Anastasion, Courtney Hutchens and Erica Sashin.
The orchestra members' experience seems outdated compared to documentarian Danae Elon's witnessing of increasing estrangement in P.S. Jerusalem (So, nu: my commentary on the Jewish women.) (previewed at 2015 Doc NYC Festival) (updated 11/5/2015)

On Who Do You Think You Are?, actress Ginnifer Goodwin, traced her non-Jewish father's family. At the grave of her newly discovered great-grandmother, she respectfully put a stone on her headstone: Well you aren't Jewish, but I am, and she explained the tradition. (8/23/2015)

On The Enfield Haunting (British mini-series, shown in the U.S. on A & E) While I wasn't paying close attention, it wasn't until the concluding 3rd episode brought the poltergeist hunter "Morris/Maurice Grosse" (played by Timothy Spall), based on a real person from a true 1970's story and book This House Is Haunted to the grave of his daughter "Janet", and he explains the Jewish symbols and ritual to the "haunted" girl he thought he had been helping. I did not pick up any clues that his grieving wife "Betty" (played by Juliet Stevenson) was Jewish when she constantly nags him to give up his efforts to contact their daughter in the decidedly not Jewish afterlife. (10/31/2015)

In Royal Pains (on USA) 7th season, that the central family of two brothers in the Hamptons are Jewish is barely ever considered, so it was oddly stuck in "The Prince of Nucleotides", written by Carol Flint. The younger brother "Evan R. Lawson" (played by Paulo Costanzo), dejected that he has a low sperm count, brightens up when his blonde shiksa wife "Brooke" (played by Paige Collins), announces that as part of her effort to find her biological parents' roots she has had a genetic test that shows she's "10 -12 percent Jewish." He's so thrilled he not only wants to keep trying to get her pregnant, but wants to let his brother and father know. But she's already gone in a different direction. In exploring her own adoption, she's now interested in adoption – and has scheduled a prospective parent meeting with a very pregnant African-American teenager, who proclaims to them that she's very religious, so the Jewish references disappear. (6/11/2015)

On the Aquarius (on NBC, on DVD) penultimate episode of S1 "(Please Let Me Love You and) It Won't", written by Alexandra Cunningham and Sara Gamble, featured an unusual Jewish woman character in 1968 San Francisco, "Rachel" (played by Jade Tailor, whose father is Israeli) is first seen in handcuffs being hauled into the police station, demanding to see "Detective Hodiak" (played by David Duchovny), who, as catnip to every woman in the series, flashes back to seeing her dance onstage in a strip club. [Details forthcoming] (updated 9/25/2015)

Just in time to take over after the death of Mrs. Wolowitz in The Big Bang Theory, David Krumholtz's drag impression of his grandmother in Boca Raton on his web series Weather From is being expanded into Gigi's Bucket List on IFC. From the press release announcement: 'Gertrude Rotblum', aka 'Gigi', just lost her beloved husband Harold, but has gained a new lease on life with the help of an unknown bank account discovered in his will. Eight half-hour episodes start shooting this June in Los Angeles. The show will premiere later in 2015 on IFC. With her dead husband's secret millions, this 76-year-old yenta with a heart of gold and a razor-sharp tongue sets out to experience everything she deprived herself of in her younger years. Gigi (Krumholtz) will live life to its fullest and fastest while ignoring doctor's orders and turning the stigmas of aging on their head. She will travel to rock festivals and explore new technologies like online dating, with her trusty male nurse sidekick played by Ricky Mabe along for the ride. . . 'David has done an incredible job of inhabiting this relatable bubbe character. I hope to emulate Gigi's unfiltered honesty and wreckless ambition when conquering my own bucket list some day,' said Jennifer Caserta, IFC's president." (updated 5/3/2015)

Felicity Smoak in the 4th season of Arrow and 2nd season of The Flash (on CW) The fans were teased lots of romantic images to follow up on the season finale of them riding off into the sunset on vacation together. The season premiere "The Green Arrow", story by Greg Berlanti & Beth Schwartz, teleplay by Marc Guggenheim & Wendy Mericle, was a charming role-reversal, with "Oliver Queen" being all domestic and relaxed, trying to find the right moment to propose with an engagement ring, and "Felicity" all bored with domesticity and revealing she's been secretly helping their friends back in their threatened home city, even as they were romantically vacationing in remote places around the globe. (more romantic specifics coming)
In "The Candidate", written by Marc Guggenheim & Keto Shimizu, she takes on the Board of Directors in her inheritance as CEO of Palmer Technologies. ("Ollie" likes the way she looks in her pink business suit.) But about-to-be-laid-off black woman delivers good/bad news: When we heard you were coming back we thought things were going to get a lot better. Guess we were wrong. At the tired end, she's rueful to "Ollie": When we decided to stay . . I thought it meant a new beginning. He's thoughtful: If you think we made a mistake, we didn't. Nothing worthwhile ever comes easy.. . .We said we're going to do things differently. We just need time to figure out how. When he next comes home from battling what she calls "Madman Du Jour" in her plea for a code name to hide her identity, he's startled: You look happy. Don't tell me now you enjoy firing people? She grins: No more firing. . .I figured out another way. And they kiss. (updated 10/23/2015)

Manhattan – Abigail Isaacs in the 2nd season (on WGN – not streaming nor On Demand) This season is much more about motivating the Jewish scientists to build a weapon against Hitler -- and in competition against their former physicist colleagues in Germany. In the season premiere "Damnatio Memoriae", written by Sam Shaw, the opening montage makes the death vs life point in a visual montage. "Charlie Isaacs" (played by Ashley Zukerman) is reading Mein Kampf while his naked lover/fellow physicist "Helen Prins" (played by Dutch actress Katja Herbers) languidly strokes his arm. Meantime, his wife "Abigail Isaacs" (played by Rachel Brosnahan) is undergoing a painful pelvic exam by a cigarette-smoking doctor. Surprise – "Abby" surprises"Helen"s at her front door: He's not here. You want to check under the bed? "Abby", nervously: I'm not here to see Charlie. . . Is it true that you were going to have a baby and then you didn't? "Helen": Charlie told you that? "Abby": Did you take care of it?. . .Trust me, Helen, if I had any friends here to turn to, any friends here at all I need to know how you went about doing it. "Helen" is sarcastic: Why would you want to do a thing like that, Mrs. Ladies' Home Journal? "Abby": It's private. . . Charlie wasn't the only one who cheated. And he found out. "Helen": You had an affair? Who's the guy? "Abby", avoiding the subject that the affair was with the wife of another scientist who she helped incriminate to be removed from "The Hill": You don't know him. "Helen": But he got you pregnant. "Abby": It's Charlie's. . .Yes, I'm sure. "Helen": I had an abortion two years ago in New Jersey. Doctor's probably practicing medicine in a jail cell.. "Abby": But if you needed one now, you must have some idea of where you'd go. "Helen": You know it's a felony. Some of the girls in the dorm have been to a clinic in Santa Fe near the bus stop on Junction. You're supposed to say you have obstructed menses. "Abby": Did it hurt? "Helen": Listen, Abby, I don't regret it. But you will. "Abby": Do you love Charlie? Then you won't tell him. Will she when he's next seen in her bed and starts asking him about his wife: Do you sleep closer to the door when you sleep with Abby?. .Your marriage is an old habit too, You'll fall back into it. When was the last tme you saw Abby? But he's consumed with personnel crises at work, and she switches to how she will be affected physics-wise. The mysterious Federal intelligence agent, who reveals he is "Avram Fisher" (played by Richard Schiff), calls "Charlie" in for a long lecture on the impact of Eastern European history on his family from hundreds of years in the past to the present under the Nazis and will probably be under the Russians: 20 years I've lived in this country, yet still I keep a packed suitcase by the front door. . . The ones who survive are the ones who adapt.. . .Where are my manners? Congratulations. "Charlie": For surviving or adapting? "Fisher": For the baby. Mazel tov to you and your wife. So "Charlie" is waiting for his wife to go home – we too wonder where she's been when he asks and she vaguelyreplies: Out. "Charlie": Is there something that you need to tell me? She's referring to how they tattled on her lesbian lover: You know, Charlie, I think we dug up all the skeletons the last time you stopped by. I'm sure the neighbors can give you a transcript. He: Are you pregnant? She's surprised: She told you. But she's confused by his explanation: I had to hear it from the Angel of Death. . . You were going to sign the divorce papers and sneak out the back door with Joey? This is a sign. "Abby" is dismissive: I don't believe in signs, Charlie. He: Fine, it's better than a sign. It's a chance. She: It's too late. He:There's a lunatic in Europe making orphans out of a thousand Jewish kids a day. You want two more to grow up without their father? She: You think I don't know about Europe? Honestly? He, in a reference that must be some kind of plot foreshadowing: You remember that first doctor at Mass General? The one who looked like Calvin Coolidge? A medical improbability. That's what he called it. And I told you we could raise Siamese cats for all I care. But you wanted a daughter so badly. She smiles: We both did. He: And you proved the doctors wrong. Right out of the gates, you said it felt like a boy, and you were right about that, too. She: Thought I'd never see you again. I mean, for all I knew, you were dead. And then you came in the door and you said that I poisoned our marriage. He, urgently: Listen. Whatever happened between me and you or me and her - or you and-- It's not us. It's this place. I treated you like every other jerk on this hill treats his wife. I underestimated you. I forgot what I had. But there's a kid in there. He doesn't know his father screwed up. His world doesn't even exist yet. We can do better. I can be better. She smiles: It feels like a girl.
In the next episode "Fatherland", written by Scott Brown, "Charlie" rebuffs the lover and even comes home for lunch to be with his wife, so now she's more interested in his work: You said no more secrets. He: It's not my secret. I took a vow. She wheedles: We've broken other vows. . .You said this baby was a new beginning. . .Helen knows. I'm not going back to the way it was, pretending you're a teacher or a salesman and like I'm Betty Crocker. And he tells her about the atom bomb. Later, he worries to her about his assignment to help find his Nazi counterparts, who were originally friends of Oppenheimer's. She: They're trying to get rid of us. . .If the Nazi gadget goes off, will they spare our friends? You must have photos of the German scientists, their homes, addresses, names of their wives and children. Give those to the Army. [More commentary forthcoming – as "Abby" becomes more aggressively ambitious for her husband's career – like her mother did for her father – and a miscarriage affects her.] (updated 11/21/2015)

Man Seeking Woman - Liz and Patti Greenberg plus in the 2nd season (on FXX) (10/11/2015)

Broad City – 3rd season (on Comedy Central) Variety named Abbi Jacobson and Ilana Glazer #29 out of The Gotham 60: Influential New Yorkers in Entertainment and Media: "The creators and stars of Broad City are thoroughly enjoying the whirlwind they've been caught up in since the Brooklyn-set buddy comedy bowed on Comedy Central last year. The buzz and critical embrace of the show grew significantly in Season Two, which made it that much more real to the pair. Cementing their arrival as creatives to be reckoned with, Jacobson and Glazer are working on a feature for 20th Century Fox with red-hot comedy helmer Paul Feig. "The first season I think we were nervous that this was gonna go away very quickly, and now I think we can really build on it," says Jacobson. Glazer assures: "Season three is gonna be so good." In "11 Things We Learned at the New Yorker Festival's Broad City Panel", as reported in Vulture by Jenni Miller, 10/3/2015, not counted in the total was that Abbi Jacobson and Ilana Glazer "plumbed the depths of modern Jewish identity: Glazer ID'd as the type of Jewess who gets Bat Mitzvah'd and then becomes a 'cultural' Jew (scare quotes and everything), while Jacobson is the kind who celebrates Christmas."
Their updating Hack Into Broad City webisodes are also accessible via YouTube. In their Halloween webisode, they dressed up as two Jewish women icons – "The Notorious RBG", i.e. Supreme Court Justice Ruth Bader Ginsburg, and Judge Judy Blum Sheindlin. (updated 10/29/2015)

Transparent – Sarah, Ali, family and friends in the 2nd season (on Amazon Instant Video) Suits (on USA) has been very problematic in how it presented Jewish attorney "Louis Litt" (played by Rick Hoffman), pretty much all negative, including his relationship with his mother. No matter his success, his parents nagged that his sister "Esther Litt Adelstein " has children. A preview revealed she is played by a sexed-up Amy Acker, and she's a businesswoman, who created a company like Martha Stewart's. Formally introduced in "No Puedo Hacerlo", written by Genevieve Sparling, she needs a divorce from her cheating husband "Jeffrey", who was a house-husband. She ends up romantically (well, sexually) involved with the lead attorney character "Harvey Spector" (played by Gabriel Macht), angering her brother, as the episode is otherwise about their intense sibling rivalry, which continues throughout the season, with so explicit Jewish references. [More commentary on "Esther", both when she's on the show and what's said about her when she's not on.] (updated 8/14/2015)

The Strain – 2nd season In the 1st episode of the season "BK, NY", teleplay by Carlton Cuse and Chuck Hogan, the enemies of vampire hunter "Abraham Setrakian"(played by David Bradley) sneeringly refer to him as "The Jew", so I'll presume his "bubbeh" (played by Kathleen Chalfant) is Jewish, seen in a prologue flashback to in his Romanian village 1932, when she repeats the scary story of the giant nobleman Jusef Sardu: Finish your soup, Abraham, and I'll finish my tale. . . Evil lurks in the world, Abraham, in many forms. Some familiar, some not. You must stop it. We all must. In the next episode, "By Any Means", teleplay by Bradley Thompson and David Weddle, his immortal enemy from his grandmother's tale "Eldritch Palmer" (played by Jonathan Hyde) mocks him about his wife: Your god also turned down Miriam's cry for help. She wasn't worthy either, I suppose. By the way, I have her heart. I keep it on a shelf over my desk. I'll place yours beside it once the Master has dispatched you. (updated 7/25/2015)

On Devious Maids (on Lifetime), there's only hints that the one of the more obnoxious rich women "Gail Fleming" (played by Julie Claire) is Jewish when she drops a "Mazel tov" in the episode "The Turning Piont", written by Charise Castro Smith, and has a frank explanation of relationships based on financial rewards. (Details forthcoming.) (8/9/2015)

The Goldbergs – Beverly and Erica plus in the 3rd season (on ABC) (I detest this sit com so much that I couldn't bring myself to finish watching the 2nd season, so I doubt I'll bring myself to watch the didn't-deserve-to-be-renewed 3rd season. I'll probably have to end up buying the complete series on DVD to do a complete review with episode-by-episode documentation of its clichés.) (9/12/2015)

Crazy Ex-Girlfriend – Rebecca Bunch, her mother, and others in their 1st season (on the CW) Declared by all the critics as one of the new series hits of the season, Rachel Bloom produced, wrote, and stars in this funny musical, so it's a good thing I won't be too constrained that she's the daughter-in-law of the executive director of my synagogue. The Harvard and Yale educated New York real estate lawyer doesn't explicitly declare she is Jewish until halfway through the first episode "Josh Just Happens To Live Here!", when her new boss in California makes an oddly old-fashioned negative comment about Jewish lawyers. The naggingly ambitious mother's voice on her answering machine is a dead ringer for Tovah Feldshuh, though neither the mother nor the actress has been revealed. The negative comments this mother has generated in reviews and online comments make an interesting contrast to how people thought the similar Mrs. Wolowitz on Big Bang Theory was funny for 8 seasons. (Detailed commentary forthcoming) (10/21/2015)

Married – Jess in her 2nd season (FX summer sitcom) Though there's no explicit Jewish reference in the 1st episode, "Thanksgiving", written by Daisy Gardner, there's resonances in "Jess" (Jenny Slate) determination to get her son into pre-school, but she's already frustrated with the application process: Every time we walk into a pre-school, I know what these bitches are thnking. "Successful man, dumb trophy wife." Her old friend "Russ Bowman" (played by Nat Faxon) teases: You're a smart trophy wife. The newly sober "A.J." (played by Brett Gelman): I don't need booze to enjoy your insecurity. . . My kid went to Hillside. Use my name She's reluctant due to his various disastrous personal problems last season. At the Hillside interview, her husband "Shep" (played by Paul Reiser) is calm, she's anxious: I'm the first wife, and I'm the only wife. And I went to Cornell, so you know so I'm not dumb. Did I mention Harrison can already count to tres in Spanish? "Shep" mumbles: It's even more surprising because our nanny is Polish. She's even more anxious at home, exasperating her husband: I'm the one whose raised the kid -- why should that matter? I don't think he needs tutoring. . .Boys don't talk as much. Turns out "A.J." is a school donor, and he did put in a good word for them: No matter how bad it is, I'm always there for my kid. . .I am not a bad parent. "Jess" hugs him: That makes one of us. Shep is a great parent. I don't even know if I'm cut out for it.
Until I detail her limited episodes, and references to her, this season, I'm fascinated that the series has chosen to puncture the images perpetuated by Woody Allen and adaptations of Philip Roth novels where the older man goes to live happily ever after with the much younger woman. Instead, "Jess" is deeply unhappy, making "Shep" unhappy as well, albeit most viewers will probably just think she's a bitch because Reiser is typecast as a nice guy. It takes guts to plays an unlikeable character on TV! (More forthcoming) (updated 10/2/2015)

UnReal– Rachel Goldberg and others in the 1st season (biting summer satire on Lifetime of its own kind of shows) Inspired by former The Bachelor producer Sarah Gertrude Shapiro's short film Sequin Raze, it's very funny and caustic targeting of such "reality" TV shows. She's taken to describing the show as "Breaking Bad for women." Unlike most others, I waited for at least explicit hints that"Rachel" (played by Shiri Appleby in her best TV role -- a Jewish actress who hasn't played a Jewish character in a lead role before; I saw no credible evidence that her "Liz Parker" in Roswell years ago was Jewish, but thanks for asking Eric Ruth!). Let alone her smothering psychiatrist mother "Olive" (played by Mimi Kuzyk), were Jewish women.
But I was a bit surprised by this interchange to Kate Aurthur in BuzzFeed, posted 7/20/2015, between Appleby and Shapiro: "SA: [Y]ou said at my audition, 'But you're so pretty!"'And I was like, 'But I don't feel pretty. SGS: And I was like, 'OK, as long as you don't feel pretty, we can work with that.' And Shiri has actually brought so much to the role that I couldn't have even imagined. There's so much vulnerability. I call it the JAPpy girl next door. You'd totally bring her home to meet your mom, she's great with grandmas. It's disarming." To Megan Angelo in Glamour, posted 7/27/2015, Appleby connected to "Rachel" in a way to challenge the usual stereotype of a Jewish professional woman on TV: "I'm an ambitious woman, but I've had some men call me too driven or too ambitious. I've had them tell me to 'calm down'. When you're trying to find yourself, it does sort of squash you. Now that I'm happily married and my partner [chef and entrepreneur Jon Shook] is successful, I always try to think, 'How would he handle this? Would a guy feel guilty for asking for this?' No. A guy doesn't feel like he's out of line for asking for what he wants. It's crazy that we filter ourselves that way. So now the way I go about my business is to be sweet and feminine, but when it comes to negotiating, be a man. I hope to raise my daughter in a way that she can communicate what she feels without having to put herself in a man's head."
So this description is interesting in avoiding any explicit Jewish reference, but maybe manipulative bitch is a new connotation: From 8/3/2015 - "When speaking with Vanity Fair's Julie Miller, Appleby described the real-life reality-show producer she used as an inspiration for her character: 'I asked her every question I could possibly think of about her job and what it meant to her and you could see that she really got off on it. Even though it was something that made her feel ugly at times and made her feel bad about what she was doing. I think she got a high off the fact that she could make all of these people do what she wanted to do. You could feel that it was almost like a hunger inside of her.'"
The episode "Mother", written by David Weinstein, is the key set-up for why "Rachel" is devastatingly good at her job – we see that how her mother talks and does to her is what she then applies to the contestants. "Rachel" has reluctantly gone home and is greeted by her mother: One of my students wrote a paper on you're show. Abssolutely fascinating…It examines the pscholgoical effects of bully tv and viewing women as chattle. "Rachel": Not my show. Mom: You feel judged. "Rachel": Don't shrink me! Save it for you're patients, OK? Mom: Your roomate Bethany called – you're three months behind in rent? What do you need? $20,000? "Rachel": Yeah, I've had some legal issues. It was just a misunderstanding. But a loan, just a loan, would be really great that would really help me. It would relieve a lot of pressure, at work, to be a better me. Mom: You know your father and I can help you. But not if you're are not willing to help yourself. You and I need to resume our sessions. [So this is who she gets her slippery ethics from.] "Rachel": Well I already have a therapist. And bonus she's not my mother. She works on the show. Mom chuckles: She's probably not even a doctor. "Rachel": I'm doing fine and she's helping me out. Mom: Really? You don't look fine. You're very thin. You're drinking too much. "Rachel": I'm doing better. And what are you doing right now? This is unethical! You treating me? It's not ethical. Mom: Those rules are arbitrary, OK? Are you taking your meds? "Rachel": Which ones? What am I prescribed for right now? When we started it was for ADHA, then we moved on to bi-polar, then what came next? Was it borderline or narcissitic personality disorder, because I always have a hard time with those two. I'm constatntly getting those confused. Mom: Well it was very hard to pin down. You are a very tricky girl. Ok, considering all you're recent troubles, I think you should move back home for awhile. Our work would progress much faster if you weren't under so much stress. "Rachel", sarcastic: In patient huh? Mom affirms. "Rachel": Just like you're doing with Dad? What do you have him on? Because the guy is kind of seeming like a zombie. Mom: Oh that is so not fair. Your father is feeling so much better since he's on whatever. Rachel, these disorders run in families. What I have learned from treating your father coild really help u now . . .I know you! I see what you're trying to hide and how exhausted it makes you. It really breaks my heart. There's no shame in it. DPD is not yr fault. "Rachel": Dr .Wagner says I don't present with DPD, or any of the other things you say that I have! She says that there's nothing wrong with me. Mom:Oh! Really! And I suppose she is more quaifiedl than your own mother! "Rachel": I am just asking for some money! Mom: And you can have it, but we have to resume our sessions. I am willing to do it over the phone. "Rachel" starts yelling: I am not your subject any more. And I know you don't approve, but I am damned good at what I do! Mom: And the reason you are so good at what you do. The manipulation, the atunement, that is the disease! "Rachel" starts crying. Mom: Rachel, look at me. Please look at me. Rachel, are you happy a the way you feel? "Rachel" weeps and Mom takes her in her arms: Oh baby, you have to admit you're sick before you can get better. "Rachel" storms out of the house -- with a check for $20,000. Then she rips it up in little bits: Screw you! Screw you! and throws the pieces out the carwindow. Later, "Rachel" plays a contestant exactly like her mother played her, including taking her into her arms: All that anger you're directing at yourself? Point it at the bitch who's ruining your future. And she gets the catfight on camera she wanted, and impresses her cunning boss "Quinn King" (played ferociously by Constance Zimmer, and I think she's a putative Jew, too, though the actress comes from German heritage): I heard that you went home. "Rachel": Yeah, my mom thinks I'm seriously ill. "Quinn": There's nothing wrong with you. You're a genius. "Rachel": I'm never getting out of here. "Quinn": Why would you want to? You're home. They share a cigarette and watch the catfight. "Quinn": That's good television.
Some would consider this description a putative Jewish reference about mother and daughter in an interview with The Hollywood Reporter, 6/15/2015, co-creator Marti Noxon described: "When we were talking about creating a real antihero in Rachel — and Quinn — it was really important we start early-ish in the season to understand that this person was raised in a home that was so highly manipulative and emotionally manipulative. By the time that scene with her mom is over, she's wrecked, she's destroyed and she tears the check up because she's trying so hard not to believe that she's incapable of functioning in the world. But, that's where her magic powers come from." Shapiro expanded in the BuzzFeed interview: "It was really meant to show that Rachel has nowhere else to go. And to give us a lot of empathy for why she is the way she is, and why she does what she does. And that she's really doing her best, given where she came from. But really, most of all, to show she can't go home. . .I just feel like a lot of the stuff she's struggling with is stuff that I've struggled with in my life. Again, it's fiction. My mom's not a psychiatrist, I have beautiful, loving parents. My life is so, so different."
In "Truth", written by series co-creator Sarah Gertrude Shapiro, "Rachel" is praising the bachelor to a contestant's Mississippi grandmother: Sure, Alex is a nice boy. A real mensch, like my mother would say. But what's made much more online commentary than her Jewish reference was the opening scene of "Rachel" starting her morning in the van by masturbating. But for all the feminist crowing by Emma Gray, Senior Women's Editor in Huffington Post, 7/6/2015, and re-touted by Alice Lawton in Bust, both presume she's watching porn on her mobile phone. No, she's not. She's getting off on watching an old video of her with her ex-boyfriend, for whom she is still holding a torch, as their affectionate voices can be clearly heard.
"Fly", written by Alex Metcalf, had the very gentile British bachelor "Adam Cromwell" (payed by Freddie Stroma) flirt with "Rachel" by oddly using a comparison phrase more common to Jews. Playing down how he protected a contestant by (ineffectually) punching her violent ex-husband ("Rachel"s ex "Jeremy", played by Josh Kelly, was more effective, whose current fiancée had just objected to the kind of rough sex he had just refrained from following through in a rekindling with "Rachel"): It's not like I saved a family from being pillaged by Russian Cossacks. "Rachel", admiringly: Same difference.
She's the ironically titular "Savior", as written by co-executive producer Jordan Hawley. She's a wreck in the opening, after a contestant had leapt to her death from the roof, even as "Rachel" was trying to talk her out of it: She had her hand out! A distraught contestant "Maya" (played by Natasha Wilson) is just one of the people making her consumed with guilt: Nobody cares about anyone. . . Mary killed herself because of this place. I mean, what is wrong with you people? How bad does it have to get for you to wake up?. . You can tell your bosses I'm quitting the show. But her boss "Quinn" rejects her effort to be the conscience of the show: We are so supremely screwed right now. I need you to stay strong. . . So before you go all Jiminy Cricket on everyone, think about that. But "Rachel" is still reeling -- This is on me. -- when production assistant "Shia" (played by Aline Elasmar) comes in and confesses to messing with the contestant's anti-depression meds: I only did what you would have done. . . to make her come alive on camera! "Rachel": I didn't kill her - you did. She vents to her ex comes to her trailer: You know the network's sort of pointing their finger at us for bringing Kirk here and kind of accusing me of killing Mary, but other than that, I'm doing really great. He: Rach, you really shouldn't be alone right now. They can't pin this on you. She: I mean, they're not totally wrong . . .I just let Mary down, you know. I was supposed to be protecting those girls. He: When it comes to you, I see more than you think. I see a lot. As they fall into what "Rachel" in the morning disparages as "grief sex", she: Those lawyers are out for me. He: Yeah, well, they're like that with everybody. That's what they do. They turn up the heat, sweat the truth out of you. She: No, they are looking for a scapegoat. I'm in the cross hairs, and you know it. He: You got to tell them everything. You did, right? The morning after she's back to worrying: I barely have a job right now. He's supportive, that she'll find a way to blame the woman's violent ex-husband from getting paid off: You're like a force of nature. If anyone can deliver Kirk's head on a stick it's you. "Brad" the network rep (played by Martin Cummins) is surprised to see her: Isn't she the one who lost it last season and crashed the Ferrari? . . And you rehired her after that? "Quinn" re-hired her after what she did in the past. "Quinn": She has been through a lot today. . . She had some issues, but she's a great producer. . .She's worth five crashed Ferraris. The suit warns: You're in charge. She reports to you. "Rachel" convinces "Quinn": If we're not gonna tell the truth . . .let's at least do one good thing here. Against network instructions to stop production, she conducts tearful interviews with the contestants about what the dead woman had told them about her abusive husband, all good stuff to leak to sites such as Jezebel, Media Girl, Bitch Magazine: Once it goes viral, there's no way that the network can pay him off.. But angry "Adam" won't play along in this blame game: Not you? Not the show? That's what you want me to say? Awkwardly, her ex is manning the camera when "Adam" storms off: Screw him. He's a prick. "Rachel" goes after him, but "Adam" persists: How is this not your fault? She: It's not my fault. I can't tell you everything. "Adam" really stings: You're a monster! "Quinn" suggests she find a "Plan B", but "Rachel" isn't optimistic: You kinda took away all my Plan B's. Remember? Indefinitely forced servitude. But "Rachel" goes to the late-contestant's room and sees a teddy bear. Next we see her with the woman's sister, who is distraught over custody issues, and manipulates her into reading a suicide note on camera, with its blame on the ex. "Rachel" hugs her and the sister sweetly whispers into her ear: I almost believed it was real. . .Whatever it takes to keep [her niece] away from that monster. "Shia" still thinks she should "feel guilty" – and "Quinn" pretty much banishes her and hugs "Rachel": If you ever need to to talk. . .You know we're never talking about this again. "Jerome", her ex, gives "Rachel" a sympathetic look – until his current fiancée takes his arm. "Rachel" is so miserable, let alone homeless, that she crawls into bed with the contrite "Adam": I'm sorry. You're not a monster. "Rachel": Yeah I am. He spoons with her and holds her in his arms as they fall asleep. (Commentary on the rest of the season forthcoming) (updated 10/31/2015)

Murder In The First - Raffaella "Raffi" Veracruz (on TNT summers) As played by Emmanuelle Chriqui, this new cop in the 2nd summer season was a bit confusing from the outset. Very beautiful and very tough drug detective, she wasn't too credible. Until in the 4th episode, "My Suger Walls" written by Jonathan Abrahams, it's revealed that she is – of course!—ex-Israeli Army! Wouldn't want a season to go by without a stereotyped image like a Mossad agent in some series. (Did I miss any earlier references?) A large African-American dealer sizes up the petite woman, first confused if she's Latino (me too!), then decides: So you was in the military.And your little medical card, that's legit, huh? PTSD? You're a little PTSD case, huh? You a soldier, and I respect that. Her suspicious cop lover "Terry English" (played by Taye Diggs) trailed her -- to a synagogue, where he is surprised to see her rise for the mourners' kaddish: Who was the person that you were standing up for at the synagogue? She: That's personal. He: So is sex. She, ruefully: We've been doing that a lot, so, look, I lost somebody, too, all right? I know how it feels. He was I.D.F. Special Forces, and he was killed by a Hamas sniper five years ago. So, every year, on this day, I come and I say a kaddish for him, which is something I promised his mother I'd do. . . Look, I forgot, okay? This year, I almost forgot.
The Moroccan Jewish actress explained to Kyle Downing the character's background in M Star News, posted 6/7/2015: "She's tough; she's had a tough life. She's somebody who fought in the Israeli army and was very, very good at her job. She's half Israeli, she's half Mexican, she's super street and she's got a lot of demons that she's never dealt with. And it's dark; it's gritty." [Sorry, I had to suppress a chuckle.] But that did explain an interchange I didn't understand in the 2nd episode "Schizofrenzy", written by Robert Munic. The cops are searching a tunnel and she shows she's familiar with how they're engineered. "Terry" asks her admiringly: So, where did you learn tunnels? She, tersely: Gaza. He, thinking she's Arab: I didn't know they had tunnels in Palestine. She, quickly: Israel He, realizing now she's Jewish, which I didn't get then: Mazel tov. The episode ends with their first quickie.
In "Oh Mexico", written by Daniele Nathanson, she continues to have a bit confused background. She asks to ride along with the tough, old school "Marty Mulligan" (played by A.J. Buckley). He's surprised: Things that slow over in Gang Unit, or you just miss my winning personality? She retorts: Yeah, I miss the smell of whiskey and Old Spice in the morning. Reminds me of the guys I dated in high school. He keeps trying to one-up her, like first "dead body" – and she wins: My first DB? Four-year-old girl, Palestinian, shelling tore her into five pieces. Still had a teddy bear clutched in one hand. (Commentary on the rest of the season forthcoming) (updated 7/13/2015)

The Last Ship – Lt. Ravit Bivas in the 2nd Season (on TNT) The summer's 2nd Israeli woman soldier character came on board the surviving U.S. Navy destroyer after a global pandemic (based on the novel by William Brinkley) in the 4th episode, "Solace", written by Steven Kane – and no wonder her accent was right – she's played by the Israeli actress Inbar Lavi, who I liked a lot in MTV's Underemployed: I want to introduce you to two of our new team members. Both of these sailors were part of the Navy's special warfare joint operation training program in Norfolk when shit hit the rotors about three months ago. They volunteered to join us on our mission south. . .And this is Lieutenant Ravit Bivas. Israeli Defense Forces - Expert diver and intelligence operator. Another comments about adding her and a hunky Aussie: We are a regular coalition of the living . The male crew all eyes the new pretty, petite crew mate. One starts flirting: You know, when I was deployed in the Gulf, I spent some time outside Tel Aviv, a town called. . She shuts him down by correcting his pronounciation of the name. Later in the gym, the hunky Aussie ("Wolf Taplor" played by Ben Foster) helps her with boxing practice with a tease: Come on! You punch like a girl. Then compliments how she kicks the punching bag. Other sailors gossip that the two are just friends: He says she's like a sister to him. . .Just don't break her heart. You don't wanna tangle with the big brother. She's immediately put on the "Tiger Team" to board another ship, then are warned: Hostiles may still be on board. Just when the team is looking for her, she does something really smart (for this kind of show). She dons a labcoat, walks into the lab under siege, and pretends to be a doctor to the pirates: What are you doing here? Looking for the cure? I'll give it to you. -- then pulls out a gun and kills the 3 of them in short order close up – bang! bang! bang! Later, she's even a bomb defusion expert, though she keeps mumbling to herself in Hebrew as she tries to figure out this very complicated one. Just as she realizes it's more complicated than she can handle, the admiring "Tex" (played by Aussie actor John Pyper-Ferguson as a long-haired Texan hero, unlike his more recent psycho and villainous roles) grabs the entire bomb unit she got disconnected and gets it just about overboard before the pirate sets it off. She earns a compliment: You did real good out there today. I'm glad to have you on the team. She grins: I like you guys. You're crazy.
While I catch up with her various demonstrations of military prowess and smarts, "Uneasy Lies the Head" episode, written by Nic Van Zeebroeck, had one of her rare Israeli references. After threatening one fellow soldier: You call me "sweetheart" again, I'll make you eat that pathetic pair of 9s you're holding. . . So what do you think? Do I have the goods?, they exchange "worst" war stories: I was stationed in the West Bank for three years, another two in Gaza. Thought I'd seen everything. Then this pandemic broke out. And I thought, you know, maybe now we have this common enemy. We even have this cure that we want to give to people. Maybe, just maybe, we'll stop killing each other. But nothing's changed. It's all the same. (Commentary on the rest of the season forthcoming) (updated 8/12/2015)

Odd Mom Out– Jill Weber and Vanessa in the 1st season (half-hour sitcom on Bravo, renewed for 2nd season) A couple of interviews with show creator Jill Kargman claimed her character "Jill Weber" is also Jewish, as she is, living among the pretentious, obnoxious WASP Top 1% on NYC's Upper East Side. (I haven't yet read any of her books, including her 2014 novel Momzillas that inspired the series.) But there were only vague hints in the first 3 episodes (nor in the webisode discussions with the executive producers), except she's brunette to her "blonde bitches" in-laws. Otherwise she seems just as thin and wealthy, let alone with three kids, as the the Other Moms.
In the 1st episode, "Wheels Up", written by Kargman, Julie Rottenberg & Elisa Zuritsky, her mother-in-law "Candace" (played by Joanna Cassidy) doesn't think she'll join with the so thin you can't notice she's pregnant sister-in-law "Brooke" (played by Abby Elliott) in exercising: Jill's people aren't exactly known for their athletic prowess. She doesn't make it explicit even in the 2nd episode "Vons Have More Fun", written by Rottenberg & Zuritsky, when her in-laws announce why they went to Austria for the weekend to explore our roots. . .We are Austrian aristocracy. . .We're all changing our name to Von Webber. . .We're not changing our name – we're restoring our name. "Jill" politely asks: I'm curious -- during your research, did you happen to stumble on where this Von Webber clan was during the '30's and '40's? Her younger brother-in-law "Lex" (played by Sean Kleier), who just sold his company for $675 million that brings bagels to China: The family tree does get a little fuzzy during that time period, but a branch of the family did resurface in Argentina in the '60's. It's cool. She later explodes at home: They're Nazis! It explains everything. We are not changing our name! Nyet! Her husband "Andy" (played by Andy Buckley): I'm pretty sure that's Russian, not German. After she complains to her best friend: I feel like I'm joining the Aryan Nation, the couple defies his family and decides to not add the "Von".
There's a hint that her long-time, wise-cracking (of course) best friend "Vanessa" (played by K.K. Glick), a down-to-earth E.R. doctor (with no last name?), is also Jewish, when she mentions that the new guy she's dating is an orphan. "Jill" is excited: Marry him!. . .Crack out the ketubah!. . .Lock that orphan down! You wouldn't have in-laws! In the next episode "Dying to Get In", written by the star, "Vanessa" announces she's doing something that would probably be common to a Christian: going to her first wake of a patient. "Jill": Mazel tov!-- but that's as common in NYC as her frequently saying "schlepping".
In "Brooklandia", written by Julie Rottenberg & Elisa Zuritsky, much as "Jill" appreciated the "frizzy-haired moms" in Brooklyn (oddly, none of whom are explicitly Jewish), she and her daughter celebrated their return to the Upper East Side with a song and dance number through their neighborhood: Hazel, honey, we might be different from some of the uptight people here, but this is our home. Our family is here. And you know what? We might not tell them as often as we should that we love them.
The 6th episode "Midwife Crisis", written by Julie Rottenberg & Elisa Zuritsky, sealed the deal of her Jewish identity to me, as we finally learned her birth name. She ran into a college boyfriend in the drug store and reminds him: I'm Jill Kaplan. We dated. we backpacked in Greece and Turkey. She's just dealt with her sister-in-law's labor, though, and looks a mess while buying adult diapers. Flashback to the birth (Dr. "Vanessa" isn't checking her phone because she's having multi-orgasmic sex with a realtor, though not as many orgasms as he thinks)– and "Jill" is declaiming the first Hebrew prayer that comes to mind: Baruch atai adonai. . . The sister-in-law's first concern is that her new daughter looks "too ethnic".
In "Sip 'n' See", written by Julie Kraut, features the sister-in-law's new-found devotion to "Jill", albeit she apologizes to her for finding "Langley"s brown hair distasteful. The Jewish perception comes through "Vanessa", who for the first time identifies herself in answering the phone as "Dr. Wrigley", but that might have been a joke I didn't get. The mother-in-law ends up in her "York Hospital" E.R.: Mrs. Von Weber -- it's me, Jill's friend Vanessa. We met at the wedding. And Mile's Bris. And all of their birthday parties. But the society dame assumes something else about a professional woman who is a brunette: Victoria, what are you doing here dressed as a doctor?. . Valerie – times have changed. Your kind can get married now. "Vanessa": I'm just wearing this [ring] here lately because drunk dudes facing their own mortality find me irresistible. Later, when the mother-in-law is sober: About that wedding ring. Plenty of eligible concussed men must come through that door. I just hate to see you cut yourself off from true love. And she goes on about her own lover. "Vanessa": I'm alost 40 and I think I've aged out of that true love fantasy. She finally accepts being called "Veronique". The sister-in-law's effusive gratitude to "Jill" even extends: I hope you'll be Langley's godmother, though of course you believe in the wrong god. She also invites her onto the benefit committee of her charity "N.A.C.H.O. (New Yorkers Against Childhood Obesity)": Welcome to the head table!
The finale focused on the enduring friendship between the two Jewish women, unusual on TV vs. the Blondes of the Upper East Side, over bagels.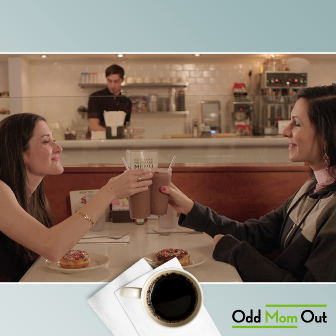 (Commentary on the rest of the season forthcoming)) (updated 8/12/2015)

Girlfriends' Guide to Divorce – Abigail McCarthy in the 2nd Season (on Bravo)



2014/2015 Season

The increased visibility of Jewish women comediennes on TV, led Jewcy to offer Sukkot decorations of ushpizot all from TV as "Ushpizienne: Class of 5775": Lena Dunham [as the auteur of Girls], Amy Schumer [Inside Amy Schumer, Abbi Jacobson and Ilana Glazer [Broad City], Jenny Slate [Married], Sarah Silverman [guesting everywhere], and Yael Stone [though her character "Lorna Morello" in Orange Is the New Black (on Netflix) is not Jewish]: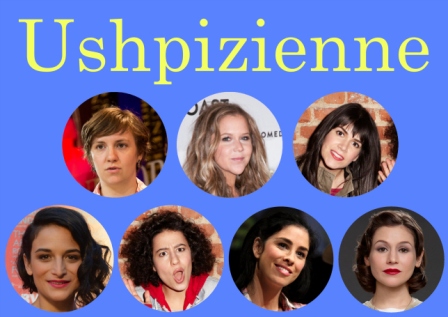 (10/12/2014)

Inside Amy Schumer – 3rd season (on Comedy Central, out on DVD) While her feminist satires, using TV, movies, and music videos, have been brilliant, her Jewish persona helped her, in her "Fight Like A Girl" episode, pull off a funny sketch "The Museum of Boyfriend Wardrobe Atrocities" that satirized both Holocaust museums and the exaggerated significance of gendered fashion arguments, with audio guide and detailed curatorial descriptions that parody museum captions with donor credits (but hard to read even on freeze-frame so I couldn't tell if there were other Holocaust references than what I could make out about other disasters -- Pompeii in one and Charlie Sheen in another) – though most recappers didn't get all the touchstones. The first display is from "Ironic Pseudo-Hipster Josh": Tragically, this is what he wore to meet her parents. The relationship perished soon after. The next exhibit plays on Anne Frank: Heather dated Mark and his bowling shirt for two years. And despite her protests, he insisted on wearing calf-high tube socks. She tried her best to hide them, stashing them for weeks in their attic. But sadly they were soon discovered and forced back into regular rotation. The audioguide intones a warning that one display of male casual wear What you see before you may not look so bad, until you know that it was worn by Simon, age 55. A middle-aged woman gasps and cries, and her adult daughter comforts her: It's over., recalling how many of our parents would react more emotionally about the era they lived through. Accompanying a belt in a glass case: You are now in the accessories wing. One survivor recorded the following words: "First he wore a braided belt and I said nothing. Then came that hat and I said nothing. Then he wore that fucking hemp necklace and I was like, peace.", spoofing Martin Niemöller's regretful quote about the lack of resistance to the rise of Naziism. When Past walls full of boyfriend with girlfriend photographs: You are now entering the Hall of Sighs. You will hear actual recordings of real girlfriends the moment they first bore witness to the horror of their boyfriend's mistakes. . . There's even a denier, as a man sneers: I don't think this many guys wore this stuff. These numbers are exaggerated. A pile of shoes like at Auschwitz elicits sobs from a woman: There are 5,200 pairs of Crocs in front of you, each one represents a relationship that was real and tangible until poor judgment tore it apart. A little girl asks her mother: Did this really happen? Mom: It did Gabby. It did. Close-up on the girl, as her image fades to black-and-white – except for her red coat, like the girl in Spielberg's Schindler's List, with similarly somber music.
In all the ecstatic spraise for her and her series this season, from the likes of such late-appreciating critics as in Variety, The New Yorker, Tilda Swinton, three Emmy nominations including as writer, director and actress, and the Television Critics Association Awards for Individual Achievement in Comedy and Outstanding Achievement in Comedy, there's usually some off-hand acknowledgement of Sarah Silverman as a stylistic foremother, but none mention Joan Rivers as as influence, let alone a Jewish model, despite her eulogy tribute at the 2014 Glamour Woman of the Year Awards. She won for "Best Variety Sketch Series"
Schumer was the only Jewish woman comedian interviewed in Kevin Pollak's highly edited documentary collection of interviews Misery Loves Comedy (previewed at 2015 Tribeca Film Festival), but, uncharacteristically, isn't seen referencing anything Jewish about herself or her family. Only Richard Lewis infers a Jewish woman at all, telling a funny story of being embarrassed by his mother coming to his first show, introducing herself to everyone in the audience and heckling his exaggerated descriptions of family members.
Her frank acceptance speech for Trailblazer at the Glamour Women of the Year Awards, with no Jewish references, went viral.
Lindsay Zoladz's review of her Beacon Theater performance in Vulture, "Amy Schumer's Cultural Significance Is Manifest in the Trainwreck Comedy Tour" incidentally mentioned a significant Jewish woman in her family: "A man who worked with Schumer's great-grandmother— a bootlegger who was the recipient of New York's seventh liquor license after Prohibition — presented her with an old Schumer's Wine & Liquors jacket. She regaled us with some impromptu asides about her great-grandmother: 'Tennessee Williams bought the bottle of wine from her … that he died from'." So then I found her 6/25/2013 radio interview: "My great-grandma, who was a bootlegger in old New York, Estelle Schumer, she passed away a couple years ago, but her liquor store is still up on 54th Street. ... She was 94 when she died, or 95, and she would ... just say a word. ... She would call black people 'colored,' and it would just make all the blood rush to my head like, 'No, that's not OK.' But then you think, 'Well, she's so old,' and then, you know, I would mention that to my friends and then ... I realized ... most people I know have older relatives that will just say something that's just so unacceptable. And then I just thought, 'Well, what's the age? What's the cutoff?' Because if one of my parents said something inappropriate I would stop them."
While I'm always surprised that people aren't aware she's Jewish, what with all her references to being "half-Jewish", I hadn't realized she was raised Jewish until I read this piece by her childhood Rabbi Jeffrey Salkin, inThe Jewish Week, 7/21/2015, where he notes "Her mother was on the temple board, and chaired the education committee. . . I officiated at the bar mitzvah ceremony of her older brother, Jason Stein. . . I remember Amy as a sweet, funny kid, who often asked probing and humorous questions in religious school." In fondly calling her "a religious school cutup", he declares her a "badkhan. . .the Jewish comedic tradition — social criticism, iconoclasm, anti-authoritarianism", supported by the Talmud. (updated 11/21/2015)

Once Upon A Time (on ABC), "Darkness at the Edge of Town" episode, written by series creators Edward Kitsis and Adam Horowitz, unnecessarily had its first Jewish implication. "Mr. Gold/Rumplestiltskin" (played by Robert Carlyle) is collecting villains to get them their happy endings. A la 101 Dalmations, he greets: Cruella de Vil! As played by Victoria Smurfit, she snarls: No one calls me that here. "Gold": Well, I'm sorry, dearie, but Cruella Feinberg doesn't have quite the same ring. Her husband is being led away in cuffs to a police car, a la Bernie Madoff, while she grabs her fur coat and limousine from the hands of repo men and revs the engine to escape with the other villains in tow. (3/6/2015)

On Elementary (on CBS), "Hemlock" episode, written by Arika Lisanne Mittman, opens with blonde emphatic "Jill Horowitz" (played by Amy Hargreaves) knocking on the updated "Sherlock Holmes"s door: An acquaintance of mine says you're the best P. I. in the city. My husband Steven is an attorney at Dorchester-Reid. . . It's one of the top law firms in the city. Steven has been, um, distant lately. Works odd hours, makes ridiculous excuses. . . They work long hours, but lately it's been worse than usual. . . Steven has pulled plenty of all-nighters, but I haven't seen him in two days. . . All Steven does is work. He left me. I want you to do the P.I. thing. Find where he is, who he's with. Get me some pictures that I can use in court. Turns out he was let go, and his secretary has been fielding her calls, for a fee: Steven and Jill are not the most connected couple. . . She does a lot of charity work, he works long hours. I guess she would have found out eventually, but I'm not surprised he fooled her. . . Steven and Jill live in a co-op building, they belong to the Braebury Club. I guess he just wanted to keep up appearances. Turns out the guy (who "Sherlock" keeps pronouncing as "Horo-vitz") was doing debt collections – which at first horrified me as the Shylock stereotype, thought there was no Jewish clues other than the name, but it turns out he was something of a Robin Hood trying to help out the accounts instead of dunning them, which is why an investor killed him. "Sherlock" meets with the wife at the end: You're Steven Horowitz's next of kin, so you rightfully inherit ownership of the debt he was collecting in order to maintain the family lifestyle. She's teary: Steven could have told me he was fired. My God. What happened to us? "Sherlock": I can tell you that that package, worked properly, will make you very, very wealthy. Steven decided he had other ideas for it. Whether or not you decide to honor those ideas is entirely up to you. Crying, she walks away without the files, and he shreds them. (7/31/2015)

In Forever (on ABC), from the first episode, the immortal "Dr. Henry Morgan" (played by Ioan Gruffudd, who I first saw in the movies as the Welsh-Yiddish speaking lover in the sweet Solomon and Gaenor) comes out of the smoky ruins of World War II to meet a beautiful Red Cross nurse "Abigail" (played by the very blonde Mackenzie Mauzy), his future wife: This baby was just recovered from one of the camps. He appears to be in perfect health. Close-up, improbably, onto the infant's tattooed number that morphs into the one on "Abraham" (played by Judd Hirsch). It was over a dozen episodes until there was hint of a Jewish mother, in "Hitler on the Half Shell" written by Sarah Nicole Jones, when another immortal "Adam" (played by Burn Gorman), a survivor of Mengele's gruesome experiments, sees the tattoo: The triangle underneath the numbers were only used in select camps, and each camp had a different placement for the tattoo on the body depending on which year it was. You were there in 1945, I suspect. He leaves "Abe" an Auschwitz ledger: I'm reading about Herman and Reba Weinraub – my parents. I know, I know – I could hardly believe it myself. It's all in here. All the names, tattoo numbers, all lost records of Auschwitz. From that, they go to a "Jewish Heritage" archive and ask for any records. A box is produced with his parents' wedding photograph, in close-up – which is the only reference to a Jewish woman. But when he's excitedly tracking distant relatives in the next episode, somehow he only finds males, let alone a lot of non-Jewish ones, including as improbably as anything else in this enjoyable series, a common ancestor with his adopted father. (3/6/2015)

Breaking Borders (on Travel Channel) visited Jerusalem and the West Bank in "Mother of All Conflicts" with a chef for a sit down that included two Jewish women settlers, a teenager and a young wife of a kosher vintner. The editing didn't include them getting to say much amidst the blowhard men around them, even as they nervously admitted it was the first time they'd sitten down to a meal with Palestinians, but both said they appreciated the effort at dialogue. (3/20/2015)

Kosher Soul (on Lifetime) is a typical over-produced, over-edited, over-stereotyped "reality" TV series (the network calls it "a docu-sitcom") following the relationship of white Jewish Miriam Sternoff from Seattle, a "Los Angeles stylist" who describes herself as looking very "Jewey", and her African-American fiancé O'Neal McKnight, a stand-up comic who uses her as fodder for his routine, let alone this show for his career. In the 1st episode "Black & Jewish", the emphasis was more on black vs. white differences, though her mother Miriam insisted she would prefer that her daughter not marry a non-Jew. So her future son-in-law is converting, while he rues that growing up in the south: My family don't know anything about Judaism. I couldn't stand watching more of the 12 episodes, complete with wedding plans, any more than I can any other such reality shows with Jewish women. (3/8/2015)

I sporadically watch Blue Bloods (on CBS, out on DVD) because it's filmed in and set in NYC, but the central multi-generation Irish Catholic family in law enforcement rarely interact with Jewish women. So this one was implicitly an odd twist on the stereotypes of Jews and money. As a putative Jewish woman, Tovah Feldshuh was noteworthy for showing up in "Bad Company" episode written by Bryan Goluboff as the love interest of the retired patriarch "Henry Reagan" (played by Len Carious). But his divorced granddaughter prosecutor "Erin Reagan-Boyle" (played by Bridget Moynahan) is suspicious and has her African-American investigator do some background checking: Well, it's kind of interesting, actually. Seems that Sylvia Hayden didn't exist, at least under that name, until 2007. But there are plenty of innocent explanations. . . That's all I can get from a cursory look. How far do you want me to take this? . I don't have a grandfather, but my grandmother raised me, and if I thought someone was messing with her, I'd turn over every stone until I knew damn sure she was safe. But the woman in question first pre-empts her by scheduling a lunch together and offers an explanatory monologue: A mystery woman suddenly starts dating your grandfather? (chuckles) I'd want to know everything I might just be a little curious. Here I am, Sylvia Hayden, in, uh, 30 seconds or less. Ready? Set your watch. I was born in the Bronx-- well, Riverdale-- and I had a quickie marriage at 19. He was so boring, I was a little crazy, and it lasted about 90 minutes. And then I was single for a long time. I had a lot of fun. And then, much later in life, I fell in love, and I got married again. For real this time. And that was my Max. And, uh, unfortunately, he he passed away about ten years ago. . .But I wound up reinventing myself as, of all things, a romance novelist. Well, Sylvia Attenberg wasn't a catchy enough name, so Sylvia Hayden was born. Here I am. "Erin": So Sylvia Hayden is your nom de plume? "Sylvia": Yes. But please don't bother with those books. They're trashy. It's just that I feel, uh, a little less lonely when I write them., she whispers conspiratorially. "Erin" is frosty: Well, hopefully Henry is making you feel a little less lonely, too. "Sylvia": Let me be clear about my intentions, Erin.I don't plan to marry again, but I think, your grandpa and I, we can be great pals. I hope that sounds okay….So let's order. And I insist that it be my treat. . .Henry won't let me pay for anything. "Erin's response is to sneak off with silverware to get her fingerprints, and she reports back to her grandfather: I had her checked out … Sylvia Hayden is not her real name. In fact, she's had many identities. And she has a history with older men. "Henry": You think I don't know that? Erin, I'm an ex-cop.You think I didn't do my own digging? Of course she's got a past.Who doesn't?. . . I don't want to make you angry. I'm just enjoying the woman's company, and I don't see any reason to stop. "Erin": There's an active warrant for Sylvia's arrest in Palm Springs for grand larceny. What do you want me to do? You want me to drop it, I will. [Wait, wouldn't the book publisher have known?) "Henry": A warrant they'll extradite on? . . . We're supposed to have a drink tonight later at the Hotel. We can have her arrested there. "Erin": But are you sure that's what you want to do? "Henry": No. At the hotel restaurant: "Henry": This place was the scene of one of the biggest robberies in the city's history. Well, in the Hotel above us. "Sylvia": A robbery here? Did you catch them? "Henry": Oh, yeah. That's what you have to understand, Sylvia.We get everyone in the end. . . I think you know what I mean. Dating a Reagan maybe wasn't the smartest move on your part. "Sylvia" protests: That's because it wasn't a move, Henry. You think I didn't expect an ex-police commissioner to check me out? Or that I didn't notice your granddaughter putting a teaspoon with my fingerprints in her purse? Then why did you stay? I haven't done anything wrong. "Henry": The DA in Palm Springs says different. "Sylvia" bitterly: What a joke. We were both adults who knew exactly what we were getting into. A man can't give a gift, and then expect it back when things go sour. "Henry" retorts: Sounds like it was a pretty big gift. "Sylvia": Well, I'm a pretty great gal. Henry, breaking someone's heart is painful, but it doesn't make you a criminal. "Henry": You'll have to tell that to the grand jury. "Sylvia": What? Henry, please. I really like you. I hope you believe that. "Henry": I choose to, Sylvia. "Erin" shows up as she's taken away: I'm sorry I ruined this for you, Grandpa. "Henry": You were just looking out for me. (updated 9/25/2015)

In the 2nd episode of The Book of Negroes (BET's first mini-series, based on Canadian writer Lawrence Hill's novel originally released in the U.S. as Someone Knows My Name, that I haven't read yet), written by Clement Virgo, the main character, African slave "Aminata" (played by Aunjanue Ellis) is sold by her evil plantation owner to a yarmulke-wearing Jewish indigo trader "Solomon Lindo" (played by Allan Hawco) and his sweet wife "Rosa" (played by Amy Louise Wilson) in colonial Charles Town, who say/does nothing Jewish. The pregnant wife not only wants her midwifery and reading skills, but does try to help her track down the infant who was sold away from her, including daring to ask a slave trader for information and taking her to Hilton Head Island to follow up on his (false) lead. After her death from smallpox, the slave narrates: Losing Mrs. Lindo was painful. I had trusted Mrs. Lindo more than any other white person. But I was not allowed to attend the shivah or speak to any visitors about how much I had loved her. While the husband hypocritically claims she's being treated like a servant, the slave finds out he arranged for the baby-selling. (Though he is so guilt-ridden that he arranges a reunion in the finale.) (updated 3/7/2015)

Dig (on USA) is set and filmed in Jerusalem and co-produced by Gideon Raff, one of the creators of Prisoners of War (Hatufim). But there was only a glimpse of presumably Jewish Israeli women in the background of a scene or two, a waitress who offers the hero soup to feel better, an oblivious police officer and mention of the wife of another, and a partially head-scarfed tour guide at the "Jerusalem Heritage Center" that is apparently at the center of a religious fanatic conspiracy. Even the performer "Julie" is in drag at a gay bar. Even the "Sisters of Dinah" episode is about an order of nuns. (updated 5/1/2015)

In Mad Men's premiere episode of the final season, "Severance" by series executive producer Matthew Weiner, brought back "Rachel Menken Katz" (played by Maggie Siff). Aging roué "Don Draper (Jon Hamm) is thinking about her during a sexist casting call for fur coat models, so vividly the audience thinks at first it's real when she provocatively flirts -- I'm supposed to tell you you missed your flight.--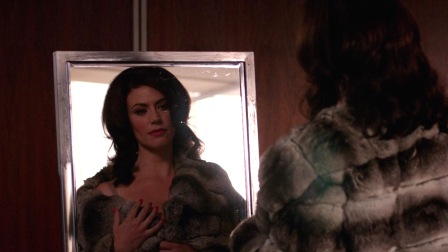 I even though that could be her sensually waking with him in bed the next morning and not yet another bimbo one-night stand. So we're as surprised as he when an appointment with her family's department store to shill pantyhose has to be set up with her father, not her, and his secretary reports the reason is she just died. His sympathy visit is not only awkward, but her sister "Barbara Zax" (played by Rebecca Creskoff) realizes who this gentile lover is, and is definitely not welcoming to the shiva that she explains to him, while pointing to her young kids and that she died of leukemia: I'm sorry. I don't know what you're looking for here. . .She lived the life she wanted to live. She had everything. (More details forthcoming.)
"Q&A: Mad Men Creator Matthew Weiner Talks LA Jews and the American Dream", including Rachel Menken, with David Samuels, 4/3/2015, before the last episodes were shown: "It was a big deal to have that character, that's all I can say. . . She reminds me of women in my family, honestly. I'm a big fan of powerful women, and also of powerful Jewish women in particular. It's funny because orthodoxy is extremely sexist. Orthodox Judaism. And at the same time, the ultimate goal for a man to study all day long requires that his wife have industry. So, you look at the leaders of the women's movement, there are Jewish women who are cutting-edge in almost every field, especially in the 20th century. There's a nice lineage." (4/6/2015)

On Parks and Recreation (on NBC), Jenny Slate's "Mona Lisa Sapirstein" returned, along with many other guest stars, as the series began to bid farewell. With an exaggerated baby-voice similar to her Marcel the Shell web series she makes with her husband Dean Fleischer-Camp, in "Two Funerals", written by Jen Statsky, her father "Dr. Sapirstein" (played by Henry Winkler) is asked to the temporary mayor: You know, I've got my hands full with my practice, my other businesses, my two terrible children. I don't think I have time to be mayor., she interrupts: I will do John Mayer. Again. Daddy, someone set a fire in your car because you took too long and I got bored. She holds her hand out and threatens with a laugh: Money, please. That's fine. I'll just destroy this office. Money, please! Money, please. My money, please? Her father advises: Give her some money. It's easier.
In the "One Last Ride" finale, written by Amy Poehler and Michael Schur, her brother's fake Jewish funeral is seen in 2023, as they plan to use the scammed life insurance money to build a casino in Tajikistan. In the extended producer's cut, "Mona" high-5's her bro "Jean-Ralphio" (played by Ben Schwartz): This is the best idea you've ever had! They both dance away, loudly, as they sing: Don't be suspicious! -- of course attracting the surprised attention of the mourners. (5/3/2015)

Downton Abbey (on PBS, out on DVD), created and written by Julian Fellowes, introduced that the Jewish themes, and genteel anti-Semitism of the upper classes, by first reminding viewers, like me, about the American-born "Cora Crawley, Countess of Grantham" (played by Elizabeth McGovern), who had forgotten her maiden name of "Levinson", when she confessed to flattering art historian "Simon Bricker" (played by Richard E. Grant) about her social debut in London: My father was Jewish, and the money was new. But there was a lot of it, and I was pretty. As her husband's empty-headed, bauble of a niece "Lady Rose MacClare" (played by Lily James) met and fell for handsome banker "(Ephraim) Atticus Aldridge" (played by Matt Barber), his Russian Jewish family background, including fleeing Odessa's 1850's pogroms and in England changing their (unknown?) name, got filled out, and his parents, now "Lord Daniel" (played by James Faulkner) and "Lady Rachel Sinderby" (played by Penny Downie), come for dinner, who are surprisingly reassuring about the couple: Lord Grantham, we both know what we're up against. Happily, we're used to it. You won't have any trouble with us. "Lord Robert Grantham" (played by Hugh Bonneville) does the aristrocratic equivalent of "best friends" line: Lady Grantham's father was Jewish. "Lady Sinderby" shoots back: That isn't a guarantee of tolerance. So it's a relief to hear you say it. Atticus seems to be very taken with your niece. And I must say, I find her quite charming. "Lord Grantham" to the mother: Does Lord Sinderby approve? "Lady Sinderby": Well, you know, he needs time to settle into things. She turns to "Lady Grantham": Your mother never considered converting? "Lady Grantham": I don't believe so. "Lady Sinderby", who knew what I didn't: Was it difficult? Having a different religion from your father's? "Lady Grantham", who evidently was raised Anglican: Not that I recall. "Lord Sinderby": Hm. And you're not ashamed of him? "Lady Grantham", who in last week's episode was uncertain if Jews want potential spouses to convert like Catholics do, is pointed: Lord Sinderby, I would point out that we never changed our name. "Lord Sinderby": It was my grandfather's decision. I thought of changing it back but the family felt they were English now and they wanted to stay English. Watching them, "Rose" reports to her about-to be-fiancé: Your mother and Robert are hitting it off. "Atticus" warns: She's not the problem. My father's the tough nut. She muses: My father's the darling; my mother's the nut. He's gallant: Then we shall crack them against each other. But "Lord Grantham" warns his niece about her prospective father-in-law: He doesn't want Atticus to marry out of the faith. . .Why shouldn't he mind? He's an important figure in that community. At a formal dinner of the extended families, "Rose" naively assures her dowager aunt: I promise you we know difference in religion is a big thing. But the obnoxious "Larry Grey" (played by Charlie Anson), son of another affianced widower, sees an opening to ominously warn of future problems and rankled them all: How would you bring up any children, for example?. . .The fact is, most marriages that fail, founder for precisely this kind of reason. . . An irreconcilable difference. . . It might be different beliefs, or different nationalities or a huge age gap. . . I know the choice of in-laws is eccentric in this family. You already boast a chauffeur and soon you can claim a Jew.
In the wedding preparations in the U.S. season's penultimate episode, "Rose" is still very naïve about Judaism, even as family members comment snidely about the family's name change, but that's why she wants to get married in London: And I want a blessing in a synagogue., and expresses she will try to win over her future father-in-law for her husband's sake. "Lady Grantham" advises her that [Lady Sinderby]'s your ally. . . not because she thinks it's all unimportant, just that she thinks her son's happiness is more important. At the pre-wedding dinner hosted by the in-laws, "Rose"s mother "Lady Susan Flintshire" (played by Phoebe Nicholls) has arrived from India just-in-time to be appalled by the match, so she goads the future mother-in-law: Do you have any English blood? "Lord Sinderby" snaps back: We only date from the 1850s, but Lady Sinderby's family arrived in the reign of King Richard III. "Susan" continues: I think of you as nomads, drifting around the world. "Atticus" surprises her by dropping some name they'll be visiting: Lady Melford is Mother's cousin. "Susan" keeps trying to foment problems: You wanted a synagogue blessing? "Rose" is cheerful: I'd like to respect both sides. Which infuriates "Lord Sinderby": You don't understand our customs. Then again, why should you? "Rose" is crestfallen: So it won't be possible? Her father-in-law: No. He should have told you. "Lady Sinderby" invites the extended family to a dinner, leading "Susan": Tell me, do you find it difficult these days to get staff? "Lady Sinderby": Not very, but then we're Jewish, so we pay well. "Lady Susan" rants to her estranged husband later about his "pseudo-tolerance": I hated it. Having to play act in front of those people is so degrading. . . Did you know that Anne Melford was Jewish?. . . I don't feel as you do about it. She defends her scheme to split up the young couple: We have lost our position that we have lost everything the children have grown up expecting as their right. And now you want Rose to be an outcast? Later, in his study that has the obligatory TV symbol of Jewish identity with a menorah on his shelf, "Atticus" goads his father into making his objections clear: Let us be honest. I am against it. Our family has achieved a great deal since we came to this country and not just for ourselves, for our people. We have a proud history and we've taken our place among the leaders in this land. And now, you want to throw all that away for this little shiksa. [Much discussion online if an upper class, assimilated Russian Jew would use that phrase, but it so applies to the blonde bubblehead.) He continues to rant: I'm sorry. I don't mean to insult the girl. She seems decent enough. But she is English and Anglican and so will her children be. "Atticus", uselessly: She's Scottish. His father steams on, and I include this as I think there's clues for tensions next season: The second Lord Sinderby may be Jewish, but the third will not. Soon our family will be one more British dynasty with all the same prejudices as everyone else who shops at Harrods! Any children will be brought up to know both sides of their heritage. Your children will not be Jewish! Don't you understand that? Their mother will not be Jewish and neither will they! "Atticus" turns out to be as naïve as his new wife: They may choose to convert. Or are you implacably opposed to giving anyone a free choice? His father warns: How easy you make it sound, and how little you've had to fight. Meanwhile, "Rose" has already told her cousins about future children: I intend to leave it all to Nanny. "Lady Mary" has been making various snide remarks, and turns to the dowager expecting her to be shocked by the wedding: I dare say this is a first for you, Granny, to sample the joys of a registry office. As played by Dame Maggie Smith: You'd be quite wrong, no, in 1878 I attended the wedding of Lord Rosebery and Hannah Rothschild held in the Board of Guardians, very much the same. "Lady Mary", who has been more unsympathetic than usual this season: It seems almost sad in a way. Her grandmother: But in marrying a Rothschild, there are certain compensations. "Lady Susan" keeps trying to shock her mishpuchah, by announcing her impending divorce. But "Lady Sindrey" steps in: Thank you, Lady Flintshire. Or may I call you Susan? We are forewarned and so now we will be forearmed. And turns, along with her son, to hiss at her husband: Do anything to stop this marriage, anything at all, I will leave you, and then you will have a scandal worthy of the name! Oh, I doubt you expected to take your beloved child through the portals of Caxton Hall Registry Office. He caves: There are lots of things in my life I never anticipated, but if you're sure, I'm sure. There's various mutterings about whether this is a "real wedding", what with no veil, and going for a blessing at the Savoy Chapel, but "Rose" insists: You do realize this is my real wedding? . . This is where I become his wife. One of the lady guests comes up to "Cora": It must be very trying, but I so admire you for putting on a good face. "Cora" sweetly retorts: I wonder if you remember that my father was Jewish? (updated 3/1/2015)

In New Girl (on Fox) "Schmidt" (played by Max Greenfield) once again comically remembers a Jewish woman from his past, in "Teachers", written by Kim Rosenstock: Born not knowing how to do laundry? Yes, like everyone else. It wasn't until after birth that the trouble really began. Nana wouldn't let me in the laundry room. I think it was because my hands were always covered in butter,, as his fat younger self is seen eating bagels while the curly-haired grandmother (I can't ID the actress) takes away his dirty clothes. In "LAXmas", written by Max Fusfeld and Alex Cuthbertson, "Schmidt" throws off a lot of lines about his New York suburban Jewish origins, but the only one that even indirectly referenced women, oddly, was the quizzical: I'm going back home to Long Island, the birthplace of the female crew cut.
Michael Ausiello, now of TV Line, used stereotyped description in announcing, on 1/23/2015, that "Nora Dunn to guest-star as Schmidt's never-before-seen mother. . .Dunn's straight-outta-Long-Island, controlling matriarch, Louise, is always ready with unsolicited advice or a piece of chocolate." The episode itself "The Right Thing", was so offensive that it defensively pro-actively inserted "Max" saying it could be seen as anti-Semitic. Guess they figured they was a vacancy after the late Mrs. Wolowitz on Big Bang Theory (On CBS, out on DVD) (Detailed commentary forthcoming – even after her death, there were a lot of references to her through the end of the season) (updated 9/25/2015)

In "Time and Tide" episode of spies in NYC 1946-set Marvel's Agent Carter (on ABC, on DVD), written by Andi Bushell and Eric Pearson, had the first Jewish reference in the mini-series, which is always ironic in these comic-book inspired off-shoots, as so many were originally created by Jews to fantasize battling Hitler and anti-Semites. Inventor/businessman "Howard Stark"s very British butler "Edwin Jarvis" (played by James D'Arcy), who was very devoted to and touchy about threats against his heard-but-unseen wife "Anna", explained the backstory of his difficulties: Would it satisfy you to know that the charge of treason was dropped almost immediately? . . . Before the war, I served under a general. We traveled a great deal. We were in Budapest when I met Anna. She worked in a hotel tailor shop. Sold me the most beautiful tie. And then the war broke out, and things became difficult. "Peggy Carter" (played by Hayley Atwell ) interrupts: She was Jewish. "Jarvis": Still is, I'm happy to say. The general carried several letters of transit in his safe, any one of which would have ensured her safety, but he refused to sign. "Carter": You forged his name. "Jarvis": Hence the dishonorable discharge. It was filing the papers that sunk me. I was arrested in the middle of Whitehall. On a Tuesday. "Carter": How did Anna get out? "Jarvis": The same way I avoided the noose. "Carter": Howard? "Jarvis": Mr. Stark had unfinished business with the general, and he and I had always got along. When he heard of my predicament, he used his influence. (updated 9/25/2015)

The Dovekeepers (CBS 2-part mini-series) Mea culpa: for comparison, I haven't yet read the book by Alice Hoffman, who is the older sister of a long-time friend of my husband's, and I watched while tired and multi-tasking. I appreciated the focus on the difficult role of kind of (confusingly) diverse Jewish women in Judea and that the men are indistinguishably bland beefcakes, out of old swords & sandals epics like women are usually used. But I can't forget Masada (1981), back when mini-series weren't mini, with Peter O'Toole as the conflicted Roman general and Barbara Carrera as his sultry Jewish slave, who choose her freedom over his love (sigh). I do find it odd that "Shira" (played by Cote de Pablo, who the CBS audience still thinks of as Ziva David, the much-missed Mossad agent in NCIS, used "The Sh'ma" as a lullabye. I like that "Yael" is played by red-headed Rachel Brosnahan, who eagerly teases her Teutonic Roman slave lover that her hair reminds him of his women back home. Nice touch when the two women, as survivors, insist to Jewish historian Josephus (Sam Neill) that their eyewitness accounts are intended as "kaddish" for their community. (More commentary forthcoming.) (4/5/2015)

Red Tent (on Lifetime) not only turned Anita Diament's romantic midrash into, well, a Lifetime movie, there was little sense of its Jewish Biblical roots. Even worse, the lead-in Women of the Bible was almost all evangelical Christian interpretations, with women ministers glowing with faith in Jesus and seizing upon Christian iconography everywhere in the Torah amidst the admirably interracial but not, well, faithful reenactments. The "Old Testment" was dispensed with in the first 42 minutes, before going on to Mary, with Sarah, Rahav (who was included because she's considered an ancestor of Jesus), and Samson's mother, plus Delilah, though a "Bible teacher" did proudly note that Eve was initially created equal to Adam. Hagar (and her role as the mother of Muslims) was dealt with by Rabbi Laura Geller. Interestingly, she was not listed in producers Mark Burnett and Roma Downey's press release announcing the TV special. Even Jewish publications didn't pick up that all the listed "experts" were Christian – perhaps fooled by the inclusion of a Joyce Meyer, whose affiliations weren't listed but who turns out to be as evangelical as the rest. So it's amusing that in Hollywood they turned to Temple Emmanuel of Beverly Hills for a token, albeit prominent, representative. (12/8/2014)

On Finding Your Roots with Henry Louis Gates, Jr. (on PBS), Canadian-born, bi-racial actress Gloria Reuben [the transcript is not completely accurate] got confirmation that her father, who died when she was very young, was Jewish, but from Jamaica in the post-expulsion diaspora from Spain. Prof. Gates notes: On December 19th, 1831, just months before your great-grandparents' wedding, the Jewish people in Jamaica were finally granted full rights under the law. . . Too late to have a bat mitzvah,, he joked. She laughs: So basically, I'm a Jewish girl in a black body. That was so not PC! -- and her DNA is 59% European. Basketball player Rebecca Lobo discovers that the unknown father of her grandmother, a domestic servant photographed dressed in fur, was an Ashkenazi Jew – with no further commentary. In his "Decoding the Past" episode that focused on what DNA can reveal, Jessica Alba's Mexican roots revealed a great-great-whatever-grandmother who was probably a Sephardic "crypto-Jew" (and he claims Alan Dershowitz is her genetic cousin). Dershowitz did a funny take about taking credit on whether she, or any of such mixed background, can say they're Jewish.
The "Our People Our Traditions" episode of Jewish celebrities featured Carole King Klein, as she announced she has now legally changed her name to after having adopted her several husbands' names. Describing herself as "a nice Jewish girl from Brooklyn", she's surprisingly gobsmacked to learn that her grandmother's Yiddish name was Shaina, while Prof. Gates seemed to think she adopted the "English" name Sarah without understanding that was probably her Hebrew name. In identifying her hometown of Orsha, Russia (and Carole was ignorant of the Pale of Settlement), he uncovers documentation of a pogrom Shaina would have witnessed at age 15, before emigrating at age 21. On her paternal side, he found their namesake patron at Ellis Island, and traced her family in Russia back through 18th century marriage records.
The American Masters Me-Generation episode "The Boomer List" only indirectly referenced Jewish women, by including Eve Ensler, who talked about feminisn not her paternal ethnic identity, and Rosie O'Donnell, who quoted the maternal Yiddish endearments -- includingshaina maidel-- of a school friend's mother for providing her first warmth and affection. (updated 11/26/2014)

On Scorpion, yet another CBS crime-of-the-week drama that I quickly stopped watching, in the "True Colors" episode by Rob Pearlstein, yet another elderly, heavily accented daughter of a Holocaust victim sought the return of her father's Nazi-seized $100 million-worth painting from a German museum by the fictional Franz Bierman, his only one to survive the war, as "the rightful owner", whose family bought it from the artist in 1937. When it's finally recovered by all kinds of skullduggery to end up faking its destruction, , she (played by Gisela Kovach) bestows a heartfelt "Danke", the based-on-the-real genius "Walter O'Brien" (played by Elyes Gabel) cautions her: Don't put it near your window Mrs. Mueller. All to teach him a lesson in a painting's ineffable meaning beyond the aesthetic or financial. (11/30/2014)

On Brooklyn Nine-Nine (on Fox), the "Halloween II" episode, written by Prentice Penny, Andy Samberg's "Det. Jake Peralta" let loose with one of his few references to even knowing any Jewish women, when he protested in a scrum: Hey- I need this jacket for my cousin's bat mitzvah next week! (updated 11/10/2014)

On The Mindy Project (on Fox), which prides itself on diversity, a Jewish woman character was only revealed to be Jewish in a December Dilemma context. In "Christmas", written by Charlie Grandy, "Dr. Peter Prentice" (played by Adam Palley, who is usually perceived as playing Jewish characters) approaches ex-girlfriend neurosurgeon "Lauren" (played by Tracey Wigfield) at the end of the doctors' office Christmas party: Before you go. . . Merry Christmas. She: Well, technically, it's Happy Hanukkah. He: Oh, that's right, I forget that you're a fellow soldier. . . Together: In the war on Christmas. He: And you hate Christmas. She: Well, Happy New Year., with a quick kiss on his cheek. I can't find confirmation that her character is Jewish -- or even has a last name yet. (2/4/2015)

Grimm (on NBC) followed the tradition of just about every supernatural series by having a golem episode. But where the opening quote usually is from the Grimms' Tales, "Livin' On A Prayer", written by Sean Calder, specifically referenced "The Golem of Prague": "Oh, remember that you fashioned me from clay! Will you then bring me down to dust?" With a supernatural creature outside the show's mythology of "vessens", the episode was unusually faithful to the Jewish folk tale in having the golem generated by a Jew as a protector against a violent non-Jew and was controlled by a Jew. Until we see the brother is a kabbalist rabbi, "Ben Fisher" (played by David Julian Hirsh), there wasn't any indication that his sister, "Sarah" (played by auburn-haired Brigid Brannagh) and her son "David" (played by blond Jakob Salvati) were Jewish, when she defends them from the blows, and they flee from, an abusive "vessen" ex-husband/step-father to treatment at the hospital. With considerable resonance, the brother whispers to her: That son-of-a-bitch! If he ever touches you again. . .Never again Sara.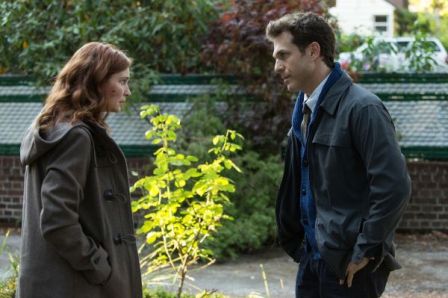 In his temple, he calls up the golem from fragments of the original that had disappeared from Prague and the clay monster clay-bombs the ex. The rabbi confesses: I prayed – this man was destroying my family! Though the cops say they can't arrest a guy for praying, he confesses to his insistently skeptical sister: You did not kill [him] and neither did a golem. Whatever happened to [him] he deserved. When her "vessen" brother-in-law pursues them, she protects her son and calls the police, who realize the golem is reappearing whenever her son feels threatened. The rabbi figures out that a written "Shem prayer" is needed to stop the monster, but: It's my sister I'm worried about. She doesn't believe any of this. (Maybe she's learned the symbolic lesson against intermarriage, though an ongoing secondary theme is negative reaction to an inter-vessen marriage between two sweet regular characters.) Because the golem is not their usual supernatural prey, the cops have to scare the boy to generate the golem, to her considerable consternation, but she gives him a big, proud hug when he screws up the courage to use the writing himself to drive the golem back into the earth. The central cop learns a lesson, too: I'm never yelling at a kid again. (11/15/2014)

Annie Edison in the 6th Season of Community (on Yahoo Screen) In a binge viewing of what looked to be the final season, and now completely under the creative control of creator Dan Harmon, only one episode had even a slight reference that she was Jewish (in "Basic Email Security" written by Matt Roller, when she defends the right of a stand-up comic whose offensive routine includes Jewish slurs and stereotypes), though others mentioned in passing her past pill addiction and her personality traits that have Jewish inferences. (updated 9/12/2015)

In The Blacklist (on NBC, on DVD), the convoluted conspiracy spy thriller series, in the season opening "Lord Baltimore" episode, written by Jon Bokenkamp and John Eisendrath, a mysterious beautiful woman, "Samar Navabi" (played by Iranian-American Mozhan Marnò, of The Stoning of Soraya M.), rescues the master criminal/FBI informant "Raymond 'Red' Reddington" (played by James Spader). She talks on the phone in something like Hebrew as he tries to figure out who she is and how she found him through a very complicated and ingenious tracking of his preferences for earth tone color clothes: Lord Baltimore? Aren't you a surprisingly sexy minx. She smirks: Who is it exactly do you think I am? He: You're Mossad. Please don't tell me this is about that little dust-up in Haifa? She: That "little dust-up in Haifa" claimed the lives of two agents and a Turkish diplomat. They taunt each other – but he figures out that her falcon tattoo is a tribute to her brother killed in a terrorist attack, whose name meant "falcon" in Farsi – so she could be Jewish and/or Iranian and/or Israeli. She showed up again for a nick-of-time rescue in "Monarch Douglas Bank", written by Kristen Reidel, Amanda Kate Shuman, and Daniel Knauf, and was filmed in my neighborhood standing in for a Polish city:I'm Samar Navabi, I'm Mossad. You're outgunned – go I'll cover you – go! And she lets loose with a machine gun volley. The FBI is surprised: Who the hell is Samar Navabi? Both sides figure out her usefulness, because she hands over a file to the FBI, evidently to get on the team—then slyly assures "Red" "I'm in."
In "Dr. James Covington", written by Lukas Reiter and J.R. Orci, "Samar" is introduced to the team. One guy is taken aback: You're tall. But "Agent Elizabeth Keen" (played by Megan Boone) is suspicious when "Samar" calmly notes: Met in Warsaw. Glad you made it out. Are those live NSA feeds? They'd kill for those in Teheran. "Keen" asks what I was thinking: How does an Iranian end up working for Mossad?, but only gets a parry: How does the FBI end up working for Reddington? "Keen" persists: How did you find you us in Warsaw? Who told you we were there? When their boss interrupts, she fumes to her partner: How do we know we can trust her? Partner "Donald Ressler" (played by Diego Klattenhoff): We don't, but she did save our lives. So that deserves some good will. She persists: You know Reddington sent her to Warsaw. There has to be something going on there. Her partner teases: Sounds like someone is getting a little jealous of a new crush. "Samar" shows up at the conclusion: A victory! You guys don't celebrate when you close up a big case? Let me buy you a drink?. . .All you know about me is that I found Reddington and whatever you might have read in a slim dossier. But now we're working together with all that implies. I'm sure you don't know what to think. . . I'm not wrong. You're right not to trust me. "Keen": Oh you're right about that. You're wrong if you think you found Reddington. If he was found it was because he wanted to be. And he wanted you to find him. "Samar": Maybe I'm just good at what I do. Is that so difficult to believe? "Keen": If he wanted you here he had a good reason. That's why I don't trust you. Because I don't know what the reason is. And I'm guessing, neither do you.-- and storms out. Heck, me too!
"The Front", story by Adam Sussman, teleplay by Sussman and Jim Campolongo, confused even more her identity and her role vis a vis "Keen", evidently to humanize her. While she at first is efficiently doing background research, she unexpectedly turns on "Keen" at her failure on a mission that let plague specimens get away – we haven't seen her that emotional before: You had it! Did you hesitate or not? "Keen": He threatened to release it! "Samar" heatedly: Now a madman is out there with the ability to start a pandemic!. . .For a strain that's 700 yrs old. We have to assume there is no cure for whatever [he] got his hands on. . .Unbelieveable! Their boss cuts her off: That's enough!-- implied is that the Mossad has higher standards for accomplishment. But the two women bond in the field, after "Samar" runs after the suspect and not only gets shot: I'm infected. If you come here you will be too. But "Keen" not only comes in to comfort her, but confides about her upside down personal life. "Samar" warns her that their co-workers are all gossiping about "Keen"s relationship with "Reddington". (I would have thought it would be the mysterious "Samar" they'd be talking about.) "Samar" wakes in her hospital bed just long enough to take the hand of "Aram Mojtabai" (played by Amir Arison), who looked as surprised as I was.
"The Scimitar", written by J.R. Orci and Lukas Reiter, makes clear she's still working for Mossad. In the opening episode, speaking Farsi, she sets up a sexy honeypot for an Iranian who ends up flying out of his high hotel room in Dubai onto a car. Later, she protests he was an Iranian businessman who committed suicide, but "Reddington" taunts her: He wasn't a mere businessman. He was one of Iran's top nuclear scientists in Dubai to supervise purchase of several borehole gamma something-or-others. And he didn't commit suicide. He was assassinated in a joint C. I. A./Mossad venture to undermine Iran's nuclear program, but, then, you know this already. My understanding is, she took a little detour to Dubai for a rendezvous with Mr. Nouri so she could toss him off a building. "Keen" is shocked, but "Samar" is cool: If you're asking me to comment on a Mossad operation, you know I can't do that. He warns that the Iranians plan revenge, and she is very familiar with the murders the hired killer has committed in the Middle East. She follows a lead who has beenthe target of a major Mossad initiative . . . Mossad has been tracking his movements for months. . .My superiors believe he's the key to unraveling a dozen covert Iranian ops. "Red" warns her about blowing their operation to help the F.B.I.: Mossad has no tolerance for any agenda except Mossad's. You'll be sanctioned for this indiscretion. She defends her new loyalties: I can't work with this task force unless my partners are my highest priority. "Red" taunts her more: So this has become quite personal. . . But you may have an even more personal stake in this case - than perhaps you realize. . . Because one of The Scimitar's little-known aliases is Walid Abu Sitta. She's shocked: Walid Abu Sitta is the man who ordered the bombing that killed my brother. She gets the guy and threatens him: You've been very careless, Ali. My unit has been surveilling you for months, and the intelligence we've gathered has been very helpful so helpful that I fully expect to be disciplined for coming here without authorization. Just by being here, I have everything and, therefore, nothing to lose. "Red" adds a distinctive threat: Imagine your future, the rest of your life spent in a dismal Israeli prison, some dark hole they put you in, bending your fingers and pulling your toes until they forget you ever existed. Gosh, that was easy confession to next get to The Scimitar! "Red" leaves her with him to exact her own revenge, but the guy taunts her, and chuckles about the murdered scientist in Dubai, as they switch from Farsi to English and he blames a suicide bomber—implying the brother killed himself: I spoke to him the day he died. . . If you think your beloved brother was just another faceless young man in that crowd you know nothing. She slaps him hard: What do you know about my brother? He: There's no country insisting you do your duty. If you kill me it will be cold-blooded murder. So call Mossad or call the CIA or wheover's coming and be done with it. In the conclusion, there's word that a guy who looks like The Scimitar has been fished out of the Potomac. [I may have mixed up the bad guys a bit.] In the season finale, when conspirators try to take over, she's threatened with being turned over to Iran to be tried for murdering their nuclear scientist.
In a promotional feature before the SuperBowl episode, shown on Oxygen, Mozhan Marnò, admitted that "Samar" "through some mysterious way [she] came to work for the Mossad. . .What's so interesting about the character is that you don't know exactly where she stands." Or if she's Jewish, though she seems to murmur Islamic prayers at critical moments. (updated 8/19/2015)

Though Makers: Women Who Make America – Women in Comedy (on PBS) featured many Jewish women comics and writers, including Bea Arthur, Roseanne Barr, Joy Behar, Susie Essman, Chelsea Handler, Laraine Newman, Gail Parent, Totie Fields, and "in loving memory" the late Joan Rivers, only the clips and interviews with and about Sarah Silverman specifically referred to her as Jewish and in a Jewish context, that somehow in their minds were linked to her sweetness and prettiness, in contrast to the earlier comics making fun of themselves.
Silverman herself did a fondly funny tribute to Rivers in her return as guest host on NBC's Saturday Night Live, sans Jewish references.
Silverman was key over the past year in promoting on Twitter the efforts of Women of the Wall for gender equality in access to and prayer at the Western Wall in Jerusalem, particularly when her activist sister sister and niece, who had made aliyah several years ago, were arrested during a protest. She went further at Hanukkah, when her family was in Jerusalem to attend her nephew's bar mitzvah, by lighting a menorah forbidden in the women's section. (updated 12/21/2014)

In the 5th/final season of Boardwalk Empire, set in 1932, there was finally more than a cameo appearance by a wife of one of the Jewish Prohibition-era gangsters . In the "What Jesus Said" episode, written by Cristine Chambers and Howard Korder, the widow of Arnold Rothstein has the real name of "Carolyn Rothstein" (neé Green) (played by Shae D'lyn) is shrewdly demanding back embezzled profits from inside trader stock trades, through blackmail of the central gangster's wife, and out of bitterness about her philandering, milk-drinking husband -- I don't keep milk in the house anymore, it turns my stomach. . .And when he died? . . Do you know what I have to show for it? This tea set, that hideous chair, this ring. Oh, and humiliation. Arnold left me buckets of that. Everything else I've had to sell. . .Let's see how you like seeing your name in the paper next to the words "notorious husband".
In the penultimate episode "Friendless Child", written by Cristine Chambers, Riccardo DiLoreto and Howard Korder, NYC gangster "Benny 'Bugsy' Siegel" (played by Michael Zegen) touches the mezuzah on an apartment door frame before a sexy woman in a red dress (played by Leighton Bryan) opens up: If it ain't the macher of Willett Street.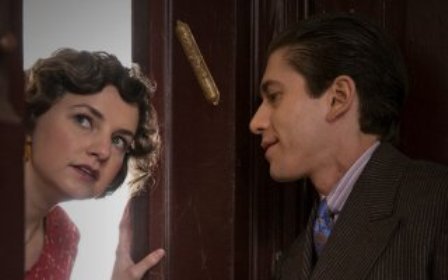 "Benny": Is your husband around? She: He went to Aqueduct for the morning. He: Then I'll just grab what I came for. That would be her, and she just gets to slam the door shut before they're having sex. They finish up in bed and she puts on a slinky robe: Next time get here earlier you won't have to work so hard. He: Then I would have to talk to you. She teases in Yiddish what blogger say was mayn kleyne farbrekher --"My little criminal"-- but I couldn't catch, before they kiss goodbye. He: Talia, I think I left my tongue down there. She chuckles and gently pushes him out, after checking the coast is clear. He touches the mezuzah again, but her husband "Morris Bindleman" (actor not yet ID'd) comes up the stairs: Benny Siegel! What brings you to the neighborhood? "Benny" jokingly makes up a story: I don't name names. "Morris": John Hancock for my wife? Everybody knows who you are. "Benny": Sure thing. Clara, right? "Morris": Talia. "Benny": I was thinking of my aunt. "Morris" recalls how their fathers were in the same minyan at the Bialystoker synagogue (on Willett Street). "Benny": They were praying for both of us. "Talia" comes out. "Morris", objecting that she's not dressed: Look who it is! Benny Siegel! She: Talk about bad pennies. "Morris": Why you got to be like that for? With you it's always crepe-hanging. This is an important person! "Benny" then uses "Morris" as a shield when he's attacked, but wishes "Morris" Abi Gezunt!. Once "Benny" is kidnapped and tied up in Atlantic City: You gonna use that phone? I gotta call Esther. It's Lag B'Omer tonight and I said I'd be there. "Mickey Doyle" (Paul Sparks): Somebody married you? "Siegel": Now you're talking shit about my wife? It so happens I'm gonna be a father in a couple of weeks. I take that very seriously. Sure I cat around. But that woman is waiting for me I don't forget. So any of you momsers rats me out I was being at that apartment, I'll slam a slug so far up your asses your back teeth will. . . He's knocked out into silence, until he starts singing a dirty ditty, and he does not go back to his wife right away when he celebrates his brutally negotiated release.
Plus here's my commentary on the references to real dental history in the final season, in tribute to my father. (updated 10/28/2014)

In Red Band Society (on Fox) the blonde rich Mean Girl cheerleader "Kara Souders" (played by Zoe Levin) with a scheming need to move up on the heart transplant list suddenly inserted a completely out of context Jewish reference in her snappy dialogue in "So Tell Me What You Want What You Really, Really Want" with You understand me? And why is today different from all other days? Ma nishtana-zee? -- but in watching the entire season I didn't pick up any other Jewish clues, nor from her parents in family therapy in the concluding episodes, and fan sites aren't describing her as Jewish. (updated 4/8/2015)

In Royal Pains (on USA), episode "Oh, M. G." written by Aubrey Karr, ill nail artist "Lauren" (played by Tracee Chimo) is told to rest. But she protests: I've been hired to do nails at the Mendelsohn bat mitzvah tonight, and posting cool nails on Instagram is everything to a 12 year old girl! The physician's assistant warns her if she doesn't rest, she'll miss more than one bat mitzvah. (8/23/2014)

In The Mysteries of Laura (NBC series based on a telenovela transplanted to New York City) in "The Mystery of the Terminal Tenant", written by Jeff Rake and Amanda Green, a little old lady with a thick New York accent sprinkles Yiddish. She identifies herself to the detectives: Lillian as in Gish. Greenberg as in Hank (played by Sondra James) – so "Det. Laura Diamond" (played by Debra Messing, who frequently plays Jewish characters, so I'm trying to tell if she is here) retorts: Your references are older than mine. But first she's seen calling out to her upstairs neighbor: Mark something up here is leaking shmutz through my ceiling!, and faints when she finds the remains of a body in the bathtub. As the murderer flees with her credit card, they track that it was used to buy tickets to Boca Raton. She declares: I certainly did not! There's such yentas in Boca! (11/6/2014)

In The Knick (on Cinemax), set in 1900 at a downtown New York City hospital The Knickerbocker where medical doctors are pioneering risky surgical and experimental procedures and treatments, but have retrograde social and racial ethnic and class biases, the episode "Where's The Dignity", written by series creators Jack Amiel & Michael Begler, the surgeon "Dr. Bertram 'Bertie' Chickering Jr." (played by Michael Angarano) says a few words in her language as he examines a coughing, middle-aged woman with a babushka. To his disapproving uptown doctor father, he shows off his quick diagnosis : I'm starting to pick some of it up. They said Latin and Greek are the most important languages for a physician to learn. It's actually something called Yiddish. . .Lungs are full. Fever. Looks like pneumonia. Not likely tuberculosis. She's a secondary emergency. and chalks her with a #2.
Jenny Slate noticed this, too, when she caught up on the series and tweeted: "Is anyone writing an ep of The Knick where all of the Drs give a Jewish woman a loving breast exam&let her smoke opium&eat lamb?. . .It's just like if The Knick wants to be accurate they shld do an ep in which Im a Jewess dressed in velvet&the Drs inspect my bunz w kissies." (updated 9/25/2015)

In The League (sports sitcom on FX), Lizzy Caplan returned as the Orthodox Jew "Rebecca Ruxin", sister of League member "Rodney", in the episode "When Rafi Met Randy", written by Jason Mantzoukas and Seth Rogen. In what is a fantasy flashback, she runs in to find her true love "Rafi" (played by Mantzoukas) fallen at the bottom of the stairs, and tearily revives him by putting his hand on her breast. He awakes: It's a mitzvah. She agrees, and they are about to be married when shirtless "Dirty Randy" (Rogen) interrupts to be the best man: Now go make an honest Jew out of her. Their big kiss returns them all to reality. (Thanks to Eliav Levy for the citation).
I don't know if an earlier appearance by her in the series was being referenced in the 6th season opener when "Jenny MacArthur" (played by Katie Aselton) in the "Sitting Shiva" episode, written by Jeff Schaffer and Jackie Marcus Schaffer, claimed at a Jewish funeral of a league member to know the difference between "shiva" and "Shiva" because I was Jewish for a brief time last year, though that has been a running joke in the series the few times I've watched it. (updated 10/15/2014)



Grace and Frankie – Frankie Bergstein (on Netflix) Whoops – I only found out that Lily Tomlin is playing a Jewish woman in this sitcom in Summer 2015 after all the episodes were put up online – so commentary forthcoming. (7/27/2015)

Younger – Lauren and mother in the 1st season (half-hour sitcom on TV Land, based on a book I haven't read by Pamela Redmond Satran) Not only is there no explicit indication that Debi Mazar's lesbian artist in Brooklyn "Maggie" is Jewish, though I wonder if the audience perceived Miriam Schor's "Diana Trout" as Jewish, a bitchy publishing boss like the women in fashion on Ugly Betty who bragged about an affair with Philip Roth. I didn't get any hint that "Lauren" (played by Molly Bernard) is Jewish until near the end of the 1st season in "The Boy With The Dragon Tattoo", written by Rick Young. (It's a repeating pattern that executive producer Darren Star uses male writers to write shows about women.) The marketing assistant "Kelsey Peters" (played by Hilary Duff) explains why she and her co-worker at the book publisher "Lauren" are living with "Lauren"s parents for the past two years: It started out we were just going to stay until we found a place, and then we realized we were never going to be able to live in Manhattan on our salaries. Rosa does all of our laundry. Denise is like the Jewish mother I never had. And the alternative is bed bugs. "Denise" (played by Kathy Najimy) welcomes "Liza" (played by Sutton Foster) for a sleep-over: I love being a den mother! Yours are the pink towels, all right? Don't use the wrong color. Rosa gets furious. She can't help dropping that she has a friend on Real Housewives of New York, who could promote their company's book, though she doesn't read since her last eye tuck. But this revelation made me a bit uncomfortable that the biggest scene "Lauren" had before was in " Broke and Pantyless", written by Star, where "Kelsey" admires her for her money-making expertise: She's the Queen of the Second Shift.. She explains the options in her files: cater waiter, hair fairy, comedy club barker, um Oh, dancing taco? Uh, hand model? "Kelsey": Tell her about the other thing you did for money, you know, when your parents cut you off for a month. "Lauren": For, like, a hot minute, I had a nice little side biz selling my panties on Craigslist. It's so much better than the other skeezy stuff guys will pay for. $200 a pair. And they must be used. Yep, like, wear them for three days, work out in them, never take them off used. "Liza": And you did this? "Lauren": Yeah, quite successfully. I got to tell you, there's definitely a market there.
Simiarly close to stereotypes was "Hot Mitzvah", written by married couple Dottie Dartland Zicklin and Eric Zicklin. "Lauren" sends out an animated "13 + 13 = 26" e-vite with a klezmer score and avatars of first her 13 year old self: At my bat mitzvah, I hated how I looked.That's why 13 years later, I am throwing a Hot Mitzvah. and her now avatar is in a busty bikini decorated with Stars of David: I crocheted it out of two yarmulkes. She makes a point of inviting "Maggie" as an OWL – "Older Wise Lesbian" . In the synagogue, her parents are on the bima, next to a woman rabbi, to a klezmer background. Mom, echoed by dad: The other thing we love about our Laura is that she never gives up. Never. She is the master of the encore. Her 2nd try at the SAT's. Dad (played by Josh Pais): Her 2nd time she went to college. Mom: Her 2nd nose job. "Lauren" peeks out annoyed from behind a curtain decorated with Jewish stars and memorahs. Mom tries to add a joke: As plain as the nose on her face. We'd like to bring to the bimah the star of all of our lives Lauren Tovah Heller! "Lauren" in a bare-shouldered, very short dress: Who's ready to worship? My torah portion is about Jacob, son of Isaac and Rachel. Jacob lied to his father, pretending to be his brother in order to unfairly win their father's blessing. . . Today, I am the older, serving my younger self, bearing my honest feelings with all of you. Because being honest with the people we love is what today is really all about. Yes, at my first bat mitzvah, I didn't have the nerve to kiss the person that I wanted. But tonight, I'm hot, and I'm kissing who I want. Mom calls out: Shabbat shalom. At the following party, "Lauren"s delighted that the rapper jumps down from the stage to chant: I'm adoring Lauren Heller. She's hella hot. But at 13, she was mos def not. Skinny with pimples, getting dissed by the cutie. Now look who's got a good job and a small booty. She drags her work friends, with their friends, across the floor: Okay, since you are all my closest friends, I wanted to make a special toast. Thank you for coming tonight. I know that I can be kind of out there sometimes, but all of you guys accept me and support me, and that just it means everything. To my friends. L'chaim, bitches! . . That's my special Hot Mitzvah shooter, Manischewitz and Molly. (as in ecstasy) Then she gives "Maggie" a big kiss: There I got to kiss the person I wanted to! She leads them all to do the hora around chair raisings.
In the finale, "The Old Ma'am and the C", written by Alison Brown and Eliot Grazer, "Lauren" confronts "Liza"s boyfriend over their break-up: Something happened between you and Liza at my hot mitzvah, whch was meant as a celebration of love, not destruction. I come in the spirit of tikkun olam which in the Jewish faith means repair the world. He: The next time you think about drugging your friends -- don't do it. So uncool! She retorts to his departure: Shalom to you too brother! (6/13/2015)

In Man Seeking Woman (on FXX), "Josh Greenberg" (played by Jay Baruchel) announces he's Jewish in the first episode "Lizard", written by sitcom series creator Simon Rich (author of The Last Girlfriend on Earth: And Other Love Stories that the series is based on, that I haven't read yet) when he expresses concern at meeting his ex-girlfriend's new boyfriend – Adolf Hitler. His older sister "Liz" (played by Brit Lower) sets him up with a literal Scandinavian forest troll "Gorbachaka" – after listing his lack of qualifications for dating: Joshua, want to have a little look-at-yourself moment?. . .Do you go to the gym?. . .Do you have a job?. . .I just really like her, okay? I think you guys would be cool together. . .You're such a good guy. I love you. so he thanks her: This is a mitzvah you've done. He Skypes with his mother "Patti" (played by Robin Duke), who complains he hasn't come to visit and offers her Discover card to pay for his plane ticket: Everyone is struggling in this economy. But your sister's a special case. His step-dad "Tom" (played by Mark McKinney) adds praise about her: Promotion after promotion. It's insane. He adds about the mother: met on a blind date. To different people. His mother adds: We were sitting next to each other. . .
In "Pitbull", written by Dan Mirk and Rich, "Liz", looking more TV-Jewish as a brunette with glasses, is all brightly full of helpful suggestions to distract her brother from his current sexless life, and texting friend: You don't need that guy to help you get a girlfriend. . .Like, you're gonna find someone super wonderful, it's just a matter of time. "Josh": Thank you, Liz. I appreciate that. "Liz": You know, and in the meantime, you can just focus on you. The path to love self-love. . .Just maybe taking a yoga class. Or just go over to the gym. . .Meditate five minutes a day. . .These are just tiny little seeds that we're planting here, and it's maybe not gonna take a day. Maybe not gonna take a week. A couple months. Little tiny plant growing."Oh, look at this plant." That's you. Beautiful woman's gonna walk by. She's gonna be like "I want that. "I want this in my face." And you're gonna be like, "Damn. So glad I watered myself." Whoa, why don't you go running with me tomorrow? You could be my running partner. You know, it's really good for your endorphins and cardiovascular system. Do you want to? . . Is 7:00 a. m. too early? New and improved Josh.! . .See you tomorrow morning! I love you! After his wild night with a willing woman but minus a penis, she calls: Hey, Josh, are you lost? I'm on the south side of the park. I'm just gonna be running loops. . .I'm so proud of you! [More commentary forthcoming] (updated 3/13/2015)

In Houdini (on History), mini-series written by Nicholas Meyer (based on the out-of-print Houdini: A Mind in Chains: A Psychoanalytic Portrait by Bernard C. Meyer M.D., his mother Cecilia Weiss (played by Hungarian actress Eszter Ónodi) is a more talked-about influence than active presence. Says Houdini (played by Adrien Brody): If not for my mother, I would have gone nowhere. She always believed in me. -- and I wasn't sure if she was speaking Yiddish or Hungarian when she did get to mostly say Erich, my hero!" when he brings home coins like magic to his poor childhood in Appleton, Wisconsin. (He's described as "a German-speaking Hungarian Jew".) He bring her: Welcome to Brooklyn. This is the home you've always deserved. She replies, in Hungarian or whatever: Now we can all be together. He: Ma deserved the best, because the best is what she inspired me to become. And I was finally given the chance to thank her for it. His wife "Bess" (played by Kristen Connolly) explains the ceremony where he places her on a throne-like chair at a reception: Queen for a Day. People thought she married beneath her, marrying a rabbi. To her, Harry is magic. He beams at his mother: Didn't I promise you gold one day? She, per the subtitles: Erich, You are my gold.
Part 2 focused on her unusual impact on his career. After performing a new trick on stage, where he visualized her, he chortles at the family breakfast: I told everyone I saw you, Ma. You've been guiding me back forever. He shows off a headline: "Houdini Guided by Mother's Voice to Safety". She talks to him and his brother in Hungarian. He translates: She called me a liar. His brother "Dash" (played by Tom Benedict Knight) translates: She thinks I've been fighting with my brother. It's just for publicity! (Meanwhile his wife makes a nasty crack about being married to a Jew and goes off to church for comfort.) When the government pushes him to tour Europe again, his mother cries at his farewell: Perhaps when you return I will not be here anymore., according to the subtitles. She gives him quite a big kiss goodbye. His wife, of course, is overly optimistic: She'll be fine. In Europe, he gets a telegram from his brother: "Sorry to inform you of mother's death last night in NJ. Sudden and peaceful." He collapsesDon't let them bury her until I'm home. He weeps into his wife's arms. Back in Brooklyn NY 1914, during the funeral at a Jewish cemetery, his brother says her last words were "forgive". He asks: Forgive who? For what? . . .My mother's death was a sucker punch that I wasn't near ready for and hit me harder than anything ever had. He weeps at her grave, and repeats her words. 'My hero.' You always believed in me, Ma. Who's going to believe in me now? His assistant "Jim Collins" (played by Evan Jones) assumes he can do something supernatural: Can't you contact her? Though he flashes back to his own fake medium shows with his wife, in 1896 Kansas, where he first learned that can hurt people's feelings, he desperately sets off to find spiritualists: If anyone could contact Ma in the hereafter it was me. When none of them can, he sets off on a campaign against them and issues a challenge, which is met by Sir Conan Doyle and his wife. He's teary listening to her at their session and watching her supposed automatic writing. But he later realizes: Ma never would have forgot my birthday. Lady Doyle is a fraud! Your wife is a fake! Her whole life my mother never spoke one word of English! Doyle claims she translated, but Houdini continues to rant: A mother not mentioning her son's birthday? She never missed, not once! Your wife is a fake! You hear me - Lady Doyle – you're a fake! He attacks them in a radio rant and doubles his challenge prize: Until now I have tried in good faith to contact my beloved mother. But I now declare total war on the spiritualists. I will devote my whole life to challenge their exploitation of a gullible public. He confesses to his assistant: They didn't get it. I wanted to be proven wrong – to reach the other side., as we see images of his mother. He goes to Boston to meet with a noted medium, asks her to contact his mother, then confronts her and her team, who put a curse on him. When he refuses to be seduced by her, she sends an attacker, which leads to his death. The closing irony is that his wife then uses a medium to try to reach him. (updated 9/3/2014)



The Strain (horror series on FX, produced by Guillermo del Toro and Chuck Hogan, based on their graphic novel), True Blood also featured flashbacks to vampires fitting right in as Nazis. "Runaways", teleplay by Gennifer Hutchison, vampire hunter "Abraham Setrakian" (played by David Bradley) tells the CDC doctor about the threat he first knew by the Romanian term "strigoi": When I was a little boy, my grandmother, my bubbe, told me fairy stories about the strigoi and The Master. I thought they were only stories, until I saw the devil with my own eyes. Flashback to a train and a crowded cattle car in 1944 Poland. He's a young man (played by Jim Watson) huddled with his "bubbe" (played by Kathleen Chalfant): The train will stop soon and you'll be able to stretch your legs, bubbe. She warns: This train I don't wish to go any faster. Where this train is going I don't think we will be happy to arrive at our destination. . .Abraham, remember the stories I told you. Evil lurks in this world, and I fear we are soon to meet it. They are shouted off with dogs at a concentration camp (fans say the book specified Treblinka 1943), where the commandante is the same "Thomas Eichhorst" (played by Richard Sammel) who we've seen in today's Manhattan, announces: You will work here for the welfare of a new Europe. Together we will work for a better world for future generations. This is a place of honor and discipline. Do your work and you shall be treated accordingly. The grandmother is pulled away as he tries to stop the beating officer: Abraham no! Leave him alone! His friend (who some recappers assume is his brother): Let her go! "Abraham" cries: I have to protect her! She takes a last look back at him from her line of women, while he and his friend claim they're carpenters, and smoke rises over the background. The camp is full of yellow-starred Jews who are being beaten, and at night in the barracks at night the bloodsucker attacks one by one. "Abraham" whispers to his friend: I saw a creature. It was feeding. . It was real. My bubbe told me stories as a child, stories of a monster who feed on the blood of men and was drawn by human misery. What place is more miserable than this?. . .She told me the only way to kill it was with silver. If we can get into the metal shop? Friend: Stop looking for monsters! We're already surrounded by them. "Abraham": We're already surrounded by them. (He witnesses close-up his friend become another victim.) His name seems Armenian, so his Yiddishe grandmother's stories seemed to be more Roma and his triangle badge could be the Roma's brown, or the inverted red of political prisoners, so it's a bit confusing, and misperceived by fans, if she is Jewish.
"For Services Rendered", teleplay by David Weddle and Bradley Thompson, was clearer that "Abraham"s family is Jewish. He explained his weapons: Silver burns them. I learned of these creatures from my bubbe, my grandmother, when I was eight. She was the one who told me silver bullets can harm them. Flashbacks to the concentration camp in 1944 Poland. The commandante holds up a carved wooden hamsa
: Inspection in the barracks made a surprise discovery - a Jewish talisman. I believe you people refer to it as "The Hand of Miriam". It's carved in oak that is the property of the Third Reich. Who is responsible for this fine craftsmanship? He shoots two men in the carpentry workshop until young "Abraham" confesses. The Nazi pleasantly explains: The talisman is named for the sister of Moses and Aaron and is supposed to protect from evil. After the Nazi puts him to work impressively carving a large map model, he asks "Abraham" about his roots: Where I come from everyone worked hard. We knew no other way. . .I was born in Armenia. After the Great War, my family settled in a small town in Romania. (So his family could have been Sephardic, but then he'd have called his grandmother "nona" in Ladino.) When the Nazi drunkenly recalls passing through that town in 1941, he shrugs: You take all this too personally. "Abraham": After the murder of my family, I suppose I do. The Nazi: Ah, the nobility of the victim. Back to the present day, "Eichhorst" keeps demanding to find him again: Where is the Jew? He is here, I can smell him!
In the penultimate, "Last Rites", teleplay by Carlton Cuse, Weddle and Thompson, the flashback is to Shkoder, Albania, 1967, "Abraham" comes home with exciting news: We're so close this time, so close. "Miriam" (played by Adina Verson) is implied to be Jewish: Abraham, you have said these words before. He: He's here, I know it. Victory here would validate our life's work. And shame those who have denounced us. She takes up her crutches: Promise me, if you see signs of nesting you will get away. You should not do this alone. He: I'm never alone Miriam, you've been with me every step. She: Please, Abraham, do not let vengeance cloud your vision. He: I know your heart, and I now the toll my obsessions have taken on our lives and the sacrifices you have made. When we're finished, we'll adopt, a boy and girl, just like you've always wanted. She: Until sundown then. No later They kiss goodbye. But he's delayed due to a difficult escape, so that back home, he ominously sees her crutch has been discarded, and she staggers in the door with two infected vampiric children. Praying Forgive me God for what I must do so that Miriam and all the others will not have died in vain, he not only beheads them all, but it's her heart, pulled out of her chest, that he's been keeping beside him all these years - Give me strength and says: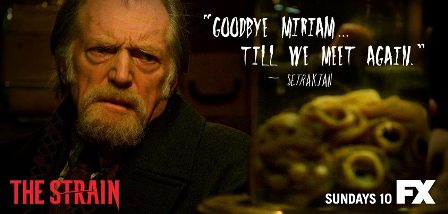 Abandoning the jar, he barely escapes in time, impressing "Eichhorst", hot on his heels, that "the Jew" abandoned all that you love. But it will not be enough. (updated 10/5/2014)

On Chasing Life (ABC Family), "Death Becomes Her" episode, written by Jeanne Leitenberg, "April" (played by Italia Ricci), the young woman just diagnosed with leukemia, shows her grandmother's friends a photo of her out-of-town boyfriend. "Gertie" (played by Bryna Weiss): He reminds me of Willie my late husband "April": Oh, I'm sorry. "Gertie": Thank you bubbela. but he was old, it happens. "April": You guys are so casual, just talking about death. "Gertie": Oh honey, when you get to be our age you just used to it. You've said goodbye to so many people, it's just part of the mishugas of life. In "What to Expect When You're Expecting Chemo" episode, written by Lisa Melamed, the grandmother "Emma" (played by Rebecca Schull) revealed that "Gertie" has a supply of marijuana for her glaucoma, that they used to bake brownies to help her granddaughter through her treatments. (I won't know if "Gertie" references return until TWC returns to carrying episodes on demand I didn't bother to pay $1.99 extra for it on Amazon.) (updated 8/29/2014)

Taxi Brooklyn (summer series on NBC, based on Luc Besson's film Taxi) had TV's favorite Jewish woman – a Jew who died in the Holocaust in the "Cherchez Les Femmes" episode, story by Franck Ollivier and Stephen Tolkin, teleplay by Ollivier, Tolkin and Gary Scott Thompson. Auschwitz survivor "Josef Wiesel" (Tom Morrissey) is beaten to death in Brooklyn. He had regularly paid women to reenact his lost love "Eva" from Hungary who died, by having them dress up in period clothes to the tune of old music, most recently with "Nadia" (Elizabeth A. Davis), who is clearly a victim of sex trafficking. His artist friend from the museum "Margarie" (Nikkie James) explained: When he told me what happened to [Eva] – such a sacrifice. . .The day Josef was going to marry Eva, the Nazis shipped all the Jews in Budapest to Auschwitz. Somehow Josef and Eva found a way to talk. They planned their escape for months. But then Eva fell and broke her leg when they tried to flee the camp. So then she acted as a decoy. She told Josef that if he really loved her he would run and live life for both of them. The last thing Josef saw when he looked back was a guard shooting Eva. The detective star of the show (Chyler Leigh) solves the mystery of the million dollars he'd finagled from the mob for a copy of Monet's "Camille on Her Death Bed": Josef sacrificed his life to save his new Eva – Nadia. He sent the money to Nadia.

Girlfriends' Guide to Divorce – Abigail McCarthy in the 1st Season (Bravo's first scripted series, on DVD) Suddenly in the 2nd episode "Rule #174: Never Trust Anyone Who Charges By The Hour", written by series creator Marti Noxon, "Abby" (played by Lisa Edelstein) was not only revealed to be Jewish, but it was emphasized, starting with the exclamation that her middle name is "Shoshanna", with no explanation for her last name, then more so when she and her soon-to-be ex-husband first attend a mediation to negotiate their divorce, and they start filling out preference forms. "Abby" protests: all that stuff has to be in our agreement? The Mediator (actress to be identified): The more you have stuff figured out now, the less you have to fight about later. "Abby" persists: Yeah, but it just seems a little extreme. Like the religion thing, I mean, do we really have to know now who the kids are gonna be with on the High Holidays? Mediator: Well, you can always revisit, but yes. "Abby": I mean it is important to me that the kids continue to be raised Jewish. "Jake" was taken aback: Why wouldn't they be? "Abby" smiles: Well, you know. . .It would be really great for us to have Shabbat together every week. "Jake": Okay. "Abby": I just feel like the traditions weren't always that important to you. "Jake": We've never done Shabbat every week, but -- what do you mean by 'you know'? She clarifies to the mediator: His mother's not Jewish. He: Here we go. I don't have -- I didn't get the magic blood. I'm not a real Jew. She: I didn't say you weren't a real Jew. I said you weren't a full Jew. He's annoyed: Maybe I should convert, even though I was bar mitzvahed. The mediator tries to intervene: Let me stop you. "Abby": I'm just saying I would like it in writing. He: Maybe you could tell us something from the Torah, maybe about fidelity or being a . . . [didn't catch the Hebrew word for accuracy]. She explains to the mediator: That's a slut, by the way, and I was faithful. He: And I'm not the one who's shtupping an actress who thinks "27 Dresses" is a classic. The mediator tries to get them to take a break. "Jake": I'm not feeling particularly reasonable, but maybe it's because I'm a fake Jew? Later, back at home, she: You're a full Jew, sorry. He: Thank you. My parents will be so relieved. She: I just really want this mediation thing to work, to be as good as something awful can be. He: And Shabbat is a good idea. She: Thank you. He: It's a good. It's a good tradition for the kids. She: That's great. . . I'll be home for Shabbat. But later they renew arguing about her shakey finances and his girlfriend – and they forsake mediation for lawyers. Regardless, he comes back in the nick of time to participate in their Shabbat ritual. As she lights the candles she mutters: It's been awhile. and her daughter smiles as she recites the blessing. He: Now the prayer over the children. As the camera backs off to a schmaltzy pop song, it's a quite touching moment. (Their daughter "Lily McCarthy Novak" is played by 16-year-old Conor Dwelly.):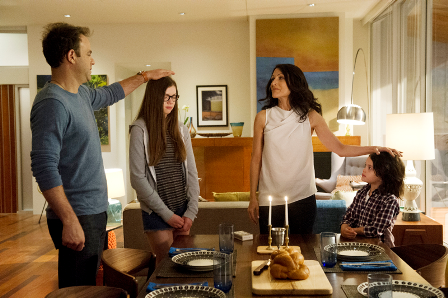 In the next episode, he joked to his starlet girlfriend: You do know that I'm a full Jew? Were they made more Jewish to defuse claims that her character was based on producer/self-help book writer and prominent divorcee Vicki Iovine? This despite that "Abby"s gay brother "Max" is played by the so goyish looking blond Patrick Heusinger that it seemed like a joke when he declared their parents would "plotz" at news of her divorce. Her ex-husband "Jake Novak" is played by Paul Adelstein, who portrayed the rare Jewish character in Shondaland, on Private Practice, whose chemistry with Edelstein she explained to The Wrap, 12/2/2014: "We come from very similar cultural backgrounds and there's some weight to that, which is a great experience, just professionally to have. And I think that really informed the storytellers and they really dug deeper into that story even more than they had expected in the beginning."
But the closest the rest of the first season got to any further Jewish reference was oblique, in the penultimate Rule #92: Don't Do the Crime If You Can't Do the Time", written by Ilene Rosenzweig. After "Jake" has agreed to all her terms in the divorce settlement, she suddenly wants to add summer camp, albeit her alma mater doesn't sound like a specificially Jewish camp – any more than were the ones I attended: Well, that's a deal breaker for me. My experiences at camp were very formative. They made me who I am. . . I went to Camp Pontiac for eight years. I was Color War General. But "Jake" doesn't seem to have the same context, and she objects to his "crude" understanding: So they have to go because it's the place where you learned to make lanyards and get finger-banged on the ski dock? . . . I don't want the kids going away in the summer. It cuts into my already-limited time with them. He even tries to compromise: How about they go to sleep-away camp for four weeks? But she insists: Camp Pontiac is eight weeks. Her sudden demand make no sense because their older daughter "Lily" is a teenager, so why hasn't she sent her to camp already?updated 10/23/2015)

In Madam Secretary – Nadine Tolliver (on CBS), as played by Bebe Neuwirth, the hold-over Chief of Staff in the Department of State, didn't reveal her Jewish roots until the genocide-preventiont themed 6th episode of the 1st season "The Call", written by Matt Ward. After the Secretary (played by Téa Leoni) has bucked everyone to block an African genocide, "Nadine" toasts her: Cheers. To Julius Grossman. My mother's father. He was killed at Auschwitz. This was a good day at the office ma'am. There was zero reference to her identity through the rest of the season, even when Middle East issues are discussed, though other aspects of her personal life were revealed, including her adulterous affair with the previous secretary and a new sweet relationship with "the NASA guy" "Glenn" (played by John Pankow, who I often see at Film Forum), plus she frequently chastised the Secretary's surprisingly young staff to stop gossiping. (updated 5/13/2015)

In the 6th season of The Good Wife (on CBS), "Marissa Gold" was upgraded to recurring character. The daughter of political consultant "Eli Gold (played by Alan Cumming) returned in the season opener "The Line", written by series' producers Robert & Michelle King, "Marissa" (played by Sharon Steele) is the usual brunette, curly-haired, wise-cracking Jewish female sidekick. She's first idly making conversation with him: I liked your old office better. This is more like a dentist's office. . .I thought Chicago was corrupt can't you just steal more. . . I told you I was fired. . .From the juice bar. She does funny, sexy commentary about a pretty young intern, then he introduces her to his boss "Governor Peter Florrick" (played by Chris Noth): I voted for you – absentee ballot in Israel. "Eli": She spent two years in the IDF. Governor: That's impressive. She confronts the intern that her father is too nervous to ask about the rumor that she's not wearing panties, and announces: I want to learn your job. I think I'd be good at it. "Eli": No you don't.
In "Old Spice", written by Leonard Dick, she showed up when "Alicia Florrick" (played by Juliana Margulies) has decided to run for State's Attorney. In the middle of a meeting with her campaign manager "Johnny Elfman" (played by Steven Pasquale), there's a knock on the door: I'm your bodywoman. . .I didn't know what that was either. It's like your personal assistant. I stick to you. Make sure you're on time, get on calls, and make sure your food isn't poisoned. . I'm Marissa – Eli's daughter? "Alicia" protests, the manager insists. "Marissa": Dad would be upset if you said no - -because I'm supposed to spy for him. But I'm not a very good spy, so don't worry. "Alicia": You don't need to bring me coffee, Marissa. "Marissa": Dad says you should use the courthouse shooting. It made you decide to change your life. "Marissa" shrugs at "Why milk?", then keeps criticizing the manager's word choices in dealing with the religious right: Why not? . . ."realized"? She just "realized"? What is she – 8?. . . Oh I get it. So I'm not supposed to have an opinion. …They don't want to hear about epiphanies. They're like Orthodox Jews. They want to know if you're in their column. She reassures the manager about the TV interview: That's's fine! She's doing fine! You're making me nervous. I have to go get her. In the car she follows up with "Alicia": That went well! I was in Israel a couple of years? Everyone there talks about God like he's some uncle hiding in the attic. Drives you crazy. "Alicia" asks: Do you believe in God? "Marissa": Yeah, but even I don't like talking about it. "Alicia": I don't like pretending to be someone I'm not when I'm being interviews. "Marissa": Really? You're good at it.
In "Sticky Content", written by the Kings, she's again a wisecracker, now during meeting with the campaign manager and ad consultant, like her reaction: Uch, it's so crass - it's awful! "Josh Mariner" (played by David Krumholtz) explodes at her: Excuse me - who are you again? She's frank: I'm the bodywoman. He: Then what are you doing talking? But she interrupts later about an ad: It's so corny wih the boo hoo hoo music. He: How many campaigns have you run? But she keeps mocking his work: How abou the music from "Titanic"? You could even cut to shots of the Titanic. He's mad: I'm losing it here! When he shows the exaggerated ad he's generated against the opponent, she laughs, which he sarcastically appreciates: Great, the bodywoman is entertained. She shares a skeptical look with the candidates, but shrugs: What do I know? I'm the bodywoman., and concurs with him the negative ad should be released. He mocks back: Even the nutty lady thinks you should strike back. (Commentary on the rest of the season forthcoming) (updated 12/29/2014)

The Goldbergs – Beverly, Erica plus (on ABC, out on DVD) I feel obligated to stream each episode and comment on it – but my forthcoming commentaries will be long rants about insufferable stereotypes of a ridiculously smothering mother, while the daughter is inconsistent. I missed a lot of episodes anyway because I really don't like watching this show just for the sake of criticizing it, when I can stream just about anything else. Maybe I'll shell out for the DVDs for future reference instead. (updated 9/25/2015)

Mrs. Wolowitz in the 8th and her final season of Big Bang Theory (on CBS) I keep transcribing the nasty comments about her, but after trying to keep up with the transcriptions I don't care about repeating my criticisms of the smothering stereotype, let alone all the fat jokes. But at least in the season opener, "The First Pitch Insufficiency", teleplay by Steven Molaro, Steve Holland & Maria Ferrari, story by Chuck Lorre, Jim Reynolds, and Anthony Del Broccolo, "Stuart Bloom" (played by Kevin Sussman", is still having a positive, if ambiguous, relationship with her, to her jealous and revolted son's fury and disgust. But it's just about the only times anyone has ever said anything nice about her.
"The Prom Equivalency", teleplay by Steven Molaro, Eric Kaplan and Maria Ferrari, story by Jim Reynolds, Steve Holland, and Jeremy Howe, continued mocking "Stuart" with "Mrs. W" (he insists: There's nothing going on between me and your mother!, but he runs to her when she seductively yells: Stuie your bath is getting cold!) -- but added the series' first attractive, articulate, non-stereotyped Jewish woman character - "Howard"s cousin "Jeannie" (played by Kara Luiz), who "Howard", with much embarrassment admits was his first sexual experience. Inside a limo, she and "Stuart" are dates to the fake prom, and explains to the fuming "Howard" how that came about: So I met Jeannie at your Aunt Glady's. She passed me the Manishewitz, I took one look at this punim and almost plotzed on the kugel. She challenges "Howard": Why would your mother have a problem with me and Stuart? "Howard": Because they have a weirdly inappropriate relationship. She, tartly: Weireder than what you and I did in my dad's Corolla? He: Why did you even come to this? Didn't you know I'd be here? She: It was a long time ago Howard! "Stuart" interjects: And you're only 2nd cousins. Who cares? "Howard"s wife "Bernadette" follows suit: So you knew and you broughtt her anyway? "Stuart": So she's good enough for Howard but not for me? "Howard" concurs as "Bernadette" retorts: Have relations with your own mother and cousin! This is his turf! "Howard" won't stop strangling him: Not until he stops pumping his way up my family tree! Yet at the prom, "Stuart" gets a call and assures: Debbie, we're just friends. And he immediately leaves "Jeannie" to have a startled solo picture.
Sadly, on 11/12/2014, after "Stuart"s compliments about "Mrs Wolowitz", including her intention to invest in his re-opened comic book store, continued through the fall episodes (which I am transcribing), the executive producers released a eulogy: "The Big Bang Theory family has lost a beloved member today with the passing of Carol Ann Susi, who hilariously and memorably voiced the role of Mrs. Wolowitz. Unseen by viewers, the Mrs. Wolowitz character became a bit of a mystery throughout the show's eight seasons. What was not a mystery, however, was Carol Ann's immense talent and comedic timing, which were on display during each unforgettable appearance." At the closing credits of"The Septum Deviation" episode, first shown 11/13/2014, the producers showed her photograph with: "In loving memory of Carol Ann Susi. 'Mrs. Wolowitz.' Every time you spoke, we laughed. You're in our hearts forever".
Her death was incorporated into the series with surprisingly little in Jewish references. "The Comic Book Store Regeneration" (teleplay by Steven Molaro, Eric Kaplan & Steve Holland, story by Jim Reynolds, Maria Ferrari & Jeremy Howe) opens up with "Howard" excoriating "Stuart" for "mooching" off his mother by taking the den furniture she offered into his re-built store for which she gave him the money. But "Stuart" defends her and their arrangement: I'm glad it worked out the way it did because I got to know this wonderful person. "Raj Koothrappali" (played by Kunal Nayyar) also defends her: Mrs. Wolowitz was pretty special. When I first moved to America, Howard was my only friend. She made me feel so welcome in her home. Which says a lot, because, those first few years, she thought I was the gardener. Whenever I saw her, she'd say I was too skinny and try and feed me. Even "Sheldon" (played by Jim Parsons) tries to be nice: I didn't care for her yelling, but now tha I'm not going to hear it again, I'm sad. "Leonard" (played by Johnny Galecki) has the final remembrance: Let's have a toast. To Mrs. Wolowitz. A loving mother to all of us. We'll miss you.
"The Intimacy Acceleration" (teleplay by Steven Molaro, Jim Reynolds & Steve Holland, story by Dave Goetsch, Eric Kaplan & Tara Hernandez), laid on a final guilt trip as "Howard" chased after her cremains: Where did you misroute the only woman who ever loved me? The first well, first, I meant first. . . There's a red ribbon tied to the handle -- "The world's greatest mom"-- is in the shoe compartment?. . So, some stranger has my mom? Is that what you're telling me? My poor mother can be anywhere in Los Angeles right now? . . . I'm not leaving without her. . .I could've driven her. The day she left for Florida. She asked me to drive her to the airport. I was too busy. And I made her take a cab. I was too busy His wife "Bernadette" is finally sympathetic: There's no way you could've known. . .You better find my husband's mother 'cause one way or another, we're walking out of this airport with a dead woman!
In "The Clean Room Infiltration", one of its many writers, credited as story by Maria Ferrari, Tara Hernandez and Jeremy Howe, teleplay by Eric Kaplan, Jim Reynolds, and Steve Holland, played on actress Mayim Bialik's well-known religious identity for "Sheldon Cooper" (played by Jim Parsons) to triumphantly tease her as "Amy Farrah Fowler" about the sentimental gift he thought he trumped her: How are you feeling now? Wishing you were Jewish? (Commentary on the rest of the season forthcoming) (updated 5/3/2015)