Mandel Maven's Nest Lilith Watch:
Critical Guide to Jewish Women on TV, in the Flicks and Popular Music
Jewish Women on TV
Jewish Women in (and Missing from) the Flicks
Jewish Women in Popular Music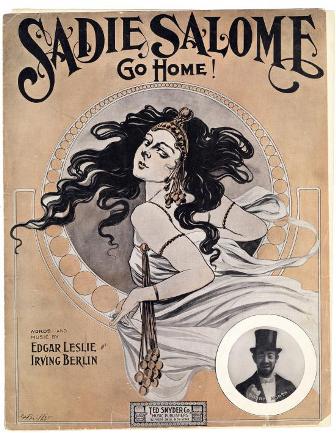 -From the exhibit Jewface: "Yiddish" Dialect Songs Of Tin Pan Alley, at YIVO, Words and music by Edgar Leslie and Irving Berlin (1909). Collection of Jody Rosen. "This song tells the story (from the perspective of her boyfriend Mose) of a Jewish girl named Sadie Cohen who becomes an actress and performs the risque role of Salome in [Richard Strauss's] opera."

To find specific reviews by Nora Lee Mandel search by title, scroll TV shows as listed by season since 1999

Unlike everybody else, I am very careful in my analyses of films and TV shows to identify Jewish characters through actual evidence in dialogue, actions or supporting visuals (like the ubiquitous menorah-on-the-shelf prop). I look at how the character is explicitly identified, but have had to expand to implications, particularly by a Jewish-type-sounding name, though I find that no one else makes these distinctions. (Like Elissa Strauss, in The Forward, 5/14/2015, calls "Brassy Jewish Woman 2.0: Pamela From Louie C.K.", though there has been no references that the character played by co-writer/producer/star (and Jew) Pamela Adlon is Jewish.) Even though I've stretched into what I call "putative Jews", there needs to be more indication than who plays the part.
I've started taking into account how the audience reacts to them based on external assumptions, particularly if Jewish actresses portray them, either as identified by general knowledge or perception of physical characteristics, particularly curly hair as Samantha Shokin described (Tablet Magazine 1/30/2014). In The Writers' Room (on Sundance Channel, Spring 2014), Julianna Margulies, sporting her hair pulled back straight in a pony tail, explained why she wears a full wig as "Alicia Florick" on The Good Wife: "I wanted her to look WASPy, but I'm a Jew with curly hair and I was a new mom. . . The network now wants me to call other actresses and tell them this is a good thing not a bad thing."
The British find us exotic, so the interviews are more explicit as in The Guardian, 8/26/2014, "Jenny Slate's career almost ended when she swore on Saturday Night Live. Now she's in the year's most talked-about film. Hadley Freeman meets the star of Obvious Child. . .I do feel that I look traditionally Jewish, and it's something I'm proud of and it's something I'm a little bit insecure about, because I think maybe people don't see me as myself. You know, that's not the main girl, that's the friend. But you know, I've realised that's my issue. I'm glad that I look like myself and I didn't get a nose job to fit in, and now I'm starring in this movie and people seem to like it. So fuck it." So I'm following her career and the characters she portrays.


I also note personality or other stereotypes of the actor/actress's Jewishness, however defined by ethnicity or observance or some kind of Jewish identity so that their characters implicitly become Jewish because they have been cast. (Such as "tough Jews", as David Mamet calls them, at least for male portrayals, particularly when non-Jewish actors play Jews, though I intend to read and comment on his essays "The Jew for Export" and related ones on the impact of Hollywood's anti-Semitism.) I am repulsed by using octoroon/Hitlerian family tree definitions of "being Jewish" for any actor/actress, but certainly there are people who Americans think "look Jewish", though that usually means some general European ethnic-ness, that could just as easily be Mediterranean or Eastern European, which gets even more complicated by the portrayal of Israelis.
The true diversity of how Jews really look is rarely reflected, like my redhead, freckled siblings, where my brother can "pass" in Celtic bands. I am therefore just as intrigued if actors/actresses who are perceived/identified as Jewish get to play non-Jewish roles.


Mayim Bialik posted on her social media, on 8/26/2015: "To the man who admonished me for discussing religion bc its 'supposed to be a private matter': it is private until Fox news asks you about it because you're on a TV show. And also, I'm Jewish. It's not just my religion. It's my ethnicity and peoplehood. It's public whether I like it or not!" Building on her popularity as the non-Jewish "Amy Farrah Fowler" in the still top-rated sit com, and long-term renewed, The Big Bang Theory, Bialik is now so active and visible as a Jewish feminist Zionist (and parent and scientist), that rather than cite her individual comments and posts, follow her Grok Nation website/platform.

Mila Kunis, whose Jewish family left Ukraine with her because anti-Semitism limited their opportunities, posted a defiant statement in A+, 11/2/2016, against the sexism in how Hollywood treats her: "'You'll Never Work In This Town Again'…If this is happening to me, it is happening more aggressively to women everywhere."

Debra Messing, who is only sometimes cast as Jewish on TV and isn't usually visibly Jewish identified what with her trademark auburn locks, "accepted an award on 5/7/2017 from GLAAD for her LGBTQ activism with: "Ivanka, girlfriend, what are you doing? Come on, it's me Deb, lets talk for a second, one Jewish mother to another…Imagine how you'll feel sitting at Passover seder if you can tell your children that you fought for justice and freedom. It will make you feel richer than owning all the skyscrapers and golf courses in the world…You can't just write #womenwhowork and think you're advancing feminism," Messing said. "You need to be a women who does good work: #saywhatyoumeanandmeanwhatyousay."

The frequent TV stereotype of the sexy kick-ass Israeli army veteran/Mossad agent took on an ironic reality with the movie casting of Gal Gadot as Wonder Woman. Talia Lakritz noted in Jewish Week, 7/14/2015: "her service in the Israeli Defense Forces helped her land the role of sharp-shooting Gisele Yashar in the Fast and Furious franchise." – which I admit I've never seen. But when the trailer got released a year later featuring the former Miss Israel, Twitter was busy with anti-Zionist attacks on her. (updated 4/5/2017)

Why look at how Jewish women are portrayed on TV and in the movies? Others are documenting general or different specific images of women and the impact that has and the messages conveyed about women. The Geena Davis Institute on Gender in Media, at USC Annenberg School for Communication & Journalism, does terrific research on the quantity, quality, and types of women in film and television.
Apply her analysis to how Jewish women are portrayed: Geena Davis summarized her findings about female roles in G-rated movies and children's TV programming in The Wall Street Journal, 4/11/2011, "Life Imitates Art" interview with Rebecca Blumenstein: "They found that the more hours of television a girl watches, the fewer options she believes she has in life. And the more hours a boy watches, the more sexist his views become. . .Of the female characters that existed, the majority are highly stereotyped and/or hypersexualized. . . .Negative images can powerfully affect boys and girls, but positive images have the same kind of impact. We know that if girls can see characters doing unstereotyped kinds of occupations and activities, they're much more likely as an adult to pursue unusual and outside-the-box occupations."
The significance of this approach for other minorities: GLAAD through the 2016/2017 season does a detailed Network Responsibility Index/Where We Are on TV Report for "the quantity, quality, and diversity of images of LGBT people on television" and created Vito Russo Test for LGBTQ characters comparable to the feminist Bechdel-Wallace Test, that apply strictly to movies. NOW did a feminist analysis of prime time TV, that took into account racial but not ethnic minority women on TV. The first Gender Bias Without Borders was "an investigation of female characters in popular films across 11 countries". (updated 5/25/2017)


Amidst all the brouhaha over a 3/24/2015 headline in Deadline that was originally called "Pilots 2015: The Year of Ethnic Castings – About Time or Too Much of Good Thing?", by Nellie Andreeva all jumped on the People of Color issue and not the lack of real ethnic diversity on TV.
Dee Lockett in Vulture, 3/25/2015, pointing out The 13 Most Ignorant Quotes From That Awful Deadline Article" cites the dictionary definition then adds "Andreeva takes us back to the 19th century, when racists still referred to nonwhites as "ethnics" — and got away with it. . .And using the term to suggest anything otherwise — in this case, that it denotes only people of color — is a dangerous, slippery slope." Soraya Nadia McDonald, the next day in The Washington Post, put in more TV industry context: "Andreeva's repeated use of the word ethnic, which appeared in her story 21 times. . .was aping standard casting director language and writing for a trade publication , which maybe suggested why she finitially found it innocuous and unobjecitonable. It's one of those things that gets taken for granted but ended up exposing a larger hegemonic rigidity with regard to how race is interprerted in Hollywood: a standard where whiteness is this assumed default unless a character is specified as ethnic a blanket term that served to cover an entire range of disparate identities, races, and ethnicities. Right there embedded in the industry's customary vernacular, is this confirmation that actors of color and roles for them have basically been an afterthought." What was lost in the racial storm that led to a formal apology was "ethnic diversity" that didn't necessarily refer to People of Color.
Another term for these ongoing stereotypes as racist is Jewface, which cites "The Jewish Mother", "Jewish Princess", and "Nice Jewish Girl". (updated 6/2/2016)


Why LilithWatch? Much of my thinking about the contemporary, post-"Molly Goldberg" image of Jewish women in popular culture was inspired by the archetypal "Lilith" on the long-running sitcoms Cheers/Frasier (played by Jewish actress Bebe Neuwirth). I used to do popular culture reviews examining how Jewish women are faring in television, rock 'n' roll etc. for LILITH Magazine, the national independent Jewish feminist quarterly.
Since the Lilith Fair women's concert tours 1997-1999 (and returning in 2010), the name "Lilith" has gotten associated even more with feminism, viz. the "Wichita Linebacker" episode of Veronica Mars, written by John Enbom and Phil Klemmer, which identified "Lilith House" as the locus for the stereotyped, protesting "militant feminists" at the fictional Hearst College.
Starting in the 3rd season of Supernatural, their Lilith was seen like a Super Demon whose death then was the Final Seal that brought on Armageddon at the end of the fourth season.)
In True Blood, in the 5th season, Lilith is worshipped (in Aramaic) as the First Human Vampyr, with her own Bible. Series creator Alan Ball, in an "Inside the Episode" interview after "In the Beginning", describes that he conceived of her as "a Mesopotamian goddess" when she appears in a naked, then bloody vision to vampires (including Salome, yeah, that Salome) who drank what they believed was her blood. In the season finale by Ball, "Save Yourself", a rebel vampire declares: She's a mad god. She's about nothing but destruction.-- just as her self-declared "Chosen One" drinks all her blood and reincarnates into a similar scary naked vision. The 6th season, in 2013, clarified this Lilith demonology. In "The Sun", written by Angela Robinson, she appears in beautiful human form to him on "some spiritual plane" (as the writer explained in her "Inside the Episode" interview), albeit with three naked "blood sirens", to correct misimpressions: God made me. Some worship me as a god, but there is no God but God., as she urges her Prophet to help vampires avoid a genocidal round-up he foresees in a sun-drowning crematorium. In "Fuck the Pain Away", also by Robinson, sets Lilith's first contact with human/fairies to 3500 B.C. At the naked Lilith's first sight of "Warlow": What are you. . God spoke to me of a creature like you. . You are destined to save vampire-kind. And she rapes and vamps him in the desert. Blended with her prophet today "she" declares: I made you into our savior!, though he is able to rid himself of her after a final image of her and her two minions blood-drenched bodies. At least her appearances here are getting more women to revive herstory.
Once Upon A Time (on ABC) in the 4th season, in 2015, gave a Disney-fied, fairy-tale spin to the Lilith legend – though all the many recappers I read were oblivious to the background or resonances. The episode "Best Laid Plans", written by Jane Espenson and Kalinda Vazquez, revealed a flashback to the adoption in Minnesota of evil Queen Maleficient's dragon baby in human form – she was named "Lilith – Lily". Her eponymous episode, written by Andrew Chambliss and Dana Horgan, traced how her life just kept going bad with bad choices since she was taken away from her mother (and due to the manipulation of her life by "The Evil One" – Rumpelstiltskin, played by Robert Carlyle), as revealed to her by The Sorcerer's Apprentice (played by Timothy Webber): The deck has been stacked against you. I owe you the truth. She's the teenage nemesis (as "Lily Page" played by Nicole Munoz) of "the Savior" ("Emma Swan" played by Abby Ross as a teen, Jennifer Morrison as an adult, daughter of Prince Charming and Snow White, who had stolen her as the dragon egg): Emma, there are powers beyond our understanding, and your parents messed with them. So the only friend I ever had wasn't even my friend by choice. . . But every time I try [making better choices], it just blows up in my face. It's like I'm cursed or something. It's true. It's like my whole life is darkness. "Malificient" (played by Kristin Bauer van Straten, such a charismatic vampire on True Blood in tangling with the other Lilith) is furious at the parents: You've been so worried that the Dark One might turn Emma into a monster, you forgot that's exactly what you did to my Lilith. So, if I won't forgive you, why would she? So guilt-ridden "Emma" tracks clues to find "Lily", despite others' warnings: She was a weird one. Kept to herself. 'Course, she had one of those personalities that you wanted to stay far away from. A real loser. In "Mother", written by Jane Espenson, "Lily" (played by Agnes Bruckner) bitterly (and ironically) compares her banishment and maternal separation: Sent me through the portal in my eggshell, like baby Moses in his basket., and angrily transforms into a dragon to exact her revenge: You screwed me over before we were even born. I had no more say in what happened than you did. But your parents did. . . Your parents are monsters, Emma. They banished me and threw you in a wardrobe. And now here you are, ready to die for them, because you're so perfect. The savior. Well, they deserve to be punished. And there's only one way to stop me, and you know it. . . Thanks to you, I'm hardwired for bad decisions. So come on just put me out of my misery. You know the truth. We both know my life isn't worth saving. And if you let me go, I will destroy everything. It's what I do. So come on be the hero and end this right here before it even starts. "Emma" explains You are not as responsible for your own misery as you would believe. The deck has been stacked against you, Lilith, and it's not your fault. Everything you do will be harder. And I owe it to you to let you know why. I owe you the truth. . .Let's start with the necklace. It isn't exactly a stone, but it did belong to your mother. Would you like to hear about her? "Lily": Why didn't you just kill me when you had the chance? I would have. . . Isn't that the whole point of savior and anti-savior? "Emma"s better nature prevails and Mother Maleficient gets her daughter back in human form: It's too late, isn't it? You're too grown up for everything. You don't need me. And I know that I'm not what you were hoping for. "Lily", in the episode's theme, is forgiving: I thought that you'd be this scary dragon bitch, and we'd go get our revenge. You know, blasting all those who did us wrong. But you're just this real person. And you're so frickin' open, it kills me. Mom: Why does that kill you? I don't understand. Please, tell me. "Lily": Because you want a relationship, a future. And anyone who's ever wanted that with me, it's just, it's never worked out. I've always let them down. I destroy everything that I touch. That darkness they put in me, it's serious business. Mom: I don't mind a little darkness. Look -- why don't you stay for a week, and I can teach you about being a scary dragon bitch? "Lily": Okay. One week. -- i.e. to the season finale – which just set up next season for her search for her unknown dragon father, with a piece of the egg she was hatched from as her only clue. How Lilith is presented here is given additional irony in the penultimate episode "Operation Mongoose, Part 1" when "The Author" (played by Patrick Fischler) reveals that in his pre-magic life as "Isaac Heller" he was Jewish, by cracking a joke about getting a pen for his bar mizvah. (updated 5/11/2015)


I'm particularly interested in the presentation of romantic relationships, as popular culture so rarely portrays Jews with Jews, let alone in a positive light.


Jewish Women on TV
I got tired of people always citing "Mrs. Seinfeld" to me as proof there are still Jewish women on TV, whether one considers a nagging elderly mother as a positive image or not. So I started covering leading characters who are Jewish women in Friends, Babylon 5, Buffy the Vampire Killer, Once and Again, Will & Grace (which I found too silly a show to keep monitoring even as she did end up back with her supposedly Jewish doctor husband), etc. My comments on The Nanny have been quoted in the catalog for the Jewish Museum exhibit Entertaining America: Jews, Movies, and Broadcasting, edited by J. Hoberman and Jeffrey Shandler, published by Princeton University Press, in Shandler's essay "At Home on the Small Screen: Television's New York Jews", and then in Joyce Antler's excellent academic study You Never Call! You Never Write!: A History of the Jewish Mother (Oxford University Press, 2007). No, I didn't write up Dharma and Greg where "Dharma Finkelstein" is Jewish only for the novelty of the name, like Whoopi Goldberg; Entertainment Weekly claimed that Jenna Elfman was specifically hired for the role because she didn't look Jewish.
Then with so few lead Jewish women characters, even the usual Dead Jewish Mothers, I turned to monitoring supporting roles, though I hadn't earlier covered the likes of the best friend on Mad About You, or the bat mitzvah of "Muffy" (played by Jami Gertz), where Devo performed, on Square Pegs (David Browne in The New York Times review of the DVD of the series on 7/13/2008 calls her "the proto-yuppie"). But then with so few of even those, I looked for recurring Jewish women characters. With so few of even those, I'm now looking at guest turns. While I don't watch many sitcoms, I do watch Law and Orders to catch the Jewish Mother Murdering Matriarchs, fitting in with how executive producer Dick "Wolf maintains this consistency is by making most of the victims wealthy white people, which he believes viewers are more interested in watching. He limits the number of shows containing minority victims, including blacks and Muslims, to four or five episodes a season out of 22 to 24." (per "Law and Disorder" by Rebecca Dana, The Wall Street Journal, 7/12/2008.) (I'm watching Law and Order: U.K., on BBC America, to see if the ethnic pattern from the adaptation of the U.S. scripts has been translated across The Pond.) (updated 10/5/2014)
With so few of those, I'm watching shows with Jewish male characters to see if they comment about their Jewish mothers or even date Jewish women, though my nephew Eliav told me I'm behind on the Jewish women references on The League. Plus I watch shows set in NYC to see if they ever have Jewish women characters, or shows in work settings like hospitals or law offices where in the real world it is common for Jews to be working. Like in NBC's Kings that though it was based on the Biblical book the closest it came to a Jewish woman was an odd "Sabbath Queen" as Death in a nightmare episode. So now, I'm also now looking at made-for-TV-movies, time permitting. With so few definitely Jewish women on TV, I'm even commenting on putative Jewish women, who I define as those with clearly Jewish-sounding names with implied Jewish-ness unless specifically denied, particularly if the audience is viewing them as Jewish, and also even characters pretending to be Jewish. (updated 10/5/2014)
I do detailed transcriptions, when I have time, of full dialogue and scene descriptions because I'm annoyed by the snarky or too casual inaccuracy in fan/entertainment publication recaps, particularly in reference to Yiddish expressions or religious rituals, that get widely disseminated as definitive, let alone are blithely prone to assumptions and acceptance of stereotyping. So I figure there should be one place on the Web that presents the facts and context about Jewish women characters, by TV season to monitor changes over time, which I mostly define by the Emmy Awards criteria, so now starts around June 1. (updated 3/28/2014)
I have not kept up 100% with sitcoms, most kids' shows, such as on Nick or Disney, "unscripted" reality shows (like ones that switched a Jewish mother to a gentile family) or the Jewish mothers on The Real Housewives of New York City/The Real Housewives of Beverly Hills, Extreme Guide to Parenting, NYC Prep, Skin Wars,Russian Dolls, Shahs of Sunset, The Bachelorette, My Antonio's Jewish mother, "procedurals" (those fiction investigation series without continuing story or character arcs), or Family Guy, satirical guests on The Simpsons, or Kyle Broslofski's Jewish mother satired on South Park, let alone Judge Judy. But even worse, I can no longer keep up with all the shows, even just the noteworthy ones, available on all platforms! So mea culpa on what's missing. (But I do hope to eventually catch up with Netflix, Yahoo, etc.)
Here's actor (and now writer) Jesse Eisenberg's new spin, posted by his Israeli friend Tal Kra-Oz on 1/28/2016, about the image of Jewish mothers who are unlike his own: "What makes the overbearing mother funny is that it's not the mother thinking that her son is the best in the world, but the juxtaposition between the mother expecting the son to be the best in the world and permanently disappointed that he's not: arrogance on behalf of your son and total disappointment in him." Et tu daughters? (updated 1/28/2016)

I use the Television Critics Association (TCA) definition of a TV season: shows airing the majority of their season between June 1 and May 31.

2018/2019 Season
Jewish women characters were on: Claws; Good Trouble; Suits,
Girlfriends' Guide to Divorce – Abigail McCarthy plus in the 5th Season
The/Le Tunnel – Elise Wassermann in the 3rd season
X Company – 2nd Season

2017/2018 Season
Jewish women characters were on: A Christmas Story Live!; The Alienist; Artful Detective/Murdoch's Mysteries; Claws; Finding Your Roots with Henry Louis Gates, Jr. with BBC's Who Do You Think You Are, Nazi Fugitives; Knightfall; Law & Order True Crime:The Menendez Murders; Preacher; Salvation; The Tale; and Under Her Skin. Putative Jewish woman on: Playing House.
Apt JKL
Arrow – Felicity Smoak in the 6th Season
Better Things
The Collection
Crazy Ex-Girlfriend – Rebecca Bunch and others in their 3rd season
Genius: Picasso – Gertrude Stein
The Goldbergs – Beverly and Erica plus in the 5th season
The Fosters – Emma Kurtzman in her 5th season
A French Village (Un Village Français) – 6th and 7th seasons
Girlfriends' Guide to Divorce – Abigail McCarthy in the 4th Season
Grace and Frankie – Frankie Bergstein in the 4th season
Madam Secretary – Nadine Tolliver in the 4th season
The Marvelous Mrs. Maisel - Miriam "Midge" Maisel in the 1st season
Saving Hope – Dr. Sydney Katz in the 5th season
I Love Dick - Chris Kraus
Odd Mom Out – Jill Weber in the 3rd season
The/Le Tunnel – Elise Wassermann in the 2nd season
Will & Grace – Grace Adler in the revived 9th season

2016/2017 Season
Jewish women characters were on: Documentary Now; Fargo; Genealogy Roadshow; Hate Thy Neighbor; Hawaii Five-0; Homeland; Ray Donovan; Switched At Birth, This Is US – 1st season; and Who Do You Think You Are. Putative Jewish women characters were on: Code Black; I Love Dick; Doubt; New Girl; The Night Of; Once Upon A Sesame Street Christmas; and Saving Hope.
Arranged
Arrow – Felicity Smoak in the 5th Season
Berlin Station - Golda Friedman and others in the 1st Season
Better Things - Sam
Crazy Ex-Girlfriend – Rebecca Bunch and others in their 2nd season
Dirty Dancing
Feed the Beast – Ruth Klein
A French Village (Un Village Français) – 4th and 5th seasons
The Fosters – Emma Kurtzman in her 4th season
Genius – Elsa and Pauline Einstein and others in the 1st season
Girlfriends' Guide to Divorce – Abigail McCarthy in the 3rd Season
Girls – Shoshanna Shapiro in the 6th Season
The Goldbergs – Beverly and Erica plus in the 4th season
Grace and Frankie – Frankie Bergstein in the 3rd season
The Interestings – Julie Jacobson and others in the pilot
Madam Secretary – Nadine Tolliver in the 3rd season
The Marvelous Mrs. Maisel - Miriam "Midge" Maisel in the pilot
Odd Mom Out – Jill Weber in the 2nd season
Madiba– Ruth First and Helen Suzman in the mini-series
Ripper Street – Deborah Gorn and Rachel Castello in the 4th & 5th seasons
The/Le Tunnel – Elise Wassermann in the 1st season
The Wizard of Lies – The Madoff Women and others in mini-series
UnReal – Rachel Goldberg and others in the 2nd season


2015/2016 Season
Jewish women characters were on: Aquarius; Banshee; Belief; Chicago P. D.; The Enfield Haunting; Grantchester; Homeland; It's Always Sunny in Philadelphia; Legends; Masters of Sex; NCIS; New Girl; Shades of Blue; The Strain, Suits – 5th season, and Who Do You Think You Are. Putative Jewish women characters were on: Devious Maids and The Walking Dead.
Arrow – Felicity Smoak in the 4th Season and 2nd Season of The Flash
Broad City – 3rd season
Crazy Ex-Girlfriend – Rebecca Bunch, her mother, and others in their 1st season
The Fosters – Emma Kurtzman in her 3rd season
A French Village (Un Village Français) – 2nd and 3rd seasons
Gigi's Bucket List
Girlfriends' Guide to Divorce – Abigail McCarthy in the 2nd Season
Girls – Shoshanna Shapiro in the 5th Season
The Goldbergs – Beverly and Erica plus in the 3rd season
The Good Wife – Marissa Gold in the final season;
Grace and Frankie – Frankie Bergstein in the 2nd season
Inside Amy Schumer in the 4th Season
The Knick – "Genevieve Everidge" in the 2nd Season
The Last Ship – Lt. Ravit Bivas in the 2nd Season
Madam Secretary – Nadine Tolliver in the 2nd season
Madoff – Ruth Madoff and others
Manhattan – Abigail Isaacs in the 1st season
Man Seeking Woman – Liz and Patti Greenberg plus in the 2nd season
Married – Jess in the 2nd season
Marvel's Agent Carter – Ana Jarvis in the 2nd season
Mistresses– Ariella Greenburg in the 3rd season
Murder in the First - Raffaella "Raffi" Veracruz
Odd Mom Out – Jill Weber in the 1st season
Saving Hope – Dr. Sydney Katz in the 3rd season
Transparent– Sarah, Ali, family and friends

2014/2015 Season Jewish women characters were on:
The Book of Negroes, Boardwalk Empire, Breaking Borders, The Dovekeepers, Boardwalk Empire, Downton Abbey, Finding Your Roots with Henry Louis Gates, Jr., Grimm, Houdini, Kosher Soul, The League, Mad Men, Makers: Women Who Make America, The Mysteries of Laura, New Girl, The Red Tent, Parks and Recreation, Ray Donovan, Scorpion, and The Strain. Putative Jewish women characters were on: The Blacklist, Blue Bloods, Chasing Life, Elementary, Episodes, The Mindy Project, and Red Band Society.
Arrow – Felicity Smoak in the 3rd Season and 1st Season of The Flash
Big Bang Theory - Mrs. Wolowitz in her 8th and Final Season
Broad City – 2nd season
Community – Annie Edison in the 6th season
The Fosters – Emma Kurtzman in her 2nd season
A French Village (Un Village Français) – 1st season
Girlfriends' Guide to Divorce – Abigail McCarthy in the 1st Season
Girls – Shoshanna Shapiro in the 4th Season
Glee - Rachel Berry etc. in the 6th/final season
The Goldbergs – Beverly and Erica plus in the 2nd season
The Good Wife – Marissa Gold in the 6th season
Grace and Frankie – Frankie Bergstein in the 1st season
Hart of Dixie – Dr. Zoe Hart in the 4th season
Hindsight – Lolly Levine
The Honourable Woman – Nessa Stein and more
House of Lies - Sarah Guggenheim in the 4th season
Inside Amy Schumer 3rd Season
In the Face of Crime (Im Angesicht des Verbrechens)
Madam Secretary – Nadine Tolliver in the 1st season
Manhattan – Abigail Isaacs in the 1st season
Man Seeking Woman – Liz and Patti Greenberg plus in the 1st season
Married – Jess in the 1st season
Transparent – Sarah, Ali, family and friends in the 1st season

2013/2014 Season
Jewish women characters were on: Black Box, Call the Midwife, Drop Dead Diva, Fargo, Foyle's War, Genealogy Roadshow, Generation Cryo, The League, The Mindy Project, New Girl, Parks and Recreation, Scorpion and Who Do You Think You Are?. Putative Jewish woman characters were on Elementary and Episodes.
Arrow – Felicity Smoak in the 2nd Season
Big Bang Theory - Mrs. Wolowitz in the 7th Season
Broad City
Community – Annie Edison in the 5th season
The Fosters – Emma Kurtzman in her 1st season
Girls – Shoshanna Shapiro in the 3rd Season
Glee - Rachel Berry etc. in the 5th season
The Goldbergs – Beverly and Erica plus
Hart of Dixie – Dr. Zoe Hart in the 3rd season
House of Lies - Sarah in her 2nd season
Inside Amy Schumer – 2nd Season
Joan Rivers – everywhere
Magic City – Evans family, etc. in the final, 2nd season
NCIS - Ziva David in her final season
Princesses: Long Island – 1st and hopefully only Season
Prisoners of War (Hatufim) – 2nd Season
Strike Back – Rebecca Levy in her 2nd season

2012/2013 Season
Jewish women characters were on: Alphas, The Bible, The Big C, Blue Bloods, Bunheads, Children's Hospital, Covert Affairs, Happily Divorced, a Lifetime movie, Mad Men, Major Crimes, The Mentalist, Raising Hope, Southland, Spies of Warsaw, Suits – 2nd season, Upstair Downstairs, and Weeds. A putative Jewish woman character was on Parks and Recreation, Scorpion.
American Horror Story: Asylum – "Anne Frank"
Arrow – Felicity Smoak in the 1st Season
Big Bang Theory - Mrs. Wolowitz in the 6th Season
Community – Annie Edison in the 4th Season
Girls – Shoshanna Shapiro in the 2nd Season
Glee - Rachel Berry and Sugar Motta in the 4th season
Hart of Dixie – Dr. Zoe Hart in the 2nd season
House of Lies - Sarah in her 1st season
Inside Amy Schumer - 1st Season
Joan & Melissa: Joan Knows Best? - Joan and Melissa Rivers – 3rd season
NCIS - Ziva David in her 8th season
Prisoners of War (Hatufim) – 1st Season
Ripper Street – Deborah Goren in the 1st Season
Shameless (U.K.) – Esther Blanco (plus)
Strike Back – Rebecca Levy in her 1st season

2011/2012 Season
Jewish women characters were on Blue Bloods, Bored to Death, Castle, Finding Your Roots with Henry Louis Gates, Jr., Gossip Girl, Happily Divorced, Hawthorne, Mad Men, MI-5 (Spooks), Modern Family, NYC 22, Pan Am, Prime Suspect, The Secret Life of the American Teenager, Southland, TNT's Mystery Movies, and Who Do You Think You Are. Putative Jewish women characters were on The Good Wife, How To Make It In America, In Plain Sight and Lost Girl.
Big Bang Theory - Mrs. Wolowitz in the 5th Season
Community – Annie Edison in the 3rd Season
Curb Your Enthusiasm - Susie Greene etc.
Entourage - Mrs. Ari Gold in the 8th Season
Friday Night Dinner – Jackie Goodman in the 1st Season
Girls – Shoshanna Shapiro in the 1st Season
Glee - Rachel Berry and Sugar Motta in the 3rd season
Harry's Law - Harriet Korn in the 2nd season
Hart of Dixie – Dr. Zoe Hart in the 1st season
Joan & Melissa: Joan Knows Best? - Joan and Melissa Rivers – 2nd season
Magic City – Evans family, etc. in the 1st season

2010/2011 Season
Jewish women characters were on 100 Questions, Being Human (U.S.), Boardwalk Empire, Brothers & Sisters, Castle, Desperate Housewives, The Good Wife, Grey's Anatomy, Hung, Law and Order: Criminal Intent, Law and Order: Special Victims Unit, Nurse Jackie, Outcasts, Private Practice, and Upstairs Downstairs. I happened to catch a Jewish actress on the "make-over" show What Not To Wear. Putative Jewish women characters were on Californication, Hawthorne, Huge, and Mad Men.
18 To Life – Bellow Mother and Daughters
Big Bang Theory - Mrs. Wolowitz in the 4th Season
Community – Annie Edison in the 2nd Season
Being Erica – Erica Strange – 3rd season
Entourage - Mrs. Ari Gold in the 7th Season
Glee - Rachel Berry in the 2nd season
House, M.D. – Lisa Cuddy in the 7th season
Joan & Melissa: Joan Knows Best? - Joan and Melissa Rivers – 1st season
NCIS - Ziva David in her 6th season

2009/2010 Season
Jewish women characters were on Bored To Death, The Deep End, Fringe, The Good Wife, Leverage, Inspector Lewis, Mercy, Nip/Tuck, Private Practice, Psych, The Secret Life of the American Teenager, Three Rivers, United States of Tara, Ugly Betty, and Who Do You Think You Are. Putative Jewish women characters were on Californication, Gray's Anatomy, Heroes, House, Party Down, and White Collar.
Big Bang Theory - Mrs. Wolowitz in the 3rd Season
Being Erica – Erica Strange – 2nd season
Community – Annie Edison in the 1st Season
Curb Your Enthusiasm - Susie Greene etc.
Entourage - Mrs. Ari Gold in the 6th Season
Glee - Rachel Berry
House, M.D. – Lisa Cuddy in the 6th season
NCIS - Ziva David in her 5th season


2008/9 Season
Jewish women characters were on C.S.I., C.S.I.: NY, Diamonds mini-series, Eli Stone, Gossip Girl, Hallmark Hall of Fame, In Plain Sight, Nurse Jackie, Saving Grace, The Unit, and a Lifetime Movie of the Week. I happened to also catch a Jewish actress on the "make-over" show What Not To Wear. Putative Jewish women characters appeared in 90210, Californication, The Cleaner, Desperate Housewives, E.R., Gossip Girl, Hawthorne, Monk, and Sons of Anarchy.
Big Bang Theory - Mrs. Wolowitz in the 2nd Season
Being Erica – Erica Strange
Entourage - Mrs. Ari Gold and others in the 5th season
House, M.D. – Lisa Cuddy in the 5th season
The L Word - Jenny Schecter in the 6th, final season
NCIS - Ziva David in her 4th season

Rescue Me – Valerie in her 2nd season

The Sarah Silverman Program in her 3rd season

The Starter Wife - Molly Kagan post-mini-series


2007/8 Season
Jewish women were on The Cleaner, Eli Stone, Law and Order: Special Victims Unit, Lipstick Jungle, and House, M.D.. Putative Jewish women characters appeared in Big Shots, Californication, Cashmere Mafia, Canterbury's Law, Desperate Housewives, Terminal City, and Ugly Betty.
Big Bang Theory - Mrs. Wolowitz in the 1st Season
Curb Your Enthusiasm - Susie Greene etc.
The L Word - Jenny Schecter in the 5th season
Mad Men - Rachel Menken and Bobbie Barrett
Mandrake – Berta Bronstein
NCIS - Ziva David in her 3rd season
Nip/Tuck– Rachel Ben Natan
Pushing Daisies– Charlotte "Chuck" Charles
The Riches – the faux Cherien Rich in her 2nd season
The Sarah Silverman Program in her 2nd season
Weeds – Bubbe Botwin

2006/7 Season
Jewish women characters also appeared on C.S.I., Desperate Housewives, E.R., Grey's Anatomy, House, M.D., John from Cincinnati, Justice, Numb3rs, The Nine, Nip/Tuck, Rescue Me, Rome, Standoff, State of Mind, The State Within, Ugly Betty, The Unit and Waking the Dead.
Brothers & Sisters – Nora Holden

Entourage - Mrs. Ari Gold and daughter Sarah in Season 3B and Entourage - Mrs. Ari Gold and daughter Sarah in Season 4
Heroes – Hana Gitelman
The L Word - Jenny Schecter in the 4th season
Mad Men - Rachel Menken
NCIS - Ziva David in her 2nd season

Rescue Me – Valerie in her 1st season and Beth Feinberg
The Riches – the faux Cherien Rich
The Sarah Silverman Program
Weeds - Yael Hoffman
2005/6 Season
Jewish women characters also appeared on E.R., Girlfriends, Grey's Anatomy, Nip/Tuck, Sea of Souls and Veronica Mars

Beautiful People - Annabelle Banks
Curb Your Enthusiasm - Susie Greene etc.
Entourage - Mrs. Ari Gold and daughter Sarah in the 3rd Season
Everwood - Delia Brown in the 4th season
The L Word - Jenny Schecter in the 3rd Season
NCIS - Ziva David
2004/5 Season
Jewish women characters also appeared on Grey's Anatomy, Judging Amy, Law and Order, Nip/Tuck, Veronica Mars and Waking the Dead.

Entourage - Mrs. Ari Gold
Everwood
Joan of Arcadia

The L Word - Jenny Schecter in the 2nd Season
Numb3rs - The Late Mrs. Eppes
The O.C. - Rebecca Bloom and the Nana in the 2nd Season
Pilot Season
Queer as Folk - Melanie Marcus in the 5th Season
2003/4 Season
Jewish women characters also appeared on CSI, Judging Amy and Law and Order: Criminal Intent.

Curb Your Enthusiasm - Anna
Everwood
Gilmore Girls - Paris Geller
Joan of Arcadia
The L Word - Jenny Schecter
Line of Fire
Miss Match
Nip/Tuck - Mrs. Grubman
The O.C. - Anna Stern and the Nana
The Practice
Rocked With Gina Gershon
Sex and the City - Charlotte Goldenblatt
Skin
Sopranos- Fran Felstein
Street Time - Rachel Goldstein 2002/3 Season
Jewish women characters were on:
Breaking News
Everwood
Curb Your Enthusiasm
Gilmore Girls - Paris Geller
Law and Order
Sex and the City - Charlotte York
Street Time - Rachel Goldstein
That Was Then
2001/2 Season


2000/2001 Season

1999/2000 Season



2018/2019 Season

At the start of this season, Lisa Edelstein made her most Jewish appearance, and her most comic, in the PSA for Hillel's "Mitz Vote" campaign to get college students and other young Jews to register for vote in time for the midterm elections, an updated version of Sarah Silverman's "The Great Schlep" to get out the vote for Obama in Florida.

The Bold Type (on Freeform) in the 2nd season continues to be offensive in its lack of Jewish women in New York publishing, let alone that these Bright Young Things are rising surprisingly fast. The episode "OMG", written by Neel Shah, exemplifies how this series bothers me. "Jane Sloan" (Katie Stevens) is leery of dating a cute dedicated doctor who turns out to be: religious. Like he prayed before we ate. You don't see that around New York. Roommate "Sutton Brady" (Meghann Fahey): But you've dated religious guys before, remember the one from Park Slope, made his own pickles, Jewish? Josh? "Jane": Yeah but in New York Judaism is like a lifestyle choice. "Kat Edison" (Aisha Dee), their black/mixed race lesbian roommate dating a devout Muslim: Veganism is a lifestyle choice. Judaism is definitely still a religion. (6/27/2018)

Suits (on USA) "Lewis Litt"s sister "Esther Litt Adelstein " (Amy Acker) made a brief return. [Discussion of Jewish identity in reference to possibly having a child in a mixed relationship to be described.] Then there's his fiancee's stereotyped comments about their Jewish mother to be added. (updated 9/22/2018)

Good Trouble - Emma Kurtzman (on Freeform) In this spin-off of the completed The Fosters that presumes the characters are now a couple of years past college graduation and living in L.A., this young Jewish woman will be guesting on at least one episode. (7/19/2018)

Claws (on TNT) In "Vaginalogist" episode, written by Emily Silver, "Dr. Ken Brickman" (Jason Antoon) introduces a surprise visitor his mother "Marilyn" (Jade Hykush), with a gravely voice, to "Polly" (Carrie Preston) and her newly Muslim daughter "Marnie" (Morgan Lily) with her Black Muslim boyfriend: I figured it was time we all sat for a Shabbat dinner so I get to know you and my new granddaughter. "Marilyn" finishes the kiddush and asks if anyone wants to add a blessing. "Polly" starts to do a Baptist one she claims her daddy did, but she knocks over the Shabbat candles. When mother and daughter can't agree on anything, "Marilyn" pulls "Polly" aside who insisted they "just need girl time together": The therapist in me is telling me that's not what it's really about. …It's easy to lie to ourselves, isn't it? Means we don't have to face what's really there. …If you want any chance of connecting with that child you need to figure it out. Theres something going on inside you, I can see it. (7/13/2018)

Girlfriends' Guide to Divorce – Abigail McCarthy plus in the 5th Season (on Bravo) As "Abby" (Lisa Edelstein) got less and less Jewish each season, her friend "Jo" for "Josephine" (Alanna Ubach) was explicitly identified as Jewish in "Rule #149: Don't Eat the Yellow Snow", written by Ilene Rosenzweig, through her mother-in-law from hell "Meryl Frumpkis" (played by Taila Shire). By the last episode of the series, with its not particularly credible jump by four years, the only Jewish reference is to "Jo". (Details forthcoming) (updated 7/22/2018)

The/Le Tunnel – Elise Wassermann in the 3rd season (on PBS/originally a Sky Atlantic/Canal + co-production) In this last season of the series titled "Vengeance", she did not seem to remember she was Jewish, but she had more immediate crises. (updated 9/22/2018)

X Company – 2nd season (Canadian series shown in U.S. on Ovation) In a series taking place in France during the round-up of Jews during World War II, Jewish women in both Seasons 1 and 2 have been barely visible, but a couple got to speak this season, while fleeing. But in "Last Man, Last Round", written by Sandra Chwialkowska, I thought "Miri" (Sara Garcia) was really "Miriam", a putative Jewish woman nuns were hiding in a convent. But, darn, I should have guessed that the season went on she was so freely passionate with hunk "Neil McKay" (Warren Brown) and as good a shot as she was from hunting with her dad, she explicitly described herself as Roma in "La verite Vous rendra libre", written by Adam Barken, well, sarcastically as "a dirty Gypsy", then describes the Nazis' massacre of her family in detail, so I can't be mad at her. (updated 6/30/2018)

Younger – Lauren Heller plus in the 5th season (on TV Land) "Lauren" (played by Molly Bernard)



2017/2018 Season

Sheila Nevins, the outgoing head of HBO Documentaries, was all over TV late spring and summer promoting her memoir You Don't Look Your Age…and Other Fairy Tales (Flatiron Books), each time saying the same story in every interview. That in college, she was dating a non-Jewish boyfriend. When she met his family, his mother asked: Aren't there Jewish boys in the law school for you?" She was particularly surprised because her Jewish identity consisted of a mother who was a Communist and a father who worked in the Post Office, so she said she really didn't really think about it, but she knew they were Jewish "and I hated her". She's always found that comment "inspiring". (1/27/2018)

On The Spectrum at 2018 Tribeca Film Festival) (Indie Pilot of Israeli TV series pitched to several American networks that's been winning awards at other festivals) (updated 7/4/2018)

In the excellent streaming bio-doc series Under Her Skin (previewed at 2018 Tribeca Film Festival): Linda Friedman-Schmidt is the only Jewish-identified woman artist (Episode 5). Directors/sisters Rémy Bennett and Kelsey Bennett smoothly integrate the horrific archival footage of the Holocaust and Displaced Persons camps, like the one where the artist was born as Lonia, with the artist describing her survivor parents, how her father physically and emotionally abused his wife and his daughter, and how her life has been dedicated to proving her worth against his criticisms. Mixed with family photographs, she proudly describes how she became Henri Bendel's best shoe saleswoman, but then went on to own a fancy shoe store nearby she called "Lonia", and bought the building above it, too. Her artistic medium is emotionally resonant discarded clothes that she sorts by color, then cuts into strips for weaving into empathetic portraits. Though the sisters' camera focuses too much on a portrait of an ultra-Orthodox man (perhaps presuming he's like her father), her work on trauma and celebration is revealed through diverse faces, including many self-portraits to counter her parents' silence about their pasts. (5/25/2018)

Genius: Picasso – Gertrude Stein (on National Geographic Channel) As portrayed by Tracee Chimo, she shows up in the life of Pablo Picasso (at this age portrayed by Alex Rich), in Episode Five, written by Noah Pink, in the Paris of 1905, as an art collector in concert with her brother Leo (Iddo Goldberg). The extensive sequence of their interchange is delightful while he paints her portrait, now in the Metropolitan Museum of Art collection. (Quotes forthcoming) (7/3/2018)

The Tale - In the autobiographical movie on HBO about child sexual abuse by a trusted coach, written and directed by Jennifer Fox (including confessional clips from her documentary Flying: Confessions Of A Free Woman), Laura Dern plays her as an adult, and Ellen Burstyn as her mother Hettie. [commentary forthcoming] (6/3/2018)

Scandal in the series finale "Over A Cliff", written by executive producer Shonda Rimes, there was of course a crack about a Jewish woman, as is typical of her series that almost never feature a positive or unstereotyped Jewish woman character. As the "gladiators" face possible prison, "Abby Whelan" (Darby Stanchfield) cracks to the Jewish attorney general "David Rosen" (Joshua Malina): And one day, I'll read you married Jennifer, a nice Jewish girl your nana just loves. Later in bed, he assures as she looks forward to immediate arrest: I will wait for you. I will never marry a nice Jewish girl named Jennifer. I will wait as long as it takes. And then she mourns that the one good guy left is killed off. At least she put a stone on his headstone, if we're supposed to think a year has gone by. (5/19/2018)

Artful Detective a.k.a. Murdoch's Mysteries (Canadian series shown in U.S. on Ovation) In the episode "Murdoch Schmurdoch" (shown in Canada in February; in the U.S. in May), Jewish men are featured, and Jewish women appear very briefly, within a plot twist. [commentary forthcoming] (6/3/2018)

The Good Doctor, in the first season penultimate episode "Smile", written by David Hoselton & Karen Struck, also had a gratuitious crack about a Jewish woman. The central Aspergers surgeon "Shaun Murphy" (Freddie Highmore) attempts to understand human relationships by cheering up his brain-turmor-facing mentor "Aaron Glassmore" (Richard Schiff), evidently the only Jewish doctor in San Jose, CA let alone in a series that promotes its diverse casting. "Shaun" gleefully pushes the mentor to meet the cafeteria's barista "Debbie" (played by Sheila Kelley, reported to be Schiff's real-life significant other) because he thinks their both Jewish. They sit down awkwardly together. She: Um, do anything exciting for Purim?. He: Uh, no. Purim. Yeah you know, the usual. Ate a little matzah, and celebrated our "Exodus from slavery" which I think is Passover and not Purim. The truth of the matter is, I'm only half Jewish, so only half the knowledge. She: The truth is I'm not Jewish at all. Yeah, my first husband was. -- though I can't find what her last name is that's supposed to sound Jewish. He: So I guess we have our lack of Jewishness in common. (5/22/2018)

Difficult People - I haven't watched because I don't pay for Hulu.

In Bold Type (on FreeForm), a summer series over-hyped as the best representation of millenials on TV but set in a New York City magazine world devoid of Jewish women, "The Breast Issue" episode, written by Matt McGuinness, admirably focused on how young women face testing for the BRCA gene if they have a family history of breast cancer, did not at all mention that Jewish women are more likely to have this gene and therefore are more likely to have to consider their options. (8/9/2017)

In the summer thriller series Salvation (on CBS) the penultimate episode "The Wormwood Prophecy", written by Blake Taylor and Christina Walker, had a sudden, convenient reveal. After "President Pauline McKenzie" (played by Tovah Feldshuh) has a fatal cerebral hemorrhage during a nationally broadcast speech, her long-time personal physician "Dr. Michele Rasmussen" (played by Tara Nicodemo) tells suspicious "Secretary of Defense Harris Edwards" (played by Ian Anthony Dale) why there was no autopsy: President McKenzie's maternal family were observant Jews. Jewish law forbids anything that desecrates the corpse. The body disappeared when he attempted to exhume it to check for poison anyway – because she's ill but still alive! Doctor: I'm sorry, Mr. Secretary, I didn't know who I could trust. ..Mercury…She's not out of the woods yet. She recovers and beats back the coup! (10/4/2017)

On Brooklyn Nine-Nine (on Fox), the "Kicks" episode, written by Andrew Guest, Andy Samberg's "Det. Jake Peralta" specifically referenced his Jewish mom, in selecting a Passover brisket as a food he was yearning for when he was undercover in prison "because I love my mom." Maybe I've missed previous mentions. (11/13/2017)

In Season 3 of Playing House, the "Ride the Dragon" episode, written by Vera Santamaria, revealed that recurring character nicknamed "Bird Bones" (played by Lindsay Sloane) is really named "Tina Steigerman" and may be Jewish. When the old high school friends have a sleep-over high on medical marijuana, she enacts, with a pretend babushka, The year was 1941. The Nazis had just invaded Russia. My grandmother, Illyana Federovna, had to flee…She only took with her two possessions: the recipe for this fudge, and a batch that she had sewn into the lining of her tattered shawl. This pocket fudge is what kept her alive on her tumultuous journey to America. The girlfriends are open-mouthed impressed. She laughs: I'm just messing with you guys. I heard that story on Rachel Zoe's "Who Do You Think You Are?" I can't find confirmation that the celebrity stylist née Rosenzweig was ever on that genealogy show. She ends up gaining from that night a boyfriend and partnership in their event-planning business, which she does well in the next episode. (7/27/2017)

A Christmas Story Live! What started as Jean Shepherd's collection of his radio stories In God We Trust, All Others Pay Cash, became an evergreen 1983 TV movie, a Broadway musical, then adapted into this TV musical, with new songs. This new racially and ethnically expanded version of a 1950's Indiana town adds the main character's friend's "Schwartz"s family, particularly his mother, played dazzlingly by auburn-haired Ana Gesteyer, who got a new, and the best, song "In the Market for a Miracle", which brings in the extended Schwartz clan, and friends, singing and dancing; they are more spirited than the rest of the show. (Words and music by Jonathan Tolins and Benj Pasek garnered an Emmy nomination.) As quoted in Entertainment Weekly, "Writers Robert Cary and Tolins: 'We watched the original movie and we saw that there was this issue that Ralphie blames his friend Schwartz for something and we wanted to know 'Where does that go?' He never dealt with his friend, and that led to us coming up with this Hanukkah song, so that's exciting that we're adding new things to the world of A Christmas Story." Gasteyer: "Basically the telecast required one more number because of the way the commercials were paced, so they looked at the piece overall, and they decided there would be a really great moment for a Hanukkah number… The show didn't have a Hanukkah number and so they called me up and said, 'Hey listen, we're thinking about writing a Hanukkah number and we'd like to write it for you, and can we do that?' And I said, 'Why yes, why thank you!'" The song was developed with her to emphasize her jazzy strengths as a belter. While she gets to sprinkle some Yiddish words throughout, the family has Christmas dinner at the Chinese restaurant, where she announces: Next we're going to the movies! (1/27/2018; updated 7/12/2018)

Preacher (on AMC) – In the "Dallas" episode, written by Philip Buiser, crime boss "Danni" (played by Julie Dretzin) is identified as Jewish, though I don't recall that implication in her one appearance in Season 1's "Possibilities". "Tulip" (played by Ruth Negga) has been trying to live a conventional life with "Jesse Custer" (played by Dominic Cooper), but considers resuming her career as a hitwoman, with some cross-over to the original graphic novels by Garth Ennis and Steve Dillon. "Danni" goes through possible jobs, sneaking in: There's a Jew bastard down in Houston--. "Tulip" immediately stops her: We are not killing your husband, Danni. "Tulip" tries serving a nice dinner, featuring peanut-butter pot roast. "Danni" declines to eat that and "Tulip" is a concerned hostess: Sorry is that a Jewish thing? "Danni": No, it's human thing. (7/19/2017)

Claws (on TNT) In a very Elmore Leonard/Carl Hiaisen-type Florida, "Dr. Ken Brickman" (played by Jason Antoon) at a clinic that's just a cover for peddling drugs, had been grieving over his divorce. In "Fallout" written by Janine Sherman Barrois, it's revealed that he and his re-marrying ex-wife are both Jewish: Shelley was the only Jewish girl I could find who was freaky. Cupping freaky. S & M kind of freaky. I can't even come with anyone else. He talks to her photo: I'll just go on J-date and I'll find myself another freaky Jewish girl. You can't be the only one. He works himself into a frenzy: When I first met Shelly, we were with Habitat for Humanity, building a house for the underprivileged. And when I saw her next, I'd just finished a triathlon with a sprained ankle. But Shelly still let me buy her a drink, and at that moment, I knew she was special. He crashes her wedding and hears her new guy call her "special": "Special"? If you thought she was special, why'd you take her bike-riding while wearing a fanny pack? What dignified man does that? "Shelly" (played by Brittany Wilkerson): Ken, don't you do this! "Ken": I'm trying to save you, Shelly! "Shelly": You're a loser and a fake. "Ken": Huh? How could you give this up, Shelly? You don't want to live a life of missionary boredom. You're not that kind of Jew. You and I are freaks, baby! and you will see what I mean That Ken doll's never gonna make you squirt! It isn't a dream Never gonna make you squirt! I love you! He's dragged away screaming. (7/9/2017)

Nazi Fugitives- The WW2-obsessed American Heroes Channel re-lives World War II constantly, usually re-edited international programs, but through all its fascination with docu-series re-enactments of Hitler and Nazis, (S1, Ep 3) "Erich Priebke" may have been the first where a Jewish woman was not seen as a victim. In re-telling the story of how ABC News in 1994 tracked down two Nazi war criminals hiding out in plain sight in Bariloche, Argentina, (a place fictionalized in The German Doctor (Wakolda)), Sam Donaldson was the on-air reporter, but News Producer Harry Phillips hired Dalila Herbst as a translator, fixer, and researcher, to follow-up on a tip from The Simon Wiesenthal Center. As she proudly describes how she found the clues to and identified the #2 Gestapo officer wanted for brutal atrocities in Rome, she emotionally adds: "As an Argentine Jew", she felt we finally got one. (6/8/2017)

The Alienist (on TNT) While it's been years since I read the Caleb Carr novel this series is based on for comparison, in the 2nd episode, "A Fruitful Partnership", teleplay by Hossein Amini and E. Max Frye, is briefly seen the Lower East Side-living senile mother (played by Laurel Lefkow) of the Isaacson Detectives "Marcus" (played by Douglas Smith) and "Lucius" (played by Matthew Shear) on the NY police force, led in 1896 by Theodore Roosevelt. They, probably with foreshadowing, warn her to blow out the candles; she protests it's Shabbat, though they gently correct her it is not. Later, "Marcus" attends a Socialist Workers meeting. A young woman taking notes eyes him – and next he's shtupping her hot & heavy in a bed. After, he asks her name: "Esther" (played by Daisy Bevan). He: Nice to meet you. She grins as he leaves. (1/31/2018)

Law & Order True Crime: The Menendez Murders (on NBC) In this limited series, the real-life lawyer Leslie Abramson (played as tough and aggressive, yet maternal, by Edie Falco) is a putative Jew until she gets to her estranged mother's funeral in a Jewish cemetery, where her father and a neighbor critical of her defense of the patricidal/matricidal brothers are wearing yarmulkes. Not until Episode 7, written by Diana Son, is there another reference to her Jewish heritage. Abramson tells her new co-counsel for the re-trial, played by Harry Hamlin: Listen my grandmother was from Russia. When I was a little, she told me how the Nazis wiped out our people. My people! Just rolled over them! I don't want to get rolled over! Not by anybody. I will find a way to pay for it…Tim and I talked about a second mortgage, I got a book offer… Then she gets a call from the judge about his reconsideration of her request: I am now the court-appointed attorney at half my normal rate. I am now the cheapest famous lawyer in the world. As she has to do more TV interviews challenging the D.A., her husband (played by Chris Bauer) assures her: I'm proud that now everybody can see what a smart woman I married. (updated 1/23/2018)

Knightfall (on History Channel) The first 14th century Jewish women on TV? At least in the first episode, "You'd Know What To Do", written by Don Handfield and Richard Raynor, the Jews managed to survive an attack from the Crusaders, first in Acre in the Holy Land, then from thugs Paris, France sent by the King to get their money, thanks to the intervention of the Knights Templar, as led by the hunky "Landy" (played by Tom Cullen). The only identified Jewish girl was "Adelina" (played as a young child by Sofia Marangoni, as a teen by Sarah-Sofie Boussnina), who picks up a weapon and fights back against their attackers alongside the knights.
"Adelina" returned in the 3rd episode "The Black Wolf and the White Wolf", written by Dominic Minghella, to outsmart Templars in training, particularly young "Parsifal" (played by Bobby Schofield), whose wife had been brutally murdered. He gets mad when distributing bread to the poor: Hey, one to a man! Hey! Stop that! You thieving little tinker. She, as her male disguise is revealed: No! I'm feeding the poor, just like you, monk.. He: I'm not a monk yet. She kicks him in the groin: You haven't taken your vows of chastity? That must mean you still have your balls. He chases her, but she disappears down a trap door. Later, she resists a warning: If the King's guards catch you, they'll cut off your hands and hang you. She: If they hang me, I'm not going to miss my hands, am I? "Parsifal" catches her robbery attempt: If you leave now, I won't tell. She: I'll be going then. He: Give back the purse. She: These coins could feed a family for a week. He: What family? She: I'm feeding the people the King expelled, Jews he forced to leave with nothing. You wouldn't understand. This is for them, not for me. I didn't know monks wore jewelry. It matches your eyes. She grabs his wife's necklace. He: I told you I wasn't a monk yet. Give me the purse. She escapes back to her supervisor. You're late. She: There were complications. He: Sounds like you didn't do your job. She: I did my job. He: Then where's the boy Parsifal? She:You'll have him soon. He: What's that? It's worthless. She: Not to the boy. He'll be back for it. And when he comes, he's yours. (updated 1/27/2018)
A Jewish woman cameod in another historical series: Gunpowder, HBO mini-series set in the early 17th century, Robert Catesby (played by his descendant and executive producer Kit Harington) in the second episode, written by Ronan Bennett and Daniel West, meets with the Constable of Castile (Pedro Casablanc) to get Spain to protect the Catholics in England being persecuted by King James I. However, he asks about the burning of a screaming "heretic" (Yolanda Calzado): To protect the true faith. She's a Jew. Those who do not confess die by fire. Spain protects the faithful in her own land. Wisely, the British conspirator seems to decide not to trust Spain. (updated 12/20/2017)


Will & Grace – Grace Adler in the 9th season (on NBC) Almost picking up where it tiredly left off in May 2006, the gang is back with a few updates in their lives. However, there wasn't even a reference to "Grace" (Debra Messing) being Jewish until the 6th episode, "Rosario's Quinceanera", written by Tracy Poust and Jon Kinnaly, when "Will" (Eric McCormack) reminds her about another funeral: You sat shiva for Jerry Lewis. "Grace": He was very important to my family Will! We named our dog Lady just so we could go 'Laaaady!' She was a very exaggerated Jewish woman in the next, satirical "A Gay Olde Christmas", written by John Quaintance, when they run into a parody version of Lower East Side Tenement Museum so "Grace" can use the bathroom. They magically enter into "Olde New York" (that's also a parody of Once Upon A Sesame Street Christmas). With a heavy New York accent, she turns into "Fanny", the wife of the closeted landlord played by "Will": No one likes a funny girl, Fanny. I have a family to evict. She: No you don't! It's Christmas, and Hanukkah. Husband: Fanny you converted, so stop mentioning Hanukkah. -- she corrects his lack of "kh". She sympathizes with the Irish immigrant family, led by Megan Mullally: Look, I know it's tough being an immigrant. Irish, Italian, Jews. No picnic being women, either. But this country is built on letting more people enjoy its great freedoms, not keeping people down. It may take longer than it should, but we always get it right, eventually. When the group gets back to 2017, the curator, played by Brian Posehn, updates: Fanny was the first woman to vote in NY – and the first woman killed for voting in NY.
Surprisingly, on Variety: Actors on Acting, in the summer promotion for Emmy nominations, Sharon Stone compliments Debra Messing on her series' return 11 years later: You're more Jewish. -- which is not my perception. (updated 7/12/2018)


Madam Secretary – Nadine Tolliver in the 4th season (on CBS) Halfway through the series, actress Bebe Neuwirth asked the executive producer to leave the series; the story line in her last episode "The Essentials", written by Matt Ward, had "Nadine" choosing to leave Foggy Bottom in order to spend time with her son "Roman" (Ethan Peck) and his Vietnamese girlfriend, because he Skyped her to tell her that they were expecting a baby, he loved his mother – and needed help to get the girlfriend expeditiously off the "no fly" list due to mistaken identity. This provided multiple opportunities to have Jewish references, but the series seemed to have forgotten she's Jewish. (11/24/2017)

A French Village (Un Village Français) – 6th and 7th seasons (Shown in the U.S. on MHz Choice, Season 6 is 1945 on DVD, 6 episodes; Season 7 completes the series in 6 episodes on DVD – but I may be streaming if I get caught up.) (1/26/2018). (1/26/2018)

Grace and Frankie – Frankie Bergstein in the 4th Season (on Netflix) Whoops – Season 4 began streaming January 2018 before I even got a chance to watch S1 yet to comment on Lily Tomlin's portrayal of the Jewish woman character. (1/26/2018)

The Collection (originally on Amazon Prime and BBC, broadcast this season on PBS's Masterpiece Theater) Amidst the many secrets the employees and others around a Parisian fashion house in 1947, halfway through the season in "The Weekend", co-written by series creator Oliver Goldstick, new model "Nina" (Belgian-French actress Jenna Thiam, right below, played the same role in the French version) confesses to a smitten American photographer "Billy Novak" (Max Deacon) that she and her seamstress mother "Marianne" (played by French–Swiss actress Irène Jacob, left below) were protected during the war by the head of the house "Paul Sabine" (played by Richard Coyle) who is being investigated by a reporter for collaboration with the Germans: Have you ever missed a meal? Gone to bed not knowing if the person you said good night to may not be there in the morning?...Nothing's fair. If it weren't for Monsieur Sabine, my mother and I wouldn't even be here. The papers he bought for us kept us from going to a place where nobody came back. That's his crime, Billy. You'd be surprised how many laws you have to break just to survive. "Billy": Nina, I I had no idea you and your mother were Jewish. "Nina": Then it worked. You wear the mask long enough, it becomes your face. I'm sorry to disappoint you. "Billy": I'm not disappointed. I want to know more. I want you to trust me enough to tell me everything. "Nina": You can't capture it all in a picture, Billy.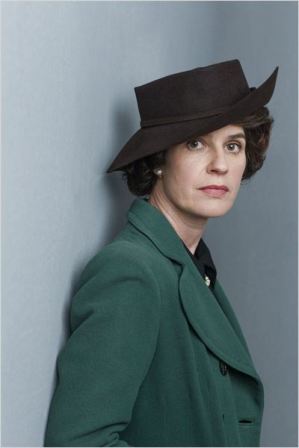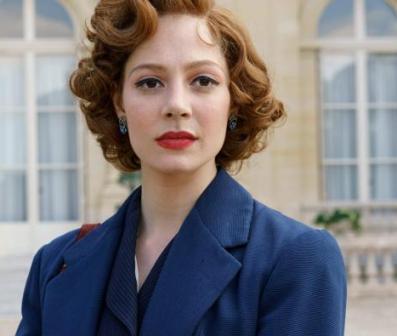 A British critic/re-capper commented about this reveal when it was shown on BBC February 2017: "It wasn't until this moment I realized her mother was cast to look Jewish." That's odd because French TV and movies portray Jewish women as auburn-haired, like "Nina", and Jacob is a renowned art-film legend not at all associated with portraying Jewish women.
In the next episode "The Betrayal", written by Goldstick & Francesca Rollins, the mother tells "Billy" it's time to stop telling secrets. She looks herself in the mirror and takes off her necklace cross. "Nina" also confesses to the only somewhat closeted gay brother, and the actual clothes designer for the house, "Claude Sabine" (Tom Ridley), who she naively is still in love with, resulted in a baby she had to give to nuns to put up for adoption, but needs his involvement to at least see the child. (11/13/2017)

Better Things (on FX) - In the 2nd season, 5th episode "Phil" (ostensibly written by Louis C.K., but his name was removed from the credits in November 2017), there was background information on how "Sam Fox" (co-creator Pamela Adlon) is Jewish. Her mother "Phyllis" (played by the British star Celia Imrie) is playing cards with diverse friends, in the house across the street, complaining about the daughter she loves: She's a stuck up little pig. She's got her fucking father's Jewish features. If I had known I was going to have to stare into his face long after he died I would never have had her…How crude she is. . .She couldn't even hold on to a husband, a sweet boy of Northern extraction. She claimed to be closest with her youngest granddaughter: Don't repeat the mistakes of all the females in our family. . I'm going to tell you the worst of it., whispers in her ear to the girl's shock. (11/20/2017)

The/Le Tunnel – Elise Wassermann in the 2nd season (on PBS/originally a Sky Atlantic/Canal + co-production) The series did not remember that she was Jewish in this season titled "Sabotage". (updated 9/8/2017)

Apt JKL – Judy plus in the 1st season (on CBS) -- I detested even the first episode of this sit com so much that I couldn't bring myself to bother watching any other episode, even though it was co-created by star Mark Feuerstein and Dana Klein, and co-stars Linda Lavin as his mother "Judy". Other Jewish women characters doubtless appear in the series, but it's just not even worth my time to criticize it. (11/13/2017)

The Goldbergs – Beverly and Erica plus in the 5th season (on ABC) (I detest this sit com so much that I couldn't bring myself to finish watching even the 2nd season, so I'm not goint to waste my time watching the didn't-deserve-to-be-renewed 5th season. While I could even now catch it more frequently in syndication, I'll probably have to end up buying the complete series on DVD to do a complete review with episode-by-episode documentation of its clichés.) (10/5/2017)

In this season of Finding Your Roots with Henry Louis Gates, Jr. (on PBS) – the October episode "The Impression" with Larry David and Bernie Sanders included their reflections on their mothers and grandmothers with the great frustration that they had not told them of their pasts or family.
Just before this was broadcast in the U.S., the original BBC version of Who Do You Think You Are, two episodes featured celebrities seeking how Jewish women relative fared during the Holocaust, Jane Seymour (one aunt survived by fleeing from Berlin to Paris to Marseilles and finally illegally to Geneva, while the other joined her in 1946 after escaping the Warsaw Ghetto in the nick of time, but succumbed to suicidal despair from losing everyone else – and we're not shown if Seymour tried to find her Swiss-based family members), and comedienne Ruby Wax seeks to find out if the Holocaust drove her mother crazy or if her own struggles with mental illness run in the family – and finds generations of "aggravation" among her women relatives.) (10/5/2017)


Crazy Ex-Girlfriend – Rebecca Bunch, her mother, and others in their 3rd season Early episodes only mentioned being Jewish in passing: in the "Josh's Ex-Girlfriend Wants Revenge" season opener "Rebecca" (Rachel Bloom, also the co-writer and lyricist) describes herself in a song as the Jewish chick who got dumped by the ripped Filipino. Next, in "To Josh With Love": she sings "Strip Away My Conscience"", lyrics by Bloom, in lingerie and Fosse-like dance moves to her boss "Nathaniel Plimpton III" (Scott Michael Foster) Tear away my Jew-guilt… it's worth the discomfort of my thong… Strip it all away.
"I Never Want to See Josh Again", written by Stuart McDonald, is pretty vicious about a Jewish mother, even if attributable that "Rebecca" is suicidal and going through a mental breakdown. First her co-workers are missing her in their California office. "Darryl" (Pete Gardner) hopes her replacement will be: like Rebecca, all pretty and cheery and Jewy? You know what I mean. Smart, and a little sneaky. That did not come out right. I am not a bigot. I just I talk too much, like a Jew. Oh, no. I hope she's a strong, contemporary thigh-high feminist like me and Rebecca, you know what I mean. But she's back home with her mother "Naomi" (Tovah Feldshuh) in Scarsdale, seemingly getting along fabulously, what with mom making her milkshakes and popcorn, such that "Rebecca" sings, a la The Ronettes lyrics by Bloom, "Maybe She's Not Such a Heinous Bitch After All", with the first verse: I still hate her, don't get me wrong. Really hate her, genuinely hate her. But it's more like the way normal girls hate their moms. Every daughter kinda hates their mom. All I ever prayed for every day was to resent my mother in a regular way. 2nd verse includes: Maybe old age has tamed this witch And made her a doll. But like one of those evil, haunted dolls. She's being so nice, it fills my soul. For once I don't want her to have a cancerous mole. On to: When we're finding a mate. It's our parents we're thinking of. Thinking of my relationship with her was my first failed romance. And now finally the cute boy's asking me to dance. But her competitive friend "Audra Levine" (Rachel Grate) comes to pay a sick call with a taco casserole: Hear you haven't been doing so good. God, busted wedding, and now you're here with your awful mother ugh! You must just want to die. "Rebecca", defensively: Because my mother and I are getting along very well. "Audra" scoffs: Getting along with Naomi? (scoffs) Where's her body? "Rebecca": Audra, it's Twister. My mother and I are about to play a trust-building game of physical skill and fun. Everything's different now. My mother accepts me. "Audra": Yeah, right. Of course. 'Cause what do opinionated Jewish mothers do when they turn 60? They change. Tell me, what did you do to earn this miraculous acceptance from your mother? I'm curious. "Rebecca": Well, I got sad and came home, and refused to shower, and stayed up all night, and she felt sad for me, and now she's taking care of me. "Audra": Yeah, you're a smart girl. That doesn't make any sense. "Naomi" comes in with air kissing greetings: Will you be staying for some board games and some ice cream, honey? "Audra": Okay, I don't know what this is, but it's scary. And I'm not sticking around for the murder-Sui…Rebecca, she's up to something. And if you don't know what it is, then it's working., and she leaves. "Naomi": What a bitch. Up to something? You know what I'm up to? I'm up to whuppin' your tuchus in that game. That's what I'm up to. And before we start, you need some fuel. How about another shake, stat? Rebecca starts feverishly doing an internet search, and looks through drawers – finding pills that are the same color as the shakes her mom has been blending in: You've been drugging me! Oh, this makes so much sense, of course. Of course you didn't change. The only reason I was feeling better is 'cause you gave me these drugs that blitzed me out and made my ears buzz. Mom: I had no choice. I saw all your websites. Your suicide websites. I had to do something. She: So you gave me medication without my consent? Mom: Lest you forget, young lady, we have been through this before. That suicide attempt in college, and then you tried to burn down someone's house. And each time, you refused help, so, yes, yes, I decided to give you some of the anxiety pills that the doctor gave me for the High Holidays. I just wanted to calm you down so we could talk and I could convince you to go away somewhere. She: Commit me? - (clicks tongue) I'm sorry, you wanted to commit me? That is such a dramatic word. You made me think that you loved me. You gave me hope when I had none. And now that hope is gone. Mom: I do love you. I'm just trying to help you. Mom: Help? You were never any help. She storms out, downs out the bottle of pills while on a plane to L.A., but is saved by asking the flight attendant for help. In the next episode "Josh Is Irrelevant", written by Bloom, McKenna and Ilana Peña, she describes how having her stomach pumped feels: It was as if six months of college bulimia happened in one day. Her best friend "Paul Proctor" (Donna Lynne Champlin), who is being very mother-like: You're still sassy!
(1/26/2018)

Miriam "Midge" Maisel –in 1st season of The Marvelous Mrs. Maisel (on Amazon, renewed for 2nd season) I'm looking forward to streaming – and commenting on -- the whole season! (1/26/2018)

Felicity Smoak in the 6th season of Arrow (on CW) This season not only remembered she was Jewish, amidst turning down a wedding proposal from "Oliver Queen", in a 4-episode, "Sweeps Week", "cross-over event" with the other DC Comics-based CW series (The Flash, SuperGirl, and DC's Legends of Tomorrow) called: "Crisis On Earth-X", story by Marc Guggenheim and Andrew Kreisberg (since fired for sexual harassment in the #MeToo wave), with different writers for each show's episode. All time travel/sci fi TV series have a Nazi episode, usually of a "what if?" theme, but not usually with a Jewish main character suffering. Here, the Nazis won in an alternate universe, and the Aryan-looking Super Heroes "Green Arrow" and "SuperGirl" (Melissa Benoist) have Nazi doppelgängers who are married (and torn between their love and devotion to The Fatherland). As Our Heroes try to save Earth-X, "Felicity"s doppelgänger (also Emily Bett Rickards) is imprisoned in a concentration camp: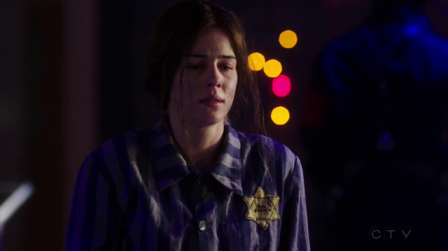 In Part 3, written by Flash's showrunner Todd Helbing, the camp commander (who is Paul Blackthorne as also a doppelgänger) presents her to "Oliver" who is pretending to be his doppelgänger "Dark Arrow": I know how much you enjoy executing rule breakers and this one has broke many of them. We discovered there's a Jewess handing her rations to the work camp children, strictly against camp rules of course…I know this must be hard. I heard your doppelgänger on earth once loved a woman who looks just like this. "Felicity"s doppelgänger protests: Those children were starving! "Oliver" fights the commander and tells her to escape: It's the strong's duty to protect the weak…Go! In Part 4, written by Legends' showrunner Phil Klemmer and Keto Shimizu, the real "Felicity" protects "OverGirl", SuperGirl's doppelgänger, from this world's version of Dr. Mengele, fiercely albeit naively: My grandparents didn't survive the Holocaust so that the world could be ruled by Nazis. So if you want Kara, you have to go through me. And even if you do, you won't win, because we won't back down, we'll keep on fighting. So get the hell off our earth while you can. (I think I have all the doppelgängers right, as I was multitasking.) By the end, they are so grateful to be alive and back on Earth-1 that "Oliver" agrees they can be together without being married, as she said she wanted (out of fear of a terrible fate), but she proposes to him. He: I thought you didn't believe in marriage. She: I believe in you. And I believe that no matter what life throws at us, our love can conquer it, married, not married, I love you. My greatest fear in life is losing you. They are married by their friend "John Diggle" (David Ramsey) as a civil officiant, in a double marriage with "The Flash" and his long-suffering girlfriend.
In "Irreconcilable Differences", written by Beth Schwartz & Sarah Tarkoff, her mother "Donna" (Charlotte Ross) comes to the belated wedding reception to give "Oliver a hug. Welcome to the family…I have forgiven you both for running off and eloping and waiting to propose to my daughter until you were under indictment. "Oliver": Actually Felicity proposed to me. Mom: She continues the tradition of Smoak women not having traditional weddings. Dad "Noah Kuttler" (Tom Amandes): What do you mean? We had a traditional wedding. Mom: No, getting married by a Tom Jones impersonating rabbi isn't exactly traditonal. .. At least we had a Jewish wedding. Really you guys, would it have killed you to get a rabbi? Why not a chuppah? The couple manage to get away. Felicity: If you're having second thoughts, too late for you! He: I wouldn't hav it any other way. She: You really do love me. They kiss and all the guests cheer. Dad watches them dance: Thanks for letting me back in her life. Mom: I was wrong to tell you to stay away. And just for the record I think Tom Jones is pretty good. (1/26/2018)


Girlfriends' Guide to Divorce – Abigail McCarthy in the 4th Season (on Bravo) In the 2nd episode of the season, "Rule #10: Just Survive", written by Ilene Rosenzweig, she suddenly remembered she was Jewish, when she was startled at interrupting her daughter "Lily McCarthy Novak" (Connor Dwelly) about to have sex with her boyfriend (I haven't identified the actor). Before she takes her to a woman ob/gyn for birth control counseling, she protests her girlfriends' jokes: She's not porking! She's a nice Jewish girl! She swears she's only doing other stuff.. . .she only said 'We're not doing anything stupid!'
There were more Jewish identity references in "Rule #49: Let It Shine", written by Matt Shire, because it was her mother's funeral (though in previous seasons I presumed her father was Jewish, but not her mother "Dina", as played by Lesley Anne Warren). (9/8/2017)


The Fosters – Emma Kurtzman in the 5th season (on FreeForm) Will the writers remember this season that she's Jewish?
That "Emma" (played by Amanda Leighton) had an abortion is said over and over and over again. But "Too Fast, Too Furious" episode, written by Cristian Martinez, at least let her state her position definitively, albeit with no mention of her religion. FreeForm's official synopsis of her confrontation with "Jesus" (played by Noah Centineo) (until I get a chance to get the script transcription, because this leaves out some important points): "Jesus is worried that Emma didn't tell him about the baby because she knew he would have wanted to keep it. Emma tries to tell him that as it was her body, her choice, and that she wasn't ready to have a baby or give one up for adoption. She goes on to say that she can't be with Jesus if he feels angry or betrayed by what she did, and that he needs to stop tormenting Brandon as he was only trying to help him."
In "Engagement", written by Megan Lynn and Wade Solomon, "Emma" tearfully confesses to his mothers how "Jesus" is pressuring her now: I really want Jesus to get better and to go back to school, but I'm not ready to be engaged. (updated 9/8/2017)

Odd Mom Out– Jill Weber in the 3rd season (half-hour sitcom on Bravo) In the first episode "Frisky Business", written by star and creator Jill Kargman and Lara Spotts, Visiting Day to see her daughter "Hazel" (played by Erin Gerasimovich) at summer camp is a nasty dig at obnoxiously rich Jewish parents. I think I'm correct that's brassy comic Rachel Feinstein, wearing numbers, plays: I am Kara, Remi's mom! …Hazel's BFF! I've heard all about your daughter! How she taught the whole cabin the Badunkadunk Shake. So, what did you bring for Bunk Junk? …Oy, what didn't we bring? We've got Zabar's cold bags, we've got Baked by Melissa, Mr. Chows and Sushi of Gari 'cause they miss the ethnic so much up here… We've got ice packs, and we were wheels up about an hour ago, so…That's the tail number of our jet! It's like the license plate. "Jill" when she's knocked down by the mob of parents: That was Pamplona – but with Jews. and describes the camp: This place is like John Galliano and Mel Gibson's worst nightmare. In the bunk, "Kara" urges: Hon, be sure to share with the less fortunate. - meaning "Hazel". She's proud of her daughter's striptease routine: My Remi is a danceaholic. She's on a competitive team in Boca. [I haven't yet ID'd the youg actress playing "Remi".] "Jill" tries to reassure her husband "Andy" (Andy Buckley) that her friends weren't sexually advanced at the same age: At my bat-mitzvah Jenn Linardos gave Trip Cullman a hand job on the putting green at our club. Everyone called her the 19th hole after that…Well, that's two years away, and she was the fastest one in our group. (7/19/2017)

Younger – Lauren Heller plus in the 4th season (on TV Land) "Lauren" (played by Molly Bernard) is now a social media expert, living with her medical resident Jewish boyfriend "Dr. Max Horowitz" (played by Ben Rappaport). (7/14/2017)

I Love Dick – Chris Kraus (streaming on Amazon) [I haven't watched the full only season yet, nor yet read the book it was based on; it was not renewed.] (updated 1/26/2018)

Saving Hope – Dr. Sydney Katz (Canadian CTV series shown in U.S. a few months later on ION) She was back from Israel beginning in the 5th and final season episode "All Our Yesterdays", written by Wr by Patrick Tarr and Thomas Pepper, but this time with her pregnant, ill with cancer sister "Rebecca (Becca) Friedman" (played by Sydney Meyer), with many Jewish references about her family and their negative reaction to her coming out, as well as another kiss with "Maggie". In each subsequent episode, as her relationship with "Dr. Lin" develops further, she looks ever prettier, actually glowing, with no glasses and her hair down, and somehow she keeps mentioning she's Jewish at least once per episodes. [Detailed episode dialogue descriptions forthcoming] (6/23/2017)



2016/2017 Season

Amazon posted two pilots in the fall streaming for adult audience reaction testing to develop into a full season, both with Jewish characters.

The Interestings – Julie Jacobson and others in the pilot: Based on Meg Wolitzer 2013 novel I haven't yet read, the opening scene had the most Jewish implications, as written by Lynnie Greene and Richard Levine. "Lois Jacobson" (played by Jessica Hecht with a more exaggerated New York Jewish accent than usual) is "schlepping" her daughter "Julie" (played by Katie Balen, evidently with a curly auburn wig) up to arts camp in the 1975. While she fights with her brunette younger sister "Elle" (played by Sarah Cohen), we learn the father has recently died and she got a scholarship to attend. In the bunk bathroom, she gets invited to be with the in crowd because You're funny! She quickly ripostes: My father was a clown! When she works up the nerve to enter their quick-witted conversation, a guy calls her out: The girl from Long Island speaks! As an adult on the Upper West Side, "Jules" is played by Lauren Ambrose, and I think I recall that she has occasionally played a Jewish woman, but not usually with her auburn hair. In 1976, she's shocked at the arrest of the brother "Goodman" of her friend "Ash Wolf" (played by Jessica Paré), protesting the cops are like "The Gestapo!", though I couldn't tell if the Wolf family is Jewish. The show jumps back and forth to the '70's, failures of the '80's ("Jules" acting career), success for some in the '90's (she got a MSW from Columbia and is unhappily married with a daughter to an exaggeratedly unintellectual, sports-mad lab tech "Dennis" (played by Gabriel Ebert). At various times over these decades, she's has a close friendship with "Ethan Figman" (played by David Krumholtz, who pretty much always is a Jewish character), who went on to marriage and children with "Ash" and commercial success with a network cartoon show. I have some curiosity as to what happened to them in the past and will happen to them. Amazon chose not to develop the series.

The Last Tycoon is a lush, large ensemble, originally produced for HBO, adaptation of the F. Scott Fitzgerald novel, which I haven't read, nor have I have seen other adaptations. The pilot, written and directed by Billy Ray, puts heavy emphasis on the Jewish roots of the central Irving Thalberg-inspired character producer "Monroe Stahr" (played by Matt Bomer), particularly as the German consul insists on all the studio's movies conform to Article 15 – not malign the government, offend its racial sensitivities or employ Jews in Germany, in order to be distributed in their 2nd biggest market, like the other studios have. [Detailed in a controversial book The Collaboration: Hollywood's Pact with Hitler written by Ben Urwand]. Let alone by his studio head boss "Pat Brady" (played by Kelsey Grammer) who takes credit for changing this "Israelite" from his Bronx circus roots as "Milton Sternberg", and when head of security Tomas "Tommy" Szep (Koen De Bouw) complains about stingy Jews and money. . especially this Jew. But I couldn't tell if any of the females in his orbit in the pilot were Jewish, though his dead immigrant wife known in Hollywood as "Mina Davis" was Irish Catholic, regardless of what was in the original novel. Amazon has picked up the series.


A third pilot posted in August, I Love Dick, centered on a putative Jewish woman, until I know more from reading the book by Chris Kraus. Directed by Jill Soloway, with a teleplay by Sarah Gubbins from her play, this version of "Chris Kraus" (Kathryn Hahn) is an Upper West Side filmmaker, whose film's acceptance into the Venice Film Festival has been pulled due to her unauthorized use of "bossa nova klezmer shit". She's married to Holocaust scholar "Sylvere" (Griffin Dunne), whose specialty is its aesthetics. She jokes it's like sleeping with a mortician, yet accompanies him to a retreat run by guru rancher "Dick" (Kevin Bacon). Over dinner, he insists there are no Great Women Filmmakers, and her mumbled name check protest includes Chantal Ackerman. But he fascinates her into a fantasy epistolary relationship. Is this too off-beat to get picked up for a season? (updated 8/19/2016)

A pilot posted in the spring featured a Jewish woman as the lead character: Miriam "Midge" Maisel –in The Marvelous Mrs. Maisel. Amy Sherman-Palladino, beloved for many seasons of Gilmore Girls, which would have Jewish secondary and lesser characters (and I haven't caught up with the sequel episodes on Netflix), has finally written the series she had talked about for years, about a Jewish woman stand-up comedian in the mode of Joan Rivers. But this is only the pilot for her proposed series, so that most of the episode consist of "Midge" (played by Rachel Brosnahan, not an actress known as a comedienne) as the most exaggerated stereotypes of the perfect Jewish daughter, bride, wife, and mother with her own extreme Jewish mother "Rose Weinberg" (played by Marin Hinkle). (Details to post when I get a chance). Finally at the end, in a drunken rage against her schlemiel husband wannabe comic, she takes The Gaslight stage and mocks her life, her audience, and even her body – to applause (and arrest after exposing her boobs with pride). She even manages to get advice from Lenny Bruce (played by Luke Kirby) in jail, and garner the career interest of a putatively Jewish lesbian manager "Suzie" (played by Alex Borstein).
Amazon not only picked up the series, but for the first time the streaming service committed to two seasons, quoted in Variety 4/10/2017: "'In her onstage debut, Mrs. Maisel killed and had audiences responding overwhelmingly with digital applause,' said Joe Lewis, head of comedy, drama and VR for Amazon Studios. 'Like any great young stand-up, we're excited to see what she has to say next and for a long time to come. That made it an easy decision to order two seasons from Amy and her incredible cast. We can't wait to bring it to customers soon.'" (updated 4/10/2017)



Too bad another pilot The New VIPS included a nasty Jewish joke (even though listed as "a consultant" is a young Jewish woman I know with Emmy-winning comedy writing credentials.)


Difficult People - I haven't watched because I don't pay for Hulu.

The Blacklist (on NBC) was once again ambiguous about the identity, in the 4th season's "Lipet's Seafood Company", teleplay by Lukas Reiter and story by Dawn DeNoon & Dave Metzger, about the ex-Mossad agent "Samar Navabi" (played by Mozhan Marnò) when she's identified as a Mossad spy – and she identifies Israel as "my country". Details forthcoming on her relationships with the hunky Mossad agents and the FBI. (2/5/2017)

Sweet Vicious (on MTV) added the short satirical film "Too Legit", written and directed by Frankie Shaw, as a special It's On Us PSA addition to this fiction series on campus rape. At the end, smarmy date rapist "Matt" (played by NateCordrry) entertains his pool-playing frat buddies by vulgarly commenting on looking forward to a blowjob from "Jewesses or Ju-Ju's or what d'ya call them?" (1/24/2017)

Quantico (on ABC), the ridiculously confused CIA/FBI training missions drama, last year killed off its only Jewish character, a right-wing guy. In the episode "Aquiline", written by Jorge Zamacona, his colleagues snuck off to his grave to commemorate the unveiling at night. Somehow, one of the Muslims, "Nimah Amin" (played by Yasmine Al Massri), knows how to recite the kaddish (slowly), and the very blonde gentile "Shelby Wyatt" (played by Johanna Braddy), who had thought she had a Muslim half-sister, knows the Jewish tradition of putting a stone on the gravestone. Will they have explanations later in the season that have some connection to the Mossad? (11/7/2016)

Though there is no longer a regular Jewish female character heard, let alone seen, on Big Bang Theory (on CBS), I still watch for references around the family of "Howard Wolowitz" (played by Simon Helberg), a one-time guest astronaut-engineer. So in the 10th season, 2nd episode "The Military Miniaturization" (3 names listed for story, and 3 for teleplay), he video chats with his "cousin Marty the lawyer in Boca Raton" (portrayed by Josh Zuckerman), who is sarcastic before giving legal advice: Thanks for going to space, so whatever I do my mother will be disappointed in me.

Switched at Birth (on Free Form, formerly ABC Family) Ridiculously, in the 3rd episode of Season 5, "Surprise", written by Terrence Coli and Colin Waite, "Lily Summers" (played by Rachel Shenton) returns from her hometown in England with her boyfriend "Toby Kennish" (played by Lucas Grabeel) to announce they're getting married – that evening. "Toby" adds: We're gonna have a chuppah because Lily is Jewish, of course. Huh? - her character was first introduced in the 3rd season when she got pregnant and weeped about genetic birth defects in her family, such that the deaf-signing "sisters" sign I didn't know she was Jewish. (One of them goes online to become a certified minister officiant.) "Lily" explains: What's a chuppah? It's like a canopy that couples stand under. It symbolizes a home they're gonna make together. Or in our case, the home we've already made together. Before (and during) the wedding that her parents are watching via web-cam, they fight and he calls her "Momzilla" and "controlling", and she tells her mother-in-law about all the training she does with their Downs syndrome son, and then weeps to "Toby" about how frustrated she is at home. Even more ridiculously, they decide to stay there in Kansas City with the family, she gets her old job back, and "Toby" toasts her "L'chayim" with a glass of wine.
The "Memory (the heart)" episode, written by Linda Gase, dealt with "Lily"'s Jewishness more extensively, as she objected to her husband's family's presumption of having her son baptized. [More detail forthcoming.] (updated 4/7/2017)


Fargo (on FX) Inspired by the Coen Brothers movie, Jews were explicitly and putatively identified in the 3rd season episode "The House of Special Purpose", written by Bob DeLaurentis. Slimy organized crime liaison "V.M. Varga" (played by David Thewlis) turned out to be extremely anti-Semitic, with his nasty comments to accountant "Seymour/Sy Feltz" (played by Michael Stuhlberg, notably from the Coens' most Jewish movie A Serious Man), and threats to his "fat" wife, who we haven't seen. "Sy" goes running to try and sell off his endangered business to "The Widow (Ruby) Goldfarb" (played by Mary McDonnell), making her first appearance after earlier references. While stressing she's from St. Louis, her only vague, and sarcastic, reference to being Jewish, was about "tearing her garments" after her husband's death, but she is one shrewd businesswoman in seeking to expand her husband's cemetery and self-storage company into parking lots. In previous episodes she was admiringly called "the so-called storage queen of The Great Lakes region." While "Sy" is distracted by two sets of criminals, she warns him she'll compete if he doesn't sell, which he actually very much wants to: You don't want a Goldfarb for an enemy. (updated 1/27/2018)

Hawaii Five-0 (on CBS) Yet another grandchild of a Holocaust survivor seeking revenge on a Nazi camp guard in another cop show in "Ka pa'ani nui" episode written by Helen Shang. Details forthcoming on "Leah Rosen" (played by Angela Galvan). (2/5/2017)

Doubt (on CBS) In this quickly cancelled (episodes burned off in the summer), painfully PC lawyer series, set in New York City, it is unclear if the star "Sadie Ellis" (played by blonde Katherine Heigl) is the biological daughter of the Kathy Boudin-like "Carolyn Rice" (played by Judith Light, who usually portrays Jewish women). The Leonard Boudin-like law firm is led by the apparently Jewish "Isaiah Roth" (played by Elliott Gould), who adopted her when her mother, who he fell in love with, was jailed. His jealous and bitter daughter with major daddy issues "Dylan Bookner" (played by Paula Marshall) appears in the episode "Where Do We Go From Here?", written by Louisa Levy, to complete her divorce (which climactically centers around whether she wants children – she doesn't). She talks extensively about her mother, the abandoned first wife, but it wasn't clear if she was Jewish either. (7/28/2017)

Who Do You Think You Are? (on TLC), actress Jennifer Grey, known for her father actor Joel Grey, wants to explore her mother's family, the Browers – her mother doesn't even know her grandmother's first name. She jokes that she's "a bad Jew…I just know we're Russian Jews." because she doesn't know her family, and wants to pursue this so that her daughter Stella will know her family. Her mother sends her a photo she never saw of her grandfather and her mother, so she can show Stella: "It's Bubbe as a baby!" A Jewish woman historian from The Tenement Museum leads her to Census and ship records that show her grandfather and his sisters came alone as young children to join their Socialist father in Brooklyn as he was going from compositor to pharmacist. Another Jewish historian is able to get records from Ukraine that show her unknown great-grandmother was Shaindel, and died in childbirth at age 35 in 1897. Bursting into tears, she figures that because her children didn't get to the U. S. until a decade later, that explains, she thinks, the sadness she always saw in her grandfather.
Actress Jessica Biel (aka Mrs. Justin Timberlake) starts out saying that the family lore about her paternal side of the family is their last name is German, probably the name of a German town. But as a genealogist traces her relatives first back to Chicago, her great-grandfather was Morris (originally Moritz) working in the garment trade, hmm, originally emigrated from the Austro-Hungarian empire in 1888; The Chicago Tribune even ran a photo of the couple on on their 50th wedding anniversary. But a key clue to their ethnic origin came from his unusually named wife Ottilia in the Census: she was a native Yiddish speaker from Russia. As Jessica jokes that her Los Angeles friends are joking about throwing her a "bar mitzvah" [sic], the Biels are traced back to a Jewish registry in a Hungarian town – and a DNA test finds Jessica is 8% Ashkenazi Jewish. Saying "I'm really interested into diving into this Jewish culture a little more", she goes into The Spertus Institute for Jewish Learning. (updated 4/13/2017)


A French Village (Un Village Français) – 4th and 5th seasons (Shown in the U.S. on MHz Choice, Season 4 is 1943 on DVD, 12 episodes; Season 5 is 1944, 12 episodes on DVD) (1/26/2018)


Genius – Elsa and Pauline Einstein and others in the first season (on National Geographic Channel) Based on Walter Isaacson's 700+ page plus biography Einstein: His Life and Universe (so it will be awhile until I read it for comparison), the first "Chapter", story by Noah Pink and Ken Biller, teleplay by  Noah Pink, was so busy sexing up Albert Einstein (played for the 1940's by Geoffrey Rush) that I lost track of the other women in his life if they were Jewish other than his second wife Elsa (played by Emily Watson) who reminds him as the Nazis rise We are Jewish!, his sister Maria aka Maja (played in her youth by Helen Monks), who in Chapter 2, written by Angelina Burnett, befriends his early (blonde so non-Jewish) girlfriend believing she's his fiancée (the youthful Einstein is played by Johnny Flynn), and their mother Pauline Koch Einstein (played by Claire Rushbrook, and the cast listing for the 2nd episode seems to confuse his mother with her mahatunin), who mostly urges him to get married. I see a pattern of non-Jewish casting. (previewed at 2017 Tribeca Film Festival)
In the 3rd chapter, written by Mark Lafferty, his mother is shocked by his two liaisons. Albert points that neither women is Jewish, but she retorts about the pregnant Serbian: At least she's Slavic! His sister just tries to be conciliatory between them. In the 4th Chapter, written by Noah Pink, his mother turns into the Jewish Mother From Hell!
The young version of Elsa Einstein (played by Gwendolyn Ellis) is introduced in Chapter 5, written by Raf Green, in 1912 Berlin, as his quite romantically aggressive divorced cousin with two daughters – and his mother is the matchmaker. In the World War I-set Chapter 7, written by Kelly Souders, Elsa can't stand the gossip about their relationship any more, especially as he's becoming famous: How long until they discover you are living in sin with a divorcee who is your first cousin? -- and as a condition of finally getting a divorce from his first wife, she has to stand up in court as his adulterer. While Elsa's daughters appear briefly (one dying in Paris, one getting a visa to join them in the U.S. despite suspicions of his political leanings, I wasn't sure if the women around him in the final two episodes, a secretary and a Russian spy lover, were Jewish; while I check the book source, there was no indications on screen of their heritage. [More commentary forthcoming.] (updated 6/23/2017)


Madiba – Ruth First and Helen Suzman in the mini-series (on BET) This is the first of several bio-pics of Nelson Mandela that include Jewish women anti-apartheid activists, even in the documentary Soft Vengeance: Albie Sachs and The New South Africa that focused on a male Jewish legal hero. Ruth First, prominent leader in the African National Congress, is played by Kate Liquorish, she's not explicitly identified as Jewish, other than adjectives like "rich" and "white" and "Communist" (nor in her profession as a journalist), in Episode 1: "Troublemaker", written by Avie Luthra and Jane Maggs, directed by Kevin Hooks. I'll detail the dialogue when I get a chance, but she's shown fully involved in tactical planning and in the year-long treason case, along with her lawyer husband Joe Slovo (played by Jason Kennett).
In the 2nd episodes "Spear of the Nation and Total Strategy", story by Nigel Williams, Paul Webb & Avie Luthra, teleplay by Webb & Jane Maggs, the Prime Minister John Vorster specifically target her: The kaffir lover Ruth First will be leaving on an exit visa. Soon - into the arms of their Jew Slovo in London. . .These white communists are all the same - take away their creature comforts and they break. Another Jewish woman activist not always seen in Mandele bio-pics is the auburn, curly-haired Helen Suzman, solo member of the National Assembly for the Progressive Party, present at the September 1966 assasination of Verwoerd, and Vorster snarls at her: It's all your fault. She, in tearful shock: We had nothing to do with this! He: You incite people! Her solo anti-apartheid position in the parliament is even known to Mandela in prison, because he sends a message to her via a sympathetic quitting prison guard, and she face to face gets his demands for prison improvements, to the fury of the wardens, who have to implement them. [Commentary on the 3rd episode forthcoming.] (updated 2/13/2017)


The Wizard of Lies – The Madoff Women and others in the mini-series (on HBO) [Commentary forthcoming on yet another fictionalized versoin of their story.] (5/19/2017)

Dirty Dancing – The Houseman Women and others (on ABC) "Baby/Frances" (played by Abigail Breslin, her mother "Marjorie" (played by Debra Messing), and her sister "Lisa" (played by Sarah Hyland). Is "Mrs. Vivian Pressman" (Katey Sagal) Jewish or just that her ex-husband was? [Detailed commentary forthcoming on the remake of the classic 1987 movie, set in Summer 1963, which pre-dates my reviews of films with Jewish women.] (5/24/2017)

Homeland (on Showtime) - In the Season 6 opener set mostly in NYC, "Fair Game", written by Alex Gansa and Ted Mann, the female Mossad agent returned,"Tova" (played by Hadar Ratzon Rotem – who also starred in the Israeli series this is based on Prisoners of War (Hatufim)). Now the CIA Chief "Dar Adal" (played by F. Murray Abraham) is scheming against the female President-Elect (David Simon uses the acronym PEOTUS) when they meet up at the southern tip of Manhattan, and warns she is not a fan of the close relationship with Israel: Don't write up an incident report. Don't share this with Tel Aviv. She quickly concurs: What do you want me to tell Misha?
The Mossad agent returns in "The Covenant", written by Ron Nyswaner, but for the first time in the series we meet the sister of "Saul" (played by Mandy Patinkin), who turns out to be an extremist West Bank settler because she married one years ago. She is "Dorit" (played by Jacqueline Antaramian) – though I doubt that is the name she was given when she grew up with him in Indiana, nor dressed with a (loose) head scarf and long skirt. One the phone: "Dar": Saul, where the hell are you? "Saul": About to cross into the West Bank, actually. "Dar": What happened? Why the change of plan? "Saul": Guilt happened. "Dar": Your crazy sister, huh? "Saul": I didn't make it to her husband's funeral last year. And I am in the neighborhood. "Dar": How long you plan to stay? "Saul": Couple days, or until we murder each other, whichever comes first. He drives up his sister's house with a smile:- Been too long. She: I'll admit, I was surprised to hear from you. He: I should've come when Moshe died. She: Come. We'll have a meal, then we can talk. This way. He: I remember. A lot more houses since the last time I was here. She: We've grown. Almost tripled in size. He: View's the same. She: Moshe chose this spot so the Arabs could see us every day and know we're never leaving. He: I remember that, too. She: That's Daniel. His 7th birthday. That's Jacob, Dabi [?] and Rebecca's third son. He's 6 now. He: Looks like his father. She: He's always getting into trouble, so naturally, he's my favorite. He hears distant rapid gunfire: Doesn't that bother you? She: I don't hear it anymore. Now, Saul, Tell me about Mira. What happened?What happens between people. I made promises and didn't keep them. She did the same. She: I'm sorry. He: Seems like a million years ago. She: And there's been no one since? He: No. She: I wish you could stay for Shabbat. Both boys come with their wives and all the children. He: Maybe next time. She smiles: I tell them stories about Indiana, being one of eight Jewish families in the entire town. How you were my protector. He laughs: Hey, even when you didn't want my protection. She: We were so close. After I married Moshe, you practically disappeared from my life. He: I visited when I could. She: Afternoon now and then. Moshe and I saw things differently. She: He was my husband. You could've tried to understand his point of view. He: Did he try to understand mine? She: You could've bent a little for my sake. He: There's no bending with a fanatic. After you met him you changed. She: Moshe opened my eyes to the false life that mother and father had us living-- exchanging Christmas presents with the neighbors, doing everything we could not to offend anyone with our Jewishness. Moshe made me proud to be a Jew. He: He turned you against your family. He brought you to live in a place that's not yours, where you don't belong. She: Please, Saul, let's not do this. He: Haven't you driven enough people from their homes already? Bulldoze their villages, seized their property under laws they had no part in making? She: This land was promised to Abraham. He: Ah, yes. Promise. A covenant with God made thousands of years ago. Doesn't that strike you as a form of insanity? She: You don't understand, Saul. You never have. I love the life that God has given me. He: How can you love making enemies? How can you love knowing that your very presence here makes peace less possible? She: I have a family, a community, a life filled with faith and purpose. Saul what do you have?
In the following "A Flash of Light", written by Patrick Harbinson, she sees his visit was an excuse, when she sees him come back from a secret meeting in the middle of the night: Where have you been? He: I went for a walk. Couldn't sleep. She: I was worried. He: Sorry. I just wanted some fresh air. She: Don't lie to me, Saul. I couldn't sleep either. I saw you from my window. You went down into the valley. You went across. He: What do you say I pack first? Then we can have some breakfast and talk, okay? She: So who were you meeting? He: You know I can't tell you that. She: I suppose he was an Arab. Why do you always take their side? He: I don't. (Actually, he met with an Iranian, who is Persian, not Arab.) She: I don't wanna argue. I'm just sad that the only time you come to see me in 12 years, it was a cover for your work. He: I did want to see you. She: I'm not an idiot, Saul. He: I've been meaning to. That's the honest truth. She: How do you think it makes me feel? He: You're right. I'm sorry. She: Stop saying sorry. Sorry doesn't help. Doorbell rings – she recognizes Mossad (or some such) agent "Etai Luskin" (played by Allan Corduner): Dorit. Nice to see you again. And what a treat, Saul coming to visit you at long last. But so sad he has to leave so soon. She: He's an important man, like you. "Etai": And what did you do, may I ask, on your one night together? She: Talked, mostly. Lot of catching up to do. "Etai": I bet.Must have been up late. Till 3:00, 3:30. Just the two of you, was it? No dinner guests, unexpected visitors? She: Just us. "Etai": Saul didn't step out for a few hours, did he? Take a walk under the stars? At 4 in the morning? She: Why? What's going on? "Etai": Oh, nothing to worry about. Some activity in the area. I thought you might have noticed something. She: No. "Saul": You know, now I really am gonna be late for my flight. Etai has offered to drive me. She: Goodbye, Saul. He whispers: Goodbye. Thank you. Shalom. She: Shalom and kisses his cheek. (updated 2/7/2018)


Grace and Frankie – Frankie Bergstein (on Netflix) Whoops – Season 3 began streaming Spring 2017 before I even got a chance to watch S1 yet to comment on Lily Tomlin's portrayal of the Jewish woman character. (3/2/2017)

This Is Us– Sloane Sandburg in the 1st season (on NBC) I hadn't realized that the playwright (played by Milana Vayntrub) was Jewish until I saw a preview of a Hanukkah episode. The play's star-ex-TV-Manny "Kevin Pearson" (played by hunk Justin Hartley) just called her "Sandberg" in the couple of previous episodes where she had ancillary comic bits.
While I'll retrospectively look at "Sloane" in the in-between episodes, she was explicitly revealed as Jewish in "Last Christmas", written by Donald Todd, when she brings "Kevin" to her family Hanukkah party—and he feels he has to bring her to his family Christmas party because she's asked him to pretend he's her boyfriend. (She looks more adoringly at him by the crèche in this still, than when she tells the story of the Maccabees to her nieces):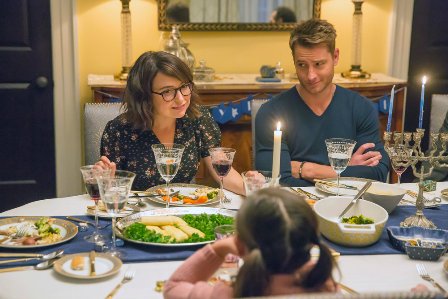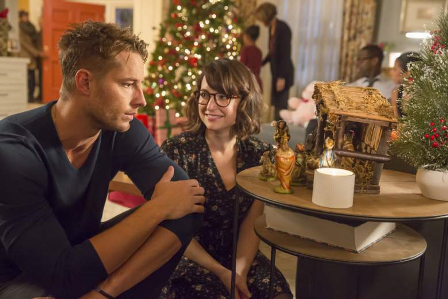 "Kevin" continuously identifies her as Jewish (as well as "smart" and "intelligent") in the few other episodes she's in before their romance ends – details forthcoming. (updated 2/5/2017)


Code Black (on CBS) I watch most medical shows for the possibility of a Jewish doctor and/or patient. Jews didn't show up until the 2nd season of this L.A. based show – and when they did they were Madoff-type Jewish stereotypes, albeit with a crooked doctor in "What Lies Beneath" episode written by Zachary Lutsky. "Hank Goldman" (Roger Bart) is in the patient with a bad skull fracture and head bandage because there was a prison riot. The senior African-American doctor "Dr. Rollie Guthrie" (played by William Allen Young) introduces him: Here's the doctor to the stars. .. He was my resident...who made a lucrative career out of over-prescribing narcotics, until someone died…The court referred to it as involuntary manslaughter. His wife "Ruth" – the same name as Mrs. Madoff-- (played by Olivia d'Abo) clutching papers: I didn't come to see you, Hank. I came to ask you again to sign these. "Hank": This is low, even for you. "Ruth", teary: Low? We lost our home. Our kids, they had to switch schools. We lost our friends. We lost everything. Now the least that you could do is sign these papers already. "Hank": I didn't mean for any of this to happen. How many times can I apologize? "Ruth": Not enough. I need you to do this for me. Please. I thought seeing him would be good from me. I thought it would bring me some closure, but it's just brought back every bad feeling that I've had for the last five years. "Dr. Guthrie": He's dying, Ruth. "Ruth": He made his bed. Doctor: I don't believe you feel that way. "Ruth": You don't know me anymore, Rollie. Doctor: I know who you were. I know who you both were. Come on, Ruth. This is not you. "Ruth": This is what he made me. She overhears him admit fault to the doctor and suddenly wells up to her husband: I wanted the fancy lifestyle, too. Maybe more than you did. She shows him an old photograph that he's surprised she kept: We had nothing. She: We had everything. They hold hands, as the doctor looks on: You know, I introduced them. Man, they were just kids, starting their lives.

Berlin Station (On Epix) In a spy series that features middle-aged actors as intelligence agents with long, jaded experience, even the Mossad agent is not the usual young sexy stereotype – instead she intentionally plays on a Jewish mother cliché. In "By Way of Deception, written by Larry J. Cohen, the deputy "Robert Kirsch" (played by Leland Oser) has let his boss know that the Israelis have contacted him. But we don't see by whom, until there's a knock on the door late at night. She's "Golda Friedman" (played by German actress Daniela Ziegler): I brought you soup. He: You made me soup? She: You're looking thin. Now let's talk about what else you can do for us. Unfortunately, even more stereotypes followed in other episodes; I'll post when I can. (updated 12/1/2016)

New Girl (on Fox) Schmidt's mother (played by Nora Dunn) was featured early in the 6th season in "Homecoming", written by Matt Fusfeld &Alex Cuthbertson, not only with a much broader New York Jewish accent than in the sweet wedding finale of last season, but with an excruciatingly suffocating stereotype beyond how she has even been portrayed previously in the series, what with her son being home for a high school reunion in Great Neck. We didn't need a replacement "Mrs. Wolowitz"! [Details forthcoming] (10/21/2016)

On The Night Of (HBO "limited series"), the tough, career prosecutor "Helen Weiss" (as played by Jeannie Berlin, who is having a banner year also appearing in Café Soceity as a very Jewish mother) is probably being perceived as Jewish, but I haven't noticed any explicit references. (8/17/2016)

In Suits (on USA) season 6 opener "To Trouble", written by Aaron Korsh, "Louis Litt" (played by Rick Hoffman) talks again of his sister "Esther", who appeared in an arc last season. When he and the remaining partners in the deteriorating law firm get high, he rants resentfully about her, something about her hiding that she went to fat camp. (exact quote forthcoming). But she did not return this season. (7/13/2016/9/22/2018)

In Aquarius (on NBC), "Revolution 9" episode, written by Rafael Yglesias, set during the California primary in 1968, "Detective Hodiak" (played by David Duchovny) is tracking down a blackmailer of an old war buddy about his frequenting prostitutes. The vice "Detective Blumenthal" (played by Matthew Akin) knows the two hookers, including one's real name: Becky Stein – yeah, it's a shonda for my people. Their pimp "Martin O'Reilly" (played by Ryan Caldwell) describes why he charges $100 for each: They're fresh girls. . .They all think they're actresses and happy to play any part you want. In photos, the two are seen posing in black lingerie. (7/9/2016)

In Royal Pains (on USA), the final two episodes of the summer series in the Hamptons continued its vague winking at the "Lawson Family" (father and two brothers) Jewish origins, with no Jewish women. At the wedding of the father "Eddie R." (played by Henry Winkler) to the presumably gentile "Ms. Newberg" (played by Christine Ebersole) in the penultimate, musical episode, "The Good News Is. . ." directed by Michael Rauch, there's a glass smashing and "Mazel Tov"s all around, but no other noticeable Jewish elements. In an early interview the actress developed a back story on the character from her first appearance in the first season, summer 2009, that cleared up her ambiguity: "I'm a dowager, I believe. In other words, I believe I'm a widow, and my husband was Jewish and had a lot of money. So we had agreed to raise all the children Jewish, and I guess the dogs are included... And I think money allows that sort of eccentricity because you can do things that other people normally can't do, like have a bark mitzvah for your dog and have hundreds of people come over, and sit poolside, and have the rabbi read from the Torah."
In the finale "Uninterrupted", written by series creator Andrew Lenchewski, "Evan R." (played by Paulo Costanzo) is discussing their expected child with his very gentile blonde wife "Paige Collins" (played by Brooke D'Orsay). As she worries if a gorgeous crib mobile would make the infant dizzy, he sits up: Wait – I thought I was the nervous Jewish mother around here! (7/9/2016)


Ray Donovan (on Showtime), opens the 4th season, with "The Girl with the Guitar", written by David Hollander, the Israeli "Avi" (played by Steven Bauer) is talked about, but not seen. "Lena" (played by Katherine Moennig) comes in to the office in the morning complaining: Tell Avi this isn't kosher chicken and to clean up after himself. Or better tell his mother to come clean up after him. We don't get to see his mother until the penultimate episode of the season "Chinese Algrebra", written by Sean Conway and Chad Feehan. While "Avi" has been held hostage in L.A. by the Russian mob for two days and beaten to within an inch of his life, his oblivious mother "Mrs. Rudin" (played by Anoush NeVart) calls the titular fixer (played by Liev Schreiber): Avi still hasn't called! He always checks in with me! "Ray" lies: It's my fault. I sent him him down to Nicaragua looking after a client. She: He won't like it - stray dogs and Communists. And no kosher food. Tell him I'm taping "So You Think You Can Dance in LA." (updated 1/4/2017)

The Goldbergs – Beverly and Erica plus in the 4th season (on ABC) (I detest this sit com so much that I couldn't bring myself to finish watching even the 2nd season, so I'm not goint to waste my time watching the didn't-deserve-to-be-renewed 4th season. I'll probably have to end up buying the complete series on DVD to do a complete review with episode-by-episode documentation of its clichés.) (9/23/2016)

Once Upon A Sesame Street Christmas (on PBS, and repeated annually in subsequent seasons) In this confusing mish-mash of holidays that transports the denizens back to 19th century New York on Christmas Eve, like in Christmas Carol, written by Geri Cole and Ken Scarborough, Zosia Mamet plays a mysterious "Bella", who starts out explaining Hanukkah sort of in the Lower East Side, then ends up wishing them all "Merry Christmas" before moving on to the next community that needs some Christmas Spirit. (12/13/2017)

Documentary Now (on IFC) In the 2nd season of this hilarious satire of Docu-Series, the parody of Spalding Gray's Swimming to Cambodia, as directed by Jonathan Demme, was called "Parker Gail's Location is Everything". While I suppose it's possible that his first wife Renee Shafransky was Jewish, I was only aware of his 2nd wife Kathie Russo, so I was surprised when the parody suddenly inserted a (funny) Jewish girlfriend "Ramona" (played by comedienne Lennon Parham). (Details forthcoming)
In their parody of the Maysles' Salesman, called Globesmen, written by Seth Meyers, the unsuccessful "Tom O'Halloran" (played by Fred Armisen) almost makes a sale of a globe at $49.95, until he brags that he doesn't have to "Jew down" the middle-aged couple: Umm occurs to me, Rothstein may be a Jewish name. And he's then seen throwing the globe into his car's trunk in frustration. I actually can't remember if there were ethnic slips in the 1968 original.
In the parody of The Kid's Still in the Picture, Mr. Runner-Up: My Life as an Oscar Bridesmaid, Part 2, written by Bill Hader and John Mulaney, with Hader as Hollywood producer "Jerry Wallach" details how he made a movie about a woman Holocaust survivor. [Details forthcoming] (updated 2/8/2017)


In the finale of the real Docu-Series America Divided (on Epix), "Home Economics — Domestic Workers in California", correspondent Amy Poehler interviews Rabbi Zoe Klein, posing with her daughters and sons and their nanny Sylvia from Honduras, though she demurs about policy issues regarding pay and domestic workers' right.
In another fine such series, Hate Thy Neighbor (on Viceland), British comedian Jamali Maddix's around the world tour of extreme racists stops at "Forbidden Love In Israel" to the group Lehava, which not only demonstrates against the Gay Pride Parade in Jeruslem, but the leader Ben-Zion Gopstein claims to help parents whose daughters have been seduced by Arabs. As he explains in broken English: "They go to the Arabs, very young daughters 14-16 years old because they give them money give them sex and pizza." (The comedian in his stand-up act back home mocks the idea of young women today having sex in exchange for pizz.) The wife of 26 years, with her eight kids and many grandchildren, is seen supporting his racist activities. A 23-year-old woman in the organization is making signs protesting gays with her broken English explanation: "I love the Jewish people, I love my friends. My grandmother is a survivor so I can't accept that someone tries to threaten us, terrorists and trying to date Jewish girls." (The comedian later mocks: "When did genocide get so sexy?") (updated 2/24/2017)


Madam Secretary – Nadine Tolliver in the 3rd season (on CBS) Approaching the season finale, the series seems to have forgotten she's Jewish. (updated 5/17/2017)

In Saving Hope, before "Dr. Sydney Katz" returned for a few episodes in the Rolling Stones-themed titles 4th season, her absence was noted. in"Beasts of Burden", written by Patrick Tarr, (originally shown in Canada, October 2015; on ION in the U.S. a year later), there was an implicit Jewish woman "Dr Clara Levine" (played by Kate Lynch) is a bully broad, senior surgeon with short white hair, who was the mentor of the current woman head of surgery. She challenges the star "Dr. Alex Reid" (played by Eria Durance) who is just back from maternity leave: You just had a baby, didn't you? "Alex": Yes. Luke. 11 months. Do you have kids? "Levine", though there's no hint that I could see she's explicitly Jewish: No, no kids for me. It was all work. Besides, in those days, if you stepped away, they would never let you back in again.. . . You're married to Charlie Harris, right?. . .Charlie's a great surgeon. And according to, Dawn, so are you.. . .I trained Dawn when she was a resident. Such a nervous little thing. She used to follow me around like a puppy. …One day I'll tell you the story of how she accidentally sewed her finger onto a cadaver. But she misses something in the surgery, "Alex" and "Dawn" argue over her; "Dr. Levine" is defiant, then quickly crumbles: I would never have questioned a senior surgeon when I was coming up…You're a junior surgeon who thinks she knows everything.What do you have to explain to me?. . . How did I miss that?. . . Five years ago, this never would have happened…And it's gone on long enough. I need to walk away. I've been afraid to. I've been afraid of the nothing that is waiting for me. It's time. . .Oh, Dr. Hamza I will miss you and our chess games. . . I think after four decades here, I've earned the right to the last word. It's a very different world from when I was starting out. The snickering and the accidental gropings and the second-guessing of your work, although I think in that department, we've come full circle…That's my point. It is easier for you. But you still have to prove yourself more than any male surgeon. Every day you come to work, you have to be perfect. I hope you're up for that.
"Katz" returns in the 1940's mode of a sexually fulfilled woman – no glasses and shiny bouncy hair, now that she's accepted being lesbian and Orthodox. She not only comes to consult on pregnant patients, in "Emotional Rescue", written by series creator Malcolm MacRury, but just in time for "Dr. Maggie Lin" (played by Julia Taylor Ross, who is Eurasian) to have been in the middle of Boston Marathon-type bombing and needs a serious operation. "Alex" watches how nervous she is waiting during the operation: You really love her don't you? In quick recuperation, "Maggie" comments: If you're here to kiss me, Alex already beat you to it. "Sydney": You're in the IC- how can you possibly make this half full? "Maggie": You're here. I'll provide more detail on their interchanges in subsequent episodes, but key was "Sydney"s final appearance in "All Down the Line", written by Jennifer Kassabian. At the changing room lockers, "Sydney": You're too skinny. "Maggie": Are you Jewish mothering me or ex-girlfriending me right now? in a strained tone of voice. "Sydney": I didn't know we were exs. "Maggie": We're not really friends right now either. "Syndey": Fair enough. . . I want to leave [my patient] with someone I trust before I go to Israel.…"Maggie": Has your life been a flurry of hot dates and deliveries? "Sydney": Not exactly. My father still won't speak to me, but my mom started sending me emails so that's progress. "Maggie": I'm glad -- have yu talked to Herschel? "Sydney": No, that's a burned bridge.…"Maggie": So if this patient is that important to you why don't you postpone your move? "Sydney": Because I'm moving to Tel Aviv to be with my girlfriend. She's expecting me next week. They end with a friendly kiss. (updated 6/23/2017)


Shoshanna Shapiro in the 6th season of Girls (2/6/2017)

Girlfriends' Guide to Divorce – Abigail McCarthy in the 3rd Season (on Bravo and renewed for 2 more seasons) Not only did the entire season forget she was Jewish, but she seemed to get stupider. (updated 3/18/2017)

Crazy Ex-Girlfriend – Rebecca Bunch, her mother, and others in their 2nd season (on the CW) Creator/star Rachel Bloom makes even more Jewish references on her Twitter posts, including before, during filming, and after announcing that Patti LuPone would be playing a rabbi and co-starring with Tovah Feldshuh (continuing as the mother) in the most Jewish episode of the series "Will Scarsdale Like Josh's Shayna Punim?", written by Dan Gregor and Doug Mand, that I'll eventually cover, but here's a still, and a link to LuPone's duet with Feldshuh "Remember That We Suffered".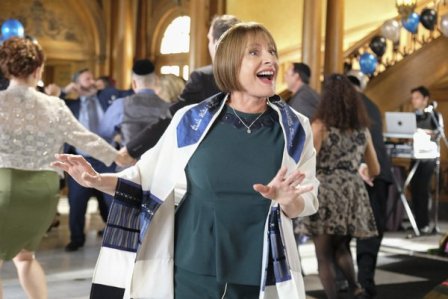 .
Bloom guesting on the Naked American Songbook podcast was described as: "When she came to the studio over Passover, Rachel and host Julian Fleisher made a meal out of the Great American Songbook, as well as our Naked American offering: a box of gluten-free matzo and a blessed bottle of fermented concord grape juice. All in the name of songs and freedom."
(updated 7/20/2017)


Felicity Smoak in the 5th season of Arrow (on CW) I presume during Sweeps Weeks she may cross-over into the 3rd season of The Flash and the 2nd season of SuperGirl (its 1st season on CW). With the traumatic break-up at the end of Season 4 (sob!), her role is even more about competence. Are the ratings going down because of the break-up? (updated 11/19/2016)

Younger – Lauren Heller plus in the 3rd season (on TV Land) Uncharacteristically, from the opening episode, "A Kiss Is Just A Kiss", written by series creator Darren Star, "Lauren" (played by Molly Bernard) made a Jewish reference. She is determined to cheer up recent widow "Kelsey Peters" (played by Hilary Duff): I'll get you through this. I'll meet you after work. There's a really hot grief group at my temple tonight. "Kelsey": That's wonderful. I'm not even Jewish! "Lauren": Even better, really!
While "Lauren" continued to be sharp in contemporary business marketing, she was suddenly turned "basic" as she describes her new self to her consternation, in "Last Days of Books", written by Alison Brown, by falling for cute, hetereo, Jewish doctor at Beth Israel Hospital "Max Horowitz" (played by Ben Rappaport, who was featured in the latest Broadway revival of Fiddler on the Roof). While I will go into them in detail when I get a chance, the recappers notably IDd them as "childhood friends" and missed the Jewish social context that they were originally camp friends -- "Color War" was a major clue and as seen in an old photo his (approving) mom found: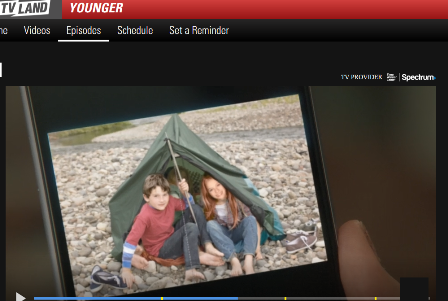 A surprising Brooklyn Jewish woman character appeared in "P is for Pancake", written by Jessie Cantrell and stayed for several episodes -- as a love interest for lesbian artist "Maggie" (played by Debi Mazer), who explains to her roommate: She's not my usual type. She's got this all natural, kinfolky kind of vibe. Not a stitch of make-up. At the community garden where they first met, "Malkie" (played by Sally Pressman) on her hat: It's actually from my boutique on Bedford. . .I'm lucky I have a loyal clientele. and invites her to an event for her spring collection: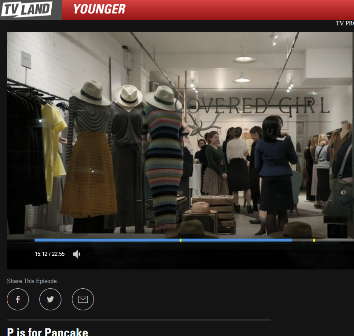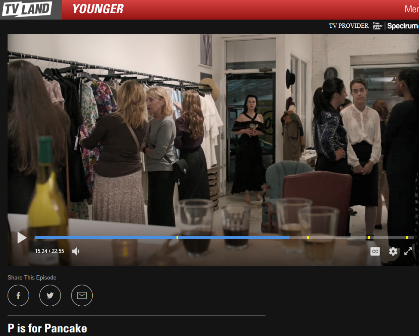 As klezmer music plays, "Maggie" notes the mezuzah on the door frame and kosher wine as a refreshment. "Malkie" helps her cover up her sexy dress with a shawl: My store specializes in stylish clothing for the modest woman, mostly Orthodox Jewish women. "Maggie": I must be off my game or something, because I kind of missed a few things. I thought you were gay, not Orthodox. "Malkie": Why can't I be both? I'm what you might call 'Orthodyke'. She pulls "Maggie" into a dressing room for a hot make out session. Details on the other episodes forthcoming as I get a chance, such as this mikveh for lesbians and such hipsters: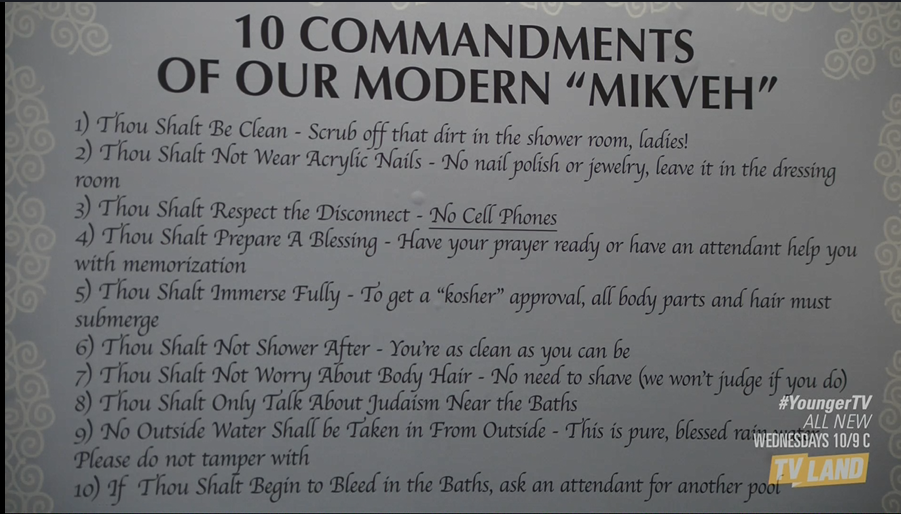 (updated 1/3/2017)

Better Things (on FX) I always seem to be identifying Pamela Adlon as playing a "putative Jewish women character" in series – such as in Californication and Louis. In promoting her new auteur series, that she created and is writing, she did not reference herself or her character "Sam Fox", a single mother of three daughters, as Jewish at all. In the pilot "Sam", that she wrote with Louis C.K., the only hint is when she dreams about her hirsute father "Murray" (played by Adam Kulbersh), who also seems putatively Jewish. There may be more clarification with more scenes with her mother "Phyllis" (played by Celia Imre), who is only heard in her dream nagging like a putative Jewish mother.
In the 3rd episode "Brown", written by co-creator Louis C.K., the family is in the middle of eating dinner hosting her guest, her African-American director "Mel Trueblood" (played by Lenny Kravitz, whose father is Jewish). After a commercial, she's seen in the middle of eating and conversation, apparently answering his question: Oh yeah, we don't have a mezuzah. "Mel": What's up with that? She: We're not that--. She shakes her head, shrugs and gets busy chewing a mouthful of spaghetti. That's the strongest indicator yet she is at least secular Jewishly identified, with self-deprecation. (updated 10/7/2016)


Deborah Gorn and Rachel Castello in the 4th and 5th seasons of Ripper Street (seen in the U.S. on BBC America) From the 1st episode of the season, "The Stranger's Home" written by Richard Warlow, set in 1897 during preparation of Queen Victoria's Diamond Jubilee, "Deborah Goren" (played by Lucy Cohu) tracked down the retired "Det. Insp. Edmund Reid" (played by Matthew Macfadyen) at his seaside cottage to ask his help to challenge what she is sure is the wrongful capital conviction of a fellow Jew "Isaac Bloom" (played by Justin Avoth). When he first refuses to challenge the investigation by his former colleagues, she wanly smiles I gave thanks when I heard your daughter was returned to you. Then pleads again as they watch the sun set over the ocean. Her reaching out to him is popular neither with her Jewish community, nor with his ex-colleagues.
I didn't realize until a few episodes in that another Jewish woman appeared this season – "Rachel Castello" (played by Anna Koval). "Deborah" describes her to the Inspector: She feels you police hide the truth of what is acted out on the people of her faith. He's as surprised as me: She is Jewish? "Deborah": Raised as an English woman. However, she discovers her heritage with a zeal, a zeal for truth, and that truth to be discovered however it may. They make an interesting contrast between recent Russian immigrant vs. assimilated Jew, as "Rachel" traced the murder victim's story: A history of the frozen and famished journeys made by those of my faith, that they might find shelter in Whitechapel. "Rachel" is an active reporter in the 5th season, so I'll keep looking for any reference to her Jewish background. (Details forthcoming.) (updated 3/18/2017)


Arranged (on FYI) – I'm making an exception for my usual avoidance of "reality" shows here, but since the satirical UnReal showed just how ridiculously manipulated they are, I was curious how an Orthodox Jewish couple would be presented in this second "docu-series" season of following American couples engaged as "arranged" couples. In addition to Texas Baptists and Californians of Indian heritage (East? South Asian? – I zap through the other couples) are Ben, 22, and Vicki Anderson, age 21. I was intrigued that unlike most TV assumptions of observant Jews as Hassids in Brooklyn, these two declare they are "Modern Orthodox" who met growing up in Seattle – so the "arranged" is very loosely applied in that she asked friends to fix them up now that both live in NYC – which is also common from The New York Times wedding stories.
In the first episode "Estranged Arrangement", the term baal teshuvah wasn't used, but Vickie explained she was raised in a fairly secular Jewish family and decided to take on the Orthodox commitment "to add meaning" to her life. He had noticed that she was now dressing modestly, so was interested. Ben's mother Ellen, who doesn't look Orthodox at all, explained the tradition of shiner negiah -- not touching until marriage – and laughs that's why young people want to get married already by their early '20's. Vicki lives on the Upper West Side (that she contextualizes for presumably older viewers is like living in Friends or Sex and the City where one of her friends jokes that it's harder to get kosher there than when they were in Israel – which is youthfully naïve, as I have kosher friends there and there are many observant congregations. [Ben, who in a later episode calls Far Rockaway suburbs and Manhattan "the city", seems to think it's Harlem.] While Vicki goes on and on about her nervousness of taking on the role of "happy smiling wife, but that now seems out of my league", the episode mostly focuses on the issue of whether she can take on the tradition of wearing a wig, sheitel. Her mom Susan: "I have trouble with the wig. The first time I see her with it, I might rip it off, and then go into therapy." First Vicki visits a wig store with her camp friend Rebecca to help her choose because she feels big pressure from Ben's family to do so (though his parents do not look that Orthodox). Next she goes with Ben and the woman seller puts on pressure too: "It's for you, for the sanctity of your marriage, and the holiness of your home." – but only offers long-haired options and there's no discussion of shaving her head. He compliments her wig, and she agrees to do it, though she's scared. While she loves her locks and considers her hair important to her sense of self, it's only mentioned in passing that a hat would also be acceptable, like the jaunty berets many young Orthodox women in my neighborhood wear, and which other young women she meets in his neighborhood wear as well.
Through the next episodes, through the wedding, Victoria, as her mother calls her, seems fairly natural; Ben seems coached and rehearsed, with his real self only slipping out when he gets stubborn and mad. [Gosh, it takes me awhile to transcribe each episode!] (updated 8/7/2016)


Genealogy Roadshow (on PBS) hasn't had Jewish women seeking their family histories much. In Providence, RI, was Deborah Rosenbaum, with a luxurious head of curly brown hair, seeking how her family escaped Nazi Germany. With a husband born in Russia and a son from Ehiopia, she was born in NYC, and wants to know how her father's family made it to Shanghai, China, where he was born. She's shown her family tree, through her grandparents, starting wih her grandmother Edith's German passport with a Swastika and "J", in what is now Poland. Her tailor grandfather was arrested from a department store amidst Kristallnacht and got out just as her grandmother was able to pay for a February 1939 exit stamp, to Italy briefly, and left just in time by ship through the Panama Canal to Shanghai, and stayed after liberation until passage to the U.S. in 1947 and became permanent residents in June 1949.
However, on the following week's episode from Los Angeles, the family behind the famous Schwab's Drugstore in Hollywood is never identified as Jewish – and it took me a bit of googling to confirm they were by finding that the eldest, founding brother Jacob is buried in a Jewish cemetery. The grandson of the youngest brother Leon came to the program with his wife and young daughter Catherine (with long, flowing, curly brunette locks) seeking confirmation of a clue they had found in family clippings that the business was also run by the brothers' mother Lena. The genealogist tracked her back to her birth as Leibe in Grodno in 1877, in what is now Belarus, married to Abraham Svouv (the family's original name spelling) in Philadelphia, moved on to L.A., widowed with 4 sons by 1922 (the other sons were known as Bernard and Martin). From probate court, they found her will stating she was: "equal owner and co-partner in the operation of drug stores and liquor stores." The impressed wife calls her "a mogul!" A lost to history, and not fully credited here, Jewish mother entrepreneur! (updated 6/29/2016)


In Feed The Beast (on AMC), this gritty drama set in an oddly very fictionally mostly white contemporary Bronx (based on a Danish series Bankerot I haven't seen) and starring David Schwimmer, who usually plays Jewish characters but is here "Tommy Moran", explicitly identified a woman character as Jewish in "Secret Sauce", written by Hilly Hicks, Jr. His estranged racist father "Aidan Moran" (played by John Moran)'s accountant "Ruth Klein" (played by Kathryn Kates) warns about the loan he's given his son to start a risky new restaurant: You're not worth as much as you think you are 'Mr. Restauranteur'. "Aidan": What am I paying you for? I thought you people were good with money. She: I'm a Jew, not a magician. .. You're running out of money. This was the 4th episode, but I don't think this was her first appearance in that office. The actress was hired, per AMC's original announcement, as a recurring character: "a know-it-all, tough accountant".
In the 7th episode "Tabula Rasa", written by Becky Mode, her boss rolls his eyes when she comes into his office, after just hearing that his cancer his worse: How about some good news. She: My nephew graduated summa cum laude from Harvard Business School He: Cut to the chase. She: My grandson will be here soon. You're cash-poor. Time to pull the plug on your little money pit in the Bronx. I'm gonna have to find another $35,000 for your second trip down to Mexico for that alternative medicine you're so keen on. He: Forget it. I'm done drinking Mexican horse piss. Besides, it's not working. She: Glad to hear it. I'm not glad it's not working, of course. Glad 'cause you need the money. The series was cancelled after this one season. (updated 9/11/2016)


The/Le Tunnel – Elise Wassermann in the 1st season (on PBS/originally a Sky Atlantic/Canal + co-production) In this 3rd version of Bron/Broen and The Bridge, the borderline between Denmark/Sweden and Texas/Mexico, is now between England/France. The different background of the otherwise pretty-much-the-same rigid, unemotional, borderline Asperger's French detective who picks up a hunk in a bar for anonymous sex, played by the blonde Clémence Poésy, came out in the 2nd episode, written by Ben Richards. In investigating the gruesome murder of "Député (MP) Marie Villeneuve", she follows up on threatening mail from an organic farmer who had been sending her threatening mails to check out his abattoir: Somebody who produces and butchers their own meat because they hate the Zionist Occupied Government of France. But he catches her in the middle of the night, per the subtitles: Wassermann, that's a Jewish name. Detective: It's just a name. My father was Jewish, my mother was Catholic. I don't care. . . Villeneuve wasn't Jewish. He: She works for the Zionist government. Meanwhile, the real serial killer is on the phone with his journalist liaison and dismisses the farmer: He's just a cretinous Nazi. She assures the other cops: He just hates Jews. The British detective muses that the killer's messages sound like he thinks he's like an Old Testament God. (6/29/2016)

The Fosters – Emma Kurtzman in the 4th season (on FreeForm) was a surprise return in the season premiere "Potential Energy" written by Bradley Bredeweg and Peter Paige, especially with the same actress Amanda Leighton in atypical behavior of playing hooky with the new actor now playing "Jesus" (Noah Centineo). With zero references to her Jewish identity from past seasons, they bond while the school is in a shut-down panic over a potential school shooting, she laughs with him about "Harry" breaking up with her after a few months. [Maybe that was in episodes I missed last season.] Despite their hand holding during the tense moments, she clarifies: Today's been kind of intense, and we had a lot of fun and you've been very sweet. But I don't want you to think we're starting something up again. His casual agreement wasn't very convincing! Continuing as a recurring character in subsequent episodes, she's making out more and more with him. In "Trust", written by Anne Meredith, "Emma" is more eager and open about her sexual experience than Jewish teenage girls are usually portrayed on TV, but she also is the more mature one in insisting they go to a clinic and get tested for STDs (and she's the one driving the car) before they agree to be exlusive friends with benefits who don't have other friends with benefits.
In "Forty", written by Megan Lynn and Wade Solomon, "Emma" is again a self-confident Smart Girl participating in the STEM Club and encouraging "Jesus"s sister "Mariana Adams Foster" (played by Cierra Ramirez), along with the only other girl in the club, to enter a competition with her to design a robot – and inspiring "Jesus" to help. The Fosters Tumblr account posted a GIF clip (scroll down because I can't figure out how to post a GIF myself) of the girls high-five-ing each other when they beat out the boys when they insisted on the originality of their design.
So while "Emma" is continuously referred to by "Jesus" as "smart" (even "too smart" for him), in "Doors and Windows", written by Constance M. Burge, she weeps to his foster brother "David Foster" (played by David Lambert) that while she was on the pill, a pregnancy test revealed she's pregnant and she's missed her period. Worse, she tearily shakes her head that she can't talk to her parents, as he suggests, or tell his moms because they had just railed against secrets: I don't want to be a 16 year old with a baby. Is it horrible if I don't tell Jesus? You know with his condition, I'm afraid it's jut going to be too much for him., because "Jesus" is recovering from a brain injury – though it's more that he sees them together and is jealous. I'm furious that so many teen shows have girls get pregnant on The Pill! At least add in some dialogue that maybe she didn't take it reliably, or missed a day or something, which would be the real reason women get pregnant while taking it.
Through the whole arc of her decision and the family fallout of an abortion through the season finale, there was no reference to her Jewish identity or beliefs, so that late-comers to the series would have no idea. (She would just shake her head no when over and over she and others would ask if she could or did tell her mother/parents.) The issues were framed as her freedom with her body, lack of readiness to care for a child vs. Jesus's history as an adoptee. [Details of the season forthcoming.] (updated 4/12/2017)


Odd Mom Out– Jill Weber in the 2nd season (half-hour sitcom on Bravo) I didn't get a chance to cover their advance "Time In" panel at Tribeca Film Festival, because I was busy covering so many women-crewed films, and I thought it would eventually stream or be reported online, but I'll keep checking, though I wonder if anyone else would ask about the Jewish aspects.
Set before and during Yom Kippur, the 2nd episode, "Fasting and Furious" written by executive producers Julie Rottenberg and Elisa Zuritzsky was not only the most Jewish episode of the series, but of just about any recent TV series. I was surprised to have confirmed, however, that though "Jill"s BFF "Dr. Vanessa" constantly lets loose with Yiddishims, she explicitly identified: I'm a lapsed Catholic. (and in the following episode joked she still felt guilty over not bothering to see a visiting Pope.) I'll post all the relevant dialogue when I have a chance! (updated 6/27/2016)


UnReal– Rachel Goldberg and others in the 2nd season (on Lifetime) relevant spoilers were teased at the Vulture Festival panel 5/22/2016: "Quinn (Constance Zimmer) and Rachel (Shiri Appleby) get matching tattoos that say, Money Dick Power. 'It's supposed to be a list of priorities so they never forget their priorities again," [the show's co-creator Sarah Gertrude] Shapiro said. . . Rachel is Everlasting's showrunner now. 'After season one, Rachel really has nothing left to lose. ... I think that this is her Hail Mary pass to make her life mean something,' Shapiro said. This newfound power also includes an improved wardrobe. 'We're really feeling her stand up and her look really goes along with that', Appleby said. . . Rachel [has a] new love interest this season. Rachel's is a new producer on Everlasting who seems like he could be perfect for her. 'He comes from a documentary film background, he has a nice Jewish family, a house in Martha's Vineyard,' Appleby said."
In addition to "Rachel" being constantly needled by her mother the shrink, who even sends her negative evaluations of her daughter's mental state to her co-workers on the show, one of the new contestants on Bachelor-clone Everlasting is Jewish – "Yael" (played by Monica Barbaro) is immediately dubbed "Hot Rachel" by the crew. By the season's second episode "Insurgent", written by Stacy Ruykeyser, the very manipulative Sarah Lawrence grad "Yael" tries to play Jewish geography with her, then asks: Can we talk? with Vassar alum "Rachel", who cuts her off: Like Heeb to Heeb? This after "Rachel" manipulated the African-American college student into being on the show because for the "revolutionary" first time she got a black bachelor as the bait. (A primary way other characters needle "Rachel" throughout the season is referencing her mother and her mother's diagnosis that she is unstable.)
In the tumultuous "Ambush", written by Ariana Jackson, she ends up in a fetal position and calls her mother for help. Mom puts her into a psychiatric facility and hands her a cup of pills: You know I love you, right? [More detailed commentary forthcoming] (updated 7/26/2016)




2015/2016 Season

My favorite Jewish women TV comediennes were seen welcoming the Jewish New Year with wit. Jenny Slate, this season of Married, tweeted: "Yom Kippur, a day of not eating&saying sorry for every possible thing AKA THE LIFE OF AN AMERICAN ACTRESS." Abbi Jacobson and Ilana Glazer posted the webisode Hack Into Broad City – Yom Kippur. Amy Schumer fan University of Michigan junior Becca Soverinsky compiled 10 Stages of the Yom Kippur Fast, as Told By Amy Schumer that went viral; though I follow Schumer on Twitter, I couldn't find her reaction, but in December she did post her childhood Hanukkah video.

But will she be Jewish? Deborah Schoeneman, a putative Jewish woman newspaper, magazine, book and TV writer, announced, 9/1/2015, a deal with CBS Television Studios for a dramatic TV series inspired by a prominent Jewish feminist defense attorney. She told Variety: "When I was finished working on the last season of The Newsroom, I was trying to figure out what kind of show I wanted to develop. . .Gloria Allred was in the center of the stories in the news that most interested me, particularly about women seeking justice. I was thrilled that she was receptive . . . She was a lot of fun to pitch with …I feel lucky to have the opportunity to work with Gloria Allred to create a dynamic, passionate and polarizing character based on her. Gloria's an amazing storyteller with a deep well of perfect material for television."

Difficult People - I haven't watched because I don't pay for Hulu.

While cousins from both mine and my husband's families are two of the people in charge at HBO's Veep, and the Emmy-nominated "Mother" episode, written by Alex Gregory and Peter Huyk, has been the most acclaimed of this season, I'm not sure if newspaper reporter "Wendy Keegan" (played by Kathy Najimy) the wife of "White House Press Secretary Mike McLintock" (Matt Walsh) is Jewish. So I wasn't quite sure to make of her quick claim when interviewing a potential evangelical surrogate mother "Deborah Lee" (Meredith Hagner) who proclaims: Praise Jesus! Are y'all Christians?, she quickly replies: Yes! I mean, a lot of people think that I'm Jewish. But no! (with a gesture across her neck) and she makes up "The Church of the Holy Womb" that they attend. (9/17/2016)

I stopped watching NCIS for Ziva David's last season, though I never got around to formally documenting her last episodes in Fall 2013 here. There was much fan anticipation if she would return in the final Sweeps Week episode of Michael Weatherly who played "Tony DiNozzo" (before he went on to another CBS season). In "Family First" (Season 13 Ep 24, broadcast May 17, 2016), written by Gary Glasberg & Scott Williams, she is talked about constantly throughout the episode, including by a (presumed Jewish) woman director of Mossad, whose couple of previous episodes I had missed, "Orli Elbaz" (played by Star Trek fave Marina Sirtis). But more importantly it is revealed that not only did "Ziva" die in a terrorist revenge attack against her father, but that she had a daughter fathered by "Tony", she named "Tali" as the namesake of her sister, who also died in a terrorist bomb (and played here by two adorable toddler twins). In a climactic scene, the girl points to a photo of her parents together and says "Ima" and "Abba", which "Tony" figures out is Hebrew for "Mom" and "Dad". As usual for this series, the closest any mention is made of "Ziva" being Jewish is when he gives to his daughter her mother's necklace that he kept in his pocket close to his heart – but only loyal viewers would know it was a Jewish star, because there was not the usual sentimental close-up. [More commentary forthcoming.]
Executive producer Gary Glasberg posted on the CBS website under "11 Things You Didn't Know About the NCIS Season 13 Finale" [Of course there's no reference to "Ziva" even being Israeli]: "Hours, days, we sat in the writers room talking. Being a field agent is dangerous. And, if you're suddenly a single parent, do you continue to take that risk every day? Or, does having a child change everything? Based on all of our research, talking to actual federal agents and law enforcement officers, it certainly does change things. And, now Tony would do anything for that little girl. Anything. . .Ziva would have introduced DiNozzo to Tali eventually. The real question is, why didn't Ziva tell him sooner? Because, like Orli says, Ziva always wanted Tony to live his life. You all know Ziva as a fiercely independent character. We truly believe she was planning to introduce him to his daughter when the time was right. Should that frustrate and anger Tony? Of course, it should. But, he also knew Ziva well enough to understand. And, at the end of the day, look what she's given him. A new sense of purpose. A new chapter. A new beginning. A new love. We knew it would take something enormous to make Tony put down his badge. Tali is that very special something. . . Tony finding the photo of he and Ziva in the go bag and showing it to Tali is one of my favorite scenes in the episode. This is where all the puzzle pieces really fit together. This is where Tony realizes how much Ziva truly cared for him and that she wanted him to be in Tali's life. It's also where Tony acknowledges (off screen after this revelation) to join his team and confront Kort. Go back and watch this scene again. It really covers a wide range of story and emotion."
But "Ziva" fans kept pressing the actress with questions, so she gradually provided more explanation of why she left the popular series. First saying: "Unfortunately, because of political things and the scripts not being good enough, I chose not to [stay]. I love this character. I worked eight years in crafting this character and loving her, so when I felt or I perceived the character was not being treated with the respect that she deserved, all the money in the world couldn't buy [me]." At Babson College, Cote de Pablo added: "They were going to send her back to Israel and make her an unfortunate, miserable woman. I said well what do I leave all the women who have watched and followed the show? I didn't think it was fair. And so I said, 'Until someone can really write something fantastic for her, I won't come back.'" (updated 8/19/2016)


On Law & Order: SVU episode "Collateral Damages", written by Samantha Corbin-Miller, featured an obnoxious until he's brought down Jewish-implied (with a Yiddish word here and there) "Deputy Commissioner for Public Information Hank Abraham" (played by Josh Pais) revealed as an addicted consumer of child pornography. But his attorney wife, counsel for child social services and distraught mother of a boy and girl, "Pippa Cox" (played by red-headed Jessica Phillips,) is nowhere implied as Jewish, what with her parents "living in Pennsylvania", and the police don't pass any Jewish ritual objects in the apartment that I could see while they were thoroughly searching for the sordid evidence. Defending the informant, Susie Essman was also playing an attorney "Arlene Heller" who also wasn't specifically identified as Jewish. While they didn't meet my threshold for at least "putative", did the audience assume both were Jewish women anyway? (4/6/2016)

The second season of The Blacklist (on NBC) definitely confirmed that the ex-Mossad agent "Samar Navabi" (played by Mozhan Marnò) is a Muslim Iranian. But in "Alistair Pitt", teleplay by Nicole Phillips, "Agent Elizabeth Keen" (played by Megan Boone) is sarcastically surprised when "Samar" keeps nagging for input into her baby shower planning: Who are you? "Samar": A Jewish mother. Part of my Mossad training. (3/17/2016)

Grace and Frankie – Frankie Bergstein (on Netflix) Whoops – Season 2 began streaming Spring 2016 before I even got a chance to watch S1 yet to comment on Lily Tomlin's portrayal of the Jewish woman character. (5/22/2016)

New Girl (on Fox) Schmidt's Jewish mother, played by Nora Dunn, returned for the season ending 2-part wedding episodes. (Description forthcoming) (9/11/2016)

On Chasing Life (ABC Family) "Ready or Not" episode, written by Joni Lefkowitz, had an odd exchange, especially for a show which has no Jewish women characters this season. The mother's know-it-all gay BFF "William" (played by Gregg German) espies a new dress by insecure neophyte Brit black dresss designer: So what's it for? Like a bat mitzvah? "Beth" (played by Aisha Dee) has an odd reference: Yeah, maybe Sarah Jessica Parker's bat mitzvah. "William": I'm just saying, 'cause it looks so buttoned up. But maybe that's the style these days. She snipes back about his track suit; he's defends his running outfit with a parting Okay, well shabbat shalom. But when he leaves, she bemoans to the supportive younger daughter "Brenna Carver" (played by Haley Ramm) wearing it: He's right. You look like you're going to a bat mitzvah. (9/25/2015)

This first season of Shades of Blue (on NBC), "Detective David Sapirstein" (played by Santino Fontana) is first seen caring for his mother (played by Kathryn Kates) in "Fall of Man" episode, story by Marta Gené Camps , teleplay by Mike Daniels &Wolfe Coleman. He is arrested by the FBI and he gets them to bring him home, but Mom's not there yet: She's got book club today. She should be back. Both speaking with heavy New York City accents: David, who are these people? He: They're friends, Ma. She's suspicious: I know your friends. He: I got some new ones. Sit down , Ma. She: Who is that man, telling you to hurry with your own mother? He: Listen to me. I'm gonna have to go away for a while. She: What are you saying? David, are you in trouble? He: No, it's work. It's a big case. I'm the guy they want on it. She, with some sarcasm: You don't do big cases. You're a neighborhood policeman. You come home after your shift. He: Listen. Look at me, Mom. You'll be fine. I need you to know that, okay? She: I don't like this, David. You're acting strange. While he uses getting her heart meds as a distraction to escape, things do get stranger – his corrupt captain tries to kill him. (3/28/2016)

It's Always Sunny in Philadelphia - Artemis (on FX) I've been watching this funny, frequently outrageous satire of political correctness since the first season in 2005, but don't remember if "Artemis" (played by Artemis Pebdani) was portrayed as Jewish before "Being Frank", written by Scott Marder. In an atypical gimmick of being inside "Frank" (played by Danny DeVito)'s crazed, amnesiac, usually more scheming, head, he goes to her apartment seeking a rug. She greets him: We're sitting shiva for my Aunt Joyce. He's thinking that he's horrified to be around a roomful of so many Jews, though his eye is caught by young "Lisa" in a short black dress walking across the room. "Artemis" introduces him: Mom and Dad, this is my part-time lover Frank Reynolds. His head is bursting (literally in the mirror), and she offers him drugs from the medicine cabinet, before he runs back, grabs the rug from under the food buffet, and runs out of her apartment, all the time mumbling against Jews. (3/26/2016)

Amy Schumer (on Comedy Central) Not only was this 4th season the weakest, despite a pointedly funny episode about gun control (in activism spurred by the TrainWreck shooting), most were too much about fame – with none of the kind of Jewish references in earlier seasons. The closest she came was in "Psychopath Test", where author Jon Ronson interviews about telling an ISIS leader he was Jewish as better than being an atheist – and she has no comment. (6/25/2016)

Saving Hope – Dr. Sydney Katz (Canadian CTV series shown in U.S. on ION) My hypothesis that if I barely watch even a mediocre hospital show with supremely attractive people, let alone taking place at "Hope Zion" in Toronto, a Jewish woman may eventually show up – one did, starting in the 2nd episode of the 3rd season, shown in Canada in the season beginning September 2014, and in the U.S. from April 2016. So now I'll have to catch up, at least with her episodes.
She was introduced in "Kiss Me Goodbye" (Season 3 Episode 2) written by Adam Pettle, "Dr. Maggie Lin" (played by Julia Taylor Ross, who is Eurasian though her character's ethnicity hasn't been mentioned in the episodes I've seen) walks in to see a new young, bespectacled woman in a white coat: Where 's the real doctor? "Dr. Sydney Katz" (played by Stacey Farber): I am the real doctor. "Lin": Are you Dr. Katz? "Katz" shoots off a staccato of questions that "Lin" barely has a chance to answer monosyllabically in between: Are you Jewish? Because you answer a question with a question. . .I have an Israeli disposition. I keep a kosher home and leave early on Fridays and when I get married I will probably wear a wig. Do you have a problem with any of that? Good. Later they are faced with a brain-damaged pregnant patient. "Lin": Have you ever seen a case like this? "Katz", using terminology an Orthodox Jew wouldn't, let alone with drawn out emphasis: No, thank God. "Lin": It's bad luck. "Katz": I don't believe in luck. "Lin": What do you believe in? "Katz": God and medicine- in that order! "Lin": What if she doesn't recover? "Katz": We work hard and pray that she does. She's shocked that the husband, a reluctant father-to-be, does not care about saving the baby and will not get permission for an emergency C-Section. "Katz" argues with him vehemently: Rail at us, God, or the baby but it needs to come out! Your son will die! To her medical colleagues: Is everyone just throwing in the towel? "Dr. Melanda Tolliver" (played by the apparently African-North American Glenda Braganza): He's next of kin and the baby's father. It's his decision. While they're calm, "Kaz" is apoplectic: There's a life in there! Is no one willing to fight for that? A male doctor: It's not our fight. "Katz" keeps arguing: yes it is! We're doctors! I don't accept that --Sorry. "Lin"s ex, a psychologist, "Dr. Gavin Murphy" (played by Kristopher Turner) observes: That's the new staff ob-gyn? She seems. . "Lin": Young? Shrink: Passionate. "Lin": That's one word for it. Her ex's reply is in conext of their break-up: Better than being unfeeling I guess. The spirits that haunt this coma-patient-spirits-wandering hospital convince the husband to permit the C-section.
Subsequent episodes show her to be the most humorless Jewish woman on TV since the "Lilith" on Cheers for whom I named this page. [Examples forthcoming]
"The Parent Trap" (Season 3, Episode 11), written by John Krizanc & Amanda Fahey, briefly showed "Katz" after she is engaged to "Herschel Hoffman" (played by Jonathan Silver, though not seen in this episode). In the doctor's lounge, "Dr. Charlie Harris" (Michael Shanks, a primary reason I watch the show) asks her: So are you and Herschel planning a honeymoon? She still doesn't look Orthodox enough to reply, even so unenthusiastically: Honeymoon isn't really Jewish tradition. We have "Sheva Berakhot Week" instead. What it lacks in scattered rose petals it makes up for in dinners with people you don 't know. She asks if "Dr. Dawn Bell" (played by Michelle Nolden) will let her take the week off. "Charlie": See that's the thing - Dawn never took time off for a honeymoon. "Sydney": You mean your honeymoon? [Commentary on "Sydney" in the rest of the season forthcoming] (updated 5/22/2016)


This season of Finding Your Roots with Henry Louis Gates, Jr. (on PBS) included an interchange that's typical of this series' uneasy way to deal with its celebrities' Jewish roots. Bi-racial comedienne/actress Maya Rudolph participated in this show to learn more about her father's Jewish roots, as well as her African-American mother's. She knew her paternal grandfather eschewed Judaism, but she learned that her great-grandfather, originally from Vilna (accompanied by a description of Russia's Pale of Settlement) founded a successful synagogue in Pittsburgh. Though there was no discussion of their wives and I didn't catch her grandmother's name on her animated family tree to presume if she was Jewish, Rudolph's reaction just indicated her ignorance: "Why wasn't I bat mitzvahed?" Two elderly men, nonogenerian New Haven-born TV producer Norman Lear and Canadian-born octogenarian architect Frank Gehry (né Golberg), considerably teared up at seeing photographs and immigration information on their "bubbe"s, who both left the anti-Semitism of the Pale of Settlement, and both cited their love and support for encouraging their creativity, especially over criticism from their fathers.
In "The Long Way Home" episode, Julianna Margulies, of all participants ever in this series, was the most enthusiastically Jewish-identified, proudly describing her return to Jewish ritual at her wedding "to a Jewish man" when she was seven months pregnant, and in how they are raising their son in the tradition. She punctuated every finding about her family's history with exclamations such as"That's so Jewish!", including "Jewish scholars" finding that her family, who came to the U.S. after expulsion from Romania, had basically the same last name for 500 years, heading back to Rabbi in Bavaria. While her family myth was that they had previously been expelled from Spain as Sephardic Jews, she was thrilled that the DNA tests showed she is virtually 100% Ashkenazi Jew. But unusual for this series, the tracing of her maternal side touched her more emotionally, when an eyewitness account confirmed her grandmother's oft-repeated recollection of being saved from a sinking boat and being gifted the sustenance of milk by rescuers.
In "Maps of Stars", Dustin Hoffman, who at almost 80 years old knew nothing of his family background, is overcome to find out out his great-grandmother Libba Hoffman's heroic efforts in Russia to find out the fate of her husband and son, who were each murdered by the cheka during the Russian Revolution, and then survive her own imprisonment in a labor camp to emigrate first to Argentina, and finally to join her family in Chicago. (And that his grandmother Esther sued the USSR for compensation for the executions.) Her story not only brings him to tears ("That's a movie!"), but to passionately declare "I'm a Jew!" over how their sacrifices, her heroism in particular, made his existence and success possible, and emphasized to him his heritage and identity. He repeats "I am a Jew. I'll wear that on my sleeve." (updated 3/9/2016)


In Sex&Drugs&Rock&Roll (New York-set sitcom on FXX) episode "Hard Out Here for A Pimp, written by series creator and star Denis Leary, band manager "Ira Feinbaum" (played by Josh Pais) advises the boomer rocker about influencing the dating of his daughter "Gigi" who is now lead singer for their re-tooled band: This is basic parenting 101, John. I mean, Steve the monkey could Google this shit. I wanted my daughter to marry a Jewish guy. You know what I told her? "Johnny Rock" (played by Leary): Don't marry a Jew? Manager: Now I have a son-in-law named Noah. But when "Johnny" and his daughter get upset that the hipster rocker he manipulated into dating is too much like himself, the manager admonishes: This is what happens when you interfere. (9/5/2015)

On Playing House, "Cashmere Burkha" episode, written by Gavin Steckler, "Emma Crawford" (played by Jessica St. Clair) is at her suburban JCC when she bumps into an old high school classmate [OK, that describes everyone in the town] – "Bread Man Dan" is now a rabbi (played by cute Kyle Bornheimer). They start dating, but he explains: One of the complications of dating a rabbi is that I have 300 people in my congregation who want to get all up in my business. "WASP" (as she describes herself) "Emma", who said all she knows about Judaism is a community theater production of Fiddler on the Roof: So you want to keep it quiet? . . Music to my ears. I don't need a bunch of Jewish moms kubutzing about my business. He corrects: It's kibbitzing. And they go back to kissing. By the next episode, he agrees to go public that he's dating "a shiksa", as he describes her. (8/23/2015)

The Walking Dead There was zero indication over two seasons that the Mayor of Alexandria "Deanna Monroe" was Jewish, but the brilliant actress Tovah Feldshuh is so Jewishly identified that her friend actor Jason Alexander made the putative perception explicit when he guested on the mid-season finale of Talking Dead in describing her character's loud (though pantomimed) final heroic self-sacrifice: "Classic Jewish mother scream! Out of bullets – so what do you do? Yell Go to bed!" Andrew Lincoln (who plays "Sheriff Rick Grimes") described her character as: "a smart, adaptable, tenacious, and authentic person." The dedication of the "In Memoriam" was "You taught them how to live." Feldshuh said she drew on her experience playing Golda Meir (in her long-running one-woman show of William Gibson's play Golda's Balcony and in O Jerusalem) and talking to Meir's children in reflecting on a leader as a woman and parent – though she didn't cite Meir specifically in the interview, which probably went past most fans. Demonstrating the push-ups they quietly did before each take and noting that the town's unprepared constituents "were not idiots - we were innocents", Feldshuh proudly described that her character became "a samurai" – a word I have never heard applied before to a Jewish mother! I was reminded of Moses's concluding blessings as "Deanna" gave final, humane, and encouraging advice to both "Rick" and the other female samurai "Michonne" (played by Danai Gurira). (11/30/2015)

Banshee (on Cinemax) was very racially and ethnically diverse in its criminals and victims within Pennsylvania's Amish Country, but a Jewish woman didn't appear until the final season, and then only very briefly, in "Bloodletting", written by Chad Feehan. "Parole Commissioner Sheryl Golden" (played by Amy Marsalis) is identified as Jewish by taunting backwoods White Supremacist leader "Randall Watts" (played by Chance Kelly), who threatens her daughter "Shoshanna" – and then suddenly gets paroled. (9/11/2016)

On Belief, Oprah Winfrey's docu-series on her OWN Channel, featured 3 young and somewhat naïve but at least diverse, Jewish women. In the 2nd episode "Love's Story" the official description in the press notes is: "We meet Rena Greenberg and Yermi Udkoff of Brooklyn, New York as they prepare to marry in the Hasidic faith [sic], which believes every person is born with one half of a soul, and only through marriage can the two souls reunite with each other." With no distinction made between folkloric tradition and theology, she seems so unquestioning conventional. During her wedding preparations, Rina glows about only knowing her future partner for two months in order to share love and the continuation of a Jewish family. As she goes on about "soul mates" like out of the most puerile romance novels, she insists this will not just be a wedding party, but the start of something new. As they reach over the barrier between the men and women at their reception, Oprah intones about "It's the most important day of her life; now she is complete. . .As the Torah commands they will be fruitful and multiply." In the 4th episode "A Change Is Gonna Come", the press notes identify Shane Fallon only as "secular", but the narration presents a more complicated background. While her father Howard is described as "raised Episcopalian. Like her mother, Shane was raised Jewish." Which is particularly significant for when she says: "I was very much my mother's child." Both are still grieving from the mother Julie's death from cancer 5 years ago, and the sister Kendra's death in a plane crash in Nepal a year ago. Oprah's narration: "Neither is observant, but decided to try something radical to get on with their lives." – they go to the Burning Man Festival in Nevada's Black Rock Desert. They post pictures of their 2 loved ones in the temporary "temple" and ritually mourn through its burning. In the penultimate episode "The Practice", the Polyphony Orchestra in Jerusalem features two apparently secular teenagers -- 18 year old Jewish cellist Hagit, who looks like Mayim Bialik, and 17 year old Muslim flutist Mais, who, ironically, looks like the TV stereotype of a Jewish woman with her long, dark, curly hair. Hagit: "When you get comfortable with the music, you make jokes, and you become friends, and it just comes together. . .People are afraid of each other and don't want to know the other. I hope hearing the concert they will change their minds a little." Mais: "We forget all that and work together as humans and musicians. She's really great and I really love her." When I realized the writing credits are oddly not in the press notes, I only noted one episode's, but probably applies to the whole series: Supervising writers - James Bernanke and Sheri Salata, writers Michael Davie, Danielle Anastasion, Courtney Hutchens and Erica Sashin.
The orchestra members' experience seems outdated compared to documentarian Danae Elon's witnessing of increasing estrangement in P.S. Jerusalem (So, nu: my commentary on the Jewish women.) (previewed at 2015 Doc NYC Festival) (updated 11/5/2015)


On Who Do You Think You Are? (on TLC), actress Ginnifer Goodwin, traced her non-Jewish father's family. At the grave of her newly discovered great-grandmother, she respectfully put a stone on her headstone: Well you aren't Jewish, but I am, and she explained the tradition. The penultimate episode of the season may have both surprised and reinforced stereotypes about actress/singer Lea Michele. Usually perceived as Jewish, including by Jewish media watchers, she introduces her genealogical search by emphatically explaining that she was raised Catholic by her Italian mother and was always close with her Bronx family, but doesn't know much about her Jewish father's family, except that they were Sephardic via Greece or Turkey. At the Center for Jewish History, a scholar of Sephardic history explains her family came from the large Jewish community in Salonika, which after World War I was shifted from Turkish to Greek control. At Ellis Island, she finds the transcript of the 1918 deportation hearting her great-grandmother Bonita (Bessie) was subjected to because she was illiterate, a recent Congressional mandate, and her papers probably claimed to be heading to Montreal to get around that restriction. The testimony also reveals that she was a widow, and the man who was testifying that he intended to marry her that day (he's listed as Moishe – a name Lea doesn't understand, knowing him as Morris) was the brother of her late husband. The narrator then intones that this was a "long held Jewish tradition known as Yibban" – but only Wikipedia says so, and that is even quizzical in the Israeli haredi sect fiction Fill the Void (Lemale et ha'halal) (So, nu: my commentary on the Jewish women). But in learning about her great-great-grandmother Miriam, she is not only told of the Great Fire of Salonika in 1917 that decimated the Jewish community, but how in March 1943 the entire community of about 50,000 was transported in 18 trainfuls to Auschwitz. In a surprise visit, an Israeli cousin who she had only vaguely heard about meets her at a Lower East Side synagogue with the information that only one member of her family survived – this woman's father, sibling of her great-grandmother, and that he had registered Miriam, with a photograph, and the rest of their family with the Yad Vashem Memorial. Her father remembers last meeting this woman in 1984, two years before Lea was born. The star beams at the end: "Now I feel Italian and Jewish!" and assures her father: "You are very Jewish!" (updated 5/5/2016)

Madam Secretary – Nadine Tolliver in the 2nd season (on CBS) has only hint of her personal life, as played by Bebe Neuwirth. The closest to any possible remembrance that she's Jewish was in the holiday episode "The Greater Good", where the "Secretary of State Teresa McCord" (played by Téa Leoni) was carefully filmed talking in front of her office's holiday decoration of a menorah with candles, after she went by the many Christmas trees. "Nadine" had a frisson of a personal life, in "Unity Node", written by Matt Ward. She's surprised that "NASA Administrator Glenn" (there is confusion as to whether that is his first or last name, as played by John Pankow, who is frequently perceived by audiences as Jewish and plays Jewish characters) has been contacting her : You know that I would never trade on our personal relationship unless it was an emergency, right? She: Glenn, we don't exactly have a personal relationship anymore. He": I know. She: We had three lovely months, followed by a sudden, painful lunch. . . You know I was coming out of a very long and very difficult relationship. I'm sorry. It turns out he actually does have a crisis that needs the Secretary's attention – an emergency situation aboard the International Space Station. After a successful intervention, they toast each other on a video link. He: You got to admit, we make a pretty good team. She: We do. He, flirtatiously: So lunch? (updated 1/29/2016)

In the 3rd season of Masters of Sex (on Showtime), there was finally a Jewish patient in St. Louis in the 10th episode "Through A Glass Darkly", written by Steven Levenson and Esta Spaulding, set soon after the publication of Human Sexual Response in 1966. "Lois Weiland" (played by Sascha Alexander) is used for some comic relief, albeit as a typical female patient, when "Dr. Masters" (played by Michael Sheen) has recklessly proceeded with dysfunctional sexuality research, here using male surrogate "Lester Linden" (played by Kevin Christy). The disapproving "Johnson" (played by Lizzy Kaplan) observes the session in the lab's "bedroom": Has there been any improvement in the dyspareunia?. . . But intercourse is still painful? "Lester" is following protocol for "manual manipulation", but "Lois" keeps talking about getting to know him: Maybe if we could spend more time together outside of the lab? It's my nephew's bar mitzvah on Saturday. Why don't you come with me?. . My parents will be there, and my nephew, Gene. He's worked so hard on his Torah portion. He has the voice of an angel. "Lester" make an ineffectual excuse: I actually have another bar mitzvah to go to, unfortunately. It's my, um -- my grandmother's. "Masters" stops the session. "Johnson": Obviously, something is not working, aside from Lester's complete ignorance of world religions. "Lester": I was raised around Catholics. . . It's not the first time I've been asked about my scar or where I'm from or how soon I can meet their parents. (1/18/2016)

On Legends (on TNT), based on Robert Littell's novel that I haven't read, the flashback to Sean Bean's central undercover spy character in 1981 reveals he was then "Alex" (played by Ross Anderson), with the same rich northern England accent. In "The Legend of Tamir Zakayev", written by Chris Levinson, he's helped by mysterious recruiters to get into the University of Leeds, where the sexy "Rachel" (played, I think, by Amy Wren) flirts with him outrageously at a noisy party: Where the hell have you been?. . You're a boarding school wanker -- admit it! He: Guilty as charged. She: Well, today's your lucky day. Seeing as you're a fellow fresher, I've decided to take on your sorry cause. Introduce you to the ways of the world. He: Well, where do we start? She: With a jump in the canal. Minus our clothes. He evidently gets arrested, and has to be bailed out by his benefactors. After he's spent considerable time naked in bed with her making love, such that he's late to read for his Russian literature tutor, he's asked to join the Secret Service. But his handler [I lose track of who is who with all the time-shifting flashbacks] warns: Your girl Rachel. You know her parents are members of the Communist Party. You had your fun, now break it off. "Alex" bristles: You can't tell me how to run my life! I won't leave her. I love her! Says the agent, bitterly, who is being blackmailed for his gay affairs: You take it from me, my boy, there is no room in this business for love. In the next episode, "The Second Legend of Dmitry Petrovich", written by Raf Green, in the flashback to "Dockray, Northeast England – 1985", "Alex" is driving her to a house in the country that comes with his new teaching job and shows her the rooms, amidst a lot of kissing: Perfect for a nursery. But her concern that it's "a bit isolated", is borne out when she's driving on an empty, winding road and her brakes stop working – crash! Next, the camera focuses on a big Jewish star on a coffin in a funeral led by a rabbi intoning kaddish, which I'm pretty sure was the first we even knew she was Jewish, let alone having no last name, and the orphan "Alex" is wearing a kippah with her family. His handler shows up: The Service is still willing to take you on. "Alex" walks away angrily: Now that my Commie wife is dead!. . .You decided she was getting in the way, cocking up your plans for me, so you murdered her! (I must not have noticed their wedding rings on the house tour.) His handler, earnestly lies: It's a tragedy. I came because I wanted you to know I'm here for you. The irony is revealed at the end of the season – he was actually Russian. (updated 1/8/2016)

On The Enfield Haunting (British mini-series, shown in the U.S. on A & E) While I wasn't paying close attention, it wasn't until the concluding 3rd episode brought the poltergeist hunter "Morris/Maurice Grosse" (played by Timothy Spall), based on a real person from a true 1970's story and book This House Is Haunted to the grave of his daughter "Janet", and he explains the Jewish symbols and ritual to the "haunted" girl he thought he had been helping. I did not pick up any clues that his grieving wife "Betty" (played by Juliet Stevenson) was Jewish when she constantly nags him to give up his efforts to contact their daughter in the decidedly not Jewish afterlife. (10/31/2015)

In Royal Pains (on USA) 7th season, that the central family of two brothers in the Hamptons are Jewish is barely ever considered, so it was oddly stuck in "The Prince of Nucleotides", written by Carol Flint. The younger brother "Evan R. Lawson" (played by Paulo Costanzo), dejected that he has a low sperm count, brightens up when his blonde shiksa wife "Brooke" (played by Paige Collins), announces that as part of her effort to find her biological parents' roots she has had a genetic test that shows she's "10 -12 percent Jewish." He's so thrilled he not only wants to keep trying to get her pregnant, but wants to let his brother and father know. But she's already gone in a different direction. In exploring her own adoption, she's now interested in adoption – and has scheduled a prospective parent meeting with a very pregnant African-American teenager, who proclaims to them that she's very religious, so the Jewish references disappear. (6/11/2015)

Grantchester Set in 1950's Cambridge, in Season 2, Episode 4, written by Joshua St Johnston, featured a story line not apparently taken from the source material of the mystery short stories by James Runcie, but combines two stereotypes of Jewish women common to British series of the period that migrate to PBS – rich and/or a Holocaust survivor: "Anna Herzl Lawson" was an Auschwitz survivor and inexplicably somehow got her family's fortune out of Hungary afterwards. Dead now of an apparent suicide, she is now apparently haunting her husband. [Details to follow] (4/26/2016)

Chicago P. D. (on NBC) comes out of the same production team as the Law & Orders, but it's taken three seasons for their trademark dreadful Jewish mother stereotype to show up in any of the newer Chicago triptychs. "In a Duffel Bag", written by Jamie Pachino, not only had a vicious one-dimensionally cruel witch as "Deborah Meyer" (played by Kate Hodge), henpecking her husband "Ben" (Steven Skybell), but she horribly dominates her just-turned-18 daughter "Tana" ( played by auburn-haired Julia Rose Duray – I wonder if they meant to name the character "Tanya"). "Detective Erin Lindsey" (played by Sophia Bush) makes the impression worse with nasty, revengeful comments about her. [Details forthcoming] (8/12/2016)

The Good Wife (on CBS) the savvy daughter "Marissa Gold" (played by Sarah Steele) of political insider "Eli Gold" (played by Alan Cumming) returned from Israel into a recurring presence. First on the episode "Payback", written by Stephanie Sengupta, she focused on helping her dad. [Details forthcoming] (updated 4/26/2016)

Homeland (on Showtime) The first female Mossad agent didn't show up until the 5th season of this spy series, "All About Allison", written by Ron Nyswaner. She was a tough administrator with her dark hair in a tight bun,"Tova" (played by Hadar Ratzon Rotem – who also starred in the Israeli series this is based on Prisoners of War (Hatufim), though I'll have to figure out how her roles compare). [Sole scene description forthcoming.] (8/6/2016)

Mistresses– Ariella Greenburg in the 3rd season (on ABC) (summer soap opera) Just discovered "Ari" (played by Carmel Amit) minutes before the 4th season started. Commentary forthcoming. (5/30/2016)

On the Aquarius (on NBC, on DVD) penultimate episode of S1 "(Please Let Me Love You and) It Won't", written by Alexandra Cunningham and Sara Gamble, featured an unusual Jewish woman character in 1968 San Francisco, "Rachel" (played by Jade Tailor, whose father is Israeli) is first seen in handcuffs being hauled into the police station, demanding to see "Detective Hodiak" (played by David Duchovny), who, as catnip to every woman in the series, flashes back to seeing her dance onstage in a strip club. [Details forthcoming] (updated 9/25/2015)

Madoff – Ruth Madoff and others (on ABC) Richard Dreyfuss dominated with his powerful, but surprisingly not charming enough contrast with his cackling voice-over, performance over the 4-hr mini-series (Part 1 – "Millions to Billions"; Part 2 – "Catch Me If You Cancer"; Part 3 – "Redemptions" and Part 4 – ""Fallout"), based on The Madoff Chronicles: Inside the Secret World of Bernie and Ruth (2009) by Brian Ross of ABC. After so many Madoff imitation scoundrels in TV fiction that avoided any Jewish identity, writer Ben Robbins and director Frank De Felitta particularly use the Jewish women coterie around him to look like a clannish Jewishness (probably to emphasize his betrayal), though Blythe Danner is miscast as his up-from-Queens wife Ruth. The perception of his wife follows the secretary's impressions of her In God We Trust. (The whistleblower in Chasing Madoff is also featured prominently.) The last three episodes frequently and extensively, repeat this bridal image of his niece/legal compliance officer Shana (played by Jamie Carroll), daughter of his guilt-ridden brother who is seen asking his rabbi for ethical advice, being raised in a chair at her wedding to an SEC attorney over the loud strains of an unseen band singing and playing Hava Nagila (and I'm trying to ID the excellent version):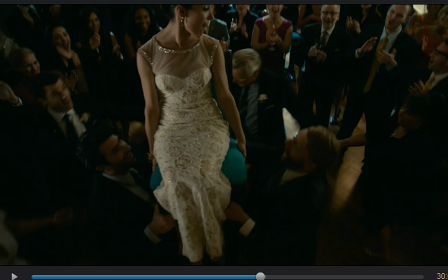 The "After the Fall" news report broadcast the same night on where are they now included contrasting clips from Mark Madoff & Stephanie Mikesell's 2004 wedding video – with not a single Jewish image; Dreyfuss's character derisively calls the blonde 2nd wife of Mark (played in the telefilm by Tom Lipinski) "the shiksa" (as played by Annie Heise). (He dismisses Andrew's fiancée Catherine Hooper (played by Lyne Renee) as "the Barbie Doll", but that could also have been in reaction to this son being estranged from his presumably Jewish 1st wife Deborah West.) Now a widow and mother of his two young children after Mark's suicide, she has out a memoir The End of Normal, where she doubtless continues to excoriate her mother-in-law for favoring her husband over her sons. (Details forthcoming about the Jewish women extended family members/clients and Hadassah CFO lover.) (updated 2/7/2016)

Marvel's Agent Carter – Ana Jarvis in the 2nd season (on ABC) As first announced at a NY Comic Con panel, British butler-of-all-trades "Edwin Jarvis"s unseen, Jewish refugee wife "Ana" was cast by Dutch actress Lotte Verbeek; producer Jeph Loeb on the panel described: "Lotte brings ease, sincerity and warmth to the role that's just perfect." But I was surprised that she is now a regular character. (The showrunner is going with the comics spelling as the more European "Ana", so I will too.) Executive Producer Michele Fazekas explained in a Marvel interview for fans: "It was something we went back and forth on in the first season of whether or not to show her. But we thought if Peggy [Carter]'s going to be moving to L.A. and staying [with Jarvis], you can't not show her. It gave us a great opportunity to [find out], who does Jarvis marry? Who is that person? It was really fun to develop that relationship more." Now living in Los Angeles in 1947, "Ana", in the European tradition for portraying Jewish women, is a redhead, who faces every spy adventure her husband (played by James D'Arcy) is involved with for his employer "Mr. Stark" with complete equanimity – and very open affection for her husband. He praises her to "Agent Peggy Carter" (played by Hayley Atwell) before we meet her: My wife, Anna, has a very modern sense of style. I'm certain she'll have picked out the perfect outfit for you for a covert operation at the races. He introduces them – "Anna", he narrates: She hugs. As to "Carter: She does not hug. "Anna" crooks her finger at him before he leaves them: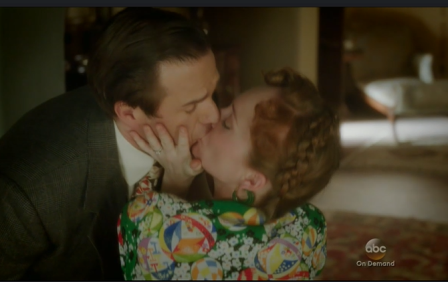 "Jarvis": She's an embarrassing creature.. "Anna" chuckles: He's too easy. "Carter": I suppose I was expecting someone more . . "Ana": Like Mr. Jarvis? In a girdle?. . .I've selected a few potential ensembles for the racetrack, but I've also sewed you this. A garter. That's also a holster. "Carter" chuckles: You are fantastic! When "Jarvis" and "Carter" are caught in a gun battle, his first thought is his wife: I'm worried about the aesthetic. Ana's absolutely mad about my profile.
For anyone who missed hearing her husband's tale of her back story in the 1st season, she summarized at the end of Part 2 of the sseason premiere "A View in the Dark", written by Eric Pearson and Lindsey Allen, though just implying she's Jewish: Edwin only knew me a few weeks before he had forged papers, gone AWOL, stolen a plane, and helped me escape the Third Reich. It doesn't take long to realize you've met someone special. That's after their affectionate exchange after fencing together in the opening. He: Anna's been my sparring partner for the past 12 months. She knows all my strengths and weaknesses. "Anna", with a kiss: Thank you, darling. He's never more lethal than when he's flat on his back.Tea's on. (updated 1/21/2016)


Shoshanna Shapiro in the 5th season of Girls (on HBO) The season promotion showed Shosh Abroad, with commentary by her creator Lena Dunham and her portrayer Zosia Mamet on her ambition and how the world perceives her, and, by extension, a contemporary young Jewish woman. Until I do an overview of "Shosh" this season, she had a couple of pointed exchanges that reflected what this series considers her Jewish characteristics. Dunham said in a post-episode analysis that co-creator Jenni Konner visited Japan and exclaimed it as "a country full of Shoshs" so was determined to send her there for that comparison. The girlishness? The squeakiness? The crazy styles? (At one point "Shosh" with dyed blonde hair ponders: Did I create this country in my mind?) In the key episode of the season for her "Japan", after she was shocked to be laid off she confronted the Japanese co-workers she thought were her girlfriends: I don't want to go back to America. And I don't know Ashley Tisdale. I saw her once at a gynecologist appointment and I tried to explain that to you guys, but you misunderstood and so I just let it go. Co-worker: Then why don't you stay? "Shosh": Because I can't afford to, okay? My parents aren't rich. They didn't invent Chūhai Co-worker: Oh, really? You seem very wealthy because of your spoiled attitude. "Shosh": Yeah. That's just how Americans act. We're kind of assholes.
Back in Brooklyn in "Homeward Bound", written by Murray Miller, she rages at her ex-boyfriend "Scott" (Jason Ritter) where she's hanging around in his favorite sushi restuarant: I kind of just got back and all these questions are, like, seriously stressing me out, and I'm currently reading about how to get on welfare, so I don't really have time for this. "Scott: You're going on welfare? She: I don't know. I'm thinking about it, okay? There aren't exactly, like, a wealth of options for an NYU graduate with experience in many aspects of brand management. "Scott": You can't just take government resources that are for actually needy families just because you didn't like your job in Japan. "She" very sarcastic: Okay, so now I don't deserve food stamps because I'm Jewish. In the penultimate season episode "Love Stories", which also included Jenny Slate as a guest star former dorm mate of Lena Dunham's "Hannah", "Shosh" visits her ex's coffee shop: Shosh, is that really you? Oh, Shosh. Look at you. I can't believe it's you. You're a full-grown woman now. . .We've been outpaced, outshined, outmaneuvered, out everything by those Neo-hippie gender-neutral monsters. It's very bleak, Shosh. Hermie says that if business doesn't pick up in here, he's gonna turn this place into a billiards store. "Shosh": Okay, you have to fight this, Ray. You have to have a wartime attitude. Maybe ask for some help, something I know you're fucking terrible at, but ask for it anyways. "Ray": Who's gonna help me, Shosh? Who? … "She": Okay, I'm gonna help you. Seriously, what do you think I was doing in Japan? I mean, other than learning origami and eating candy that tastes like other candy. I do marketing, Ray. It is my area of expertise. I went to motherfucking college for it, so, you know, at least let me have a crack at that. "Ray": We do make a pretty good team. She then goes across the street in somewhat of disguise to do market research.
In the finale "I Love You Baby", written by Dunham, Konner, and Judd Apatow, she presents her proposal to the coffe shop owner "Hermie" (played by Colin Quinn), who first complains: The city's no place for people like us any more. "Shosh": Okay, Hermie, I know it feels that way, but, no. Those hipsters are a very specific subculture, a vocal minority, if you will, like the Westboro Baptist Church. But they may all be related for all we know. This is what I propose. Ray's as a destination for the anti-hipster. "Hermie": You're talking about rebranding? "Shosh": Oh, a heavy rebranding. Like when Kentucky Fried Chicken just became KFC so people would forget that they were, you know, eating Kentucky food? "Hermie": Gentlemen, it is high time we start selling coffee to people with jobs. Her successful anti-hipster marketing plan includes signs such as: "Trust the Government". "No man buns", and "Chemicals keep you alive". "Shosh": Okay, I have some news that is going to rock your Mephistos right off your socks. "The New York Times" Thursday Style section wants to come here and do a piece on us next week. They love the hipster-hate angle. They want to do a whole profile on our transformation, so I bought a few shirts and I put them in your office and I hung them in like descending - order of preference… "Hermie": I know I told you to lean in. But you've gone too far. Now I want you to lean out. "Shosh": Oh, my God, are you firing me? "Hermie": No, no. We've made more money this week than the past five months. It's just you're a very intense person. You've got a powerful energy and it's too much. I need you to take it down a notch. A guy walks in with a top bun: Bye, sir. Your kind are not welcome here. Read the sign. Out. "Shosh: Hermie, we cannot actually turn people away. That's discrimination. We just have to, like, you know, glare at them and make them super uncomfortable and bully them until they leave of their own volition. "Hermie": Listen to me, muffin. From now on, anybody who walks through that door with a bun on top of their head or tattoos that were not acquired during a naval adventure on the South Pacific, we treat 'em like a hippie at Disneyland in '68. This is a haven for normal people working men and ladies. Free refills, everybody. This week only. We're taking back the night. You're either with me or you're against me. "Shosh": I am so with you, Hermie. Please save me all of those magical quotes for "The New York Times". In the closing montage they dance, and Dunham in the post-show analysis cites how "Shosh" is now maturing and growing up.
Also in the finale, a putatively Jewish woman character returned from the first season in the finale "Hannah"s college dorm-mate "Tally Schifrin" (played by Jenny Slate, with full-on Jewish curly hair). "Hannah": I've been so fucking jealous of you. "Tally": What? You're are you kidding? "Hannah: You're like the bar against which I've measured everything, you know? It's like, we graduated from college four years ago, and so I calculate, "Oh, it's been four years. Tally's published two books of essays and a novel." "Hannah": And I did a book of poetry as well. "Hannah": And what have I done? You know? What have I done with my life besides get not one but two strains of HPV and gain and lose a total of 33 pounds? "Tally": Oh, man.That's so - crazy to be jealous of me. Cut the shit, seriously. Yeah, I guess everyone is jealous of me. Do you know I Google myself every day? It's so gross, but I do, and I just wanna see if, like, Gawker or whoever they are has written some snarky thing about how much of a hack I am or if even there's just, like, a pretty picture of me in the "Financial Times" roundup of books of the year. I need to see how other people see me because it's the only way that I can see myself. "Hannah": I wake up every morning and I think, "Well, okay, what would Tally Schifrin do? "Tally": Tally Schifrin is not even me now. She's just, like, this thing that I've created. She's a monster that I've made and I have to feed, and she feeds on praise and controversy. And it's exhausting and boring at once. And I'm too smart to be exhausted and bored. And now I have a book of essays due, and not to be, like, boo-hoo about it, but it's like what the fuck am I gonna write an essay on? All I do is Google myself and smoke weed and, um, masturbate with an electric toothbrush. "Hannah: You could afford a vibrator. "Tally": I know. I really don't want one and that makes me feel mentally ill. Today's, like, the most fun I've had in like 17 months. "Hannah": I just thought you woke up in the morning in, like, a ray of sunshine and, like, - birds dressed you and you just, like, came in your pants from all the accolades, and then people handed you awards on your way to, like, a fancy dinner.…"Tally": Look at you. You've had all these, like, boyfriends and jobs and moments. And you've lived all this truth. It didn't feel like very much while it was happening. But it is much. And you have so much to say. Then they both get stoned on weed. (updated 2/14/2017)


The Fosters – Emma Kurtzman in her 3rd season (on the renamed FreeForm) was a surprise return – to teach another liberal lesson without a direct reference to her being Jewish. As played by Amanda Leighton, she was not seen in the first half of the season, but showed up in "First Impressions", written by Bradley Bredeweg and Peter Paige, as the campaign manager for "Mariana Adams Foster" (played by Cierra Ramirez) for college-application-purpose junior class president. But in walks "Lexi Rivera" (played by Bianca Santos), who had left due to visa problems, and they hug in excitement. The candidate tries to involve both of her friends in selecting the photo for her poster. "Emma": The left one, definitely. You like someone who can really get things done. "Lexi": Yeah, like put people to sleep. I say right. You look super hot. But I'm not your campaign manager, so.. "Emma": That's right. You're not. "Mariana": But, you know, Lexi's just trying to help, and I think she kind of does have a point. We can't be boring. "Emma", sharply: I don't think smart is boring. I don't think that caring about what matters is boring. I don't think that you need to be silly and stupid to be sexy. But if that's the kind of campaign that you want to run, then maybe I'm not the girl for the job. I should probably get home anyway. Talk to you later. "Lexi": Wow! She's intense! "Mariana": But she's right. I think I should stick with Emma as my campaign manager... Just Emma. . . I'm so happy you're back, but I think it's best if I just have one vision, you know? . . . Sorry. No hard feelings? [I only watched episodes she was listed as appearing in.] (updated 5/2/2016)

Younger – Lauren Heller in the 2nd season (on TV Land) – returned, as played by Molly Bernard, showed up in the 2nd episode of the season "The Mao Function", written by married couple Dottie Dartland Zicklin and Eric Zicklin – but not in the office. She was in the apartment, scantily clad and smooching with "Liza Miller"s (Sutton Foster) lesbian roommate "Maggie", played by Debi Mazar, who just about always plays a Jewish character, but there's been no explicit references. "Lauren": I'd throw on my dress, but your roommate tore it in half like a phone book. "Liz" is afraid she'll tattle on her lie about her age at work. "Maggie" shrugs: She's so self-focused. She's barely aware of her surroundings. "Lauren" breezily offers "Liz" sex advice to help her much younger boyfriend performance in bed – in a very rapid fire patter, in a very sweet tone: I also date guys. . . Josh is really edgy, you know? And you're, like, the nice girl. I know that opposites attract, but, no offense, he's probably bored. . . Of course he's bored. All of these guys have been watching porn since they guessed their parents' password. It's hard to keep their attention. You've got to work at it. . . Like, be a boss. Like, you got to get aggro with him. . . Do you have a leather hood?. . A penis cage?. . .Fishnets and a finger up the butt? She continued to be both obsessed with lesbian sex and entrepreneurial business the rest of the season. (updated 5/2/2016)

A French Village (Un Village Français) – 2nd and 3rd seasons (shown in France as the 3rd season, this 2nd U.S. season on (Shown in the U.S. on MHz Choice began premiering the end of 2015, continuing episodes through January, and then released on DVD, which is when I'll get to see what happens to the Jewish women characters from September 28, 1941, 12 episodes; 3rd Season – 1942, 12 episodes (updated 4/13/2016)

Just in time to take over after the death of Mrs. Wolowitz in The Big Bang Theory, David Krumholtz's drag impression of his grandmother in Boca Raton on his web series Weather From is being expanded into Gigi's Bucket List on IFC. From the press release announcement: 'Gertrude Rotblum', aka 'Gigi', just lost her beloved husband Harold, but has gained a new lease on life with the help of an unknown bank account discovered in his will. Eight half-hour episodes start shooting this June in Los Angeles. The show will premiere later in 2015 on IFC. With her dead husband's secret millions, this 76-year-old yenta with a heart of gold and a razor-sharp tongue sets out to experience everything she deprived herself of in her younger years. Gigi (Krumholtz) will live life to its fullest and fastest while ignoring doctor's orders and turning the stigmas of aging on their head. She will travel to rock festivals and explore new technologies like online dating, with her trusty male nurse sidekick played by Ricky Mabe along for the ride. . . 'David has done an incredible job of inhabiting this relatable bubbe character. I hope to emulate Gigi's unfiltered honesty and wreckless ambition when conquering my own bucket list some day,' said Jennifer Caserta, IFC's president." (updated 5/3/2015)

Felicity Smoak in the 4th season of Arrow and 2nd season of The Flash (on CW) The fans were teased lots of romantic images to follow up on the season finale of them riding off into the sunset on vacation together. The season premiere "The Green Arrow", story by Greg Berlanti & Beth Schwartz, teleplay by Marc Guggenheim & Wendy Mericle, was a charming role-reversal, with "Oliver Queen" (Stephen Amell) being all domestic and relaxed, trying to find the right moment to propose with an engagement ring, and "Felicity" (Emily Bett Rickards) all bored with domesticity and revealing she's been secretly helping their friends back in their threatened home city, even as they were romantically vacationing in remote places around the globe. (more romantic specifics coming)
In "The Candidate", written by Marc Guggenheim & Keto Shimizu, she takes on the Board of Directors in her inheritance as CEO of Palmer Technologies. ("Ollie" likes the way she looks in her pink business suit.) But about-to-be-laid-off black woman delivers good/bad news: When we heard you were coming back we thought things were going to get a lot better. Guess we were wrong. At the tired end, she's rueful to "Ollie": When we decided to stay . . I thought it meant a new beginning. He's thoughtful: If you think we made a mistake, we didn't. Nothing worthwhile ever comes easy.. . .We said we're going to do things differently. We just need time to figure out how. When he next comes home from battling what she calls "Madman Du Jour" in her plea for a code name to hide her identity, he's startled: You look happy. Don't tell me now you enjoy firing people? She grins: No more firing. . .I figured out another way. And they kiss.
I'm way behind on posting episode by episode – but "Lost Souls", written by Beth Schwartz [yes, she's Jewish – she tweeted "Happy Hanukkah to me" when she "finally got" a movie screener] and Emilio Ortega Aldrich, is worth detailing on several levels for the image of a Jewish woman on TV: with "Felicity"s brains, her hard work (her colleagues are snarky: She's really taking this CEO thing seriously, while "Oliver" defends her: Well, one of us has to have a job that actually makes money.), successfully dealing with her mother, saving her ex-boyfriend like a superhero, getting her current boyfriend to both open up emotionally and accept her as she is – and ending up in a very sexy clinch where he's the shirtless eye candy and she rolls over him on top:
At the opening, "Felicity" is atypically frazzled, working around the clock to save "Ray". Sure, her mom, who made a point of noting that "Felicity" isn't a natural blonde, whispers to her to finish her "fight" with "Oliver" to have great make-up sex, but their resolution to her frantic effort to save the kidnapped and shrunk "Ray" is a heartfelt, feminist interchange before the exchange of body fluids: She: I think we should clear the air. I wanted to thank you. For helping save Ray, and for being so understanding in the midst of my mini-- gargantuan freak out. He: Well, I'm sorry that I'm not the best listener. But all of this is just, it-- it's kind of new to me. She, while seductively playing with her hair: And to me. I didn't exactly grow up with the best example of a normal, healthy relationship. He: Line forms behind me. It's kind of amazing that we've made it this far. She: We're going to be fine. He: How can you be so sure? She: Cause we found ourselves in each other.
Until I fully document the romantic and Jewish recognition Midseason Finale/December holiday episode "Dark Waters", written by Wendy Mericle and Ben Sokolowski, a few images will show the references to what "Mama Smoak" (played by Charlotte Ross) describes: It's for Oliver's campaign holiday party. I wanted to make sure your Jewish heritage was represented.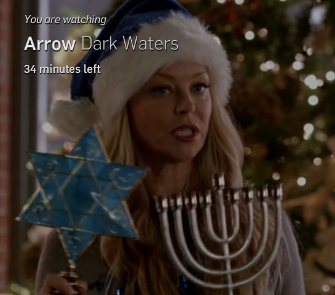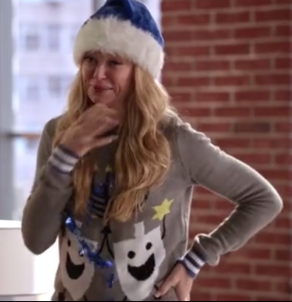 I was alerted by a Tweet from "ARROW writers' room" that executive producer Beth Schwartz "has dibs on that amazing Hanukkah sweater". Schwartz also enjoys posting "#LiveTweetWithMom" during each episode, who tweeted: "Hooray for PC holiday party", as "Felicity" insists it not be called a "Christmas party", with Hanukkah banner, menorah, and holding out her dreidl, that my screen capture doesn't capture what "Oliver" called That is a whole lot of Hanukkah!, to "Felicity"s rejoinder You better believe that my faith is going to be well represented.: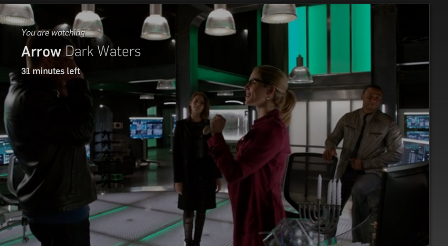 Maybe that's why in The Flash holiday episode "Running to Stand Still", written by Andrew Kreisberg, just after the Sweeps Week Cross-Over that included "Felicity", "The Trickster" (played by a delightfully demonic Mark Hamill) switches from being Santa: We can't let Christmas have all the fun! Dreidel, dreidel, dreidel, I made you out of C-4! Put that in your pipe and smoke it! -- unleashing a scary storm of spinning dreidels to an increasily sped-up and high-pitched chanting of the children's song like I've never seen on a TV sci fi show before.
While "Mama Smoak"s excitement about "Oliver"s marriage proposal-- I know he loved you, but I didn't know he loved you that much. -- was old-fashioned, her daughter has a more complex view of the relationship, as shared by co-showrunner Wendy Mericle in an IMDb interview when the season continued: "Felicity's life may be hanging in the balance, but the hope is that her impact on Oliver is very much alive. "What's intriguing about this storyline is, for as much as he has grown — and I definitely think he has — this season, it's been all about how he and Felicity made a decision to try to do this in a new way and to stay 'in the light,' which was the way we phrased it in the writers' room. But Felicity was the one who was keeping that flame alive for him."
Until I update my commentary on the season, Emily Bett Rickards quotes reported on social media at the "Emily & Willa Panel" ‪