Maven's Nest

Reel Life: Flick Pix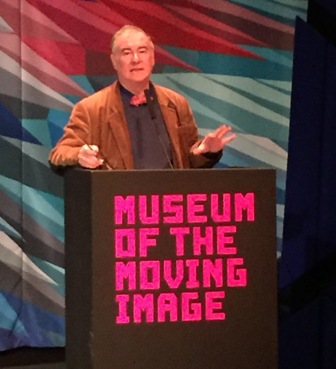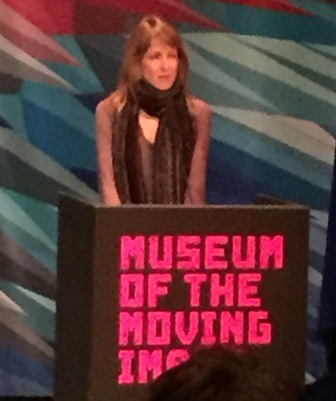 ---FIDMarseille Director Jean-Pierre Rehm and Guest Curator Mónica Savirón of A Matter of Visibility: International Avant-Garde & Artists' Cinema at MoMI First Look Festival on 1/24/2016

Where reenactments were re-invented and reality distorted to the most abstract

By Nora Lee Mandel

At the historic Kaufman Astoria Studios complex, where hundreds of silent and early sound era films were produced in my New York City home borough of Queens, the 5th Annual First Look Festival at the Museum of the Moving Image is an adventurous showcase for cinéphiles of almost 50 contemporary and influential international shorts and features, with many filmmakers in attendance each weekend in January.

The Final Weekend provided a "Snowzilla" blizzard-delayed one-day marathon that was an exhausting survey of avant-garde and experimental films. Memorial showcases in tribute to recent deaths of leading creators set a high standard of comparison alongside this wider exposure for new filmmakers. Their styles ranged from narratives re-inventing reenactments physically, emotionally, and through time, to playing with film as an optical medium of illusions and distortion, to the most abstract.

Many of the most assured works were originally scheduled for a closing "FIDMarseille Day", continuing a several years' presenting partnership with MoMI. Known by the abbreviation of "Festival du Internationale Documentaire", festival director Jean-Pierre Rehm introduced these eclectic selections by explaining that the July 2015 26th edition of "the Feed", per the French colloquial, was now the "Festival du International Cinema", as artists cross the boundaries between fact and fiction through their imaginations.

FINAL WEEKEND AT THE 5th ANNUAL FIRST LOOK FESTIVAL 2016

Le Juif de Lascaux
Maestà
Crystal World
Abandoned Goods
Lou Beth Zayma: What Eyes Are Pretending To See (Ce Que L'œil Pretend Voir)
Spectrum Reverse Spectrum
Color Correction
The Lighted Field
A Matter of Visibility: International Avant-Garde & Artists' Cinema
Pixel Jungle
Trois strophes sur le nom de Sacher Films by Bjorn Kammerer
Gyre Meurtrière

Reenactments

Le Juif de Lascaux

Monsieur Rehm had to inform the disappointed audience that filmmaker Louis Skorecki was not able to make his much-anticipated appearance with this U. S. premiere due to health issues. (He's more known in France as a film critic, but his work isn't much available in English.) Though Rehm nervously warned that Americans might find Skorecki's exploration of his Jewishness "offensive", the humor and the affection infusing this very creative autobiography could mostly surmount his missing personal context.

Many American Jews who grew up post-World War II are intimately familiar with the historical context of living with the silence of Holocaust survivors. In a prologue of family photos glaringly missing any extended relatives, Skorecki narrates he was born in the Vichy Gurs internment camp in 1943 and that his parents, like other returning French Jews, were embarrassed to be seen as Jewish, let alone to pass on their Jewish identity to him. So he mockingly refers to himself as "The First Jew", who has to conduct an archaeological exploration of his life as an Ashkenazi Jew, metaphorically as if in the famous Caves of Lescaux (like Werner Herzog plumbed the Cave of Forgotten Dreams in 2010).

But where such recent French films as Clause Miller's A Secret (Un Secret) (2007) and Amos Gitai's One Day You'll Understand (Plus Tard, Tu Comprendras) (2008) were full of anger and recriminations, Skorecki bemusedly turns his regrets onto himself to sort out what many secular American Jews feel, like my mother used to answer me about her lack of ritual observance, an ethnicity, not religion.

Skorecki imagines himself at different stages of his life -- boy, teen, young man -- asking his parents the childish questions he didn't then -- and even in fantasy being met with their Yiddish-inflected sarcasm and criticism. (A version of himself now with a young man observes and reviews these encounters as performances.) Defeated in Talmudic approaches to his roots (hilariously diverse sets of Adams and Eves, and even Adam and his legendary first wife -- "I love you Lilith, but you annoy me"- keep trying to figure out Eden), he realizes the power of Proustian memory -- through food.

Fondly remembering foods such as borscht and cakes (and his father bringing home any landsman he could pick up to eat this with them), he imagines asking his "Polish Jewish" mother (portrayed by at least two caustic women) for her recipes and the Yiddish terms she used to describe these redolent foods. He treats stuffed chicken neck (helzel) like a sausage replacement for that French madeleine. Tasting it brings back memories of her kitchen, here theatrically represented outdoors like a food truck. (Maybe the Los Angeles food critic Jonathan Gold profiled in the upcoming documentary City Of Gold would similarly be more appreciative of his heritage cuisine if so served.) Startling to me, this traditional Eastern European dish has also been my mother's touchstone to her mother's immigrant culture, so I'll let her describe it, from an e-mail, just like what we see made on screen: "Not the neck itself - that would just end up in the soup. But she'd take off the skin of that neck, and stuff it with a very tasty combination of meats - so sort of stuffed kishka, but much better."

While his inward look back doesn't try to reconcile with France's now majority Sephardic Jews now and the rise in anti-Semitism, Skorecki is refreshingly enlightened about how intellectual and philosophical pretensions can be trumped by family and nostalgia.

Maestà

For French artist Andy Guérif, religion tells a beautiful story through both high art and folk culture. In supervising the reenactment of the surviving 26 panels of Duccio di Buoninsegna's altarpiece that were commissioned for the Siena Cathedral in 1311, and are now reconstructed in the city's Museo dell'Opera del Duomom, he brings alive incidents from the life of Jesus in Jerusalem, drawing on several Gospels, with the (grueling) emphasis on the Crucifixion – twice, commensurate with how the central seven by thirteen foot long panel dominates the original polyptych. (The piece's traditional title refers to the iconic image of the Madonna with Child, which is on this reverse side known as "Passion of the Christ".)

Resembling a multiplication of Lech Majewski's The Mill and the Cross (2011) close-ups into Pieter Bruegel the Elder's 1564 painting "The Procession to Calvary", the dozens of actors in replicated costumes move in a hubbub from the set in each panel to the next panel, whether arriving for the Last Supper, climbing stairs, carrying a coffin, or impressively descending the bridge into hell. Then they silently freeze as if Duccio momentarily catches them for posterity. But they look as lively as the traditional processions still popular in Italian villages or tableau vivant on religious holidays that helped educate about the Bible to an illiterate community, breathing life into sacred art.

Also from FIDMarseille for its New York premiere, the hour-long film transcended the marvel of the somewhat gimmicky "Gee-how-did-he-do that?" multiple split-screen cinematography that preserves the painter's early use of perspective in tight architectural spaces. Guérif unexpectedly cites Jacques Tati's 1958 comic classic Mon Oncle as an influence in dealing with a dominating set. He spent five years of construction work and meticulous choreography to bring together the longest film in his 15 year career.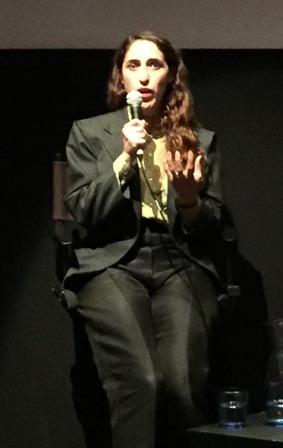 ---Director Pia Borg on 1/17/2016 at MoMI First Look Festival

Australian-born animator Pia Borg now divides her time between Los Angeles and London, and her two very different short films she presented at the festival intriguingly recreated very different environments.

Crystal World

Looking to Hollywood, Borg reenacted the underwater murder scene from Charles Laughton's Night Of The Hunter (1955) with puppets, where ruthless Robert Mitchum has dumped the body of his gullible wife played by Shelley Winters in the river. In its U.S. premiere, this classic noir watery grave not only gets spookier, but gets displayed in a low-budget fish tank with mirrors, prisms, projectors, and distorted sounds to capture how cinema freezes a moment and sears an image into our minds (thus fitting into First Look Fest's theme this year). Crossing genres into science fiction, Borg was inspired by J.G. Ballard's titular novel of an apocalyptic African forest frozen into crystals to create a time-lapse diorama to fuse art and science by using ammonium phosphate crystals that grow with twelve minutes of digital time-lapse photography.

Abandoned Goods

Borg partnered with Brit critic/documentarian Edward Lawrenson to reenact what he calls "psychogeographical history", here about getting inside the minds of troubled people who lived in a troubling place. Viewers of TV series The Knick and Boardwalk Empire recently saw disturbing portrayals of an early 20th century mental asylum in New Jersey. Outside London, the filmmakers had the opportunity to explore the archives of the similar Netherne Asylum, which too had a propensity for surgical solutions to mental illness, but also pioneered in art therapy, both as a diagnostic and expressive tool.

Founded in 1906 with the spirit of progressivism (remember the word "bedlam" comes from the infamous 13th century Bedlam mental hospital), the hospital's useful background on its history, architecture, and professional staff are covered in the style of a Ken Burns' documentary with reading letters and reports over photographs and plans (and the 37-minute length is suitable for public television after this New York premiere).

Then the filmmakers go through some 5,000 works created by patients between 1946 and 1981 that were saved when the facility was shut down, and transferred to an outside biomedical charity. While any film set in an abandoned mental institution (think Brad Anderson's 2001 Session 99 and many crasser horror films) has the potential for pity or exploitation, the filmmakers instead display extraordinary sensitivity in endeavoring to match up the artwork with brief biographies of the creators, some who lived at the institution for decades, including photographs, letters, or other evidence. Some works were produced in formal sessions, some made independently on any available medium, such as toilet paper. Some have a Henri Rousseau-type look, others like M.C. Escher; some patients were artists before their breakdowns (Paul Dalio's new feature Touched With Fire emphasizes the correlation between artistic creativity and manic behavior), but others struggled to find a visual vocabulary and animation helps project their perceptions of their world. Contrary to the film's careful linking of patient and art for a moving memorial, a "Raw Vision" exhibition of a selection of the works at a French art gallery as "outsider art" is intended as an uneasy conclusion of its legacy.

Lou Beth Zayma: What Eyes Are Pretending To See (Ce Que L'œil Pretend Voir)

As part of the "FID Marseille Day" selections, this 14 minute (mostly) animated short updated and moved this kind of art therapy to a contemporary psychiatric clinic in Senegal with a filmmaking workshop. The patients narrate in French or Wolof (at least one is mute) and are briefly seen in arrays of photographs. While the very individualized patients' memories of their pasts differ from happy to tragic, directors Piniang, Adboulaye Armin Kane, and Sebastien Demeffe colorfully emphasize the hopes of the patients for a better life in the future, in bright colors and with ocean sounds.

Abstract Avant-Garde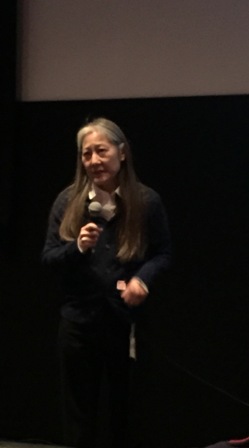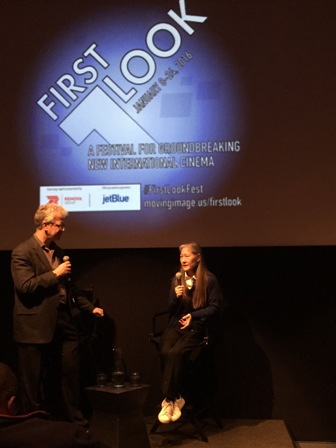 ---Director Margaret Honda, and with Chief Curator David Schwartz on 1/17/2016 at MoMI First Look Festival

Spectrum Reverse Spectrum

Originally a sculptor, Margaret Honda brought from Los Angeles her two films for New York premieres. Though rigidly didactic to make a point, and requiring some adjustment to sit through, her work rewarded cinéphiles to look at celluloid on a large screen as if from the point-of-the-view of the film sprockets. She declared at the Q & A that these "will never be transformed to digital!" Her pieces reminded me of minimalist, "Color Field" abstract expressionists like Barnett Newman and Ad Reinhardt. Kudos to MoMI's projectionists for meeting her necessarily exacting screening requirements. (She also brought her husband artist Morgan Fisher to present his half-hour Standard Gauge, a look at pieces of found 35mm film.)

More showings of Spectrum Reverse Spectrum (2014), Honda's first film, hopefully will be encouraged by Quentin Tarantino's promotion of the 70mm format. Utilizing the full 2,500 feet of one roll of a 70 mm print, her 21 minute visual palindrome continuously goes through the entire visible spectrum, from violet to red, and back, with each shade held for the same length of time. Vincent Roth, at her local lab FotoKem in Burbank, California, is practically her filmmaking partner to assure the gorgeous saturation, by exposing the stock through a precisely calibrated colored light.

Though this project has only been shown, as the artist intends, to adults at theaters in a few film festivals and not as an installation in art museums, it is literally at the intersection of art and science. So science museums and planetariums, especially ones that already show IMAX films and could be equipped with the correct equipment, could include this dazzling demonstration in their collections to supplement educational programs about prisms and the composition of light. I would have loved to see this with a voluble young child unfamiliar with the rainbow who wouldn't know what color was coming next! (The length is suitable for their attention spans.) Maybe the Alfred P. Sloan Foundation, which is always promoting itself on public broadcasting as supporting the public understanding of science and technology through film, could see this crossover potential?

Color Correction

Honda also brought her new 35mm film that is a challenging outtake she considers a "ready made" found film. Ever wonder what colors a Hollywood cinematographer takes out of a shot to attain the wanted look? Then viewing this artifact is as essential for such a cinéphile to help shed light on the magic of celluloid cinematography as the documentaries Visions of Light (1992), by Arnold Glassman, Todd McCarthy & Stuart Samuels, and Chris Kenneally's Side By Side (2012).

The 101 minute silent visual puzzle consists of the timing tapes from an unknown commercial narrative feature she was given by an industry contact. While audiences enjoy the guessing game of what genre this could be based on the length of scenes and the rejected monochromes, the climactic "scenes" were (spoiler alert) pink and turquoise. Without any context, the neon colors look like an animated Dan Flavin piece. Watching it through is intense, and Honda chuckled that she intends the audience's restless sounds to be part of the theatrical sharing experience.

The Lighted Field

What was billed as The Andrew Noren Memorial Screening of his 1987 silent, hour-long, 16mm film, "Part V" in a series he called "The Adventures of the Exquisite Corpse", was such a masterful representation of the American experimentalist, who died last year, that most of the current avant-garde pieces in the festival paled in comparison. Light, shadows, and silhouettes dance around found and archival footage (not used thematically as Bill Morrison does) brought not only ethereal visuals, but humor that is too much missing from too many earnest abstractions. At its debut, he called it "Love advice from the grave", and it was even more so now.

A Matter of Visibility: International Avant-Garde & Artists' Cinema

Guest curator Mónica Savirón presented the most popular program of shorts in the First Look Festival, a selection of eleven New York premieres or rarely seen experimental films from women artists around the world. Most of the films struck me as evanescent, over-processed images working too hard to make landscapes ever more and more abstract, though Spanish-born media artist Klara Ravat's three minute Pixel Jungle of colors spoke to Honda's visual themes.

Two had memorial poignancy, Across (3 minutes, 1997) was by Canadian artist Cara Morton, who died in 2012, and the just passed Chantal Akerman's Betamax-created (!) Trois strophes sur le nom de Sacher (1989, 11 minutes), which was one of the few with implications of social commentary – and is significant in her oeuvre as her first on screen collaboration with cellist Sonia Wieder-Atherton (her life partner), playing the titular piece by Henri Dutilleux. (City College of New York and the Film Society of Lincoln Center will be holding a free tribute to the Belgian-born, Paris-based Akerman on March 16; on March 29, Icarus Films is releasing a box set of four of her documentaries, as well as her final, moving documentary about her mother, No Way Home to theaters;Film Forum will be showing Marianne Lambert's documentary I Don't Belong Anywhere: The Cinema Of Chantal Akerman from 3/30 to 4/5/2016 at no charge.)

Out of the 85 minute program, the most distinctive looking was the eight minute The Tower (A Torre) by Portuguese documentarian Salomé Lamas. Freed from the depressing reality of casual inhumanity she explored in No Man's Land (Terra de Ninguém) (2013), she collaborated with German artist Christoph Both-Asmuth, from his idea of "The Tree Walker", to imagine a wanderer (Kolja Kravchenko) set free above "The Devil's Mountain" (Teufelsberg in Berlin, site of an unfinished Albert Speer-designed Nazi military college) -- and magically away from conflicts into infinite nature.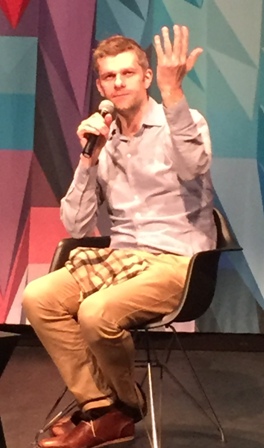 ---Director Bjorn Kammerer on 1/24/2016 at MoMI First Look Festival

Films by Bjorn Kammerer

The Austrian experimental filmmaker presented a survey of his 35 mm work, from his student days to his most recent pieces. His dizzying shorts explored optical illusions from his specially constructed distorted sets, to repeating images set on specially constructed wheels (in Gyre, 2012, 7 minutes) to multiplied images of mysterious lights and metal (in Navigator, 2015, 7 minutes). Somehow, the guy in the back row knew that was actually at a lighthouse – but he probably didn't know it was on an island in the Baltic Sea.

Meurtrière

By the end of the blizzard and the avant-garde marathon of "FIDMarseille Day", Philippe Grandrieux's hour of four angry, nude dancers' torsos ping-ponging against each other was just too abstract to hold the closing audience. But I'm sure they will be joining me next year at the sixth annual First Look Festival.



s

2/16/2016, updated 3/19/2016

A version of this review with photographic stills will be posted at Film Festival Traveler



Nora Lee Mandel is a member of New York Film Critics Online and the Alliance of Women Film Journalists. Her reviews are counted in the Rotten Tomatoes TomatoMeter:


Complete Index to Nora Lee Mandel's Movie Reviews
Since August 2006, edited versions of most of my reviews of documentaries/indie/foreign films are at Film-Forward and, since 2012, festival overviews at FilmFestivalTraveler. Shorter versions of my older reviews are at IMDb's comments, where non-English-language films are listed by their native titles.



To the Mandel Maven's Nest Reel Life: Flick Pix


Copyright © 2018