Maven's Nest

Reel Life: Flick Pix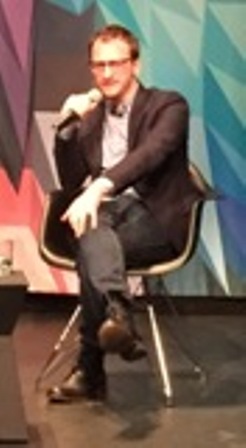 ---Directors Carlos M. Quintela on 1/16/2016; Jonathan Perel on 1/17/2016 at MoMI First Look Fest

The place to find new places in film

By Nora Lee Mandel

At the historic Kaufman Astoria Studios complex, where hundreds of silent and early sound era films were produced in my New York City home borough of Queens, the 5th Annual First Look Festival at the Museum of the Moving Image is an adventurous showcase for cinéphiles of almost 50 contemporary and influential international shorts and features, with many filmmakers in attendance each weekend in January.

The Second Weekend focused on strikingly different ways to visualize the power of place through time. Three feature films from Latin America were co-presented by Cinema Tropical, including two from Cuba. French director Léa Rinaldi's This Is What It Is was a portrait of hip-hop band Los Aldeanos, on stage and off in Havana. Other films went further into geography where outsiders have never been, or seen like this, and will never forget.

SECOND WEEKEND AT THE 5th ANNUAL FIRST LOOK FESTIVAL 2016

The Project of the Century (La obra del siglo) NOT FOUND IN RT
Toponymy (Toponimia) NOT FOUND IN RT
Ozoners
Pawel and Wawel (Pawel i Wawel) NOT FOUND IN RT
Night Train (Pociag)
The Visit (La Visite)
Jet Lag

The Project of the Century (La obra del siglo)

Filmed primarily in retro black-and-white, director/co-writer Carlos Quintela (above left) illustratively places three generations of fictional macho men into a hulking environment frozen for a future that never came to pass. Interwoven with the emotional tensions of their stalled lives, the story of Electro-Nuclear City (ENC), in the central, ocean-front province of Cienfuegos, is extolled with footage culled from the discarded archives of the local television station Tele-Nuclear.

From the propaganda salutes to the achievements of Soviet technology (an ironic mirror image of our own broadcasts during the Cold War), the monumental jewel of U.S.S.R.-Cuban relations in the 1980's was the importation and construction of the first nuclear power plant in the Caribbean, and of the towering planned community for workers needed to build and operate it. This drumbeat of great expectations hangs over the huge incomplete and mostly deserted remains, while the viewer can anticipate the Chernobyl accident, the fall of the Soviet Union, and the collapse of Cuba's economy that it had subsidized. (Instead of radiation, haz mat crews are fumigating against some unknown threat.)

The men in the family apartment each represent an era, but are still (mostly) individuals. Like Fidel Castro, the earthy grandfather Otto (Mario Balmaseda) is the domineering patriarchal revolutionary generation that still remembers when the area was all sugar cane fields, but his concerns are now reduced to his beloved goldfish. His son Rafael (veteran Cuban actor Mario Guerra) should have been nearing comfortable retirement from his planned prestigious career as a Soviet-educated nuclear engineer. The most developed character (and the only one who still has some success with women), his years training in Russia are still the highlight of his life. Depressed and rationing the last of his mobile phone access to the outside world, the hunky prodigal grandson Leo (Leonardo Gascón) has boomeranged back after another failed school opportunity and romantic relationship.

Restlessly wandering abandoned turbines, Leo looks like one of the boxers the region is known to produce, as Quintela helpfully explained the context in his first Q & A in English at the New York premiere, after having accompanied the film to Florida and Eastern Europe (and its limited showings at home). While color footage of local boxing hero Robeisy Carrazana Ramirez winning a gold medal in the flyweight division at the 2012 London Summer Olympics Glaringly inserting into his film as the rest of the world saw it, the local perspective seems inconclusively gray. But Cuba could market this locale for post-apocalypse movies.




Toponymy (Toponimia)

In northwest Argentina, the post-apocalypse looks spookily benign. Director Jonathan Perel impressively combines techniques of the older generation of landscape documentary filmmakers -- the dispassionate architectural cinematography of Heinz Emigholz (like his Perret in France and Algeria (2012) and 2006's Schindler's Houses) with the passionate essays of Patricio Guzmán in Chile (like most recently with The Pearl Button (El botón de nácar)) -- to track the forgotten physical evidence of the brutal 1970's military dictatorship in rural Argentina.

With a title meaning the linguistic discipline that studies the etymological origin of place names, and a prologue of construction blueprints in the local archives, Perel silently proves that, like so many military conquerors across the Americas, the forced resettlement of indigenous peoples was the first step in quashing uprisings. He structures his solo-camera scenes as precisely as a social scientist. The prologue opens with ten shots of government documents in 1974 bureaucratically justifying "Operation Independence" to separate civilian cover from ERP guerrillas in the mountains. Then 58 shots of 15 seconds apiece examine the uniform blueprints of four towns for about 300 people each, 20 miles apart, varying only slightly by open valley geography.

Chapter 1 – "Welcome to Lieutenant Berdina Town" -- and through three more chapters each set of blueprints comes alive today. Each entrance arch, plaza, school, Catholic chapel, public building, soccer field with bleacher, and hierarchical-sized residences is unblinkingly stared at with the same 58 static-on-tripod shots of 15 seconds apiece. Shot by shot, town by town, street by street named for fallen soldiers, with memorial bust, religious statue, gazebo, stone planter, and dirt roads ending in agricultural fields hedged in by misty mountains. As a few cars and bicyclists ride by, kids play and life goes on, we can observe in these vestiges from the rise of the authoritarian regime what houses and yards have been individualized and what central structures and imperial decorations the residents have vandalized, left to rot, or re-purposed over the past 40 years.

In the Q & A after this U.S. premiere, Perel usefully explained the enigmatic epilogue – deep in the mountainous forest he moved with a hand-held camera through the grown-over traces of the original indigenous communities from which the families were uprooted. So even some livestock we saw in a town are a rebellion against the attempt to change their way of life. Previously only remembered through an academic footnote, even human rights groups were unaware of this upheaval and the complicit "donation" of property that made it possible.

As a former city planner, I saw a larger message of conformity than just the opening round of this "Dirty War". These new towns looked a lot like the ideal communities touted in Ralph Steiner & Willard Van Dyke's renowned short film The City, commissioned by the American Institute of Planners for the 1939 World's Fair. That image inspired the Levittown-like 1950's suburban subdivision of voluntarily re-settling urban veterans I grew up in where, I realized when my Girl Scout troop participated in the Memorial Day parade, our streets were named for those from the town who had died in World War II and the Korean War. The look of similar landscapes can be ironic.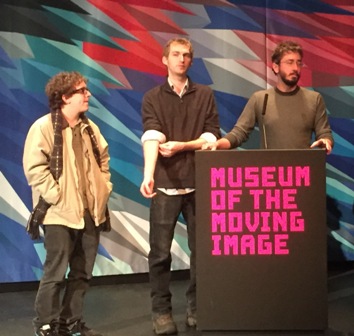 ---Sound designer Jonathan Van Der Horst with directors Kyle Andrew Bell and Jean-Jacques Martinod on 1/16/2016 at MoMI First Look Fest


Ozoners

The landscape of the past moves quickly into the present right in front of us through this 19 minute short film that is a feast for the eyes, ears, and hearts of film lovers. North Carolina-based directors Kyle Andrew Bell and Jean-Jacques Martinod caught wind that drive-in movie theaters in the southern United States would be getting their last deliveries of 35mm film cans last summer before going digital. Racing thunder and lightning storms, they drove through the Carolinas, Tennessee, and Texas to capture deliveries of this last picture show.

From the projection booth to the refreshment stand, there's cars coming and going, and lots of people, including kids in the playground and restless teenage boys, plus creepy guys watching porn (yes- there's glimpses of two of those such theaters). But more, there's the redolent sounds of insects, rain, conversations, and equipment beautifully captured in the deep dark of the heat of a summer night. In the Q & A for this New York premiere, sound designer Jonathan Van Der Horst impressed the appreciative audience by assuring that these were all simultaneous ambient noises. You feel immersed in everything about the drive-in experience -- except the movie, but then I was always too much of a purist to see one there.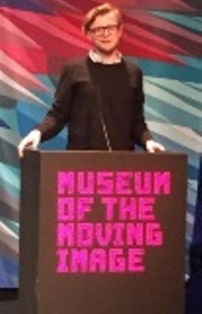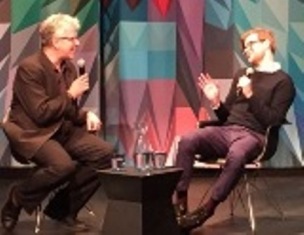 ---Director Krzysztof Kaczmarek, and laughing with Chief Curator David Schwartz on 1/22/2016 at MoMI First Look Fest


Pawel and Wawel (Pawel i Wawel)

Polish director Krzysztof Kaczmarek brought a welcome sense of humor. In his Q & A for this New York premiere, he cheerfully admitted the genesis of his droll road movie: when he couldn't get funding to make a feature, he convinced the Polish Film Institute to sponsor his touring a Polish Film Festival collection -- in Iceland! So he documented (supplemented with some imaginings) his travel and adventures by ferry and road along the summer coast. There's the landscape of beautiful and threatening nature of ocean, mountains, hot springs, and volcanic ash, the barely built environment of small towns, camp grounds, and sparsely-filled community centers. I was reminded of Michael Schorr's Schultze Gets the Blues (2003) when the fauna included singing nuns, bearded beatboxers, exuberant eccentrics, and one devoted fan of Polish cinema. In fairness to the Icelanders, he said the "What's the difference between Pawel and Wawel?" festival was so popular in the capital of Reykjavík that his small crew only had a chance to film their fans briefly on a street corner.

Kaczmarek helped New Yorkers re-live his tour when he repeated his role of introducing the digital restoration of a gem of Polish post-war cinema -- and the only feature he said he could stand re-watching at every stop. Certainly deserving to be seen by more (this was my first time), Jerzy Kawalerowicz's Night Train (Pociag) (1959) is a jazzy noir trip to the Baltic coast through the landscape of period Polish aesthetics and society. Filled with references to other films, from Alfred Hitchcock to Fritz Lang, consider it a gorgeously black-and-white precursor to Snowpiercer. Just inside a few of the first-class berths are a doctor who wants to be left alone (Leon Niemczyk, starring a few years later in Roman Polanski's Knife In The Water), a curvaceous femme fatale (the director's wife Lucyna Winnicka), a sleepless Holocaust survivor, and a murderer on the run who leads them all into a Bergman-esque morally ambiguous landscape.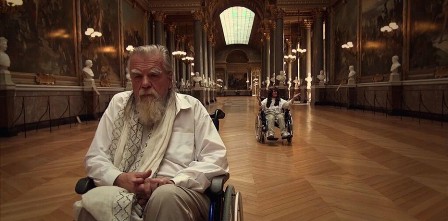 To preview the final weekend's presentations from FIDMarseille, the French summer film festival's director Jean-Pierre Rehm introduced two shorts which reveled in looking akilter at two environments from opposite ends of the social and historical scale.

Italian director Pippo Delbono's The Visit (La Visite) (22 minutes) brought the priceless octogenarian faces of Michael Lonsdale and Bobo into and through the great and ornate indoor and outdoor spaces of Versailles. (That Bobo was born deaf and with microcephaly now has additional perspective.) Through philosophical ruminations and wordless sounds, they each ironically puncture this Baroque legacy of the aristocracy with wigs, toys and visual jokes.

In Jet Lag (52 minutes. U.S. premiere), Spanish director Eloy Domínguez Serén visually considers who sees more of what happens at a gas station on the night shift – a tired, bored documentary crew or the automated security cameras? The answer for this film, and the series, got more and more abstract as the First Look Festival continued.



2/8/2016

A version of this review with photographic stills is posted at Film Festival Traveler.

First Look Festival 2016: First Weekend
First Look Festival 2016: Third Weekend

Nora Lee Mandel is a member of New York Film Critics Online and the Alliance of Women Film Journalists. Her reviews are counted in the Rotten Tomatoes TomatoMeter:


Complete Index to Nora Lee Mandel's Movie Reviews
Since August 2006, edited versions of most of my reviews of documentaries/indie/foreign films are at Film-Forward and, since 2012, festival overviews at FilmFestivalTraveler. Shorter versions of my older reviews are at IMDb's comments, where non-English-language films are listed by their native titles.



To the Mandel Maven's Nest Reel Life: Flick Pix


Copyright © 2018