Maven's Nest

Reel Life: Flick Pix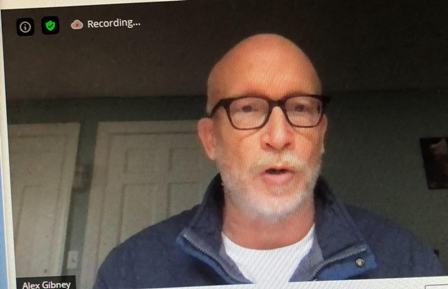 "Conversations" at the 2020 Double Exposure Investigative Film Festival with: Alex Gibney, director of Agents of Chaos and Totally Under Control; Maria Ressa, protagonist from A Thousand Cuts, as streamed online.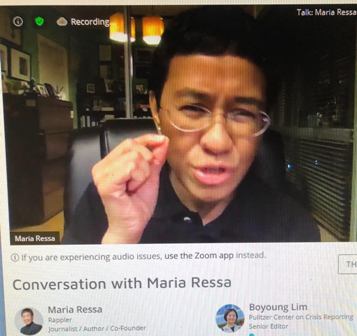 2020 Double Exposure Investigative Festival and Symposium

By Nora Lee Mandel



Amidst the global Covid-19 pandemic, the 6th Annual Double Exposure Investigative Film Festival and Symposium, of 100 Reporters, streamed online for a "virtual festival" October 14 through 19, 2020. Each year, some of the best, most daring, and most revealing documentaries are screened.

For Q & A's, participants "zoomed" in from all over the world. While I have attended for several years the film screenings, with the informed discussions among the very engaged audience, the necessary virtual format allowed me to also "attend" for the first time the Symposium talks and panels on vital issues at the intersection of investigative journalism and documentary storytelling.

Out of 17 feature documentaries, ten were directed (or co-directed) by women; out of eight shorts, half were directed by women.

FEATURE FILMS AT THE 2020 DOUBLE EXPOSURE INVESTIGATIVE FILM FESTIVAL (in order of my recommendation)

Collective (Colectiv)(Romania/Luxembourg) – Director Alexander Nanau; Co-Dramaturgy Antoaneta Opris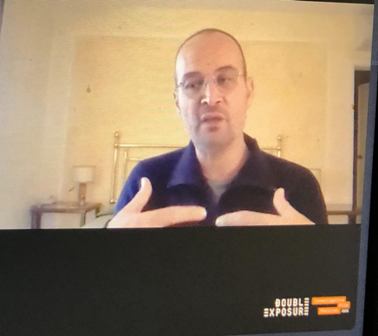 In the Virtual Q & A after the screening, Nanau provided context for Americans: "The tragedy was corruption. While the whole country's press failed, we followed the only team, in a sports newspaper, questioning authorities and exposing their lies. So many young people don't know how the press works, so they can see that investigative journalism is different."
Romania's entry for International Oscar; Magnolia Pictures releasing in theaters and on demand November 20th.
Review Forthcoming


A Thousand Cuts (USA) – Director Ramona Diaz; Editor Leah Marino (PBS Frontline)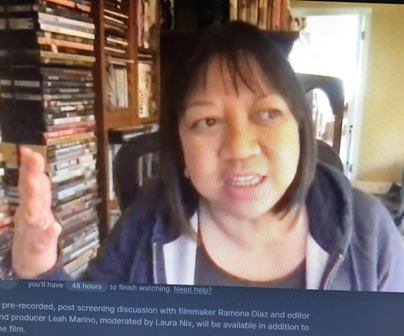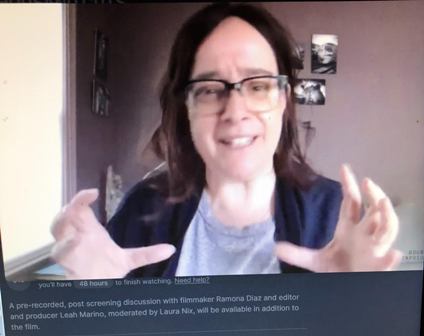 In the virtual Q & A following the screening, Filipino-American director Diaz, in her fifth collaboration with Marino, explained how Rappler Media Co-Founder "Maria Ressa became the center of gravity, visually, in story weight, and as an icon of press freedom." Marino noted that since the film's premiere at the Sundance Film Festival in January, they had cut 20 minutes and added pandemic-updated footage in Philippines.
Ressa was also featured in a "Conversation" in the Symposium section. Asked why she was all-in on the cinema verité film after she'd been arrested eight times by the Duterte government, she responded fervently: "I wanted the distrust, anger, violence documented - Ramona started filming the day we got arrested. The film helps us shine the light, and demand accountability."
Review Forthcoming


Enemies of the State (USA) Director Sonia Kennebeck; Editor Maxine Goedicke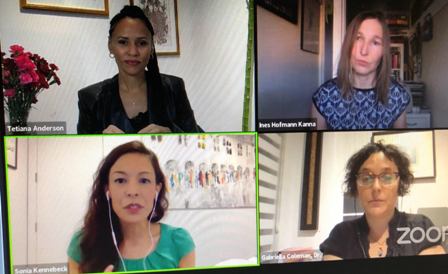 In the virtual Q & A after the screening, Kennebeck provided background: "We did a mountain of research, filed court motions and FOIAs [requests for government files under the Freedom of Information Act], and talked to way more people than speak in the film. There's so much government misconduct and mistreatment with secrecy on top makes truth more challenging."
Producer Ines Hofmann Kanna described her role was "to keep distance. I was not with Sonia on shoots, and not in the room with the family. It was murky - little things didn't add up."
Cultural Anthropologist Prof. Gabriella Coleman, at McGill University, who focuses on digital activism and participated in the film: "Historically government has gone to extreme measures to discredit activists. But the claims were so intense."
IFC Film releases in theaters and On Demand July 30, 2021.
Review Forthcoming


Assassins (USA) – Director Ryan White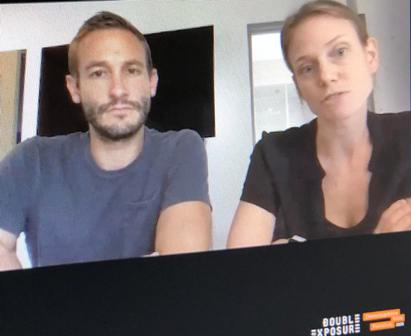 In the Virtual Q & A after the screening, producer Jessica Hargrave explained: "Journalist Doug Bock Clark told us about this unbelievable case in Malaysia." [Clark covered the case for GQ in 2017, and was a producer on the film.]
Director White: "Two very personal stories of young southeastern Asian women, one from Indonesia and one from Viet Nam, vulnerably and naively caught within a massive geo-political web. Like young people worldwide, they documented their lives on social media and in texts that showed us their understanding of what they were doing. We include a brave local journalist, upset families, and dynamic lawyers who gave us CCTV and cell phone footage."
Greenwich Entertainment releases in U.S./Magnolia Pictures elsewhere.
Review Forthcoming


Through The Night (USA) – Director Loira Limbal; Editor Malika Zouhali-Worrall; Cinematographer Naiti Gámez

In the Symposium component of the Festival, Limbal participated in the panel "Trauma-Informed Storytelling as a Portal to Heal", exclaiming: "Expose the system not the person." (Appropriately symbolic of the child care complexities all working mothers are facing during the pandemic, her son popped into her Zoom screen at the end.) Her film's social impact campaign focuses on increasing support for caregivers.
Review Forthcoming


Belly of the Beast (USA) – Director Erika Cohn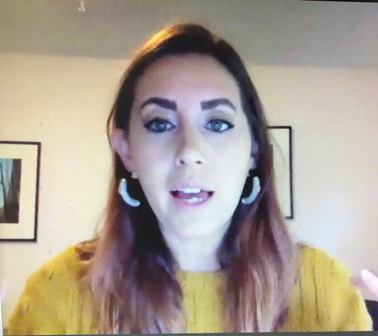 In the Virtual Q & A after the screening, Cohn emphasized her advocacy: "This film would not have been possible if not for the collaboration with people inside. Objectivity went out the window, but doesn't invalidate this. It's very important that the people in the film feel good about it because they're partners in making change."
In the Symposium component of the Festival, Cohn participated on the "Filmmakers in Focus: Exposed" panel. She provided personal context that as a long-time volunteer helping incarcerated women with Justice Now, in Oakland CA: "Working from the inside out was crucial. There was a big difficulty with fact checking – California contends that these procedures were consensual, that doctors had informed consent, which isn't possible in a coercive environment. They illegally reclassify the procedures as birth control as necessary, a medically necessary loophole that makes it difficult to examine each case. The film's focus had to shift from undercover documentary in prison to Kelli Dillon's decision to confront her traumatic history with sterilization at 24 years old and become an activist. She decided to become not only an advocate for herself, but for others to stop this from happening again."
Her film's Impact Campaign is petitioning for reparations to women in the past and present who were sterilized in California prisons.
In theaters now, on PBS Independent Lens November 23.
Commentary Review Forthcoming


Finding Yingying (USA) Director Jiayan "Jenny" Shi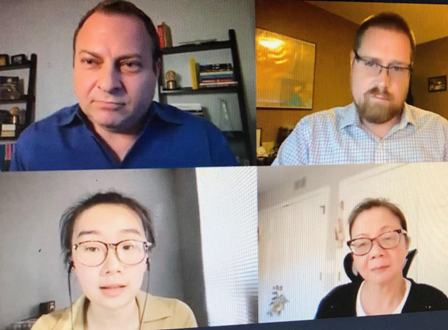 In the Virtual Q & A after the screening, producer Brent Huffman proudly noted: "The film started in my Documentary Journalism Class at Northwestern."
Director Shi recalled: "First I volunteered to help – Yingying felt like my own self chasing her dream in the U.S., and like my family.
Kartemquin producer Diane Quon stressed: "It's very important to break stereotypes of Chinese students in the U.S."
Sheila Nevins selected this emotional, international story for her new MTV Documentary Films.
Review Forthcoming


Welcome to Chechnya (USA) Director David France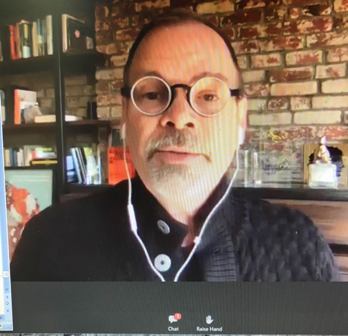 In the Symposium component of the Festival, France participated on the "Filmmakers in Focus: Exposed" panel. He detailed the extraordinary extent his team went to for protecting endangered the gay participants' identities, using sophisticated technology.
Available on HBO
Review Forthcoming


76 Days (USA) Director Hao Wu


In the virtual Q & A with Alison Klayman, director of several Ai Wei Wei documentaries, Hao Wu remembered how not being able to reach his ill grandfather inspired his very moving emphasis on Covid's impact on isolated elderly in the Wuhan hospital.
In the Symposium component of the Festival, Hao Wu participated on the "Filmmakers in Focus: Exposed" panel. He detailed the on-site roles of his local co-directors, including one who preferred to stay anonymous.
Sheila Nevins selected this immediately relevant story for her new MTV Documentary Films.
Review Forthcoming


MLK/FBI (USA) Director Sam Pollard; Editor/Co-Writer Laura Tomaselli
Based on the 2015 book The FBI and Martin Luther King, Jr.: From "Solo" to Memphis by David J. Garrow, who is interviewed extensively in the film, and archival material more recently declassified from the Congressional investigation into the assassination.
IFC Films will release on January 15, 2021 ahead of the Martin Luther King, Jr. Day holiday.
Review Forthcoming


The Mole Agent (Chile) – Director Maite Alberdi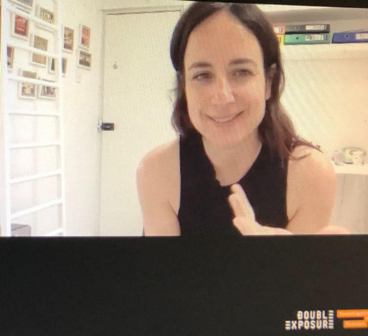 In the Virtual Q & A after the screening, Alberdi elaborated on her extensive process to place a fictional private detective into a Santiago nursing home: "I make documentaries to live life with others. Something specific in each character was not generic. The common point was loneliness. I inserted 85-year-old Sergio, and he was open to make new friends over 120 days shooting."
Gravitas release; available on Amazon Prime Video/PBS's POV
This was my favorite most humanistically heart-warming film of the year was this fiction/documentary hybrid. Not for particular lines, but how the charming titular detective character/80-year old Sergio Chamy seems to bring out the best in all the elderly people in the pre-pandemic senior citizen residence.

Missing In Brooks County (USA) – Directors Jeff Bemiss and Lisa Molomot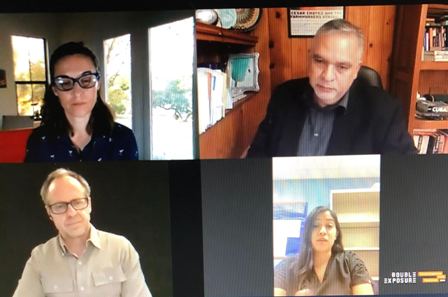 In the Virtual Q & A after the screening: (Co-Director Lisa Molomot wasn't available.) Bemiss: "We wanted to paint a 360ﹾ portrait" of the complicated Texas border crisis, including the vigilantes – it took us three years to get them to invite us along on an operation."
Forensic anthropologist Dr. Kate Spradley, at Texas State university's OpID decried: "There is systemic breakdown at every level."
Michelle Chinos, sister-in law of a missing man: "We're all humans here. This film will help."
On PBS Independent Lens in 2021
Review Forthcoming


'Til Kingdom Come (Israel/UK/Norway) – Director Maya Zinshtein; Composer Miriam Cutler


In the Virtual Q & A after the screening, Director Israeli journalist Zinshtein: "We focused on the human stories to the next generations, both in the Israeli philanthropy and the church whose ideas see Jews as key to End of Time." Producer Abie Troen: "In Kentucky, we saw the Israeli flag waving outside the church where they never met a Jew, let alone Israelis."
My commentary on the Jewish women. Review forthcoming.


Influence (South Africa/Canada) Directors Richard Poplak and Diana Neille

In the Virtual Q & A after the screening: Co-Director Richard Poplak: "We asked Lord Timothy Bell for three days. Once we were ushered into Belgravia, he gave us five." Co-Director Diana Neille: "He's charming, complex, and loose with concepts of morality. We didn't let him get away with that."
Review Forthcoming


Mayor (USA/UK) – Director David Osit
While I appreciate David Osit's fly-on-the-wall, cinema verité cinematography, this portrait of Musa Hadid, the Christian mayor of Ramallah, on the West Bank, where he literally has to operate between a rock and a hard place, has no more depth than a TV magazine profile.
The extensive Christmas and Easter imagery (albeit with jarring Western European symbols in the Holy Land) are useful reminders to Americans that not all Palestinians are Muslims.
Premieres on PBS POV July 26, 2021.


The New Corporation: The Unfortunately Necessary Sequel (Canada) – Directors Joel Bakan and Jennifer Abbott


Based upon Bakan's book The New Corporation: How 'Good' Corporations Are Bad For Democracy
In the Virtual Q & A after the screening, co-director Jennifer Abbott described: "We look at the elevation of the corporation as savior. There's still a window of time to rein in corporate power." Co-director Joel Bakan: "We show the stakeholder capitalism of bank CEO Jamie Dimon in Davos and Detroit embodying 'We're great to save world'".
EyeSteel Films release
Review Forthcoming
Not Yet Seen – to be available on HBO later in 2020 – and I will add my reviews then

The Art of Political Murder (USA) Director Paul Taylor

Baby God (USA) Director Hanna Olson

Shorts: [Not yet seen]
The Burning Bed Director Scott Michels
Call Center Blues Director Geeta Gandbhir
Dieorama Director Kevin Staake
Huntsville Station Directors Jamie Meltzer and Chris Filippone
In Event Of Moon Disaster Directors Francesca Panetta and Halsey Burgund
Riviera Maya Gang Director Will Jordan
Status Pending Director Priscilla Gonzalez Sainz
Tutwiler Director Elaine Sheldon

HIGHLIGHTS OF THE 2020 DOUBLE EXPOSURE INVESTIGATIVE FILM FESTIVAL SYMPOSIUM
Out of thirteen workshops, seven panels, four conversations, three master classes, three focus on filmmakers, a legal clinic and a student pitch, I streamed the sessions on current issues facing investigative journalists and storytellers most related to making documentaries:

Conversation with Alex Gibney and Lowell Bergman
Directors Alex Gibney and Lowell Bergman (now teaching at University of California Berkeley) compared and contrasted their experiences as an indie filmmaker vs. network investigative reporter.
They explained how it took four years to make their four-hour Agents Of Chaos for HBO (between Citizen K and Totally Under Control) – that have in common contacts in Russia afraid to be interviewed. They helped their investigators set up an independent news organization.

In the Crosshairs: Doxxing, Trolling and Social Media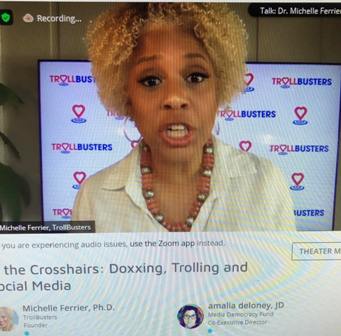 Dr. Michelle Ferrier, of TrollBusters: "Women of Color journalists are targeted and their accounts are shut down til restored by human monitor. Support techniques can be wielded in a way that silence journalists."


FRONTLINE of Cinematic Journalism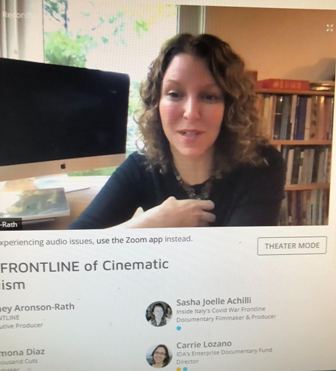 Executive Producer Raney Aronson-Rath: "Since Steve James's Abacus: Small Enough to Jail (2016) and Waad Al-Kateab's For Sama last year, PBS Frontline now brings a cinematic sensibility to its 20 episodes each season. I'm seen as the journalism police, but my religion is fair journalism. I added fact checkers and editors. We want diversity in who tells stories, yet we have to ask filmmakers important questions about their process." [But I still like hearing Will Lyman's resonant narrations in some episodes!]
Filmmaker Sasha Joelle Achilli related that the producers approached her to cover Covid in Europe because of her earlier coverage of the Ebola epidemic in Africa -- "Do you want to go and tell a story for us?" She filmed Inside Italy's Covid War in a hospital in Northern Italy because the news was "just about numbers, but there were many unknowns. Italy was three weeks ahead. It's my country, my family lives there, I speak the language, so I fit in."
Director Ramona Diaz noted that A Thousand Cuts is her first film with Frontline


Playbook for a Pandemic: Disinformation in the Age of Covid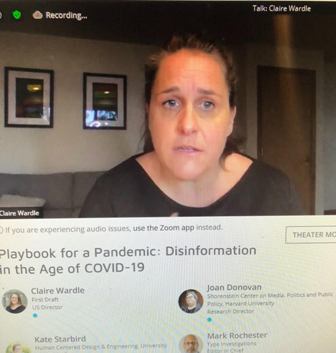 Claire Wardle, U.S. Director, First Draft: "They say media is biased –so what do you trust?"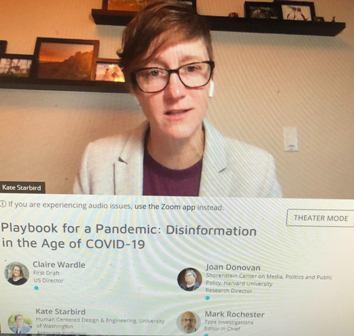 Prof. Kate Starbird, at the University of Washington: "With real journalists behind paywalls, signals for trustworthiness are needed."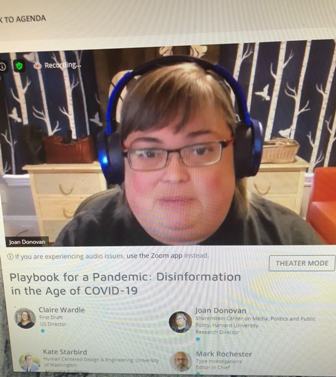 Joan Donovan, Research Director at Harvard's Shorenstein Center: "Knowledge is expensive; cheap, fast, scandalous info goes further."


Incorporating Citizen-Created Content: From Open Sourcing to Collaborations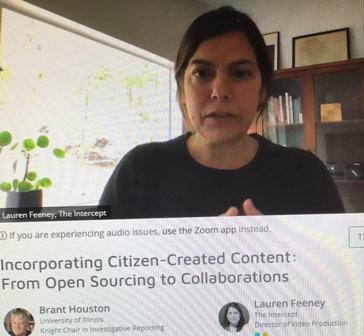 Lauren Feeney, Director of Video Production at The Intercept: "In the pandemic we've learned you don't have to jump on a plane to report directly- ask a source to record. But know who you're dealing with for authentication and warn of the risks of being a whistle blower."


All the News That's Fit to Screen: Film and TV at the New York Times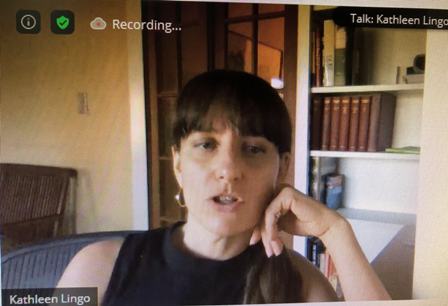 Film & TV Editorial Director Kathleen Lingo on going beyond Op-Docs shorts "to reach new audiences with not-newsy feature documentaries with an artistic lens, but adhering to journalist rigor - I'm in between two worlds."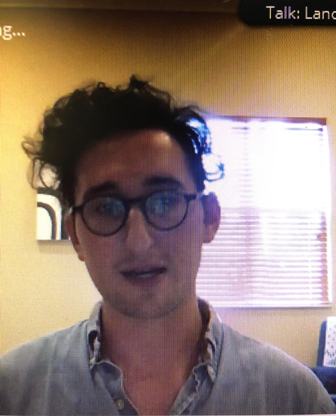 Some Kind Of Heaven Director Lance Oppenheim on how he described "The Villages" in Florida for NY Times support: "Following real people going through real problems in a hyper-real place. It's questioning a utopian experiment that's so American - like a late stage capitalist nightmare."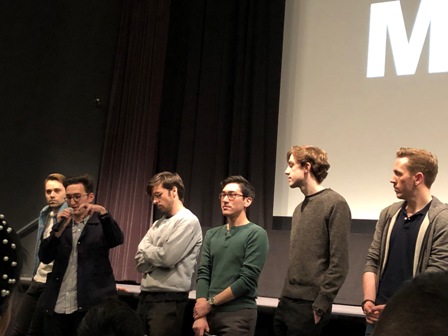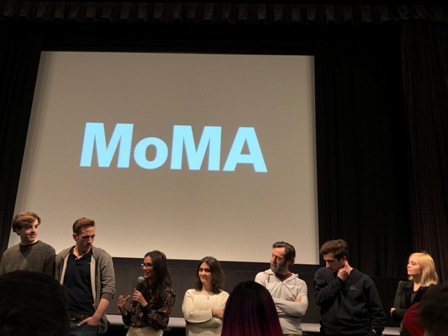 Oppenheim brought his whole crew when I saw his film in NYC at the Museum of Modern Art's Documentary Fortnight, just after its Sundance premiere and just before the pandemic shutdown. I Tweeted: "Wunderkind 2 years out of Harvard director Lance Oppenheim packed his crew, class & family into MoMA's Doc Fortnite. SOME KIND OF HEAVEN follows 3 sets who don't fit into Little Boxes Babbittry of FL's The Villages but keep trying sunrise sunset over golf courses. Exec Prod NY Times."
Just a couple of weeks later, the Florida presidential primary brought "The Villages" into the news for the aggressive pro-Trump activities of its golf-carting residents, putting into sharp relief that Oppenheim had assiduously avoided politics in his portrait of the community and those who don't fit in. Magnolia Pictures may be trying to avoid these election associations by releasing January 2021.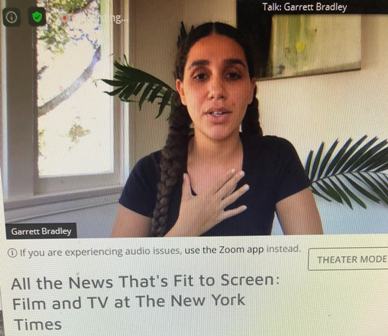 Time director Garrett Bradley: "I pitched the invisible community of Black family POV of incarceration. It was a really big deal to get the opportunity!" (now streaming on Amazon Prime)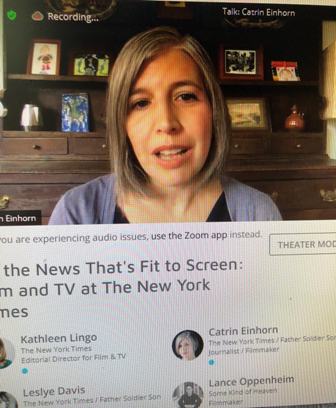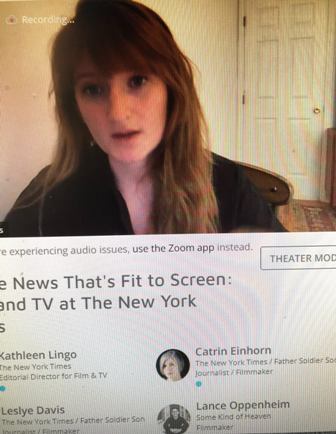 Father Soldier Son directors Catrin Einhorn & Leslye Davis: "We're journalists with emotionally driven storytelling, but thinking expansively to spend time with our subjects." (now on Netflix)


Fact-Checking in the Age of Misinformation

Laila Al-Arian of Al Jazeera English, Executive Producer, Fault Lines warned: "When a source is too good to be true, if it's too cinematic a story, then double back", providing a sad example of a hoax damaging refugee policies.
Hilke Schellmann, of the Wall Street Jounal, discussed "fact checking vs. verification".


Cross-Border Investigations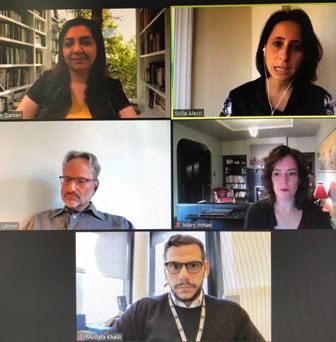 ICIJ's Scilla Alecci advocated "radical sharing".
Arab Reporters for Investigative Journalism's Rawan Damen: "collaboration is now a must".
BBC Arabic's Mustafa Khalili gave examples of participants in recent high-profile projects: "Each has own contacts and expertise to piece together a spider web of information to reveal extraordinary story."
London lawyer Mary Inman, of Constantine Cannon: "I help whistle blowers around the world".


Katherine Eban, of Vanity Fair, led a Master Class on the Investigative Process
"Stay organized! Put together time line! Learn your source material! Master organizational charts! Protect your sources! Get visual details!" and more.


Photos all by me.

updated 7/13/2021





Nora Lee Mandel is a member of New York Film Critics Online. Her reviews are counted in the Rotten Tomatoes TomatoMeter:


Complete Index to Nora Lee Mandel's Movie Reviews


My reviews have appeared on: Film-Forward; FF2 Media; Lilith, FilmFestivalTraveler; and, Alliance of Women Film Journalists and for Jewish film festivals. Shorter versions of my older reviews are at IMDb's comments, where non-English-language films are listed by their native titles.


TV Recommendations



To the Mandel Maven's Nest Reel Life: Flick Pix


Copyright © 2021