Maven's Nest

Reel Life: Flick Pix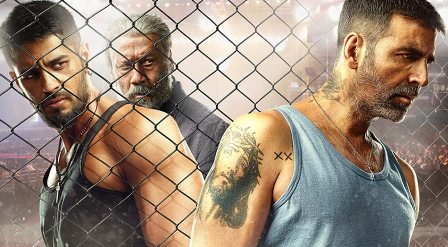 Like any brother would - Nothin' feels better than blood on blood in Bollywood

By Nora Lee Mandel

BROTHERS…BLOOD AGAINST BLOOD
Directed by Karan Malhotra
Produced by Karan Johar and Hiroo Yash Johar
Written by Ekta Pathak Malhotra, based on Warrior, Story by Gavin O'Connor and Cliff Dorfman, Screenplay by Gavin O'Connor and Anthony Tambakis and Cliff Dorfman
Released by Fox Star Studios
India. 156 mins. Not Rated
In Hindi with English subtitles
Music by: Ajay−Atul
With: Akshay Kumar, Sidharth Malhotra, Jackie Shroff, Jacqueline Fernandez, Shefali Shah, and Kareena Kapoor


Brothers…Blood Against Blood should attract interest beyond Bollywood fans because it is a culturally adapted remake of Gavin O'Connor's Warrior (2011). The Catholic family with the battling brothers and their alcoholic father moves from gritty, working-class Pennsylvania to the alleys, waterfront, melodrama, and music of Mumbai.

Their individual stresses, financial problems, and ghosts they are fighting are established in the first half. The ex-fighting coach Gary Fernandes (Jackie Shroff), in the patriarchal role that earned Jon Voight an Oscar nomination, is shuffling out of prison, determined to ask his sons for forgiveness. Waiting for him, alone and nervously tippling booze, is his insecure son Monty (the gorgeous young hunk Sidharth Malhotra), in a version of the abandoned son played by Tom Hardy, who had a stronger back story as a Marine with PTSD. Back home, the father is everywhere haunted by images of his wife Maria (Shefali Shah), and her lullabye "Gaaye Jaa" becomes a continuing leit motif for his guilt over his cruelty to her. Monty sulks with resentment that his father prefers the ghosts of the past to him in the present. But when the son takes him to a grungy street fight, Gary encourages him to turn his anger more appropriately to his fighting opponent. (That's about the only coaching he's willing to take from his father.) When his unleashed fury beats up the neighborhood champion, his overwhelming victory goes viral and impresses a local fight manager.

But Gary is still angrily rejected by his older son David (Akshay Kumar, a long-time Bollywood action hero and romantic star), whose story hones most closely to the original played by Joel Edgerton, albeit a bit more saccharine. Through a sentimental flashback, we see he was a bruised fighter who falls in love with the lovely waitress Jenny (Jacqueline Fernandez), especially once he sees her at church. (I always get a kick out of how Bollywood films just manage to fade-out a frame before wedded lips touch in a sensual kiss.) In a quick montage, she inspires him to study and pass the teaching exam, to become an earnest and beloved physics teacher. Their perfect family life is disturbed only by their adorable little daughter's serious illness. When David applies for a loan for her medical expenses, he corrects the banker: "There's nothing wrong with her heart. It's her kidneys.", and he tenderly helps distract her during dialysis treatments. As in Warrior, he tries to make some extra money in fight cages, but his otherwise kindly principal says his bruises are unacceptable and he must leave the school. So he can concentrate on transforming back into fighting shape.

When Monty and David see each other at the fights (let alone both glowering at their father), all their memories, bad and good, come flooding back, of the pain his drinking and adultery caused his wife – and revealing that they are really half-brothers. But in this tumultuous flashback, young teenage David took little Monty under his protection at home and school, and they were devoted to each other. The family was tragically torn apart, leaving only bitterness. (Hey, this family was less treacly than Fox's barely social relevant romance earlier this year Hamari Adhuri Kahani.)

All this family turmoil becomes the background to why the brothers are motivated to qualify for India's first "Right To Fight" (R2F) international championship, usually called Mixed Martial Arts (MMA). The film's tone switches to the sports genre, with a barrage of montages of TV news, flashy announcements by a glitzy entrepreneur, and continuing commentary by a chattering broadcast duo (Raj Zutshi and Kavi Shastri). The enthusiastic press urgently follows their training regiment, which are the most entertaining scenes. Playing on Rocky, the two underdogs rigorously train in the colorfully working class environs of the Mumbai port, climbing on construction cranes and exercising on maritime equipment, all, of course, to a rousing score by Ajay-Atul, and attractively showing off Malhotra's physique especially (see below). While David returns to the support of his very worried wife and needy daughter, Monty faces a sudden musical distraction at a bar. Sexily dressed entertainer Kareena Kapoor (see below) appears on a soundstage, backed by an ever larger, and increasingly diverse, group of leering male singers/dancers, to perform the beguiling "Mera Naam Mary". As with most Bollywood releases in the U.S., the lyrics, by the popular Amitabh Bhattacharya, aren't translated into English subtitles, so while I have no idea what she was lip synching about, that the morose and intense Monty can resist her throwing herself at him is supposed to mean he is fully focused on his training, but made me question which team he plays on.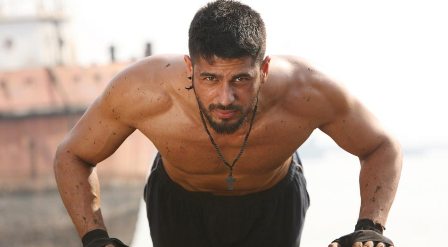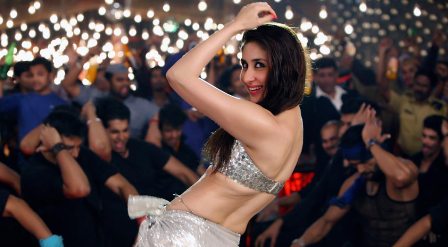 Down to the fight biz, the tournament amusingly plays on Indian nationalism and exaggerated stereotypes of outsiders, so the final competitors are a fun array -- the German Luca is introduced "from the land of the Nazis"; the Japanese champion is like a spinning ninja; the Brazilian runs around like a soccer star; and includes some real fighters, including the WWE's Shad Gaspard as Ronnie Cross. Other than the original Warrior, the only other MMA film I've seen, for comparison, was David Mamet's Redbelt (2008), and this is lighter in spirit than those, even as the brutal fighting ratchets up -- a couple of the brothers' wins are somewhat accidental. (There's many reaction shots to the wife, and the school principal, wavering whether to see David fight in person, and the father who wavers whether to give up on one or both of them.) As I started to cover my eyes at the extreme moments, I realized that the loud aural design made the pounding, strangling, head and limb pressing with screams of pain seem more damaging than the actual visuals, with sound effects of breaking bones, snapped muscles, grunts, and fists against body parts coming a frame before any damage could be caught on the screen. Yet the climactic fight, as both brothers ferociously beat on their ghosts, and even shout their grievances, is a surprisingly moving fraternal bonding into triumphant (and sweaty) resolution.



August 19, 2015



Nora Lee Mandel is a member of New York Film Critics Online and the Alliance of Women Film Journalists. Her reviews are counted in the Rotten Tomatoes TomatoMeter:


Complete Index to Nora Lee Mandel's Movie Reviews


Since August 2006, edited versions of many of my reviews of documentaries/indie/foreign films are at Film-Forward; since 2012, festival overviews at FilmFestivalTraveler; and, since 2016, coverage of women-made films at FF2 Media. Shorter versions of my older reviews are at IMDb's comments, where non-English-language films are listed by their native titles.


To the Mandel Maven's Nest Reel Life: Flick Pix


Copyright © 2018