Maven's Nest

Reel Life: Flick Pix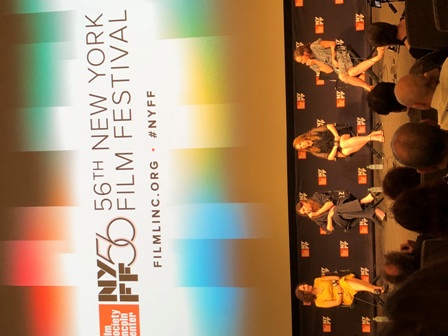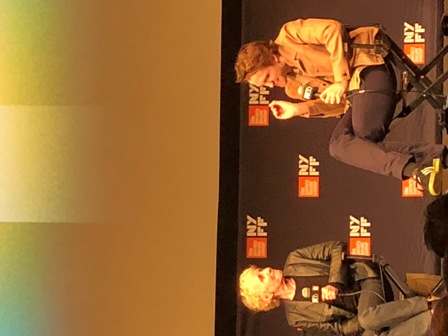 At 2018 New York Film Festival press conferences: From Private Life: Director Tamara Jenkins with female cast members Kathryn Hahn, Kayli Carter and Molly Shannon; From High Life: Director Claire Denis with co-star Robert Pattinson

Most Complete and Updated Annotated Overview of All Women-Directed and Women-Crewed Films and Talks at the 2018 New York Film Festival

By Nora Lee Mandel

The 56th Annual New York Film Festival of the Film Society of Lincoln Center (FSLC) opened September 28, 2018, and ran through October 14. The Festival this year included a modest number of women-directed films, my count, by sections:

In the prestigious Main Slate: 4 new feature films, plus 1 co-written by a woman, out of 30
In Documentary Spotlight: 2 new feature films, out of 14
In Revivals and Retrospectives: 1 woman co-director, out of 25, and 2 new feature documentaries on past filmmakers, including about a woman director, out of 3
In the experimental Projections: 16 features/shorts by women, out of 36
In the Convergence (VR/Immersive Cinema/AI projects) section, 4 by women, out of 12
In the Shorts Programs: 7 are by women directors, out of 21
Of the Talks: with directors, 2 are with women directors, out of five


Many filmmakers attend the screenings for post Q and A's, held at several theaters on the Lincoln Center campus.

As in previous years, my coverage of women-directed films at NYFF is summarized at FF2 Media.

WOMEN DIRECTORS AT THE 2018 NEW YORK FILM FESTIVAL

Main Slate:

Happy as Lazzaro (Lazzaro felice) – Director Alice Rohrwacher; Director of Photography Hélène Louvart; Editor Nelly Quettier (Italy) (North American Premiere) (Netflix release and in select theaters on November 30)
A wow! The sunny opening of extended families communally working a farm slowly moves from operatic nostalgia to reveal a portrait of nasty exploitation of the poor by aristocratic landowners and their spoiled brats. Then, through the wide eyes of the Christ/Billy Budd-like figure of the title (played wonderfully by Adriano Tardiolo), magic realism carries him and his very distinctive, multi-generational friends to a future with the continuing travails of migrants and the homeless by rapacious banks and the rich, who otherwise set the downtrodden against each other.



Alice Rohrwacher is featured in a "Directors Dialogue" - Video is posted.



High Life- directed by Claire Denis (Germany/France/USA/UK/Poland) (U.S. Premiere) (A24 release in 2019)
Screening schedule Plus screening added!



Claire Denis is featured in "On Cinema" talk: on video.
Reminding me a lot of Denis's The Intruder (L'Intrus) (2004) in structure and treatment of masculinity, science fiction archetypes are upended with this Prisoners in Space. Juliette Binoche is a sensually long-haired, mad, murderous scientist of reproduction and Robert Pattinson is a punk daddy caring for his baby daughter (on set babysitting his BFF's infant for days). Those planning missions to black holes could use this artistic insight into the impact of long space travel on humans, albeit a multi-national set of possibly sociopathic recruits being punished like Superman's nemesis criminals from Krypton. This is Denis's first English language film because "of course people in space speak English or Russian, not French". In the New York Film Festival press conference, Pattinson said he sought her out for a role in her work, and Denis said she wanted to capitalize on what she called "his charisma".


Private Life- directed by Tamara Jenkins (USA) (In theaters/Netflix release on October 5)

Jenkins also participated in "NYFF Live: Making Private Life" co-presented with the NYC Mayor's Office of Media and Entertainment - Schedule and the video will probably be posted on the FSLC website.
With great humanity, Jenkins creates a credible, extended New York family, as a forty-something couple (Kathryn Hahn and Paul Giamatti) seeks parenthood. Their adventures in fertility treatments and adoption impact his suburban brother (John Carroll Lynch), his sister-in-law (Molly Shannon), and his brother's college drop-out step-daughter (Kayli Carter) in unexpectedly emotional ways, both amusing and moving. Inspired by Jenkins' own well-researched efforts (and dedicated to her own daughter), each character she created is three-dimensional with sympathetic motivations, reasons, and reactions. In the New York Film Festival press conference, Jenkins noted she particularly wanted Shannon for this secondary role because a friend had thought this mother as scripted was a "bitch", so only Shannon could give her the necessary empathy.


Too Late to Die Young (Tarde para morir joven) – Director by Dominga Sotomayor; Editor Catalina Marín Duarte (Chile/Brazil/Argentina/Netherlands/Qatar) (U.S. Premiere) (KimStim release)
A beautiful, Chilean entry in the genre of women directors remembering coming of age in unconventional childhoods with too much freedom, Sotomayor achingly and empathetically re-creates a summer co-op as full of human nature as it is woods and waterfalls, where tween and teen girls and boys navigate around their creative parents and each other's yearnings on a fraught holiday leading up to New Year's Day 1991.


Screening schedule Plus added screening!

Documentary Spotlight:

Divide and Conquer: The Story of Roger Ailes – Director Alexis Bloom; Co-Cinematographer Charlotte Kaufman (USA) (Magnolia release in theaters on December 7; to be broadcast on A & E)
Bloom's bio-doc is at its best when she interviews new accusers from both his distant and recent past, even after his fall from Fox grace, when the ongoing pattern of his sexual harassment and abuse of power becomes evident. More clarity on how he shaped what I call "Faux News" from his own predilections to toxicly outlive him would have been helped with more on the Murdochs as bosses and how investigations into their misuse of the funds of a public company for hidden personal pay-offs is being investigated by such government agencies as the SEC and NY State, but in Q & A's she has emphasized her focus was on Ailes, not the company.
Screening schedule Plus screening added!


Bloom also participated in NYFF Docs Talk - Schedule and the video will probably be posted on the FSLC website.


The Waldheim Waltz (Waldheims Walzer) – directed by Ruth Beckermann (Austria's entry for Foreign Language Academy Award) (Menemsha Films release in theaters on October 19)
Another President who lied about his past, prevaricated about his country's history, encouraged nationalism and anti-Semitism, yet wins election seems very relevant today. Current events not only bring up memories for Beckermann, but also footage from her own efforts as a demonstrator and documentarian in the 1980's. She smoothly edits in a range of international media interviews from this period, as Kurt Waldheim changes his story even as more facts are revealed, but ruminates defensively on Austria's intentional amnesia about its people's collaboration with the Anschluss, the Nazis' annexation of Austria in 1938, even while avoiding the usual images of Hitler being greeted by thousands of cheering locals on March 12. (I had never before heard of something he says casually: "Austrians were drafted into the German army.") Instead, she parses why no one (including his son) asked Waldheim before about the war years – let alone other Austrians' involvement – all during his rise in the Foreign Ministry and service as United Nations General Secretary, when he welcomed Palestinian leaders, supported Zionism declared racism, and sneered at the investigations of the World Jewish Congress. With a glimpse at Klimt's "Woman In Gold" Jewish-owned, Nazi-stolen painting that the Austrian government mis-appropriated for years, she effectively raises as many disquieting questions as she explores.
So, nu: my commentary on the director as a Jewish woman.



Revivals and Retrospectives:

"Straub-Huillet Program" in "Dan Talbot Tribute": Short films directed by partners Jean-Marie Straub and Danièle Huillet, all from West Germany: Machorka-Muff (1963) adaptation of Heinrich Böll's short story "Bonn Diary,"; The Bridegroom, the Comedienne and the Pimp (1968), including a stage production of Bruckner's Sickness of Youth, and Not Reconciled (1965), adaptation of Böll's novel Billiards at Half-Past. (The latter two are also streaming on Film Struck.) (Grasshopper Film release – but did not make these available for pre-screening)
In researching Huillet's leftist films and what little is available online, much of their work is only attributed to Straub, usually considered because he was their spokesmen, are becoming less and less known in the U.S.



Related documentary in the Festival: Introduzione all'Oscuro (Argentina/Austria), director Gastón Solnicki's tribute to Hans Hurch, a former assistant to Jean-Marie Straub and Danièle Huillet who went on to be a film critic.
Solnicki thanks Straub and Huillet at the end, so presumably the places he charmingly re-visits in Vienna that Hurch loved, and with some of the people he knew, reference their films.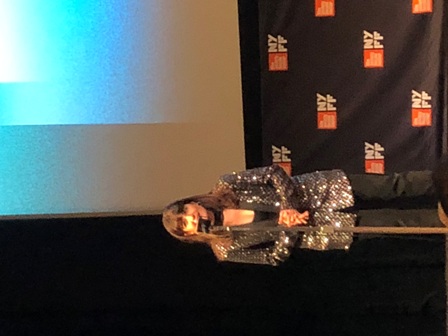 - Pamela B. Green introduced her film at The New York Film Festival, in this year's "Retrospective Section"
Be Natural: The Untold Story of Alice Guy-Blaché – Directed, written, and edited by Pamela B. Green (USA); Co-written by Joan Simon; Narration by Jodie Foster)
In her passionate debut film, Green achieves a feat of making a two-level research project informative and entertaining, while bringing in contemporary filmmakers for commentary (albeit some more convincing than others). First was her search for biographical and professional information on Guy-Blaché and her creative teams. She creatively pursued genealogical clues in the U.S. France, and Belgium, with family trees developed on screen, and did find relatives. (Green's day job is doing graphics for Hollywood movies). Each personal collection of memorabilia led to another and another, including Guy-Blaché's address books – and then she pursued each listing with relentless phone calls, that generated a cache of her letters, and interviews on old radio and video tapes, in Europe in French and in English in the U.S., that needed to be treated by (hunted-down) specialists to be playable and digitized.
Then Green tries to solve the mystery of how Guy-Blaché came to be forgotten and eliminated from film history, which is what Guy-Blaché herself fought against until the end of her long life, at age 94 in 1968. Guy-Blaché heroically and very specifically challenged every article, book, and history of her cinema era, starting from Gaumont's, that misattributed her films to men, usually to her actors, or left her out altogether. While Guy-Blaché's champions concede that one problem was that her very earliest films were on 60mm, before the Lumiere Brothers' standard was commercially accepted, the glaring answer – spoiler alert—sure seems to be condescending sexism.
Green and her marvelous team so far only have festival viewing rights for the materials they use, particularly the wonderful clips of the silent films. They are still fundraising for broader rights to help obtain distribution. I was so galvanized to help the film achieve distribution beyond film festivals that I contributed by buying a logo'd hat at their website.
After the Festival, Zeitgeist Films/Kino Lorber announced theatrical distribution in early 2019, pointing out their DVD catalog includes over 75 restored Alice Guy-Blaché titles, 14 in the Pioneers: First Women Filmmakers collection and 64 in the Gaumont collection.
The documentary was accompanied by Alice Guy-Blaché's Falling Leaves (1912) (Music composed and performed by Makia Matsumura. A collaborative restoration for the Alice Guy-Blaché retrospective at the Whitney Museum of American Art. Mastered from a 2K scan of a surviving nitrate print received by the Library of Congress in 1983 from the Public Archives of Canada/Jerome House Collection. 2018 Digital restoration produced by Bret Wood for Kino Lorber)
Green and Foster's Q & A is posted.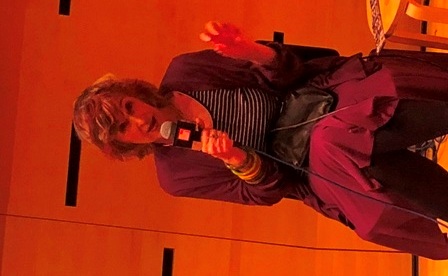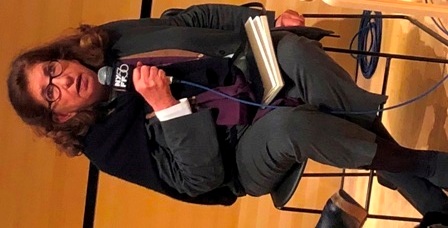 In conjunction, New York Women in Film & Television presented: "Early Women Film Pioneers: Alice Guy-Blaché"
The panel members stressed the importance of searching archives around the world for identifying prints of Alice Guy-Blaché's films (over 150 have been identified – out of over a thousand she is known to have made), preserving them, and digitizing them for inclusion in film history curricula and viewing by the general public. Jane Gaines spoke about the Women Film Pioneers Project, now housed at Columbia University, and Susan Lazarus on NYWIFT's Women's Film Preservation Fund, which has supported work on several Guy-Blaché films. (They recommended the DVD Gaumont Treasures: 1897-1913 to see her early French work, but were evidently not aware how difficult that is to obtain for Region 1 viewing.)
Simon spoke about the genesis of Be Natural documentary, and how she first became involved, out of a series of public screenings of Guy-Blaché films she curated at the Whitney Museum of American Art, featuring her films she wrote, directed, and/or produced in America, in her Solax Studio, first in Flushing, Queens (I'd love to know where!) and then in Fort Lee, NJ, where she hung a banner and notes urging her actors to "Be Natural".
Schedule and the video will probably be posted on the FSLC website.




Searching For/Auf Der Suche Nach Ingmar Bergman – Director/Co-Writer Margarethe von Trotta; Co-Director/Editor Bettina Böhler (Germany/France) (U.S. Premiere) (Oscilloscope Laboratories release)
Von Trotta takes an icon of an earlier generation of European cinéphiles and makes him an approachable SOB and his films more understandable, with an emphasis on their autobiographical elements in many non-chronological clips. Interviews with a son and younger filmmakers helps position him within the current firmament, probably aided by the insights of her other co-director/writer, her son documentarian Felix Moeller. Actresses emphasize how much he loved featuring women in his films, even as he pushed their limits, while his son chuckles how his lovers' pregnancies were a proof of love before abandonment (and all the progeny only met once). Von Trotta reveals that seeing The Seventh Seal (Det sjunde inseglet) (1957) at 18-years-old made her want to be a director. She focuses on his lesser-known, tax-exile time in Munich, when she was part of the artistic community there. Note: the film of hers Die bleierne Zeit that she is proud that Bergman listed as one of his all-time favorites is translated in the subtitles as The German Sister, but was released in the U.S. as Marianne & Julianne and is no longer available here. (The Cohen-run Quad Cinema ran a retrospective as "The Political is Personal", including her work as an actress, in advance of showing this documentary but on a very limited schedule that I couldn't fit in amidst two other film festivals – will they release these films on DVD or streaming services for the U.S. audience?)

Projections: Many of the selections are being rotated through MUBI.


Jodie Mack's The Grand Bizarre – Director/Co-Writer (USA) (US premiere)
Mack's mix of "travelogue" footage and animation feels like being inside a jacquard loom that is weaving around the world. This is a gorgeous visual study of how different cultures around the world create textiles in different patterns, colors, and places, from markets, to roofs, laundry lines, and bodies. This montage can be watched and re-watched!
Screening schedule Plus screening added!
Mack also participated in "Film Comment: Filmmakers Talk" - Schedule and the video will probably be posted on the FSLC website.



Dora García's Second Time Around (Segunda Vez) – Director/Co-Writer (USA) (Belgium/Norway) (North American premiere) - Screening schedule
While this is a well-meaning effort to recreate Argentinian theorist Oscar Masotta's "happenings," with vignettes based on the work of Macedonio Fernández and Julio Cortázar (including his story "Segunda Vez"), what comes across is that instead of some deep philosophical or social revelations, they now seem turgidly dated by reality TV and ubiquitous camera-phones, for more of a McLuhanesque message.



Ericka Beckman Program - Cinderella (1986) and You the Better (1983) are doctrinaire feminist short films using experimental integration of 2D and 3D with a delightful sense of humor and wacky chants and songs. The first satirically demolishes a classic female goal, while the latter pokes fun at masculinity stereotypes. Both are only very slightly dated and look as conceptually fresh as they are physically restored. (Restored by the Academy Film Archive and BB Optics) - Screening schedule



"Program 1: Place Revisited" included:
Valeria Street - Janie Geiser (USA) (North American Premiere) – Developing from the "found footage" genre, a photograph of her father, a chemical engineer for a petro-chemical company, in a meeting with other suited men leads to a visual and aural (electronica music by Laura Steenberge) meditation on industrial development swallowing up a landscape and the environment. "Diametric drawings", geometrical figures, flashing lights, and a negative image of the original photograph together comment on the impact these men and their ilk had on our lives in the long run.
Between Relating and Use - Nazli Dinçel (Argentina/USA) – The pretentious philosophical language of Laura Mark's "Transnational Object", DW Winnicott's "Transitional Object", and Barbara Kirshenblatt-Gimblett's "Destination Culture" is not matched by the visual images that attempt to consider the fetishism of cultural appropriation.
Eye of a Needle Katherin McInnis - (USA) (World Premiere) – Dozens of black and white Farm Security Administration photographs, including by Dorothea Lang and Marion Post Wolcott, go by in a packed montage of the black, white, and Asian people struggling on America's farms. The moving black hole indicator of officially rejected images becomes a hypnotic symbol of the historic trend to reject these people, too.
Wishing Well Sylvia Schedelbauer - (Germany) – Epileptics and other light sensitives need to be warned about the constant flashing over 13 minutes. The ponderous opening Joseph Campbell quote isn't lived up to -- "The very cave you are afraid to enter turns out to be the source of what you are looking for." – but the effect of hands holding 16mm found images of river rapids, primeval, forests, and a boy walking through it all are enchanting.
Mahogany Too Akosua Adoma Owusu (USA/Ghana) -Nigerian-American actress Esosa E is a striving fashionista in her mind, as much as the musical echoes of Diana Ross's "Tracy Chambers" in Berry Gordy's Mahogany (1975), but with a refreshingly African style.


"Program 2: Strategies for Renewal" included:
Words, Planets Laida Lertxundi (USA/Spain) – The occasionally intriguing images, particularly of a movie playing on a background wall as if on a drive-in theater screen, don't illuminate or match the quotes from radical psychologist RD Laing's "Knots" and feminist art historian Lucy Lippard's "I See/You Mean".
I Hope I'm Loud When I'm Dead Beatrice Gibson (UK) (US premiere) – Poets CA Conrad ("Ecodevian(Soma)tics for the Future Wilderness"), Eileen Myles ("My Box") read their heavy-handed protest poetry, and there's selections from Adrienne Rich, Audre Lord, Alice Notley, Gertrude Stein, and the Mount Monadnock Transmissions in "While Standing in Life for Death". All are interspersed with recent obvious politically fraught images including the Grenfell Tower fire, President Trump's inauguration, glaciers calving, and tear-gassed demonstrators, accompanied by the music of Pauline Oliveros. I did like the repeating papier-mâché doll-head.


"Program 3: Trips to the Interior" included:
Chooka Co-director Parastoo Anoushahpour (Iran/Canada) (US premiere) – What a fascinating glimpse at memories and physical evidence of pre-revolutionary life in Iran! Clips from Iranian director Bahram Beyzaie's The Stranger and The Fog (1974) and Bashu, The Little Stranger (1989) filmed in this northern village in Gilan show where foreigners, primarily Americans, built and ran the Shah's paper factory, lived in its adjacent shorefront villas, planted non-native trees, and then fled in 1979. Now they are only ghosts invisible to the grandson of Beyzaie's guide. For him, the Western-designed spaces and environment were just enjoyable places for his family's cattle, chickens, rice storage, and soccer-playing. Incongruous amidst palms, a small maple tree is the last, ironic image.
Ada Kaleh Helena Wittmann (Germany) (US premiere) - Named for a Danube island submerged by a dam project that has become symbolic of tranquility, these 14 minutes feel like a lazy Sunday in a shared student apartment. The camera moves back and forth, through quiet rooms, as the sun dapples, breezes gently blow curtains, and shadows play on walls. A warmly relaxing respite!
The Labyrinth (El Laberinto) Laura Huertas Millán (Colombia/France) (US premiere) – A former aide of a drug lord leads a tour through the jungle to his boss's abandoned mansion, interspersed with clips from the 1980s soap opera Dynasty that inspired its construction. The TV opulence pales against his matter-of-fact memories of corruption and murder. But he also drifts back to the time he spent with his elders learning how to traditionally fish and hunt. Under the moon, he muses about his own brush with death – and he found it beautiful. Altogether magical!


"Program 4: Form and Function" included:
Mixed Signals Courtney Stephens (USA) (US premiere) – Inspired by Hannah Weiner's maritime code poems, sunny images of ocean-going vessels dropping anchor and unloading under a blue sky are invigorating, then almost comical compared to the range of events to be prepared to alert for help. Somehow, though, that has something, I'm not sure what, to do with the intercut clips of a doctor conducting a thorough reflex test on a young woman.
Luminous Shadow (Sombra Luminosa) Co-director Mariana Caló (Portugal) (North American premiere) – Recordings of the poet Francisco Domingues are matched with images/re-constructions of statues, photographs, sketches, masks, and news clippings from Portugal's Jose de Guimarães International Arts Centre, across many geographic areas and periods of time. Practically taking on lives of their own, the figures are more and more manipulated, some to stress their colonial roots, and even set on fire and melted. A marvelous take on art history!
The Glass Note Mary Helena Clark (USA) (US premiere) – I did not get the thematic links among images of statues and lions on thrones with various nature scenes.



Convergence (VR/Immersive Cinema/AI):


What Goes Up/Must Come Down Co-director Eline Jongsma (USA) (World Premiere) - The VR component seen alone was not particularly impressive. Information on Free! Virtual Reality & Video Installation on October 14 from 1-8 pm at the Elinor Bunin Munroe Film Center Amphitheater.



"Virtual Reality Documentary Program" included:
The Drummer Ana Kler (USA) – Maybe because I'm frequently in Union Square Park, but I did not find that VR added anything to this interview with a Brooklyn man who has a disability like those who were affected by Thalidomide, yet who has found a way to bang on the drums all day (though the Todd Rundgren song is missing);
Hope Against the Haze Tiffany Hall (India) (World premiere) – While the descriptions and narration by two print journalists are as conventional as a PBS NewsHour report, the VR does really make you feel like you are in the middle of Mumbai's worst landfill, crowded slum, one-room plastic recycling businesses, and beaches being cleaned up by do-good volunteers. All that's missing is smell-o-vision (and women, and discussion of caste).


"Virtual Reality Arcade" included "Blue Bird" has a team of directors with Miranda Conway, Allie Perdomo, Parnaz Rad and Nicole Tylor (Not yet seen) - Screening schedule



Shorts:


"International Shorts I" included:
Tourneur Yalda Afsah (Germany) (U.S. Premiere) – In the south of France, joyous children play in pools of bubbles. But that same setting turns surreal when, first, a bull runs through the bubbles. Then aggressive young men enter, the mood shifts again as the space becomes a slip-and-slide bullfight arena as if out of a very weird film.
jeny303 Laura Huertas Millán (Colombia/France) (North American Premiere) – Re-visited on old 16mm reels, the National University of Bogotá's modernist brick Building 303 was demolished in 2015, after years as a center for student protests, when the director's father taught at the school. The graffitti'd locus of past political and social issues is intercut with a contemporary struggle within a trans body as Jeny talks frankly of how tattoos help surmount pressures from drugs and violence. Screening schedule



"International Shorts II" included Veslemøy's Song Sofia Bohdanowicz (Canada) (US premiere) – On black-and-white film hand-processed to look like scratchy vintage footage, a young woman sets out to learn about her grandfather's musician mentor, violinist Kathleen Parlow. Intrigued by his lessons diary, her uncle's memories. and an old paperback biography of one of the eminent female soloists of the 20th Century, she queasily travels from Toronto to Lincoln Center (home of the New York Film Festival) for the New York Public Library of the Performing Arts Rodgers and Hammerstein Archives of Recorded Sound. She is hunting down a rare 1909 recording of the sadly forgotten virtuoso playing the concerto that Norwegian composer Johan Halvorsen wrote for her. Perhaps Bohdanowicz was inspired by the news that the manuscript of this "lost concerto" was discovered in 2016 misplaced from Parlow's papers in the University of Toronto Library, for its first performances since Parlow's premiere, and its new recording on Naxos Classics. But this serves as a charming introduction to adventures in historical, archival, and musical research.


"Genre Stories" included The Slows Nicole Perlman, based on Israeli writer Gail Hareven's short story in The New Yorker; Composer Katy Jarzebowski (USA) (NY premiere) – Co-Writer of Captain Marvel and Guardians of the Galaxy, Perlman makes her directorial debut with humanistic science fiction, into a world where science saved people from extinction with artificial conception and sped-up maturity. Eryn the anthropologist (Annet Mahendru, from The Americans) tries to argue for the rebellious population of "Slows" she has studied on "Preserves". But as the government moves to finally shut them down, she sneaks back and tries to warn Greta (Breeda Wool, from UnReal) what is coming, even as they continue to have sex and give birth the old-fashioned way, helped by a midwife. (Missing is how in the story the anthropologist has to – amusingly-- get over her revulsion at "human larvae".) With support from a Cinereach fellowship, Perlman was able to use visual effects for the opening animated cell division in the womb sequence, segues for boy-to-man growth, and futuristic sound design using post-production services of Skywalker Sound. This could work very well as an episode of a revived The Outer Limits or The Twilight Zone.


"New York Stories" included Eleanore Pienta's Ada (USA) (World Premiere) - not yet seen;
The Chore Co-director Ashley Connor (USA) (World premiere) - In a quietly lovely portrait of old age, small town elderly brothers Don and Rick Stankus (the other co-director is Joe Stankus) help each other do necessary shopping and errands, with a thank you gift of homemade snickerdoodles. But their real need is companionship and conversation, even if they only talk about sports and the past. If you think this is just an obligation, a look of disappointment at a cancelled grandpa babysitting appointment is revelatory.
God Never Dies (Dios Nunca Muere) Barbara Cigarroa (AKA Flight of the Fields) (USA/Ireland) – Continuing her visual advocacy work from growing up bi-cultural in the Texas borderland to now studying in New York City, Cigarroa has adapted her experience with mentor documentary filmmaker Albert Maysles to garner empathy for the too often invisible farmworkers of the Hudson Valley by telling their stories from their point-of-view. Involving farmworkers and their families as her actors, she shows tired single mother Paula (Monica Del Carmen) living cramped with her children, toddler Bella and big brother David, surrounded by the wide expanse of fields where she toils. But one day a new pre-fab home is delivered and her family gets to briefly imagine a life there, that looks to them like the American Dream come true. I was reminded of young Natalie Wood in George Seaton's Miracle on 34th Street (1947) jumping out of a car near Great Neck, believing that Santa Claus had provided her suburban Christmas gift. Here, a new mattress will have to do.
Screening schedule Plus screening added!




WOMEN CREW-ED: FILMS BY WOMEN WRITERS, CINEMATOGRAPHERS EDITORS, AND COMPOSERS

Main Slate:


At Eternity's Gate- Co-written by Editor Louise Kugelberg; Composer Tatiana Lisovkaia (USA/France) (CBS Films release November 16)
Known primarily as a Swedish interior designer before her relationship with director Julian Schnabel, Kugelberg described her debut role, at the Festival press conference, as keeping organized the ideas of Schnabel and co-writer Jean-Claude Carriere on Vincent Van Gogh (Willem Dafoe). She also stressed the importance of Lisovkaia's (piano and violin) musical themes, particularly for Van Gogh and his friend Paul Gauguin (Oscar Isaac).
Screening schedule Plus screening added!


3 Faces (Se rokh)- Editor Mastaneh Mohajer (Iran) (Kino Lorber release March 2019)
The editing reinforces the feeling of a real-time documentary unfolding amongst the rural villages of Iran, even if some women's faces can be seen only from a distance.

A Faithful Man (L'Homme fidèle) (France) - Script in Collaboration with Florence Seyvos; Editor Joelle Hache; Director Of Photography Irina Lubtchansky
A usually macho rom-com sub-genre instead mocks both men and women.
Screening schedule Plus screening added!


La Flor (Argentina) - Producer Laura Citarella had many functions listed in the half-hour of credits at the conclusion of "Part 3" of the wonderfully delightful and moving 807 minute epic tribute to four actresses in many more genres of films focused on women.

If Beale Street Could Talk, based on James Baldwin's 1974 novel; Co-Editor Joi McMillon (USA) (Annapurna Pictures release November 30)
Centered around a R-rated #BlackLivesMatter YA sentimental romance, the adult actors add considerable heft to a portrait of trying to fight the system of mass incarceration. Even as it tries to emphasize stable families in Harlem, there is considerable sympathy for the double standard and the women who suffer abuse.

In My Room- Editor Laura Lauzemis (Germany) (Grasshopper Films release) (not yet seen)

Monrovia, Indiana- Sound Editor Valérie Pico (USA) (Zipporah Films release October 26)
Look beneath the beautiful images and the occasional discussions for what's not said to learn about Middle America.

Ray & Liz- Editor Tracy Granger (UK)
KimStim will open theatrically Summer 2019, starting at NYC's Film Forum.
Bleak but riveting.

Sorry Angel (Plaire, aimer et courir vite)- Editor Chantal Hymans (France) (Strand Releasing 2019)
Director Christophe Honoré continues to assuage his, or others', guilt about how Frenchmen led their lives during the AIDS crisis, with a look at the impact of one man's choices on the people around him.

Transit- Editor Bettina Böhler (Germany/France) (Music Box Films release March 2019)
The editing beautifully reinforces the brilliant concept of adapting a 1942 story set in Marseille to what could be the now or the very near future with rising fascism and migrants in Europe.
So, nu: my commentary on the Jewish woman.

Wildlife- co-written by Zoe Kazan; Co-Editor Louise Ford (USA) (IFC Films release October 19)
Kazan and director Paul Dano's script adaptation of (macho) Richard Ford's 1990 novel emphasizes the dilemma faced by the (now slightly younger) wife/mother, played with maturity by Carey Mulligan, three years before Betty Friedan called it out. Now she is a college drop-out who finds herself supporting her family when her husband (a downgraded, suburban Jake Gyllenhaal) not only loses his golf job, but is so sent into a tailspin he needs to go fight Rocky Mountain forest fires to regain his masculinity. To her accusatory son (played by too bland teenager Ed Oxenbould), she is given a new speech justifying her affair: What choice did I have?, and a new independent ending. For cinema, they seized on the son's job in a photo shop to capture the lies in images of happy families.
These subtleties were not evident to a questioner at the first showing at NYFF. Social media and articles report an older white man found the mother "completely reprehensible" and "unsympathetic." To applause and sympathetic support from Dano, Mulligan had a more political answer than my socio-historical context: "We're all too used to only seeing women behaving really well [in movies]…When we see them out of control or struggling it doesn't ring true because of everything we've been brought up to understand that women are always perfect and can do anything. That's an unrealistic expectation of a woman. Seeing real humanity on-screen can be really jarring from a female perspective."
Screening schedule

Kazan and Dano also participated in "The Dynamics of Being Both Life Partners and Writing Partners", along with Mary Harron and John Walsh. (Presented with The Writers Guild of America, East) Kazan also stars in one of the short films in the Coen Brothers' Western anthology The Ballad Of Buster Scruggs, showing in the Main Slate, as a John Ford-ian woman.
Though Kazan's talk has not been uploaded, Dano and Ford's video is.


Other Documentaries:

Carmine Street Guitars- Co-Director of Photography Becky Parsons; Co-Editor Louise Ford (Canada) (Not yet seen)
Screening schedule

The Times of Bill Cunningham- Editor Amina Megalli; Composer Ezinma (USA)
Not only is the 1994 chronologically biographical interview with Cunningham thoroughly and even emotionally revelatory, the editing together of visual support for his sometimes obscure mentions is marvelous annotation for his detailed and intimate references to the fashion industry and the socialite scene from the 1930's to 1990's, from Boston to New York to Paris.
Screening schedule

Watergate- Co-Editors Amy Foote, Hemal Trivedi and Cindy Lee; Co-Directors of Photography of Interviews Daphne Matziaraki and Shana Hagan (USA) (A & E release for History Channel three-night, six-hour event premieres November 2, then available On Demand)
As it unfolds chronologically by the White House crimes as they are committed, I realized that the usual perspective of Watergate is from the timeline as outsiders found out or realized what had happened. Though the re-enactments oddly don't enough match the real people whose images are seared into a boomer's brain, the editing smoothly segues from the explicit, and admittedly somewhat hard to distinguish, audio tapes to the re-enactments. The degree of mendacity in the White House is still shocking and makes you realize how crucial Nixon's taping system was to the truth coming out. While Pat Buchanan is still reluctant to admit errors of judgment, let alone of law or ethics, the close-camera interviews with only participants in the events covered are very useful in adding passage-of-time-for-reflection insights, beyond the usual Carl Bernstein/Bob Woodward, especially with John Dean and the lawyers on the staff of the Special Counsel. Watch through the credits for the interview conclusions.


What You Gonna Do When the World's On Fire?- Editor Marie-Hélène Dozo (Italy/USA/France) (Not yet seen)
Screening schedule

Other Talks:

"Producers on Producing": PGA's Women's Impact Network presented independent producers Donna Gigliotti and Mimi Valdés - Schedule and the video will probably be posted on the FSLC website.

"Costume Design and the Creative Process: From Film to Television" - Presented in conjunction with the School of Visual Arts, panel on the art of outfitting in film and television, including costume designers Amanda Ford (Her Smell and Wildlife), Deirdra Govan, and Ingrid Price - Schedule and the video will probably be posted on the FSLC website.

For comparisons, my coverage of women directed films at 2017 New York Film Festival: fiction features, accessible documentaries and unusual documentaries. In 2016, my Complete Guides to Women-Directed Films at NYFF: the 11 Feature Films and the 18 Short Films.



updated 12/2/2018





Nora Lee Mandel is a member of New York Film Critics Online and the Alliance of Women Film Journalists. Her reviews are counted in the Rotten Tomatoes TomatoMeter:


Complete Index to Nora Lee Mandel's Movie Reviews
Since August 2006, edited versions of most of my reviews of documentaries/indie/foreign films are at Film-Forward; since 2012, festival overviews at FilmFestivalTraveler, and, since 2016, coverage of women-made films at FF2 Media. Shorter versions of my older reviews are at IMDb's comments, where non-English-language films are listed by their native titles.



To the Mandel Maven's Nest Reel Life: Flick Pix


Copyright © 2018