Maven's Nest

Reel Life: Flick Pix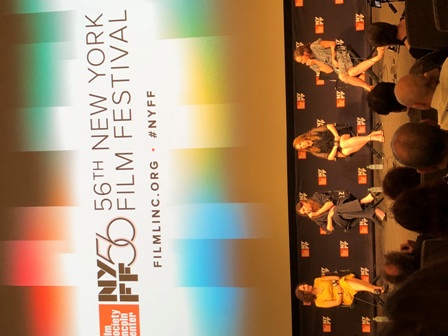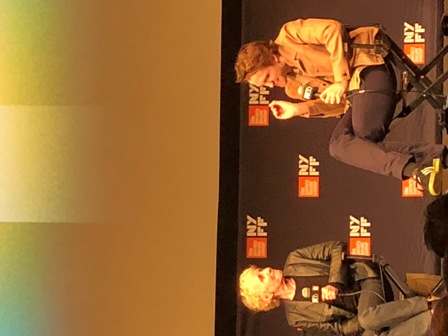 At 2018 New York Film Festival press conferences: From Private Life: Director Tamara Jenkins with female cast members Kathryn Hahn, Kayli Carter and Molly Shannon; From High Life: Director Claire Denis with co-star Robert Pattinson

Most Complete and Updated Preview and Annotated List of All Women-Directed and Women-Crewed Films and Talks at the 2018 New York Film Festival

By Nora Lee Mandel

The 56th Annual New York Film Festival of the Film Society of Lincoln Center (FSLC) opens September 28, 2018, running through October 14. The Festival this year includes a modest number of women-directed films, my count, by sections:

In the prestigious Main Slate: 4 new feature films, plus 1 co-written by a woman, out of 30
In Documentary Spotlight: 2 new feature films, out of 14
In Revivals and Retrospectives: 1 woman co-director, out of 25, and 2 new feature documentaries on past filmmakers, including about a woman director, out of 3
In the experimental Projections: 16 features/shorts by women, out of 36
In the Convergence (VR/Immersive Cinema/AI projects) section, 4 by women, out of 12
In the Shorts Programs: 7 are by women directors, out of 21
Of the Talks: with directors, 2 are with women directors, out of five


Many filmmakers attend the screenings for post Q and A's, held at several theaters on the Lincoln Center campus.

As in previous years, I will be covering and reviewing as many of these films as possible for FF2 Media. Last year with fiction features, accessible documentaries and accessible unusual documentaries. In 2016, my Complete Guides to Women-Directed Films at NYFF: the 11 Feature Films and the 18 Short Films.

WOMEN DIRECTORS AT THE 2018 NEW YORK FILM FESTIVAL

Main Slate:

Happy as Lazzaro (Lazzaro felice) – Director Alice Rohrwacher; Director of Photography Hélène Louvart; Editor Nelly Quettier (Italy) (North American Premiere) (Netflix release and in select theaters on November 30)
A wow! The sunny opening of extended families communally working a farm slowly moves from operatic nostalgia to reveal a portrait of nasty exploitation of the poor by aristocratic landowners and their spoiled brats. Then, through the wide eyes of the Christ/Billy Budd-like figure of the title (played wonderfully by Adriano Tardiolo), magic realism carries him and his very distinctive, multi-generational friends to a future with the continuing travails of migrants and the homeless by rapacious banks and the rich, who otherwise set the downtrodden against each other.



Alice Rohrwacher is featured in a "Directors Dialogue" - Schedule and the video will probably be posted on the FSLC website.



High Life- directed by Claire Denis (Germany/France/USA/UK/Poland) (U.S. Premiere) (A24 release in 2019)
Screening schedule Plus screening added!



Claire Denis is featured in "On Cinema" talk: Schedule and the video will probably be posted on the FSLC website.
Reminding me a lot of Denis's The Intruder (L'Intrus) (2004) in structure and treatment of masculinity, science fiction archetypes are upended with this Prisoners in Space. Juliette Binoche is a sensually long-haired, mad, murderous scientist of reproduction and Robert Pattinson is a punk daddy caring for his baby daughter (on set babysitting his BFF's infant for days). Those planning missions to black holes could use this artistic insight into the impact of long space travel on humans, albeit a multi-national set of possibly sociopathic recruits being punished like Superman's nemesis criminals from Krypton. This is Denis's first English language film because "of course people in space speak English or Russian, not French".


Private Life- directed by Tamara Jenkins (USA) (In theaters/Netflix release October 5)

Jenkins also participated in "NYFF Live: Making Private Life" co-presented with the NYC Mayor's Office of Media and Entertainment - Schedule and the video will probably be posted on the FSLC website.
With great humanity, Jenkins creates a credible, extended New York family, as a forty-something couple (Kathryn Hahn and Paul Giamatti) seeks parenthood. Their adventures in fertility treatments and adoption impact his suburban brother (John Carroll Lynch), his sister-in-law (Molly Shannon), and his brother's college drop-out step-daughter (Kayli Carter) in unexpectedly emotional ways, both amusing and moving. Inspired by Jenkins' own well-researched efforts (and dedicated to her own daughter), each character she created is three-dimensional with sympathetic motivations, reasons, and reactions. (In the New York Film Festival press conference, Jenkins noted she particularly wanted Shannon for this secondary role because a friend had thought this mother was a "bitch", so only Shannon could give her the necessary empathy.)


Too Late to Die Young (Tarde para morir joven) – Director by Dominga Sotomayor; Editor Catalina Marín Duarte (Chile/Brazil/Argentina/Netherlands/Qatar) (U.S. Premiere) (KimStim release)
A beautiful, Chilean entry in the genre of women directors remembering coming of age in unconventional childhoods with too much freedom, Dominga Sotomayor achingly and empathetically re-creates a summer co-op as full of human nature as it is woods and waterfalls, where tween and teen girls and boys navigate around their creative parents and each other's yearnings on a fraught holiday leading up to New Year's Day.


Screening schedule Plus added screening!

Documentary Spotlight:


Divide and Conquer: The Story of Roger Ailes – Director Alexis Bloom; Co-Cinematographer Charlotte Kaufman (USA) (A&E IndieFilms release)
Bloom's bio-doc is at its best when she interviews new accusers from both his distant and recent past, even after his fall from Fox grace, when the ongoing pattern of his sexual harassment and abuse becomes evident. More clarity on how he shaped what I call "Faux News" from his own predilections to toxicly outlive him would have been helped with more on the Murdochs as bosses and how investigations into their misuse of the funds of a public company for hidden personal pay-offs is being investigated by such government agencies as the SEC and NY State.
Screening schedule Plus screening added!


Bloom also participated in NYFF Docs Talk - Schedule and the video will probably be posted on the FSLC website.


The Waldheim Waltz (Waldheims Walzer) – directed by Ruth Beckermann (Austria's entry for Foreign Language Academy Award) (Menemsha Films release in theaters October 19)
Another President who lied about his past, prevaricated about his country's history, encouraged nationalism and anti-Semitism, yet wins election seems very relevant today. Current events not only bring up memories for Beckermann, but also footage from her own efforts as a demonstrator and documentarian in the 1980's. She smoothly edits in a range of international media interviews from this period, as Waldheim changes his story even as more facts are revealed, but ruminates effectively on Austria's intentional amnesia about its people's collaboration with the Anschluss, the Nazis' annexation of Austria in 1938, even while avoiding the usual images of Hitler being greeted by thousands of cheering locals on March 12. Instead, she parses why no one asked Kurt Waldheim more about the war years – let alone other Austrians' involvement – all during his rise in the Foreign Ministry and service as United Nations General Secretary, when he welcomed Palestinian leaders, supported Zionism declared racism, and sneered at the investigations of the World Jewish Congress. With a glimpse at Klimt's "Woman In Gold" Jewish-owned, Nazi-stolen painting that the Austrian government mis-appropriated for years, she effectively raises as many disquieting questions as she explores.
So, nu: my commentary on the director as a Jewish woman.



Revivals and Retrospectives:

"Straub-Huillet Program" in "Dan Talbot Tribute": Short films directed by partners Jean-Marie Straub and Danièle Huillet, all from West Germany: Machorka-Muff (1963) adaptation of Heinrich Böll's short story "Bonn Diary,"; The Bridegroom, the Comedienne and the Pimp (1968), including a stage production of Bruckner's Sickness of Youth, and Not Reconciled (1965), adaptation of Böll's novel Billiards at Half-Past. (The latter two are also streaming on Film Struck.) (Grasshopper Film release – but did not make these available for pre-screening)
In researching Huillet's leftist films and what little is available online, much of their work is only attributed to Straub, usually considered because he was their spokesmen, are becoming less and less known in the U.S.



Related documentary in the Festival: Introduzione all'Oscuro (Argentina/Austria), director Gastón Solnicki's tribute to Hans Hurch, a former assistant to Jean-Marie Straub and Danièle Huillet who went on to be a film critic.
Solnicki thanks Straub and Huillet at the end, so presumably the places he charmingly re-visits in Vienna that Hurch loved, and with some of the people he knew, reference their films.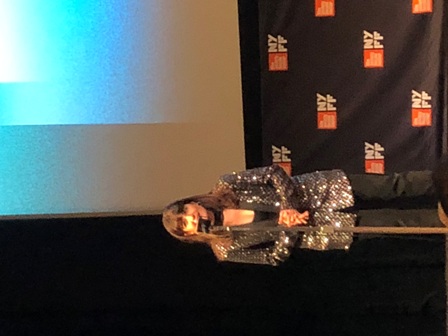 - Pamela B. Green introduced her film at The New York Film Festival, in this year's "Retrospective Section"
Be Natural: The Untold Story of Alice Guy-Blaché – Directed, written, and edited by Pamela B. Green (USA); Co-written by Joan Simon; Narration by Jodie Foster)
In her passionate debut film, Green achieves a feat of making a two-level research project informative and entertaining, while bringing in contemporary filmmakers for commentary (albeit some more convincing than others). First was her search for biographical and professional information on Guy-Blaché and her creative teams. She creatively pursued genealogical clues in the U.S. France, and Belgium, with family trees developed on screen, and did find relatives. (Green's day job is doing graphics for Hollywood movies). Each personal collection of memorabilia led to another and another, including Guy-Blaché's address books – and then she pursued each listing with relentless phone calls, that generated a cache of her letters, and interviews on old radio and video tapes, in Europe in French and in English in the U.S., that needed to be treated by (hunted-down) specialists to be playable and digitized.
Then Green tries to solve the mystery of how Guy-Blaché came to be forgotten and eliminated from film history, which is what Guy-Blaché herself fought against until the end of her long life, at age 94 in 1968. Guy-Blaché heroically and very specifically challenged every article, book, and history of her cinema era, starting from Gaumont's, that misattributed her films to men, usually to her actors, or left her out altogether. While Guy-Blaché's champions concede that one problem was that her very earliest films were on 60mm, before the Lumiere Brothers' standard was commercially accepted, the glaring answer – spoiler alert—sure seems to be condescending sexism.
Green and her marvelous team so far only have festival viewing rights for the materials they use, particularly the wonderful clips of the silent films. They are still fundraising for broader rights to help obtain distribution. I was so galvanized to help the film achieve distribution beyond film festivals that I contributed by buying a logo'd hat at their website.
The documentary was accompanied by Alice Guy-Blaché's Falling Leaves (1912) (Music composed and performed by Makia Matsumura. A collaborative restoration for the Alice Guy-Blaché retrospective at the Whitney Museum of American Art. Mastered from a 2K scan of a surviving nitrate print received by the Library of Congress in 1983 from the Public Archives of Canada/Jerome House Collection. 2018 Digital restoration produced by Bret Wood for Kino Lorber)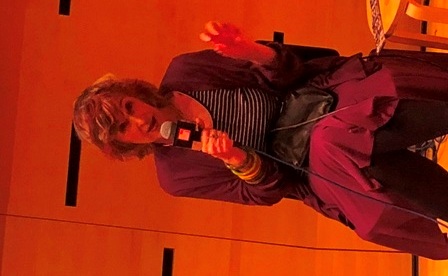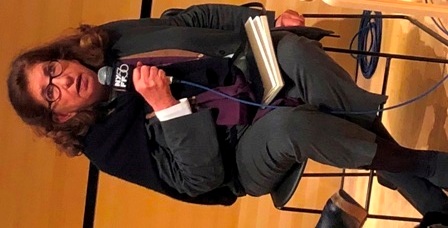 In conjunction, New York Women in Film & Television presented: "Early Women Film Pioneers: Alice Guy-Blaché"
The panel members stressed the importance of searching archives around the world for identifying prints of Alice Guy-Blaché's films (over 150 have been identified – out of over a thousand), preserving them, and digitizing them for inclusion in film history curricula and viewing by the general public. Jane Gaines spoke about the Women Film Pioneers Project, now housed at Columbia University, and Susan Lazarus on NYWIFT's Women's Film Preservation Fund, which has supported work on several Guy-Blaché films. (They recommended the DVD Gaumont Treasures: 1897-1913 to see her early French work, but were evidently not aware how difficult that is to obtain for Region 1 viewing.) Simon spoke about the genesis of the Be Natural documentary, and how she first became involved, out of a series of public screenings of Guy-Blaché films she curated at the Whitney Museum of American Art, featuring her films she wrote, directed, and/or produced in America, in her Solax Studio, first in Flushing, Queens (I'd love to know where!) and then in Fort Lee, NJ, where she hung a banner and notes urging her actors to "Be Natural".
Schedule and the video will probably be posted on the FSLC website.




Searching For/Auf Der Suche Nach Ingmar Bergman – Director/Co-Writer Margarethe von Trotta; Co-Director/Editor Bettina Böhler (Germany/France) (U.S. Premiere) (Oscilloscope Laboratories release)
Von Trotta takes an icon of an earlier generation of European cinéphiles and makes him an approachable SOB and his films more understandable, with an emphasis on their autobiographical elements in many non-chronological clips. Interviews with a son and younger filmmakers helps position him within the current firmament, probably aided by the insights of her other co-director/writer, her son documentarian Felix Moeller. Actresses emphasize how much he loved featuring women in his films, even as he pushed their limits, while his son chuckles how his lovers' pregnancies were a proof of love before abandonment (and all the progeny only met once). Note: while she says that The Seventh Seal (Det sjunde inseglet) (1957) made her want to be a director, the film of hers Die bleierne Zeit that she is proud that Bergman listed as one of his all-time favorites is translated in the subtitles as The German Sister, but was released in the U.S. as Marianne & Julianne and is no longer available here.



Projections:


Jodie Mack's The Grand Bizarre – Director/Co-Writer (USA) (US premiere) - Screening schedule Plus screening added!
Mack's mix of "travelogue" footage and animation feels like being inside a jacquard loom that is weaving around the world. This is a gorgeous study of how different cultures around the world create textiles in different patterns, colors, and places, from markets, to roofs, laundry lines, and bodies. This montage can be watched and re-watched!
Mack also participated in "Film Comment: Filmmakers Talk" - Schedule and the video will probably be posted on the FSLC website.



Dora García's "Second Time Around (Segunda Vez)" – Director/Co-Writer (USA) (Belgium/Norway) (North American premiere) - Screening schedule
While this is a well-meaning effort to recreate Argentinian theorist Oscar Masotta's "happenings," with vignettes based on the work of Macedonio Fernández and Julio Cortázar (including his story "Segunda Vez"), what comes across is that instead of some deep philosophical or social revelations, they now seem turgidly dated by reality TV and ubiquitous camera-phones, for more of a McLuhanesque message.



Ericka Beckman Program - Cinderella (1986) and You the Better (1983) are doctrinaire feminist short films using experimental integration of 2D and 3D with a delightful sense of humor and wacky chants and songs. The first satirically demolishes a classic female goal, while the latter pokes fun at masculinity stereotypes. Both are only very slightly dated and look as conceptually fresh as they are physically restored. (Restored by the Academy Film Archive and BB Optics) - Screening schedule



"Program 1: Place Revisited" includes: Janie Geiser's "Valeria St" USA) (North American Premiere) Akosua Adoma Owusu's "Mahogany Too" (USA/Ghana), Nazli Dinçel's "Between Relating and Use" (Argentina/USA), Katherin McInnis's "Eye of a Needle" (USA) (World Premiere), Sylvia Schedelbauer's "Wishing Well" (Germany) - Screening schedule



"Program 2: Strategies for Renewal" includes: Laida Lertxundi's "Words, Planets" (USA/Spain), Beatrice Gibson's "I Hope I'm Loud When I'm Dead" (UK) (US premiere), - Screening schedule



"Program 3: Trips to the Interior" – includes co-director Parastoo Anoushahpour's "Chooka" (Iran/Canada) (US premiere), Helena Wittmann's "Ada Kaleh" (Germany) (US premiere), Laura Huertas Millán's "The Labyrinth (El Laberinto)" (Colombia/France) (US premiere) - Screening schedule



"Program 4: Form and Function" – includes Courtney Stephens' "Mixed Signals" (USA) (US premiere), co-director Mariana Caló's "Luminous Shadow (Sombra Luminosa)" (Portugal) (North American premiere), Mary Helena Clark's "The Glass Note" (USA) (US premiere) - Screening schedule




Convergence (VR/Immersive Cinema/AI):


Co-director Eline Jongsma's "What Goes Up/Must Come Down" (USA) (World Premiere): Information on Free! Virtual Reality & Video Installation on October 14 from 1-8 pm at the Elinor Bunin Munroe Film Center Amphitheater. - The VR component seen alone was not particularly impressive.



"Virtual Reality Documentary Program" includes:
Ana Kler's "The Drummer" – (USA) – Maybe because I'm frequently in Union Square Park, but I did not find that VR added anything to this interview with a Brooklyn man who has a disability like those who were affected by Thalidomide, yet who has found a way to bang on the drums all day (though the Todd Rundgren song is missing);
Tiffany Hill's "Hope Against the Haze" – (India) (World premiere) – While the descriptions and narration by two print journalists are as conventional as a PBS NewsHour report, the VR does really make you feel like you are in the middle of Mumbai's worst landfill, crowded slum, one-room plastic recycling businesses, and beaches being cleaned up by do-good volunteers. All that's missing is smell-o-vision (and women, and discussion of caste).





Shorts:











WOMEN CREW-ED: FILMS BY WOMEN WRITERS, CINEMATOGRAPHERS EDITORS, AND COMPOSERS

Main Slate:


At Eternity's Gate- Co-written by Editor Louise Kugelberg; Composer Tatiana Lisovkaia (USA/France) (CBS Films release November 16)

3 Faces (Se rokh)- Editor Mastaneh Mohajer (Iran) (Kino Lorber release March 2019)